Have you had a opportunity to taste a delicious Cake Boss cake? If you want a chance to give them a try, be sure to check out the sampling event that will take place at select Kroger stores December 5 – 7. Once you taste these cakes, you are going to want to bring one home! Great news…right now there are two Kroger Digital Coupons to help you grab your cake for less!
The Let it Snow Cake would be a great option for that big coupon. This cake features one layer of yellow cake and one layer of chocolate cake, combined with chocolate fudge filling and creamy buttercream icing. It's inspired by Buddy's original scratch recipe and uses Buddy's signature bakery crème ingredient which makes for a dense, moist, delicious cake. It's just beautiful and would make a delicious addition to your holiday get-together.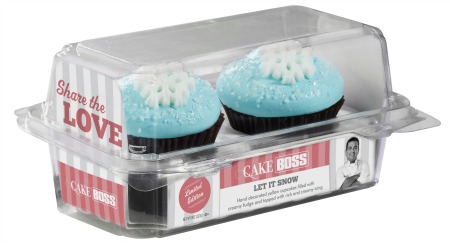 Don't need a whole cake? Grab a box of the Let it Snow Cupcakes! You get premium, fudge-filled yellow cupcakes topped with creamy buttercream icing inspired by the Snowflake cake design. All Cake Boss brand cupcakes are dense, moist and delicious – the perfect holiday treat.
Dress up your holiday tree trimming with a beautiful Cake Boss Cake. Whether you need a cake for your holiday get together or just want to satisfy your sweet tooth, Cake Boss cakes are the perfect option! Why not make it a holiday to remember? Cake Boss offers everything you need to make the holidays that much happier. Load your Kroger Digital Coupons and find a store near you at CakeBossCakes.com.
This post is brought to you by the folks at Cake Boss.