We have a new Jimmy Dean coupon over on the Kroger Digital Coupon site. Head over and load your coupon to save a buck on your favorite Jimmy Dean® or Jimmy Dean Delights® Frozen Lunch or Dinner Entree.
Jimmy Dean® or Jimmy Dean Delights® Frozen Lunch or Dinner Entree, $2.69 – $3.29
-$0.75/1 Jimmy Dean or Jimmy Dean Delights Frozen Lunch or Dinner Entree, 09/14 RP (exp 10/12) [Limit 1]
-$1/1 Jimmy Dean® or Jimmy Dean Delights® Frozen Lunch or Dinner Entree Kroger Digital Coupon
As low as $1.69 after coupon!
Have you guys tried these yet? The Jimmy Dean brand is expanding beyond breakfast and introducing NEW frozen lunch and dinner offerings, available in sixteen great-tasting varieties. You'll be happy to know that you can pick up all sixteen varieties at Kroger!
We have tried several of them and have enjoyed them all. I tend to grab the Delight line for my own quick and easy lunches during the week. There are eight tasty options that are each 300 calories or less. I love the bowls for when I am home doing various chores or while working on the sites. Plus, the sandwiches are ideal to heat and then take with me as I am running out the door to get my errands accomplished.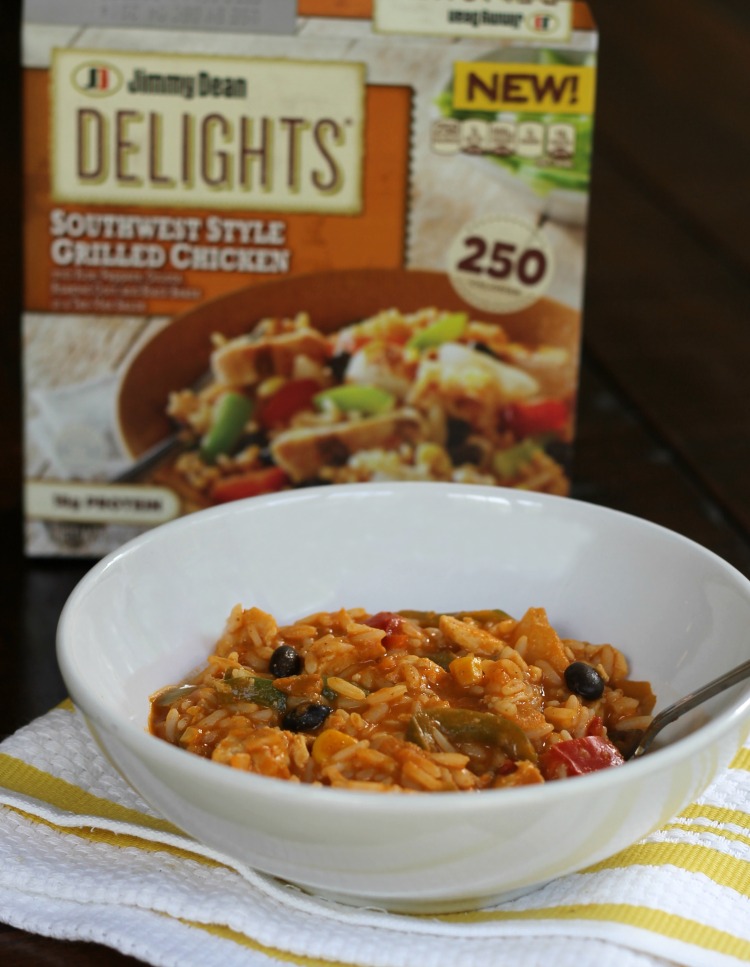 Here's the list of the Delights line that you can grab at Kroger –
Delights Smoked Ham & Cheddar Sandwich
Delights Pulled Chipotle Pork Sandwich
Delights Pulled Chicken Sandwich
Delights Smoked Turkey Bacon Sandwich
Delights Golden Roasted Turkey Bowl
Delights Three Cheese Pasta
Delights Southwest Style Grilled Chicken
Delights Hickory Smoked Ham Bowl
Now my guys don't necessarily care about calories so I usually grab them the regular versions. The new flavor-packed sandwiches and bowls provide an excellent source of protein and deliver delicious, slow-cooked taste in just minutes from the microwave – perfect for lunch, dinner and even snack time. They are perfect for an after school snack or even a quick meal before we head out the door to baseball.
They can pick from hearty sandwiches and meaty bowls filled with the the things my guys crave. What's great is that everyone gets to choose their favorites AND I don't spend all day in the kitchen. A little fruit, some yogurt and I have a meal on the table in a pinch. So nice for those nights when we just don't have enough time to get everything done. Such a better option than a run through a drive thru!
Pulled Pork Sandwich
Grilled Steak Bowl
Smoked Bacon Mac & Cheese
Smoked Turkey Sandwich
Pulled Pork Bowl
Golden Roasted Chicken Bowl
Smoked Sausage sandwich
BBQ Beef Sandwich
Be sure to load your Kroger Digital coupon and grab your insert coupon too. Stock your freezer with your favorites and get great taste plus convenience with the new bowls and sandwiches from Jimmy Dean!
This post is brought to you by the folks at Hillshire Brands.