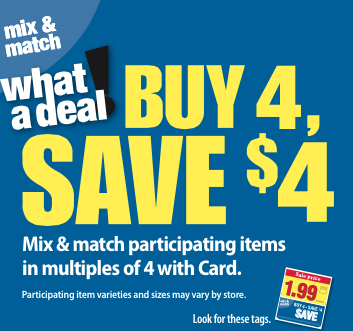 Here is the full list of inclusions in our upcoming What a deal Mega sale where you will save $4 instantly at checkout when you buy 4 participating items. Remember the prices listed here are AFTER mega savings.
I don't think Kroger was ready for this one! They were still tagging…so here are all the deals that we could find today. I will update with any missing prices when I get them!
As usual it's a HUGE list so be sure to click "Read More" to see it all!
BABY
Gerber Graduates, $1.49
-$1/1 Gerber Graduates Lil' Whoos or Lil' Twists Items (Kroger Digital Coupon)
-$1/3 Gerber Graduates Grabbers Items (Kroger Digital Coupon)
-$1/3 Gerber Graduates Puffs, Lil' Crunchies, or Yogurt (Kroger Digital Coupon)
-$1/3 Gerber Graduates Meals or Sides Items (Kroger Digital Coupon)
-$1/3 Gerber Graduates Puffs, Lil' Crunchies, or Yogurt Melts Items Printable
-$1/1 Gerber Graduates Lil' Whoos or Lil' Twists Item Printable
-$1/3 Gerber Graduates Grabbers Items Printable
-$1/2 Gerber Graduates Product printable
-$1/2 Gerber Graduates Product printable
Gerber Juice, 32 oz, $1.29
Gerber Juice 4 pk, $1.79
[Read more…]