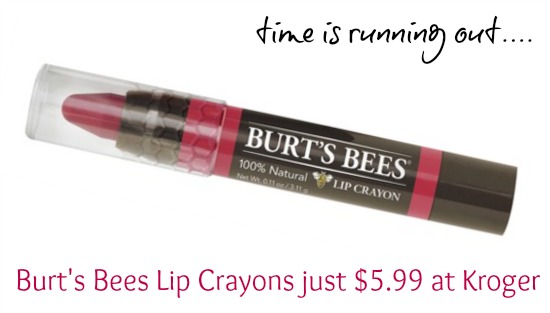 Time is running out for you to pick up a great price on the Burt's Bees® Lip Crayons at Kroger. Don't forget that we have a 20% off sale AND a Kroger Digital coupon. Take advantage of the sale/coupon combination to get a fantastic lip color at a huge discount!
The sale runs through the 25th so don't delay. Here's your deal available right now at Kroger:
Burt's Bees Lip Crayon, $6.99 (reg $8.99)
–$1/1 Burt's Bees® Lip Color Kroger Digital Coupon
$5.99 after coupon!
Burt's Bees® Lip Crayons are 100% all natural lip color that offers fantastic matte color with great moisture. The Lip Crayons go on smooth and creamy without leaving your lips feeling dry like traditional lipstick. You don't have to worry about fragrances or flavors – just beautiful color that helps your lips stay soft and smooth!
Look for the Lip Crayons in the natural section at your Kroger and grab your favorite shades at a nice price!
Remember I have a great giveaway going on right now too! You can win FREE Lip Crayons or a gift set filled with all kinds of great Burt's Bees products.  Head over and enter before the giveaway ends on 4/19. You can't win if you don't enter!
This post is brought to you by the folks at Burt's Bees®. All comments and opinions are my own.