I know you have been hearing it everywhere, it is Back To School season. I know many of you are rushing around trying to get the kids school shopping lists filled and making sure their summer bucket lists are crossed off. My boys are already back in school so our lists are done. I have a lot on my to-do list and a ton of things that I need to think about. I am glad what to pack in their lunch boxes isn't one of them.
When it comes to packing a great tasting sandwich for your kids, always start with premium quality lunchmeat like the new line of Hillshire Farm Naturals. Hillshire Farm Naturals contain no artificial ingredients, preservatives, colors or added nitrites/nitrates except those occurring naturally in celery juice. With so much packaged foods being filled with unnatural ingredients I am happy to find an easy choice to serve to my family.
The line features four varieties including:
Slow Roasted Turkey Breast
Hardwood Smoked Turkey Breast
Honey Roasted Ham
Black Forest Ham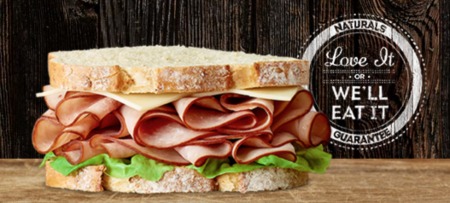 Hillshire Farm Naturals™ lunchmeats are crafted to be both 100% natural and 100% delicious. They are so confident in the taste that they guarantee satisfaction! You read that correctly. If you or your picky eater does not like it, Hillshire Farm will give you your money back! Hillshire Farm will provide a full refund (up to $7) if you are not satisfied with the Hillshire Farm Naturals as part of their "Love It or We'll Eat It" guarantee.
We are huge fans and I think you will love it as much as we do. To celebrate those of us who love Hillshire Farm Naturals, for every click on the "Love it!" button between July 1, 2015 and September 30, 2015, Hillshire Farm will make a $1 donation on our behalf to #HashtagLunchbag for a total maximum donation of $10,000 at the end of the program! So far, over 8,000 sandwiches have already been donated.
So if you love it…they'll donate a sandwich to someone in need and if you aren't satisfied you get your money back. Next time you head over to Kroger make sure you print out the coupon above and pick up a couple of varieties of Hillshire Farm Naturals. Make a delicious sandwich that your whole family will love!
This post is brought to you by the folks at Hillshire Farm. All comments and opinions are my own.