Here is a sneak peek at the Kroger Ad and coupon matchups which start Wednesday, 1/20 and runs through Tuesday 1/26 in the Southeast. 
This week we start a new "Buy 6 Save $3 What a Deal Mega Sale". This sale will run for two weeks and like usual, the advertised items in the ad are listed below. There is a big list of inclusions that are not in the ad. I will have those along with the matchups posted a little later. The mega inclusions below have the price listed AFTER mega discount. As a reminder, with this sale you will automatically save $3 when you purchase any six participating items. You can mix and match and there are no limits to the number of mega deals you can purchase in one transaction.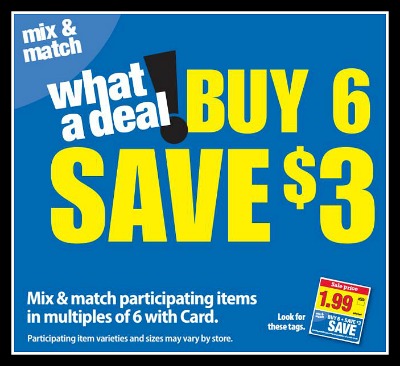 If you are headed to Kroger this week don't forget to load your digital coupons from Cellfire and the Kroger Digital Coupons too. You might want to check your cash back apps (Ibotta, Checkout 51, Shopmium, SNAP and BerryCart) for any matching deals that you might like. Also, be sure to check out the Catalina deals before you shop.
As always, the check mark 
 indicates either a great stockpile price or a stockpile price with coupon(s). And eep in mind that we have a shopping list feature on the site. If you need help, just visit the HELP PAGE to see how to use it.
BUY 6, SAVE $6 WHAT A DEAL MEGA IN-AD INCLUSIONS
Coca-Cola, Pepsi, 7-Up or Dr. Pepper, $0.99
–$0.55/1 2-liter bottle of 7UP® Cherry, Canada Dry® Cranberry, Squirt® Ruby Red or Sunkist® Strawberry
–$1.50 off Cheez-its or Pringles wyb 2 Dr Pepper 2L or or one 12 pk
Vita Coco Coconut Water 16.9 oz, $1.49
Bai5 Beverage 18 fl oz, $1.49
Fiji Water 23.7 oz, $1.49
Minute Maid Juice Drink, 59 fl oz, $0.99
SunnyD 64 f oz, $0.99
–$1/1 SunnyD Smooth 64 oz (zip 60115)

Pepperidge Farm Cookies 5 – 8.6 oz, $1.99
Capri Sun 10 pk, $1.99
Gatorade or G2 8 pk 20 fl oz, $4.99
Edy's Ice Cream 48 oz, $2.99
Nestle Frozen Treats 4 – 9 ct $2.99
Tide Laundry Detergent 46 – 50 oz, $5.49
–$0.50/1 Tide Detergent Printable [37-oz.+; Excludes Tide Simply, PODS, 10-oz. and trial] –$0.50/1 Tide Detergent printable [37-oz.+] -$1/2 Tide, Downy, Bounce (excludes 10oz, Tide 34 ct Bounty) (Limit Of 4 Like Coupons Per Household Per Day) – 01-10-16 SS
Oreo Cookies 10.1 – 15.35 oz, $2.49
–$1/2 Oreo Cookies Printable [10.1-oz.+]
Cheez-It Crackers 9 -12.4 oz $2.49
–$1.50 off Cheez-its or Pringles wyb 2 Dr Pepper 2L or or one 12 pk
–$1/1 Sunshine Cheezit printable [7-oz.+; requires reward points]
Ziploc Food Storage Containers 2 – 8 ct, $1.99
–$1/2 Ziploc Brand Containers Printable
–$1.50/2 Ziploc Brand Products printable [Register and Share]
Huggies Wipes, 56 – 72 ct, $1.49 *Should be eligible for Huggies Catalina and possibly the Baby Aisle Catalina*
–$0.50/1 HUGGIES® Wipes (56 ct. or higher)
–$0.50/1 HUGGIES® Wipes (56 ct. or higher)
-$0.50/1 Huggies Wipes, Any 56-Ct. Or Larger Package – 01-10-16 SS
Snickers or Milky Way Candy 10 – 11.5 oz, $2.49
–$1/2 Snickers Fun Size Bags Printable [6-oz.+] –$1/2 M&M'S®, DOVE®, SNICKERS®, TWIX®, MILKY WAY®, 3 MUSKETEERS® Brands (2.0 oz. or larger).
-$1/2 Snickers, M&M's, Twix, 3 Musketeers, Milky Way, Any 8 Oz. Or Larger Fun Size Or Minis Lay Down Bags (DND) (No Cash Back) – 01-10-16 RP
Stacy's Pita Chips or Pita Crisps or Bagel Chips, 6.73 – 8 oz. $1.99
–$1/2 Stacy's® Pita Chips or Sabra® Dip 8-10oz Kroger Digital Coupon
Doritos 9.5 – 11.5 oz or Doritos Dinamita, $1.99
–$1/1 Doritos Dinamita Rolled Tortilla Chips (Ibotta Deposit) [Any Dinamita variety; 9.25-oz. bag only]
Smart Food Popcorn, 5.5 – 10.5 oz, $1.99
Digiorno Pizza or California Pizza Kitchen Pizza, 13.4 – 31.5 oz, $4.49
-$1.50/2 Digiorno Pizzas, 01/03 SS (exp 2/1) [10.6-oz.+]
Sara Lee Bread 20 oz, $1.99
Ball Park Buns 8 ct $1.99
Sara Lee Snack Cakes 10.5 – 14.2 oz, $1.99
–$0.50/1 Sara Lee Snacks (Kroger Digital Coupon)
Quorn Meatless Entree 5.23 – 12 oz, $2.49
–$1 Quorn Shrink Offer
–$1/1 Quorn Meatless & Soy-Free Product 
Hillshire Farm Lit'l Smokies or Smoked Sausage 12 – 14 oz, $2.49
Nabisco Snack Crackers 3.5 – 9.1 oz, $1.99
-$0.75/2 Nabisco Cookie or Cracker Product, 01/17 SS (exp 2/27) [4.5-oz.+]
Ritz Crackers, 6 – 13.7 oz, $1.99
-$0.75/2 Nabisco Cookie or Cracker Product, 01/17 SS (exp 2/27) [4.5-oz.+]
Butterball Turkey Bacon 12 or Fully Cooked Turkey Bacon 3 oz, $1.99
-$0.55/1 Butterball Every Day Turkey Bacon, exp. 3/27/16 (SS 01/03/16 #2)
–$0.55/1 Butterball Turkey Bacon printable
–$0.55/1 Butterball Turkey Bacon printable
–$0.55/1 Butterball Turkey Bacon printable
–$0.55/1 Butterball Turkey Bacon printable
–$0.55/1 Butterball Turkey Bacon printable
–$0.55/1 Butterball Turkey Bacon printable
–$0.55/1 Butterball Turkey Bacon printable
–$0.55/1 Butterball Turkey Bacon printable
Red Gold Tomatoes, 14.5 oz can, $0.49
–$0.55/3 Red Gold Tomatoes
Banquet Pot Pies 7 oz, $0.49
Marie Callender's 9 – 13.5 oz, $1.78
Healthy Choice 9 – 12 oz, $1.78
Pringles, 5.32 – 8.75, $0.99
–$1.50 off Cheez-its or Pringles wyb 2 Dr Pepper 2L or or one 12 pk
Pepperidge Farm Goldfish, 5.32 – 8.75, $0.99
Chex Mix, 5.32 – 8.75, $0.99
Ronzoni Pasta 10 – 16 oz $0.49
Kraft Easy Mac 1.9 – 2.39 oz cup, $0.49
General Mills Cereal, 9 – 15 oz, $1.49
–$0.50/1 Lucky Charms Cereal Printable
–$1/2 Cheerios Cereals Printable
–$1/2 Chex Cereals Printable
–$0.75/1 Fiber One Cereal listed: Fiber One Original Fiber One Honey Clusters Fiber One Raisin Printable
–$0.75/1 Basic 4™, Raisin Nut Bran OR Oatmeal Crisp™ cereal
-$1/3 General Mills Big G Cereals, exp. 2/20/16 (SS 01/10/16 #2)
–$0.75/1 General Mills Reese's Puffs Cereal printable
–$0.75/1 General Mills Reese's Puffs Cereal printable
–$0.75/1 General Mills Original Cheerios Cereal printable
–$0.75/1 General Mills Reese's Puffs Cereal printable
–$0.75/1 General Mills Reese's Puffs Cereal printable
–$0.75/1 General Mills Reese's Puffs Cereal printable
-$1/2 Chex Cereals, 12/13 SS (exp 1/23)
–$0.75/1 General Mills Original Cheerios Cereal printable
–$0.75/1 General Mills Original Cheerios Cereal printable
–$0.75/1 General Mills Original Cheerios Cereal printable
–$1/2 Chex Cereals: Rice Chex, Corn Chex, Wheat Chex, Honey Nut Chex, Chocolate Chex, printable
-$1/3 General Mills Big G Cereals, 12/06 SS (exp 1/16)
–$0.75/1 Basic 4, Raisin Bran or Oatmeal Crisp Cereal printable
–$0.75/1 Big G: Fiber One Original, Fiber One Honey Clusters, Fiber One Raisin printable
–$0.50/1 Lucky Charms SavingStar Deposit
–$1/2 Big G Cereals: Original Cheerios, Honey Nut Cheerios, Multi Grain Cheerios printable
–$1/2 Chex Cereals: Rice Chex, Corn Chex, Wheat Chex, Honey Nut Chex, Chocolate Chex, printable
–$0.75/1 Basic 4, Raisin Bran or Oatmeal Crisp Cereal printable
–$0.75/1 Basic 4, Raisin Bran or Oatmeal Crisp Cereal printable
–$0.75/1 Basic 4, Raisin Bran or Oatmeal Crisp Cereal printable
–$0.75/1 Big G: Fiber One Original, Fiber One Honey Clusters, Fiber One Raisin printable
–$0.50/1 Lucky Charms Cereal printable
–$1/2 Big G Cereals: Original Cheerios, Honey Nut Cheerios, Multi Grain Cheerios printable
–$0.75/1 Big G: Fiber One Original, Fiber One Honey Clusters, Fiber One Raisin printable
–$0.75/1 Big G: Fiber One Original, Fiber One Honey Clusters, Fiber One Raisin printable
–$1/2 Chex Cereals(SavingStar Deposit)
–$0.50/1 Lucky Charms Cereal printable
–$1/2 Chex Cereals: Rice Chex, Corn Chex, Wheat Chex, Honey Nut Chex, Chocolate Chex, printable
–$0.50/1 Lucky Charms Cereal printable
–$1/2 Big G Cereals: Original Cheerios, Honey Nut Cheerios, Multi Grain Cheerios printable
–$1/2 Chex Cereals: Rice Chex, Corn Chex, Wheat Chex, Honey Nut Chex, Chocolate Chex, printable
Kellogg's Cereal, 9 – 15 oz, $1.49
–$0.70/1 Kellogg's Jif Cereal Printable
–$0.70/1 Kellogg's Mini-Wheats Harvest Delights Cereal Printable
–$0.70/1 Kellogg's Special K Nourish Cereal Printable
-$1/3 Kellogg's Cereals, exp. 2/21/16 (RP 01/10/16 #2) [8.7-oz.+] -$1/3 Kellogg's Special K Cereal Bars, Pastry Crisps, Chewy Snack Bars, Chewy Nut Bars, Brownies, Protein Granola Bars or Special K Moments Bites, exp. 2/21/16 (RP 01/10/16 #2) [5-ct.+ bites] –$1/1 Kellogg's Cereal printable [8.7-oz.+; requires reward points] –B1G1 Kellogg's Origins Cereal, Granola or Muesli (Kroger Digital Coupon) [Up to $3.74] –$1/2 Kellogg's Rice Krispies Cereals printable
–$1/3 Kellogg's Special K Cereals printable
–$1/2 Kellogg's Frosted Mini-wheats Cereals printable
–$1/2 Kellogg's Cereals: Corn Flakes, Raisin Bran printable
–$0.50/2 Kellogg's Special K Hot Cereals printable
–$0.40/1 Kellogg's Pop-Tarts Nutty Toaster Pastries printable
–$0.50/1 Kellogg's Crispix Cereal printable
–$1/3 Kellogg's Cereals: Frosted Flakes, Fruit Loops printable
–$1/2 Kellogg's Raisin Bran Cereals printable
Sun Laundry Detergent Liquid 45.4 fl oz, $0.99
Kleenex Facial Tissue 50 – 160 ct, $0.99 *Eligible for Kleenex Catalina*
-$0.50/3 Kleenex Facial Tissue, exp. 2/6/16 (SS 01/03/16 #2) [(3) 50-ct. boxes or (1) bundle pack; ETS] -$1/2 Kleenex Hand Towels, exp. 2/6/16 (SS 01/03/16 #2)
-$0.50 off Kleenex, 12/06 SS (exp 1/17) [(3) boxes/packs or (1) bundle pack] -$0.50/1 Kleenex Hand Towels, 12/06 SS (exp 1/17)
–$0.50/3 Kleenex Facial Tissue printable [$0.75/3 , share with three friends] –$0.35 off Kleenex Tissue printable [(3) 50-ct.+ boxes or (1) bundle pack] –$0.50/3 Kleenex Facial Tissue printable [Bundle pack]
Jimmy Dean Breakfast Sandwiches 3 – 10 ct, $4.49
-$1/1 Jimmy Dean Breakfast, Lunch Or Dinner Product, Any (Excluding Single Count Sandwiches) (DND/T) (Limit One Coupon Per Transaction) – 01-03-16 RP
-$0.55/1 Jimmy Dean Breakfast, Lunch Or Dinner Product, Any (Excluding Single Count Sandwiches) (DND/T) (Limit One Coupon Per Transaction) – 01-03-16 RP
-$1/1 Jimmy Dean Delights Breakfast Sandwich, Any (1) Or Breakfast Bowls, Any (2) (DND/T) (Limit One Coupon Per Transaction) – 01-03-16 RP
Simply Orange Juice 59 oz, $2.99
–$1/1 Simply Orange (59 or 89 fl. oz.)
Gevalia Coffee 12 oz bag or K-Cups 6 – 12 ct, $5.99
–$1/1 Gevalia Coffee Product Printable
Kellogg's Nutri-Grain Bars 5 – 8 ct, $1.99
Philadelphia Cream Cheese, 8 oz bar, $1.49
–$1/2 Philadelphia Cream Cheese Bricks Printable [8-oz. bricks] –$1/4 Philadelphia Cream Cheese Bricks (Kroger Digital Coupon) [8-oz. bricks]
International Delight Coffee Creamer 32 oz, $2.49
–$1/1 International Delight printable [Sign Up]
Dunkin' Donuts Coffee Creamer 32 oz, $2.49
-$1.50/2 Dunkin' Donuts Coffee Products, exp. 2/14/16 (RP 01/10/16 #2)
–$0.75/1 Dunkin' Donuts Creamer printable [Quart]
Cascadian Farms Organic Cereal or Granola Bars, $2.49
–$0.50/1 Cascadian Farm Soft-Baked Squares printable (if included)
Silk Almondmilk, Half Gallon $2.49
–$0.75/1 Silk® Half Gallon or Silk® Nutchello (48 oz.)
---
BAKERY
Decorated Cupcakes 12 ct, $7.99
Fresh Baked M&M Cookies 16 ct or Frosted Sugar Cookies 10 ct, 2/$6
Simple Truth Organic Ready to Bake Bread, or Rolls, Select Varieties, 10-12oz, 2/$5
Kimberley's Filled Cupcakes, Select Varieties, $3.99/lb
In-Store Made Iced Cinnamon Rolls, 6 ct, 2/$5
---
BEER & WINE
Michelob Ultra, Bud Light Lime or Platinum, 12 pk 12 oz cans or bottles, $12.49
Busch or Pabst 24 pk 12 fl oz cans, $15.99
Sam Adams, Angry Orchard or Sierra Nevada 12 pk 12 fl oz bot or cans, $13.99
Not Your Father's or Coney Island Root Beer 6 k 12 fl oz bot, $9.49
Bud, Miller or Coors or Yuengling, 24 pk 12 oz cans, $18.99
Chalkboard or Gnarly Head or Barefoot Bubbly, Select Varieties, 750 ml, $9.99
Acronym or Belle Ambiance or Dellatorri, Select Varieties, 750 ml, $8.99
Almost or Oyster Bay or Stella Mia, Select Varieties, 750 ml, $10.99
La Marca or Risata, Select Varieties, 750 ml, $14.99
Both Box, Select Varieties, 3 Liter, $16.99
Chloe or Carnivor, Select Varieties, 750 ml, $11.99
Dellatorri, Select Varieties, 750 ml, $8.99
Summerville Park, 1.5 Liter, $8.99
---
DAIRY
Kroger Sour Cream or Dip or Cottage Cheese, 16 oz, 2/$3
Kroger Cheese 6 – 8 oz or Singles 16 ct, $1.77
Stonyfield Organic Yogurt, Select Varieties, 3.4 – 6 oz, 10/$10
Fage Greek Yogurt, 5.3-7 oz, Select Varieties, 10/$10
Yoplait Yogurt, Select Varieties, 4-6 oz, 10/$5
–$1/10 Yoplait Yogurt Printable
–$1/10 Yoplait Yogurt (SavingStar Deposit) [Includes Original, Light, Light Thick & Creamy, Thick & Creamy, Whips!, Lactose Free, Greek, Greek 100, or Greek 100 Whips!] –$1/10 Yoplait Yogurt printable [Original, light, light thick & creamy, thick and creamy whips!] –$1/10 Yoplait Yogurt printable [Original, light, light thick & creamy, thick and creamy whips!]
Sargento Shredded Cheese 5 – 8 oz or Natural Slices, 6.3 – 8 oz or Tastings 325 – 3.95 oz, 4/$10
-$0.40/1 Sargento Natural Cheese Snack, 01/10 SS (exp 2/20) [4.5-oz.+] –$1/2 Sargento Natural Cheese Snacks (Kroger Digital Coupon) [4.5-oz.+] -$0.50/1 Sargento Natural Cheese Snack, 01/10 SS (exp 2/20) [4.5-oz.+] –$0.75/1 Sargento Natural Cheese Snack (Kroger Digital Coupon) [4.5-oz.+] –$3/$12 Sargento Stick or String Cheese Products (SavingStar Deposit)
–$4/$16 Sargento Shredded & Sliced Cheese Products (SavingStar Deposit)
–$0.50/1 Sargento Natural Cheese Slices (Ibotta Deposit)
---
DELI
Party Platters, Medium, $26.99 and up
Sabra Hummus, Select Varieties, 17 oz, $4.99
Boar's Head SmokeMaster Beechwood Smoked Ham, Available in Select Stores, $8.99/lb
Bone-In Chicken Wings, Select Varieties, 10 ct, $5.99
---
FROZEN
Kroger Chicken Party Wings or Drumbeats, 2.5 lb bag, $5.99
Kroger Deli Pizza, 35 – 41 oz, 2/$10
Screamin' Sicilian Pizza, 20.8 – 23.5 oz, $6.99
–$1/1 Screamin' Sicilian Pizza printable [Sign Up] –$1/1 Screamin' Sicilian Frozen Pizza printable
Tyson Chicken or Any'Tizers 19 – 28.05 oz bag, $5.99
-$2.50/2 Tyson Any'Tizers Snacks or Chicken Strips, 01/17 SS (exp 3/13)
Tombstone Pizza 19.6 0 22.1 oz, 2/$5
Kroger Deluxe Ice Cream or Dairy Dessert or Turkey Hill Ice Cream 48 oz, 2/$5
Stouffer's Entree, Party Size, Select Varieties, 57-96 oz, $10.99
-$1.50/1 Stouffer's Family, Large Family or Party Size Entree, 01/03 SS (exp 3/30) [25-oz. to 96-oz.]
Birds Eye Voila Family, 41 oz or Birds Eye Vegetables, 52-60 oz, Select Varieties, $5.98
---
GROCERY
Kroger Water 24 pk, 16.9 fl oz bot, $2.99
Garden of Eatin Tortilla Chips 13 – 16 oz or Garden of Eatin Cantina Chips 13 oz, 2/$6
Ro-Tel Diced Tomatoes 10 oz, 10/$10
Pepsi 6 pl, 16 fl oz bot, $1.99
Kroger Potato Chips, 6 oz; Tortilla Chips 10 oz or Popcorn 45- 5 oz, 10/$10
Skittles or Starburst Candy 1.5 – 2.17 oz, 2/$1
Hershey's or Dove Candy 7.94 – 12 oz, 2/$6
Coca-Cola, Pepsi, 7UP, or Dr Pepper 12 pk, 12 f oz can or 8 pk 12 fl oz bot 3/$10
Kettle Brand Potato chips, 6.5 – 8.5 oz, 3/$5
–$1/2 Kettle Brand Products printable (exp. 7/31/16)
–$1/2 Kettle Brand Chips (Kroger Digital Coupon) [4-oz.+]
Simple Truth 100% Juice, Select Varieties, 32 fl oz, 2/$7
ThinkThin or ZonePerfect Bar, 1.4-2.1 oz, 10/$10
–$0.50/1 ZonePerfect Nutrition Bars (Kroger Digital Coupon) [Any variety; Single bar]
Blue Diamond Nut Thins, Gluten-Free, Select Varieties, 4.25 oz, 2/$5
PopChips, Select Varieties, 3-3.5 oz, 2/$4
Que Pasa Organic Tortilla Chips, Select Varieties, 16 oz, $3.99
Bragg Organic Apple Cider Vinegar, 32 fl oz, $4.99
Evol Bowls, Select Varieties, 8-9 oz, $2.99
Lay's Potato Chips Family Size, 10-10.5 oz, 2/$5
Sunchips, 7 oz, Select Varieties, 2/$5
Powerade or Powerade Zero, Select Varieties, 32 fl oz, $0.69
Starbucks Coffee, 11-12 oz Bag or Starbucks K-Cups, 10 ct, $6.99
–$2/2 Starbucks K-Cup Pods (Kroger Digital Coupon)
–$1.25/1 Starbucks Flavored Packaged Coffee Product (Kroger Digital Coupon) [Ground]
Folgers Coffee, 24.2-30.5 oz Can, $6.99
Ortega Taco Shells or Seasoning, or Dinner Kit, Select Varieties, 1.25-21.3 oz, 33% off
-$1/1 Ortega Street Taco Kit Blinkie
–$1/2 Ortega Products printable
Campbell's Condensed Soup, Select Varieties, 10.5-11.5 oz, 10/$10 *Eligible for Campbell's Catalina starting 1/25*
–$0.40/4 Campbell's Condensed Soups Printable
–$0.40/4 Campbell's Condensed Soups (Kroger Digital Coupon)
-$0.50/5 Campbell's Condensed or Healthy Request Soup, exp. 2/28/16 (SS 01/03/16 #2 R)
Simple Truth Organic Beans, 15-15.5 oz Can, 10/$10
McCormick Chili Seasoning Mix, 1.25 oz, Select Varieties, 10/$10
Quaker Chewy Granola Bars, Select Varieties, 5-8 ct, 2/$5
Peter Pan Peanut Butter, Select Varieties, 15-16.3 oz, $2.49
-$0.50/1 Peter Pan Simply Ground Peanut Butter, exp. 3/5/16 (SS 01/10/16 #2 R) [15-oz.] –$0.50/1 Peter Pan Simply Ground Peanut Butter (Kroger Digital Coupon)
–$0.50/1 Peter Pan Simply Ground Peanut Butter printable [Original or Honey Roasted] –$0.50/1 Peter Pan Simply Ground Peanut Butter printable [Original or Honey Roasted]
---
HOUSEHOLD
Crock-Pot Slow Cooker 1.5 qt, $9.99
Valentine Decor, Limited to Stock on Hand, Selection Varies by Location, 20% off
GE Reveal Halogen Light Bulbs, Select Varieties, 4 ct, $7.99
-$1/1 GE LED Soft White or GE Reveal Lighting Product, 11/22 SS (exp 1/19) [Limit 1]
Energizer Batteries, AA or AAA, 4 ct, C or D, 2 ct or 9V, 1 ct, Select Varieties, $2.99
-$0.75/1 Energizer Batteries or Flashlight, 01/03 SS (exp 2/27)
–$0.55/1 Energizer Max Brand Batteries (Kroger Digital Coupon) [16-ct. or smaller]
Holiday Home Giant Plus, Approx 40', $19.99
Febreze Car Vent Clip, Select Varieties, $2.99
-$0.50/1 Febreze Product, exp. 1/23/16 (P&G 12/27/15) [ETS] -$1.50/2 Febreze Products, exp. 1/23/16 (P&G 12/27/15) [ETS] –$0.50/1 Febreze Product (Kroger Digital Coupon) [ETS] –$0.75/1 Febreze Printable [ETS] –$0.75/1 Febreze Product printable
Good Cook Pro Kitchen Gadgets, Select Varieties, 40% off
Quilted Northern Bathroom Tissue, 12 Double Rolls, 2/$10
-$0.25/1 Quilted Northern Ultra Plush Bath Tissue, 01/03 RP (exp 2/3) [4+ double roll] -$0.55/1 Quilted Northern Ultra Soft & Strong Bath Tissue, 01/03 RP (exp 2/3) [4+ double roll] –$0.55/1 Quilted Northern Ultra Soft & Strong printable
–$0.25/1 Quilted Northern Ultra Plush printable [6 Double Roll+]
Brawny Paper Towels, 6 Big or 8 Regular Rolls, Select Varieties, 2/$10
-$0.25/1 Brawny Paper Towels, 01/03 RP (exp 2/3)
–$1/1 Brawny Paper Towels printable [6 Big or 8 Regular Rolls]
---
HEALTH & BEAUTY
Advil Pain Reliever, Select Varieties, 100 ct, $7.99
-$3/1 Advil Film-Coated, exp. 3/3/16 (RP 01/03/16 #2) [80-ct.+] -$2/1 Advil Regular, Film Coated or Migraine, exp. 3/3/16 (RP 01/03/16 #2) [80-ct.+] -$1/1 Advil PM, exp. 3/3/16 (RP 01/03/16 #2) [20-ct.+] -$2/1 Advil PM, exp. 3/3/16 (RP 01/03/16 #2) [4-ct.+] -$1/1 Advil Regular, Film Coated or Migraine, exp. 3/3/16 (RP 01/03/16 #2) [40-ct.+] –$1/1 Advil Product printable [20-ct.+] –$1/1 Advil LiquiGel Product printable
–$1/1 Advil Migraine Product printable
–$2/1 Advil PM printable [40-ct.+] –$1/1 Advil PM printable [20-ct.+] –$1/1 Advil PM printable [20-ct.+] –$1/1 Advil, Advil Film-Coated or Advil Migraine printable [40-ct.+] –$3/1 Advil Film-Coated printable [80-ct.+] –$3/1 Advil Pain Relief Product printable [Sign Up]
Rhinocort Allergy Spray, 60 Sprays, $13.99
Gillette Fusion ProShield Razor, Select Varieties, 1 ct, $7.99
Edge or Skintimate Shave Gel, Select Varieties, 7 oz, 2/$5
-$1/1 Skintimate, Edge or Schick Hydro Shave Gel, exp. 2/7/16 (SS 01/10/16 #2) [Excludes 2.7-oz.] -$1/2 Schick Hydro, Edge or Skintimate Shave Gels, 12/13 SS (exp 1/30) [Excludes 2.75-oz.]
Colgate Toothpaste, 4.6 oz or Colgate Plus Toothbrush, 1 ct, Select Varieties, 10/$10
-$0.75/1 Colgate Toothpaste, 01/17 SS (exp 1/30) [3-oz.+] -$0.50/1 Colgate Toothpaste, exp. 1/16/16 (SS 01/03/16 #2) [3-oz.+; Limit 4] –$0.50/1 Colgate Toothpaste Printable [3-oz.+]
---
MEAT
Kroger or Private Selection Bacon 20 – 24 oz, $5.99
Ground Chuck, 80% Lean sold in a 3 lb pkg, $3.49/lb
Angus Boneless Ribeye Steaks, Family Pack or Boneless Ribeye Roast, $6.99/lb
Boneless Pork Chops, Family Pack or Tenderloin or Back Ribs, $2.99/lb
Heritage Farm Chiken Drumsticks or Thighs or Whole Fryer, $0.79/lb
Cook's Portion Ham, Shank or Butt, Bone-In, $0.79/lb
Boneless Bottom Round Roast, Beef Round, $4.99/lb
Homestyle Ground Chuck Patties, Fresh, 80% Lean, 10 ct, 2.2 lb, 10/$10
Grade A Turkey, Kroger Frozen, 10 lb & up, $0.79/lb
Hart Authentic Oriental Glazed Chicken, Select Varieties, 24 oz, $3.99
Tennessee Pride Breakfast Sausage, Select Varieties, 12-16 oz, 2/$5
Land O' Frost, Premium Lunch Meat, 16 oz, $3.99
–$0.55/1 Land O'Frost Premium, Bistro or Canadian Bacon printable
Oscar Mayer P3 Snacks, Select Varieties, 2-2.7 oz, 4/$5
–$1/3 P3 Portable Protein Packs Printable
–$1/3 P3 Portable Protein Packs (Kroger Digital Coupon)
-$1/3 P3 Portable Protein Packs, exp. 2/1/29 (SS 01/03/16 #2)
Bob Evans Side Dishes, 12-24 oz or McCormick Smoked Sausage, 14oz, Select Varieties, 2/$6
–$0.75/1 Bob Evans Side Dish Printable (zip 60115)
–$1/1 McCormick Grill Mates Smoked Sausage printable (zip 22222)
–$1/1 McCormick Grill Mates Smoked Sausage printable
Bar-S Hot Dogs, Select Varieties, 16 oz, 10/$10
---
PET
Friskies Cat Food, Variety Pack, Select Varieties, 24 ct, $11.99
-$1.50/24 Purina Friskies Cans, Variety Pack or Variety Pack Wet Cat Food Cans, 01/03 SS (exp 2/29) [(24) 5.5-oz. cans; (1) 24-ct. or 32-ct. variety; Limit 4]
---
PRODUCE
Iceberg Lettuce, $0.99
Strawberries or Blackberries, 6 – 16 oz, 2/$5
Pacific Rose or Braeburn Apples, $0.99/lb
Avocado, $0.99
Simply Fresh Bouquet, 14 Stem, $9.99
Assorted Potted Bulbs, Select Varieties, 6" Pot, $6.99 and Up
Assorted Bulbs, Select Varieties, 3/$10 and Up
Simple Truth Organic Russet Potatoes, 3 lb bag, $2.99
Simple Truth Organic Mini Peeled Carrots, 16 oz Bag, 2/$3
Simple Truth Organic Salads, Select Varieties, 5 oz, 2/$6
Wonderful Pistachios or Almond, 6.3-8 oz, 2/$7
-$0.50/1 Wonderful In-Shell Pistachios, 12/06 SS (exp 2/6) [4.5-oz.+; DND] –$0.50/1 Wonderful Pistachios printable [4.5-oz.+]
Boathouse Farms Juice, Select Varieties, 15.2 oz, BOGO $3.29
Mini Peeled Carrots, 2 lb Bag, $1.99
Kiwi, 1 lb, $1.99
Large Navel Oranges or Red Grapefruit, $0.88 ea
Fresh Selections or Dole Garden Plus Salad, Select Varieties, 9-12 oz, 3/$5
Kroger Jumbo Russet Potatoes, 8 lb Bag, $3.99
Kroger Sweet Onions, 5 lb Bag, $3.99
Florida's Natural 59 oz, 2/$5
---
SEAFOOD
Cooked Cocktail Shrimp, Previously Frozen 26 – 30 ct, sold in 2 lb bag for $13.98, $6.99/lb
Cod Fillets, Wild-Caught, $4.99/lb
Atlantic Salmon Fillets, Fresh, Farm-Raised, $5.99/lb
Wild-Caught Snow Crab Clusters, Previously Frozen, 4-8 oz, $6.99/lb
Steelhead Fillets, Fresh, Farm-Raised, $6.99/lb
Kroger Shrimp Platter, Frozen, Peeled & Deveined, 40 ct, 17 oz, $10.99
Lobster Tails, Frozen, Raw, 4-5oz, 2/$10
Kroger Imitation Crab Meat, or Seafood Dip, Select Varieties, 7-8 oz, 2/$4