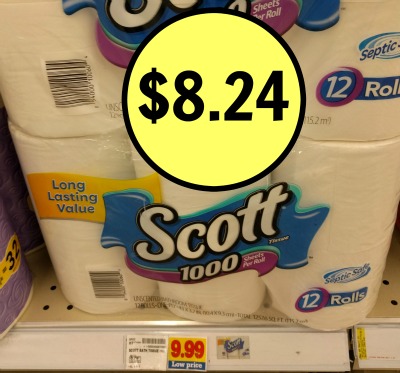 Kathy emailed with a new Scott Bath Tissue/Paper Towel Kroger Catalina that we can take advantage of this month. Here are the details:
Scott Bath Tissue 12 ct. or Paper Towels, 6 ct. Catalina
Effective through 1/24/16
Buy 2 and get a $2 on your next order Catalina
Buy 3+ and get a $3 on your next order Catalina

Scott Bath Tissue, 12 ct, $9.99
-$0.75/1 Scott Bath Tissue Package, exp. 1/31/16 (SS 01/03/16 #2) [8+ rolls]
–$0.65/1 Scott Extra Soft Bath Tissues printable [12-ct.+]
–$0.65/12 Scott Extra Soft Bath Tissue printable
$8.24 after coupon and Catalina when you buy two.