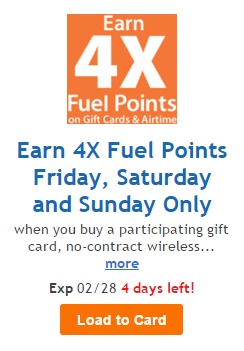 Nancy and Mike emailed to let us know about the 4X Kroger Fuel Points coupon that is available. Be sure to load your Kroger Digital coupon to score 4X Kroger Fuel Points when you buy participating gift cards. If you are shopping or picking up gifts this is a great way to score some big fuel points for cheap gas.
The coupon is valid through 02/28/2016 and has unlimited uses!
Nancy and Mike have an entry into this week's Email & Win contest. If you find a deal at Kroger make sure you email me for your entry!