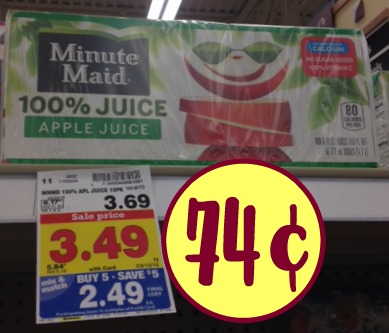 Pick up a great deal on Minute Maid Juice boxes in the mega sale with the coupon and Ibotta cash back. You can get a pack for just 74¢ after all discounts. Might as well add a pack to your shopping list if your kiddos will drink them!
Minute Maid 100% Juice, Variety Pack Juice Boxes, $2.49
–$1/1 Minute Maid Juice or Drink Box (10 pack)
–$0.75/1 Minute Maid 100% Juice Box (Ibotta Deposit) [Any variety; 10-ct. pack] 74¢ after coupon and Ibotta cash deposit.
Add this deal to your shopping list over on the Kroger What A Deal Buy 5 Save 5 Mega Sale Full Inclusion List – Valid 3/2 – 3/15.