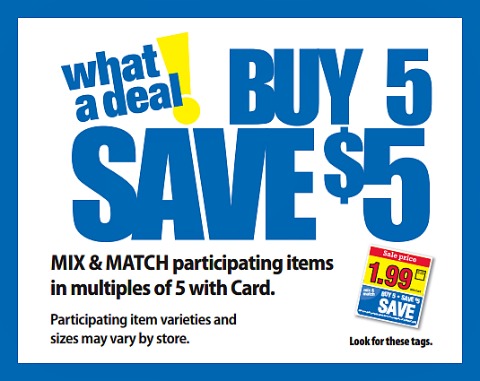 Here is the HUGE inclusion list for the upcoming Buy 5 Get $5 Mega sale along with all the matching coupons that I see.
If you find any other matching coupons or if you find a coupon that doesn't match, let me know and I will get it added or fixed as soon as possible. As usual the price listed is AFTER mega savings.
I will add in the remaining prices as soon as the sale starts on Wednesday. As I mention above, this is a HUGE sale so be sure to click "Read More" to see all the deals!
BABY
Boost Kids Essentials Drinks, 4 pk, $3.49
Gerber 2nd Foods Organic Baby Food, 4 pk Pouches
–$1/6 Gerber Grabbers or Organic Pouches Printable
-$1/6 Gerber Grabbers or Organic Pouches (Kroger Digital Coupon)
Gerber Good Start Formula, $24.99
Gerber Good Start Ready To Feed Formula
Gerber Graduates Yogurt Melts, $1.49
Gerber Juice or Yogurt, $1.49
GoodNites Underwear, Big Pack
–$1.50/1 GOODNITES Underwear printable
–$2/1 GoodNites Underwear printable
–$1.50/1 Goodnites Bedtime Pants printable
Huggies Diapers, Big Pack, $17.99
–$2/1 Huggies Diapers Printable
-$1.50/1 Huggies Diapers, 02/05 SS (exp 2/25) [10-ct.+] -$1.50/1 Huggies Wipes wyb Little Snugglers or Movers Diapers, 02/05 SS (exp 2/25) [56-ct.+ wipes; 10-ct.+ diapers] -$3/2 Huggies Diapers, exp. 3/25/17 (SS 02/26/17) [10-ct.+] –$1.50/1 Huggies Snug Dry Diapers printable
–$1.50/1 Huggies Little Movers Diapers printable
–$3/2 Huggies Diapers printable
–$1.50/1 Huggies Little Snugglers Diapers printable
–$1.50/1 Huggies Little Snugglers Diapers printable
–$1.50/1 Huggies Little Movers Diaper Pants printable
–$2 off Huggies Wipes wyb Huggies Diapers printable
-$2/1 HUGGIES Diapers. Excludes 9 ct. or less (Kroger Digital Coupon)
Huggies Supreme Diapers
–$2/1 Huggies Diapers Printable
-$1.50/1 Huggies Diapers, 02/05 SS (exp 2/25) [10-ct.+] -$1.50/1 Huggies Wipes wyb Little Snugglers or Movers Diapers, 02/05 SS (exp 2/25) [56-ct.+ wipes; 10-ct.+ diapers] -$3/2 Huggies Diapers, exp. 3/25/17 (SS 02/26/17) [10-ct.+] –$2/1 Huggies Little Movers Slip-On Diapers printable
–$1.50/1 Huggies Snug Dry Diapers printable
–$1.50/1 Huggies Little Movers Diapers printable
–$3/2 Huggies Diapers printable
–$1.50/1 Huggies Little Snugglers Diapers printable
–$1.50/1 Huggies Little Snugglers Diapers printable
–$1.50/1 Huggies Little Movers Diaper Pants printable
–$2 off Huggies Wipes wyb Huggies Diapers printable
-$2/1 HUGGIES Diapers. Excludes 9 ct. or less (Kroger Digital Coupon)
Huggies Wipes or Gift Pack, Select Varieties, $4.99+
-$0.50/1 HUGGIES Wipes (56 – 335 ct.) (Kroger Digital Coupon)
–$0.50/1 Huggies Wipes printable [56-ct.+] -$1/2 Huggies Wipes, 02/26 SS (exp 3/25) [56-ct.+] –$1/2 Huggies Baby Wipes printable
–$0.50/1 Huggies Baby Wipes printable
–$1.50/1 Huggies Wipes printable [336-ct.+]
Pampers Diapers, $7.99
–$1/1 Pampers Cruisers Diapers printable [ETS] –$1/1 Pampers Baby Dry Diapers printable [ETS] –$2/1 Pampers Cruisers Diapers Printable [Excludes trial/travel size] –$2/1 Pampers Baby Dry Diapers Printable [Excludes trial/travel size] –$2/1 Pampers Swaddlers Diapers Printable [Excludes trial/travel size] –$1/1 Pampers Swaddlers Diapers printable [ETS] –$1/1 Pampers Swaddlers printable
–$1/1 Pampers Cruisers Diapers printable
-$3 off Pampers Diapers or Easy Ups, exp. 3/11/17 (P&G 02/26/17) [(2) bags or (1) box; ETS] -$3 off Pampers Easy Ups or Underjams, exp. 3/11/17 (P&G 02/26/17) [(2) bags or (1) box; ETS] –$1/1 Pampers Baby Dry Diapers printable
-$3/1 Pampers Baby Dry Diapers, Box (Kroger Digital Coupon)
-$2/1 Pampers Diapers OR Splashers SWIM Diapers (Kroger Digital Coupon)
-$3/1 Pampers Swaddlers, Swaddlers Sensitive OR Swaddlers Overnights Diapers, Box (Kroger Digital Coupon)
-$1/2 Kashi Products, any variety (5.3 oz. or Larger) (Kroger Digital Coupon)
Pampers Easy Ups Training Pants, $23.99
–$2/1 Pampers Easy Ups Printable
–$1/1 Pampers Easy Ups Training Underwear printable [ETS] –$1/1 Pampers Easy Ups Training Pants printable
-$2/1 PULL-UPS Training Pants or GOODNITESBedtime Pants or Bed Mats. Excludes 7 ct. or less (Kroger Digital Coupon)
-$3/1 Pampers Easy Ups Training Underwear OR UnderJams Absorbent Night Wear, Box (Kroger Digital Coupon)
Pull-Ups, $7.99+
–$4/2 PULL-UPS® Training Pants (7 ct. or larger) when you Buy ONE (1) pkg of HUGGIES® Diapers 10 ct +
–$2/1 PULL-UPS® Training Pants or GOODNITES® Bedtime Pants or Bed Mats (Not valid on 7 ct. or …
–$2/1 Pull-Ups Night Time Training Pants printable
–$2/1 Pull-Ups Night Time Training Pants printable
–$1.50/1 Pull-Ups Night Time Training Pants printable
---
REFRIGERATED/DAIRY
Almond Dream Yogurt, $0.89
Arla Cream Cheese, $1.69
Baileys Creamer, $2.49
Brummel & Brown Spread, $1.99
Buitoni Pasta, $2.79
Buitoni Sauce, $2.79
Cedar's Hommus, $1.79
–$1/1 Cedar's Product printable signup
Chobani Greek Yogurt Select Varieties, 4 ct, $2.99
Chock Full o'Nuts K-Cups, $5.99
-$1/1 Chock Full O Nuts Coffee, 01/29 SS (exp 3/31)
Daisy Cottage Cheese, $2.49
Daisy Sour Cream, $2.27
–$0.45/1 Daisy Squeeze Sour Cream printable
Danimals Yogurt, Pouches or Bottles, $1.99
Dannon Greek Yogurt Select Varieties, 4 ct, $2.99
-$1.50/2 Dannon Light & Fit Products, any variety (5.3 oz/4-pack) (Kroger Digital Coupon)
Fairlife Super Kids Milk, 52 fl oz; Select Varieties, $2.99
Frigo Cheeseheads Meat & Cheese Kits, $3.99
-$1/2 Frigo Cheese Heads Snack Cheese Products, exp. 3/16/17 (SS 01/08/17 #2) [12-ct.+]
Frigo Cheeseheads Cheese Sticks, $2.99
-$1/2 Frigo Cheese Heads Snack Cheese Products, exp. 3/16/17 (SS 01/08/17 #2) [12-ct.+]
Frigo Cheeseheads String Cheese, $4.19
-$1/2 Frigo Cheese Heads Snack Cheese Products, exp. 3/16/17 (SS 01/08/17 #2) [12-ct.+]
Galbani Fresh Mozzarella, $3.69
–$1/1 Galbani Mozzarella Fresca Item printable
Giovanni Rana Pasta, $2.99
-$1/1 Giovanni Rana Refrigerated Pasta, 02/26 RP (exp 5/31)
-$1/1 Giovanni Rana Refrigerated Sauce, 02/26 RP (exp 5/31)
–$1/1 Giovanni Rana Refrigerated Sauce Printable
Greek Gods Yogurt 24 oz, $2.69
–$1/1 Greek Gods Chocolate Yogurt (Savings.com) [24-oz.] –$1/1 Greek Gods Chocolate Yogurt printable [24-oz.]
Heluva Good Dip, $0.99
-$0.75/1 Heluva Good Dip, 01/29 SS (exp 3/31) [12-oz.+]
Heluva Good Greek Style Yogurt Dip, $0.99
-$0.75/1 Heluva Good Dip, 01/29 SS (exp 3/31) [12-oz.+]
I Can't Believe It's Not Butter Select Varieties, 8-16 oz, $1.99
–$0.55/1 I Can't Believe It's Not Butter printable
LALA Yogurt Smoothies, 4 ct, $2.79
Kraft American Singles, $3.39
Kraft Natural Cheese, Chunks or Cuts, $1.99
-$1/2 KRAFT Shreds or Chunks (Kroger Digital Coupon)
Kraft Natural Cheese, Shredded 6-8 oz, $1.99
-$1/2 KRAFT Shreds or Chunks (Kroger Digital Coupon)
Kroger Cheese, Bar or Shredded, 12-16 oz; Select Varieties, $2.49
Kroger Stick or String Cheese, $1.89 – $2.49
Philadelphia Cheesecake Cups, $2.50
–$0.75/1 Philadelphia Cheesecake Cups Printable
–$1/1 Philadelphia Cheesecake Cups (Kroger Digital Coupon) exp 3/15
Philadelphia Cream Cheese, 8 oz Bar, $1.49
Philadelphia Cream Cheese 2 pk, $3.29
Sargento Cheese Sticks, $3.99
Sargento Shredded Cheese, Select Varieties; 5-8 oz, $1.99
-$0.50/2 Sargento Shredded Natural Cheese, 01/29 SS (exp 3/12)
Sargento Sliced Cheese, 8 oz; Select Varieties, $2.49
-$0.50/2 Sargento Sliced Cheese, 01/29 SS (exp 3/12)
Smart Balance Buttery Spread, $1.99
-$1/1 Smart Balance Product, 02/12 SS (exp 4/30)
Stok Cold Brew Coffee, $3.99
Sunny Delight Chilled, $1.89
Trop50 Orange Juice 59 fl oz; Select Varieties, $2.99
Tropicana Orange Juice 59 fl oz; Select Varieties, $2.99
-$1/1 Tropicana Trop50 Orange Juice Beverage, SS 01/08 (exp 03/11/17)
Turkey Hill Tea, $1.79
YoCrunch Yogurt, $2.59
Yoplait Go Big Yogurt
---
FROZEN
American Flatbread Pizza, $5.99
Almond Dream Pint, $2.69
Almond Dream Bites, $2.99
Armour Meatballs, $9.99
Bagel Bites Breakfast
–$1.50/1 BAGEL BITES, DELIMEX, VELVEETA BITES, or TGIF Frozen Appetitizer, any flavor (12 oz or Larger) [Kroger MarchtoSave Digital Coupon] exp 4/20
Ball Park Patties, $5.99
–$2/1 Ball Park Frozen Grilled Patties product, any variety [Kroger MarchtoSave Digital Coupon] exp 4/20
Bantam Bagels
Barber Chicken $3.69
-$1/1 Barber Foods Products, 02/12 SS (exp 4/8)
–$1/2 Barber Foods Stuffed Chicken Breasts printable
Ben & Jerry's Ice Cream Select Varieties, 16 fl oz, $$3.49 – $3.99
Birds Eye Steamfresh Protein Blends, $1.49
Birds Eye Steamfresh Vegetables or Flavor Full, $1.49
Birds Eye Vegetables Frozen, Select Varieties, 9.5-16 oz, $1.49
Birds Eye Vegetables Frozen 60 oz, $5.29
Birds Eye Voila! Skillet Meal, Family Size, $5.99
Breyers Gelato, $3.49
Breyers Ice Cream or Dairy Dessert Select Varieties 48 fl oz, $2.49 – $2.99
Chung's Egg Rolls, 4 ct, $1.99
Coles Forno De Minas Pao De Queijo
Cole's Garlic Bread, Toast or Loaf, $0.79
–$1/2 Cole's Brand Product printable
Cole's Texas Toast, Cheese Sticks or Pretzel Sticks, $2.29
–$1/2 Cole's Brand Product printable
Cooked Perfect Drumsticks or Thighs, $7.99
–$1.50/1 Cooked Perfect Fire Grill Chicken printable
Cooked Perfect Chicken Tenders
–$1.50/1 Cooked Perfect Fire Grill Chicken printable
Cooked Perfect Chicken Wings, $11.99
–$1.50/1 Cooked Perfect Fire Grill Chicken printable
Cooked Perfect Meatballs, $1.99
–$1/1 Cooked Perfect® Meatballs printable
–$1/1 Cooked Perfect Meatballs, any flavor or size [Kroger MarchtoSave Digital Coupon] exp 4/20
-$1/1 Cooked Perfect Meatballs, 01/29 SS (exp 3/29)
-$1.50/1 Cooked Perfect Meatballs, 01/29 SS (exp 3/29)
Cuisine Adventures Meal or Soup
De Walfelbakkers Pancakes, $2.59
Devour Entrée, $2.49
-$0.75/3 DEVOUR Frozen Meal, any variety (8-12.5 oz). Limit 3 in one transaction (Kroger SuperSaver Digital Coupon)
Diana's Bananas, $3.99
DiGiorno Stuffed Crust Pizza 20.9-26.6 oz, $5.99
Eggo Waffles, $4.49
–$1/1 Kellogg's Eggo Frozen Product printable [Need 850 rewards points] -$1/3 Eggo Waffles Pancakes, or French Toast, 02/05 RP (exp 3/19)
-$0.75/1 Eggo Waffles, Pancakes, or French Toast Frozen Product, 02/05 RP (exp 3/19) [8.4-oz.+]
Evol Bowls, $2.99
–$1/1 EVOL Single Serve Meal Printable
–$1/1 EVOL Item printable
–$1/1 Evol Item printable
–$0.75/1 Evol Frozen Entrees-any variety (Checkout 51 Deposit) Excludes burritos. Limit 2
Evol Breakfast Burritos, $1.19
–$1/1 EVOL Item printable
–$1/1 Evol Item printable
Foster Farms Prepared Chicken
-$1/1 Foster Farms Frozen No Antibiotics Ever Cooked Chicken Item, exp. 3/31/17 (SS 01/01/17 #2) [DND] -$2/1 Foster Farms Organic Fresh Chicken Item, exp. 3/31/17 (SS 01/01/17 #2) [DND] -$1/1 Foster Farms No Antibiotics Ever Fresh Chicken Item, exp. 3/31/17 (SS 01/01/17 #2) [DND]
Foster Farms Sausage & Pancake on a Stick, $6.79
Freschetta Pizza Select Varieties, 20.28-30.8 oz, $3.99 – $4.29
–$0.50/1 Freschetta Pizzas (Ibotta Deposit) any variety, any size
Furlani Cornbread Biscuits, $1.99
Good Humor Ice Cream Bars, $2.99
Gorton's Artisan Seafood, $3.49 – $4.49
–$1/2 Gorton's Products printable
Gorton's Grilled Fish Fillet, 14-24 oz, $3.49
–$1/2 Gorton's Products printable
Gorton's Grilled Seafood, $3.49
–$1/2 Gorton's Products printable
Gorton's Large, Value Pack, Smart and Crunchy, $3.49
–$1/2 Gorton's Products printable
–$0.50/1 Gorton's® Fish Sticks, Dippers, and Other Portions, 17.3 oz. or larger (Ibotta Deposit) [Select bagged varieties only; 17.3-oz.+] –$0.50/1 Gorton's® Fish Fillets, 18.2 oz. or larger (Ibotta Deposit)
Green Giant Saute or Roasted Vegetables, $1.99
Green Giant Valley Fresh Steamers, $1.59
Häagen-Dazs Ice Cream or Novelties, 14 fl oz, 3 ct; Select Varieties, $2.99
Halo Top Ice Cream; Select Varieties, 16 fl oz, $3.49
–$1/1 Halo Top Ice Cream printable [Pint] –$0.25/1 Halo Top Ice Cream (Ibotta Deposit) [Any variety; 1 pint]
Ian's Sausage Pan Crepes, $3.89
InnovAsian Entrée, $4.99
–$2/2 InnovAsian Cuisine Printable [18-oz. or less] -$2.50/2 Innovasian Cuisine Items, 01/22 SS (exp 3/10)
-$1.50/1 Innovasian Cuisine Item, 01/22 SS (exp 3/10)
–$1.25/1 InnovAsian Cuisine Product Printable [18-oz. or less]
Jack Nicklaus Ice Cream, $1.99
Jimmy Dean Breakfast Sandwiches or Stuffed Hashbrowns Select Varieties, 13.2-18.4 oz, $4.99
Jose Ole Taquitos or Snacks, $3.49
–$1.50/1 José Olé Taquitos or Snacks, any flavor (16 oz or larger) [Kroger MarchtoSave Digital Coupon] exp 4/20
–$0.75/1 Jose Ole Taquito or Snack Item Printable [16-oz.+] -$1.50/2 Jose Ole Taquitos or Snacks, 01/29 SS (exp 3/31) [16-oz.+] -$1/1 Jose Ole Taquitos or Snacks, 01/29 SS (exp 3/31) [16-oz.+]
Kidfresh, $1.99
–$1/1 Kidfresh Frozen Kids' Meals (Ibotta Deposit) [Any variety; Any size] –$1/2 Kidfresh Frozen Kids' Meals (Ibotta Deposit) [Any variety; Any size]
Klondike Novelties, $2.19
Kroger Meatballs, $3.29
Le Petit Francais Baguettes, $2.49
Ling Ling Potstickers, $5.49
Louisa Pasta, $2.99
Magnum Ice Cream Bars, $2.99
Mayfield Ice Cream, $2.99 – $3.99
Minute Maid Juice Boxes, $2.49
–$1/1 Minute Maid Juice Box 10pk
MorningStar Farms Vegetarian Foods, $2.99
–$1/1 MorningStar Farms Veggie Foods Product printable [need 850 rewards point]
Newman's Own Pizza, $3.99
–$1/1 Newman's Own Thin & Crispy Pizza Printable
-$1/1 Newman's Own Thin & Crispy Pizza (Kroger Digital Coupon)
On-Cor Chicken, $2.49
Ore-Ida Potatoes, $1.99
Outshine Fruit Bars 4-12,Select Varieties, $2.99
Perdue Breaded, Simply Smart or Encrusted Chicken, $4.99 – $5.99
–$1.50/2 Perdue or Perdue Harvestland Perfect Portions Products printable
–$1.50/2 Perdue or Perdue Harvestland Perfect Portions Products printable
–$1/1 Perdue Chicken Nuggets, Strips, and Tenders (Ibotta Deposit) [Select varieties; Any size]
Perfect Gems Fiber Plus Blend Fruit, $4.39
Popsicle Novelties, Large Pack, $2.99
Private Selection Focaccia Pizza, $1.69
Restaurant Brand Fries or Onion Rings, $2.49
–$0.75/1 Hidden Valley Ranch Frozen Seasoned Crinkle Cut Fries printable
-$0.75/1 Hidden Valley Original Ranch Seasoned Crinkle Cut Fries, 02/26 SS (exp 5/26)
-$0.75/1 Red Robin Seasoned Fries or Onion Rings, 01/22 SS (exp 4/17)
-$0.75/1 Nathan's Jumbo Crinkle Cut Fries or Onion Rings, 01/22 SS (exp 4/17)
Rhodes Microwavable Cinnamon Rolls, $2.27
Sandwich Bros. Breakfast Pita Sandwiches, $2.39
–$1/1 Sandwich Bros. Printable [4-ct. or 6-ct. breakfast or snack variety] –$1/1 Sandwich Bros Product printable [4-ct. or 6-ct.] –$1/1 Sandwich Bros Flatbread Pocket Sandwiches (Checkout 51 Deposit) [Not valid on single varieties.]
Sandwich Bros. Flatbread Sandwiches, $2.29
–$1/1 Sandwich Bros. Printable [4-ct. or 6-ct. breakfast or snack variety] –$1/1 Sandwich Bros Product printable [4-ct. or 6-ct.] –$1/1 Sandwich Bros Flatbread Pocket Sandwiches (Checkout 51 Deposit) [Not valid on single varieties.]
Screamin' Sicilian Pizza, 20.8-25 oz; Select Varieties, $5.99
–$1/1 Screamin' Sicilian Pizza printable [Sign Up]
Skinny Cow Novelties, 4-6 ct; Select Varieties, $2.99 – $3.49
Softsticks Cheese Filled Pretzel
Sonoma Flatbreads Pizza, $6.29
Special K or Eggo Breakfast Sandwiches, $4.99
–$1/1 Kellogg's Eggo Frozen Product printable [Need 850 rewards points] –$1/2 Kellogg's Eggo Breakfast Sandwiches (Checkout 51 Deposit) 3.5 oz+ [Cannot be used with any other coupon]
Steak N Shake Silver Dollar Hash Browns or Thin & Crispy Fries, $2.49
Steak N Shake Steakburgers, 4 ct, $4.99
Steak-umm Sliced Steak Sandwiches, 10 or 6 ct
Stouffer's Entrée, Party Size, $11.49
SuperPretzel Soft Pretzels, $1.49
-$1/1 Superpretzel Product, 01/22 RP (exp 3/22)
–$0.50/1 Superpretzel Product Printable
–$0.75/1 SUPERPRETZEL® Soft Pretzels for any variety, any size (Ibotta Offer) [Rebate excludes the following varieties: Stand Up Bags 7oz. – 9oz.]
Talenti Gelato Select Varieties, 16 fl oz, $3.49
Tombstone Roadhouse Pizza, 22.6 oz+, $5.49
-$2/3 Tombstone Original or Brick Oven Pizzas, any variety (17 oz. – 27 oz.) [Kroger MarchtoSave Digital Coupon]
-$1/2 TOMBSTONE® Pizza products, any variety or size (Kroger Digital Coupon)
Tres Pupusas Latin Foods, $5.49
–$2/1 Tres Latin Foods Pupusas (Ibotta Deposit) [Any variety; Any size]
Turkey Hill All-Natural Ice Cream or Gelato, $2.99
–$1/1 Turkey Hill All Natural Ice Cream Printable
Urban Pie Pizza Co Pizza, $5.99
Weight Watcher's or Blue Bunny Novelties, $3.49
–$1/1 Weight Watchers Ice Cream Novelty Cartons printable
Yummy Chicken, $6.99
---
GROCERY
7UP, 6 pk, 16.9 oz, $2.34
Aquafina Water, $3.49
Arnold Sandwich Thins, $2.49
-$0.55/1 Arnold Bread Product, 01/01 SS (exp 4/1)
-$0.55/1 Arnold Bread Product, 02/05 SS (exp 5/5)
Arnott's Tim Tam Cookies, $2.49
Atkins Ready to Drink Shakes; Select Varieties, 4 pk-11 fl oz, $4.99
-$1/1 Atkins Bars, Treats or Shakes, 01/08 SS (exp 3/31)
-$1/1 Atkins Bar, Shake, or Treat, any variety or size (Kroger Digital Coupon)
Atkins Snack Bars, 5 ct; Select Varieties, $4.99
-$1/1 Atkins Bar, Shake, or Treat, any variety or size (Kroger Digital Coupon)
-$1/1 Atkins Bars, Treats or Shakes, 01/08 SS (exp 3/31)
–$1/1 Atkins Harvest Trail Bars (Checkout 51 Deposit) [Any variety.]
Ball Park Buns, $1.49
Bertolli Extra Light or Virgin Olive Oil, $5.99
Bertolli Organic Extra Virgin Olive Oil, $5.99
Betty Crocker Cookie Icing, $1.99
-$1/1 Betty Crocker Decorating Item, 01/29 SS (exp 3/26)
Boboli Pizza Crust, $2.99
Campbell's V8, $1.79
Campbell's V8, V8 Fusion or Veggie Blends, Bottle, $1.79
Campbell's V8 or V8 Fusion Multipack Cans, $2.49+
–$1/1 V8+Energy – single can or multi pack
–$1/1 V8+Energy, any variety, any size (Ibotta Deposit)
Cape Cod Potato Chips, $1.99
Carbonell Spanish Olive Oil, Tin $4.99
Celestial Seasonings Tea K-Cups, $5.99
–$1/1 Celestial Seasonings Tea printable
-$1/2 Celestial Seasoning Tea, 01/08 SS (exp 3/19) [Excludes k-cups] -$1/2 Celestial Seasonings bagged tea product, any variety or size (Kroger Digital Coupon)
Cheetos, Select Varieties, 7-9.25 oz, $1.77
Chef Boyardee, 4 pk, $2.89
Chi-Chi's Salsa, 16 oz, $1
–$0.55/1 Chi-Chi's Product Printable
Citadelle Pure Maple Syrup
Classic Cooking Souffles
Classico Pasta Sauce, 15-24 oz; Select Varieties, $1.79
Coca-Cola Select Varieties, 6 pk-16.9 oz Bottles, $1.99
Core Power High Protein Milk Shake, $1.99
Cousin Willie's Popcorn, $1.99
-$1/1 Cousin Willie's Simply Better RTE Popcorn (3.7-6 OZ) (Kroger Digital Coupon)
Cracker Barrel Entrée, $2.49
Crystal Light Drink Mix, Canister  or On The Go, $1.49 – $2.49
-$1/2 CRYSTAL LIGHT On the Go, 10-12Qt, or Liquid Concentrate (Kroger Digital Coupon)
Crystal Light Liquid Water Enhancer, Select Varieties, 1.62 fl oz, $3.49
Dave's Killer Bread Select Varieties, 24-27 oz, $3.99
–$1/1 Dave's Killer Bread Products (Checkout 51 Deposit)
Deer Park Spring Water 24 pk, 16.9 fl oz, $2.99
Dinty Moore Beef Stew, $1.49
–$1/2 Dinty Moore Products Printable
–$1/2 Dinty Moore Beef Stew products printable
-$1/2 DINTY MOORE products (Kroger Digital Coupon)
Doritos, $2.19
Duncan Hines Decadent Brownie Mix, $1.99
Duncan Hines Decadent or Perfect Size Cake Mix, $1.99
Equal Sweetener
Evian Water, 6 pk, $7.99
Fiber One Bars
–$0.50/2 Fiber One Chewy Bars or Fiber One 90 Calorie Products Printable
–$0.50/2 Fiber One Chewy, Bars, 90 Calorie Products printable [bars or brownies] -$0.50/2 Fiber One Chewy Bars, 90 Calorie Bars or Brownies, Protein Chewy Bars, Streusel Bars, Cheesecake Bars, Cookies or Layered Chewy Bars, 02/05 SS (exp 4/10)
-$0.50/2 Fiber One Chewy Bars, Fiber One 90 Calorie Products (Bars or Brownies), Fiber One Protein Chewy Bars, Fiber One Streusel Bars, Fiber One Cheesecake Bars, Fiber One Cookies OR Fiber One Layered Chewy Bars, any size (Kroger Digital Coupon)
Frank's RedHot Original or Wing Sauce, $3.49
–$0.30/1 Frank's RedHot Sauce printable
–$0.30/1 Frank's RedHot Original Cayenne Pepper Sauce printable [12-oz. bottle] –$0.50/1 Frank's RedHot Slammin' Sriracha Chili Sauce or Frank's RedHot Sweet Chili Sauce printable
-$0.50/1 Franks RedHot Sauce, 01/15 SS (exp 3/15)
Frito-Lay Dip, Can, $1.99
Fritos Select Varieties, 7-9.25 oz, $1.77
Frontier Soup, $4.69 – $5.59
Gevalia Coffee, Bag 12 oz or K-Cups, $5.49 – $5.99
Ghirardelli Chocolate Squares or Chocolate Covered Fruit and Nuts, $3.49
Grain Berry Cereal, $1.99
Harvest Stone Crackers, 3.54 oz, $1.99
–$1/1 Harvest Stone Products Printable [bag or box] –$1/1 Harvest Stone Crackers or Crispy Mix (Checkout 51 Deposit) [3.54-oz.+; any variety. Excludes club packs; Limit 1]
Hawaiian Gold Coffee, $4.99
Heinz BBQ Sauce, $1.79
Hershey's Bites, $3.09
Hershey's Spreads, $2.49
Hershey's Candy Minis, Bags, $2
Hershey's Syrup, $1.49
Hills Bros K-Cups, $5.99
-$1/1 Hills Brothers Coffee Single Serve, 01/29 SS (exp 3/12)
Hormel Bacon Bits, $1.69 – $3.29
–$1/2 Hormel Bacon Toppings Products Printable
Hormel Chili No Beans, $1.59
-$0.55/2 Hormel Chili Products, 01/22 SS (exp 3/20)
Hormel Hash, $1.89
Ice Mountain Water, 24 pk-16.9 oz, $2.99
-$1/1 Ice Mountain Water, exp. 3/12/17 (RP 01/29/17 #2 R) [12-ct.+]
Idahoan Signature Russets, $1.50
Kam's Chili Sauce, $2.99
Kellogg's Cereal 12.2-18 oz; Select Varieties, $1.88 +
–$1/1 Kellogg's Cereal printable [Need 850 rewards points] -$1/3 Kellogg's Cereals, 03/05/17 RP (exp 4/16/17) [8.7-oz.+] –$1/2 Kellogg's Frosted Flakes Cereals printable
–$1/2 Kellogg's Froot Loops Cereals printable
-$1/3 Kellogg's Cereals, exp. 4/16/17 (RP 03/05/17 #2 R) [8.7-oz.+] -$0.50/1 Kellogg's Raisin Bran Crunch Apple Strawberry Cereal, 02/12 RP (exp 3/26)
-$0.50/1 Kellogg's Cinnamon Frosted Flakes, 02/12 RP (exp 3/26) [13.8-oz.+] –$1/2 Kellogg's Frosted Flakes Cereals printable
–$1/2 Kellogg's Special K Cereals printable
–$0.40/1 Kellogg's Raisin Bran Cereal printable
-$0.50/1 Kellogg's Mona Disney Cereal, 02/12 RP (exp 3/26) [8.4-oz.] –$0.50/1 Kellogg's Cinnamon Frosted Flakes Cereal printable
Kellogg's Fruit Snacks, $1.50
Kellogg's Snacks Nutri Grain Bars, $1.99
Kellogg's Snacks or Special K Bars, $2.49
Ken's Salad Dressing, $1.49
–$0.75/1 Ken's Steak House Dressings Printable [16-oz.+] -$0.50/1 Ken's Ranch or Italian Dressing, 03/05 SS (exp 3/31) [16-oz.+] -$1.50/2 Ken's Dressings, 03/05 SS (exp 3/31) [16-oz.+] -$0.75/1 Ken's Steak House Dressings (16oz or larger) (Kroger Digital Coupon)
–$1/2 Ken's Dressing (Mobisave Deposit)
King Arthur Flour, $2.49
–$3/$12 King Arthur Flour Signature Flour or any Essential Goodness Baking Mixes (SavingStar Deposit) [Includes 5-lb. bag] –$0.75/1 King Arthur Flour printable [Make a pledge]
Kool-Aid, Countrytime or Tang Drink Mix, $1.99
Kraft BBQ Sauce, $0.79
Kraft Mayo or Miracle Whip Select Varieties, 22-30 fl oz, $2.49
Kraft Salad Dressing 16 fl oz; Select Varieties, $1.79
-BOGO KRAFT Salad Dressing, any variety (14 to 16oz) Kroger Digital Coupon
Krave Jerky, $3.99
Kroger Coffee, K-Cups, $3.99
Late July Tortilla Chips, $2.99
La Victoria Salsa, $2.29
Luzianne Tea K-Cups, $5.69
M&M's Baking Bits, $1.99
Mahatma White Rice 2lb, $1.19
-$0.50/1 Mahatma or Water Maid Rice, exp. 4/30/17 (RP 01/29/17 #2)
Mahatma Basmati Rice 5 lb, $8.49
-$0.50/1 Mahatma or Water Maid Rice, exp. 4/30/17 (RP 01/29/17 #2)
Mahatma Jasmine Rice, $1.69
-$0.50/1 Mahatma or Water Maid Rice, exp. 4/30/17 (RP 01/29/17 #2)
Malt-O-Meal Cereal Bags, $1.99 – $3.99
Malt-O-Meal DreamWorks Cereal
Maple Gold  Syrup, $5.69
Martinelli Apple Juice Or Cider, $1.99
Mary's Gone Crackers
Maxwell House Coffee, Can, $5.49 – $5.99
-$0.75/1 Maxwell House Coffee Product, 02/05 SS (exp 3/19)
McCafe Coffee, 12 oz Bag or K-Cups, $5.49
–$1.50/1 McCafe Ground Coffee Product Printable
Mi Elote Salsa, $2.99
Mentos Gum Select Varieties, 45-50 ct, $1.99
Mio Liquid Water Enhancer, Select Varieties, 1.62 fl oz, $2.49
Mission Tortilla Chips, $0.99
Moore's Buffalo Wing Sauce or Marinade, 16 oz, $1.67
–$1/1 Moore's Marinades & Sauces printable
Morton's Garlic & Sea Salt, $1.46
Morton Kosher Salt $1.59 + or Natural Sea Salt, $1.29+
-$0.35/1 Morton All-purpose Sea Salt, 03/05 SS (exp 4/28)
–$0.35/1 Morton All-Purpose Sea Salt, any variety (Checkout 51 Deposit)
Morton's Season All, $1.19
Mrs Butterworth's Syrup, $2.49
-$0.50/1 Mrs. Butterworth's Syrup, exp 3/31/17 (SS 01/08/17 #2) [Lite, Original or Sugar Free]
Nabisco Snack Crackers or Ritz Crackers Select Varieties, 3.5-13.7 oz, $1.79
–$1/1 RITZ Crackers Family Size (17.8oz or larger) or WHEAT THINS or TRISCUIT Family Size Crackers (12oz or larger) [Kroger MarchtoSave Digital Coupon] exp 4/20
Nabisco Ritz Chips, $2.69
Nabisco Snak-Saks, 6.6-8 oz; Select Varieties, $0.99
Nature Valley Bars
–$0.50/2 Nature Valley Granola Bars or Nature Valley Backpacker Printable [5-ct.+ granola bars] -$0.50/1 Nature Valley Granola Cups, Roasted Nut Brittle Bars, Protein Bars, Crunchy Nut and See Bars or Simple Nut Bars, 03/05 SS (exp 4/29)
–$0.50/2 Nature Valley Granola Bars or Nature Valley Backpacker Chewy Oatmeal Bites (SavingStar Deposit) [5-ct.+ granola bars] –$0.50/2 Nature Valley Granola Bars or Nature Valley Backpacker printable
–$0.50/2 Nature Valley Products printable
–$0.50/1 Nature Valley Backpacker printable
-$0.50/2 Nature Valley Granola Bars, Backpacker Chewy Oatmeal Bites or Granola Cups, 01/29 SS (exp 3/25) [5-ct.+ bars] -$0.50/2 Nature Valley Granola Bars OR Nature Valley Backpacker Chewy Oatmeal Bites, any flavor/variety (5 COUNT OR LARGER). Excludes Nature Valley Granola Cups (Kroger Digital Coupon)
Ocean Spray Juice Cocktail or PACT, Select Varieties, 60-64 fl oz, $1.79
On the Border Salsa, $1.79
On the Border Tortilla Chips, $1.99
Orville Redenbacher's Microwave Popcorn Or Skinny Girl, $2.99
–$1/1 Orville Redenbacher's Gourmet Popping Corn, any variety (6-pack) [Kroger MarchtoSave Digital Coupon] exp 4/20
Pam Cooking Spray, $2.49
Paqui Chips, $1.99
Peet's Coffee, Bag $6.49 or K-Cups, $5.99
Pepperidge Farm Cookies, Bag, $1.99 – $2.29
Pepperidge Farm Farmhouse or Rye Bread, Select Varieties, 14-24 oz, $2.49
–$1/1 Pepperidge Farm Swirl, Farmhouse or Whole Grain bread (14-24 oz.) [Kroger MarchtoSave Digital Coupon] exp 4/20
Pepperidge Farm Farmhouse, Whole Grain or Cheese Bread, $2.49
–$1/1 Pepperidge Farm Swirl, Farmhouse or Whole Grain bread (14-24 oz.) [Kroger MarchtoSave Digital Coupon] exp 4/20
Pepperidge Farm Harvest Blends Bread, $3.29
Pepperidge Farm Goldfish Crackers; Select Varieties, $0.99
Pepperidge Farm Swirl Bread, $2.99
–$1/1 Pepperidge Farm Swirl, Farmhouse or Whole Grain bread (14-24 oz.) [Kroger MarchtoSave Digital Coupon] exp 4/20
Pepsi, 24 pk-12 oz Cans, $5.99
Peter Pan Peanut Butter or Simply Ground, $1.50
Pioneer Complete Pancake Mix, $0.99
Pioneer Original Biscuit & Baking Mix, $1.99
Planters NUT-rition Mix, $5.69
-$1/2 Planters Products, 01/15 SS (exp 3/12) [6-oz.+; DND] –$1/1 Planters Nut-rition variety (Ibotta Deposit) 7.5 oz or larger
Planters Peanuts, Select Varieties, 16 oz, $2.99
-$1/2 Planters Products, 01/15 SS (exp 3/12) [6-oz.+; DND]
Popchips, 5 oz, $1.99 – $2.79
–$3.50 off Popchips Ibotta Offer
Popcorn Indiana Popcorn, $1.99
Post Cereal, 13.5-25 oz; Select Varieties, $1.88 +
-$0.75/2 Post Honey Bunches of Oats, 02/26 SS (exp 4/8) [13-oz.+] -$0.50/1 Post Honey Bunches of Oats Cereal, 02/26 SS (exp 4/8) [13-oz.+]
Powerade or Powerade Zero 8 pk, 20 fl oz; Select Varieties, $3.99 – $4.99
Pringles, Variety Pack, $6.99
-$1/3 Pringles, exp. 3/12/17 (RP 01/29/17 #2 R)
Puroast Coffee, K-Cups, $7.49
Que Pasa Tortilla Chips, $2.99
Red Bull, $5.49
Sara Lee Bagels
Silver Palate Oatmeal, $1.49
Silver Palate Pasta Sauce, $2.99
Simple Truth Vapor Distilled Water, 24 pk, 16.9 fl oz; Select Varieties, $3.50
Simply Lay's Snacks, $2.49
Skippy Peanut Butter, 15-16.3 oz; Select Varieties, $1.99
–$0.55/2 Skippy Products printable
Smart Balance Peanut Butter, $2.49
Snack Pack Pudding 12 pk, $2.89
Snack Pack Pudding, Super or Naturals, $1.66
Snapple Tea, 6 pk, 16 fl oz; Select Varieties, $3.99
Snyder's of Hanover Pretzels, $1.99
Soy Vay Simmer Sauce, $1.99
–$1/1 Soy Vay Marinade Printable
–$0.50/1 Soy Vay Sauce (Ibotta Deposit) [Any variety; Any size]
Soy Vay Snacks, $1.99
Spice Island Vanilla, $5.99 – $11.99
Spice Island Spices, $2.99 +
Star Balsamic Vinegar, $1.49 – $2.99
–$0.50/1 Star Vinegars printable
–$0.50/1 Star Vinegar printable
–$0.50/1 STAR Vinegar printable
Star Extra Virgin Olive Oil, 25 oz
–$1/1 Star Olive Oil printable
–$1/1 Star Olive Oil printable
Star Olive Oil, 25 oz
–$1/1 Star Olive Oil printable
–$1/1 Star Olive Oil printable
Starbucks Coffee Bag or K-Cups, $6.99
-$1.50/1 Starbucks K-cup Pods, 09/18 SS (exp 3/31) [6-ct.+]
Starbucks Frappuccino, Iced Coffee or Double Shop Drinks, $4.99
Sweet Baby Ray's Buffalo Wing Sauce, $1.49
–$0.50/1 Sweet Baby Ray's Wing Sauce (Mobisave Deposit) [16-oz.+]
Sweet Baby Ray's Hot Sauce, $1.49
Tazo Tea, K-Cups $6.99
–$1.20/1 Tazo Tea (Ibotta Deposit) [Any filterbag variety; 20-ct. box]
Tim Horton's Coffee, Bag or Single Serve
Tostitos Chips, $2.29
Trolli Gummies, 28-30 oz, $3.49
Truvia Natural Sweetener, Spoonable Jar or 80 packets, $4.99
–$1.50/1 Truvia Natural Sweetener printable
-$1.50/1 Truvia Natural Sweetener, Truvia Baking Blend, Truvia Brown Sugar Blend or Bottle of Truvia Nectar, exp. 3/31/17 (SS 01/08/17 #2 R)
Twining's Tea, Single Serve K-Cups, $6.49
Two Guys Tomato Sauce, $3.59
V-8 Red Juice Select Varieties, 46 fl oz, $1.79
Valley Fresh White Chicken, $0.89
-$0.55/1 Valley Fresh Product (SS 02/26/17 R)
Velveeta Cheesy Skillets, $1.49
VitaminWater, 6 pk-16.9 oz, $3.99
Westrock Coffee, $4.99
Wish-Bone Salad Dressing, $2.49
Wrigley's Gum, Mega Pack, $1.49
Yogi Tea, $1.99
Yuban Coffee, Can, $5.99
Zone Perfect Bars, Multipack
–$1.50/2 ZonePerfect Multi-packs printable (5-count Cartons or Larger)
–$1.50/2 Zone Perfect Multipack printable [5-ct. box]
---
HEALTH & BEAUTY
Act Dry Mouth Lozenges, $3.29
–$1/1 ACT Product printable
-$1/1 Act Product, exp. 3/18/17 (RP 01/29/17 #2) [ETS] -$1/1 Act Product, 02/26 RP (exp 4/30) [ETS]
Always Discreet Liners or Pads, $3.99 +
-$3/1 Always Discreet Underwear, exp. 3/25/17 (P&G 02/26/17) [ETS] -$3/1 Always Discreet Incontinence Liner or Pad, exp. 3/25/17 (P&G 02/26/17) [Excludes 24-ct. to 26-ct. liners; ETS]
Always Pads, Liners or Wipes, Select Varieties, $2.49 +
–$1.50/2 Always Pads or Liners Printable [30-ct.+; ETS] –$1.50/2 Always Pads or Liners printable [30-ct.+; ETS] –$0.50/1 Always Pad printable [ETS] –$0.75/1 Always Radiant or Infinity Pad printable [ETS] –$3/2 Always Pads or Liners printable
-$1/1 Always Radiant or Infinity Pads, exp. 3/11/17 (P&G 02/26/17) [11-ct.+; ETS] –$0.75/1 Always Radiant or Infinity Pad Printable [Excludes trial/travel size] –$0.50/1 Always Pad Printable [Excludes trial/travel size]
Always Wipes, $2.44
–$0.50/1 Always Wipes printable [ETS] –$0.50/1 Always Wipes Printable [Excludes trial/travel size]
Aveeno Bath Treatments, $4.99
–$1/1 Aveeno Product printable [Excludes cleansing bars, trial sizes and 2.5 oz. body lotion sizes] -$2/2 Aveeno Baby Products, 03/05 SS (exp 4/30) [ETS] –$2/2 Aveeno Products printable [Excludes cleansing bars, trial sizes and 2.5 oz. body lotion sizes] -$3/1 Aveeno Positively Radiant Product, 02/26 SS (exp 3/12)
-$1/1 Aveeno Product (SS 02/26/17 R)
Aveeno Body Hand Cream
–$1/1 Aveeno Product printable [Excludes cleansing bars, trial sizes and 2.5 oz. body lotion sizes] –$2/2 Aveeno Products printable [Excludes cleansing bars, trial sizes and 2.5 oz. body lotion sizes] -$3/1 Aveeno Positively Radiant Product, 02/26 SS (exp 3/12)
Aveeno Body Lotion, Cleanser or Makeup Wipes, $4.99+
–$1/1 Aveeno Product printable [Excludes cleansing bars, trial sizes and 2.5 oz. body lotion sizes] –$2/2 Aveeno Products printable [Excludes cleansing bars, trial sizes and 2.5 oz. body lotion sizes] -$3/1 Aveeno Positively Radiant Product, 02/26 SS (exp 3/12)
Aveeno Body Wash, $4.99
–$1.50/1 AVEENO Skin Relief Body Wash Printable (excludes trial and travel sizes)
–$1/1 Aveeno Product printable [Excludes cleansing bars, trial sizes and 2.5 oz. body lotion sizes] –$2/2 Aveeno Products printable [Excludes cleansing bars, trial sizes and 2.5 oz. body lotion sizes]
Aveeno Face Cleanser or Lotion, Blackberry, $4.29+
–$1/1 Aveeno Product printable [Excludes cleansing bars, trial sizes and 2.5 oz. body lotion sizes] –$2/2 Aveeno Products printable [Excludes cleansing bars, trial sizes and 2.5 oz. body lotion sizes] -$3/1 Aveeno Positively Radiant Product, 02/26 SS (exp 3/12)
Aveeno Moisturizing Lotion, SPF 15, $11.99
–$1/1 Aveeno Product printable [Excludes cleansing bars, trial sizes and 2.5 oz. body lotion sizes] –$2/2 Aveeno Products printable [Excludes cleansing bars, trial sizes and 2.5 oz. body lotion sizes] -$3/1 Aveeno Positively Radiant Product, 02/26 SS (exp 3/12)
-$1/1 Aveeno Product (SS 02/26/17 R)
Aveeno Shampoo or Conditioner, $4.49
–$1/1 Aveeno Product printable [Excludes cleansing bars, trial sizes and 2.5 oz. body lotion sizes] -$2/2 Aveeno Baby Products, 03/05 SS (exp 4/30) [ETS] -$2.50/1 Aveeno Baby Eczema Product, 03/05 SS (exp 4/30) [ETS] –$2/2 Aveeno Products printable [Excludes cleansing bars, trial sizes and 2.5 oz. body lotion sizes] -$3/1 Aveeno Positively Radiant Product, 02/26 SS (exp 3/12)
-$1/1 Aveeno Product (SS 02/26/17 R)
Axe Dry Spray Select Varieties, 3.8 oz, $2.99 – $3.99
-$2/1 AXE Dry Spray Antiperspirant Product, 03/05 RP (exp 4/2)
-$1/1 AXE Dry Spray Antiperspirant, any size (Kroger Digital Coupon)
Axe Shower Gel, $2.99 – $5.49
Axe Signature Deodorant, Stick, $3.49
Ban Deodorant, Roll-On, $2.99
-$1/1 Ban Roll-on Antiperspirant Deodorant, 03/05 SS (exp 4/2) [Excludes 1.5-oz. roll-on] -$1/1 Ban Product, any variety (excludes 1.5oz roll-on) (Kroger Digital Coupon)
Band-Aid Brand Bandages, Select Varieties, $9.69
–$0.50/1 Band-Aid Brand Adhesive Bandages Product printable [ETS]
Band-Aid Brand First Aid Rolled Gauze, $6.89
–$1.50/2 Band-Aid Brand of First Aid Products printable [Excludes all trial & travel sizes and First Aid Kits]
Bengay Ultra Strength Bengay Pain Relieving Patch, $6.89
–$1/1 Bengay Product printable
–$1/1 Bengay Product printable
Bengay Ultra Strength Pain Relieving Cream, $7.49
–$1/1 Bengay Product printable
–$1/1 Bengay Product printable
Boost Original Shakes, 6 pk, $6.99
–$2/1 BOOST Nutritional Drink or Drink Mix multipack or canister
-$3/1 Boost Product, exp. 5/7/17 (RP 03/05/17 #2 R) [Canister or Multipack]
Boost Simply Complete Shakes, 6 pk, $7.99
–$2/1 BOOST Nutritional Drink or Drink Mix multipack or canister
-$3/1 Boost Product, exp. 5/7/17 (RP 03/05/17 #2 R) [Canister or Multipack] –$1.50/1 Boost Simply Complete Nutritional Drink (Kroger Digital Coupon)
Carefree Liners, Select Varieties, $1.99+
–$0.50/1 Carefree Product printable
-$0.50/1 Carefree Product, 02/12 SS (exp 3/26) [Excludes 20-ct. and 22-ct.]
Caress Bar Soap, $3.49
Clean & Clear Acne Cleansers or Treatments, $2.99+
–$1/1 Clean & Clear Product printable [ETS]
Clear Care Contact Solution, 12 oz
–$2/1 CLEAR CARE® Solution (12 oz. or Larger)
–$5/1 Clear Care Product printable [Join EyeFile] –$2/1 Clear Care Brand Product printable
Colgate 360 Premium Toothbrush, Twin Pack
–$0.75/1 Colgate 360 Adult Manual Toothbrush printable [Excludes colgate plus, extra clean & classic]
Colgate Enamel Health Toothpaste, 5.5 oz, $2.82 – $2.99
–$0.75/1 Colgate Enamel Health Toothpaste printable [3-oz.+]
Colgate Mouthwash, Select Varieties, $2.49 – $5.49
-$2/1 Colgate Mouthwash or Mouth Rinse (400 mL or larger) [Kroger Digital Coupon]
-$2/1 Colgate Mouthwash, 03/05 SS (exp 3/18) [400-ml.+] –$2/1 Colgate Mouthwash or Mouth Rinse Printable [400-ml.+] –$0.75/1 Colgate Mouthwash or Mouth Rinse printable [200-ml+] –$0.50/1 Colgate Kids Mouthwash printable [250-ml+]
Colgate Optic White Mouthwash, 8 oz, $2.49
-$2/1 Colgate Mouthwash or Mouth Rinse (400 mL or larger) [Kroger Digital Coupon]
-$2/1 Colgate Mouthwash, 03/05 SS (exp 3/18) [400-ml.+] –$2/1 Colgate Mouthwash or Mouth Rinse Printable [400-ml.+] –$0.75/1 Colgate Mouthwash or Mouth Rinse printable [200-ml+] –$0.50/1 Colgate Kids Mouthwash printable [250-ml+]
Colgate Optic White Toothpaste, 3.5 oz or 6.3 oz, $1.99
-$2/1 Colgate Optic White Toothpaste (3 oz. or larger) [Kroger Digital Coupon]
–$1/1 Colgate Total, Colgate Optic White, Colgate Enamel Health or Colgate Sensitive Toothpaste Printable [3-oz.+] –$2/1 Colgate Optic White Beauty Radiant Toothpaste Printable
-$2/1 Colgate Optic White Radiant, Optic White Platinum, Total Advanced, Enamel Health or Sensitive Toothpaste, 03/05 SS (exp 3/18) [3-oz.+] -$2/1 Colgate Optic White Beauty Radiant Toothpaste (Kroger Digital Coupon)
Colgate Toothbrushes, Select Varieties, $1.99 – $4.99
-$2/1 Colgate Adult or Kids Manual Toothbrush, 03/05 SS (exp 3/11) [Excludes Plus, Extra Clean and Classic Clean]
Colgate Kids Toothbrushes, Select Varieties, $4.49
–$0.50/1 Colgate Kids Toothbrush printable
Colgate Toothpaste, 6.4 oz Twin Pack, $2.49
Colgate Total Toothpaste, 6 oz, $1.99
–$0.75/1 Colgate Total Advanced Toothpaste printable [3-oz.+] –$1/1 Colgate Total, Colgate Optic White, Colgate Enamel Health or Colgate Sensitive Toothpaste Printable [3-oz.+] -$2/1 Colgate Optic White Radiant, Optic White Platinum, Total Advanced, Enamel Health or Sensitive Toothpaste, 03/05 SS (exp 3/18) [3-oz.+]
Crest Pro-Health 2 Step Whitening, $11.99
Crest Mouthwash, Select Varieties, $1.99
-$1/1 Crest Mouthwash, exp. 3/11/17 (P&G 02/26/17) [16-oz.+] –$0.75/1 Crest Pro-Health Mouthwash Printable [237-ml.+; Excludes trial/travel size] –$0.75/1 Crest 3D Whitening Mouthwash Printable [237-ml.+; Excludes trial/travel size] –$0.75/1 Crest 3D Whitening Mouthwash printable [237-ml.+; ETS] –$0.75/1 Crest Pro-Health Mouthwash printable [237-ml.+; ETS] -$1/1 Crest Mouthwash (473mL/16oz or larger). Excludes trial or travel size (Kroger Digital Coupon)
Crest Scope Mouth Wash, Select Varieties, $1.99 +
-$1/1 Crest Mouthwash, exp. 3/11/17 (P&G 02/26/17) [16-oz.+] –$0.75/1 Crest Pro-Health Mouthwash Printable [237-ml.+; Excludes trial/travel size] –$0.75/1 Crest 3D Whitening Mouthwash Printable [237-ml.+; Excludes trial/travel size] –$0.75/1 Crest 3D Whitening Mouthwash printable [237-ml.+; ETS] –$0.75/1 Crest Pro-Health Mouthwash printable [237-ml.+; ETS]
Crest Toothpaste, Select Varieties, $1.99 – $2.49
–$0.50/1 Crest Pro-Health Toothpaste printable [3.3-oz.+; Excludes Cavity/Tartar Protection, Baking Soda and trial/ travel size] –$0.50/1 Crest Complete Toothpaste printable [4-oz.+; Excludes Cavity Protection, Tartar Protection, Baking Soda and trial/travel size] –$0.50/1 Crest Complete Toothpaste printable [4-oz.+; Excludes Cavity Protection, Tartar Protection, Baking Soda and trial/travel size] –$0.75/1 Crest Pro-Health Stages or Crest Kids Toothpaste Printable [4.2-oz.+; ETS] -$1/1 Crest Toothpaste, Liquid Gel or Kids Toothpaste, exp. 3/11/17 (P&G 02/26/17) [3-oz.+; Excludes cavity, baking soda, tartar control and trial] –$0.75/1 Crest Pro-Health Stages or Crest Kid's Toothpaste printable [4.2-oz.+; ETS] –$0.50/1 Crest Complete Toothpaste Printable [4-oz.+; Excludes Cavity Protection, Tartar Protection, Baking Soda and trial/travel size] –$0.50/1 Crest 3DWhite Toothpaste Printable [3.5-oz.+; Excludes Cavity/Tartar Protection, Baking Soda and trial/ travel size]-
–$0.75/1 Crest Pro-Health Stages or Crest Kid's Toothpaste Printable [4.2-oz.+; Excludes trial/travel size] –$0.50/1 Crest Pro-Health Toothpaste Printable [3.3-oz.+; Excludes Cavity/Tartar Protection, Baking Soda and trial/ travel size]
Degree Dry Spray Select Varieties, 3.8 oz, $3.99
-$2/1 Degree Men Dry Spray Antiperspirant Product, 03/05 RP (exp 4/2)
-$2/1 Degree Women Dry Spray Antiperspirant Product, 03/05 RP (exp 4/2)
-$1/1 Degree Women Dry Spray Antiperspirant, any size (Kroger Digital Coupon)
Degree Deodorant, $2.99
Dial Bar Soap, 8 ct or Advanced 6 ct, $3.49
–$1.50/1 Body Wash or Bar Soap (6 bar or larger)
-$1.50/1 Dial Body Wash or Bar Soap (6 bar or larger) (Kroger Digital Coupon)
-$1.50/1 Dial or Tone Body Wash or Bar Soap (6-bar or larger), any variety. Excludes travel and trial sizes (Kroger Digital Coupon)
-$1/1 Dial Body Wash, Bar Soap, exp. 4/2/17 (RP 03/12/17 #2) [6-ct.+ bars; ETS]
Dial Refill, $2.99
Dial Body Wash, 16 oz, $2.99
–$1.50/2 Dial® or Tone® Bar (3-Bar or larger), Advanced Bar (2-Bar or larger), Foaming Hand Wash, Liquid Hand Soap Refill
-$1.50/1 Dial Body Wash or Bar Soap (6 bar or larger) (Kroger Digital Coupon)
-$1.50/1 Dial or Tone Body Wash or Bar Soap (6-bar or larger), any variety. Excludes travel and trial sizes (Kroger Digital Coupon)
-$1/2 Dial Foaming Hand Wash, Liquid Hand Soap Refills, Bar Soap or Advanced Bar Soap, exp. 4/2/17 (RP 03/12/17 #2) [3-ct. bars; 2-ct. advanced bars] (Kroger Digital Coupon)
-$1/1 Dial Body Wash, Bar Soap, exp. 4/2/17 (RP 03/12/17 #2) [6-ct.+ bars; ETS]
Dove Body Wash, Dove Derma Shampoo or Conditioner, $4.49 – $7.49
-$2/1 Dove Dermacare Product, 02/26 RP (exp 3/18) [ETS] -$2/1 Dove DermaCare product. Excludes trial and travel sizes, Dove Men+Care and non-Dove DermaCare Women's products (Kroger Digital Coupon)
Dove Dry Spray Select Varieties, 3.8 oz, $3.99
-$2/1 Dove Dry Spray Antiperspirant Product, 03/05 RP (exp 4/2)
-$2/1 Dove Men+Care Dry Spray Antiperspirant Product, 03/05 RP (exp 4/2)
-$1/1 Dove Dry Spray Antiperspirant, any size (Kroger Digital Coupon)
-$1/1 Dove Men+Care Dry Spray Antiperspirant, any size (Kroger Digital Coupon)
Dove Men+Care Body Wash, 13.5 oz, $5.49 + or Bar Soap, $5.49
–$1.25/1 Dove Men+Care Body Wash or Bar Printable [4-ct.+; ETS] -$1/1 Dove Body Wash, 02/26 RP (exp 3/12) [22-oz.+] -$1.50/1 Dove Body Wash, 02/26 RP (exp 3/12) [22-oz.+; ETS] -$1/1 Dove Beauty Bar, 02/26 RP (exp 3/12) [4-ct.+] -$1.25/1 Dove Men+Care Body Wash or Bar (4 pack or higher). Excludes travel & trial sizes (Kroger Digital Coupon)
–$2/2 Dove Body Wash, any variety-22 oz+ bottle (Ibotta Deposit)
Dove Men+Care Deodorant, $2.99
Dove Men+Care Face Wash, $3.99
Dove Men+Care Shampoo, Conditioner or Styler
-$3/2 Dove Hair Care Products, 02/26 RP (exp 3/18) [Excludes trial and dermacare]
Dove Men+Care Shave Gel, $3.99
Dove Soap 4 pk, $3.49
Dr. Teal's Bath Care, $3.99
EAS Advantedge Ready to Drink Shakes, $3.99 – $8.99
Ensure Shake, $5.99 +
-$2/2 Ensure Multipacks, 02/26 SS (exp 4/23)
-$2/2 Ensure Multipack, 01/29 SS (exp 4/30)
–$3/1 Ensure Multi-Pack printable
Ensure Enlive Shake, $7.99
-$2/2 Ensure Multipacks, 02/26 SS (exp 4/23)
-$2/2 Ensure Multipack, 01/29 SS (exp 4/30)
–$3/1 Ensure Multi-Pack printable
Ensure High Protein Shake, $7.99 +
-$2/2 Ensure Multipacks, 02/26 SS (exp 4/23)
-$2/2 Ensure Multipack, 01/29 SS (exp 4/30)
–$3/1 Ensure Multi-Pack printable
Ensure Plus Shake, $9.49 +
-$2/2 Ensure Multipacks, 02/26 SS (exp 4/23)
-$2/2 Ensure Multipack, 01/29 SS (exp 4/30)
–$3/1 Ensure Multi-Pack printable
Garnier Fructis Shampoo, Conditioner, $2.39 or Styler
-$2/1 GARNIER FRUCTIS Shampoo, Conditioner or Treatment. Excluding 2.9 oz & 3 oz trial sizes  (Kroger Digital Coupon)
-$2/1 Garnier Fructis Style Product, 03/05 RP (exp 4/1) [excludes 2-oz.] -$2/1 Garnier Fructis Shampoo, Conditioner or Treatment, 03/05 RP (exp 4/1) [Excludes 2.9-oz. and 3-oz.]
Gear Body Wash, $1.89
Gillette Razors, Select Varieties, $4.99 +
–$3/1 Gillette System Razor Pack Printable [4-ct.+; ETS] –$3/1 Gillette Disposable Razor Printable [4-ct.+; ETS] -$4/1 Gillette or Venus Refill Pack, exp. 3/25/17 (P&G 02/26/17) [4-ct.+; ETS] –$4/2 Gillette Disposable Razor Packs Printable [2-ct.+; Excludes Daisy 2-ct.] –$1/1 Gillette Mach 3 or Fusion Disposable Razor printable
-$3/1 Gillette Razor or Disposable, exp. 3/25/17 (P&G 02/26/17) [2-ct.+; Excludes sensor2 2-ct. and trial] –$3/1 Gillette System Razor Pack printable [4-ct.+; ETS] –$3/1 Gillette Disposable Razor Pack printable [4-ct.+; ETS] –$4/2 Gillette Disposable Razor Packs printable [2-ct.+; Excludes Daisy 2-ct.] -$4/1 Gillette OR Venus Refill packs (4 ct or larger) (Kroger Digital Coupon)
-$3/1 Gillette Razor OR Disposable (2ct or larger. Excludes Sensor2 2ct and trial or travel size (Kroger Digital Coupon)
Gillette Clinical Deodorant, $6.99
–$2/1 Gillette Clinical Strength Antiperspirant/Deodorant printable
Gillette Deodorant, Twin Pack, $6.49
–$2/1 Gillette Clear Gel Antiperspirant/Deodorant printable
-$1/1 Gillette Antiperspirant/Deodorant, exp. 3/11/17 (P&G 02/26/17) [1.6-oz.+; ETS] -$1/1 Gillette Anti-Perspirant/Deodorant (1.6oz or larger) (Kroger Digital Coupon)
Gillette Shave Gel, $1.99 – $2.99
–$0.50/1 Gillette Shave Gel Printable [Excludes trial/travel size] –$0.50/1 Gillette Shave Gel printable
–$0.75/1 Venus Shave Gel printable [7-oz.+] –$0.75/1 Venus Shave Gel Printable [7-oz.+] -$1/1 Gillete or Venus Satin Care Shave Gel, exp. 3/25/17 (P&G 02/26/17) [5.9-oz.+; Excludes foamy and trial]
Glucerna Advance or Hunger Smart Shakes, $7.99+
-$3/1 Glucerna, 3/5 SS (exp 3/19) [Multipack] -$3/2 Glucerna, 01/29 SS (exp 3/26) [Multipack] –$3/2 Glucerna Product printable
Glucerna Mini-Snack Bars, $2.99
-$3/1 Glucerna, 3/5 SS (exp 3/19) [Multipack] -$3/2 Glucerna, 01/29 SS (exp 3/26) [Multipack] –$3/2 Glucerna Product printable
Glucerna Snack Shakes, $4.49
-$3/1 Glucerna, 3/5 SS (exp 3/19) [Multipack] -$3/2 Glucerna, 01/29 SS (exp 3/26) [Multipack] –$3/2 Glucerna Product printable
Head & Shoulders Shampoo or Conditioner, $4.49
-$4/2 Head & Shoulders or Clinical Solutions, exp. 3/11/17 (P&G 02/26/17) [12.8-oz.+ and trial]
Herbal Essences Shampoo or Conditioner, $3.49+
-$4/2 Herbal Essences Shampoo, Conditioner or Styling Products, exp. 3/18/17 (RP 03/05/17 #2) [ETS] -$4/2 Herbal Essences Shampoo, Conditioner OR Styling Products. Excludes Color, Body Wash and trial or travel size (Kroger Digital Coupon)
Irish Spring Body Wash or Bar Soap, $2.99
J.R. Watkins Body Scrub, Soaps & Lotions
Jergens Lotion, $4.49 or Wet Skin Lotion $5.39
-$1.50/1 Jergens Moisturizer, any variety (8oz or larger). Excludes Jergens Hand Wash (Kroger Digital Coupon)
-$2/1 Jergens Natural Glow item, excl trial size, 03/05 SS
-$2/1 Jergens Natural Glow Wet Skin Moisturizer, 7.5 oz+, 03/05 SS
–$1/1 Jergen's Natural Glow Moisturizer Product printable
-$1/1 Jergens Natural Glow Product, any variety. Excludes trial and travel size (Kroger Digital Coupon)
John Freida Shampoo, Conditioner or Styler
-$1/1 John Frieda Product, any variety or size (Kroger Digital Coupon)
L'Oreal Age Perfect Cell Renew Serum or Cleanser, $17.49
L'Oreal Exfoliating Cleanser or Toners
L'Oreal FuturE Moisturizer, SPF15, $8.19
L'Oreal Ideal Towelettes or Night Collagen Filler, $2.99
L'Oreal Premium Moisturizers, $8.19+
–$2/1 L'Oreal Paris Hydra Genius Skincare Product printable [ETS] –$1/1 L'Oreal Paris Skincare Product printable [ETS] -$3/1 L'Oreal Revitalift or Age Perfect Skincare Product, 03/05 RP (exp 4/1) [ETS] -$2/1 L'Oreal Skincare Product, 03/05 RP (exp 4/1) [ETS] -$1/1 L'Oreal Paris Skincare product, any variety. Excludes trial size (Kroger Digital Coupon)
L'Oreal Pure Clay Masks, $8.49
L'Oreal Revitalift Base Double Lift Gel, Cleanser or Miracle Blur Masks, $11.99+
L'Oreal Shampoo, Conditioner or Styler, Select Varieties, $2.79+
-$2/1 L'Oreal Paris Hair Expert Treatment Product (Kroger Digital Coupon)
-$2/1 L'Oreal Advanced Hairstyle Product, 03/05 RP (exp 3/18) [Excludes 3-oz.] –$1/1 L'Oreal Paris Advanced Hairstyle Product printable [Excludes 3-oz. trial] –$2/1 L'Oreal Paris Hair Expert Treatment Product printable
-$4/2 L'Oreal Hair Expert Shampoo, Conditioner or Treatment Products, 03/05 RP (exp 3/18) [Excludes 3-oz.] –$1/1 L'Oreal Paris Hair Expert Shampoo, Conditioner, or Treatment Product printable [Excludes 3-oz. trial] –$1/1 L'Oreal Paris Product printable
-$1/1 L'Oreal Paris Hair Expert Product or Advanced Hairstyle Product (Kroger Digital Coupon)
–$2/1 Ever by L'Oreal Paris Hair Expert Shampoo, Conditioner or Treatment Product Printable
-$2/1 L'Oreal Hair Expert Ever Shampoo, Conditioner or Treatment Product, 03/05 RP (exp 4/1) [Excludes anti-dandruff products] -$2/1 Ever by L'Oreal Paris Hair Expert Shampoo, Conditioner or Treatment Product (Kroger Digital Coupon)
L'Oreal Studio Gel, $2
Lever Bar Soap, $2.99
Listerine Pocketpaks or Pocketmist, $2.99
Listerine Mouthwash, Select Varieties, $3.89 +
–$0.75/1 Listerine HEALTHY WHITE Rinse printable [16-oz.+] –$0.75/1 Adult LISTERINE Mouthwash printable [1-L.+] -$0.75/1 Listerine Adult Mouthwash or Healthy White Product, 02/26 SS (exp 3/19) [1-L.+ mouthwash or 16-oz.+ healthy white] -$1/1 Listerine Adult Mouthwash or Healthy White Product, 02/26 SS (exp 3/19) [1-L.+ mouthwash or 16-oz.+ healthy white]
Lubriderm Moisturizer
-$1.50/1 Lubriderm Product, exp. 4/30/17 (RP 03/05/17 #2 R) [13-oz.+] –$1/1 Lubriderm Product printable
–$1/1 Lubriderm printable [13-oz.+; ETS]
Maybelline Cosmetics, $1 off
–$2/1 Maybelline® New York Brow Product
–$3/1 Maybelline® New York The Colossal® Big Shot Mascara or ANY Maybelline New York Mascara printable
-$1/1 Maybelline New York Lip Product, 03/05 RP (exp 4/1)
-$2/1 Maybelline New York Master Camo or Face Studio Product, 03/05 RP (exp 4/1)
-$3/1 Maybelline New York Mascara, 03/05 RP (exp 4/1)
–$2/1 Maybelline New York Face Product Printable
-$2/1 Maybelline New York Brow, Shadow or Liner Product, 03/05 RP (exp 4/1)
Method Body Wash
Method Gel or Foaming Hand Wash, $4.49
Method Hand Soap, $1.99
Natural Instincts Hair Color, $5.49
-$2/1 Clairol Natural Instincts Hair Color, 02/26 RP (exp 3/11) [ETS]
Neosporin Eczema Moisturizing Cream, $10.89
Neosporin Plus Pain Itch Scar Ointment, $5.79 +
–$1/1 Neosporin First Aid Product printable
Nice n' Easy Hair Color, $5.49
-FREE Clairol Root Touch-Up wyb Nice 'N Easy Hair Color, 02/26 RP (exp 3/11) [Excludes age defy, balsam, textures & tones and trial; Up to $6.99]
Nice n' Easy Root Touch-Up, $5.49
-FREE Clairol Root Touch-Up wyb Nice 'N Easy Hair Color, 02/26 RP (exp 3/11) [Excludes age defy, balsam, textures & tones and trial; Up to $6.99]
Nivea Body Wash, $2.99
-$3/2 Nivea Women's or Men's Body Wash, 03/05 SS (exp 3/18) [16.9-oz. to 25.4-oz.]
o.b. Tampons, $4.99
–$1/1 o.b. product printable
Olay Bar Soap, 6 pk, $3.99
-$1.50/1 Olay Bar or Body Wash, exp. 3/11/17 (P&G 02/26/17) [4-ct.+; Excludes 1 bar and trial] –$0.50/1 Olay Body Wash or Bar Soap printable [4-ct.+; ETS] –$0.50/1 Olay Body Wash or Bar Soap Printable [4-ct.+; Excludes trial/travel size] -$1/1 Olay Bar (4 count or larger) OR Body Wash. Excludes 1 bar and trial or travel size (Kroger Digital Coupon)
Olay Ribbons Body Wash, $3.99
-$1.50/1 Olay Bar or Body Wash, exp. 3/11/17 (P&G 02/26/17) [4-ct.+; Excludes 1 bar and trial] –$0.50/1 Olay Body Wash or Bar Soap printable [4-ct.+; ETS] –$0.50/1 Olay Body Wash or Bar Soap Printable [4-ct.+; Excludes trial/travel size] -$1/1 Olay Bar (4 count or larger) OR Body Wash. Excludes 1 bar and trial or travel size (Kroger Digital Coupon)
Olay Cleansing Cloths, $3.49+
–$2/1 Olay Daily Facial Cloths printable
Olay Eye Care, $8.99
–$3/1 Olay Eyes Product printable
Olay Moisturizer or Cleanser, Select Varieties, $8.99
-$2/1 Olay Prox, Regenerist or Luminous Facial Moisturizer or Eyes, exp. 3/25/17 (P&G 02/26/17) [ETS] -$1/1 Olay Facial Moisturizer or Facial Cleanser, exp. 3/25/17 (P&G 02/26/17) [ETS] –$3/1 Olay Regenerist Miracle Boost Concentrate or Luminous Miracle Boost Concentrate printable
-$2/1 Olay Total Effects Facial Moisturizer, exp. 3/25/17 (P&G 02/26/17) [ETS] -$2/1 Olay ProX, Regenerist or Luminous Facial Moisturizer OR Olay Eyes. Excludes trial or travel size (Kroger Digital Coupon)
-$2/1 Olay Total Effects Facial Moisturizer. Excludes Olay Eyes and trial or travel size (Kroger Digital Coupon)
-$1/1 Olay Facial Moisturizer OR Facial Cleanser. (Excludes Daily Fac, ProX,Regen,Luminous,Totl Effect Facial Moisturizer, Eyes, trial or travel size) (Kroger Digital Coupon)
Old Spice Body Wash, Twin Pack, $5.99
-$1/1 Old Spice Antiperspirant/Deodorant Body Wash or Bar Soap, exp. 3/11/17 (P&G 02/26/17) [ETS] -$2/2 Old Spice Product, exp. 3/11/17 (P&G 02/26/17) [ETS]
Old Spice Deodorant, $3.99 +
-$1/1 Old Spice Antiperspirant/Deodorant Body Wash or Bar Soap, exp. 3/11/17 (P&G 02/26/17) [ETS] –$1.25/1 Old Spice Odor Blocker or Sweat Defense Deodorant printable
-$2/2 Old Spice Product, exp. 3/11/17 (P&G 02/26/17) [ETS]
Old Spice Shampoo, Conditioner or Styler, $2.99+
-$1/1 Old Spice Shampoo, 2-in-1 or Styling Product, exp. 3/11/17 (P&G 02/26/17) [ETS] -$2/2 Old Spice Product, exp. 3/11/17 (P&G 02/26/17) [ETS] -$1/1 Old Spice Shampoo, 2in1 OR Styling Product. Excludes trial or travel size (Kroger Digital Coupon)
Olly Vitamins, $8.99
-$3/1 Olly Product, 01/29 SS (exp 7/29)
One-A-Day Vitamins, $6.99
-$2/1 One A Day Product, 12/11 SS (exp 12/31)
–$2/1 A Day Kids Multivitamin Product Printable
Opti-Free Replinish Care Contact Solution
–$2/1 OPTI-FREE® Solution (10 oz. or Larger)
–$4/1 Opti-Free Lubricant Eye Drops printable [4-oz.+] –$2/1 Opti-Free Product printable
-$4/1 Opti-Free Express Contact Lens Solution, 02/05 SS (exp 3/4) [10-oz.+] –$4/1 OPTI-FREE CONTACT LENS SOLUTION printable [Join EyeFile]
Oral-B Glide Floss, 35M or Picks 30 ct, $1.50
–$0.75/1 Oral-B Glide Floss 35M or larger OR Oral-B Glide Floss Picks 30ct or higher (excludes trial/travel size)
-$1/1 Oral-B Glide Floss Pack OR Oral-B Glide Floss Picks Pack. Excludes trial or travel size (Kroger Digital Coupon)
Oral-B Toothbrush, $1.99
–$0.50/1 Oral-B Adult 3DWhite Toothbrush Printable [Excludes Healthy Clean and trial/travel size] –$0.50/1 Oral-B Adult Pro-Health Toothbrush Printable [Excludes Healthy Clean and trial/travel size] –$0.50/1 Oral-B Adult 3DWhite Toothbrush printable [Excludes Healthy Clean and trial/travel size] -$1/1 Oral-B Adult or Kids Manual Toothbrush, exp. 3/11/17 (P&G 02/26/17) [Excludes trial size, healthy clean, cavity defense and indicator]
Panoxyl Foaming Wash, $6.99
–$2/1 PanOxyl Acne Management Product printable
Pantene Shampoo, Conditioner, $2.99 or Styler, $3.89
-$1/1 Pantene Expert or Gold Series Product, exp. 3/11/17 (P&G 02/26/17) [ETS] -$1/2 Pantene Products, exp. 3/11/17 (P&G 02/26/17) [Excludes 6.7-oz and trial] -$5/3 Pantene Products, exp. 3/11/17 (P&G 02/26/17) [Must include shampoo and conditioner or styler; Excludes 6.7-oz. and trial] -$1.50/1 Pantene Styler or Treatment Product, exp. 3/11/17 (P&G 02/26/17) [ETS]
Pepto Bismol, $3.49
–$1/2 Pepto-Bismol Products Printable [Excludes trial/travel size] –$2/2 Pepto-Bismol Products printable [ETS] -$0.50/1 Pepto-Bismol Product, exp. 3/25/17 (P&G 02/26/17) [ETS] -$0.50/1 Pepto Product (Kroger Digital Coupon)
Playtex Sport or Gentle Glide Tampons or Liners, Select Varieties, $1.19 +
-$2/1 Playtex Sport Pads, Liners or Combo Packs, 02/12 SS (exp 3/26) [Excludes 20-ct. liners] -$1/1 Playtex Sport or Gentle Glide Tampons, 02/12 SS (exp 3/26) [16-ct.+] –$2.50/2 Playtex Sport Tampons or Sport Pads, Liner or Combo Pack (excludes 20 ct.. liners)
-$2.50/2 Playtex Sport Tampons or Sport Pads, Liner or Combo Pack. Excludes 20 ct. liners  (Kroger Digital Coupon)
Ponds Towelettes, $3.49
Q-Tips, 500 ct
Salonpas Deep Pain Relieving Gel, 4 oz
Salonpas Pain Relieving Jet Spray, 4 oz
Salonpas Pain Relieving Patch Thin, 5 ct
Schick Razor, Select Varieties, $5.79 +
–$3/1 Schick Hydro Silk® Razor or TrimStyle (excludes Schick® Disposables and Men's Razor)
–$5/2 Schick Disposable Razor Packs Printable [Excludes 1-ct.] –$2/1 Schick Hydro Razor or Refill Printable [Excludes Schick Disposables and Women's Razor or Refill] -$2/1 Schick Hydro Razor or Refill. Excludes Schick Disposables and Women's Razor or Refill (Kroger Digital Coupon)
-$5/2 Schick Disposable Razor Packs. Excludes 1 ct. (Kroger Digital Coupon)
-$3/1 Schick Disposable Razor Pack. Excludes 1 ct. (Kroger Digital Coupon)
–$3/1 Schick Disposable Razor Pack Printable [Excludes 1-ct.]
Secret Clinical Deodorant, $6.99
-$1/1 Secret Clinical (1.6 oz or larger) (Kroger Digital Coupon)
Secret Deodorant, Twin Pack, $6.49
-$1/1 Secret Outlast, Fresh Collection, Scent Expressions, Destinations Antiperspirant/Deodorant or Body Spray, exp. 3/11/17 (P&G 02/26/17) [Excludes trial size, 1.6-oz. and 1.7-oz.]
Selsun Blue Shampoo or Conditioner, $5.89
-$1/1 Selsun Blue Product, 03/05 RP (exp 6/4) [ETS] –$1/1 Selsun Blue Product printable
Simple Face Wash or Wipes
–$1/1 Simple Skincare Product Printable
Softsoap Body Wash, $2.49
Softsoap Body Wash Pump
Softsoap Refill, $3.49
Speed Stick Antiperspirant or Deodorant, $1.99 (two pack, $2.99)
-B1G1 Speed Stick Overtime or Irish Spring, 02/26 SS (exp 3/18) [Excludes 1.8-oz. and 0.5-oz.; Up to $3.49] -$0.50/1 Speed Stick Lady, 02/26 SS (exp 3/18) [2.3-oz.+] -$0.50/1 Speed Stick, 02/26 SS (exp 3/18) [2.7-oz.+]
St. Ives Body Wash or Lotion, $2.79
Stayfree Pads, Select Varieties, $1.99+
–$2/2 Stayfree Products printable
-$2/2 Stayfree Products, 02/12 SS (exp 3/26) [Excludes 10-ct.]
Suave Body Wash, $1.99
-B1G1 Suave Body Wash Product, 02/26 RP (exp 3/12) [12-oz. or 18-oz.; Up to $3] -$2/2 Suave Body Wash products, any variety (12 oz. or larger) (Kroger Digital Coupon)
Suave Lotion, $1.99
-$0.75/1 Suave Body Lotion, 02/26 RP (exp 3/18) [ETS]
Systane Ultra Eye Drops
–$3/1 Systane Branded Product printable
Tampax Tampons, Select Varieties, $5.99
-$1/1 Tampax Pearl or Radiant Tampons, exp. 3/11/17 (P&G 02/26/17) [16-ct.+; ETS] –$0.50/1 Tampax Pearl Product printable [18-ct.+; ETS] –$1.50/2 Tampax Pearl Products printable [18-ct.+; ETS] –$0.75/1 Tampax Radiant Tampon Product printable [16-ct.+; ETS] –$0.75/1 Tampax Radiant Tampon Product Printable [16-ct.+; Excludes trial/travel size]
Tena Pads, $10.99
–$1/1 Tena Product printable
–$5/2 Tena Products printable (exp. 3/26/17)
–$2/1 Tena Serenity Adult Incontinence (Kroger Digital Coupon)
–$5/2 Tena Serenity Adult Incontinence (Kroger Digital Coupon)
TheraBreath Lozenge, $3.49
TheraBreath Toothpaste or Mouth Rinse, $7.49
TRESemmé Shampoo or Conditioner 28 fl oz or Styler, 8-10.5 oz; Select Varieties, $2.99
-$2/1 Tresemme Styling Product, 02/26 RP (exp 3/26) [ETS] -B1G1 Tresemme Expert Product, 02/26 RP (exp 3/12) [ETS; Up to $5.99]
U By Kotex Tampons, Pads, or Liners, Select Varieties, $5.99
–$0.50/1 U by Kotex Products printable [value may vary] -$2/1 U by KOTEX pad (14-24 ct.), liners (18-50 ct.) or tampons (18 ct) (Kroger Digital Coupon)
–$1/2 U by Kotex Product printable
–$1/2 U by Kotex Products printable
Viactiv Calium Supplements
Vicks Zzzquil Nighttime Sleep-aid, $7.59 *eligible for Catalina
–$2/1 ZzzQuil Sleep Aid printable
-$2/1 Zzzquil Product, exp. 3/25/17 (P&G 02/26/17) [ETS] –$2/1 ZzzQuil Product Printable [ETS]
Vidal Sassoon Hair Color, $8.49
Zantac Acid Reducer, $6.79+
–$4/1 Duo Fusion® product 20ct or larger
–$5/1 Zantac DUO Fusion printable
–$4/1 Zantac Product printable [24-ct.+] –$3/1 Zantac Product or Duo Fusion Product Printable [24-ct.+ Zantac; 20-ct.+ duo fusion]
---
HOUSEHOLD
409 All-Purpose Cleaner, $2.19 *eligible for Catalina
7th Generation Bath Tissue, $6.99
7th Generation Paper Towels, $6.99
Air Wick Freshmatic Pure Ultra Refill, $1.99
–$2/1 Air Wick Freshmatic Ultra Pure
-$1.50/1 Air Wick Freshmatic Ultra Refill, 03/05 SS (exp 4/2)
-$2/1 Air Wick Freshmatic Ultra Pure Refill, 03/05 SS (exp 4/2)
–$1.50/1 Air Wick Freshmatic Ultra Refill Printable
–$1.50/1 AirWick Freshmatic Ultra Refill
Air Wick Freshmatic Starter Kit $7.49
Air Wick Scented Oil Twin or Refill, $3.99
–$1/1 Air Wick Twin or Triple Scented Oil Refill Printable
-$1/1 Air Wick Scented Oil Refill, 03/05 SS (exp 4/2) [Twin or Triple]
Air Wick V.I. Poo Toilet Perfume, $6.99
Bounce Bursts Beads, 9.7 oz
–$0.50/1 Bounce product Printable [Excludes Bounce sheets 25-ct., 34-ct. and 40-ct. and trial/travel size] –$0.50/1 Downy, Bounce Sheets or Bursts, Downy or Unstopables, Dreft Blissfuls or Gain Fireworks printable
-$1/1 Unstopables Fabric Enhancer, Downy Fresh Protect, Bounce Bursts, Dreft Blissfuls OR Gain Fireworks In Wash Scent Booster (Kroger Digital Coupon)
Bounce Dry Sheets, 70-120 ct, $3.79
–$0.50/1 Bounce product Printable [Excludes Bounce sheets 25-ct., 34-ct. and 40-ct. and trial/travel size] –$0.50/1 Downy, Bounce Sheets or Bursts, Downy or Unstopables, Dreft Blissfuls or Gain Fireworks printable
-$1/1 Bounce Dryer Sheets (70ct or higher) (Kroger Digital Coupon)
Bounty Paper Towels, 6 Double Rolls; Select Varieties, $7.99
-$2/1 Bounty Large Roll (8 ct) or Big Roll (6 ct) (Kroger MarchToSavings Digital Coupon)
–$0.25 off one Bounty printable
–$0.25/1 Bounty Paper Towels printable
-$0.25/1 Bounty Product, 02/26/17 P&G (exp 3/25/17) [ETS] -$0.25/1 Bounty Paper Towel OR Napkin. Excludes Basic (Kroger Digital Coupon)
-$0.25/1 Bounty Basic Paper Towel (Kroger Digital Coupon)
Carbona Carpet Cleaner, $4.19
–$0.75/1 Carbona 2 in 1 Oxy-Powered Pet Stain and Odor Remover (Ibotta Deposit) [22-oz. bottle] –$1.25/1 Carbona 2 in 1 Oxy-Powered Carpet Cleaner (Ibotta Deposit) [27.5-oz. bottle] –$0.75/1 Carbona 2 in 1 Oxy-Powered Carpet Cleaner (Ibotta Deposit) [27.5-oz. bottle] -$0.75/1 Carbona 2 In 1 Oxy-Powdered Carpet, exp. 4/30/17 (RP 01/29/17 #2 R)
Cascade Action Pacs 12-20 ct; Select Varieties, $2.99
–$0.50/1 Cascade Platinum Dish Detergent printable
–$0.50/1 Cascade Dishwasher Cleaner printable
–$0.50/1 Cascade Platinum Dish Detergent printable [30-ct.+; ETS]
Cascade Select Varieties, $10.49
–$0.50/1 Cascade Platinum Dish Detergent printable
–$0.50/1 Cascade Dishwasher Cleaner printable
–$0.50/1 Cascade Platinum Dish Detergent printable [30-ct.+; ETS]
Charmin Bathroom Tissue 9 Mega Rolls; Select Varieties, $7.99
-$0.25/1 Charmin Product, 02/26/17 P&G (exp 3/25/17) [ETS] –$0.25/1 Charmin® Ultra Soft OR Strong 4 ct or larger (excludes Essentials Soft or Strong and trial/travel size)
-$0.25/1 Charmin Essentials Soft OR Charmin Essentials Strong Toilet Paper Product. Excludes trial or travel size (Kroger Digital Coupon)
-$0.25/1 Charmin Toilet Paper Product. Excludes Charmin Essentials Soft, Charmin Essentials Strong and trial or travel size (Kroger Digital Coupon)
Citrus Magic Solids $2.69 or Sprays $3.39
Clorox 2 Liquid Bleach, 33 oz, $3.39 – $3.99 *eligible for Catalina
–$1/1 Clorox 2 printable [33-oz.+] –$1.50/1 Clorox 2 Liquid Product or Clorox Printable [2-pk. 33-oz.+ liquid; 20-ct.+ packs; Excludes pen]
Clorox Clean Up, 32 fl oz; Select Varieties, $2.49 *eligible for Catalina
–$0.50/1 Clorox Clean-Up printable
Clorox Control Bleach Crystals or Packs, $2.99 *eligible for Catalina
Clorox Disinfecting Wipes 70-75 ct, Select Varieties, $2.49 *eligible for Catalina
–$0.50/1 Clorox Disinfecting Wipes printable [34-ct.+] -$0.75/1 Scentiva Product, 02/26 SS (exp 3/27)
Clorox Scentiva Spray, $2.49 *eligible for Catalina
-$0.75/1 Scentiva Product, 02/26 SS (exp 3/27)
Clorox Scrub Singles Kitchen or Bathroom, $2.59 *eligible for Catalina
Clorox Toilet Wand Starter Kit, 1 ct; Select Varieties, $6.99 *eligible for Catalina
Dawn Dish Detergent 18-21.6 fl oz, $1.99
-$0.25/1 Dawn Product, 02/26/17 P&G (exp 3/25/17) [ETS]
Dixie Family Pack Plates, $3.99
Downy Dryer Sheets, $3.79
-$0.50/1 Downy Fabric Softener, exp. 3/11/17 (P&G 02/26/17 R) [ETS]
Downy Liquid Fabric Softener Select Varieties, 48-60 Loads, $3.29
–$0.50/1 Downy, Bounce Sheets or Bursts, Downy or Unstopables, Dreft Blissfuls or Gain Fireworks printable
–$0.50/1 Bounce Sheets or Bursts, Downy or Unstopables, Dreft Blissfuls or Gain Fireworks printable
-$0.50/1 Downy Fabric Softener, exp. 3/11/17 (P&G 02/26/17 R) [ETS] -$1/1 Downy Liquid Fabric Softener (48 loads), or Sheets (70ct. Excludes Libre Enjuague, Fresh Protect and trial or travel size (Kroger Digital Coupon)
Downy Ustopables, 9.7 oz $3.99
-$1/1 Unstopables Fabric Enhancer, Downy Fresh Protect, Bounce Bursts, Dreft Blissfuls OR Gain Fireworks In Wash Scent Booster (Kroger Digital Coupon)
Energizer Max Batteries 8 pk, $4.99
–$1/1 Energizer MAX® Multi-Pack (AA/AAA-8, C/D-4, 9V-2) (Available at Kroger) Printable
Febreze Air Effects, 8.8-9.7 oz; Select Varieties, $1.99
-B1G1 Febreze, 02/26/17 P&G (exp 3/11/17) [Excludes trial unstopables; Up to $3.29]
Febreze Small Spaces Air Freshener, $1.59
-B1G1 Febreze, 02/26/17 P&G (exp 3/11/17) [Excludes trial unstopables; Up to $3.29]
Finish Dishwashing Detergent, 75 oz; Select Varieties, $2.99
-$1/1 Finish Quantum Max or Max in 1, 02/12 SS (exp 3/12)
-$1/1 Finish Dishwasher Additive, Jet Dry (8.45oz), Jet Dry (16oz), Dishwasher Cleaner (8.45oz) or Booster (14oz) (Kroger Digital Coupon)
Finish Gel or Powder, $2.99
-$1/1 Finish Quantum Max or Max in 1, 02/12 SS (exp 3/12)
-$1/1 Finish Dishwasher Additive, Jet Dry (8.45oz), Jet Dry (16oz), Dishwasher Cleaner (8.45oz) or Booster (14oz) (Kroger Digital Coupon)
Finish Jet-Dry Rinse Aid, $7.49
-$0.50/1 Finish Rinse Aid, 02/12 SS (exp 3/12)
-$1/1 Finish Dishwasher Additive, Jet Dry (8.45oz), Jet Dry (16oz), Dishwasher Cleaner (8.45oz) or Booster (14oz) (Kroger Digital Coupon)
Finish Power Up Booster Rinse Aid, $4.49
-$0.50/1 Finish Rinse Aid, 02/12 SS (exp 3/12)
-$1/1 Finish Dishwasher Additive, Jet Dry (8.45oz), Jet Dry (16oz), Dishwasher Cleaner (8.45oz) or Booster (14oz) (Kroger Digital Coupon)
Gain Fabric Softener, $3.79
–$5/3 Gain Detergents or Fabric Enhancers printable
-$5/3 Gain Detergents, exp. 3/18/17 (RP 03/05/17 #2 R) [Gain detergents includes flings, liquid, powder, or fabric enhancers, Fireworks, dyer sheets or liquid fabric enhancer. Must include detergent and Excludes dryer sheets 40-ct. or smaller, fireworks 6.4-oz. and trial sizes] -$2/1 Gain Detergent, Gain Fabric Softener/Enhancer (52ld or more) OR Sheets (105ct or more. Excludes Gain Fireworks Flings and trial or travel size (Kroger Digital Coupon)
Gain Flings, 15-20 ct; Select Varieties, $4.49
-$2/1 Tide Pods or Gain Flings, exp. 3/11/17 (P&G 02/26/17 R)
–$2/1 Tide Pods or Gain Flings printable
Gain Fireworks, 9.7 oz, $3.99
–$0.50/1 Downy, Bounce Sheets or Bursts, Downy or Unstopables, Dreft Blissfuls or Gain Fireworks printable
–$0.50/1 Bounce Sheets or Bursts, Downy or Unstopables, Dreft Blissfuls or Gain Fireworks printable
-$1/1 Unstopables Fabric Enhancer, Downy Fresh Protect, Bounce Bursts, Dreft Blissfuls OR Gain Fireworks In Wash Scent Booster (Kroger Digital Coupon)
Gain Laundry Detergent Select Varieties, 50 fl oz, $4.99
-$5/3 Gain Detergents, 03/05/17 RP (exp 3/18/17) [Gain detergents includes flings, liquid, powder, or fabric enhancers, Fireworks, dyer sheets or liquid fabric enhancer. Must include detergent and Excludes dryer sheets 40-ct. or smaller, fireworks 6.4-oz. and trial sizes] -$1/1 Gain Detergent, 02/26/17 P&G (exp 3/11/17) [Excludes fabric enhancers, fireworks, gain flings and trial size] –$1/1 Gain Detergent printable
–$5/3 Gain Detergents or Fabric Enhancers printable
-$2/1 Gain Detergent, Gain Fabric Softener/Enhancer (52ld or more) OR Sheets (105ct or more. Excludes Gain Fireworks Flings and trial or travel size (Kroger Digital Coupon)
Glad Disney Sandwich Bags, 40 ct, Select Varieties, $1.99
Glad Trash Bags 25-80, Select Varieties, $6.99
Gladware Disposable Food Storage Containers, 2-8 ct, $1.99
Hefty Foam Plates or Plastic Cups, $2.99
–$1/2 Hefty Foam Plates and Bowls printable (exp. 12/31/17)
-$1/2 Hefty Foam Products, 01/22 RP (exp 3/31)
Lemi Shine Natural Booster $2.34
-B2G1 Lemi Shine Brand Product, 02/05 SS (exp 3/19)
–$1/1 Lemishine Dishwasher Booster printable
Lysol Click Gel Toilet Bowl Cleaner, $1.33 – $1.39
–$0.75/1 Lysol Automatic Toilet Bowl Cleaner Printable
–$0.50/1 Lysol Automatic Toilet Bowl Cleaner printable
Lysol Disinfectant Spray, $2.99 +
–$0.50/1 Lysol Disinfectant Spray or Max Cover Mist printable [12.5-oz.+] –$0.50/1 Lysol Disinfectant Maxcover Mist printable
Lysol No Mess Toilet Bowl Cleaner, $1.99 – $2.19
–$0.50/1 Lysol Automatic Toilet Bowl Cleaner printable
–$0.50/2 Lysol Toilet Bowl Cleaner Products printable [24-oz.+] –$0.50/2 Lysol Bathroom Cleaner Products printable
–$0.75/1 Lysol Automatic Toilet Bowl Cleaner Printable
Lysol Twin Toilet Bowl Cleaner, $2.89
–$0.50/2 Lysol Toilet Bowl Cleaner Products printable [24-oz.+]
Morton System Saver
Mr. Clean Eraser Bath Scrubber, $1.69
-$0.50/1 Mr. Clean Magic Eraser, exp. 3/25/17 (P&G 02/26/17) [ETS]
Mr. Clean Erasers, $1.69
-$0.50/1 Mr. Clean Magic Eraser, exp. 3/25/17 (P&G 02/26/17) [ETS]
Mr. Clean Liquid Cleaner, Diluted, $1.89
-$0.75/1 Mr. Clean Liquid, exp. 3/25/17 (P&G 02/26/17) [ETS]
Mr. Clean Liquid Muscle Gel
-$0.75/1 Mr. Clean Liquid, exp. 3/25/17 (P&G 02/26/17) [ETS]
Pine-Sol Multi-Surface Cleaner, 24 oz, $0.79 – $0.99 *eligible for Catalina
-$1.50/2 Clorox or Pine-Sol Products, 03/05 SS (exp 4/3) [Excludes pens and trial]
Pledge Floor Cleaner, $2.49
-$1/1 Pledge Furniture Care Product, 02/26 SS (exp 4/9)
Pledge Wipes $2.69
-$1/1 Pledge Furniture Care Product, 02/26 SS (exp 4/9)
Pledge Wood Floor Polish, $2.99
-$1/1 Pledge Furniture Care Product, 02/26 SS (exp 4/9)
Puffs Facial Tissue, $3.99
–$0.25/1 Puffs Product
–$0.25/1 Puffs Product printable [Excludes Puffs To-Go and trial/travel size] -$0.25/1 Puffs Product, exp. 3/25/17 (P&G 02/26/17) [Excludes single puffs to go packs and trial]
Renuzit Pearl Scents, $2.99
Resolve Prewash Spray
–$0.75/1 Resolve Trigger or Foam Printable
Reynolds Wrap Aluminum Foil Select Varieties, 35-75 sq ft, $2.79 +
–$0.75/1 Reynolds Wrap Foil printable [35-sqft.+; Excludes wrappers] –$0.75/1 Reynolds Wrap Heavy Duty Foil printable
S.O.S Soap Pads Select Varieties, 10 ct, $1.50
Scrubbing Bubbles Aerosol or Fantastic, $1.59
–$1/1 Scrubbing Bubbles Bathroom Cleaning Product Printable
Scrubbing Bubbles Daily Shower Cleaner, $2.39
–$1/1 Scrubbing Bubbles Bathroom Cleaning Product Printable
Scrubbing Bubbles Mega Shower Foamer $3 or Multi Surface Cleaner $2.39
–$1/1 Scrubbing Bubbles Bathroom Cleaning Product Printable
Scrubbing Bubbles Toilet Gel $2.59 or Vanish Drop Ins $1.69
–$1/1 Scrubbing Bubbles Bathroom Cleaning Product Printable
–$1/1 Scrubbing Bubbles Toilet Cleaning Product Printable
Shout Color Catcher, $2.99
–$0.50/1 Shout® product (excludes travel and trial sizes) printable
Shout Refill $3.99
–$0.50/1 Shout® product (excludes travel and trial sizes) printable
Shout Stain Remover $1.99
–$0.50/1 Shout® product (excludes travel and trial sizes) printable
Soft Scrub Cleanser, 24 oz, $2.09
-$1/1 Soft Scrub Liquid Cleanser, any variety (20 oz. or larger) [Kroger Digital Coupon]
Soft Scrub 4 in 1 Cleaner, $2.49
Suavitel Fabric Conditioner, 135 oz, $4.99
Swiffer Refills Select Varieties, 6-32 ct, $6.99
–$2/2 Swiffer Wet Jet Refills Printable [Excludes Swiffer Bissell Steamboost and trial/travel size] –$2/2 Swiffer Sweeper Dry Refills Printable [Excludes Swiffer Bissell Steamboost and trial/travel size] –$2/2 Swiffer Sweeper Wet Refills Printable [Excludes Swiffer Bissell Steamboost and trial/travel size] –$2/2 Swiffer Wet Jet Refills printable [Excludes Swiffer Bissell Steamboost and trial/travel size] –$2/2 Swiffer Sweeper Wet Refills printable [Excludes Swiffer Bissell Steamboost and trial/travel size]
Tide Laundry Detergent Select Varieties, 50 fl oz, $4.99
–$2/1 Tide Detergent printable
-$2/1 Tide Detergent, 02/26/17 P&G (exp 3/11/17) [Excludes pods 5-ct., simply clean, clean & fresh, tide detergent and trial] -$2/1 Tide Detergent. Excludes Tide PODS, Tide Rescue, Tide Simply, Tide Detergent 10 oz and trial or travel size (Kroger Digital Coupon)
Tide Pods Laundry Detergent, 20 ct, $4.49
-$2/1 Tide PODS OR Gain Flings. Excludes Tide Simply, Gain Flings/Tide PODS 5ct and trial or travel size (Kroger Digital Coupon)
Tide Rescue Stain Remover, 9 ct, $3.99
Windex Cleaner Wipes, $1.39
–$0.50/1 Windex Product Printable [ETS] -$0.50/1 Windex product. Excludes travel and trial sizes (Kroger Digital Coupon)
Windex Glass Cleaner, 23 fl oz, $1.99
–$0.50/1 Windex Product Printable [ETS] -$0.50/1 Windex product. Excludes travel and trial sizes (Kroger Digital Coupon)
Windex Glass Refill, $3.69
–$0.50/1 Windex Product Printable [ETS] -$0.50/1 Windex product. Excludes travel and trial sizes (Kroger Digital Coupon)
Ziploc Storage or Freezer Bags Select Varieties, 28-48 ct, $2.99
–$1/2 Ziploc Brand Products printable
Ziploc Slider Bags, $2.99
–$1/2 Ziploc Brand Products printable
---
MEAT/SEAFOOD
Al Fresco Chicken Bacon
–$1/1 Al fresco printable
–$1/1 Al Fresco Product printable
Al Fresco Fully Cooked Chicken Bacon
–$1/1 Al fresco printable
–$1/1 Al Fresco Product printable
Al Fresco Grillers
–$1/1 Al fresco printable
–$1/1 Al Fresco Product printable
Al Fresco Sausage
–$1/1 Al fresco printable
–$1/1 Al Fresco Product printable
Curly's Barbecue, 12-16 oz Tub, $3.99
–$0.75/1 Curly's Pulled Pork printable
Curly's Road Trip Eats, $5.99
-$1/1 Curly's Kansas City Style Seasoned Brisket Rio Grand Pulled Pork, exp. 3/31/17 (RP 01/29/17 #2 R)
–$0.75/1 Curly's Pulled Pork printable
Eckrich Sausage, $1.99
Eckrich Smok-Ys, $1.99
Hillshire Farm Cocktail Smokies or Wieners, $1.99
-$0.75/1 Hillshire Farm Cocktail Smokies, 01/29 RP (exp 3/12)
Hormel Black Label Bacon, Select Varieties, 12-16 oz, $3.99
Hormel Black Label Bacon Microwave Ready, $6.29
Hormel Natural Choice Bacon, Select Varieties, 12-16 oz, $3.99
Johnsonville Breakfast Sausage Select Varieties, 9.6-12 oz, $2.49
–$0.75/1 Johnsonville Fully Cooked Breakfast Sausage (Ibotta Deposit) [Any variety; Any size.]
Jones Braunschweiger, Roll, $1
Nathan's Beef Franks, $2.99
Oscar Mayer Bacon, Mega Pack,
Oscar Mayer Deli Fresh Lunchmeat,
Oscar Mayer Lunchables, Uploaded, $2.49
Oscar Mayer Lunch Meat, Select Varieties, 8 oz, $1.49
Oscar Mayer Naturals, Package, $5.99
Oscar Mayer Sub Kit, $5.99
Private Selection Smoked Salmon or Crab
Sugardale Bacon
-$0.50/1 Sugardale Bacon, Pepperoni, or Hot Dog, 02/05 SS (exp 3/19)
Sugardale Hot Dogs
-$0.50/1 Sugardale Bacon, Pepperoni, or Hot Dog, 02/05 SS (exp 3/19)
Sugardale Pepperoni
-$0.50/1 Sugardale Bacon, Pepperoni, or Hot Dog, 02/05 SS (exp 3/19)
Tennessee Pride Breakfast Patties
-$0.75/1 Odom's Tennessee Pride Breakfast Sandwiches, 02/05 SS (exp 3/18) [10-ct.+]
---
NATURAL FOODS
Ancient Harvest Quinoa, $1.79
Ancient Harvest Quinoa Mac & Cheese, $1.79
Ancient Harvest Quinoa Pasta, $2.29
Ancient Harvest Quinoa Polenta, $1.89
Annie's Fruit Snacks, $3.29
–$0.75/1 Annie's Snacks printable
Apple & Eve Juice, $1.99
–$1/2 Apple and Eve Bottles or Juice Pack printable
–$1/2 Apple & Eve Juice printable
Black Forest Fruit Snacks, $3.49 – $6.99
Black Forest Organic Berry Melody Fruit Snacks, $4.99
Bob's Red Mill Soup Mix, $6.99
–$1/1 Bob's Red Mill Product printable
Boom Chicka Pop, $2.49
Boulder Canyon Avocado, Coconut or Olive Oil Chips, $2.49
Brad's Raw Kale Chips, $2.99
Brad's Veggie Chips, $2.99
–$0.75/1 Brad's Plant-Based Veggie Chips (Ibotta Deposit) [Any variety; Any size]
Capri Sun Organic Drinks, $3.69
Cascadian Farm Vegetables, Frozen, $1.49
Earth's Best Chicken Nuggets, $8.99
Food Should Taste Good Tortilla Chips, $3.99
–$0.50/1 Food Should Taste Good Tortilla Chips or Kettle Chips Printable [4-oz.+] –$0.50/1 Food Should Taste Good Tortilla Chips, Kettle Chips printable
–$0.50/1 Food Should Taste Good Tortilla Chips, Kettle Chips, Brown Rice Crackers or Bean Chips (Kroger Digital Coupon) [4-oz.+] exp 04/14
Garden Lites Muffins, $3.29
Garden Lites Souffles, $1.99 – $2.69
–$0.75/1 Garden Lites printable
Garden of Eatin' Tortilla Chips Select Varieties, 16 oz $2.99
–$0.55/1 Garden of Eatin' Organic Bold Nacho or Ranch flavored Tortilla Chips (5 oz) [Kroger Digital Coupon]
Garden of Eatin Tortilla Bowl
Glutino Pretzels, $2.69+
–$1/1 Glutino Gluten Free Product Printable
–$1/1 Glutino Product printable
–$1/1 Glutino Product printable
–$0.75/1 Glutino Gluten Free Snacks (Checkout 51 Deposit) [Any variety.] limit 2
Hip Chick Farms Chicken, $6.99
Hip Chick Farms Turkey Burgers, $7.99
Honest Kids Pouches, $2.50
Honest Kids Punch, $1.99
Horizon Cookies or Crackers, $1.99
–$0.55/1 Horizon Grahams, Crackers or Fruit Snacks (signup)
–$1/1 Horizon Snack or Sandwich Cracker (Kroger Digital Coupon) exp 04/08
Horizon Sandwich Crackers, $1.99
–$1/1 Horizon Snack or Sandwich Cracker (Kroger Digital Coupon) exp 04/08
Justin's Almond or Hazelnut Butter, $8.99
Kalot Nut Butter
–$0.75/1 KALOT Superfoods Fruit & Nut/Seed Butter (BerryCart Deposit)
Kashi Breakfast  or Savory Bars, 5-12 ct; Select Varieties, $1.69
–$1/2 Kashi Products, any variety (5.3 oz. or Larger) [Kroger Digital Coupon] -$1/2 Kashi Products, 01/29/17 RP (exp 3/12/17)
Kashi Cereal 9.5-16.3 oz, Select Varieties, $1.99
-$1/2 Kashi Products, 01/29/17 RP (exp 3/12/17)
Krema Peanut Butter, $2.49
Luvo Entrees, $2.99
–$1.50/1 Luvo Frozen Meal printable
–$1/1 Luvo Steam in Pouch Entree printable
–$1.50/1 Luvo Steam in Pouch Entree printable
–$1.50/1 Luvo Frozen Steamed Entree printable [share coupon] –$1/1 Luvo Steam in Pouch Entree (Savings.com)
–$1.50/1 Luvo Frozen Entrees (BerryCart Deposit)
Malk Cold-Pressed Nut Milk, $4.99
Nature's Path Gluten Free Granola
Northland Cranberry 100% Juice
–$1/1 Northland Juice printable
Nutiva Red Palm Oil, $5.99
Nutiva Shortening, $3.99
Pete & Jerry's Organic Eggs
R.W. Knudsen Just Juice Select Varieties, 32 fl oz, $2.99 – $6.99
Silk Plant-Based Milk, 64 fl oz; Select Varieties, $1.88
-$0.55/1 Silk, 02/12/17 RP (exp 4/12/17) [Half gallon or larger] –$1/1 Silk Protein Nutmilk (Kroger Digital Coupon)
-$1/1 Silk Protein Nutmilk, exp. 5/5/17 (RP 03/05/17 #2)
So Delicious Coconut or Cashew Non-Dairy Dessert, Pints, $2.99 – $3.49
–$1/2 So Delicious Dairy Free items printable
-$1/2 So Delicious Dairy Free items (Kroger Digital Coupon)
So Delicious Novelties
–$1/2 So Delicious Dairy Free items printable
-$1/2 So Delicious Dairy Free items (Kroger Digital Coupon)
So Delicious Soy Ice Cream
–$1/2 So Delicious Dairy Free items printable
-$1/2 So Delicious Dairy Free items (Kroger Digital Coupon)
Sweet Earth Breakfast Sandwiches, $3.49
–$1/1 Sweet Earth Product printable
–$1/1 Sweet Earth Breakfast Sandwiches (BerryCart Deposit)
Sweet Earth Breakfast Burrito, $1.99
–$1/1 Sweet Earth Product printable
–$1/1 Sweet Earth Functional Burritos (BerryCart Deposit)
Veggie Fries, $2.49
Vita Coco Coconut Water Select Varieties, 1 Liter, $2.99
–$1/1 Vita Coco, any flavor (500 ml) [Kroger MarchtoSave Digital Coupon] exp 4/20
Vita Muffin Tops, $2.99
Way Better Snack Tortilla Chips, $1.49
–$2/1 Way Better Snacks Tortilla Chips (Mobisave Deposit)
Whole Earth Nature Sweet w/Stevia & Monk Fruit, $4.99
Wholesome Raw Cane Turbinado, $2.99
Wholesome Sweeteners Blue Agave, $4.69
Wholesome Sweeteners Raw Honey, $5.49
Yogi Tea, $1.99
Zevia, $2.99
---
PET
Beyond Dry Dog Food, $7.49
–$4/1 Purina Beyond Brand Dry Dog Food Printable
–$3/1 Purina Beyond Dog Food, any variety (3 lb or larger) (Kroger Digital Coupon) exp 3/31
–$5/1 Purina Beyond Dry Dog Food printable
Fresh Step Cat Litter 15.4-25 lb; Select Varieties, $9.99
–$1.50/1 Fresh Step Clumping Litter Printable [15.4-lb.] –$1.50/1 Fresh Step Lightweight Clumping Litter Printable
-$2/1 Fresh Step Cat Litter, 02/26 SS (exp 3/18) [25-lb.] -$1.50/1 Fresh Step Clumping Litter (15.4 lbs or larger) (Kroger Digital Coupon)
-$0.75/1 Fresh Step Clumping Litter (7 – 14 lbs) (Kroger Digital Coupon)
-$1.50/1 Fresh Step Lightweight Clumping Litter (Kroger Digital Coupon)
Friskies Cat Food, 16 lb; Select Varieties, $9.99
–$1/1 Purina Friskies Cat Food, any variety (16 lb bag) (Kroger Digital Coupon) exp 3/26
-$1/1 Purina Friskies Dry Cat Food, 02/05 SS (exp 5/31) [3.15-lb.+]
Iams Dry Dog Food, Medium Bag 12.5 lb, $16.99
–$2/1 IAMS™ Dry Dog Food
Kit & Kaboodle Cat Food, 13 lb $8.99
Luvsome Cat Litter
Luvsome Dog Food, $9.79 – $11.59
–$2/1 Luvsome Dry Dog Food, any variety (15 lb) (Kroger SuperSaver Digital Coupon) exp 3/26
Luvsome Natural Cat Food, $11.99
–$0.75/1 Luvsome Dry Cat Food, any variety (3.15-3.5 lb) (Kroger SuperSaver Digital Coupon) exp 3/26
Milk Bone Dog Biscuits 10 lb, $9.99
-$1/2 Milk-Bone Dog Snacks, 01/29 RP (exp 3/26)
Pup-peroni, select varieties, 25 oz $9.99
-$1/2 Pup Peroni Dog Snacks, 01/29 RP (exp 3/26)
Tyson Nudges Dog Treats, $6.49
---
PRODUCE
Calbee Snapea Crisps Select Varieties, 3-3.3 oz, $0.99
California Sundry Tomatoes, $1.49
California Sundry Tomatoes In Oil, $2.99 – $4.99
Dole Salad Blends, $1.99
Dole Salad Kits Select Varieties, 8.3-14.4 oz, $2.49 – $4.49
Dole Spinach, $1.99
Rebel Green Veggie Cleaner $2.99 or Refill, $5.99