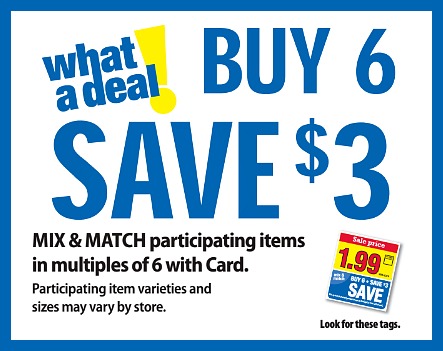 Here is the HUGE inclusion list for the upcoming Buy 6 Get $3 Mega sale that starts on Wednesday, 4/5 and runs through Tuesday 4/18. With this sale you will instantly save $3 at checkout when you buy any 6 participating items.
If you find any other matching coupons or if you find a coupon that doesn't match, let me know and I will get it added or fixed as soon as possible. As usual the price listed is AFTER mega savings.
I will add in the remaining prices throughout the day today. As I mention above, this is a HUGE sale so be sure to click "Read More" to see all the deals!
BABY
Baby Mum-Mum, $2
–$0.75/1 Baby Mum-Mum or Toddler Mum-Mum Product printable
Beech-Nut Melts & Quinoa Crispies, $2.49
Beech-Nut Organic Jars, $0.87
Beech-Nut Organic Puree Pouches, $1.19
–$1/2 Beech-Nut ColdPuree Organic Pouches (Ibotta Deposit) [Any Beech-Nut ColdPuree variety only; 3.5-oz. package]
Beech-Nut Puffs Cereal Snack, $1.99
Gerber 2nd Foods Organic Pouches $0.89
–$1/6 Gerber® Grabbers™ or Organic Pouches
Gerber Graduate Cereal Bars, $1.99
Gerber Graduates Grabbers, $0.89
Gerber Graduates Lil Meals or Sides, $0.79
Gerber Graduates Lil Entrees, $1.49
Gerber Pick-Ups, $0.79
Gerber Graduates Snacks, $1.69
–$1/3 Gerber Graduates Puffs, Lil' Crunchies, or Yogurt Melts Items Printable [Gerber Graduates Puffs, Lil' Crunchies, or Yogurt Melts items]
Gerber Graduates Yogurt Melts, $1.99
–$1/3 Gerber Graduates Puffs, Lil' Crunchies, or Yogurt Melts Items Printable [Gerber Graduates Puffs, Lil' Crunchies, or Yogurt Melts items]
Gerber Snack Bars, 8 ct, $1.99
Gerber Yogurt, 4 pk, $1.99
Happy Baby Food, $2.49
–B1G1 Happy Baby or Tot Pouch printable
–$0.75/1 Happy Baby or Happy Tot Snack printable
Happy Baby Wafers, 24 ct, $2.49
Huggies Clutch & Clean Wipes, 32 ct, $3.49
Huggies Goodnites, 9 – 14 ct, $8.49
-$2/1 Pull-Ups Training Pants or Goodnites Bedtime Pants or Bed Mats [Excludes 7-ct. and smaller] (Kroger Digital Coupon)
–$2/1 Pull-Ups Training Pants or Goodnites Bedtime Pants or Bed Mats printable [Excludes 7-ct. and smaller]
Huggies Little Movers or Little Snugglers Diapers, Jumbo Pack, 18 – 35 ct, $8.49
–$3/1 Huggies Diapers (Not valid on 9 ct. or less) printable
–$2/1 Huggies Diapers printable [Excludes 9-ct. and smaller] -$2/1 HUGGIES Diapers. Excludes 9 ct. or less (Kroger Digital Coupon)
–$2/1 Huggies Little Movers Slip-On Diapers printable
–$2/1 Huggies Little Movers Diapers printable
–$2/1 Huggies Little Snugglers Diapers printable
–$2/1 Huggies Little Movers Diapers printable
–$2/1 Huggies Little Snugglers Diapers printable
–$2/1 Huggies Little Movers Diaper Pants printable
–$2/1 Huggies Little Snugglers Diapers printable
–$1.50/1 Huggies Diapers printable
–$1.50/1 Huggies Little Snugglers Diapers printable
–$1.50/1 Huggies Little Movers Diapers printable [Offer value may vary]
Huggies Little Swimmers, 18- 20 ct, $9.49
–$1.50/1 Huggies Little Swimmers Disposable Swimpants Printable [10-ct.+]
Huggies Wipes, 56 – 72 ct, $1.49
–$0.50/1 Huggies Wipes printable [56-ct.+] -$0.50/1 HUGGIES Wipes (56 – 335 ct.) (Kroger Digital Coupon)
–$1/2 Huggies Baby Wipes printable
–$0.50/1 Huggies Wipes printable [56-ct.+]
Huggies Wipes, Tub, 64 – 72 ct, $1.99
–$0.50/1 Huggies Wipes printable [56-ct.+] -$0.50/1 HUGGIES Wipes (56 – 335 ct.) (Kroger Digital Coupon)
–$1/2 Huggies Baby Wipes printable
–$0.50/1 Huggies Wipes printable [56-ct.+]
PediaSure, 8 ct, $10.49
–$3/3 PediaSure Products Printable
–$3/3 PediaSure Products (Kroger Digital Coupon)
–$2/2 PediaSure Products (Kroger Digital Coupon)
–$2/2 PediaSure Products Printable
Plum Pouches, $0.49 or Mash Ups, $2.99
–$1/2 Plum Organics Baby Products printable
Pull-Ups Jumbo Pack, 18 – 22 ct, $8.49
-$2/1 Pull-Ups Training Pants or Goodnites Bedtime Pants or Bed Mats [Excludes 7-ct. and smaller] (Kroger Digital Coupon)
–$2/1 Pull-Ups Training Pants or Goodnites Bedtime Pants or Bed Mats printable [Excludes 7-ct. and smaller] –$2/1 Pull-Ups Night Time Training Pants printable
Pull-Ups Wipes, 51 ct, $1.19
---
REFRIGERATED
Arla Cream Cheese, 7 oz, $2.49
Baileys Coffee Creamer, 32 oz, $1.99
Brummel & Brown Spread, $2.49
Buitoni Tortellini, 20 oz
–$0.75/1 BUITONI® Refrigerated Pasta, 9 oz. or Larger
–$2/2 BUITONI® Refrigerated Pasta AND Sauce, any variety
Cedar's Hommus, $1.99
–$1/1 Cedar's Hommus printable [signup]
Challenge Butter, 16 oz, $4.09
–$0.50/1 Challenge Butter printable

Chobani Drink 10 oz, $1.50
Coffee-mate Creamer, Select Varieties, 32 fl oz, $2.29
Cracker Barrel Cheese Sticks, 10 ct or  Cut Cheese, 7 – 8 oz, $3.49
Daisy Cottage Cheese, 16 oz, $1.99
Daisy Sour Cream, 16 oz, $1.69
–$0.45/1 Daisy Squeeze Sour Cream printable
Dannon Activa Yogurt, 4 pk, $1.99
Dannon Danimals Smoothie, 6 pk, $1.99 or Squeezables, $3.99
-$1 off Dannon Danimals Smoothies or Squeezables; 01/08 SS (exp 2/18) [(2) 6-ct. smoothies, (1) 4-ct.+ squeezables, or (1) 12-ct.+ smoothies]
Dannon Light & Fit Yogurt, 4 pk, $1.50
Dannon Light & Fit Greek Yogurt, 4 pk, $3.49
-$0.50/3 Dannon or Light & Fit, 03/26 SS (exp 4/26) [Single Serve] -$1 off Activia, 02/12 SS (exp 5/6) [(1) 12-ct. or (2) 4-ct.]
Dannon Oikos, 4 pk, $3.49
Dannon Yogurt, 32 oz, $1.99
Frigo Cheeseheads, 8-10 ct, $3.49 or 12 ct, $3.99
Heluva Dip & Greek Style Dip, $1.49
Hershey's Pudding, 4 ct, $2.19
Hormel Natural Choice Snack, $0.99
–$1/1 Hormel Natural Choice Snack (Kroger Digital Coupon)
–$1/1 Hormel Natural Choice Snack Printable
–$0.75/1 Hormel Natural Choice Snack, exp. 4/10/17 (Mobisave Deposit)
Hormel Refrigerated Entree, $4.99
–$1/1 Hormel Refrigerated Entrees Product printable
Hormel REV $0.99
–$0.50/1 Hormel REV Product (Kroger Digital Coupon)
–$0.50/1 Hormel REV Product printable
–$0.50/1 Hormel REV Product printable
–$1/2 Hormel REV Product, exp. 4/10/17 (Mobisave Deposit)
I Can't Believe It's Not Butter, 8 – 15 oz, $2.49
–$0.55/1 I Can't Believe It's Not Butter printable
Kraft Cheese, Select Varieties, 5 to 8 oz, $2.49
Kraft American Singles, 16 ct, $2.49
Kraft Shredded or Bar Cheese, $2.49
Kraft Shredded Parmesan, $4.09
Kraft String Cheese, 12 ct, $3.99
Land O'Lakes Butter, Select Varieties, 16 oz, $2.99
Laughing Cow Wedge, 8 ct, $2.49
Lender Bagels, $1.39
-$0.75/2 Lender's Bagels, 02/12 SS (exp 4/30)
Marie's Dressing, $1.99
–$1/1 Marie's Dressing printable
Minute Maid Fruit Drinks or Ades, 59 oz, $0.99
Naturally Fresh Dressing, $3.29
Philadelphia Cheesecake, $2.49
Pillsbury Crescents or Cinnamon Roll, Select Varieties, 8 oz, $1.69
–$1/3 Pillsbury Refrigerated Baked Goods Products (Kroger Digital Coupon)
–$1/3 Pillsbury Refrigerated Baked Goods Products printable
–$1/3 Pillsbury Refrigerated Baked Goods Products printable
Sargento Balanced Breaks, $2.99
-$1.25/2 Sargento string/stick cheese snacks, Snack Bites or Balanced Breaks, any variety or size [Kroger Digital Coupon] exp 4/30
–$0.75/1 Sargento Balanced Breaks (Checkout 51 Deposit) [Any variety.]
Sargento Cheese, Select Varieties, 5 to 8 oz, $2.49
–$0.50/1 Sargento® Ultra Thin® Cheese Slices
–$0.50/1 Sargento Natural Cheese Slices (Checkout 51 Deposit)
–$0.25/1 Sargento Shredded Cheese, exp. 4/5/17 (Checkout 51 Deposit) [5-oz.+ bag] –$1/1 Sargento Tomato & Basil or Garlic & Herb Jack Cheese Slices (Checkout 51 Deposit)
Sargento Snack Bites, $2.99
-$1.25/2 Sargento string/stick cheese snacks, Snack Bites or Balanced Breaks, any variety or size [Kroger Digital Coupon] exp 4/30
–$0.75/1 Sargento Snack Bites Cheese Snacks (Ibotta Deposit) [any variety, 6 oz. or larger] –$1/2 Sargento Shreds (Ibotta Deposit) [Any variety; any size]
Stok Iced Coffee, 48 oz, $4.49
Turkey Hill Haymakers Tea, 57.6 oz, $2.49
–$0.75/1 Turkey Hill Haymakers Tea printable
Turkey Hill Tea, 57.6 oz, $0.99
YoCrunch, 16 oz, $1.99
---
FROZEN FOODS
Armour Meatballs, $2.49
Bagel Bites Breakfast, 7 oz
Bagel Bites, $4.49
–$1.50/1 Bagel Bites, Delimex, Velveeta Bites, or TGIF Frozen Appetitizers (Kroger Digital Coupon)
Bertolli Frozen Meals, $5.49
bibigo Wontons, $4.99
Bird's Eye Frozen Vegetable Bends, 52 – 60 oz, $5.49
-$0.50/1 Birds Eye Low Tier Core or Steamfresh Frozen Vegetable, any variety (10-16oz) [Kroger Spring Digital Coupon]
Bird's Eye Steamfresh, $1.49
-$0.50/1 Birds Eye Low Tier Core or Steamfresh Frozen Vegetable, any variety (10-16oz) [Kroger Spring Digital Coupon]
Bird's Eye Volia, $3.49+
Blue Bunny Ice Cream Novelties, 6 – 12 ct, $2.99 or Vanilla Bean, $4.49
Boca Vegan Products, $1.99 – $2.89
Bon Appetit Pizza, $3.49
Chung's Egg Rolls, $2.99
Cole's Mini Loaf, $1.29 or Garlic Toast, $1.99
–$1/2 Cole's Brand Product printable
Cole's Pretzel Sticks, $2.89
–$1/2 Cole's Brand Product printable
Cooked Perfect Fire Grilled Chicken Tenders or Wings, $8.49
Cooked Perfect Meatballs, $2.49 – $5.49
Delimex, 11-24 oz, $4.49
De Wafelbakkers Pancakes, $3.17
DiGiorno Pizza Bars, 6 ct, Select Varieties, $2.99
Dole Frozen Fruit, $3.27
Dole Fruit N Spice, $0.50 – $2.09
Dr. Praeger's Veggie Burgers, $4.49
Dryer's Ice Cream, 48 oz
Edwards Pie Slice, 2 ct, $2.49
Edy's Ice Cream, Select Varieties, 48 fl oz, $2.99
Eggo Breakfast Sandwiches, $5.09
Eggo Waffles, $1.49
–$1/1 Kellogg's Eggo Frozen Product printable [Need 850 rewards points]
El Monterey Taquitos or Quesadillas, $5.29
Farm Rich Appetizers, $4.49
-$1/1 Farm Rich product, 15 oz or larger (Kroger Digital Coupon) exp 4/20
–$0.75/1 Farm Rich Wings printable
–$1/1 Farm Rich Smokehouse BBQ Items printable
Forno De Minas Cheese Rolls, $3.19
–$1/1 Forno De Minas Cheese Rolls printable
–$1/1 Forno De Minas Cheese Rolls (Savings.com)
Graeters Ice Cream, 16 oz, $4.49
Haggen Dazs Ice Cream, 3 bars or 14 oz, $3.49
Hostess Donettes, $1.49
Hungry Man Frozen Dinners, $2.19 or Selects, $2.89
InnovAsian Entree, $5.49
Le Petit Baguettes, $2.49
Kellogg's Special K Breakfast Sandwiches, $3.79
Kroger Chicken Fries, $5.49
Kroger Deluxe Ice Cream, 48 oz, $2.49
Kroger Frozen Chicken, $5.49
Kroger Meatballs, $3.79
Lean Cuisine Entree, 6 to 10.875 oz, Select Varieties, $1.78
Lucky Spring Tolls 8.5 oz, $3.49
Marie Callender's Mini Cream Pies, $2.39 or Fruit Pie, $1.99
Minute Maid Frozen Orange Juice, $2.39
Mom Made Mac, $4.49 or Turkey Meatballs, $6.49
–$1/1 Mom Made Product printable
Mrs. Paul Fillets, $5.09 or Sandwich Fillets, $4.89
Nestle Drumstick Cones, 4 ct, $2.49 or Novelties 6 ct, $5.49
OnCor Frozen Entrees, $1.89 or Family Size, $2.29
Ore Ida Frozen Fries
Outshine Bars, 6 ct, $3.49
P.F. Chang's Dumplings, 2.99 or Rice, $2.49
P.F. Chang's Frozen Entrees, 22 oz, $6.99
–$0.75/1 P.F. Chang's Home Menu Entrees, exp. 4/5/17 (Checkout 51 Deposit) [22-oz. bag]
Perdue Breaded Chicken, $7.09
–$1.25/2 Perdue Short Cuts or Refrigerated Breaded Chicken Products printable
–$1.50/2 Perdue or Perdue Harvestland Perfect Portions Products printable
–$1.50/3 Perdue Short Cuts or Perdue Refrigerated Breaded Products printable
-$0.75/1 Perdue Harvestland Fresh Chicken Product, exp. 4/15/17 (RP 03/05/17 #2 R)
Perdue Simply Smart Chicken Strips, 20-26 oz, $7.09 or 18 oz, $5.49
Picsweet Frozen Vegetables, $1.49
Private Selection Frozen Fruit, 48 oz, $9.49
Red's All Natural Burrito, 5 oz, $1.89+
Red's Burrito Bowls, $4.29
Rhodes Microwave Cinnamon Rolls, $2.49
Skinny Cow Ice Cream Novelties, 6 ct, $3.99
Stouffer's Entree, 6 to 12.875 oz, Select Varieties, $1.78
Stouffer's Party Size Mac & Cheese, 76 oz, $9.49
T.G.I. Friday's Appetizers, $4.49
–$1.50/1 Bagel Bites, Delimex, Velveeta Bites, or TGIF Frozen Appetitizers (Kroger Digital Coupon)
Talenti Gelato, 1 pint, $3.49
Tennessee Pride Breakfast Sandwiches, $5.09
Tennessee Pride Sausage, $2.49
-$1/2 Odom's Tennessee Pride® Breakfast Sausage Rolls product, any variety (1 lb) (Kroger Digital Coupon)
Tombstone Pizza, 19.8 to 27 oz, Select Varieties, $2.99
–$1/2 TOMBSTONE® Pizzas
-$2/3 Tombstone Original or Brick Oven Pizzas, any variety (17 oz. – 27 oz.) [Kroger MarchToSave Digital Coupon] exp 4/20
Turkey Hill Ice Cream, Select Varieties, 48 fl oz, $2.99
–$1/1 Turkey Hill All Natural Ice Cream printable [48-oz.]
Van De Kamp's Breaded Fish, 19 – 24.6 oz
Velveeta Stuffed Bites, $4.49
–$1.50/1 Bagel Bites, Delimex, Velveeta Bites, or TGIF Frozen Appetitizers (Kroger Digital Coupon)
Weight Watchers Smart Ones Entrees, $1.50
Yummy Chicken, $7.39
---
GROCERY
A&W, Canada Dry, Squirt or Dr. Pepper, 2 L, $0.99
Accent Flavor Enhancer, $3.27
Aquafina, 24 pk, 16.9 oz, $4.49
Ball Park Hamburger Buns, $1.49
Beanitos, $2.29
Bertolli Olive Oil or Extra Virgin Olive Oil, $6.29 – $7.29
-$0.60/1 Bertolli Olive Oil Bottle or Olive Oil Spray, 03/26 SS (exp 5/15)
Bertolli Pasta Sauce 24 oz, $2.89+ or Organic, $3.19
Bertolli Riserva Pasta Sauce, $3.49
Bertolli Vinegar & Glazes, $2.49+
Blue Diamond Almonds, 6 oz, $3.49
Bonne Preserves, $3.49
Bumble Bee Canned Chicken Breast, $2.49
Calidad Tortilla Chips, $0.99
Campbell's Cream of Chicken or Mushroom Soup, $0.75
Canada Dry, 7UP, A&W Soft Drinks, 6 pk, 16.9 oz, $1.99
Capri Sun, 10 ct, $1.99
Carbonell Extra Light Olive Oils, $4.69
Carbonell Extra Virgin Olive Oil 17 oz, $4.89
Celestial Seasoning Tea, 20 ct, $1.89+
Cheetos or Fritos, $1.79
Chock full o' Nuts, $3.49+
Coca-Cola, Pepsi or 7UP, Select Varieties, 2 Liter, $0.99
Corn Pops, Froot Loops, Apple Jacks, Frosted Flakes, $2.69 +
–$1/2 Kellogg's Froot Loops Cereals printable
–$1/2 Kellogg's Frosted Flakes Cereals printable
–$0.50/1 Kellogg's Cinnamon Frosted Flakes Cereal printable
Cracker Barrel Mac & Cheese, $2.99
Crystal Light Drink Mix, $2.49
–$1/2 Crystal Light (Kroger Digital Coupon) [On the Go, 10-qt. to 12-qt. or liquid concentrate]
Dave's Hot Sauce, $2.39+
Dave's Gourmet Pasta Sauce, $6.19
Deer Park 24 ct, $2.99
DiMartino Pasta, $1.49
Doritos, $2.49
Early California Green Olives, Can $1.99 or Black Olives, $2.39
Emerald Nuts, $2.49
Emeril Seasonings, $2.09 +
Evian Spring Water, 1.5 L, $1.99
Famous Dave BBQ Sauce, $2.29
Fiber One Bars, Select Varieties, 5 to 12 ct, $1.99
–$0.50/2 Fiber One Chewy Bars, Fiber One 90 Calorie Products, or Fiber One Printable
–$0.50/2 Fiber One Chewy Bars, Fiber One 90 Calorie Products printable [bars or brownies] –$0.50/2 Fiber One Chewy Bars, Fiber One 90 Calorie Products, Fiber One Protein Chewy Bars, Fiber One Streusel Bars, Fiber One Cheesecake Bars, Fiber One Cookies or Fiber One Layered Chewy Bars (Kroger Digital Coupon)
-$0.50/2 Fiber One Chewy Bars, 90 Calorie Bars or Brownies, Protein Chewy Bars, Streusel Bars, Cheesecake Bars, Cookies or Layered Chewy Bars, 02/05 SS (exp 4/10)
-$0.50/2 Fiber One Snacks, 03/05 SS (exp 4/29)
Fisher Natural Sliced Almond, $6.49
Fisher Pecan Halves or Chopped, $8.49
Fisher's Chopped Walnuts, $4.49
Folgers Coffee, Select Varieties, 22 to 31 oz, $6.99
Frank's Red Hot Sauce, 5 oz, $0.69 – $0.99
French Market Coffee & Chicory, 12 oz, $6.39
French's Fried Onions, 5 – 6 oz, $2.99
–$0.50/1 French's French Fried Onions printable
Frito Lay Canned Dip, $1.79
Fritos or Cheetos, 8 to 9.25 oz, Select Varieties, $1.79
Gatorade or G2, Select Varieties, 8 pk, 20 fl oz Bottles, $4.99
-$1/2 Gatorade 8-Pack 20 oz., or G2 Thirst Quencher 8-Pack 20 oz. Hangtag (exp 11/30/2017)
General Mills Cereal, Select Varieties, 11.1 to 13 oz, $1.99 (Ad shows Honey Nut Cheerios)
–$1/2 General Mills Big G or Nature Valley cereal: Cheerios, Cinnamon Toast Crunch, Chex, Lucky Charms, Cocoa and more (SavingStar Deposit)
–$1/2 General Mills Big G or Nature Valley cereal: Cheerios, Cinnamon Toast Crunch, or Chex Printable
–$0.75/2 Cheerios Cereals: Original Cheerios, Honey Nut Cheerios, or Multi Grain Cheerios Printable
–$0.75/2 General Mills Original Cheerios, Honey Nut Cheerios, or Multi Grain Cheerios printable
-$0.75/2 Cheerios, 03/12 SS (exp 4/22) [Boxes] -$1/3 General Mills Big G Cereals, 03/05 SS (exp 4/15)
-$1/3 General Mills Big G or Nature Valley Cereal, 03/19 SS (exp 4/29)
-$1/1 General Mills Cereal (Lists Some Cereals On Back Of Coupon)(DND) – Found On Product Peelie (exp 12/31/2017)
-$1/1 General Mills Cereal, Any Box (Does List Some Cereals On Back Of Coupon) – Found On Product Peelie (exp 5/30/2017)
Gevalia Coffee, 10 to 12 oz, or K-Cups, 6 to 12 ct, Select Varieties, $6.49
-$0.50/1 Gevalia Coffee Product – Found on Product Peelie (exp 4/30/2017)
-$2/2 Gevalia, Maxwell House Or McCafe Coffee Products, Any Tearpad (exp 6/30/2017)
Ghirardelli Chocolate Squares, Select Varieties, 4.12 to 5.32 oz, $1.99 – $2.99
Ghirardelli Chocolate Chips, $2.99
Ghirardelli Cookie, Brownie or Cake Mix, $1.99
Ghirardelli Chocolate Cashew, $2.99
Green Giant Vegetables, Select Varieties, 14.5 to 15.25 oz Can, $0.49
Harvest Snaps, $1.49
Herdez Salsa or Guacamole Salsa, $1.99
Hershey's Syrup, $1.99
Hills Brothers K-Cup, 12 ct, $5.99
Hormel Chili No Beans  15 oz, $1.49 (with beans, $1.99)
Hormel Compleats, 7.5 oz, $1.69
–$1.50/3 Hormel Compleats Meals printable [Includes Dinty Moore trays and Sandwich Makers trays]
Hostess Donuts, 9.5 – 14.07 oz, $1.49
Hunt's Canned Tomatoes, 28 oz, $1.19-$1.49
-$0.60/3 Hunt's Tomatoes [Kroger SuperSaver Digital Coupon] exp 4/5
–$0.50/1 Hunt's Organic Canned Tomatoes (Mobisave)
IBC Root Beer, 4 pk
Jif Peanut Butter, 15.5 – 16 oz, $1.99 or Simply $2.19
JVF Chocolate Pretzels, $2.19
Keebler Ready Crust, 9 oz, $1.49
-$0.50/2 Keebler Ready Pie Crust, 04/02 RP (exp 5/14)
–$0.50/2 Keebler Ready Pie Crust printable
Kellogg's Cereal, Fruit Loops, Corn Pops $2.79, Frosted Flakes, $2.69
Kellogg's Special K Granola, $1.99
Kellogg's Special K, or Rice Krispies Cereal, Select Varieties, 10.6 to 13.1 oz, $1.99
–$1/2 Kellogg's Rice Krispies or Kellogg's Cocoa Krispies Cereals Printable
–$3/5 Kellogg's Cereals (Kroger Digital Coupon)
-$1/2 Kellogg's Rice Krispies or Cocoa Krispies Cereal, 04/02 RP (exp 5/14) [9-oz.+] –$1/2 Kellogg's Special K Cereals printable
-$1/3 Kellogg's Cereals, 03/05/17 RP (exp 4/16/17) [8.7-oz.+] –$0.50/1 Kellogg's Rice Krispies Cereal printable
Kellogg's Fruit Snacks
–$1/3 Kellogg's Fruit Flavored Snacks Printable
Kellogg's Nutri-Grain Bars, 5- 8 ct
Ken's Salad Dressing, Select Varieties, 16 fl oz, $1.39
–$1/2 Ken's Dressing (Mobisave Deposit) [16-oz.+]
Kettle Brand Potato Chips, 6.5 to 8.5 oz, Select Varieties, $1.79
-$1/1 Kettle chips, any flavor (6oz or larger) [Kroger MarchToSave Digital Coupon] exp 4/20
–$1/2 Kettle Brand Products Printable [4-oz.+] -$1/2 Kettle Brand Items 4 oz. or Larger – Found on Product Peelie (exp 12/31/2017)
King Arthur Cookie or Coffee Cake Mix, 16 – 22 oz, $4.09
King Arthur Flour, 5 lb, $2.99 or Gluten-Free, $5.99
–$1/1 King Arthur Flour Essential Goodness Mix printable [New signups]
Knudsen Organic, 32 oz, $3.49 – $7.49
Kool Aid, Country Time or Tang Drink Mix, 19 oz, $1.99
Kraft Macaroni & Cheese Cup, 1.9 – 2.39 oz, Select Varieties, $0.99
Kraft Parmesan Cheese, 7 oz, $3.49
–$0.50/1 Kraft Grated Parmesan Cheese (Kroger Digital Coupon) [8-oz.+]
Kroger Apriva, 200 ct, $5.29 or 9.7 oz, $4.99
Kroger Club Crackers, $1.29
Kroger Graham Crackers, $1.99
Kroger Granulated Apriva, 9.7 oz
Kroger Hawaiian Rolls, $0.99
Kroger Saltines, 16 oz, Select Varieties, $0.99
Krusteaz Bar Mix, $1.99
Krusteaz Bread Mix, $1.99
Krusteaz Cookie Mix, $1.49
Krusteaz Cornbread Mix, $1.49
Krusteaz Muffin Mix, $1.99
Krusteaz Waffle or Pancake Mix, $1.99
–$0.50/1  Krusteaz® Pancake Mix
–$0.50/1 Krusteaz Pancake Mix printable
Little Debbie Honey Buns, $1.29
Lipton Tea, 12 pk, 16.9 oz, $4.49
Luzianne Iced Tea, K-Cups, $6.19
Luzianne Pour N Stir, 6 ct, $3.49
M&M's Baking Bits, $2.49
M&M's XL Bag, 38 – 42 oz
–$1/2 M&M's Easter, 3 Musketeers, Twix, Milky Way, Snickers, Dove Brands Printable [2-oz.+] -B1G1 M&M's, 02/26 RP (exp 4/9) [1.14-oz. to 3.27-oz. free wyb 9.4-oz.; Up to $2] -$1/2 Mars M&M's, Dove Eggs or Bunnies, or Minis Mix, 03/12 RP (exp 4/16) [2-oz.+ Dove eggs; 4.5-oz.+ bunnies; 10.5-oz. minis mix] -$1/2 M&M's Chocolate Candies, Dove Chocolate Silk Smooth Eggs & Bunnies, Minis Mix Variety Bags, Snickers, Twix, or Milky Way or 3 Musketeers, 03/26 RP (exp 4/16) [2-oz.+ M&M's; 4.5-oz.+ Dove Chocolate Silk Smooth Eggs & Bunnies; 10.5-oz.+ Minix Mix; 4.5-oz.+ Snickers, Twix, Milky Way or 3 Musketeers; DND] –$0.50/1 M&M's (Kroger Digital Coupon) [15.4-oz to 19.2-oz.]
Mars Miniatures Mixed Bag, 40 oz
Maruchan Yakisoba Noodles, $0.49
Mary Kitchen Hash, 15 oz, $1.99
–$1/2 HORMEL MARY KITCHEN Hash Products
Marzetta Green Olives, $3.99
Maxwell House Coffee, K-cup, 12 ct or 12 oz bag, $3.49
McCafe Coffee Bag or K-Cups, $6.49
–$1.50/1 McCafe Ground Coffee Product Printable
Minute Rice, 14 oz, $1.49
Minute Rice Ready Rice, 2 ct, $1.69
-$0.50/1 Minute Ready to Serve Product, exp. 5/27/17 (RP 03/05/17 #2) [DND]
Mio Water Enhancer, $2.49
Molly McButter Flavored Sprinkles, $1.29
Monster Energy Drinks, 4 pk, $6.49
Mott's Apple Juice, 6 pk, $2.49
Mott's Applesauce, 4 ct, $1.99
Mrs. Cubbison's Croutons, 5 oz, $0.79
–$1/2 Mrs. Cubbison's Salad Toppings printable
Mrs. Dash Seasonings, $2.19
Mt Dew Kickstart 4 pk, $3.99
Nabisco Snack Crackers, 3.5 to 9.1 oz, or Ritz Crackers, 7.5 to 13.7 oz, Select Varieties, $1.89
-$0.75/2 Nabisco Ritz Crisp & Thins Chips, 03/26 SS (exp 5/6) [any variety 7.1-oz.+]
-$1/2 Nabisco Good Thins Snacks, 03/19 SS (exp 4/24) [5.5-oz.+] –$1/1 Good Thins Snacks (Kroger Digital Coupon) [3.5-oz.+] –$1/2 Good Thins Snacks, exp. 4/12/17 (Checkout 51 Deposit) [3.5-oz.+, any variety. Excludes multi-packs. Items must appear on the same receipt.] -$0.75/2 Nabisco Ritz Crisp & Thins Chips, 03/26 SS (exp 5/6) [any variety 7.1-oz.+] –$1/2 Select Ritz Crackers, exp. 4/5/17 (Checkout 51 Deposit) [Excludes Crisp & Thins, any variety. Items must appear on the same receipt.] –$0.75/1 Ritz Crisp & Thins, exp. 4/5/17 (Checkout 51 Deposit) [Any variety.]
Nature Valley Granola Bars, Select Varieties, 5 to 12 ct, $1.99
–$0.50/2 Nature Valley Granola Bars or Nature Valley Backpacker (Kroger Digital Coupon) [5-ct.+ granola bars] -$0.50/2 Nature Valley Granola Bars, Backpacker, Oatmeal Bites or Granola Cups, 03/19 SS (exp 5/13) [5-ct.+] –$0.50/2 Nature Valley Products printable
–$0.50/2 Nature Valley Granola Bars or Nature Valley Backpacker Chewy Oatmeal Bites (SavingStar Deposit) [5-ct.+ granola bars] –$0.50/2 Nature Valley Granola Bars or Nature Valley Backpacker printable
–$0.50/2 Nature Valley Granola Bars or Nature Valley Backpacker printable
-$0.50/1 Nature Valley 5 Ct. or Larger: Granola Bars, Protein, Nut Crisp Bars, Simple Nut Bars, Soft-Baked Oatmeal Squares/Biscuits Or Fiber One Chewy Bars, 90 Calorie Products, Protein Bars, Streusel Bars, Cheesecake Bars or Fiber One Cookies (DND) – Found On Product Peelie (exp 5/31/2018)
Ocean Spray Craisins, $1.99
Ocean Spray Cranberry Juice, 64 oz, $2.39
Ocean Spray Mocktails $2.39
Olive Garden Seasoned Croutons, $1.19
On The Border Salsa, $1.99
On The Border Tortilla Chips, $1.99
Oroweat Bread, $2.89 +
-$0.55/1 Oroweat Bread Product, 02/26 SS (exp 5/26) [DND] -$0.55/1 Oroweat Bread Product, 02/05 SS (exp 5/5) [DND] -$0.55/1 Oroweat Bread, 03/05 SS (exp 6/30) [16-oz.; DND]
Orville Redenbacher Popcorn, 2-4 ct, $1.69+
Pace Ready Meals, $1.99
Pastifico Di Marlino Pasta, $1.49
Pearls Speciality Olives, $3.99
Pepperidge Farm Bread, $2.99 +
Pepperidge Farm Cookies, $2.49
Pepperidge Farm Crackers
Pepperidge Farm Goldfish, Resealable 8 – 11 oz bag, $2.49
Pepperidge Farm Pumpernickel, $2.99, Farmhouse, $3.49 Cheese Bread $3.29 or Swirl Bread, $2.99
–$1/1 Pepperidge Farm Swirl Oatmeal bread Printable
Pepsi Products, 6 pk, 16.9 oz, $1.99
Perrier, 10 pk, 8.45 oz, $4.49
Pillsbury Brownie Mix, $0.99
Pillsbury Cake Mix, $2.49
Pillsbury Frosting, $0.89-0.99
Pioneer Pancake & Waffle Pouch, $0.49
Pioneer Complete Buttermilk Pancake Mix, 32 oz, $1.59
Planters Cashews, 8 oz, $4.29
Planters Mixed Nuts, 10.3 oz, $4.49
Planters Nutrition Nuts, $5.49
Planters Peanuts, 16 oz, $3.49
Plochman's Yellow Mustard, $1.49
Popchips, Multipack, $6.19
Post Dreamworks Cereal, $1.99
Pringles Pack Snacks, 24 ct, $7.49
Pure Leaf Tea 6 pk, $5.99
Puroast Coffee, 12 oz, $7.49
Ragu Homestyle Pasta Sauce, $1.69
–$1/2 Ragu Sauce printable
Ragu Pasta Sauce, Select Varieties, 16 to 24 oz, $1.39
–$1/2 Ragu Sauce printable
Real Fresh Cafe Breaks, 4 ct, $0.75
–$0.50/1 Cafe Breaks Pudding (Ibotta Deposit) [Any Variety; 4-ct. pack only]
Red Gold Canned Tomatoes, Select Varieties, $0.49
-$1/4 Red Gold Tomatoes, 02/26 SS (exp 4/30) [10-oz.+] -$0.60/3 Red Gold Tomatoes Canned Tomato Product, 02/26 SS (exp 4/30) [10-oz.+]
Red Gold Tomato Sauce, 15 oz, $0.49
Red Lobster Cheddar Bay Biscuit Mix, $1.99
Rice Select, $4.99 – $6.09
Sara Lee Artesano Bread, Select Varieties, 20 oz, $2.49
Sara Lee Dinner Rolls, 12 ct
Sara Lee Bread, $1.49
SeaPoint Farms Edamame, 12 oz
Silver Spring Sriracha Sauce, $1.49
Skinny Pop Popcorn, $1.99
Snack Pack Pudding or Naturals, 6 ct, $2.16
Snickers or M&M's Baking Bits, 10 oz, $2.49
Soy Vay Snacks, $1.99
Sparking Ice, 8 pk, $4.49
Starbucks Iced Cofee, 4 pk, $4.99
StarKist Chunk Light Tuna, 2 to 6 oz, Select Varieties, $0.99
StarKist Chunk Tuna Pouch, $0.99
Stonyfield Fruit Snacks, 6 ct, $2
Success Rice, 14 oz, $1.49
-$0.50/1 Success Rice Product, 03/26 RP (exp 7/17)
Sunbelt Granola Bars, 8 – 10 ct, $1.69
–B1G1 Sunbelt Bakery Product printable (exp. 4/18/17)
–$0.75/1 Sunbelt Bakery Product (SavingStar Deposit)
Sunbelt Granola, 16 oz, $1.99
–B1G1 Sunbelt Bakery Product printable (exp. 4/18/17)
–$0.75/1 Sunbelt Bakery Product (SavingStar Deposit)
SunChips, 7 oz, $1.79
SunMaid Raisin, 20 oz, $2.99 or Yogurt Raisins, $2.29
Sunny D Punch, 16 oz, $0.49
Sunny D, 64 oz, $0.99
Sun Vista Black Beans, 30 oz, $0.89
Sun Vista Canned Beans, 15 oz, $0.49
SuperPretzel SoftPretzel, 6 ct, $1.99
–$0.50/1 Superpretzel Soft Pretzel Product printable
-$1/1 Superpretzel Soft Pretzel Product, 03/26 RP (exp 5/31)
-$1/1 SuperPretzel Softstix Product, 03/26 RP (exp 5/21)
-$0.75/1 SuperPretzel Soft Pretzel Product, 03/26 RP (exp 5/21)
Swanson Broth, Select Varieties, 14.5 fl oz, $0.49
Sweet Baby Ray's BBQ Sauce, $0.99
Tabasco Pepper Sauce, 2 oz, $0.99
–$0.50/1 Tabaso Printable
Thomas' English Muffins, Select Varieties, 6 ct, $2 – $2.49
Thomas' Swirl Bread, $2.29
Tostitos $2.49
Truvia Baking Blend, 24 oz, $6.09
–$1.50/1 Truvua Product Printable
Truvia Natural Sweetener, 40 ct, $3.19
–$1.50/1 Truvua Product Printable
Turkey Hill Haymakers Tea, 54.6 oz, $2.39 or Lemonade Tea, $0.99
Valley Fresh Chicken, 10 oz, $1.99
-$0.55/1 Valley Fresh Product (SS 02/26/17 R)
-$0.55/1 Valley Fresh Product 4/2 SS
Velveeta Shells & Cheese or Kraft Deluxe, $1.99
Velveeta Dip Cups, 10 oz, $3.69
-$0.50/1 Velveeta Dip Cups, 03/05 SS (exp 4/5)
Velveeta Mini Blocks, 20 oz, $5.99
-$0.50/1 Velveeta Mini Blocks, 03/05 SS (exp 4/5) [20-oz.] –$0.50/1 Velveeta Loaf or Mini Blocks Printable
Velveeta Skillets, $1.99
Velveeta, 32 oz, $6.49
–$0.55/1 Velveeta (Kroger Digital Coupon) [32-oz.]
Voortman Cookies, 8 – 12.3 oz, $1.99
Yoohoo, 10 ct, $2.99
Welch's Fruit Snacks, $1.99
-$1/1 Welch's Fruit Rolls, 04/02 SS (exp 5/13) [6-ct. box] –$1/1 Welch's Fruit Rolls printable [6-ct. box] –$1/2 Welch's Fruit Snacks printable
-$1/2 Welch's Fruit Snacks, Fruit 'n Yogurt Snacks or New Fruit Rolls, 03/26 SS (exp 5/6) [8-oz.+ bag or 6-ct.+ box]
Weetabix Whole Grain Cereal, 14 oz, $2.99
Wrigley Extra Gum, 35 ct, $1.99
Zone Perfect Bars, 6 ct, $3.99
–$1/2 Zone Perfect printable
---
HEALTH & BEAUTY CARE
5-Hour Energy, 6 pk, $12.49
BenGay $3.99+
–$1/1 Bengay Product printable
-$1/1 Motrin IB, Motrin PM or Bengay Product, 04/02 SS (exp 5/28)
Act Kids Toothpaste $2.09
-$2.50 off Kids Toothpaste AND Kids Rinse, 04/02 RP (exp 6/4)
-$1/1 Act Kids Product, 04/02 RP (exp 6/4) [ETS] -$1/1 Act Adult Mouthwash, 04/02 RP (exp 6/4) [ETS] –$1/1 ACT Product printable
-$1/1 Act Product, 02/26 RP (exp 4/30) [ETS] –$1/1 ACT Product printable
Always Discreet Pads or Liners, 24 – 45 ct
-$2/1 Always Discreet Underwear, exp. 4/29/17 (P&G 04/02/17) [Excludes other Always Products and trial/travel] -$2/1 Always Discreet Incontinence Liner or Pad, exp. 4/29/17 (P&G 04/02/17) [Excludes other Always Products and trial/travel]
Always Pads, Liners, Wipes, 18 – 60 ct, $2.94 +
-$0.50/1 Always Liners or Always Wipes, exp. 4/15/17 (P&G 04/02/17) [30-ct.+ liners; 20-ct.+ wipesExcludes Always Discreet] -$1/1 Always Radiant or Infinity Pads, exp. 4/15/17 (P&G 04/02/17) [11-ct.+] -$0.50/1 Always Pads or Always Wipes Product, exp. 4/15/17 (P&G 04/02/17) [11-ct.+ pads; Excludes Always Discreet] –$1/1 Always Radiant Pantiliners Printable [48-ct.+; ETS] –$0.75/1 Always Radiant Pantiliners Printable [48-ct.+; ETS] –$1.50/2 Always Pads or Liners Printable [30-ct.+; ETS] –$0.75/1 Always Infinity Pad Printable [ETS] –$1/1 Always Feminine Liners printable
–$0.75/1 Always Feminine Liners printable
–$1.50/2 Always Feminine Pads printable
–$0.75/1 Always Feminine Pads printable
–$0.50/1 Always Wipes Printable [Excludes trial/travel size]
Aussie Hair Shampoo, Conditioner or Styler, $2.49
-$2/2 Aussie Shampoo, Conditioner OR Styling Products. Excludes trial/travel size (Kroger Digital Coupon)
Aveeno Body Lotion, 2.5 oz. $5.49
–$1/1 Aveeno Product printable [Excludes cleansing bars, trial sizes and 2.5 oz. body lotion sizes] –$2/2 Aveeno Products printable [Excludes cleansing bars, trial sizes and 2.5 oz. body lotion sizes]
Aveeno Shampoo or Conditioner, 10.5 oz, $4.99
–$2/1 AVEENO® Hair Care product
Aveeno Skin Relief Relief Cream, 11 oz, $10.49
–$1/1 Aveeno Product printable [Excludes cleansing bars, trial sizes and 2.5 oz. body lotion sizes] –$2/2 Aveeno Products printable [Excludes cleansing bars, trial sizes and 2.5 oz. body lotion sizes]
Band-Aid Bandages or Gauze $2.29+
–$0.50/1 Band-Aid Brand Adhesive Bandages Product printable [ETS]
Bic Flex 5 Hybrid, 1 ct, $5.49
-$3/1 Bic Flex5 Hybrid Razor Pack, 04/02 SS (exp 4/23) [ETS]
Bic Hybrid and Soleil Disposable Razors, 4 ct, $7.99
-$2/1 Bic Disposable Razor Pack, 04/02 SS (exp 4/23) [ETS]
Bic Soleil Disposable Razors, 4 ct, $5.49 +
Boost Glucose Control, 6pk $8.49
–$3/2 BOOST® Nutritional Drinks
–$2/1 BOOST Nutritional Drinks or Drink Mix printable
–$3/1 Boost Simply Complete Nutritional Drink printable
-$3/1 Boost Product, exp. 5/7/17 (RP 03/05/17 #2 R) [Canister or Multipack]
Boost Original, 6pk $7.49
–$3/2 BOOST® Nutritional Drinks
–$2/1 BOOST Nutritional Drinks or Drink Mix printable
–$3/1 Boost Simply Complete Nutritional Drink printable
-$3/1 Boost Product, exp. 5/7/17 (RP 03/05/17 #2 R) [Canister or Multipack]
Boost Plus, 6pk $10.29
–$3/2 BOOST® Nutritional Drinks
–$2/1 BOOST Nutritional Drinks or Drink Mix printable
–$3/1 Boost Simply Complete Nutritional Drink printable
-$3/1 Boost Product, exp. 5/7/17 (RP 03/05/17 #2 R) [Canister or Multipack]
Boost Hi Protein or Smart Control, 6 pk, $7.99
–$3/2 BOOST® Nutritional Drinks
–$2/1 BOOST Nutritional Drinks or Drink Mix printable
–$3/1 Boost Simply Complete Nutritional Drink printable
-$3/1 Boost Product, exp. 5/7/17 (RP 03/05/17 #2 R) [Canister or Multipack]
Carefree Liners, 36 – 60 ct, $1.99
–$0.50/1 Carefree Product Printable [Excludes 18-ct., 20-ct. and 22-ct.] –$0.50/1 Carefree Product printable
–$0.50/1 Carefree Product (Kroger Digital Coupon) [Excludes 18-ct., 20-ct. and 22-ct.]
Clairol AgeDefy, $7.49
Clairol Natural Instincts, $5.99
–$2/1 Clairol Natural Instincts Hair Color (Ibotta Deposit) [Any variety; Any size]
Clairol Nice & Easy Root Touch Up Hair Color, $6.49
–$2/1 Clairol Nice'n Easy Root Touch-Up (Ibotta Deposit) [Any variety; Any size]
Clean & Clear Treatments, 8 oz, $3.49 +
–$1/1 Clean & Clear Product printable [ETS]
Clear & Clear Advantage Foam Wash, 8 oz, $5.49 +
–$1/1 Clean & Clear Product printable [ETS]
Colgate Kids Toothbrush, 1 ct, $1.99
–$0.50/1 Colgate Kids Toothbrush printable
Colgate Kids Toothpaste, 4.6 oz, $1.99
–$0.50/1 Colgate Kids Toothpaste printable [3-oz.+]
Colgate Mouthwash, $4.49
–$0.75/1 Colgate Mouthwash or Mouth Rinse printable [200-ml+] -$1/1 Colgate Mouthwash or Mouth Rinse, 03/26 SS (exp 4/15) [400-ml.+] –$0.50/1 Colgate Kids Mouthwash printable [250-ml+] –$2/1 Colgate Mouthwash or Mouth Rinse (Kroger Digital Coupon) [400-ml.+]
Colgate Toothbrush, $2.49 +
–$0.75/1 Colgate 360 Adult Manual Toothbrush printable [Excludes colgate plus, extra clean & classic]
Colgate Toothpaste, $1.29 +
-$2/1 COLGATE Premium Toothpaste, Max Fresh, Total Enamel, Optic White, Sensitive(3OZ OR LARGER) (Kroger Digital Coupon)
–$0.75/1 Colgate Total Advanced Toothpaste printable [3-oz.+] –$1/1 Colgate Total, Colgate Optic White, Colgate Enamel Health or Colgate Sensitive Toothpaste (Kroger Digital Coupon) [3-oz.+]$1/1 Colgate Total Optic White, Enamel Health or Sensitive Toothpaste, 03/26 SS (exp 4/15) [3-oz.+] –$0.75/1 Colgate Enamel Health Toothpaste printable [3-oz.+]
Covergirl Cosmetics, $5.49
-$2/1 CoverGirl Face Product, 03/26 RP (exp 4/8) [Excludes Cheekers, accessories and trial/travel Sizes] -$2/1 CoverGirl Product, 03/26 RP (exp 4/8) [Excludes 1-kits, Cheekers, accessories and trial/travel Sizes] -$1/1 CoverGirl Katy Kat Product, 04/09 RP (exp 4/22) [Excludes accessories and trial/travel] -$2/1 CoverGirl Clean Product, 04/09 RP (exp 4/22) [Excludes accessories and trial/travel]
Crest 3D or Pro-Health Rinse, 8 – 8.4 oz, $4.49 +
–$0.75/1 Crest Pro-Health Mouthwash Printable [237-ml.+; Excludes trial/travel size] –$0.75/1 Crest Mouth Rinse printable
–$0.50/1 Crest Mouth Rinse printable
Crest 3D White Toothpaste, 3.5 oz, $2.49 +
–$0.50/1 Crest 3DWhite Toothpaste Printable [3.5-oz.+; Excludes Cavity/Tartar Protection, Baking Soda and trial/ travel size] -$1/1 Crest Toothpaste, Liquid Gel or Kids Toothpaste, exp. 4/15/17 (P&G 04/02/17) [3-oz.+ toothpaste; Excludes Crest Cavity, Baking Soda, Tartar Control and Trial/travel size] –$0.50/1 Crest Complete Toothpaste Printable [4-oz.+; Excludes Cavity Protection, Tartar Protection, Baking Soda and trial/travel size] –$0.50/1 Crest Toothpaste printable
–$0.50/1 Crest Toothpaste printable
Crest Pro-Health Rinse, 250 ml, $2.49
–$0.75/1 Crest Pro-Health Mouthwash Printable [237-ml.+; Excludes trial/travel size] –$0.75/1 Crest Mouth Rinse printable
–$0.50/1 Crest Mouth Rinse printable
Crest Toothpaste Pro-Health Toothpaste, 5.1 oz, $3.49
–$0.50/1 Crest Pro-Health Toothpaste Printable [3.3-oz.+; Excludes Cavity/Tartar Protection, Baking Soda and trial/ travel size] -$1/1 Crest Toothpaste, Liquid Gel or Kids Toothpaste, exp. 4/15/17 (P&G 04/02/17) [3-oz.+ toothpaste; Excludes Crest Cavity, Baking Soda, Tartar Control and Trial/travel size] –$0.75/1 Crest Pro-Health Mouthwash Printable [237-ml.+; Excludes trial/travel size] –$0.50/1 Crest Toothpaste printable
–$0.75/1 Crest Pro-Health Stages or Crest Kids Toothpaste Printable [4.2-oz.+; ETS] –$0.50/1 Crest Toothpaste printable
Dial Body Wash, 16 oz, $3.49
-$1/1 Dial or Tone Body Wash or Bar Soap, exp. 4/30/17 (RP 04/09/17) [12-oz.+ body wash; 6-ct.+ bars; ETS]
Edge or Skintimate Shave Gel, Twin Pack, $5.09
-$1/1 Edge or Skintimate Shave Gel, 03/19 SS (exp 4/9) [Excludes 2.75-oz.]
Finesse Shampoo & Conditioner, $1.49
Gillette Deodorant, 3.25 oz, $3.49
–$2/1 Gillette Antiperspirant printable
-$1/1 Secret Secret, Old Spice or Gillette AP/Deodorant, exp. 4/15/17 (P&G 04/02/17) [2.6-oz.+; Excludes Clinical and trial/travel]
Gillette Fusion Shave Gel, 6 oz, $3.49
–$0.50/1 Gillette Shave Gel Printable [ETS] –$0.50/1 Gillette Shave Gel printable
-$1/1 Gillette Gillette, Venus or Satin Care Shave Gel, exp. 4/29/17 (P&G 04/02/17) [5.9-oz.+; Excludes foamy]
Gillette Fusion5 ProGlide Power Cartridge, 8 ct, $17.49
–$3/1 Gillette System Razor Pack printable [4-ct.+; ETS] –$1/1 Gillette Razor printable
-$4/1 Gillette Gillette or Venus Refill Pack, exp. 4/29/17 (P&G 04/02/17) [4-ct.+] -$3/1 Gillette Razor or Disposable, exp. 4/29/17 (P&G 04/02/17) [2-ct.+; Excludes Sensor2 2-ct.] –$1/1 Gillette Fusion Proshield or Proglide System Razor Printable [Excludes disposables]
Gillette Mach 3 or Venus Disposable, $6.49
–$1/1 Gillette Mach 3 or Fusion Disposable Razor Printable [ETS] –$1/1 Gillette Mach 3 or Fusion Disposable Razor printable
–$3/1 Gillette Disposable Razor Pack printable [4-ct.+; ETS]
Gillette Mach3 Razors, 1 ct, $5.99
–$1/1 Gillette Mach 3 System Razor Printable [ETS] –$3/1 Gillette System Razor Pack printable [4-ct.+; ETS] –$1/1 Gillette Razor printable
Gillette Venus Shave Gel, 6 oz, $2.99 +
–$0.75/1 Venus Shave Gel Printable [7-oz.+] –$0.50/1 Venus Shave Gel printable
-$1/1 Gillette Gillette, Venus or Satin Care Shave Gel, exp. 4/29/17 (P&G 04/02/17) [5.9-oz.+; Excludes foamy]
Gold Bond Lotion or Cream, $7.49
–$1/1 Gold Bond Product printable
–$1.50/2 Gold Bond Psoriasis, Diabetics, Eczema, Rough & Bumpy, Neck & Chest, Dark Spot Min., or Lotion printable [13-oz. lotion; Excludes hand creams and 1-oz.] -$1/1 Gold Bond Cream or Lotion, 04/02 RP (exp 4/29) [2.4-oz.+] -$1.50/1 Gold Bond Eczema Relief, Rough & Bumpy Skin, Diabetic's Dry Skin Relief, Strength & Resilience, Dark Spot Minimizing, Neck & Chest Firming, or Lotion, 04/02 RP (exp 4/29) [13-oz.+; Excludes hand creams] –$1.50/1 Gold Bond Psoriasis, Diabetics', Eczema, Rough & Bumpy, Neck & Chest, Dark Spot Min., or Lotion (SavingStar Deposit) [13-oz. lotion; Excludes hand creams and 1-oz.] –$1/1 Gold Bond Product printable
–$1/1 Gold Bond Lotion or Cream printable
–$1.50/1 Gold Bond Psoriasis, Psoriasis, Diabetics, Eczema, Rough & Bumpy, Neck & Chest, Dark Spot Min. or Lotion (Kroger Digital Coupon) [13-oz. lotion; Excludes hand creams and 1-oz.]
Head & Shoulders Shampoo & Conditioner, 12.8 – 14.2 oz, $5.49
-$2/1 Head & Shoulders or Clinical Solutions, exp. 4/15/17 (P&G 04/02/17) [12.8-oz.+; ETS] -$5/2 Head & Shoulders or Clinical Solutions, exp. 4/15/17 (P&G 04/02/17) [12.8-oz.+; ETS] –FREE Prepaid $15 card wyb $50 of select P&G Beauty Products (Mail-in rebate) [Includes Pantene, Head & Shoulders, Secret, Ivory, Safeguard, Olay Skin, Olay Body, and Venus products; Postmark by 5/31]
Herbal Essences Bio Renew Shampoo & Conditioner, 13.5 oz, $5.49
Herbal Essences Shampoo or Conditioner, 13.5 oz, $4.49
-$4/2 Herbal Essences Shampoo, Conditioner or Styling Products, exp. 4/22/17 (RP 04/09/17) [Excludes color, Body Wash and trial/travel]
Irish Spring Body Wash 18 oz or 8 bar, $2.39 +
-$1/1 Irish Spring Body Wash, 04/02 SS (exp 4/22) [Excludes 2.5-oz. trial size] –$1/1 Irish Spring Body Wash Printable [ETS] –$1/1 Irish Spring Body Wash (Kroger Digital Coupon)
Ivory Bodywash, 21 oz, $2.49
–$0.25/1 Ivory Body Wash printable
–$0.25/1 Ivory Body Wash or Bar Soap Printable [3-ct.+; Excludes trial/travel size] –FREE Prepaid $15 card wyb $50 of select P&G Beauty Products (Mail-in rebate) [Includes Pantene, Head & Shoulders, Secret, Ivory, Safeguard, Olay Skin, Olay Body, and Venus products; Postmark by 5/31]
Ivory or Safeguard Large Bar Soap, 10 bar, $3.49
–FREE Prepaid $15 card wyb $50 of select P&G Beauty Products (Mail-in rebate) [Includes Pantene, Head & Shoulders, Secret, Ivory, Safeguard, Olay Skin, Olay Body, and Venus products; Postmark by 5/31]
Kellogg's Special K Protein Shakes, 4 ct or Bars, 6 ct $5.49
–$1/2 Kellogg's Special K Bars, exp. 4/5/17 (Checkout 51 Deposit) [Valid on 5.28-oz.+ Items must appear on the same receipt; Cannot use this offer with any other coupon]
Lil Critter Vitamins, 70 ct, $9.49
–$1/1 L'il Critters Vitamins printable
Listerine Floss, 30 – 50 yard, $1.49
–$0.75/1 Listerine Floss Product printable
–$0.75/1 Listerine Floss or Flosser Product printable
Listerine Mouthwash, 500 ml, $2.99
–$0.75/1 Adult LISTERINE Mouthwash printable [1-L.+] –$0.75/1 Adult Listerine Mouthwash or Listerine Healthy White Product printable [1-L.+]
Listerine Portables, 72 ct or Pocket Mist 2 ct, $3.49
Listerine Smart Rinse, 500 ml, $4.49
–$0.75/1 Adult LISTERINE Mouthwash printable [1-L.+] –$0.75/1 Adult Listerine Mouthwash or Listerine Healthy White Product printable [1-L.+]
L'Oreal GoClean Cleaners, 6 oz, $3.49
L'Oreal Revitalift Cream, $6.29 +
–$2/1 L'Oreal Paris Skin Care Products, exp. 4/5/17 (Checkout 51 Deposit) [Any variety; Cannot use this offer with any other coupon]
L'Oreal Revitalift Towelets, 30 ct, $5.49
–$2/1 L'Oreal Paris Skin Care Products, exp. 4/5/17 (Checkout 51 Deposit) [Any variety; Cannot use this offer with any other coupon]
Lubriderm Lotion, 6 oz, $2.49
–$1/1 Lubriderm printable [13-oz.+; ETS]
Lubriderm Senstive Skin Therapy Lotion, 16 oz, $5.49
–$1/1 Lubriderm printable [13-oz.+; ETS]
Neutrogena Acne Control Pads, $6.49
-$2/2 Neutrogena Products, 02/26 SS (exp 4/16) [Excludes bar soap, lip care, foot care, light therapy acne mask and activator, 7 count makeup remover cleansing towelettes, trial size and clearance]
Neutrogena Make-up Remover Towelettes, 25 ct, $5.99
-$2/2 Neutrogena Products, 02/26 SS (exp 4/16) [Excludes bar soap, lip care, foot care, light therapy acne mask and activator, 7 count makeup remover cleansing towelettes, trial size and clearance]
Neutrogena Men's Face Wash and Lotion, 9 oz or Shave Cream 5.1 oz, $4.29
-$2/2 Neutrogena Products, 02/26 SS (exp 4/16) [Excludes bar soap, lip care, foot care, light therapy acne mask and activator, 7 count makeup remover cleansing towelettes, trial size and clearance]
Nivea Body Wash, Select Varieties, 16.9 fl oz, $2.99
OB Tampons, 40 ct, $5.49
-$1/1 o.b. product printable
Olay Bar Soap, 6 bar
–$0.50/1 Olay Body Wash or Bar Soap Printable [4-ct.+; ETS]
-$1/1 Olay Bars or Body Wash, exp. 4/15/17 (P&G 04/02/17) [4-ct.+ bars; Excludes trial/sizes and 1 bar]
Olay Eye Cream, Select Varieties, $24.49
-$2/1 Olay Facial Moisturizers or Facial Cleansers, exp. 4/15/17 (P&G 04/02/17) [ETS]
Olay Face Wash $3.49 +
-$2/1 Olay Facial Moisturizers or Facial Cleansers, exp. 4/15/17 (P&G 04/02/17) [ETS]
Olay Regenerist, Select Varieties, 1.7 oz, $24.49
-$2/1 Olay Facial Moisturizers or Facial Cleansers, exp. 4/15/17 (P&G 04/02/17) [ETS]
Olay Total Effects, Select Varieties, 1.7 oz, $21.49
-$2/1 Olay Facial Moisturizers or Facial Cleansers, exp. 4/15/17 (P&G 04/02/17) [ETS] -$2/1 Olay Total Effects Facial Moisturizer, exp. 4/15/17 (P&G 04/02/17) [Excludes Olay Eyes and trial/travel]
Old Spice Body Wash, 16 – 18 oz, $3.49 +
–$1/1 Old Spice Body Care printable
-$1/1 Old Spice Body Wash or Bar Soap, exp. 4/15/17 (P&G 04/02/17) [ETS] –$1.25/1 Old Spice Body Care printable
Old Spice Deodorant, $1.99 +
-$1/1 Secret Secret, Old Spice or Gillette AP/Deodorant, exp. 4/15/17 (P&G 04/02/17) [2.6-oz.+; Excludes Clinical and trial/travel]
Old Spice Hardest Working Body Wash, 16 oz, $3.79
–$1/1 Old Spice Body Care printable
-$1/1 Old Spice Body Wash or Bar Soap, exp. 4/15/17 (P&G 04/02/17) [ETS] –$1.25/1 Old Spice Body Care printable
Old Spice Shampoo & Conditioner, 12 oz, $3.49 +
-$1/1 Old Spice Shampoo 2-in-1 or Styling Product, exp. 4/15/17 (P&G 04/02/17) [ETS]
One A Day Vitamins, 50 -100 ct, $7.49
-$2/1 One A Day Product, 03/19 SS (exp 4/15)
-$2/1 One A Day Kids Product, 03/19 SS (exp 4/15)
-$2/1 One A Day Product, 12/11 SS (exp 12/31)
–$1/1 One A Day Product printable
Oral-B Floss, 30 – 43.7 yard or Floss Picks, $2
-$1/1 Oral-B Glide Floss or Picks, exp. 4/15/17 (P&G 04/02/17) [Twin or triple floss or 150-ct. picks] –$0.50/1 Oral-B Glide Floss or Oral-B Glide Floss Picks Printable [35-m.+ or 30-ct.+; Excludes trial/travel size]
Oral-B Pulsar Toothbrush $3.49 +
Oral-B Pro-Health or 3D White Advanced Toothbrush, 1 ct, $3.49
–$0.50/1 Oral-B® Adult Indicator OR Cavity Defense Toothbrush printable
–$0.50/1 Oral-B Adult 3DWhite Toothbrush Printable [Excludes Healthy Clean and trial/travel size] -$1/1 Oral-B Adult or Kids Manual Toothbrush, exp. 4/15/17 (P&G 04/02/17) [Excludes Health Clean, Cavity Defense, Indicator and trial/travel] –$0.50/1 Oral-B Adult 3DWhite Toothbrush Printable [Excludes Healthy Clean and trial/travel size] –$0.50/1 Oral-B Adult Pro-Health Toothbrush Printable [Excludes Healthy Clean and trial/travel size]
Oral-B Pulsar Toothbrush, 4 oz
–$0.50/1 Oral-B Adult 3DWhite Toothbrush Printable [Excludes Healthy Clean and trial/travel size] -$1/1 Oral-B Adult or Kids Manual Toothbrush, exp. 4/15/17 (P&G 04/02/17) [Excludes Health Clean, Cavity Defense, Indicator and trial/travel] –$0.50/1 Oral-B Adult Pro-Health Toothbrush Printable [Excludes Healthy Clean and trial/travel size]
Pantene Expert Collection Shampoo or Conditioner, 8 – 9.6 oz, $4.49
-$1/1 Pantene Pantene Expert or Gold Series Product, exp. 4/15/17 (P&G 04/02/17) [ETS] -$1/1 Pantene Pantene Expert or Gold Series Product, exp. 4/15/17 (P&G 04/02/17) [ETS] -$2/2 Pantene Products, exp. 4/15/17 (P&G 04/02/17) [Excludes 6.7-oz. and trial/travel] –FREE Prepaid $15 card wyb $50 of select P&G Beauty Products (Mail-in rebate) [Includes Pantene, Head & Shoulders, Secret, Ivory, Safeguard, Olay Skin, Olay Body, and Venus products; Postmark by 5/31]
Pantene Shampoo, 12.6 oz, $3.49
-$2/2 Pantene Products, exp. 4/15/17 (P&G 04/02/17) [Excludes 6.7-oz. and trial/travel] -$1/1 Pantene Pantene Expert or Gold Series Product, exp. 4/15/17 (P&G 04/02/17) [ETS] –FREE Prepaid $15 card wyb $50 of select P&G Beauty Products (Mail-in rebate) [Includes Pantene, Head & Shoulders, Secret, Ivory, Safeguard, Olay Skin, Olay Body, and Venus products; Postmark by 5/31]
Playtex Sport or Gentle Glide Tampons, 32 – 48 ct, $3.49 +
–$2.50/2 Playtex Sport Tampons or Sport Pads, Liner or Combo Pack Printable [Excludes 20-ct. liners] –$1/1 Playtex Sport Compact Tampons Printable
Playtex Sport Pads, 16 – 54 ct, $3.49
–$2.50/2 Playtex Sport Tampons or Sport Pads, Liner or Combo Pack Printable [Excludes 20-ct. liners]
Puffs Facial Tissue, Select Varieties 72 – 180 ct, $0.99
–$0.25/1 Puffs Facial Tissue Product Printable [64 sheets or smaller; Excludes Puffs To-Go 10-ct. and trial/travel size] –$0.50/1 Puffs Facial Tissue Product Printable [72+ sheets or multipacks; Excludes Puffs To Go Packs and trial/travel size] -$0.25/1 Puffs Product, exp. 4/29/17 (P&G 04/02/17) [Excludes Single Puffs To Go Packs and trial/travel]
Sally Hansen Miracle Gel $7.49
Schick Quattro Disposable Razors, 3 – 4 ct, $8.99
–$3/1 Schick Disposable Razor Pack Printable [Excludes 1-ct.] -$3/1 Select Schick Razors, 03/19 SS (exp 4/5)
-$3/1 Schick Quattro Woman or Intuition Razor or Refill, 03/19 SS (exp 4/9) [Excludes disposables and men's razor or refill] –$3/1 Schick Disposable Razor Pack (Kroger Digital Coupon) [Excludes 1-ct.] –$5/2 Schick Disposable Razor Packs Printable [Excludes 1-ct.]
Schick Quattro Refill, 6 ct, $11.99 +
-$3/1 Schick Quattro Woman or Intuition Razor or Refill, 03/19 SS (exp 4/9) [Excludes disposables and men's razor or refill] -$3/1 Schick Men's Razor or Refill, 03/19 SS (exp 4/9) [Excludes disposables and Schick Women's Razor or Refill]
Schick Xtreme 3 Hybrid Razor, 6 ct
–$3/1 Schick Disposable Razor Pack Printable [Excludes 1-ct.] –$5/2 Schick Disposable Razor Packs Printable [Excludes 1-ct.] -$3/1 Select Schick Razors, 03/19 SS (exp 4/5)
Schick Xtreme 3 Ultimate Disposable Razor, 3 ct, $5.99
–$3/1 Schick Disposable Razor Pack Printable [Excludes 1-ct.] -$3/1 Select Schick Razors, 03/19 SS (exp 4/5)
–$5/2 Schick Disposable Razor Packs Printable [Excludes 1-ct.]
Scope Outlast Mouthwash, 500 ml, $2.49 (1L $3.49)
–$0.50/1 Scope Mouthwash Printable [237-ml.+; Excludes trial/travel size]
Secret Deodorant, 2.6 – 2.7 oz, $1.99
–FREE Prepaid $15 card wyb $50 of select P&G Beauty Products (Mail-in rebate)[Includes Pantene, Head & Shoulders, Secret, Ivory, Safeguard, Olay Skin, Olay Body, and Venus products; Postmark by 5/31] -$1/1 Secret Secret, Old Spice or Gillette AP/Deodorant, exp. 4/15/17 (P&G 04/02/17) [2.6-oz.+; Excludes Clinical and trial/travel]
Secret Outlast Deodorant, 2.6 oz, $3.49
-$1/1 Secret Secret, Old Spice or Gillette AP/Deodorant, exp. 4/15/17 (P&G 04/02/17) [2.6-oz.+; Excludes Clinical and trial/travel]
Shea Moisture Facial Bar Soap, $1.99
-$1/1 Sheamoisture Bar Soap, 01/22 RP (exp 4/30) [Excludes African black soap] –$5/$20 SheaMoisture Products (SavingStar Deposit)
Shea Moisture Moisturizer/Toner $7.99 +
-$2/1 Sheamoisture Bath, Body or Baby Care Product, 01/22 RP (exp 4/30) [Excludes hand and body lotion, single use packets and travel size] –$5/$20 SheaMoisture Products (SavingStar Deposit)
SlimQuick, 26 – 60 ct, 19.49 +
Softsoap Bodywash, 15 – 18 oz, $2.99
–$0.75/1 Softsoap Brand Body Wash Printable [15-oz.+] –$0.75/1 Softsoap brand Body Wash printable
-$0.75/1 Softsoap Body Wash, 03/26 SS (exp 4/15) [15-oz.+]
Softsoap Liquid Refills, 32 oz
-$0.75/1 Softsoap Liquid Hand Soap, 03/26 SS (exp 4/8) [28-oz.+ refill; 8-oz.+ pump] –$0.50/1 Softsoap Liquid Hand Soap Plus Lotion printable
Stayfree Pads, 14 – 24 ct, $1.99
–$2/2 Stayfree Products printable
-$2/2 Stayfree Products, exp. 5/9/17 (SS 04/09/17) [Excludes 10-ct.]
Tampax Radient, $6.49
–$1.50/1 Tampax Tampons printable
-$1/1 Tampax Pearl or Radiant Tampons, exp. 4/15/17 (P&G 04/02/17) [16-ct.+] –$0.75/1 Tampax Tampons printable
–$0.75/1 Tampax Radiant Tampon Product Printable [16-ct.+; Excludes trial/travel size] –$0.75/1 Tampax Tampons printable
Tena Serenity Overnight Pads, 28 – 33 ct, $10.99
–$1/1 Tena Product printable
-$2/1 Tena Product, 03/26 SS (exp 4/16)
–$1/1 Tena Product printable
-$3/1 Tena Overnight Underwear Product, 03/26 SS (exp 4/16)
Tone & Right Guard Body Wash, 16 – 18 oz, $2.99
-$1/1 Tone Body Wash or Bar, 04/02 RP (exp 4/23) [6-ct. bars] –$1/1 Tone Body Wash or Bar (SavingStar Deposit) [6-ct.] -$1/1 Right Guard Extreme Antiperspirant Solid or Body Wash, exp. 4/28/17 (RP 03/12/17 #2) [Excludes sport]
U by Kotex, Pads 14-18 ct, $2.39+
–$1/1 U by KOTEX® Ultra Thin Pads (not valid on trial size/travel packs)
-$1/1 U by Kotex Pads, 03/19 SS (exp 4/22) [ETS]
U by Kotex Tampons, 18 ct, $3.49
-$1/1 U by Kotex Tampons, 03/19 SS (exp 4/22) [ETS]
U by Kotex Liners, 40 – 50 ct, $3.49
-$1/1 U by Kotex Liners, 03/19 SS (exp 4/22) [Excludes 14-ct. to 22-ct. and trial size]
Vidal Sassoon Hair Color, 1 ct, $8.99
Vitafusion Gummies, 90 ct, $8.49
–$1/1 VitaFusion Product printable
Vitafusion Vitamin D3 2000iu, 150 ct, $8.49
–$1/1 VitaFusion Product printable
Vivarin $6.49
–$2/1 Vivarin printable [40-ct.]
Zest Bar Soap, 8 ct, $2.99
-$0.50/1 Zest or Coast Bars, 03/19 SS (exp 4/17) [3-ct.+; DND] –$0.50/1 Zest Soap printable [3-ct.+ bars; DND] –$0.25/2 Zest Bar Soap (Ibotta Deposit) [3-ct.+ bars]
Zest Body Wash or Fruit Boost Shower Gel, 10 oz – 18 oz, $1.99
-$0.50/1 Zest or Coast Body Wash, 03/19 SS (exp 4/17) [DND] –$0.50/1 Zest Soap Body Wash printable [DND] -$0.50/1 Zest Fruitboost Shower Gel or Body Scrub, 03/19 SS (exp 4/17) [DND] –$1/1 Zest Fruitboost Shower Gel or Smoothie Body Scrub printable [DND]
---
HOUSEHOLD
Air Wick Freshmatic Refill, $3.89 – $4.39
Air Wick V-Poo, $7.49
Airwick Freshmatic Kit, $8.49
Airwick Plugin Refill, $4.49
Bic Multipurpose Lighter, $2.99
Bounce Dryer Sheets, 70-105 ct, Gain Dryer Sheets 120 ct or Downy Dryer Sheets 90 ct, $4.29
–$0.50/1 Bounce Product Printable [Excludes Bounce sheets 25-ct., 34-ct. and 40-ct. and trial/travel size] –$1/1 Downy Fabric Softener/Enhancer or Bounce Sheets printable
-$1/1 Downy Fabric Softener/Enhancer or Bounce Sheets, exp. 4/15/17 (P&G 04/02/17) [Excludes Downy Libre Enjuague, Downy Liquid 12 load dryer sheets 60-ct. or below and trial/travel]
Carbona Stain Devils, $2.19
–$0.75/1 Carbona Stain Devils (Ibotta Deposit) [Any variety; 1.7 fl.-oz. bottle] -$1/1 Carbona Stain Devils, exp. 6/30/17 (SS 04/02/17 R)
Clorox Bleach, 55 – 64 oz, $1.99
–$0.25/1 Clorox Liquid Bleach, exp. 4/5/17 (Checkout 51 Deposit) [55-oz.+] –$0.50/1 Clorox Bleach printable [34-ct.+]
Clorox Toilet Cleaner, 24 oz, $1.49
–$0.50/1 Clorox Liquid Toilet Bowl Cleaner printable
–$0.25/1 Clorox Liquid Toilet Bowl Cleaner, exp. 4/5/17 (Checkout 51 Deposit) [Any variety.]
Cottonelle Bathroom Tissue, Select Varieties, 6 Mega Rolls, $4.99 *eligible for Catalina
-$1/1 Cottonelle Toilet Paper, exp. 5/13/17 (SS 04/09/17) [6 rolls or larger] –$1/1 Cottonelle Toilet Paper Printable [6-ct.+] -$1/1  COTTONELLE® Toilet Paper (6-pack or larger)(Kroger Digital Coupon)
-$0.75/1 Cottonelle Toilet Paper, 03/12 SS (exp 4/22) [6+ rolls] –$0.75/1 Cottonelle Mega Roll Toilet Paper printable
–$0.50/1 COTTONELLE® bath tissue, 6 pack or larger (Checkout 51)
Downy Fabric Softener, 41 – 51 oz, $3.79
–$1/1 Downy Fabric Softener/Enhancer or Bounce Sheets printable
-$1/1 Downy Fabric Softener/Enhancer or Bounce Sheets, exp. 4/15/17 (P&G 04/02/17) [Excludes Downy Libre Enjuague, Downy Liquid 12 load dryer sheets 60-ct. or below and trial/travel]
Downy Unstoppables, $4.49
-$3/1 Tide Pods or Gain Flings, Downy Unstopables, Downy Fresh Protect, Gain Fireworks, Bounce Bursts, OR Dreft Blissfuls (19.5oz or higher) (Kroger Digital Coupon) exp 4/30
-$3/1 Tide Pods or Gain Flings, Downy Unstopables, Downy Fresh Protect, Gain Fireworks, Bounce Bursts or Dreft Blissfuls, exp. 4/15/17 (P&G 04/02/17) Includes Blissfluls, 19.5 oz or Higher Only; Excludes Trial and Travel Size
–$2/1 Tide or Gain Detergent, Unstopables, Downy Fresh Protect, Bounce Bursts, Dreft Blissfuls or Gain Fireworks In Wash Scent Boosters printable
–$0.50/1 Bounce Sheets or Bursts, Downy or Unstopables, Dreft Blissfuls or Gain Fireworks printable
-$2/1 Tide or Gain Detergent, Unstoppable Fabric Care Products, Downy Fresh Protect, Bounce Bursts, Dreft Blissful or Gain Fireworks In-wash Scent Boosters, exp. 4/15/17 (P&G 04/02/17) [Excludes Tide Pods, Tide Rescue, Tide Simply Clean & Fresh, Tide Simply Clean & Sensitive, Tide Detergent 10-oz., Gain Fabric Enhancer, Gain Flings and trial/travel] -$3/1 Tide Pods or Gain Flings, Downy Unstoppable, Downy Fresh Protect, Gain Fireworks, Bounce Bursts or Dreft Blissful, exp. 4/15/17 (P&G 04/02/17) [19.5-oz.+ Blissfuls; ETS]
Downy Wrinkle Releaser Spray, $5.49
-$1/1 Downy Wrinkle Releaser Plus Only, 01/15 SS (exp 6/30) [16.9-oz. or 33.8-oz.; Excludes 3-oz. travel size] -$2/1 Downy Wrinkle Releaser Plus Only, 01/15 SS (exp 6/30) [Excludes 16.9-oz, & 3-oz. travel size] –$2/1 Downy Wrinkle Releaser Printable [33.8-oz.; Excludes 16.9-oz. and 3-oz. travel size]
Dreft Laundry Stain Remover, $1.99
Febreze Air Effects, $2.49
Febreze Car Clip, Select Varieties, 1 ct, $2.49
Febreze Set & Refresh
Febreze Small Spaces, $2.09
Finish Detergent Booster, 14 oz, $5.29
–$1/1 Finish Jet Dry Rinse Aid, Machine Cleaner or Detergent Booster Automatic Dishwasher Detergent Printable
-$1/1 Finish Dishwasher Cleaner or Detergent Booster, 04/02 SS (exp 5/7)
Finish Dishwasher Detergent, $3.19 – $4.99
–$1/1 Finish Max In 1 or Finish Quantum Max Automatic Dishwasher Detergent Printable
-$1/1 Finish Quantum Max or Max in 1, 04/02 SS (exp 5/7)
Finish Liquid Dish Detergent, 75 oz, $3.19 +
Finish Machine Cleaner, 8.45 oz, $2.99
-$1/1 Finish Dishwasher Cleaner or Detergent Booster, 04/02 SS (exp 5/7)
Finish Jet Dry, 6.76 – 8.45 oz, $2.99 +
-$1/1 Finish Jet Dry Rinse Aid, 04/02 SS (exp 5/7)
–$1/1 Finish Jet Dry Rinse Aid, Machine Cleaner or Detergent Booster Automatic Dishwasher Detergent Printable
Gain Fabric Softener, 51 oz
Gain Fireworks, $4.49
–$0.50/1 Bounce Sheets or Bursts, Downy or Unstopables, Dreft Blissfuls or Gain Fireworks printable
Gain Liquid Laundry Detergent, Select Varieties, 46 to 50 fl oz, $5.49
-$2/1 Tide or Gain Detergent, Unstoppable Fabric Care Products, Downy Fresh Protect, Bounce Bursts, Dreft Blissful or Gain Fireworks In-wash Scent Boosters, exp. 4/15/17 (P&G 04/02/17) [Excludes Tide Pods, Tide Rescue, Tide Simply Clean & Fresh, Tide Simply Clean & Sensitive, Tide Detergent 10-oz., Gain Fabric Enhancer, Gain Flings and trial/travel] –$2/1 Tide or Gain Detergent, Unstopables, Downy Fresh Protect, Bounce Bursts, Dreft Blissfuls or Gain Fireworks In Wash Scent Boosters printable
GE Aline LED Bulbs, 4 ct, $13.49 +
–$1/1 GE LED lighting product
Glad Bowls, $2.49
Hefty Foam Trays 20 ct, Plates 50 ct, Bowls 30 ct or Plastic Cups 20 ct
–$1/2 Hefty Foam Plates and Bowls printable (exp. 12/31/17)
Hefty Trash Bags, 13 – 30 gallon, 18 – 45 ct, $6.49
–$1/1 Hefty Trash Bags printable
Kingsford or Match Light Charcoal, Select Varieties, 10.6 to 15.4 lb, $9.49
Lysol All Purpose Cleaner, 40 oz
–$0.50/2 Lysol All Purpose Cleaner Products printable [Trigger or Pour]
Lysol Disinfecting Spray, $3.89 – $6.79
Lysol Power Toilet Bowl Cleaner, 2 ct, $2.69
-$0.50/1 Lysol Automatic Toilet Bowl Cleaner, 04/02 SS (exp 5/16)
–$0.50/1 Lysol Automatic Toilet Bowl Cleaner printable
-$0.50/2 Lysol Toilet Bowl Cleaner Products, 03/19 SS (exp 4/25)
–$0.75/1 Lysol Automatic Toilet Bowl Cleaner Printable
Lysol Wipes, 75 – 80 ct, $3.99
-$0.50/1 Lysol Kitchen Pro Wipes or Disinfecting Wipes, 04/02 SS (exp 5/16) [35-ct.+] –$0.50/2 Lysol Disinfecting Wipes printable [35-ct.+] -$0.50/2 Lysol Disinfecting Wipes, 03/19 SS (exp 4/25)
Oxi Clean Stain Remover, 3 lb, $6.49
Palmolive Dish Detergent, 32.5 oz, $2.49
–$0.25/1 Palmolive Dish Liquid (Kroger Digital Coupon)
–$0.25/1 Palmolive® Fusion Clean® Dish Liquid (20 oz or larger)
Pine-Sol Cleaner, 24 – 28 oz, $1.29
Scott Extra Soft Toilet Tissues, 8 Mega Roll, $4.99
–$1/8 Scott Bath Tissue Printable
-$0.75/1 Scott Bath Tissue, 03/12 SS (exp 4/9) [8+ roll]
Scott Paper Towels, 6 – 8 ct
-$0.75/1 Scott Towels, 03/12 SS (exp 4/16) [6+ roll]
Solo Bowls, $2.49
Solo Cups 24-55 ct, $2.49 – $5.49
Solo Plates, $2.49
Spray 'n Wash Stain Remover, $2.49
-$1/1 Spray 'n Wash Pre-Treat Trigger or Max Trigger, 03/26 SS (exp 6/1) [22-oz. pre-treat; 16-oz. to 22-oz. max trigger]
Stainmaster Pet Stain Remover Carpet Cleaner, $5.99
–$2/1 Stainmaster Carpet Stain Remover, Pet Stain Remover or High Traffic Cleaner printable
–$1/1 Select Stainmaster Products, exp. 4/5/17 (Checkout 51 Deposit) [Valid on High Traffic Cleaner and Pet Stain Remover varieties.] –$2/1 Stainmaster Carpet Stain Remover, Pet Stain Remover or High Traffic Cleaner (SavingStar Deposit)
-$1/1 Stainmaster Carpet Stain Remover or Pet Stain Remover, 04/02 RP (exp 5/2)
Suavitel Liquid Fabric Softener, 33.8 oz
Sun Laundry Detergent, 45.4 oz, $0.99
Swiffer Refills, $6.99
Tide Liquid Laundry Detergent, Select Varieties, 46 to 50 fl oz, $5.49
-$3/1 Tide Pods or Gain Flings, Downy Unstopables, Downy Fresh Protect, Gain Fireworks, Bounce Bursts, OR Dreft Blissfuls (19.5oz or higher) (Kroger Digital Coupon) exp 4/30
-$3/1 Tide Pods or Gain Flings, Downy Unstopables, Downy Fresh Protect, Gain Fireworks, Bounce Bursts or Dreft Blissfuls, exp. 4/15/17 (P&G 04/02/17) Includes Blissfluls, 19.5 oz or Higher Only; Excludes Trial and Travel Size
-$2/1 Tide or Gain Detergent, Unstoppable Fabric Care Products, Downy Fresh Protect, Bounce Bursts, Dreft Blissful or Gain Fireworks In-wash Scent Boosters, exp. 4/15/17 (P&G 04/02/17) [Excludes Tide Pods, Tide Rescue, Tide Simply Clean & Fresh, Tide Simply Clean & Sensitive, Tide Detergent 10-oz., Gain Fabric Enhancer, Gain Flings and trial/travel] –$2/1 Tide or Gain Detergent, Unstopables, Downy Fresh Protect, Bounce Bursts, Dreft Blissfuls or Gain Fireworks In Wash Scent Boosters printable
Tide Pods or Gain Flings, 15 – 20 ct, $5.49
-$3/1 Tide Pods or Gain Flings, Downy Unstoppable, Downy Fresh Protect, Gain Fireworks, Bounce Bursts or Dreft Blissful, exp. 4/15/17 (P&G 04/02/17) [19.5-oz.+ Blissfuls; ETS]
Tide Rescue, 9 ct, $3.09 – $4.49
–$1.50/1 Tide Rescue Printable [ETS]
Vanity Fair Napkins, $3.99 – $4.99
Viva Paper Towels, Select Varieties, 6 Regular Rolls, $4.99
–$0.75/1 Viva Vantage or Viva Paper Towels printable [6+ rolls] –$0.75/1 Viva Vantage or Viva Paper Towels printable [6+ rolls] -$0.75/1 Viva Vantage or Viva Paper Towels, 03/12 SS (exp 4/23) [6-ct.+] –$1/1 Viva Paper Towels, exp. 4/5/17 (Checkout 51 Deposit) [6 rolls or more.]
---
MEAT & SEAFOOD
Applegate Turkey Bacon, 8 oz, $3.99
–$1/1 Applegate Bacon printable
Ball Park Beef Hot Dogs, Select Varieties, 12 to 15 oz, $2.99
Butterball Turkey Bacon, $1.99
–$0.55/1 Butterball Turkey Bacon printable
Butterball Turkey Sausage, $1.99
–$0.75/1 Butterball Sausage printable
Hillshire Farm Summer Sausage, $2.99
Hormel Natural Choice Deli Meat, 14 oz, $4.99
Hormel Pepperoni, $2.49
–$1/2 Hormel Pepperoni Products printable
Hormel Pepperoni & Stix, $2.49
–$1/2 Hormel Pepperoni Products printable
Johnsonville Flamegrilled Chicken Breast, $4.49
Nathan's Hotdogs, $3.49
Oscar Mayer Bacon, Mega Pack, $6.49
Oscar Mayer Bologna or Cotto Salami, Select Varieties, 16 oz, $1.49
San Francisco Seafood Salad, $3.49
Tennessee Pride Sausage, $2.49
---
NATURAL FOODS
Against The Grain Gourmet Pizza, $11.49
Among Friends Cake Mix, $4.49
Ancient Harvest Pasta, $1.99
Back to Nature's Granola, $3.19
Bakery on Main Granola, $4.49
Barbara's Cereal or Granola, $2.49
–$1/1 Barbara's Puffins (Ibotta Deposit) [Any variety; 10-oz. box]
Brad's Chips, $3.49
–$0.75/1 Brad's Plant-Based Veggie Chips (Ibotta Deposit) [Any variety; Any size]
Cuisine Adventures Dinners, $4.49 or Soup, $3.99
Enjoy Life Foods Chocolate Chips, $3.49
–$1.50/2 Enjoy Life Products printable [Over $3]
Epic Bar, $1.49
Evol Burrito, $1.69 – $1.99
–$1/1 Evol Item printable
Evolution Fresh Drinks, $2.49 – $5.49
–$2/1 Evolution Fresh Juice (Kroger Digital Coupon) [11-oz., 15.2-oz. or 32-oz.] –$1.25/1 Evolution Fresh Cold-Pressed Juice (Ibotta Deposit) [Any variety; 11 fl-oz. bottle or 15.2 fl-oz. bottle]
Garden Lites Souffle, $2.49+ or Muffins, $3.89
–$1/2 Garden Lites Products printable [$2/2 When You Share] –$1/1 Garden Lites Product printable
–$0.75/1 Garden Lites printable
Go Veggie Cheese, 7.3 oz, $2.49
–$1/1 Go Veggie Food Printable
Hip Chick Farms Chicken Fingers, Nuggets or Meatballs, $7.29
Hip Chick Farms Turkey Burgers, $9.19
Ian's Chicken, $3.79 – $7.29
–FREE Ian's Natural Food Product printable – signup
Ian's Fish Filets, $4.49 or Fish Sticks, $6.29
–FREE Ian's Natural Food Product printable – signup
Ian's Alpha Tots, $2.19 or Onion Rings, $2.99
–FREE Ian's Natural Food Product printable – signup
Lucky Spring Rolls, $2.49
Malk Organic Milk, 28 oz, $4.99
-$1/1 MALK Organics, any variety (28oz) (Kroger Digital Coupon)
O'Dough Bagels, $3.19
Odwalla Juice, Select Varieties, 15.2 fl oz, $1.99
Pete & Gerry's Organic Eggs
Que Pasa Tortilla Chips, $2.99
R.W. Knudsen Black Cherry Juice, $3.49 or Cranberry Juice, $4.99+
Seapoint Farms Edamame, $1.79
Silver Palate Cereal or Oatmeal, $1.99
Silver Palate Pasta Sauce, $3.49
Simple Truth Soymilk Almondmilk or Coconutmilk, Select Varieties, 64 fl oz, $2.29
Soy Vay Snacks, $1.99
Sweet Earth Breakfast Burrito, $2.49 or Sandwiches, $4.09
–$1/1 Sweet Earth Breakfast Sandwiches (BerryCart Deposit)
–$1/1 Sweet Earth Product printable
Tadah Foods Falafel Wraps, $2.79
That's It Bar, $1
Tofutti Cream Cheese 8 oz, $3.19
Tofutti Sour Cream 8 oz, $2.99
Tres Pupusas, $5.99
-$2/1 Tres Latin Pupusa or Mini Pupusas, any variety (Kroger Digital Coupon) exp 6/15
Vita Tops, $3.69
Wholesome Blue Agave, 16 oz, $4.99 or Honey, $6.49
–$1/1 Wholesome! Organic Honey (Ibotta Deposit) [Any variety; Any size]
---
PET CARE
Beyond Dog Food, 3.7 lb, $8.49
–$4/1 Purina Beyond Brand Dry Dog Food Printable
-$5/1 Purina Beyond Brand Dry Dog Food, 03/26 RP (exp 6/30) [any Size, any variety Bag]
Catswell Canned Cat Food, 2.7 oz, $0.49
Friskies Party Mix, 2.1 oz, $0.75
Iams Cat Food, 7 lb, $11.99
Pedigree DentaStix, 14.1 – 18 oz, $3.49
Pedigree Dog Food, 15 – 16.3 lb, $11.99
Pedigree Jumbone, $8.49
Purina Beyond Dog Food, 3.7 – 4 lb
–$4/1 Purina Beyond Brand Dry Dog Food Printable
–$5/1 Purina Beyond Dry Dog Food printable
-$5/1 Purina Beyond Brand Dry Dog Food, 03/26 RP (exp 6/30) [any Size, any variety Bag]
Sheba, 12 ct, $7.49
–$1/6 Sheba Perfect Portions printable
–$2/12 Sheba Perfect Portions Multipack printable
---
PRODUCE
Calbee Harvest Snaps, $1.49
Dole Salad Kits, $2.99 or Salad Blend, $1.99