This post is sponsored by the Sunshine Sweet Corn Farmers of Florida. All comments and opinions are my own.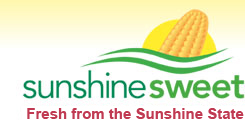 I have been telling you to look for Sunshine Sweet Corn when you shop at Kroger … and even shared a delicious recipe option last week. So what's the scoop on this incredibly tasty corn?
Sunshine Sweet Corn of Florida comes in two varieties – extra tender and extra sweet, with scientific studies to show these qualities! This is a new generation of sweet corn that contain three to four times more sugar than traditional sweet corn varieties and retain their sugar and flavor for up to two weeks after harvest, when stored correctly. You get consistent great taste in every ear and now you can bring home that amazing taste at a great price!
No need to wait until summer to enjoy the great taste of Sunshine Sweet Corn.
Sunshine Sweet varieties are the result of traditional breeding methods, are 100% natural and NOT genetically modified making it a great choice for your dinner table. Corn is a whole grain food, high in fiber, low in fat, a source of essential nutrients and only about 80 calories per medium ear. Corn also contains two important carotenoids, lutein and zeaxanthin, relatives of vitamin A that support eye health and may have other disease-preventing properties.
Providing over 10% of our daily requirement for dietary fiber, one medium-sized ear of corn is a great option to provide great flavor, color and texture to your meal!
Be sure to look for that delicious corn when you shop this week. Sunshine Sweet Corn is always sold in bulk and never tray packed. Stock your cart and add great taste to your menu.
Sunshine Sweet Corn is quick and easy to prepare and perfect in all your favorite recipes. Need some inspiration? Be sure to try my recipe for Cheesy Corn Balls and check out the Sunshine Sweet Corn website for tons more—including appetizers, main meals and even dessert options. Bring home that super sweet flavor that comes fresh from the sunshine state.