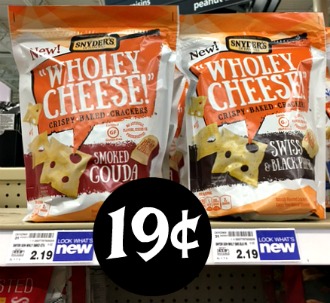 Erin emailed about a Snyder's Wholey Cheese deal. She let us know that she has been finding bags with $1 peelie coupons and the Ibotta offer has been resetting for her each time she redeems her offer. Be on the lookout for the peelie coupon at your store and score a great deal on a tasty snack!
Snyder's Wholey Cheese, $2.19
-$1/1 Snyder's Wholey Cheese! Peelie Coupon
–$1/1 Snyder's of Hanover Wholey Cheese! Crispy Baked Crackers (Ibotta Deposit) [Any Crispy Baked Crackers variety; 5-oz. package or larger] 19¢ after coupon and Ibotta cash back!
Erin has an entry into this week's Email & Win contest. If you find a deal at Kroger make sure you email me for your entry!