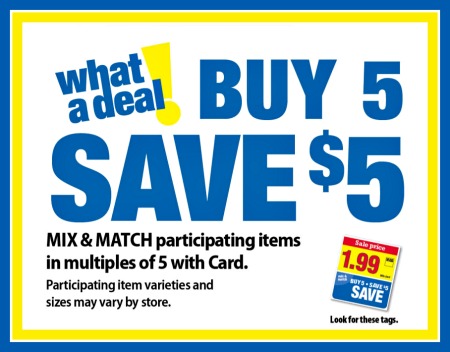 Here is the HUGE inclusion list for the upcoming Buy 5, Save 5 Mega sale that starts on Wednesday, 7/26 and runs through Tuesday 8/8. With this sale you will instantly save $5 at checkout when you buy any 5 participating items.
If you find any other matching coupons or if you find a coupon that doesn't match, let me know and I will get it added or fixed as soon as possible. As usual the price listed is AFTER mega savings.
I will add in the remaining prices as soon as the sale starts on Wednesday. As I mention above, this is a HUGE sale so be sure to click "Read More" to see all the deals!
BABY
Boost Kids Essentials $3.49
Comforts For Baby Formula, $12.99
–$2/1 Comforts for Baby™ Infant Formula, any variety (Value Size 33.2 oz or larger) Kroger Digital Coupon
Gerber Baby Food or Juice, $3.99
–$1/4 Gerber® First foods printable 
-$1/4 Gerber Regular or Organic Baby Food, 06/18 RP (exp 7/31) [Excludes formula] –$1/6 Gerber® Grabbers or Organic Pouches printable
–$1/6 Gerber Organic Products Printable
–$1/6 Gerber® Organic products Kroger Digital Coupon
–$1/4 Gerber® First foods Kroger Digital Coupon
Gerber Good Start Formula, $24.99
-$5/1 Gerber Good Start Formula or Soothe Colic Drops Probiotic Supplement, 06/18 RP (exp 7/31) [22-oz. to 26-oz. forumula]
Gerber Graduates Snacks, $1.49
–$1/3 Gerber® Puffs, Crunchies or Yogurt Melts products
GoodNites Underwear
–$2/1 GOODNITES Underwear printable
–$2/1 GoodNites Bedtime Pants printable
–$2/1 Goodnites Bedtime Pants printable
–$2/1 PULL-UPS® Training Pants or GOODNITES® Bedtime Pants or Bed Mats. Excludes 7 ct. or less Kroger Digital Coupon
Huggies Diapers, $7.99-$17.99
–$3/1 HUGGIES® Diapers (Not valid on 9 ct. or less)
-$3/1 HUGGIES® Diapers. Excludes 9 ct. or less(Kroger Digital Coupon) exp 8/6
–$2/1 Huggies Diapers printable [Excludes 9-ct. and smaller] –$1.50/1 Huggies Diapers printable
–$1.50/1 Huggies Little Snugglers Diapers printable
–$1.50/1 Huggies Little Movers Diapers printable
–$2/1 Huggies® Little Movers® Diapers printable
–$2/1 Huggies® Little Snugglers Diapers printable
–$1.50/1 Huggies Snug Dry Diapers printable
–$1.50/1 Huggies Little Movers Diapers printable
–$1.50/1 Huggies Snug Dry Diapers printable
–$1.50/1 Huggies Little Snugglers Diapers printable
-$1.50/1 Huggies Diapers, exp. 8/16/17 (SS 07/30/17 #2) [10-ct.+]
Huggies Wipes, Select Varieties, 56 to 72 ct, $0.99
–$0.50/1 package of HUGGIES Wipes (56-167 ct.)
–$1/2 Huggies Wipes printable [56-ct.+] –$0.50/1 Huggies Wipes printable [56-ct.+] -$1/2 Huggies Wipes, 07/09 SS (exp 7/29) [56-ct.+] –$0.50/1 HUGGIES® Wipes (56-167 ct.) Kroger Digital Coupon
Luvs Diapers, $5.99
–$1/1 Luvs Diapers (excludes trial/travel size)
-$2/1 Luvs Diapers, exp. 8/12/17 (P&G 07/30/17) [ETS] –$1/1 Luvs Diapers printable
Pampers Diapers $7.99 or Baby Wipes $4.99
–$2/1 Luvs Diapers (excludes trial/travel size)
–$2/1 Pampers Swaddlers Diapers (excludes trial/travel size)
–$2/1 Pampers Baby Dry Diapers (excludes trial/travel size)
–$2/1 Pampers Cruisers Diapers (excludes trial/travel size)
–$1/1 Pampers Diapers printable
–$1/1 Pampers Cruisers Diapers printable [ETS] –$1/1 Pampers Swaddlers Diapers printable [ETS] –$1/1 Pampers Baby Dry Diapers printable [ETS]
Pediasure Nutrition Shakes $9.99
–$2/2 Pediasure Sidekicks (Ibotta Deposit) [6-ct., 8-oz.+ bottles] –$2/2 Pediasure Grow & Gain (Ibotta Deposit) [6-ct., 8-oz.+ bottles] -$3/2 PediaSure Product, Any (Limit 2 Like Coupons Per Shopping Trip) Tearpad (exp 12/31/2017)
Pull-Ups Training Pants
-$2/1 Pull-Ups Training Pants, 07/09 SS (exp 7/29) [7-ct.+] –$2/1 Huggies Pull-Ups Cool & Learn Training Pants printable
–$2/1 Pull-Ups Night Time Training Pants printable
–$2/1 Pull-Ups Cool & Learn Training Pants printable
–$2/1 Pull-Ups Night Time Training Pants printable
–$2/1 PULL-UPS® Training Pants or GOODNITES® Bedtime Pants or Bed Mats. Excludes 7 ct. or less Kroger Digital Coupon
Similac Infant Formula, $14.99
–$2.50/1 Similac Infant Formula (Ibotta Deposit) [Powder varieties only; Exclusions apply; See details.] –$2/1 Similac Infant Formula (Ibotta Deposit) [Powder varieties only]
Simple Truth Organic Infant Formula, $17.99
---
BAKERY
King's Hawaiian Rolls, In the Bakery, 24 ct, $4.49
---
DAIRY/REFRIGERATED
Arla Sliced Cheese, $2.49
Buitoni Pasta, $0.99 +
Buitoni Sauce, $2.99 +
Chobani Greek Yogurt
Frigo String Cheese, 12 to 16 ct, Select Varieties, $1.99
-$1/1 Frigo Cheese Heads, 05/07 SS (exp 11/30) [8-ct.+]
Greek Gods Yogurt, $2.49
–$1/1 Greek Gods Chocolate Yogurt (Savings.com) [24-oz.] –$1/1 Greek Gods Chocolate Yogurt printable [24-oz.]
Kraft Snack or String Cheese, 12 ct, Select Varieties, $2.99 +
Kroger Cheese, Select Varieties, 6 to 8 oz, $1.49
Lactaid Lactose-Free Milk, $2.49
–$0.55/1 Lactaid Milk printable
–$0.55/1 Lactaid Calcium Enriched Milk printable
Minute Maid Lights Drinks, $1.19 +
Philadelphia Cheesecake Desserts, $2.49
Philadelphia Cream Cheese, 2 pk, $2.99
Simply Ade, Select Varieties, 1.75 Liter, $1.19 +
Starbucks Iced Coffee, $3.99
Tillamook Cheese, $1.99
Tropicana Essential Probiotic Drinks, $2.49
-$1/1 Tropicana Essentials Probiotics 100% Juice, 06/25 SS (exp 8/20) [32-oz.]
Turkey Hill Tea
–$0.75/1 Turkey Hill Haymakers Drinks printable [57.6-oz.] -$1/1 Turkey Hill Haymakers, 05/21 RP (exp 7/31) [57.6-oz.] -$1/1 Turkey Hill Haymakers, 06/18 RP (exp 7/31) [57.6-oz.]
---
FROZEN
Armour Meatballs & Sliders, $3.99
Banquet Brown n Serve 50 ct, $4.79
Ben & Jerry's Ice Cream 16 oz, $2.99
Bertolli Meal, $5.49
Bertolli Family Size, $7.99 – $9.99
Birds Eye Steamfresh Vegetables, Select Varieties, 9.5 to 14.4 oz, $1.49
-$1/2 Birdseye Product, 06/25 SS (exp 8/14)
Bob Evans Breakfast, $2.19
Boca Meatless Entree, $1.99 +
Cole's Bread, $1.19 +
–$1/2 Cole's Brand Product printable
Cooked Perfect Meatballs, $1.99 +
-$1.50/1 Cooked Perfect Meatballs Bag, 08/06 SS (exp 12/01)
–$1/1 Cooked Perfect Meatballs printable
-$1/1 Cooked Perfect® Meatballs (Kroger Digital Coupon)
–$1/1 Cooked Perfect® Meatballs, any variety (Checkout 51 Deposit)
De Wafflebakkers Pancakes
DiGiorno Pan or Stuffed Crust Pizza, $5.99
Dove or M&M's Ice Cream Bars or Treats, $2.49
-$1/1 Mars Snickers, Twix, M&M's, Milky Way, Dovebar or Starburst Multipack Ice Cream, 07/16 RP (exp 8/26) [3-ct. to 14-ct.; DND]
Enlightened Ice Cream Bars, $3.49
Foster Farms Sausage & Pancakes 12 ct, $6.99
Freschetta Pizza, Select Varieties, 20.28 to 30.88 oz, $4.49
Furlani Biscuits, $1.99
Graeter's Ice Cream 16 oz, $3.49
Innovasian Meal, $4.99
Jimmy Dean Breakfast Sandwiches, Select Varieties, 4 to 10 ct, $4.49
Jimmy Dean Delight Sandwiches, $4.49
Junior's Cheesecake, $8.99
Kroger Meatballs, $3.29
Lactaid Ice Cream, $2.49
–$1/1 Lactaid Ice Cream printable
Louisa Pasta, $3.29
Mayfield Ice Cream, Select Varieties, 48 to 56 fl oz, $2.99
-$1/1 Mayfield Creamery Ice Cream, 06/18 RP (exp 7/31) [48-oz.] -$0.35/1 Mayfield Ice Cream, 07/23 RP (exp 9/30) [48-oz.+; DND]
Mrs Paul's Fish, $3.49
–$0.75/1 Mrs. Paul's or Van De Kamp's Fish (Checkout 51 Deposit) [Any variety.]
Newman's Own Pizza, Select Varieties, 13.2 to 14.7 oz, $4.49
Outshine Fruit Bars, Select Varieties, 4 to 12 ct, $2.99
PF Chang's Meal For 2, $5.99
–$1.25/2 P.F. Chang's Home Menu Meal for Two Entree, Side or Appetizer (Savings.com)

Sandwich Bros, $2.49
–$1/1 Sandwich Bros Product printable [4-ct. or 6-ct.]
Steak & Shake Steakburgers, $4.99
Stouffer's Entree, $1.99 +
Stouffer's Entree & Skillets, Family Size $5.99
SuperPretzel Soft Pretzels, $1.99
–$0.50/1 SuperPretzel Printable
Talenti Gelato, Select Varieties, 16 fl oz, $2.99
Tombstone Pizza, $5.99
Totino's Pizza Rolls
-$0.50/2 Totino's Pizza Rolls or Blasted Crust Rolls, 06/11 SS (exp 8/5) [17.4-oz.+] –$0.75/1 Totino's Pizza Rolls Blasted Crust Rolls, or Pizza Sticks printable (exp. 7/27/17)
Tennessee Pride Biscuits, $6.39
Tennessee Pride Sausage 30 ct, $6.99
Wild Mike's Pizza, $6.49
Yummy Chicken, $5.99
---
GROCERY
Arnold Bread, $2.49
-$0.55/1 Arnold Bread Products, 06/11 SS (exp 9/11)
Betty Crocker Fruit Snacks, Select Varieties, 6 to 10 ct, $0.99
–$0.50/2 Betty Crocker Fruit Shapes, Fruit by the Foot, or Fruit Gushers Printable
–$0.50/2 Betty Crocker™ Fruit Shapes, Fruit by the Foot™, Fruit Gushers™ or Fruit Roll-Ups™ Fruit Flavored Snacks, Mott's® Fruit Flavored Snacks OR Sunkist® Fruit Flavored Snacks, any size (Kroger Digital Coupon)
–$0.50/2 Betty Crocker Fruit Shapes, Fruit by the Foot, or Fruit Gushers printable
-$0.50/2 Betty Crocker Fruit Snacks, 06/11 SS (exp 8/5)
-$0.50/2 Betty Crocker Fruit Flavored Snacks, 07/09 SS (exp 9/2)
–$0.50/2 Betty Crocker Fruit Shaped, Fruit by the Foot, or Fruit Gushers printable
–$0.50/2 Betty Crocker Fruit Shapes, Fruit by the Foot, Fruit Gushers or Fruit Roll-Ups Fruit Flavored Snacks, Mott's Fruit Flavored (SavingStar Deposit)
Bertolli Balsamic Glaze, $3.59
Bertolli Olive Oil, $7.49 +
Bertolli Pasta Sauce, $2.69 & Rustic Cut Pasta Sauce, $2.79
Betty Crocker Icing
Black Forest Fruit Snacks, $4.99
Blue Diamond Almonds, Select Varieties, 14 to 16 oz, $5.99
California Sun Dry Sun Dried Tomatoes $1.49 +  & Pesto, $3.99
Campbell's Soup, 4 pk, $1.99
Cape Cod Chips, $1.99
Capri Sun Organic Drinks, $2.99
–$1/1 Capri Sun Organic Juice Drink, any size Kroger SuperSaver Digital Coupon
Carnation Instant Breakfast, $4.19 +
–$2/2 Carnation Breakfast Essentials® Powder Drink Mix Products printable
Chex Mix & Gardetto Snack Mix, $0.99
-$0.50/2 Chex Mix, Bugles, or Gardetto's Snacks, 07/09 SS (exp 9/2)
-$0.50/2 General Mills Chex Mix Regular, Muddy Buddies or Popped or Bugles Corn Snacks or Gardetto's Snack Mix, 06/04 SS (exp 7/29) [3.7-oz.+] –$0.50/2 Chex Mix™, Chex Mix™ Muddy Buddies™, Chex Mix™ Popped™, Bugles™ Corn Snacks, OR Gardetto's™ Snack Mix (3.7 OZ. OR LARGER) Kroger Digital Coupon
Classico Pasta Sauce, Select Varieties, 15 to 24 oz, $1.39 +
Classico Meal, $3.39
Coca-Cola, Pepsi or 7UP, Select Varieties, 6 pk, 16 to 16.9 fl oz Bottles, $1.99
Combos Snacks, $0.99
Cousin Willie's Popcorn, $1.49
Cracker Barrel Dinner, $2.49 +
Crystal Light Drink Mix, $1.49 +
Dasani Sparkling Water, Select Varieties, 8 pk, 12 fl oz Cans, $1.99
Deer Park Spring Water, 24 pk, 16.9 fl oz, $2.99
Doritos or Ruffles, Select Varieties, 7 to 9.25 oz, $1.77
–$1/2 Ruffles Potato Chips (Ibotta Deposit) [Any variety; 8.5-oz. bag or larger]
Duncan Hines Decadent or Perfect Size Cake or Brownie Mix, $1.99
-$0.50/1 Duncan Hines Perfect Size For 1 Item, 07/23 SS (exp 10/23) [DND]
Emerald Almonds or Mixed Nuts
Fiji 6 pk, $12.49
–$0.50/1 Fiji Water printable [500-ml. multipack]
Frank's RedHot Original or Wings Sauce
–$0.30/1 Frank's RedHot Original Sauce printable
-$0.75/1 Franks Red Hot Sauce 6/25/17 SS R (exp 8/1) [12-oz.]
French's Ketchup
-$1 off French's Mustard AND Ketchup, 06/25 SS (exp 8/25)
Fritos or Cheetos, Select Varieties, 7 to 9.25 oz, $1.77
Fritos Can Dip, $1.99
Gatorade, Select Varieties, 8 pk, 20 fl oz, $3.99
General Mills Cereal, Select Varieties, 11.1 to 13 oz, $1.79 (Ad shows Honey Nut Cheerios and Cinnamon Toast Crunch) *eligible for Catalina
–$0.50/1 Honey Nut Cheerios or Honey Nut Cheerios Medley Crunch Cereal Printable
–$1/1 Apple Cinnamon Toast Crunch, Strawberry Toast Crunch, or Blueberry Toast Crunch Printable
–$1/2 General Mills Cereal listed: Cheerios, Cinnamon Toast Crunch, or Lucky Charms Printable
–$0.50/1 Cinnamon Toast Crunch, Apple Cinnamon Toast Crunch, Strawberry Toast Crunch, Blueberry Toast Crunch and more Printable
–$0.50/1 General Mills Honey Nut Cheerios or Honey Nut Cheerios Medley Crunch Cereal printable
-$1/3 General Mills Cheerios, Cinnamon Toast Crunch, Chex, Lucky Charms, Cocoa Puffs, Trix, Reese's Puffs, Fiber One, Cookie Crisp, Golden Grahams, Kix, Total, Wheaties, Dora The Explorer, Oatmeal Crisp, Raisin Nut Bran, Basic 4, Girl Scouts, Tiny Toast or Nature Valley Boxed Cereal, 07/09 SS (exp 8/19)
–$0.50/1 General Mills Cinnamon Toast Crunch, Apple Cinnamon Toast Crunch, Strawberry Toast Crunch, or Blueberry Toast Crunch printable
–$1/2 General Mills Cheerios, Cinnamon Toast Crunch, or Lucky Charms printable
–$1/2 General Mills Cereal Listed: Cheerios, Cinnamon Toast Crunch, Lucky Charms, Reese's Puffs, Chex, Cocoa Puffs, Trix, and Fiber (SavingStar Deposit)
-$1/3 General Mills Cheerios, Cinnamon Toast Crunch, Lucky Charms, Reese's Puffs, Chex, Cocoa Puffs, Trix, Fiber One, Cookie Crisp, Golden Grahams, Kix, Total, Wheaties, Dora The Explorer, Oatmeal Crisp, Raisin Nut Bran, Basic 4, Girl Scouts, Tiny Toast or Nature Valley Boxed Cereal, 06/18 SS (exp 7/29)
Ghirardelli Candy, $3.49
Gold Peak Tea, Select Varieties, 59 fl oz, $1.49
Hawaiian Gold Coffee, $5.99
Heinz Pickles, $1.49
Herdez Salsa or Guacamole Salsa, $1.49 +
Hershey's Syrup, $1.49
-$1/2 Hershey's Syrup or Ice Cream Topping, 06/25 SS (exp 8/20)
Hidden Valley Pasta Salad, $0.99
Hormel Bacon Bits or Pieces, $1.59
Hormel Chili without Beans, $1.29
–$0.55/2 Hormel Chili Product printable
Hormel Mary Kitchen Corned Beef Hash, $1.29
Idahoan Signature Russets, $1.50
Kauai Coffee, $5.99
KC Masterpiece BBQ Sauce or Marinade, $1.69 +
–$1/1 KC MASTERPIECE® Barbecue Sauce Item printable (18 oz. or larger)
Kellogg's Cereal, Select Varieties, 12 to 15 oz, $1.79 (Ad shows Frosted Flakes)
–$0.40/1 Kellogg's® Froot Loops® Cereal
–$0.50/1 Kellogg's Corn Flakes® Cereal
–$1/1 Kellogg's Cereal printable [Need 850 rewards points] -$1/3 Kellogg's Cereal (RP 06/04/17 R)
–$1/2 Kellogg's Frosted Flakes Cereals printable
-$0.50/1 Kellogg's Cinnamon Frosted Flakes, 07/09 RP (exp 8/20) [13.6-oz.+]
Kellogg's Pop-Tarts, Select Varieties, 6 to 8 ct, $1.29 +
-$0.50/1 Kellogg's Jolly Ranchers Pop Tarts, 07/09 RP (exp 8/20) [8-ct.+] –$1/1 Kellogg's Pop-Tarts Toaster Pastries printable [Need 850 rewards points] –$1/3 Pop-Tarts Toaster Pastries printable
Kellogg's Special K Bars or Shakes
Ken's Salad Dressing, $1.49
–$0.75/1 Ken's Simply Vinaigrette Printable [16-oz.]
–$0.75/1 Ken's® Simply Vinaigrette Kroger Digital Coupon
Kodiak Pancake Mix, $3.49
Kingsford BBQ Sauce, $1.99
–$3 off Kingsford BBQ Sauce & Kingsford Original Charcoal Combo (Ibotta Deposit) [Combo rebate.]
Kraft Barbecue Sauce, Select Varieties, 17.5 to 18 oz, $0.69
Kraft Mayo, Select Varieties, 22 to 30 fl oz, $1.99
Kraft Salad Dressing, Select Varieties, 14 to 16 fl oz, $1.49
Lipton Tea 12 pk, $3.99
Mariani Dried Fruit, $2.19
Maxwell House Coffee K-Cup, $5.99
Maxwell House Coffee, Select Varieties, 22 to 30.6 oz, $6.99
McCafe Coffee, $5.99
McCormick Spices, $2.79 +
MiO, $1.99
Mrs. Butterworth's Syrup, $2.49
Mrs. Cubbison Croutons, $0.29
–$1/2 Mrs. Cubbison's Salad Toppings printable
Mt Dew KickStart 4 pk, $3.99
Nabisco Ritz Crackers, Select Varieties, 7.5 to 13.7 oz, $1.79
-$0.75/2 Nabisco Cookie or Cracker Products, 06/25 SS (exp 8/5) [3.5-oz.+]
Nature Valley or Fiber One Bars or Nature Valley Biscuits, Select Varieties, 5 to 12 ct, $1.79 *eligible for Catalina
–$0.50/1 Nature Valley™ Granola Bars OR Nature Valley™ Backpacker™ Chewy Oatmeal Bites (5 COUNT OR LARGER). Excludes Nature Valley™ Granola Cups (Kroger Digital Coupon)
–$0.50/1 Fiber One™ Chewy Bars, Fiber One™ 90 Calorie Products (Bars or Brownies), Fiber One™ Protein Chewy Bars, Fiber One™ Streusel Bars, Fiber One™ Cheesecake Bars, Fiber One™ Cookies, Fiber One™ Layered Chewy Bars OR Fiber One™ Protein Nut Bars, any size (Kroger Digital Coupon)
–$0.50/1 Nature Valley Bar, Biscuit, or Cups printable
–$0.50/1 Nature Valley Granola Bars or Nature Valley Backpacker Chewy Oatmeal Bites (SavingStar Deposit) [5-ct.+ bars] –$0.50/1 Nature Valley Granola Bars or Nature Valley Backpacker printable
-$0.50/2 Nature Valley Granola Bars, Biscuits or Granola Cups, 06/11 SS (exp 8/5) [5-ct.+] –$0.50/2 Nature Valley Granola Bars or Nature Valley Backpacker Chewy printable
-$0.50/2 Nature Valley Granola Bars, Biscuits or Granola Cups, 07/09 SS (exp 9/2) [5-ct.+] –$0.50/2 Fiber One Chewy Bars, Fiber One 90 Calorie Products printable [bars or brownies] -$0.50/2 Fiber One Bars, 06/11 SS (exp 8/5)
–$0.50/2 Fiber One Chewy Bars, Fiber One 90 Calorie Products (Bars or Brownies), Fiber One Protein Chewy Bars, or Fiber One (SavingStar Deposit)
-$0.50/2 Fiber One Bars, 07/09 SS (exp 9/2)
-$0.50/1 Nature Valley 5 Ct. or Larger: Granola Bars, Protein, Nut Crisp Bars, Simple Nut Bars, Soft-Baked Oatmeal Squares/Biscuits Or Fiber One Chewy Bars, 90 Calorie Products, Protein Bars, Streusel Bars, Cheesecake Bars or Fiber One Cookies (DND) – Found On Product Peelie (exp 5/31/2018)
Nature's Own Bread, $1.49
Nestea, Select Varieties, 6 pk, 16.9 fl oz, $2.99
Nutella Hazelnut Spread, $2.49
-$1.50/1 Nutella Jar or Mini Cups Package, 07/30 SS (exp 9/30) [13-oz.+ jar; 10-ct.+ mini cups] –$1.50/1 Nutella® hazelnut spread or one (1) Nutella® mini cups 10ct package printable
Oberto Beef Jerky, $2.99
Ocean Spray Juice Cocktails or Welch's 100% Juice, Select Varieties, 64 fl oz, $1.99
Ocean Spray Mocktails or Grapefruit Juice, $1.99
Olive Garden Croutons, $0.89
On the Border Salsa or Tortilla Chips
Peet's Coffee, $5.99
Pepperidge Farm Goldfish Crackers 30 – 34 oz, $6.99
Pepperidge Farm Snacks, Multipack, $6.99
Perrier Spring Water 6 pk, $3.99
Planters Nuts, $2.49 +
-$1/1 Planters P3 Multipack or Nut-rition Product, 07/23 SS (exp 9/3) [5.4-oz.+] -$1.50/1 PLANTERS product (8oz or larger) (Kroger Digital Coupon)
Pringles, multipack, $6.99
-$1/4 Pringles, 06/25 RP (exp 8/6) [146-g.+ full size]
Propel Water, $2.99
Pure Leaf Tea, $0.99
-$0.75/1 Pure Leaf Chilled Carafe, 06/04 SS (exp 8/1) [59-oz.]
Quaker Popped Rice Snacks, $0.67
Rao's Pasta Sauce, $5.99
Red Bull, Select Varieties, 4 pk, 8.4 fl oz, $5.99
Rice Krispies Treats, Select Varieties, 6 to 8 ct, $1.49
Ring Pop Party Pack 15 ct, $4.99
San Pellegrino Sparkling Mineral Water
Schultz Cooking Sauce, $3.99
Silver Palate Pasta Sauce, $3.99
Skippy Peanut Butter, Select Varieties, 15 to 16.3 oz, $1.49
–$0.55/2 Skippy Products printable
Smucker's Strawberry Jelly, $1.99 +
–$1 off Smucker's Fruit Spreads AND Jif Peanut Butter, any variety (15.5 oz or larger) Kroger Digital Coupon
Snyder's of Hanover Pretzels, $1.99
-$1/2 Snyder's of Hanover Pretzels or Sourdough Hard, 05/14 RP (exp 7/31) [16-oz.+ pretzels; 13.5-oz.+ hard]
Sour Punch Bites, $1.49
Soy Vay Marinade, $2.49
Star Wine Vinegar, $1.49
–$0.50/1 Star Vinegars printable
–$0.50/1 Star Vinegar printable
–$0.50/1 STAR Vinegar printable
Starbucks Coffee, 11 to 12 oz, or K-Cups, 6 to 10 ct, Select Varieties, $5.99
-$1/1 Starbucks packaged Coffee or K-Cups Pods, 06/18 SS (exp 7/30) [Limit 1 coupon per person.]
Starbucks VIA, $6.99
Starbucks Frappuccino or Double Shot Drinks, $4.49
Sweet Baby Ray's BBQ or Wing Sauce, $1.49
Tazo Tea, K Cups
Thomas' English Muffins or Bagels, Select Varieties, 6 to 10 ct, $1.99
–$1.50 off Green Mountain Coffee AND Any Thomas' Product (Ibotta Deposit)
Velveeta Cheese Skillets, $1.49
Weber Seasonings
-$1/2 Weber Seasoning Products, exp. 8/15/17 (SS 05/07/17 #2)
-$1/2 Weber Seasoning Products, 06/11 SS (exp 9/15) [DND]
Welch's 100% Juice, Select Varieties, 64 fl oz, $1.99
Yuban Coffee, $6.99
---
HEALTH & BEAUTY
1st Response Pregnancy Test
1st Response PreNatal/PostNatal Vitamins, $10.99
5-Hour Energy, $11.99
Act Mouth Rinse, $2.99
–$1/1 ACT Product printable
–$1/1 ACT Product printable
-$2/1 Act Product, 06/04 RP (exp 8/26) [33-oz.+]
Act Toothpaste, $1.69
–$1/1 ACT Product printable
–$1/1 ACT Product printable
Almay Deodorant, $1.19
Always Discreet $10.99
Always Pads or Liners, $4.49 +
–$0.50/1 Always Pads Printable [Excludes trial/travel size] –$1/1 Always Radiant Pantiliner Printable [48-ct.+; Excludes trial/travel size] –$0.75/1 Always Liner Printable [30-ct.+; Excludes trial/travel size] –$0.75/1 Always Infinity or Radiant Pad Printable [Excludes trial/travel size] –$1.50/2 Always Pads or Liners Printable [30-ct.+; Excludes trial/travel size] –$0.75/1 Always Liner printable [30-ct.+; ETS] –$1/1 Always Radiant Pantiliner printable [48-ct.+; ETS] –$0.50/1 Always Pads Printable [Excludes trial/travel size] –$0.75/1 Always Infinity or Radiant Pad printable [ETS] –$3/2 Always Pads or Liners printable
–$0.50/1 Always Pads printable [ETS] –$1.50/2 Always Pads or Liners printable [30-ct.+; ETS]
Aveeno Bath, $4.99 *eligible for Catalina
–$3/1 AVEENO® product (Excl. cleansing bars, Body Daily Moisturizing Lotion 2oz-5oz, trial/travel sizes and clearance)
–$1/1 Aveeno Product printable [Excludes trial & travel sizes and 2.5 oz. body lotion sizes] –$2/2 Aveeno Products printable [Excludes trial & travel sizes and 2.5 oz. body lotion sizes]
Aveeno Body Wash,  $4.99 *eligible for Catalina
–$3/1 AVEENO® product (Excl. cleansing bars, Body Daily Moisturizing Lotion 2oz-5oz, trial/travel sizes and clearance)
–$1/1 Aveeno Product printable [Excludes trial & travel sizes and 2.5 oz. body lotion sizes] –$2/2 Aveeno Products printable [Excludes trial & travel sizes and 2.5 oz. body lotion sizes]
Aveeno Lotion or Cream, $4.99 *eligible for Catalina
–$3/1 AVEENO® product (Excl. cleansing bars, Body Daily Moisturizing Lotion 2oz-5oz, trial/travel sizes and clearance)
–$1/1 Aveeno Product printable [Excludes trial & travel sizes and 2.5 oz. body lotion sizes] –$2/2 Aveeno Products printable [Excludes trial & travel sizes and 2.5 oz. body lotion sizes] –$1.50 Aveeno Facial Cleanser Ibotta Offer
Aveeno Makeup Removing Wipes or Cleansers, $4.29 + *eligible for Catalina
–$3/1 AVEENO® product (Excl. cleansing bars, Body Daily Moisturizing Lotion 2oz-5oz, trial/travel sizes and clearance)
–$1/1 Aveeno Product printable [Excludes trial & travel sizes and 2.5 oz. body lotion sizes] –$2/2 Aveeno Products printable [Excludes trial & travel sizes and 2.5 oz. body lotion sizes] –$1.50 Aveeno Facial Cleanser Ibotta Offer
Aveeno Shampoo or Conditioner, $4.49 *eligible for Catalina
–$3/1 AVEENO® product (Excl. cleansing bars, Body Daily Moisturizing Lotion 2oz-5oz, trial/travel sizes and clearance)
–$1/1 Aveeno Product printable [Excludes trial & travel sizes and 2.5 oz. body lotion sizes] –$2/2 Aveeno Products printable [Excludes trial & travel sizes and 2.5 oz. body lotion sizes]
Aveeno Sun Care-$3/1 AVEENO® product (Excl. cleansing bars, Body Daily Moisturizing Lotion 2oz-5oz, trial/travel sizes and clearance)
–$1/1 Aveeno Product printable [Excludes trial & travel sizes and 2.5 oz. body lotion sizes] –$2/2 Aveeno Products printable [Excludes trial & travel sizes and 2.5 oz. body lotion sizes]
Axe Shower Gel, $2.99
Ban Deodorant, $1 +
-$1/1  Ban®Product, any variety. Excludes 1.5oz roll-on (Kroger Digital Coupon)
-$1/1 Ban Solid Antiperspirant Deodorant, 08/06 SS (exp 9/3)
-$1/1 Ban Roll-On Antiperspirant Deodorant, 08/06 SS (exp 9/3) [ETS] –$0.50/1 Ban Antiperspirant Deodorant, any variety including twin packs (2.6-3.5 oz) Kroger Digital Coupon
Band-Aid Brand Bandages, $2.79 +
–$1.50/2 Band-Aid Brand of First Aid Products printable[Excludes all trial & travel sizes and First Aid Kits] –$0.50/1 Band-Aid Brand Adhesive Bandages Product printable [ETS] -$2/3 Band-Aid Adhesive Bandages, Neosporin or Band-Aid First Aid Products, 07/23 RP (exp 9/3)
Benadryl Allergy Relief, $3.19 +
–$1/1 Adult Benadryl Product printable
-$1/1 Benadryl Product, 07/23 RP (exp 9/3)
Bengay, $3.79 +
–$1/1 Bengay Product printable
–$1/1 Bengay Product printable
-$1/1 Motrin or Bengay Product, 07/23 RP (exp 9/3)
BOOST Nutritional Drinks, $6.99 +
–$2/1 BOOST® Nutritional Drink or Drink Mix printable
–$2/1 BOOST Nutritional Drinks or Drink Mix printable
Carefree Liners, $1.99
–$0.50/1 Carefree Product printable
-$2/2 Carefree Products, 07/23 SS (exp 8/13) [Excludes 18-ct., 20-ct. or 22-ct.] –$0.50/1 Carefree Products Kroger Digital Coupon
Caress Body Wash or Soap, $3.99
Cellucor C4 Dietary Supplement, $7.99
Clean & Clear Acne Kit, $16.99
-$1/1 Clean & Clear Product, 07/23 RP (exp 9/3) [ETS] –$1/1 Clean & Clear Product printable [ETS] –$2/1 Clean & Clear product (excludes trials and clearance)
Clean & Clear Skin Care, $2.99 +
-$1/1 Clean & Clear Product, 07/23 RP (exp 9/3) [ETS] –$1/1 Clean & Clear Product printable [ETS] –$2/1 Clean & Clear product (excludes trials and clearance)
Colgate Toothbrush, $1.99 +
-$1.50/1 Colgate 360 Manual Toothbrush, 07/23 SS (exp 8/5) [Twin or multipack; Excludes free product packs] -$0.50/1 Colgate Adult or Kids Toothbrush, 07/23 SS (exp 8/5) [Excludes plus, extra clean and classic clean] -$1.50/1 Colgate Adult or Kids Battery Powered Toothbrush, 07/23 SS (exp 8/5)
Colgate Enamel Health or Optic White Toothpaste, $1.99
-$1.50/1 Colgate Toothpaste, 07/23 SS (exp 8/5) [4-oz.+] -$0.50/1 Colgate Adult or Kids Toothbrush, 07/23 SS (exp 8/5) [Excludes plus, extra clean and classic clean]
Colgate Total Advanced Toothpaste, 5.8 oz, or Total Advanced Toothbrush, 1 ct, Select Varieties, $2.49
-$1.50/1 Colgate Toothpaste, 07/23 SS (exp 8/5) [4-oz.+] -$0.50/1 Colgate Adult or Kids Toothbrush, 07/23 SS (exp 8/5) [Excludes plus, extra clean and classic clean] –$0.75/1 Colgate Mouthwash or Mouth Rinse printable [200-ml+]
Colgate  Mouthwash, $2.99  + *eligible for Catalina
-$1.50/1 Colgate Mouthwash or Mouth Rinse, 07/23 SS (exp 8/5) [400-ml.+] –$1.50/1 Colgate® Mouthwash or Mouth Rinse (400 mL or larger) Kroger Digital Coupon
Crest Toothpaste or Mouth Rinse, $1.49 +
-$2/1 Crest Toothpaste (3oz or more). Excludes Cavity, Regular, Baking Soda, Tartar Control, Kids and trial/travel size (Kroger Digital Coupon)
-$2/1 Crest Toothpaste, exp. 8/12/17 (P&G 07/30/17) [3-oz.+; ETS] -$1/1 Crest Mouthwash (473mL/16oz or larger). Excludes trial/travel size (Kroger Digital Coupon)
–$0.50/1 Crest Pro-Health Mouthwash Printable [237-ml.+; ETS] –$0.50/1 Crest 3D Whitening Mouthwash Printable [237-ml.+; ETS] –$0.50/1 Crest Pro-Health Mouthwash printable [237-ml.+; ETS] –$0.50/1 Crest 3D Whitening Mouthwash printable [237-ml.+; ETS]
Dial Bar Soap, $3.49 +
-$1/2 Dial Foaming Hand Wash, Liquid Hand Soap Refills, Bar Soap or Advanced Bar Soap, 07/16 RP (exp 8/6) [3-ct.+ bars; 2-ct.+ advanced bars] –$2/2 DIAL® or TONE® Body Wash and/or Bar Soap (6-Bar or Larger). Excludes Trial and Travel Sizes Kroger Digital Coupon
Dial Adult or Kids Body Wash, $1.99 (32 oz, $4.99)
–$2/2 DIAL® or TONE® Body Wash and/or Bar Soap (6-Bar or Larger). Excludes Trial and Travel Sizes Kroger Digital Coupon
Dial Liquid Soap 32 oz – 52 oz, $3.49
-$1/2 Dial Foaming Hand Wash, Liquid Hand Soap Refills, Bar Soap or Advanced Bar Soap, 07/16 RP (exp 8/6) [3-ct.+ bars; 2-ct.+ advanced bars]
Dove Men's Body Wash, $2.99 +
-FREE Dove Men+Care Body Wash wyb Dove Body Wash or Shower Foam, 07/09 RP (exp 7/30) [13.5-oz.+; Up to $5; DND]
Fructis Shampoo or Conditioner
-$1/1 Garnier Fructis Shampoo, Conditioner or Treatment, 07/09 RP (exp 7/29) [Excludes 2.9-oz. and 3-oz.] -$4/2 Garnier Fructis Shampoo, Conditioner, Treatment or Styling Products, 07/09 RP (exp 7/29) [Excludes 2-oz.]
Garnier Hair Care or Skin Care, $3.99 +
-$1/1 Garnier Fructis Shampoo, Conditioner or Treatment, 07/09 RP (exp 7/29) [Excludes 2.9-oz. and 3-oz.] -$4/2 Garnier Fructis Shampoo, Conditioner, Treatment or Styling Products, 07/09 RP (exp 7/29) [Excludes 2-oz.] -$2/1 Garnier Nutrisse Product, 07/09 RP (exp 8/5)
-$2/1 Garnier Skincare, 07/09 RP (exp 7/29) [Excludes trial and masks]
Gillette Fusion, Venus or Mach 3 Razors, $4.99 +
–$2/1 Venus® Original OR Embrace® Disposable Razor Pack (2ct or larger)
–$1/1 Gillette® Disposable Razor 2ct or larger printable (excludes Sensor 2® 2ct and Daisy® 2ct)
–$1/1 Gillette® System Razor printable (excludes Disposables)
–$3/1 Gillette OR Venus Razor (1ct or larger). Excludes disposable Kroger Digital Coupon (exp 7/29)
Gillette Disposable Razors, $4.99 +
–$1/1 Gillette Disposable Razor 2ct or larger (excludes Sensor 2 2ct and Daisy 2ct)
–$3/2 Gillette Disposable Razor Packs (2ct or larger) (excludes Daisy 2ct)
–$3/2 Gillette Disposable Razor Packs printable [2-ct.+; Excludes Daisy 2-ct.] –$1/1 Gillette Disposable Razor Packs printable [2-ct.+; Excludes Daisy 2-ct.]
Gillette, Old Spice or Secret Deodorant, $2.99 + (twin pack $6.49)
–$1/1 Old Spice Anti-Perspirant/Deodorant, Body Wash OR Bar Soap. Excludes trial/travel size Kroger Digital Coupon (exp 7/29)
–$1/1 Secret Anti-Perspirant/Deodorant (2.6 oz or larger). Excludes Clinical Kroger Digital Coupon (exp 7/29)
–$1/1 Gillette Anti-Perspirant/Deodorant (1.6oz or higher). Kroger Digital Coupon (exp 7/29)
Gillette Clinical Deodorant, $6.99
–$1/1 Old Spice Anti-Perspirant/Deodorant, Body Wash OR Bar Soap. Excludes trial/travel size Kroger Digital Coupon (exp 7/29)
–$1/1 Secret Anti-Perspirant/Deodorant (2.6 oz or larger). Excludes Clinical Kroger Digital Coupon (exp 7/29)
–$1/1 Gillette Anti-Perspirant/Deodorant (1.6oz or higher). Kroger Digital Coupon (exp 7/29)
Gillette Shave Prep 2 pk , $2.49
–$0.50/1 Gillette Shave Gel (excludes trial/travel size)
-$1/1 Gillette, Venus, or Satin Care Shave Gel, exp. 7/29/17 (P&G 07/02/17) [5.9-oz.+; Excludes foamy; ETS]
Head & Shoulders Shampoo or Conditioner, $4.79
–$1/1 Head & Shoulders Conditioner (Ibotta Deposit) [Any variety; 12.8-oz.+ bottle] –$1/1 Head & Shoulders 2-in-1 Shampoo + Conditioner (Ibotta Deposit) [Any variety; 12.8-oz.+ bottle] –$2/1 Head & Shoulders Product (380mL/12.8oz or larger) OR Clinical Solutions. Excludes trial/travel size. Kroger Digital Coupon (exp 7/29)
Herbal Essences Shampoo or Conditioner, $3.99 – $4.79
-$3/2 Herbal Essences Shampoo, Conditioner or Styling Products, 07/16 RP (exp 7/29)
–$3/2 Herbal Essences Shampoo, Conditioner or Styling Products Kroger Digital Coupon (exp 7/29)
Irish Spring Body Wash or Bar Soap, $2.99
–$1/1 Irish Spring® Body Wash printable (excludes Trial or Travel size
-$0.50/1 Irish Spring Soap, 07/23 SS (exp 8/5) [6-ct.+] -$1/1 Irish Spring Body Wash, 07/23 SS (exp 8/5) [Excludes 2.5-oz.] –$0.75/1 Irish Spring Signature for Men Body Wash and Bar Soap printable
–$1/1 Irish Spring® Body Wash. Excludes Trial or Travel size. Kroger Digital Coupon
Ivory or Safeguard Bar Soap 10 pk, $2.99
Jergens Lotion, $4.99 +
-$1.50/1 Jergens Moisturizer, 07/09 SS (exp 8/5) [8-oz.+; Excludes wet skin and soap] -$1/1 Jergens Natural Glow Product, 07/09 SS (exp 8/5) [ETS] -$2/1 Jergens Natural Glow (SS 06/04/17 R)
-$3/1 Jergens Wet Skin Moisturizer, 07/09 SS (exp 8/5) [10-oz.+] –$1/1 Jergen's Natural Glow Moisturizer Product printable
Labrada Lean Body Protein Shake $7.99
L'Oreal Makeup, $3.49 +
–$1.50/1 L'Oreal Paris Eyeliner or Eye Shadow product
-$1/1 L'Oreal Eyeliner or Brow Product, 07/30 RP (exp 8/26)
L'Oreal Shampoo, Conditioner or Styler, $2.79 *eligible for Catalina
-$4/2 L'Oreal Paris Hair Expert Shampoo, Conditioner or Advanced Hairstyle Products, 07/09 RP (exp 7/29) [Excludes 3-oz.] -$3/1 L'Oreal Paris Hair Expert Treatment Product, 07/09 RP (exp 7/29)
-$2/1 L'Oreal Paris Hair Expert Treatment Product, 07/09 RP (exp 7/29)
–$1/1 L'Oreal Paris Hair Expert product or Advanced Hairstyle product printable (excludes 3 oz. trial size)
–$1/1 L'Oreal Paris Hair Expert product or Advanced Hairstyle product (excludes) 3 oz. trial printable
–$0.75/1 L'Oreal Paris Hair Expert Treatment (Ibotta Deposit) [Any variety; Select sizes.] –$0.50/1 L'Oreal Paris Hair Expert Shampoo or Conditioner (Ibotta Deposit) [Any variety; Select Sizes.]
L'Oreal Skin Care, $12.49
–$1/1 L'Oreal Paris Facial Cleansers (Ibotta Deposit) [Any variety; Select sizes.]
Listerine Mouthwash or Toothpaste, $3.99 +
–$0.75/1 Adult Listerine Mouthwash or Listerine Healthy White Product printable [1-L.+] -$1/1 Listerine Adult Mouthwash or Healthy White Product, 07/23 RP (exp 9/3) [1-L.+ mouthwash; 16-oz.+ healthy white] -$1/1 Listerine Smart Rinse Anticavity Fluoride Rinse Product, 07/23 RP (exp 9/3) [500-ml.]
Lubriderm Lotion, $1.99
–$1/1 Lubriderm printable [13-oz.+; ETS] –$1/1 Lubriderm Product printable
Mitchum Deodorant, $2.49 +
-$2/1 Mitchum, 07/09 RP (exp 8/12) [Excludes trial and twin]
MusclePharm Assault Sport Supplement, $15.99
Neosporin, $5.59
-$2/3 Band-Aid Adhesive Bandages, Neosporin or Band-Aid First Aid Products, 07/23 RP (exp 9/3)
–$1/1 Neosporin First Aid Product printable
Neutrogena Bath Products, $4.29 +
-$2/2 Neutrogena Products, 07/23 RP (exp 9/3) [Excludes trial sizes, clearance and bar soap]
Neutrogena Face Care, $3.79 +
-$2/2 Neutrogena Products, 07/23 RP (exp 9/3) [Excludes trial sizes, clearance and bar soap]
Neutrogena Hair Care
-$2/2 Neutrogena Products, 07/23 RP (exp 9/3) [Excludes trial sizes, clearance and bar soap]
Neutrogena Shave Prep $3.79 +
-$2/2 Neutrogena Products, 07/23 RP (exp 9/3) [Excludes trial sizes, clearance and bar soap]
Neutrogena Sun Care, $7.99 +
-$2/2 Neutrogena Products, 07/23 RP (exp 9/3) [Excludes trial sizes, clearance and bar soap]
Noxzema $2.49
Olay Bar Soap or Wash, $3.99 +
–$1/1 Olay Body Lotion printable
–$1.50/1 Olay Bar (4 count or larger) Body Wash, Hand & Body Lotion OR In-shower Body Lotion. Excludes trial/travel size Kroger Digital Coupon (exp 7/29)
Olay Skin Care, $3.49 +
–$1.50/1 Olay Skincare Cleansers (Ibotta Deposit) [Any variety – Any size] –$2/1 Olay Daily Facial Cloths printable
–$2.50/1 Olay Regenerist Miracle Boost Concentrate or Luminous Miracle Boost Concentrate printable [ETS]
Old Spice Body Wash, $2.99 +
Old Spice Shampoo or Conditioner or Hair Care, $2.99 +
–$1/1 Old Spice 2in1 OR Styling Product. Excludes trial/travel size. Kroger Digital Coupon (exp 7/29)
Opti-Free Replenish Contact Lens Solution, $8.99 +
–$4/1 Opti-Free Lubricant Eye Drops printable [4-oz.+] –$2/1 Opti-Free Product printable
Oral-B Toothbrushes, $1.99 or Dental Floss, $1.50 +
–$1/1 Oral-B® Glide Floss 35M or larger OR Oral-B® Glide Floss Picks 30ct or higher printable (excludes trial/tr …
–$1/1 Oral-B Glide Floss or Oral-B Glide Floss Picks printable
–$0.50/1 Oral-B Adult Pro-Health Toothbrush printable
–$1/1 Crest Kids, Oral-B Kids, Oral-B Pro-Health JR or Oral-B Pro-Health Stages Toothbrush Printable [Excludes trial/travel size] –$1/1 Crest Kids, Oral-B Kids, Oral-B Pro-Health JR or Oral-B Pro-Health Stages Toothbrush printable [ETS]
Pantene Shampoo, Conditioner or Styler, $1.49 – $3.99
-$4/2 Pantene Product, 07/16 RP (exp 7/29) [Excludes 6.7-oz. and trial] –$1/1 Pantene Styling Products (Checkout 51 Deposit) [Any variety. Excludes trial and travel sizes.] –$1/1 Select Pantene Shampoo or Conditioner (Checkout 51 Deposit) [Excludes Pantene Sheer Volume and Radiant Color shampoo and conditioner, any variety.] –$1.50/1 Pantene Radiant Color Shampoo or Conditioner (Checkout 51 Deposit)
–$1.50/1 Pantene Sheer Volume Shampoo or Conditioner (Checkout 51 Deposit)
Playtex Tampons, $2.99 +
–$1/1 Playtex® Gentle Glide® Tampons printable (excludes 8 ct.)
–$1.50/1 Playtex® Sport® Compact Tampons printable
-$2/1 Playtex Sport Compact, Sport or Gentle Glide Tampons, 07/23 SS (exp 8/13) [14-ct.+] -$4/2 Playtex Gentle Glide Tampons, 06/25 SS (exp 7/29) [Excludes 8-ct., 18-ct. and 20-ct.] –$1/1 Playtex® Gentle Glide® Tampons. Excludes 8 ct. Kroger Digital Coupon
–$1.50/1 Playtex® Sport® Compact Tampons Kroger Digital Coupon
Ponds Towelettes, $3.49
Q-Tips
Redline Xtreme $8.29
Roc Skin Care $20.49
Rohto Eye Care, $4.29
Schick Hydro, Intuition or Quattro Razors, $8.99 +
–$4/1 Schick Hydro Silk TrimStyle Razor Printable [Excludes Schick Disposables and Men's Razor] -$2/1 Schick Hydro Razor or Refill, 07/23 SS (exp 8/13) [Excludes disposables] -$2/1 Schick Quattro For Women, Intuition or Hydro Silk Razor or Refill, 07/23 SS (exp 8/13) [Excludes disposables] -$2/1 Schick Quattro Titanium Razor or Refill, 07/23 SS (exp 8/13) [Excludes disposables] –$3/1 Schick® Men's or Women's Razor or Refill , Hydro®, Schick® Quattro® Titanium, Schick® Quattro for Women®, Schick® Intuition®, or Schick Hydro Silk®, (any size) Excludes Disposables Kroger Digital Coupon
Schick Disposable Razors, $5.59 +
–$3/1 Schick Disposable Razor Pack (excludes 1 and 2 ct.)
-$2/1 Schick Disposable Razor Pack, 07/23 SS (exp 8/13) [Excludes 1-ct.]
Scope Outlast Mouth Wash, $1.99
–$0.50/1 Scope® Mouthwash 237ml or larger printable (excludes trial/travel size)
–$0.50/1 Scope Mouthwash printable [237-ml.+; ETS]
Simple Face Skin Care, $3.99
–$1/1 Simple Skincare Eye Make up Remover printable
–$2/1 Simple Micellar Cleansing Water printable [13.5-oz.]
Slimfast, 8 ct $8.49
Slimquick Diet Supplement, $18.99
Softsoap Body Wash, $2.49
-$0.75/1 Softsoap Body Wash, 07/23 SS (exp 8/5) [15-oz.+] –$0.75/1 Softsoap brand Body Wash printable
Softsoap Liquid Hand Soap, $1.29 +
–$0.50/1 Softsoap Liquid Hand Soap Plus Lotion printable
-$0.50/1 Softsoap Liquid Hand Soap Pump or Refill, 07/23 SS (exp 8/5) [8-oz.+ pump; 28-oz.+ refill] –$1/1 Softsoap Liquid Hand Soap, any variety (8 – 11.25oz) Kroger Digital Coupon
Speed Stick Deodorant, $1.99 +
–$0.75/1 Speed Stick Overtime Antiperspirant/Deodorant printable
St Ives Face Scrub, $2.49
St Ives Lotion $3.99
Stayfree Pads, $1.99
–$2/2 Stayfree Products (excludes 10 ct.)
-$3/2 Stayfree Products, 06/25 SS (exp 7/29) [Excludes 10-ct. to 24-ct.] -$2/2 Stayfree Products, 06/25 SS (exp 7/29) [Excludes 10-ct.] -$2/2 Stayfree Products, 07/23 SS (exp 8/13) [Excludes 10-ct.] –$2/2 Stayfree® Products. Excludes 10 ct. Kroger Digital Coupon
Suave Kids Haircare, $1.19 – $1.99
-$0.50/1 Suave Kids Hair Care Product, 07/23 SS (exp 8/6) [ETS]
Suave Professional Shampoo or Conditioner, Select Varieties, 12.6 fl oz, $0.99 – $3.99
-$3/2 Suave Professionals Gold Hair Care Products, 07/23/17 SS (exp 8/6/17) [Excludes luxe styling products and 2oz] (if included)
Tampax Tampons, $4.49 +
–$0.75/1 Tampax Radiant Tampon Product Printable [16-ct.+; Excludes trial/travel size] –$0.75/1 Tampax Pearl Product Printable [18-ct.+; Excludes trial/travel size] –$2/2 Tampax Pearl Products Printable [18-ct.+; Excludes trial/travel size] –$0.75/1 Tampax Pearl Product printable [18-ct.+; ETS] –$2/2 Tampax Pearl Products printable [18-ct.+; ETS] –$0.75/1 Tampax Radiant Tampon Product printable [16-ct.+; ETS]
Tena Underwear, $10.99
–$1/1 Tena Product printable
Tone Body Wash , $1.99
-$2/2 Tone Body Wash or Bar, 07/16 RP (exp 8/6) [6-ct.] -$2/1 Tone Body Wash or Bars, 07/16 RP (exp 8/6) [6-ct.+] –$2/2 Dial or Tone Body Wash, Bar Soap (SavingStar Deposit) [6-ct.+ bars; ETS]
TruSource Protein Water $5.99
U by Kotex Pads, Tampons or Liners, Select Varieties, 13 to 50 ct, $1.99 – $2.99
–$1/1 U by KOTEX® Products printable (not valid on Liners 14-22 ct. or trial size/travel p …
–$0.50/1 U by Kotex Products printable
–$1/2 U by Kotex Product printable
-$3/2 Kotex U Tampons, 07/23/17 RP (exp 8/12/17) [ETS] -$3/2 Kotex U Liners, 07/23/17 RP (exp 8/12/17) [Excludes 14-ct. to 22-ct. and trial] -$3/2 Kotex U Pads, 07/23/17 RP (exp 8/12/17) [ETS] –$2/2 U by Kotex Products printable
-$1/1 U By Kotex Product, Any (DND) Tearpad (exp 12/31/2017)
-$1/1 U By Kotex Products, Any (Not Valid On 14 – 22 Count Liners Or Trial/Travel Size; DND) – Found On Product Peelie (exp 8/31/2017)
–$1/1 package of U by KOTEX® Products. Excludes Liners 14-22 ct. or trial size/travel packs Kroger Digital Coupon
–$2/2 U by Kotex Cleanwear (Ultra Thin Pads-any size) Barely There Liners (any size, excludes 14-22 ct) or Curves Liners (any size, excludes 14-22 ct) [Ibotta Deposit]
–$2/2 U by Kotex Security Ultra Thin Pad (any size) Security Tampons (any size) Lightday Liners (any size, excludes 14-22 ct) [Ibotta Deposit]
–$2/2 U by Kotex Sleek or Click Tampons (any size) [Ibotta Deposit]
–$2/2 U by Kotex Fitness Pads, Liners (excludes 14-22 ct) or Tampons [Ibotta Deposit]
Venus Olay Shave Gel, $1.99 (twin pack $4.99)
-$1/1 Gillette, Venus, or Satin Care Shave Gel, exp. 7/29/17 (P&G 07/02/17) [5.9-oz.+; Excludes foamy; ETS] –$0.75/1 Venus Shave Gel or Shower & Shave Cream Printable [6-oz.+] –$0.75/1 Venus Shave Gel or Shower & Shave Cream printable [6-oz.+]
Vitafusion Lil' Critters Vitamins, $2.49 +
–$1/1 VitaFusion Product printable
–$2/1 Vitafusion Gummy Vitamin Product printable
Vitafusion Vitamins,  $8.99 +
–$1/1 VitaFusion Product printable
–$2/1 Vitafusion Gummy Vitamin Product printable
Zest Fruit Boost $1.79
-$0.50/1 Zest Fruitboost Shower Gel or Body Scrub, 07/09 SS (exp 8/21) [DND]
Zest Soap $2.99 or Body Wash, $1.79
-$0.50/1 Zest and Coast Body Wash, 07/09 SS (exp 8/21) [DND] -$0.50/1 Zest and Coast Bar Soap, 07/09 SS (exp 8/21) [6-ct.+; DND]
Zzzquil 12 pz, $7.59
–$1/1 ZzzQuil™ Product (excludes trial/travel size)
---
HOUSEHOLD
Air Wick Freshmatic $3.39 or Twin Oil Refills $3.79
-$1.50/1 Air Wick Scented Oil Refill, 07/23 SS (exp 8/20) [Twin or triple refill] –$1/2 Air Wick Products Printable
Air Wick VIPoo $7.99
–$1/2 Air Wick Products Printable
Bounce, Gain or Downy Dryer Sheets or Beads, $3.49
–$2/1 Bounce Product 70 ct or larger (excludes Bounce sheets 25 ct and trial/travel size)
–$1/1 Bounce Product Printable [34-ct.+; Excludes Bounce Sheets 25-ct. and trial/travel size] –$1/1 Bounce Dryer Sheets (Checkout 51 Deposit) [Any variety. Excludes trial and travel sizes.] –$0.50/1 Bounce Sheets or Bursts, Downy or Unstopables, Dreft Blissfuls or Gain Fireworks printable
–$1/1 Downy Unstopables (Checkout 51 Deposit) [Any variety. Excludes trial and travel sizes.] –$1/1 Downy fabric Softener (Checkout 51 Deposit) [Any variety. Excludes trial and travel sizes.] –$2/1 Bounce Dryer Sheets (70ct or higher Kroger Digital Coupon (exp 7/29)
-$1/1 Downy Unstopables, Downy Fresh Protect, Downy Infusions In Wash Scent Booster, Gain Fireworks, Bounce Bursts, OR Dreft Blissfuls (6.4oz, or 13.2oz or higher only). Excludes 9.7oz and trial/travel size Kroger Digital coupon (exp 7/29)
Bounty Napkins, $1.99
Bounty Paper Towels, 6 Big Rolls, Select Varieties, $4.99
–$1/1 Bounty Paper Towels Printable [6-ct.+; Excludes Bounty Basic and trial/travel size] -$1/1 Bounty Paper Towel, 07/02/17 P &G (exp 7/29/17) [6-ct.+; Includes 2 huge roll; ETS] –$0.25/1 Bounty Paper Towels printable [Excludes Basic and trial]
Candle-Lite Essential Elements Candles $7.99
Cascade Dishwasher Detergent ActionPacs, $2.99
–$0.25/1 Cascade Automatic Dishwasher Detergent, Rinse Aid OR Dishwasher Cleaner.Krogr Digital Coupon (exp 7/29)
Charmin Bathroom Tissue, 6 Mega Rolls,  Select Varieties, $4.99
–$1/1 Charmin Ultra Soft OR Strong Toilet Paper 4 ct or larger (excludes 4 Double Roll, Charmin Essentials and trial/travel
-$1/1 Charmin Toilet Paper, 07/02/17 P &G (exp 7/29/17) [4+ mega rolls; Includes mega plus & super mega rolls; Excludes single rolls; ETS]
Clorox Disinfectant Wipes, $3.99
–$1/1 Clorox Scentiva Disinfecting Wipes or Scentiva Multi-Surface Cleaner printable[write a review] -$1/2 Clorox, Liquid-Plumr, or Pine-Sol Products, 07/23 SS (exp 8/21) [ETS]
Clorox Liquid Bleach, $2.99
-$1/2 Clorox, Liquid-Plumr, or Pine-Sol Products, 07/23 SS (exp 8/21) [ETS] –$0.50/1 Clorox® Bleach (55oz+) product printable
Dawn Dish Detergent, 18 to 21.6 fl oz, $1.99
–$0.25/1 Dawn Product (21.6oz or Smaller) Kroger Digital Coupon (exp 7/29)
Downy Fabric Softener, $3.99
–$1/1 Downy fabric Softener (Checkout 51 Deposit) [Any variety. Excludes trial and travel sizes.]
Downy Unstoppables $3.99
Dreft Liquid Laundry Detergent, $7.99
–$2/1 Dreft Purtouch Laundry Detergent, Dreft Newborn Laundry Detergent, OR Dreft Active Baby Laundry Detergent (40oz or larger). Kroger Digital Coupon (exp 7/29)
Energizer Max Batteries AA/AAA, 4 ct, C/D, 2 ct, or 9V, 1 ct, $3.49
-$0.55/1 Energizer Batteries or Flashlight, 06/25 SS (exp 7/29)
-FREE Hot Wheels (up to $1 wyb) wyb (1) Energizer Max Batteries AA/AAA-8, C/D-4 or 9V-2 Only Tearpad (exp 9/30/2017)
Febreze Air-Effects or Small Spaces, $1.99
Febreze Car Clips, $2.99
Finish Automatic Dishwasher Detergent, Powder or Gel or Jet-Dry Rinse Aid, $3.29
–$4/1 Finish™Max In One Autodish Cleaner, (80ct) Kroger Digital Coupon (if included)
Gain Liquid Laundry Detergent $4.99 or Flings $3.99
Glad Trash Bags, Select Varieties, 22 to 80 ct, $6.99
Handi- Foil Pans, $0.49 +
Hefty Hot Cups $4.99
–$1/2 Hefty Cups printable (exp. 12/31/17)
Kingsford Charcoal
–$2/1 Kingsford Charcoal Original Bag, any variety (15.4lb) or Kingsford Charcoal Matchlight Bag, any variety (11.6lb Kroger Digital Coupon
–$3 off Kingsford BBQ Sauce & Kingsford Original Charcoal Combo (Ibotta Deposit) [Combo rebate.] –$3 off Bud Light or Budweiser AND Kingsford or KC Masterpiece BBQ Sauces (Ibotta Deposit) [Combo rebate]
Kleenex Facial Tissue, Select Varieties, 50 to 160 ct, $0.99
–$0.50/3 Kleenex Facial Tissue Printable [(3) boxes or (1) bundle pack; Excludes travel/trial sizes] –$0.50/1 BUNDLE PACK® of KLEENEX® Facial Tissue. Excludes travel/trial sizes (Kroger Digital Coupon)
–$0.50/3 Kleenex Facial Tissue printable [$0.75/3 , share with three friends] -$0.50 off Kleenex, 07/09 SS (exp 8/19) [(3) 50-ct.+ box or (1) bundle pack]
Lime-A-Way $2.99
Method HandWash, Gel or Foaming, $1.99
Mr Clean Liquid Cleaner, $1.89
Mr Clean Magic Eraser, $1.69
Oxi-Clean Laundry Detergent, $4.99 +
-$3/1 Oxiclean Laundry Detergent, 07/09 SS (exp 8/10)
-$3/1 OxiClean™ Laundry Detergent (Kroger Digital Coupon)
–$1/1 OxiClean Laundry Detergent printable
OXO Tools, $4.99 +
Puffs Facial Tissue, $3.99
–$0.25/1 Puffs Product Printable [Excludes Puffs To-Go and trial/travel size] -$0.50/1 Puffs Facial Tissues, exp. 7/29/17 (P&G 07/02/17) [Excludes to go singles; ETS]
Rubbermaid Disposable Food Storage Containers, Select Varieties, 1 to 4 ct, $1.50
Scrubbing Bubbles Cleaner, $1.59
–$0.50/1 Scrubbing Bubbles® All Purpose Cleaner with fantastik® Product
-$1.50/2 Scrubbing Bubbles Bathroom Cleaning Products, exp. 9/10/17 (SS 07/30/17 #2)
–$0.50/1 Scrubbing Bubbles Bath Cleaning Products (Checkout 51 Deposit) [any variety. Cannot use this offer with any other print or in-app coupon]
Spray N Wash Prewash Spray, $1.99
-$1/1 Spray 'N Wash Laundry Stain Remover, 05/07 SS (exp 8/1)
-$1/1 Spray 'N Wash Laundry Stain Remover, 06/18 SS (exp 8/1)
Suavitel Fabric Conditioner Liquid, $5.99
-$0.50/1 Suavitel Fabric Softener, 07/23 SS (exp 8/5) [44-oz.+]
Sun Liquid Laundry Detergent, $3.99
Swiffer Refills $6.99
Tide Liquid Laundry Detergent, 46 to 50 fl oz, or Tide Pods, 15 to 20 ct, or Downy Fabric Softener, 62 to 77 fl oz, Select Varieties, $3.99
–$2/1 Tide PODS or Gain Flings Detergent printable (excludes Tide Simply, Gain Flings 5 ct, Tide PODS 5 ct, Gain Fabric Enhancer, Gain Fireworks and trial/travel size)
-$2/1 Tide PODS OR Gain Flings. Excludes Tide Simply, Gain Flings/Tide PODS 5ct and trial/travel size (Kroger Digital Coupon)
-$2/1 Tide Purclean Laundry Detergent. Excludes Tide Detergent, Tide PODS, Tide Rescue, Tide Simply and trial/travel size (Kroger Digital Coupon)
–$2/1 Tide or Gain Detergent 75 oz or less printable
-$3/1 Tide PODS or Gain Flings, exp. 08/12/17 (P&G 07/30/17) [Excludes trial/travel; limit 2 Identical coupons per Household per day]
Windex Cleaner, $1.39
–$1.50/2 Windex® Products (excludes travel and trial sizes)
–$0.50/1 Windex Product (excludes travel and trial sizes)
–$0.50/1 Windex® Product. Excludes travel and trial sizes. Kroger Digital coupon
Woolite Laundry Detergent, $7.99
–$1.50/1 Woolite (Checkout 51 Deposit) [75-oz., any variety.]
Ziploc Sandwich, Freezer or Storage Bags, $2.49
–$1/2 Ziploc brand bags
–$1/2 Ziploc Brand Products printable
–$1/2 Ziploc® brand bags Kroger Digital Coupon
---
MEAT & SEAFOOD
Eckrich Sausage, $1.99
–$1.25/2 Eckrich® Smoked Sausage printable
–$1.25/2 Eckrich® Smoked Sausage Kroger Digital Coupon
Hormel Natural Choice Lunchmeat, $4.99
Hormel Taco Meat, $3.99
Jimmy Dean Breakfast Sausage, Select Varieties, 9.6 to 16 oz, $2.49
Johnsonville Smoked Chicken Links, $2.49
Johnsonville Smoked Sausage, Select Varieties, 12 to 14 oz, $2.49
Johnsonville Brats or Italian Sausage or Grillers, $3.49 +
-$1/1 Johnsonville Brats or Italian Sausage, 06/11 SS (exp 7/31) [19-oz.; any variety or flavor] -$1/1 Johnsonville Brats or Italian Sausage (SS 06/04/17 R)
Lloyd's BBQ Tubs, $2.99
Nathan's Franks, $2.49
Oscar Mayer Bacon, Select Varieties, 22 oz, $6.99
Oscar Mayer Bologna, $3.99
Oscar Mayer Deli Fresh Lunchmeat, $2.99
---
NATURAL FOODS
Annie Chun's Soup or Noodle Bowls, $1.29
–$1/2 Annie Chun's Simple Gourmet Asian Cuisine printable
Annie's Natural Cereal and Fruit Snacks, $2.49
–$1/1 Annie's Snacks printable
–$0.50/1 Annie's Cereal printable
–$1/2 Annie's Organic items, any organic variety, any size Kroger Super Saver Digital Coupon
Bai Beverage, 6 pk, 18 fl oz, or Sparkling Ice, 12 pk, 17 fl oz, Select Varieties, $9.99
Barlean's Forti-Flax, $3.39
Black Forest Organic Berry Melody Fruit Snacks
–$0.50/1 Black Forest Organic Candy, any variety, any size Kroger SuperSaver Digital Coupon
Boca Natural, $1.99 +
Cascadian Farm Cereal, Select Varieties, 9.2 to 16 oz, $1.99
–$1/1 Cascadian Farm Product Printable
–$1/1 Cascadian Farm Product (SavingStar Deposit)
–$1/1 Cascadian Farm Product printable
–$1/2 Cascadian Farm Cereal Bars, Frozen Vegetable or Edamame (10 oz), Cereal, or Spreads. Kroger SuperSaver Digital Coupon
–$1/1 Cascadian Farm™ product, any variety or size. Kroger Digital Coupon
Clif Kids Zbars, Multipack, $2.49
Dave's Killer Organic Bread, Select Varieties, 18 to 27 oz, $3.99
Food Should Taste Good Tortilla Chips, $3.49
–$0.50/1 Food Should Taste Good Tortilla Chips or Bean Chips printable
–$0.50/1 Food Should Taste Good Tortilla Chips or Bean Chips printable
–$0.50/1 Food Should Taste Good Tortilla Chips or Bean Chips SavingStar
Halo Top Ice Cream, Select Varieties, 16 fl oz, $3.99
–$1/1 Halo Top (sign up sent via email)
Kind Bars, Multipack 4 ct, $4.49
Knudsen Organic Juice
Larabar or Bites, Multipack, $3.49
–$1/1 POUCH any flavor LÄRABAR™ Bites
–$1/1 ONE POUCH any flavor LÄRABAR™ Bites printable
–$0.75/1 Larabar™ multipack Kroger Digital Coupon
–$1/1 Larabar™ Bites, any variety or size. Kroger Digital Coupon
Quorn Entree, $2.49
–$1.25/1 Quorn Meat Free Products printable
–$1.25/1 Quorn Meatless & Soy-Free (Ibotta Deposit) [Any variety; Any size.]
MaraNatha Raw Almond Butter, 16 oz, $8.99
–$1/1 MaraNatha® Almond, Peanut, or Specialty Butter
Saffron Road entree, $2.99
–$1/1 Saffron Road Frozen Product printable
–$1/1 Saffron Road Frozen Product printable
Santa Cruz Organic Apple Sauce $2.69 + or Lemonade $1.99
–$0.50/1 Santa Cruz Organic Lemonade or Agua Fresca (32 oz) Kroger SuperSaver Digital Coupon
Seventh Generation Bathroom Tissue
Seventh Generation Dish Detergent, 25 fl oz, Select Varieties, $1.99
-$0.50/1 Seventh Generation Hand Dish Liquid, 04/02 RP (exp 12/31)
Seventh Generation Laundry
-$1/1 Seventh Generation Laundry Detergent or Detergent Packs, 04/02 RP (exp 12/31)
Seventh Generation Paper Towels, $6.99
Silk Almond, Cashew or Coconut Milk,  64 fl oz, $1.99
–$1/1 Silk Half Gallon printable [New signups only] -$1/1 Silk Protein Nut Milk, 06/18 RP (exp 8/18)
Simple Truth Vapor Distilled Water, Select Varieties, 24 pk, 16.9 fl oz Bottles, $3.99
Smartwater, Select Varieties, 6 pk, 16.9 fl oz, $3.99
So Delicious Coconut or Cashew Milk, $0.99
–$0.55/1 So Delicious Dairy Free Item printable [Enter name/email] –$0.75/1 So Delicious Dairy Free Beverage, Ibotta Deposit
Sweet Earth Burritos or Sandwiches, $2.09 +
–$1/1 Sweet Earth Product printable
Think Thin Cookies or Bars, Multipack, $4.99
–$1.50/2 thinkThin Protein & Superfruit Bars or Multi-Packs
Zone Perfect Multipack, $3.49
–$2.50/2 Zone Perfect Multipack printable [5-ct. box] –$4/$15 ZonePerfect Products (SavingStar Deposit)
---
PET
Beyond Dry Dog Food, $7.49
-$2/1 Purina Beyond Dry Dog Food, 06/18 RP (exp 9/30)
–$3/1 Purina® Beyond® Dog Food, any variety (3.7 lb or larger bag) Kroger Digital Coupon
Cesar Dry Dog Food, $6.99
Dentastix Dog Treats, $12.99 +
Fresh Step Cat Litter, $10.99
–$1.50/1 Unscented Fresh Step Clumping Litter Printable [15.4-lb.+]
Iams Dry Cat Food, $10.99
-B1G1 Iams Dry Cat Food Bag, 06/25 RP (exp 8/6) [Up to 7lbs; Up to $12.99]
Iams Dry Dog Food, $8.99
-B1G1 Iams Dry Dog Food, 06/25 RP (exp 8/8) [Up to 15-lb.; Up to $19.99]
Nature's Recipe Dry Dog Food, $8.99
-$3/1 Nature Recipe Dry Dog Food, 06/04 RP (exp 7/30) [4-lb.+]
Sheba Perfect Portions Cat Food multipack, $6.99
–$1/6 Sheba Perfect Portions printable
---
PRODUCE
Calbee Snaps, $0.99
Mission Tortillas, select varieties $0.49
Odwalla Juice, Select Varieties, 15.2 fl oz, $1.49
Wholly Guacamole, 12 oz, $2.99