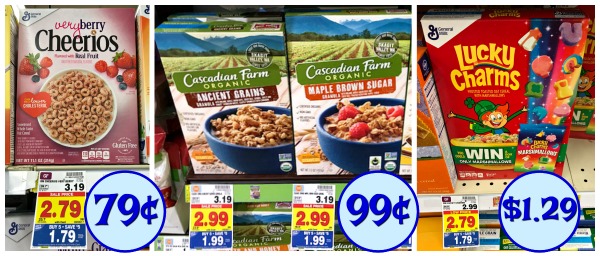 We have several new cereal coupons to print! Grab the ones you will use and pick up great savings at Kroger! Remember the cereal is part of the mega sale right now at Kroger. Get your favorites at a nice price!
General Mills Products Catalina
Big G Cereals (Cheerios, Lucky Charms, Cinnamon Toast Crunch, Reese's Puff, Chex and many more) ♦ Nature Valley Bars ♦ Yoplait Single Serve Cups ♦ Yoplait Go-Gurt ♦ Yoplait Kids ♦ Old El Paso ♦ Totino's ♦ Pillsbury Refrigerated Baked Goods
Effective 7/10/17 through 8/6/17
Spend $10 – $14.99 and get a $2 on your next order Catalina
Spend $15 – $19.99 and get a $3.50 on your next order Catalina
Spend $20 + and get a $5 on your next order Catalina
Very Berry Cherrios, $1.79
–$1/1 Very Berry Cheerios
79¢ after coupon.
Cascadian Farm Cereal, Select Varieties, 9.2 to 16 oz, $1.99
–$1/1 Cascadian Farm Cereal or Granola
99¢ after coupon.
General Mills Cereals, Select Varieties, $1.79
–$1/2 General Mills cereal any flavor listed: Cheerios Cinnamon Toast Crunch, Lucky Charms
–$0.50/1 Honey Nut Cheerios® OR Honey Nut Cheerios® Medley Crunch cereal
–$0.50/1 Lucky Charms cereal
–$0.50/1 Multi Grain Cheerios® cereal
–$0.50/1 Original Cheerios® cereal (the one in the yellow box)
–$0.50/1 Reeses Puffs cereal
$1.29 after coupon.
Annie's Natural Cereal and Fruit Snacks, $2.49
–$1/1 Annie's Organic Cereal
$1.49 after coupon.
Add these deals to your shopping list over on the Kroger "What A Deal" Buy 5, Save $5 Mega Sale Full Inclusion List (Valid 7/26/17 – 8/8/17).