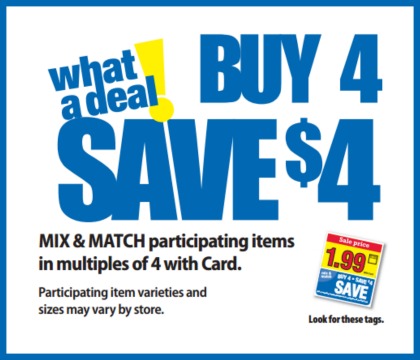 Here is the HUGE inclusion list for the upcoming Buy 4 Get $4 Mega sale that starts on Wednesday, 11/29 and runs through Tuesday 12/12. With this sale you will instantly save $4 at checkout when you buy any 4 participating items.
If you find any other matching coupons or if you find a coupon that doesn't match, let me know and I will get it added or fixed as soon as possible. As usual the price listed is AFTER mega savings.
I will add in the remaining prices throughout the day on Wednesday. As I mention above, this is a HUGE sale so be sure to click "Read More" to see all the deals!
BABY
Comfort's Formula, $14.49 +
Earth's Best Formula, $26.99
Earth's Best Electrolyte, $3.99
Gerber Graduates Snacks and Yogurt, $1.49
Gerber Infant Formula, $23.96
Gerber Organic Biscuits Snack, $2.79
GoodNites, 24 to 32 ct, Big Pack, Select Varieties, $17.99
–$2/1 GoodNites Bedtime Pants printable
–$2/1 Goodnites Bedtime Pants printable
-$2/1  PULL-UPS®Training Pants or GOODNITES® Bedtime Pants or Bed Mats. Excludes 7 ct. or less. (Kroger Digital Coupon)
Huggies Diapers, 42 to 112 ct, Big Pack, Select Varieties, $17.99 or Bag Diapers, $7.99 +
–$2/1 Huggies Little Movers Diapers printable
–$2/1 Huggies Little Movers Slip-On Diapers printable
–$2/1 Huggies Little Movers Diaper Pants printable
–$2/1 Huggies Little Snugglers Diapers printable
–$2/1 Huggies Little Snugglers Diapers printable
–$2/1 Huggies Overnites Diapers printable
–$1.50/1 HUGGIES Diapers printable
–$1.50/1 Huggies Little Movers printable
–$1.50/1 Huggies Little Snugglers Diapers printable
-$2/1 HUGGIES® Diapers. Excludes 9 ct. or less (Kroger Digital Coupon)
Huggies Wipes 184 – 240, $4.99
–$1/2 Huggies Wipes printable
–$1/2 Huggies Wipes printable
–$0.50/1 Huggies® Wipes (56-ct. or larger)
-$0.50/1 HUGGIES® Wipes (56 ct. or larger) (Kroger Digital Coupon)
Luvs Diapers, $5.49
–$1/1 Luvs Diapers Printable [ETS] –$1/1 Luvs Diapers printable
-$2/1 Luvs Diapers (Kroger Digital Coupon)
Pampers Diapers, Select Varieties, 18-35, $7.99
–$1/1 Pampers Baby Dry Diapers Printable [ETS] –$1/1 Pampers Swaddlers Diapers Printable [ETS] –$1/1 Pampers Easy Ups Training Pants Printable [ETS] –$1.50/1 Pampers UnderJams Absorbent Night Wear Printable [ETS] –$1/1 Pampers Cruisers Diapers Printable [ETS] –$1/1 Pampers Baby Dry Diapers printable
–$1/1 Pampers Swaddlers Diapers printable
–$1/1 Pampers Easy Ups printable
–$1/1 Pampers Cruiser Diapers printable
–$1/1 Pampers Easy Ups printable
–$1/1 Pampers UnderJams Absorbent Night Wear printable
-$1.50/1 Pampers Swaddlers, Cruisers OR Baby Dry Diapers. Excludes trial/travel size (Kroger Digital Coupon)
Pamper Wipes, $1.19 – $4.99
–$0.25/1 Pampers Baby Wipes printable
–$0.50/1 Pampers Wipes Printable [56-ct.+; ETS] -$0.50/1 Pampers Wipes (56ct or higher). Excludes trial/travel size (Kroger Digital Coupon)
Pull-Ups, 40 to 54 ct, Big Pack, Select Varieties, $17.99
–$2/1 Pull-Ups Cool & Learn Training Pants printable
–$2/1 Pull-Ups Training Pants printable
–$1.50/1 Pull-Ups Training Pants printable
–$2/1 Pull-Ups Night Time Training Pants printable
–$2/1 Pull-Ups Training Pants printable
–$3/2 Pull-Ups Training Pants printable
–$2/1 Huggies Pull-Ups Cool & Learn Training Pants printable
-$2/1 PULL-UPS Training Pants or GOODNITES Bedtime Pants or Bed Mats. Excludes 7 ct. or less. (Kroger Digital Coupon)
Similac Instant Formula, $25.99 +
–$2.50/1 Similac Infant Formula (Ibotta Deposit) [• Similac Pro-Advance™ Infant Formula Powder – 1.93 lb container only• Similac Pro-Sensitive™ Infant Formula Powder – 1.86 lb container only]
---
REFRIGERATED
Activa 4 pk, $1.29
-$1 off (5) Dannon Activia Single Serve Drinks, (2) Dannon Activia Regular or Greek 4 Packs or Dannon Activia Dailies Drinks 8 Packs, or (1) Dannon Activia 12 Pack, 11/05 SS (exp 12/16)
Arla Sliced Cheese, $2.99
Cracker Barrel Cheese Chunk or Stick, $3.49
Daisy Cottage Cheese, $1.99
Daisy Sour Cream, $1.99
–$0.45/1 Daisy Squeeze Sour Cream printable
Dannon Yogurt, Select Varieties, 4 ct, $2.99
-$1 off Dannon Oikos, 10/22 SS (exp 12/2) [(5) Single Serve cups or drinks; (2) 4-ct. or (1) quart] -$1 off Dannon Light & Fit Greek w/ Zero Artificial Sweeteners, 10/22 SS (exp 12/2) [(5) single serve cups or (2) 4-packs] -$1 off Dannon Light & Fit Regular or Greek, 10/29 SS (exp 12/9) [(5) singles; (2) 4-pk.; (1) quart or 12-ct.; single serve cups or drinks; Includes Dannon Light & fit With Zero Artificial Sweeteners Varieties] -$1/5 Dannon Activia Single Serve Drinks, (2) Dannon Activia Regular or Greek 4 Packs or Dannon Activia Dailies Drinks 8 Packs, or (1) Dannon Activia 12 Pack, 11/05 SS (exp 12/16)
-$0.50/1 Light & Fit with Zero Artificial Sweetners Greek, any variety (Single Serve) (Kroger Digital Coupon)
Dunkin' Donuts Refrigerated Coffee Creamer, Select Varieties, 32 fl oz, $1.99
-$0.75/1 Dunkin' Donuts Creamer, 10/22 RP (exp 11/30) [32-oz.] –$0.75/1 Dunkin' Donuts Coffee Creamer (Savings.com) [Quart] –$0.75/1 Dunkin' Donuts Creamer printable
International Delight Refrigerated Coffee Creamer, Select Varieties, 32 fl oz, $1.99
–$1/1 International Delight printable [Sign Up] -$1/2 International Delight Coffee Creamers or One Touch Latte, 10/01 RP (exp 11/30) [Pint, Quart or 48-oz. creamer]
Kraft Cheese Shredded, Chunk or String, $3.49 Select Varieties, 5 to 8 oz, $1.99
Kraft Cracker Cuts, $1.99
Kroger Cheese, Select Varieties, 12 to 16 oz, $2.49
Kroger Cage-Free Eggs, Select Varieties, 12 ct, $1.49
O That's Good Soup or Side Dish, $2.99
-$1/1 O, That's Good! Soup or Side Dish, 11/19 SS (exp 12/30) [No cash back]
Philadelphia Cream Cheese, Select Varieties, 8 oz Bar, $1.49
Rana Pasta, Select Varieties, $2.99
-$1/1 Giovanni Rana Refrigerated Pasta, 10/08 RP (exp 12/31)
–$1/1 Giovanni Rana Refrigerated Sauce printable
–$1/1 Giovanni Rana Pasta printable
-$1/1 Giovanni Rana Refrigerated Sauce, 10/08 RP (exp 12/31)
Sargento Balanced Breaks, $2.49
Sargento Cheese, Shredded, Select Varieties, 5 to 8 oz, $1.99
-$0.50/2 Sargento Shredded Natural Cheese, 11/05 SS (exp 12/31)
Tropicana or Trop50 Orange Juice, Select Varieties, 59 fl oz, $2.49 – $2.69
YoCrunch 4 pk, $1.99
---
FROZEN
Bagel Bites, Select Varieties, 12-20 oz, $3.99
Ben & Jerry's Ice Cream, 16 fl oz, or Novelties, 3 ct, Select Varieties, $2.99
–$0.75/1 Ben & Jerry's Pint Slices (Ibotta Deposit) [Select varieties; 3-ct. box only]
Birds Eye Vegetables or Pasta, $1.79 +
Cooked Perfect Meatballs, $10.99
–$1.50/2 Cooked Perfect Meatballs
-$1.50/1 Cooked Perfect Meatballs, 08/06 SS (exp 12/1)
-$1.50/1 Cooked Perfect Meatballs, 08/27 SS (exp 12/1)
–$1/1 Cooked Perfect Meatballs printable
-$1/1 Cooked Perfect Meatballs Blinkie (exp 12/10/17)
Diana Banana Babies, $2.99
DiGiorno Stuffed Crust or Crispy Pan Pizza, Select Varieties, 21.6 to 29.59 oz, $5.99
-$1/1 DIGIORNO Stuffed Crust or Crispy Pan Pizza, 18.8 – 29.6 oz (Kroger FreshFromFreezer Coupon) exp 1/17
–B2G1 DIGIORNO® Pizzas (10.6 oz. or larger) (up to $6.70)
Freschetta Pizza, $4.49
-$0.75/1 FRESCHETTA Pizza (Kroger FreshFromFreezer Coupon) exp 1/17
Gorton's Seafood, Select Varieties, 15 to 24.5 oz, $3.99 +
–$1/1 Gorton's Seafood Item (zip 30035)
Green Giant Steamers, $1.29
Haagen-Dazs Ice Cream, 14 fl oz, or Novelties, 3 ct, Select Varieties, $2.99
InnovAsian Meals, $4.99
Kroger Meatballs, $5.49
Kroger Party Pals, 128 fl oz, Select Varieties, $3.49
Luisa Tortellini, $2.99
Marie Callender's Pot Pies Family Size, $8.99
Newman's Own Pizza
Ore-Ida Potatoes, Frozen, Select Varieties, 14 to 32 oz, $1.69
–$0.50/1 ORE IDA Bagged Potatoes Kroger Digital Coupon
Private Selection Fruit, $2.99 +
Private Selection Smoothie Blend, $1.49
Private Selection Ice Cream, 48 fl oz, Select Varieties, $3.49
Talenti Gelato, $2.99
TGI Friday's Appetizers, 12 to 17.4 oz, $3.99
Turkey Hill All Natural Ice Cream, $2.99
–$1.50/1 Turkey Hill Ice Cream, Stuff'd, Frozen Yogurt or Sherbet printable
Tyson Frozen Chicken, Select Varieties, 25.5 to 32 oz, $3.99 +
-$1.50/1 Tyson Chicken Strips or Anytizers Snack Product, 10/01 RP (exp 12/24)
-$1.50/1 Tyson Frozen Grilled and Ready or Naturals Product, 10/01 RP (exp 12/24)
---
GROCERY
Arnold Wide Pan Bread, Select Varieties, 20 to 24 oz, $2.49
-$0.55/1 Arnold Bread Product, 10/22 SS (exp 1/22)
Aunt Jemima Pancake Mix, 32 oz, Select Varieties, $1.99
-$1/2 Aunt Jemima Pancake Mix or Syrup, 12/10 RP (exp 1/31) [24-oz.+]
Aunt Jemima Pancake Syrup, $2.49
-$1/2 Aunt Jemima Pancake Mix or Syrup, 12/10 RP (exp 1/31) [24-oz.+]
Bertolli Olive Oil, Select Varieties, $7.49
-$1/1 Bertolli Olive Oil, 08/27 SS (exp 12/31) [17-oz.+]
Bertolli Sauce, $2.89
–$1/1 Bertolli Rustic Cut Sauces printable
Bugles, $1.49
-$0.50/2 General Mills Chex Mix Regular, Muddy Buddies or Popped, Bugles Corn Snacks or Gardetto's Snack Mix, 11/12 SS (exp 1/6) [3.7-oz.+]
Campbell's V8 or V8 Fusion Beverage, 46 oz, Select Varieties, $1.49
–$1/1 V8® 100% Vegetable Juice, V8® Veggie Blends, V8 V-Fusion® Juice, or V8® Bloody Mary Mix (46 oz. or Larger, Any Flavor) Kroger Digital Coupon
Campbell's V8 Vegetable Juice, 6 Cans, $2.29
Campbell's V8 + energy Cans, $3.99
Chex Mix Snack Mix, $1.49
-$0.50/2 General Mills Chex Mix Regular, Muddy Buddies or Popped, Bugles Corn Snacks or Gardetto's Snack Mix, 11/12 SS (exp 1/6) [3.7-oz.+]
Chock full 'o Nuts, $6.99
Coca-Cola, Pepsi or 7UP, Select Varieties, 6 pk, 16 to 16.9 fl oz Bottles $1.99 – $2.34 or 6 pk, 7.5 fl oz Cans, $1.50
Crisco Oil 1 gal, $7.99 – $8.99
Crisco Coconut Oil, $5.99
Deer Park Spring Water, 24 pk, 16.9 fl oz Bottles, $2.99
Doritos or Ruffles, Select Varieties, 8.5 to 11.25 oz, $1.79
Duncan Hines Perfect Size Cake Mix, 6.6 to 10.6 oz, or Decadent Brownie Mix, 17.6 oz, Select Varieties, $1.99 +
–$0.75/1 Duncan Hines Perfect Size for 1 (Ibotta Deposit) [Any variety; Any size]
Dunkin' Donuts Coffee, Select Varieties, 11 to 12 oz Bag, $4.99 +
-$1.50/2 Dunkin' Donuts Coffee Products, 09/24 RP (exp 11/30)
Dunkin' Donuts Coffee, K-Cups, $6.49
-$1.50/2 Dunkin' Donuts Coffee Products, 09/24 RP (exp 11/30)
Famous Amos Cookies, $1.49
Folgers Coffee, K-Cups, $6.49
-$0.50/1 Folgers Coffee Product, 11/05 RP (exp 12/31)
Folgers Coffee, Select Varieties, 23 to 30.5 oz, $4.99 +
-$0.50/1 Folgers Coffee Product, 11/05 RP (exp 12/31)
–$1/1 Folgers Simply Gourmet Natural Flavored Coffee (Ibotta Deposit) [Any variety; 10-oz. bag]
Gardetto's, $1.49
-$0.50/2 General Mills Chex Mix Regular, Muddy Buddies or Popped, Bugles Corn Snacks or Gardetto's Snack Mix, 11/12 SS (exp 1/6) [3.7-oz.+]
General Mills Cereal, Select Varieties, 11.1 to 13 oz, $1.49
–$1/2 General Mills cereal listed: Cheerios • Cinnamon Toast Crunch • Lucky Charms printable
-$1/3 General Mills Cereals, 11/12 SS (exp 12/23)
–$1/2 General Mills Cheerios, Cinnamon Toast Crunch, Lucky Charms, Reese's printable
–$1/2 General Mills Cheerios, Cinnamon Toast Crunch, Lucky Charms, Reese's Puffs, Chex, Cocoa Puffs, Trix, and more (SavingStar Deposit)
Ghirardelli Baking Chips, Select Varieties, 10 to 12 oz, $2.49
Ghirardelli Cookie or Brownie Mix, 12.25 to 20 oz, or Cake Mix, 12.75 oz, Select Varieties, $1.49
Herdez Salsa, Select Varieties, 24 oz, $1.99
-$0.55/1 HERDEZ Salsa (15.7 oz. or larger) (Kroger Digital Coupon)
Hormel Chili, No Bean, $1.49
–$0.55/2 Hormel Chili Products printable
Jif Peanut Butter, Select Varieties, 15.5 to 16 oz, $1.99
Juicy Juice, 64 oz or 8 ct, $1.49
Keebler Cookies, Select Varieties, 6 to 15 oz, $1.49
–$1/1 Keebler Cookies printable [Need 850 rewards points]
Kellogg's Cereal, Select Varieties, 10.8 to 18.7 oz, $1.49
–$2/4 Kellogg's® Cereals
–$1/2 Kellogg's® Rice Krispies® and/or Kellogg's® Cocoa Krispies® Cereals
-$1/3 Kellogg's Cereals, 10/08 RP (exp 12/10) [8.7-oz.+] –$1/1 Kellogg's Cereal printable [Need 850 rewards points] -$1/3 Kellogg's Cereals, 10/29 RP (exp 11/29) [8.7-oz.+] –$1/2 Kellogg's Frosted Flakes Cereals printable
King Arthur Bleach, Unbleached or Whole Wheat Flour, Select Varieties, 5 lb, $2.99
-$1/1 King Arthur Flour Bag, 11/12 SS (exp 12/31) [5-lb.; DND]
Kraft Deluxe 3 pk, $5.99
Kraft Macaroni & Cheese Dinner 5 pk,  $3.99
Kraft Mayonnaise, 22-30 oz, Select Varieties, $1.99
-$1/2 Kraft Mayo, 11/12 SS (exp 12/10) [Any 22-oz.+]
Kroger Sliced Olives, $1.79
Krusteaz Bar or Cornbread Mix, $1.49
–$0.50/1 Krusteaz Cornbread mix (Checkout 51 Deposit) [Any variety. Cannot use this offer with any other print or in-app coupon or rebate.] Limit 1
Log Cabin Syrup, 24 oz, $2.49
Martinelli's Sparkling Cider, Select Varieties, 25.4 fl oz, $1.49
Mentos Gum, 50 ct
Morton Sea Salt, $1.69, Iodized Sea Salt, $1.09 or Iodized Salt, $0.99
Mott's Apple Juice, Select Varieties, 64 fl oz, $1.49
Nabisco Chips Ahoy, Select Varieties, 6.98 to 13 oz, $1.49
-$0.75/2 Nabisco Cookie Or Cracker Products, Any 3.5 Oz. Or Larger – 11/05/17 SS (exp 12/16/17)
Nature Valley Bars, $1.79+
–$1/1 Nature Valley or Fiber One Granola Bars (5-6 Ct) Select Varieties [Kroger 5X Digital Coupon] exp 12/1
-$0.50/2 Nature Valley Granola Bars, Biscuits or Granola Cups, 10/15 SS (exp 12/9) [5-ct.+] -$0.50/2 Nature Valley Granola Bars, Biscuits or Granola Cups, 11/05 SS (exp 12/30) [5-ct.+ granola bars] –$0.50/2 Nature Valley Granola Bars, Nature Valley Biscuits, or Nature Valley Granola Cups (SavingStar Deposit) [5-ct.+ bars] -$0.50/2 Nature Valley™ Granola Bars, Nature Valley™ Biscuits, OR Nature Valley™ Granola Cups, any variety (5 COUNT OR LARGER) (Kroger Digital Coupon)
Nutella, 13 oz, $2.29
-$2/1 Nutella Jar or Mini Cups, 11/12 SS (exp 1/5) [13-oz.+ jar; 10-ct.+ mini cups]
Peet's Coffee, Bag, $6.99
Peet's Coffee, K-Cups, $7.99
Pepperidge Farm Cookies, Select Varieties, 5 to 8.6 oz, $1.79 – $1.99
Pepperidge Farm Goldfish, Variety Pack, 20 ct or Large Carton, $6.99
Pepperidge Farm Swirl Bread, Select Varieties, 14 to 16 oz, $2.49
Peter Pan Peanut Butter, 28 oz, $3.49
Planters Peanuts, $2.29 +
–$1/2 Planters Products Printable
-$1/2 PLANTERS® Products (Kroger Digital Coupon)
Planters NUT-rition Mix, $4.99
–$1/2 Planters Products Printable
-$1/2 PLANTERS® Products (Kroger Digital Coupon)
Pop Secret Microwave Popcorn, $2.99
-$1/2 Pop Secret, 12/03 SS (exp 1/28) [3-pk.+; DND] -$0.75/1 Pop Secret, 12/03 SS (exp 1/28) [6-pk.+; DND] –$0.75/1 Pop Secret Popcorn, Any Variety, 6 ct to 10 ct packs Ibotta Deposit [3x per receipt]
Powerade or Powerade Zero, Select Varieties, 8 pk, 20 fl oz Bottles, $2.99
Pure Leaf Tea, Select Varieties, 64 fl oz, $1.49
Quaker Instant Oatmeal, Select Varieties, 8 to 12 ct, $1.39
Rao's Pasta Sauce
Red Lobster Biscuit Mix, $1.49
Sanpellegrino Sparkling Fruit Cans, 6 pk, $3.99
Silver Palate Pasta Sauce, $3.99
–$2/1 The Silver Palate Pasta Sauce printable
Slim Jim 14 ct $2.29
Smucker's Fruit Spreads, Select Varieties, 17.25 to 18 oz, $1.99+
-$1/1 Smucker's Fruit & Honey Spread, Any – 11/12/17 RP (exp 01/31/18)
Snyder's of Hanover Pretzels Pieces, $1.99
-$1/2 Snyder's of Hanover Products, 10/15 SS (exp 12/17) [5-oz.+]
Splenda Sweetener, 9.7 oz, $6.59 or 200 ct, $5.99
–$1/1 Splenda Zero Liquid Sweetener printable
–$1.25/1 Splenda Naturals Stevia Sweetener Packets (Ibotta Deposit) [40-ct. and 80-ct. packets only.] -$1.50/1 Splenda Naturals Products, 10/15 SS (exp 11/26) [DND] –$1/1 Splenda No Calorie Sweetener Product printable
-$1/1 Splenda Product, 10/15 SS (exp 11/26) [DND]
Special K Cereal, $1.49
–$2/4 Kellogg's Cereals printable
–$1/2 Kellogg's® Special K® Cereals
–$1/1 Kellogg's Special K Cereal printable
The Cheesecake Factory Cheesecake Mix, $1.49
Thomas Bagels, Select Varieties, 6 to 10 ct, $2.49
–$0.50/1 Thomas' Bagel Kroger Digital Coupon 
–$0.55/1 Thomas' Plain and Everything Bagels (SavingStar Deposit)
Valley Fresh Chicken, $2.29
-$0.55/2 Valley Fresh Products, 11/05 SS (exp 1/1) [10-oz.]
Velveeta Skillets, $1.49
Vitaminwater, Select Varieties, 6 pk, 16.9 fl oz Bottles, $2.99
Wish-Bone Salad Dressing, $1.49
---
HEALTH & BEAUTY
Always Discreet, $3.99 +
-$2/1 Always Discreet Incontinence Liner or Pad, exp. 12/9/17 (P&G 11/26/17)
-$2/1 Always Discreet Underwear, exp. 12/9/17 (P&G 11/26/17)
-$2/1 Always DISCREET Incontinence Liner OR Pad. Excludes other Always Products and trial/travel size (Kroger Digital Coupon)
Always Pads, Liners or Underwear, $4.49 +
–$1.50/2 Always Pads or Liners Printable [30-ct.+; ETS] –$0.50/1 Always Pads Printable [ETS] –$0.75/1 Always Infinity or Radiant Pads Printable [ETS] –$0.75/1 Always Radiant Pantiliners Printable [48-ct.+; ETS] –$0.50/1 Always Liners Printable [30-ct.+; ETS] –$0.75/1 Always Radiant Pantiliners printable
–$3/2 Always Pads or Liners printable
–$1.50/2 Always Pads or Liners printable
–$0.50/1 Always Pads printable
–$0.50/1 Always Liners printable
–$0.75/1 Always Infinity or Radiant Pad printable
–$0.50/1 Always Wipes Printable [ETS] –$0.50/1 Always Wipes printable
Aussie Hair Syler, $1.99
-$3/3 Aussie Shampoo, Conditioner OR Styling Products. Excludes trial/travel size (Kroger Digital Coupon)
-$2/2 Aussie Shampoo, Conditioner OR Styling Products. Excludes trial/travel size (Kroger Digital Coupon)
-$0.75/1 Aussie Shampoo, Conditioner OR Styling Product. Excludes trial/travel size (Kroger Digital Coupon)
Aussie Shampoo or Conditioner, $1.99
-$3/3 Aussie Shampoo, Conditioner OR Styling Products. Excludes trial/travel size (Kroger Digital Coupon)
-$2/2 Aussie Shampoo, Conditioner OR Styling Products. Excludes trial/travel size (Kroger Digital Coupon)
-$0.75/1 Aussie Shampoo, Conditioner OR Styling Product. Excludes trial/travel size (Kroger Digital Coupon)
Aveeno Body Wash, $4.99
–$2/2 Aveeno Products printable [Excludes cleansing bars, trial sizes and 2.5-oz. body lotion sizes] –$1/1 Aveeno Product printable [Excludes cleansing bars, trial sizes and 2.5-oz. body lotion sizes]
Aveeno Shampoo or Conditioner
–$2/2 Aveeno Products printable [Excludes cleansing bars, trial sizes and 2.5-oz. body lotion sizes] –$1/1 Aveeno Product printable [Excludes cleansing bars, trial sizes and 2.5-oz. body lotion sizes]
Aveeno Skin Care, $4.99 +
–$2/1 Aveeno Positively Radiant Product Printable [Excludes trial and travel sizes, cleansing bars and moisturizing bars] –$2/1 Aveeno Baby Product Printable [ETS] –$2/2 Aveeno Products printable [Excludes cleansing bars, trial sizes and 2.5-oz. body lotion sizes] –$1/1 Aveeno Product printable [Excludes cleansing bars, trial sizes and 2.5-oz. body lotion sizes] –$2.50/1 Aveeno Baby Eczema Therapy Nighttime Balm printable [11-oz.] –$1.50/1 Aveeno Ultra-Calming Hydrating Gel Cleanser (Ibotta Deposit) [Ultra-Calming Hydrating Gel Cleanser; 5-oz. bottle only] –$2.50/1 Aveeno POSITIVELY RADIANT Sheer Daily Moisturizer SPF 30 (Ibotta Deposit) [2.5-oz. bottle only] –$2.50/1 Aveeno Absolutely Ageless Leave-on Day Mask Lotion SPF 30 (Ibotta Deposit) [1.3-oz. bottle only]
Band-Aid Brand Bandages
–$0.50/1 Band-Aid Brand Adhesive Bandages Product printable [ETS] -$1/1 BAND-AID Flexible Fabric, Tough Strips or Adhesive Bandage Item, any variety (100 ct, 60 ct, 120 ct) (Kroger Digital Coupon)
-$0.50/1 BAND-AID Skin-Flex Adhesive Bandage Item, any variety (7-25 ct) (Kroger Digital Coupon)
-$1/2 BAND-AID Adhesive Bandage Items, any variety (6-120 ct) (Kroger Digital Coupon)
Carefree Liners, $1.49
–$0.50/1 Carefree Product printable
Clairol Hair Color, Select Varieties, $5.99+
–$2/1 Clairol® Hair Color (excludes Color Crave, Age Defy, Balsam, Textures & Tones and travel/trial size)
–$5/2 Clairol® Hair Color (excludes Color Crave, Age Defy, Balsam, Textures & Tones and travel/trial size)
-$2/1 Clairol Hair Color, exp. 12/23/17 (RP 12/10/17) [Excludes color crave, age defy, balsam, textures & tones and trial] -$5/2 Clairol Hair Color, exp. 12/23/17 (RP 12/10/17) [Excludes color crave, age defy, balsam, textures & tones and trial] -$3/1 Clairol Age Defy, Vidal Sassoon or Natural Instincts Crema Keratina Hair Color, exp. 12/23/17 (RP 12/10/17) [ETS]
Clean & Clear Skin Care
–$1/1 Clean & Clear Product printable [ETS]
Clear Care Contact Solution
–$2/1 Clear Care or Clear Care Plus Solution Printable [12-oz.+] –$2/1 Clear Care Solution printable [10-oz.+] -$4/1 CLEAR CARE Solution, any variety (12-24.8 oz) (Kroger Digital Coupon)
-$2/1 CLEAR CARE® or CLEAR CARE® Plus® Solution (12oz or Larger) (Kroger Digital Coupon)
Colgate Manual Toothbrush, $1.99 +
-$0.50/1 Colgate Adult or Kids Manual Toothbrush, 11/19 SS (exp 12/2)
–$0.75/1 Colgate 360 Adult Manual Toothbrush printable [Excludes colgate plus, extra clean & classic]
Colgate Kids Power or Manual 2 pk Toothbrush, $4.49
–$0.50/1 Colgate Kids Manual Toothbrush printable
-$0.50/1 Colgate Adult or Kids Manual Toothbrush, 11/19 SS (exp 12/2)
Colgate Toothpaste, $1.99 +
-$2/1 Colgate Total, Colgate Optic White, Colgate MaxFresh or Colgate Sensitive Toothpaste (3.0 oz or larger) (Kroger Digital Coupon)
–$0.75/1 Colgate Enamel Health Toothpaste printable [3-oz.+] –$0.50/1 Colgate Kids Toothpaste printable [3-oz.+] –$1/1 Colgate Optic White Radiant Toothpaste printable [3.0-oz.+] -$0.50/1 Colgate Toothpaste, 11/19 SS (exp 12/2)
–$0.75/1 Colgate Total Clean-In-Between Toothpaste printable [3.0-oz.+] –$1/1 Colgate Radiant White Toothpaste printable
–$0.75/1 Colgate Sensitive Toothpaste printable
Colgate Mouthwash, $2.99 – $4.99
–$1/1 Colgate Total Advanced Mouthwash or Mouth Rinse printable
–$0.75/1 Colgate Mouthwash or Mouth Rinse printable
-$0.50/1 Colgate Mouthwash or Mouth Rinse, 11/19 SS (exp 12/2)
Crest Mouthwash, $3.99
–$0.75/1 Crest® 3D Whitening Mouthwash 237ml or larger (excludes trial/travel size)
–$0.75/1 Crest® Pro-Health Mouthwash 237ml or larger (excludes trial/travel size)
Crest Toothpaste, $1.99 Crest 3D White Toothpaste, 4.8 oz, $2.99, Complete or Pro-Health $1.99
–$0.50/1 Crest® Pro-Health™ Stages™ OR Crest® Kids Toothpaste 4.2oz or larger (excludes trial/travel size)
-$0.50/1 Crest Pro-Health Jr. Mouthwash (458mL or larger). Excludes trial/travel size (Kroger Digital Coupon)
-$0.50/1 Crest Kids Toothpaste or Pro-health Jr. Mouthwash, exp. 12/9/17 (P&G 11/26/17) [4.2-oz.+ toothpaste; 458-ml.+ mouthwash] -$2/1 Crest Toothpaste, exp. 12/9/17 (P&G 11/26/17) [3-oz.+; Excludes cavity, regular, baking soda, tartar control/protection, f&w pep gleem and kids] -$1/1 Crest Cavity, Baking Soda, Tartar Control/Protection Toothpaste OR Gel (6.4 oz or larger). Excludes all other Crest variants, Kids, and trial/travel size (Kroger Digital Coupon)
Dove Haircare or Styler, $2.99
Depend, $10.99
–$2/1 DEPEND® Real Fit® or Silhouette® Product (8 ct. or larger)
–$2/1 DEPEND® Shields or Guards for Men (8 ct. or larger)
–$2/1 DEPEND® Bed Protectors (8 ct. or larger)
–$2/1 DEPEND® Underwear (8 ct. or larger)
-$2/1 Depend Product, 10/29 SS (exp 12/9) [8-ct.+] –$2/1 Depend Products printable
Garnier Micellar Water, $5.99
Garnier Micellar Wipes $4.99
Garnier Skin Active, $5.39 – $12.59
Gillette Razors, $5.59+
-$3/1 Gillette or Venus Refill Pack, exp. 12/23/17 (P&G 11/26/17) [4-ct.+] -$3/1 Gillette, Venus, or Daisy Disposable, exp. 12/23/17 (P&G 11/26/17) [2-ct.+; Excludes sensor2 2-ct. and daisy 2-ct.] -$3/1 Gillette or Venus Razor, exp. 12/23/17 (P&G 11/26/17) [Excludes disposables] –$3/2 Gillette Disposable Razor Packs Printable [2-ct.+; Excludes Daisy 2-ct.] –$1/1 Gillette Mach 3 or Fusion Disposable Razor printable
–$1/1 Gillette Disposable Razor Printable [2-ct.+; Excludes Sensor 2 2-ct. and Daisy 2-ct.] -$3/1 Gillette OR Venus Razor (excludes disposables and trial/travel size) (Kroger Digital Coupon)
-$3/1 Gillette OR Venus/Daisy Disposable (2ct or larger). Excludes Sensor2 2ct, and Daisy 2ct (Kroger Digital Coupon)
Gillette Deodorant, $2.99 (2 pk, $6.49)
Gillette Clinical Deodorant, $6.99
Gillette Shave Prep, $2.99
–$0.50/1 Gillette® Shave Gel (excludes trial/travel size)
–$0.50/1 Gillette Shave Gel printable
-$1/1 Gillette, Venus, or Satin Care Shave Gel, exp. 12/23/17 (P&G 11/26/17) [5.9-oz.+; Excludes foamy]
Gold Bond Lotion or Hand Cream, $8.99
-$1/1 Gold Bond Cream or Lotion, 10/29 RP (exp 12/3) [2.4-oz. to 8.1-oz.] -$3/1 Gold Bond Diabetics', 10/29 RP (exp 12/3) [13-oz. or 18oz] -$1.50/1 Gold Bond Eczema, Psoriasis, Rough & Bumpy, Neck & Chest, Dark Spot or Strength and Resilience, 10/29 RP (exp 12/3) [13-oz. strength and resilience; Excludes hand creams and 1-oz.] –$1/1 Gold Bond Product printable
-$1/1 Gold Bond Anti-Itch Item, 10/01 RP (exp 12/3) [1-oz.+] –$1/1 Gold Bond Product printable
-$1.50/1 Gold Bond Lotion, 10/29 RP (exp 12/3) [13-oz.+; Excludes hand creams and 1-oz.] –$1/1 Gold Bond Ultimate Sheer Ribbons Product printable
Head & Shoulders Shampoo or Conditioner, $2.99 – $4.49
-$4/2 Head & Shoulders Products or Clinical Solutions, exp. 12/9/17 (P&G 11/26/17) [12.8-oz.+] -$2/1 Head & Shoulders Product or Clinical Solutions, exp. 12/9/17 (P&G 11/26/17) [12.8-oz.+] -$4/2 Head & Shoulders Products (380mL/12.8oz or larger) OR Clinical Solutions. Excludes trial/travel size (Kroger Digital Coupon)
-$2/1 Head & Shoulders Product (380mL/12.8oz or larger) OR Clinical Solutions. Excludes trial/travel size (Kroger Digital Coupon)
Herbal Essences Shampoo or Conditioner, 10.1 fl oz, or Stylers, 5.7 to 8 fl oz, Select Varieties, $1.99 (Bio:Renew $4.99)
-B1G1 Herbal Essences Bio:renew Product, exp. 12/9/17 (P&G 11/26/17) [Up to $5.99; Excludes holiday packs] -$6/2 Herbal Essences bio:renew Shampoo, Conditioner OR Styling Products. Excludes Holiday Packs, Color, Body Wash and trial/travel size (Kroger Digital Coupon)
-$3/3 Herbal Essences Shampoo, Conditioner OR Styling Products. Excludes Color, Body Wash and trial/travel size (Kroger Digital Coupon)
-$2/2 Herbal Essences Shampoo, Conditioner OR Styling Products. Excludes bio:renew, Color, Body Wash and trial/travel size (Kroger Digital Coupon)
Irish Spring Bar Soap, $2.99
–$0.75/1 Irish Spring Signature for Men Body Wash and Bar Soap printable
Irish Spring Body Wash, $2.99
–$0.75/1 Irish Spring Signature for Men Body Wash and Bar Soap printable
Irish Spring Speedstick Deodorant, $1.99
Ivory Bar Soap, $2.99
–$0.25/1 Ivory Body Wash or Bar Soap printable [3-ct.+]
Safeguard Bar Soap, $2.99
Le Petit Marseillais Shower, $3.49
–$1/1 Le Petit Marseillais Product printable
L'Oreal Makeup, $1.69 +
-$2/1 L'Oreal Eyeliner, Eye Shadow or Brow Product, 11/19 RP (exp 12/16)
-$2/1 L'Oreal Cosmetic Face Product, 11/19 RP (exp 12/18)
L'Oreal Shampoo or Conditioner, $5.99
-$2/1 L'Oreal Hair Expert Shampoo, Conditioner or Treatment Product, 11/19 RP (exp 12/2)
–$2/2 L'Oreal Paris Hair Expert Shampoo, Conditioner, Treatment or Advanced Hairstyle Products Printable [Excludes 3-oz. trial] -$2/1 L'Oreal Advanced Hairstyle Product, 11/19 RP (exp 12/2)
–$2/2 L'Oreal Paris EVER Shampoo, Conditioner or Treatment Hair Care Products Printable
-$2/2 L'Oreal Paris Hair Expert shampoo, conditioner, treatment or Advanced Hairstyle products. Excludes 3 oz. trial size (Kroger Digital Coupon)
Lubriderm Lotion
-$2/1 Lubriderm Product, 11/05 SS (exp 12/3)
–$1/1 Lubriderm printable [13-oz.+; ETS]
Natural Instincts Hair Color, $5.99
Neutrogena Makeup Remover or Face Wash, $3.99 +
Neutrogena Shampoo or Body, $4.29 +
-$2/2 Neutrogena Products, 11/05 SS (exp 12/31) [Excludes 7-ct. makeup remover cleansing towelettes, lip care, bar soap, trial and clearance products]
Nice 'n Easy Root Touch-Up Hair Color, $5.99
Nivea Lotion, $3.99
-$2/1 Nivea Body Product, 11/19 SS (exp 12/9)
Noxzema Cleanser, $2.49
Olay Skin Care, $2.99 +
-$3/2 Olay Daily Facials, exp. 12/9/17 (P&G 11/26/17)
-$2/1 Olay Eyes Product, exp. 12/9/17 (P&G 11/26/17)
–$2.50/1 Olay Eye Products printable
-$1/1 Olay Bar or Body Wash, exp. 12/9/17 (P&G 11/26/17) [4-ct.+] -$4/1 Olay Prox Cleansing System, exp. 12/9/17 (P&G 11/26/17) [Excludes refills] –$1/1 Olay Body Wash (Checkout 51 Deposit) [18 oz. or larger, any variety. Items must appear on the same receipt.] –$3/1 Olay Daily Facials printable
-$2/1 Olay Regenerist, Luminous, Prox or Total Effects Facial Moisturizer, exp. 12/9/17 (P&G 11/26/17)
-$3/2 Olay Daily Facials. Excludes trial/travel size (Kroger Digital Coupon)
-$2/1 Olay Eyes Product. Excludes trial/travel size (Kroger Digital Coupon)
-$1/1 Olay Bar (4 count or larger) Body Wash, Hand & Body Lotion OR In-Shower Body Lotion. Excludes trial/travel size (Kroger Digital Coupon)
Old Spice Body Wash, $2.99
-$1/1 Old Spice Anti-Perspirant/Deodorant, Body Wash OR Bar Soap. Excludes trial/travel size (Kroger Digital Coupon)
Old Spice Deodorant, $2.99
-$1/1 Old Spice Antiperspirant, Deodorant or Body Wash, exp. 12/9/17 (P&G 11/26/17)
-$2/2 Old Spice Antiperspirant, Deodorant or Body Wash, exp. 12/9/17 (P&G 11/26/17)
-$1/1 Old Spice Anti-Perspirant/Deodorant, Body Wash OR Bar Soap. Excludes trial/travel size (Kroger Digital Coupon)
Old Spice Hair Care, $2.99 +
-$1/1 Old Spice 2-in-1 or Styling Product, exp. 12/9/17 (P&G 11/26/17)
-$1/1 Old Spice 2in1 OR Styling Product. Excludes trial/travel size (Kroger Digital Coupon)
Opti-Free Contact Solution
–$2/1 OPTI-FREE Solution Printable [10-oz.+] –$2/1 Opti-Free Solution printable [10-ml.+] -$2/1 OPTI-FREE® Solution (10oz or Larger) (Kroger Digital Coupon)
Oral-B Glide Floss or Floss Picks, $1.99
–$0.75/1 Oral-B Glide Floss or Picks printable [35-m.+ or 30-ct.+]
Oral-B Pro-Health Toothbrush, $1.99 +
–$0.50/1 Crest® Kids, Oral-B® Kids, Oral-B® Pro-Health JR™ OR Oral-B® Pro-Health™ Stages™ Manual Toothbrush (excludes trial/travel size)
–$0.50/1 Oral-B Adult Pro-Health Toothbrush printable
-$1/1 Oral-B Adult Manual Toothbrush, exp. 12/9/17 (P&G 11/26/17) [Excludes healthy clean and cavity defense] –$0.50/1 Oral-B Adult 3Dwhite Toothbrush printable
-$0.50/1 Oral-B Pro-health Stages, Pro-health Jr or Kids Manual Toothbrush, exp. 12/9/17 (P&G 11/26/17)
-$0.50/1 Oral-B Pro-Health Stages, Oral-B Pro-Health Jr. OR Oral-B Kid's Manual Toothbrush. Excludes trial/travel size (Kroger Digital Coupon)
Oral-B Pulsar Toothbrush, $3.99
-$2/1 Oral-B Adult Battery Toothbrush, 11/19 RP (exp 12/2)
Pantene Hair Styler, 12-14.3 oz, $3.99
-$5/3 Pantene Products, exp. 12/9/17 (P&G 11/26/17) [Must include shampoo and conditioner or styler; Excludes 6.7-oz and 7.9-oz.] -$2/2 Pantene Products, exp. 12/9/17 (P&G 11/26/17) [Must include shampoo and conditioner or styler; Excludes 6.7-oz and 7.9-oz.] -$1/1 Pantene Expert or Gold Series Product, exp. 12/19/17 (P&G 11/26/17)
-$1.50/1 Pantene Styler or Treatment Product, exp. 12/9/17 (P&G 11/26/17)
-$1/1 Pantene Gold Series Product. Excludes trial/travel size (Kroger Digital Coupon)
–$1/1 Pantene Styler (Ibotta Deposit) [Any variety; Any size. Exclusions apply. See offer details.] 5x's per receipt exp 12/6
Pantene Shampoo or Conditioner, $2.99
-$5/3 Pantene Products, exp. 12/9/17 (P&G 11/26/17) [Must include shampoo and conditioner or styler; Excludes 6.7-oz and 7.9-oz.] -$2/2 Pantene Products, exp. 12/9/17 (P&G 11/26/17) [Must include shampoo and conditioner or styler; Excludes 6.7-oz and 7.9-oz.] -$1/1 Pantene Expert or Gold Series Product, exp. 12/19/17 (P&G 11/26/17)
-$1.50/1 Pantene Styler or Treatment Product, exp. 12/9/17 (P&G 11/26/17)
-$5/3 Pantene Shampoo OR Conditioner Products. Excludes Gold Series, Stylers, Treatments, 6.7 oz, 7.9 oz and trial/travel size (Kroger Digital Coupon)
–$1/1 Pantene Shampoo (Ibotta Deposit) [Any variety; 12-oz. bottle or larger.] 5x's per receipt exp 12/6
–$1/1 Pantene Conditioner (Ibotta Deposit) [Any variety; 12-oz. bottle or larger.] 5x's per receipt exp 12/6
Pepto-Bismol Digestive Relief, $2.69 +
-$0.50/1 Pepto Bismol Product (Kroger Digital Coupon)
Playtex Sport or Glide Tampons, $5.99
Poise Pads & Liners, $3.99 +
–$2/1 POISE® Pads
–$2/1 POISE® Liners (Not valid on 14-26 ct. Liners)
–$2/1 POISE® IMPRESSA® Bladder Supports Sizing Kit or Size 1, 2, or 3 (6 ct. or larger)
–$3/1 POISE Pads Printable
–$2/2 Poise Thin-Shape Pads printable
–$2/1 POISE IMPRESSA Bladder Supports Size 1, 2 or 3 printable
–$2/2 Poise Microliners printable
–$3/1 Poise Impressa Bladder Supports Size 1, 2 or 3 printable
–$3/1 Poise IMPRESSA Bladder Supports Sizing Kit Only printable
-$2/1 Poise Pads, Liners or Impressa Bladder Supports, 10/29 SS (exp 12/9) [Excludes 14-ct. to 26-ct. liners] –$2/1 Poise Pad or Liner Package printable
–$2/1 Poise, Impressa Bladder Support Kit printable
–$3/1 Poise Impressa Bladder Supports Sizing Kit Only printable
–$3/1 Poise IMPRESSA Bladder Supports Size 1, 2 or 3 printable
-$3/1 POISE®Pads (Kroger Digital Coupon) exp 12/2
Ponds Towelettes, $3.49
Q-Tips Cotton Swabs, $1.79
RoC Lotion
–$2/1 Roc Anti-Aging Product printable
-$3/1 RoC® Skincare Product, any variety. Excludes travel and trial sizes (Kroger Digital Coupon)
Scope Mouthwash, $1.99 +
–$0.50/1 Scope Mouthwash Printable [237-ml.+; ETS] –$0.50/1 Scope Mouthwash printable [237-ml.+]
Secret Clinical Deodorant, $6.99
-$1/1 Secret Antiperspirant/Deodorant (1.6oz or larger). Excludes trial/travel size (Kroger Digital Coupon)
Secret or Secret Outlast Deodorant, $2.99
-$1/1 Secret Antiperspirant/Deodorant (1.6oz or larger). Excludes trial/travel size (Kroger Digital Coupon)
Simple Face Wipes or Face Wash, $3.99 +
–$2/1 Simple Micellar Printable
Softsoap Body Wash, $2.49
Softsoap Refill, $3.99
Speedstick or Lady's Speedstick Deodorant, $0.99 (2 pk, $4.49)
Speedstick Overtime Deodorant, $1.99
Stayfree Pads, $1.49
St. Ives Face Scrub or Wash , $2.49 +
–$3.50/2 St. Ives face scrub or lotion (Checkout 51 Deposit) [Any variety. Items must appear on the same receipt.]
Suave Lotion, $1.79
Tampax Tampons, $5.99 +
–$0.75/1 Tampax Radiant Tampon Product Printable [16-ct.+; ETS] –$1.50/2 Tampax Pearl Products Printable [18-ct.+; ETS] –$0.75/1 Tampax Pearl or Radiant Product printable
–$1/1 Tampax Pearl Product Printable [18-ct.+; Includes Pearl Active; ETS] –$0.75/1 Tampax Tampons printable
–$1/1 Tampax Tampons printable
–$1.10/1 Tampax Pearl Active (Ibotta Deposit) [Any variety; 18-ct.+]
TheraBreath Lozenges, $3.19
–$0.50/1 TheraBreath Dry Mouth Lozenges printable [24-ct. to 60-ct.]
TheraBreath Rinse for Kids, $4.49
–$0.50/1 TheraBreath Fresh Breath Oral Rinse printable
TheraBreath Rinse, $6.99
–$0.50/1 TheraBreath Fresh Breath Oral Rinse printable
TresEMME Hair Care, $2.99 +
U By Kotex, $4.49
–$2/2 U by Kotex Products printable
–$2/2 U by Kotex Products printable
-$1/1 Kotex U Tampons or Security Tampons, 11/12 SS (exp 12/9) [ETS] -$1/1 Kotex U Pads or Liners, 11/12 SS (exp 12/9) [Excludes liners 14-ct. to 22-ct. and trial] -$1/1 Kotex U Fitness Product, 11/12 SS (exp 12/9) [Excludes liners 14-ct. to 22-ct. and trial]
Vidal Sassoon Salonist Color, $8.49
Venus Shave Prep, $1.99
–$0.75/1  Venus® Shave Gel OR Shower & Shave Cream (6oz or larger)
–$0.50/1 Venus Satin Care Shave Gel printable
–$0.75/1 Venus Shave Gel printable
Zantac 150  24 ct, $6.79
–$4/1 Zantac Product printable [150-mg., 24-ct.+] –$3/1 Zantac Product printable [24-ct.+]
---
HOUSEHOLD
Bounce Bursts Beads
–$1/1 Bounce Sheets or Bursts, Downy or Unstopables, Dreft Blissfuls or Gain Fireworks printable
-$1/1 Downy Unstopables, Downy Fresh Protect, Downy Infusions In Wash Scent Booster, Gain Fireworks, Bounce Bursts, OR Dreft Blissfuls (6.4oz or higher). Excludes trial/travel sizes (Kroger Digital Coupon)
Bounce Dryer Sheets, $3.79
-$1/1 Downy Fabric Softener/Enhancer, Unstopables Fabric Care Product, Bounce Sheets, Downy Fresh Protect, Downy Infusions, Bounce Bursts, Dreft Blissfuls or Gain Fireworks In Wash Scent Boosters, exp. 12/9/17 (P&G 11/26/17 R) [Excludes Tide PODS, Tide Simply, Downy Libre Enjuague, Downy Liquid 12 Load, Dryer Sheets 25-ct. or Below, Tide Detergent 10-oz. and Trial/Travel Size; Limit of 2 Identical Coupons Per Household Per Day; No Cash Back] –$3/3 Bounce Sheets 70 ct+
-$1/1 Bounce Dryer Sheets (34ct OR higher) (Kroger Digital Coupon)
Bounty Napkins, $1.99
–$0.25/1 Bounty® Napkins Product (excludes trial/travel size)
Bounty Paper Towels, Select Varieties, 6 Big Rolls, $4.99
–$1/1 Bounty® Paper Towels 6 ct or larger (excludes Bounty® Basic and trial/travel size)
–$1/1 Bounty® Basic Paper Towels 6 ct or larger (excludes trial/travel size)
–$0.25/1 Bounty Paper Towels Printable [Excludes Bounty Basic and trial/travel size] -$0.25/1 Bounty Product, 11/26/17 P&G (exp 12/23/17)
Cascade Dishwasher Detergent ActionPacs, $10.99
-$1.50/1 Cascade ActionPacs Automatic Dishwasher Detergent (30 ct or larger). Excludes trial/travel size (Kroger Digital Coupon)
-$0.25/1 Cascade ActionPacs Automatic Dishwasher Detergent (29 ct or smaller). Excludes trial/travel size (Kroger Digital Coupon)
-$0.25/1 Cascade Gel OR Powder Dishwasher Detergent, Rinse Aid, OR Dishwasher Cleaner. Excludes trial/travel size (Kroger Digital Coupon)
Charmin Bathroom Tissue, Select Varieties, 6 Mega Rolls, $4.99 +
–$1/1 Charmin® Essentials Soft OR Essentials Strong 12 ct or larger (excludes trial/travel size)
–$1/1 Charmin® Ultra Soft or Strong Toilet Paper 4 ct or larger (excludes Charmin® Essentials, 4 double roll and trial/travel
-$0.25/1 Charmin Toilet Paper or Freshmates, 11/26/17 P&G (exp 12/23/17) [Excludes single roll]
Clorox Disinfecting Wipes, $3.99
–$0.50/1 Clorox Scentiva Disinfecting Wipes or Scentiva Multi-Surface Cleaner printable
-$1/2 Clorox Clean-upproducts, Disinfecting Wipes (32ct.+), Liquid Bleach (55oz.+), OR any Manual Toilet Bowl Cleaner products (Kroger Digital Coupon)
Dixie Plates, Family Size, $3.99
–$0.75/1 Dixie Plates printable
-$1/2 Dixie Plates, 11/05 RP (exp 12/5)
Downy Dryer Sheets, $3.99
Downy Fabric Softener, Select Varieties, 62 to 77 fl oz, $4.99
-$1/1 Downy Liquid Fabric Softener/Enhancer (40 loads and above). Excludes Downy Libre Enjuague, Infusions, Unstopables and Fresh Protect and trial/travel size (Kroger Digital Coupon)
Downy Fresh Protect, $4.49
–$1/1 Downy Fabric Softener/Enhancer, Unstopables Fabric Care Product, Bounce Sheets, Downy Fresh Protect, Downy Infusions, Bounce Bursts, Dreft Blissfuls or Gain Fireworks In Wash Scent Boosters printable
Downy Unstoppables, $3.99
–$1/1 Bounce Sheets or Bursts, Downy or Unstopables, Dreft Blissfuls or Gain Fireworks printable
-$1/1 Downy Unstopables, Downy Fresh Protect, Downy Infusions In Wash Scent Booster, Gain Fireworks, Bounce Bursts, OR Dreft Blissfuls (6.4oz or higher). Excludes trial/travel sizes (Kroger Digital Coupon)
Drano, $2.99
-$0.75/1 Drano Product, 11/12 SS (exp 12/24)
–$0.50/1 Drano® product
Febreze Aid Effects or Small Spaces, $1.99
Febreze Car, $2.99
Finish Jet-Dry Rinse Aid
-$0.50/1 Finish Dishwasher Cleaner or Detergent Booster, 11/05 SS (exp 12/5)
-$0.50/1 Finish Jet Dry Rinse Aid, 11/05 SS (exp 12/5)
-$1/1 Finish Max in 1, 11/05 SS (exp 12/5)
-$1/1 Finish Quantum Max, 11/05 SS (exp 12/5)
-$4/1 Finish™Max In One Autodish Cleaner (80ct) size (Kroger Digital Coupon)
Gain Dryer Sheets, $3.99
Gain Fireworks, $3.99
–$0.50/1 Bounce Sheets or Bursts, Downy or Unstopables, Dreft Blissfuls or Gain Fireworks printable
-$1/1 Downy Unstopables, Downy Fresh Protect, Downy Infusions In Wash Scent Booster, Gain Fireworks, Bounce Bursts, OR Dreft Blissfuls (6.4oz or higher). Excludes trial/travel sizes (Kroger Digital Coupon)
Gain Flings Laundry Detergent, $4.99
–$2/1 Tide Pods or Gain Flings Printable
-$2/1 Tide PODS or Gain Flings. Excludes Tide Simply, Gain Flings/Tide PODS 5ct. and trial/travel size (Kroger Digital Coupon)
-$2/1 Tide Pods or Gain Flings, exp. 12/9/17 (P&G 11/26/17) [Excludes Tide Detergent, Tide Simply, Gain Detergent, Gain Flings, 5 ct; Tide Pods, 5 ct; and Trial or Travel Size ]
Gain Liquid Laundry Detergent, $4.99
–$2/1 Tide or Gain Detergent Printable
-$2/1 Gain Powder OR Liquid Laundry Detergent. Excludes Gain Fabric Enhancer, Gain Fireworks, Flings and trial/travel size (Kroger Digital Coupon)
-$2/1 Gain or Tide Laundry Detergent, Gain Liquid Fabric Enhancer or Gain Dryer Sheets, exp. 12/9/17 (P&G 11/26/17) [Includes 48 loads or Larger or Sheets, 105 ct or Larger; Excludes Tide Pods, Gain Flings, Tide Simply, Gain Fireworks and Trial or Travel Size]
Glad Trash Bags, Select Varieties, $6.99 +
–$3/1 Glad Trash Bags Printable [90-ct.+]
GladWare Disposable Food Storage, Select Christmas Designs, 2 to 4 ct, $1.99
Hefty Cups, 20 ct, $4.99
–$1/2 Hefty Cups printable (exp. 12/31/17)
–$1.50/1 Hefty Hot Cups printable
Hefty Trash Bags, Select Varieties, $5.99+
–$1/1 Hefty Trash Bags printable (exp. 12/31/17)
Ivory or Olay Duo, $5.99
Kingsford Charcoal, $4.99
Kleenex Facial Tissue, Select Varieties, 75 to 160 ct, $0.99
–$0.50/3 KLEENEX® Facial Tissue (not valid on travel/trial sizes)[3-boxes or 1 bundle] –$0.50/3 Kleenex Facial Tissue printable [$0.75/3 , share with three friends] –$0.50/1 Kleenex Muticare Facial Tissue printable
-$0.50 off Kleenex, 11/12 SS (exp 12/23) [(3) 50-ct.+ boxes or (1) bundle pack; ETS] –$0.50/3 Kleenex Facial Tissue printable [3-boxes] –$1/2 Kleenex Soothing Lotion* Tissues (Ibotta Deposit) [Single-ct. box]
Kroger Home Sense Dish Pacs, $1.99
Palmolive Ultra Dish Soap, 32.5 oz, $1.99
–$0.25/1 Palmolive Fusion Clean Dish Liquid printable [20-oz.+] -$0.50/1 Palmolive Ultra Dish Liquid, 11/19 SS (exp 12/2)
-$0.25/1 Palmolive Ultra Dish Liquid, 11/19 SS (exp 12/2)
-$1/1 Palmolive® Ultra Dish Liquid (32.5 oz ONLY) (Kroger Digital Coupon)
Persil Laundry Detergent, $10.99
–$2/1 Persil Laundry 75 oz + printable
Pledge Spray or Muti-surface $2.99
Purex Crystals In-Wash Fragrance Booster, $2.49
–B2G1 Purex Crystals In-Wash Fragrance Booster Printable [18-oz.]
Reynolds Parchment Paper, Select Varieties, 45 sq ft, $2.49
–$1/1 Reynolds Parchment Paper printable
Rubbermaid Disposable Food Storage Containers, Select Varieties, 1-4 ct, $1.49
–$1/2 Rubbermaid® TakeAlong®Products printable (zip 30035)
-$1/2 Rubbermaid Takealongs Products, 12/03 SS (exp 1/14) [DND]
Scrubbing Bubbles Spray or Toilet Cleaner or Fantastik, $1.99 +
-$0.50/1 Scrubbing Bubbles Bathroom Cleaner Product, 11/12 SS (exp 12/23)
-$1/1 Scrubbing Bubbles Toilet Cleaner Product, 11/12 SS (exp 12/23) [Any; Excludes Vanish] -$0.50/1 Scrubbing Bubbles All Purpose Cleaner with fantastic, 11/12 SS (exp 12/24)
Shout Stain Remover Spray, $1.99
-$0.50/1 Shout Product, 11/12 SS (exp 12/24)
Soft Scrub, $1.99
Spray 'n Wash Stain Removal Spray, $1.99
Swiffer Starter Kit or Refills – Dry or Wet, $10.99
Tide Laundry Detergent, Select Varieties, 46 to 50 fl oz, $4.99
–$2/1 Tide or Gain Detergent Printable
–$2/1 Tide Pods Printable
-$2/1 Tide Detergent. Excludes Tide PODS, Tide Rescue, Tide Purclean, Tide Simply, Tide Detergent 10 oz and trial/travel size (Kroger Digital Coupon)
-$2/1 Gain or Tide Laundry Detergent, Gain Liquid Fabric Enhancer or Gain Dryer Sheets, exp. 12/9/17 (P&G 11/26/17) [Includes 48 loads or Larger or Sheets, 105 ct or Larger; Excludes Tide Pods, Gain Flings, Tide Simply, Gain Fireworks and Trial or Travel Size]
Tide Pods, Select Varieties, 15 to 20 ct, $4.99
–$2/1 Tide Pods Printable
-$2/1 Tide PODS or Gain Flings. Excludes Tide Simply, Gain Flings/Tide PODS 5ct. and trial/travel size (Kroger Digital Coupon)
-$2/1 Tide Pods or Gain Flings, exp. 12/9/17 (P&G 11/26/17) [Excludes Tide Detergent, Tide Simply, Gain Detergent, Gain Flings, 5 ct; Tide Pods, 5 ct; and Trial or Travel Size ] –$2/1 Tide Pods or Gain Flings Detergent printable
Tide Simply Laundry Detergent, 37-40 oz, $2.49
Windex Cleaner, $2.59
–$0.50/1 Windex® Product (excludes travel and trial sizes)
-$0.50/1 Windex Product, 11/12 SS (exp 12/24)
Windex Wipes, $2.19
–$0.50/1 Windex® Product (excludes travel and trial sizes)
-$0.50/1 Windex Product, 11/12 SS (exp 12/24)
Woolite Laundry Detergent, $7.99
–$1/1 Woolite Dry Cleaners Secret printable
–$2/1 Woolite At Home Dry Cleaner (Ibotta Deposit) [Any variety; 6-ct. pack only] –$3/1 Woolite At-Home Dry Cleaner (Checkout 51 Deposit) [Any variety.]
Ziploc Freezer Storage or Slider Bags, Select Varieties, 24 to 48 ct, $2.49 – $2.99 *upcoming Catalina
–$1/2 Ziploc Brand Products printable
-$1/2 Ziploc Brand Products, 11/12 SS (exp 12/24)
-$5 Gift Card wyb (4) SC Johnson Products Rebate , 11/12 SS (exp 11/12) [Visit happythanksgivinggathering.com for details. Qualifying purchases include Ziploc brand, Glade, Scrubbing Bubbles, fantastik, Pledge, Drano, Shout, and Windex (excluding all brand trial and travel sizes, Glade Solids and Air Freshener Sprays]
---
MEAT/SEAFOOD
Eckrich Smoked Sausage, Select Varieties, 8 to 14 oz, $1.99
Johnsonville Flame Grilled Chicken Breasts, 10.5 oz, $4.99
-$1.50/1 Johnsonville Flame Grilled Chicken Breasts, 11/05 SS (exp 12/31) [DND]
Johnsonville Ground Sausage, Select Varieties, 16 oz, $2.99
Johnsonville Breakfast Sausage, Select Varieties, 9.6 to 12 oz, $1.99
–$1/1 Johnsonville Breakfast Sausage (any variety) [Kroger Breakfast Digital Coupon]
–$1/1 Johnsonville® Fully Cooked Breakfast Sausage for any variety, any size (Ibotta Deposit) [Select variety; Any size]
Johnsonville Sausage, $2.49
Nathan Beef Franks, Select Varieties, 12 to 14 oz, $3.99
Oscar Mayer Deli Fresh Meat, Mega Pack, 22 oz, $5.99
Oscar Mayer Deli Natural Meat, 8 oz, $2.99
Oscar Mayer Wieners, Select Varieties, $1.49
Tennessee Pride Sausage Patties, 30 ct, $6.99
---
NATURAL FOODS
Annie's Cereal, $2.49
–$0.50/1 Annie's Cereal printable
Annie's Fruit Snacks, $2.49
–$1/1 Annie's Snacks printable
Blue Diamond Breeze Almond Milk, $0.99
–$1/2 Blue Diamond Shelf Stable Almond Breeze Almondmilk printable [32-oz.+]
Cedarlane Entree, $2.49
Cascadian Farm Organic Cereal, $2.19+
–$1/1 Cascadian Farm Vanilla Chia Crunch Cereal, 12.5oz [Kroger Breakfast Digital Coupon]
Dave's Killer Organic Bread, Select Varieties, 18 to 27 oz, $3.99
Kettle Brand Potato Chips, Select Varieties, 6.5 to 8.5 oz, $1.79
–$1/2 Kettle Potato Chips (Ibotta Deposit) [Any variety; Any size]
Knudsen Sparkling Cider, Select Varieties, 25.4 fl oz, $1.49
Larabar Multipacks, 5 to 10 ct, Select Varieties, $3.49
Late July Chips, $1.79
Luvo Entree, Select Varieties, $2.49
–$1/1 Luvo Steam in Pouch Entree printable
–$1/1 Luvo Steam in Pouch Entree (Savings.com)
–$1.50/1 Luvo Frozen Steamed Entree printable [share coupon] –$1/1 Luvo Frozen Steamed Entree printable
–$1.50/1 Luvo Bowls (BerryCart Deposit)
–$1.50/1 Luvo Frozen Entrees (BerryCart Deposit)
Seventh Generation Bathroom Tissue
Seventh Generation Laundry Detergent, $10.49
-$1/1 Seventh Generation Laundry Detergent or Detergent Packs, 04/02 RP (exp 12/31)
Zone Perfect Bar Multipacks, 5 to 10 ct, Select Varieties, $3.49
–$1.50/1 ZonePerfect Multi-Pack printable