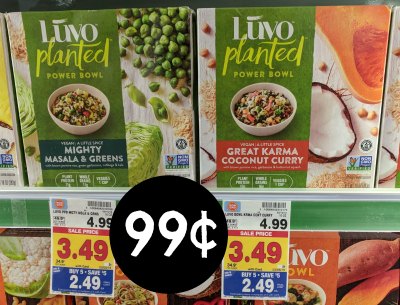 Score a cheap Luvo Bowl/entree during the mega sale when you load your Berry Cart cash back offer. This will be handy to have on hand for a quick lunch!
Luvo Bowls, 9 – 10 oz, $2.49
–$1.50/1 Luvo Bowls (BerryCart Deposit)
–$1.50/1 Luvo Frozen Entrees (BerryCart Deposit)
Just 99¢ after cash back and mega savings!
Add this deal to your shopping list over on the Kroger What A Deal Buy 5, Save $5 Mega Sale Full Inclusion List Valid 2/21 – 3/6