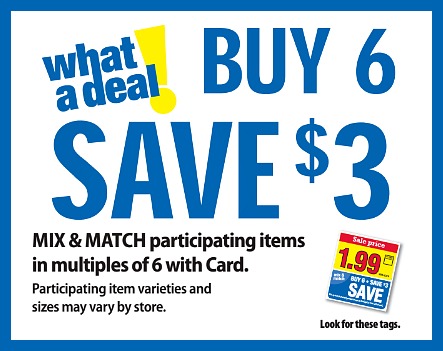 Here is the start of the HUGE inclusion list for the upcoming Buy 6 Get $3 Mega sale that starts on Wednesday, 3/21 and runs through Tuesday 4/3. With this sale you will instantly save $3 at checkout when you buy any 6 participating items.
If you find any other matching coupons or if you find a coupon that doesn't match, let me know and I will get it added or fixed as  soon as possible. As usual the price listed is AFTER mega savings.
I will add in the remaining items/prices throughout the day on Wednesday. As I mention above, this is a HUGE sale so be sure to click "Read More" to see all the deals!
BABY
Beech Nut Snacks, $1.50+
Comforts Diapers, $4.49+
–$2/1 Comforts Value or Super Value Diaper Box, sizes 2-6. Kroger Digital
Comforts Wipes, $3.99+
Enfamil Infant Formula, $7.69+
Huggies Wipes, Select Varieties, 56 to 72 ct, $1.49 +
–$0.50/1 Huggies Wipes printable [48-ct.+] –$1/2 Huggies Wipes printable [56-ct.+] –$1/2 Huggies Wipes printable
-$1/2 Huggies Wipes, 02/25 SS (exp 3/24) [56-ct.+]
Pedialyte, $4.49
–$2/1 Pedialyte or Pedialyte AdvancedCare product (zip 30035 if needed)
–$2/1 Pedialyte or Pedialyte AdvancedCare product, any variety or size Kroger Digital
–$1.50/1 Pedialyte product
---
DAIRY/REFRIGERATED
Arla Cream Cheese, $1.99
Chobani 4 pk Greek, $3.49
Coffee-mate Liquid Creamer, 32 fl oz, or Simply Fruit Drinks or Ades, 59 fl oz, Select Varieties, $1.99
–$0.75/1 Nestle Coffee-mate Creamer 16 oz or 32 oz printable (sign up)
Dannon Activa 4 pk, $1.79
-$1 off (5) Dannon Oikos single serve cups or drinks or Dannon Activia single serve drinks, any )2) Dannon Oikos or Dannon Activia Regular or Greek 4-packs, any (1) Dannon Oikos Quart, any (1) Dannon Activia Dailies Probiotic Drinks 8 pack or any (1) Dannon Activia 12 pk 3/18 SS
Dannon Activa Probiotic Dailies, 8ct, $4.69
–$1/1 8-Pack of Activia and DanActive Probiotic Dailies
-$1 off (5) Dannon Oikos single serve cups or drinks or Dannon Activia single serve drinks, any )2) Dannon Oikos or Dannon Activia Regular or Greek 4-packs, any (1) Dannon Oikos Quart, any (1) Dannon Activia Dailies Probiotic Drinks 8 pack or any (1) Dannon Activia 12 pk 3/18 SS
Dannon Greek Yogurt or Light & Fit, 4 pk, 5.3 oz, Select Varieties, $2.99
-$1 off (5) Dannon Oikos single serve cups or drinks or Dannon Activia single serve drinks, any )2) Dannon Oikos or Dannon Activia Regular or Greek 4-packs, any (1) Dannon Oikos Quart, any (1) Dannon Activia Dailies Probiotic Drinks 8 pack or any (1) Dannon Activia 12 pk 3/18 SS
Florida's Natural Orange Juice, 59 fl oz, Select Varieties, $2.49
-$1/2 Florida's Natural NFC Orange Juice, 03/25 SS (exp 5/19) [59-oz.+; Limit of 4 Like Coupons In Same Shopping Trip]
Frigo Cheese Heads String Cheese,
Greek Gods Yogurt, $3.39
Heluva Good Dip, $1.49
-$0.75/1 Heluva Good! Dip, Any 12 Oz. Or Larger – 1/28 SS , exp. 03/31
I Can't Believe It's Not Butter! Spread,
International Delight Iced Coffee, 64 fl oz, Select Varieties, $2.99
Knudsen Sour Cream,
Kraft American Singles,
Kroger Butter, Select Varieties, 16 oz, $2.29
Kroger Cottage Cheese, Sour Cream or Dip, Select Varieties, 16 oz, $0.79
LALA Yogurt Smoothies, $2.99
Land O Lakes Half & Half  1qt, $2.49
-$1/1 International Delight Cream, Any 48-64 Oz. Or (2) International Delight Creamers, Horizon Organics Or Land O' Lakes Half & Half Or Heavy Whipping Creams, Any 16-32 Oz. – 3/18 SS, exp.4/28
Land O Lakes Whipping Cream, 1pt, $3.49
-$1/1 International Delight Cream, Any 48-64 Oz. Or (2) International Delight Creamers, Horizon Organics Or Land O' Lakes Half & Half Or Heavy Whipping Creams, Any 16-32 Oz. – 3/18 SS, exp.4/28
Minute Maid Juice 52 fl oz, $1.99
Nestle Refrigerated Cookie Dough, Select Varieties, 16 to 16.5 oz, $1.99
Philadelphia Bagel Chips & Cheese, $1.49
Pillsbury Crescents or Sweet Rolls, Select Varieties, 8 to 16.3 oz, $1.49
–$1/2 Pillsbury™ Refrigerated Baked Goods Printable
-$1/3 Pillsbury Refrigerated Baked Goods Products, 01/21 SS (exp 4/14)
Sargento Shredded Cheese, 5 to 8 oz, $1.99 – $2.29
-$0.50/2 Sargento Shredded Natural Cheese, 01/28 SS (exp 3/25)
Sargento Snack Sticks, $4.49
Simply Fruit Drinks or Ades 59 oz, $1.69 – $2.99
Simply Potatoes 20 oz, $1.99
–$0.30/1 Simply Potatoes Mashed Potatoes (Ibotta Deposit) [Any mashed variety; Any size]
Stonyfield Baby & Kids Yogurt, $2.99 – $3.29
–$1/1 Stonyfield Kids Multipack OR ONE (1) YoBaby OR ONE (1) Whole Milk Multipack printable
–$1/1 Stonyfield Organic Kids, YoBaby or Whole Milk Multipacks (4-pack or larger), any variety Kroger Digital
–$1/1 Stonyfield YoBaby Multipack Ibotta Deposit (3x per receipt)
Sunny D Beverage 1 gal, $2.49
Tillamook Cheddar Cheese Curds, Bag
YoCrunch 4 pk, $2.99
---
DELI
Fresh Foods Market Bone-In or Boneless Chicken Wings, Fully Cooked, Select Varieties, In the Deli, $4.99 -$5.49/lb
Fresh Foods Market Slow Roasted Bone-In Turkey Breast, 28 oz,
Stonefire Naan Flatbread, $1.99
–$1/1 Stonefire Product
---
FROZEN
Al Fresco Gourmet Grillers 8 ct, $6.49
Bagel Bites 24  ct, $4.99
Bagel Dogs 24 ct, $4.99
Ben & Jerry's Ice Cream, 16 fl oz, $2.99
Birds Eye Frozen Vegetable or Protein Blends, Select Varieties, 9.5 to 14.4 oz, $1.79 – $1.99
-$1/2 Birds Eye Varieties, 01/21 SS (exp 3/31) [DND]
Blake's Pot Pies, $2.50
Blue Bunny Novelties, $3.49
Bomb Pops, $3.09
Breyers Ice Cream, 48 fl oz, Select Varieties, $2.99
Cooked Perfect Chicken, $7.49 +
–$1.50/1 Cooked Perfect Fire Grilled Chicken
–$1.50/1 Cooked Perfect Fire Grilled Chicken Kroger Digital
Cooked Perfect Meatballs, 14oz, $2.49
–$1/1 Cooked Perfect Meatballs
–$1/1 Cooked Perfect Meatballs Kroger Digital
Cracker Barrel Mac & Cheese Frozen $5.99
De Wafflebakkers Pancakes,
Delimex Mexican Appetizers,
DiGiorno Pizza Buns, $2.99
Fit Kitchen Meals, $3.49
Frontera Meals, $3.49
–$1/1 Frontera Frozen Gourmet Mexican Bowl
–$1/1 Frontera Frozen Gourmet Mexican Bowl
Frontera Skillet Meals, $8.49
Gold Star Chili 10.5 oz, $1.99
Green Giant Riced Veggies, $2.49
–$1/1 Green Giant Veggie Tots, Riced Veggies, Mashed Cauliflower, Roasted Veggies, or Veggie Spirals printable
–$1/1 Green Giant Product printable
-$1/2 Green Giant Veggie Tots, Riced Veggies, Mashed Cauliflower or Veggie Spirals, 03/18 SS (exp 5/13)
Green Giant Corn, $3.89
Haagen-Dazs Ice Cream, 14 fl oz, or Novelties, 3 ct, Select Varieties, $2.99
Healthy Choice Frozen Entree, 9 to 12 oz, Select Varieties, $1.79 +
InnovAsian Entree, $5.49
-$1.50/1 InnovAsian Cuisine Item, 03/18 SS (exp 4/30)
-$2.50/2 InnovAsian Cuisine Item, 03/18 SS (exp 4/30)
Jimmy Dean Meals or Snacks, $4.49
Kid Cuisine, $1.49
Klondike Novelties, $2.49
Kroger Meatballs 26 oz, $4.49
Louisa Pasta, $3.49
Magnum or Good Humor Ice Cream, 3 to 6 ct, Select Varieties, $2.99
Marie Callender's Dinners, 12 to 18 oz, Select Varieties, $1.79 +
Marie Callender's Delights Entree,
-$0.75/1 Marie Callender's Delights Single Serve Frozen Meals, 01/28 SS (exp 3/25)
Marie Callender's Small Pot Pies, 10oz, $1.49 +
Morey's Fish, $5.49
Mrs Paul's Fish, $3.49
On-Cor Entrees,
-$1/1 On-Cor Frozen Chicken, any variety or size Kroger Digital
Outshine Fruit Bars, 4 to 12 ct, Select Varieties, $2.99
P.F. Chang's Appetizers, $2.99
Popsicle Frozen Treats, 18 to 20 ct, Select Varieties, $2.99
Red Baron Pizza, Select Varieties, 14.76 to 27 oz, $2.99
Sandwich Bros Sandwiches, $2.99
–$1/1 Sandwich Bros Product printable [4-ct. or 6-ct.]
Screamin' Sicilian Pizza, $6.49
-$1/1 Screamin' Sicilian Premium Frozen Product printable [Sign Up]
Stouffer's Meals and Pot Pies, $2.49
Talenti Gelato 16 oz , $3.49
Tennessee Pride Sausage Patties, $7.49
TGI Fridays Snacks, $4.49
Tombstone Pizza, Select Varieties, 14.76 to 27 oz, $2.99
Totino's Pizza Rolls 44.5 oz, $5.49
Turkey Hill All Natural ice Cream, $3.49
–$0.75/1 Turkey Hill All Natural Ice Cream printable
UDF Homemade Ice Cream, $3.49
Wicked Kitchen Meals, $2.99
Yummy Chicken, $5.49 +
---
GROCERY
Ball Park Buns, 8 ct, Select Varieties, $1.99 – $2.29
–$0.55/1 Ball Park Buns Product printable
Bear Creek Soup Mix, $3.17
-$1/1 Bear Creek Soup Mix, 01/07 SS (exp 4/30) [DND]
Betty Crocker Cookie Icing, $2.49
Betty Crocker Potatoes, $1
–$0.50/1 Betty Crocker™ Potatoes Printable
Bigelow Tea, $3.49
Blue Diamond Almonds, 6oz, $2.99 – $3.49
-$2/2 Blue Diamond Almonds, 01/28 SS (exp 4/1) [5-oz. bags or 6-oz. cans] -$1/1 Blue Diamond Almonds, 01/28 SS (exp 4/1) [12-oz.+ bag]
Boboli Pizza Crust, $3.49
BodyArmor Sports Drink 16 – 18.5 oz, $0.89 – $0.99
BodyArmor 6 pk, $6.49
Buitoni Pasta, $6.39
Campbell's Cream Soups, $0.75
Cape Cod Chips,
Capri Sun, 10 pk, 6 fl oz, Select Varieties, $1.99
Cheetos, Select Varieties, 7 to 9.25 oz, $1.88
Coca-Cola 2 L, $1.17
Community Coffee Bag or K-Cups, 12ct, $4.49 – $6.27
–$1.50/1 Community Coffee Bag or Single-Serve Box, any variety or size.
–$1.50/1 Community Coffee Bag or Single-Serve Box, any variety or size. Kroger Digital
Cracker Barrel Mac & Cheese, $3.29
Creamette Pasta 16 oz, $0.49
Crush,Snapple or Hawaiian Punch Singles, $0.79 – $0.99
Crystal Light Drink Mix, Canisters or On The Go, $1.99 +
Dasani Pure Water 24 pk, $4.29
Delallo salad toppings, 3.5 – 5.75oz, $2
–$1.50/1 DeLallo Product printable
–$1.50/1 Delallo product
–$1.25/1 Delallo product
–$1/1 Delallo product
Diet Coke 8 pk $2.99
Dinty Moore Beef Stew, $1.29
–$1/2 Dinty Moore Products printable
Dinty Moore Beef Stew Tray, $2.49
–$1/2 Dinty Moore Products printable
Doritos, $2.49
Dove Chocolate Bars
–$1/2 Easter M&M'S, DOVE Chocolate, SNICKERS, TWIX, minis & Variety Bags (3.5 oz or larger)
-$1/2 Mars Easter M&M's, Dove, Snickers & Twix, Minis Mix & Variety Mix Bags For Spring or Egg Hunts, 02/25 RP (exp 4/1) [3.5-oz.+ M&M's; 4.5-oz.+ Dove, Snickers, Twix; 8-oz.+ minis mix or egg hunts; DND]
Emerald Nuts, $2.99
–$1/2 Emerald Nuts, any variety, any size Ibotta Deposit
Famous Amos Cookies, $1.79
–$1/2 Famous Amos Cookies (Checkout 51 Deposit) [Any variety. Items must appear on the same receipt.] -$1/2 Famous Amos Cookies, 03/11 RP (exp 4/22) [8-oz.+; Limit 4] –1% off Select Kellogg's Products (SavingStar Deposit) [Includes All-Bran, Apple Jacks, Austin, Carr's, Cheez-It, Chips Deluxe, Club, Corn Pops, Cracklin' Oat Bran, Crispix, Crunchmania, E.L. Fudge, Eggo, Famous Amos, Froot Loops, Frosted Mini-Wheats, Fudge Shoppe, Gripz, Honey Smacks, Keebler, Keebler Animals, Keebler Cones, Keebler Grahams, Keebler Vanilla Wafers, Kellogg's Corn Flakes, Kellogg's Corn Flakes Crumbs, Kellogg's Frosted Flakes, Kellogg's Fruity Snacks, Kellogg's Raisin Bran, Krave, Krispy, Moe's, MorningStar Farms, Mother's, Mueslix, Murray, Murray Sugar Free, Nutri-Grain, Pop-Tarts, Pringles, Ready Crust, Rice Krispies, Rice Krispies Treats, Sandies, Simply Made, Smart Start, Special K, Toasteds, Town House, Vienna Fingers, Zesta]
Famous Dave's Pickle Chips, $2.99
French's Crispy Jalapeños, $2.99
-$0.50/1 French's Crispy Fried Veggies, 03/18 SS (exp 4/22)
-$1/1 French's Crispy Fried Veggies, 03/18 SS (exp 4/22)
-$0.50/1 French's Crispy Jalapenos, 01/21 SS (exp 3/31) [Limit of 2 Like Coupons in the Same Shopping Trip]
Fritos, Select Varieties, 7 to 9.25 oz, $1.88
Fritos Dip Can, $1.88
Ghirardelli Bars, $1.99
Ghirardelli Baking Chips, $3.99
Ghirardelli Brownie, Cookie or Cake Mix, $2
Gold Peak Tea 89 oz, $2.99
Green Giant Vegetables 12.5 – 15. 25 oz can, $0.49
Hawaiian Punch, $1.29 – $1.49
Hershey's or Reese's Miniatures, Select Varieties, 11 to 15 oz, $2.99
-$2/3 Easter Hershey's Kisses, Reese's, Hershey's Miniatures, Hexrshey's Eggs, Cadbury, Jolly Rancher or Whoppers, 03/11 SS (exp 4/1) [8-oz.+ bag]
Hi-C Juice Boxes, $1.29
Hidden Valley Ranch Dip Mix, $0.45  – $1.09
Hormel Compleats Entree, $2.49
-$1/2 Hormel Compleats Product, 03/11 SS (exp 5/7) [Includes Dinty Moore Trays, Compleats XL and Sandwich Makers]
Hostess Snacks, $2.49
Jack Link's Beef Jerky, $4.49 +
Keebler Cookies, 6 to 15 oz, Select Varieties, $1.79
–$1/1 Keebler Cookies printable [Need 850 rewards points] -$2 off Milk wyb (2) Keebler Cookies 6 oz. or Larger (DND) (Limit 4 like coupons per shopping trip) Tearpad (exp 3/31/18)
Keebler Ready Crust, $1.99
–$0.50/2 Keebler Ready Crust Pie Crusts
–$0.50/2 Keebler Ready Crust Pie Crusts
-$0.50/2 Keebler Ready Pie Crust, Any (Limit of 4 Like Coupons in Same Shopping Trip; No Cash Back) – 3/18 RP, exp 4/29
Kettle Brand Potato Chips, Select Varieties, 6.5 to 8.5 oz, $1.99
–$1/2 Kettle Brand Products printable [4-oz.+] –$1/2 Kettle Brand Products printable [4-oz.+ bars]
King Arthur Flour, $2.99
–$0.75/1 King Arthur Flour printable [Sign Up/will be emailed] –$3/$15 King Arthur Products (SavingStar Deposit)
Kodiak  Waffle Mix, $4.49
Kool-Aid, Country Time or Tang Canisters, $1.50
Kraft Easy Mac or Velveeta Shells & Cheese, Select Varieties, 1.9 to 2.39 oz, $0.49
Kroger K-Cups, Select Varieties, 12 ct, $3.69 +
Krusteaz Cookie, Cornbread or Muffin Mix, $1.49
–$0.50/1 Krusteaz Muffin Printable
Lipton Pure Leaf Tea, $4.99
–$0.50/2 Lipton Pure Leaf, any variety (18.5oz) Kroger Digital
Malt-o-Meal Cereal, bag, $1.99
Mariani Fruit, $2.59
Mariani Yogurt Raisins, $2.79
Martinelli's Cider, $2.29
Minute Maid 100% Juice Boxes, $2.99
–$1/1 Minute Maid Juice Box 10-pk, any variety
Minute Rice & Ready To Serve, $1.49
MiO Water Enhancer, $2.99
–$1/1 MiO product Kroger Digital
Mom's Best Natural Cereal, Select Varieties, 11 to 18.5 oz, $1.49
–$1/1 Mom's Best Cereal printable
Mott's Apple Juice, 64 fl oz, Select Varieties, $1.99
Mrs Cubbison's Croutons, $0.89
–$1/2 Mrs. Cubbison's Croutons Printable
Nabisco Snak-Saks, 8 oz, Select Varieties, $0.89
-$0.75/2 Nabisco Cookie or Cracker Products, 02/11 SS (exp 3/24) [3.5-oz.+]
Nabisco Ritz or Nabisco Snack Crackers, Select Varieties, $1.69 +
-$0.75/2 Nabisco Cookie or Cracker Products, 02/11 SS (exp 3/24) [3.5-oz.+]
Nature Valley or Fiber One Bars, 5 to 12 ct, Select Varieties, $2.29 – $2.49
-$0.50/2 Nature Valley Granola Bars, Biscuits, Granola Cups, Layered Granola Bars or Soft-Baked Filled Squares, 03/04 SS (exp 4/28) [5-ct.+ granola bars] –$0.50/2 Nature Valley Granola Bars or Nature Valley Backpacker Chewy printable
-$0.50/2 Nature Valley Granola Bars, Biscuits, Granola Cups, Layered Granola Bars or Soft-Baked Filled Squares, 02/04 SS (exp 3/31) [5-ct.+ granola bars] –$1/2 Fiber One Chewy Bars, Fiber One 90 Calorie Products, or Fiber One Protein Chewy Bars (SavingStar Deposit)
–$1/2 Fiber One Chewy Bars, Fiber One 90 Calorie Products printable [bars or brownies] -$0.50/2 Fiber One Bars or Brownies, 02/04 SS (exp 3/31)
-$0.50/1 Nature Valley Granola Bars, Biscuits, Granola Cups, OR Fiber One Chewy Bars, 90 Calorie Products (Bars or Brownies) Protein Chewy Bars, Streusel Bars, Cheesecake Bars, Cookies, Layered Chewy Bars, Protein Nut Bars (DND) – Found On Product (DND) Peelie (exp 6/1/19)
-$0.50/1 Nature Valley 5 Ct. or Larger: Granola Bars, Protein, Nut Crisp Bars, Simple Nut Bars, Soft-Baked Oatmeal Squares/Biscuits Or Fiber One Chewy Bars, 90 Calorie Products, Protein Bars, Streusel Bars, Cheesecake Bars or Fiber One Cookies (DND) – Found On Product Peelie (exp 5/31/18)
-$0.50/1 Fiber One: Chewy Bars, 90 Calories Bars or Brownies, Protein Chewy Bars, Streusel Bars, Cheesecake Bars, Cookies or Layered Chewy Bars (DND) – Found on Product Peelie (exp 12/31/18)
Nature's Bakery Bars, $2.49
Nesquik 6 pk, $4.49
Nestle Morsels, $2.49
Oberto Jerky, $4.99
Ole High Fiber Wraps, $2.99
Olive Garden Croutons, $1.39
On The Border Tortilla Chips,
Orville Redenbacher's Microwave Popcorn, $1.69
Pastifico di Martino Pasta, $1.49
Pearls Specialty Olives, $4.99
–$1/1 Pearls® Specialties Product
Pepperidge Farm Goldfish 30 oz, $7.99
Pepperidge Farm Swirl Bread, $2.99
Pepsi or 7UP, Select Varieties, 2 Liter, $0.99
Perrier 10 pk, $4.99
Planters Peanuts, $3.49 +
Popchips, $2.29
Post or Quaker Cap'n Crunch or Life Cereal,  $1.79 – $2.49
–$1/2 Post® Great Grains® cereal (any flavor) printable
–$1/2 Post® PEBBLES™ cereal (any variety, 11 oz or larger) printable 
–$1/2 Post Honey Bunches of Oats Cereal printable
–$0.50/1 Honey Bunches of Oats Cereal (Ibotta Deposit) [Any variety; Any size] (5x per receipt)
–$0.50/1 Post Great Grains Crunchy Pecan (Ibotta Deposit) [15.5-oz. only] –$0.50/1 Great Grains Cereal (Ibotta Deposit) [Any variety; Any size] –$0.50/1 Post Great Grains Banana Nut Crunch (Ibotta Deposit) [15.5-oz. only] –$0.50/1 Post Great Grains Blueberry Morning (Ibotta Deposit) [15.5-oz. only] –$0.50/1 Post Great Grains Cranberry Almond Crunch (Ibotta Deposit) [15.5-oz. only] –$0.55/1 Post Pebbles Cereal (Ibotta Deposit)
Powerade or Powerade Zero, 8 pk, 20 fl oz, or Vitaminwater or Vitaminwater Zero, 6 pk, 16.9 fl oz, Select Varieties, $2.99 – $3.49
Pringles, 4.94 to 5.6 oz, $0.89
-$1/4 Pringles (Checkout 51 Deposit) [4.9-oz.+. Items must appear on the same receipt; Cannot use this offer with any other print or in-app coupon or rebate.] -$1/2 Pringles Chips printable [full size can] (must use KFR points)
–1% off Select Kellogg's Products (SavingStar Deposit) [Includes All-Bran, Apple Jacks, Austin, Carr's, Cheez-It, Chips Deluxe, Club, Corn Pops, Cracklin' Oat Bran, Crispix, Crunchmania, E.L. Fudge, Eggo, Famous Amos, Froot Loops, Frosted Mini-Wheats, Fudge Shoppe, Gripz, Honey Smacks, Keebler, Keebler Animals, Keebler Cones, Keebler Grahams, Keebler Vanilla Wafers, Kellogg's Corn Flakes, Kellogg's Corn Flakes Crumbs, Kellogg's Frosted Flakes, Kellogg's Fruity Snacks, Kellogg's Raisin Bran, Krave, Krispy, Moe's, MorningStar Farms, Mother's, Mueslix, Murray, Murray Sugar Free, Nutri-Grain, Pop-Tarts, Pringles, Ready Crust, Rice Krispies, Rice Krispies Treats, Sandies, Simply Made, Smart Start, Special K, Toasteds, Town House, Vienna Fingers, Zesta]
Private Selection Coffee, Bag, $5.49
Quaker Cap'n Crunch or Life Cereal, 11 to 25 oz,  $1.79
Quaker Instant Oatmeal, 8 to 12 ct, Select Varieties, $1.79
-$1/2 Quaker Old Fashioned, Quick Or Instant Oats Or Quaker Oats Squares Cereal Tearpad (exp 3/31/18)
Quaker Popped Rice Cakes, $0.99
-$1/3 Quaker Rice Cakes or Rice Crisps 3/18 RP
Ragu Pasta Sauce, Select Varieties, 16 to 24 oz, $1.29
–$1/2 Ragu Sauces printable
-$1/2 Ragu Sauces, 03/04 SS (exp 4/1) [Excludes 14-oz. jars]
Red Bull, $6.49
–$1/1 Red Bull Energy Drink, any variety (4pk). Kroger Digital
Red Lobster Biscuit Mix, $1.99
Ronzoni Pasta, 16 oz, Select Varieties, $0.49 +
Sara Lee Bread, 20 oz  Select Varieties, $1.99 – $2.29
San Giorgio Pasta, $0.49
Skinner Pasta, $0.38
Skyline Chili 15 oz, $3.79
Smartwater 6 pk, $3.99
Snapple Tea, 16 to 18.5 fl oz, Select Varieties, $0.99
Snyder's of Hanover Pretzels,
-$1/2 Snyder's of Hanover Products, 01/28 SS (exp 3/31) [5-oz.+; Limit one coupon per transaction]
Sparkling Ice 12 pk, $8.99 – $10.49
Stur Water Enhances, $2.49
–$1/2 Stur Liquid Water Enhancer (Ibotta Deposit) [Any variety; Any size]
SunChips, Select Varieties, 7 to 9.25 oz, $1.88
Swanson Broth 14.5 oz, $0.49
Sweet Baby Ray's Sauces, Select Varieties, 12 to 18 fl oz, $0.99
Tazo Tea, $2.99
Thomas' English Muffins, Select Varieties, 6 ct, $2.49
Thomas' Swirl Bread, $2.49
Velveeta Cheese Skillets, Box, $2.49
Velveeta Loaf,
Vernors Ginger Soda, 2 L $1.17
Vita Coco 500 mL, $1.49
---
HEALTH & BEAUTY
5-Hour Energy, $12.49
Always Underwear or Pads, $6.49
–$2/1 Always DISCREET Underwear (not valid on other Always products). Excludes trial/travel size. Kroger Digital
–$2/1 Always DISCREET Incontinence Liner OR Pad, not valid on other Always products. Excludes trial/travel size. Kroger Digital
Atkins Endulge Treats, $4.49
–$1.50/1 Atkins Endulge Treats (SavingStar Deposit)
–$1/1 Atkins Bar, Shake or Treat product, any variety or size. Kroger Digital
Atkins Nutritional Shakes, $5.49
–$1.50/1 Atkins Shakes (SavingStar Deposit)
–$1/1 Atkins Bar, Shake or Treat product, any variety or size. Kroger Digital
Atkins Nutritional Bars, $5.49
–$1.50/1 Atkins Meal or Snack Bars (Checkout 51 Deposit) [Any variety; Any variety; Cannot use this offer with any other print or in-app coupon or rebate.] –$1/1 Atkins Bar, Shake or Treat product, any variety or size. Kroger Digital
Aussie Shampoo, Conditioner or Hair Styler, $2.49
–$2/2 Aussie Shampoo, Conditioner OR Styling Products. Excludes trial/travel size. Kroger Digital
-$2/2 Aussie Shampoo, Conditioner or Styling Products, 03/11 RP (exp 3/24) [ETS] -$3/3 Aussie Shampoo, Conditioner or Styling Products, 03/11 RP (exp 3/24) [ETS]
Aveeno Body Wash, $5.79
-$4/2 Aveeno Body Wash Products, 03/18 SS (exp 4/7) [Excludes trial, cleansing bars and moisturizing bars] -$1/1 Aveeno Body Wash Product, 03/18 SS (exp 4/7) [Excludes trial, cleansing bars and moisturizing bars] –$1/1 Aveeno Product printable
Aveeno Hair Care, $5.49
–$1/1 Aveeno Product printable
Axe Deodorant, $3.49
-$3/2 Axe Deodorant Products, exp. 4/15/18 (RP 03/18/18 #2) [Excludes trial, twin packs, and dry spray antiperspirants] –$0.50/1 Axe Deodorant or Body Spray product (excludes trial and travel size)
Axe Body Wash, $3.49
-FREE Axe Shampoo wyb Body Wash, exp. 4/15/18 (RP 03/18/18 #2) [12-oz. shampoo; Up to $6.49; ETS] –$0.50/1 Axe Body Wash product (excludes twin packs, trial and travel size)
Banana Boat Suncare, $8.49
-$1/1 Banana Boat Sun Care Products, 03/18 SS (exp 4/21) [Excludes 1-oz., 1.8-oz., 2-oz., Lip Balm & Trial Size; Limit 2
-$3/2 Banana Boat Sun Care Products, 03/18 SS (exp 4/21) [Excludes 1-oz., 1.8-oz., 2-oz., Lip Balm & Trial Size; Limit 2]
Band-Aid Brand Bandages, $1.49 +
–$0.50/1 Band-Aid Adhesive Bandages Product
Bengay $3.99+
–$1/1 Bengay Product printable
–$1/1 Bengay Product printable
Caress Soap, Bar 6 pl, $4.49
Colgate Toothpaste, $1.29 +
-$0.50/1 Colgate Toothpaste, 03/11 SS (exp 3/24) [3oz+] –$2/1 Colgate Total®, Colgate® Optic White®, Colgate® Enamel Health™ or Colgate®Sensitive Toothpaste (3.0 oz or larger Kroger Digital Coupon 
Crest Toothpaste, 4.8 oz,  or Scope Mouthwash, 1 liter, Select Varieties, $1.99 +
-$1/1 Crest Toothpaste, Liquid Gel or Kids Toothpaste, 03/18 RP (exp 3/31) [3-oz.+ gel; 3-oz.+ toothpaste; Excludes cavity, baking soda, tartar control/protection, gleem and trial]
Degree Deodorant or Dry Spray, $3.99  – $4.99
Dove Body Wash, $3.49 +
–$1/1 Dove Body Wash (22 oz. or larger) or Dove Shower Foam (13.5 oz.) product. Excludes trial and travel sizes and Dove Men+Care. Kroger Digital
-$1/1 Dove Body Wash or Shower Foam Product, exp. 4/1/18 (RP 03/18/18 #2) [22-oz.+ wash; 13.5-oz. foam]
Dove Dry Spray, $4.99
Dove Body  or Body Wash, $3.49 +
–$0.75/1 Dove Men+Care Bar or Body Wash product, any variety or size. Kroger Digital
-$3/2 Dove Men+Care Bar or Body Wash Products, exp. 4/7/18 (RP 03/18/18 #2) [4-ct.+ bars; ETS] -$1/1 Dove Men+Care Bar or Body Wash Product, exp. 4/7/18 (RP 03/18/18 #2) [4-ct.+ bars; ETS] -$1/1 Dove Body Wash or Shower Foam Product, exp. 4/1/18 (RP 03/18/18 #2) [22-oz.+ wash; 13.5-oz. foam]
Dove or Axe Spray Deodorant or Deodorant Sticks, $3,49 +
–$1/1 Dove Men+Care Antiperspirant or Deodorant, any variety or size. Kroger Digital
-$1/1 Dove Men+Care Antiperspirant or Deodorant, exp. 3/31/18 (RP 03/18/18 #2) [ETS] -$3/2 Axe Deodorant Products, exp. 4/15/18 (RP 03/18/18 #2) [Excludes trial, twin packs, and dry spray antiperspirants] -$2/1 Axe Dry Spray Antiperspirant Product, exp. 4/15/18 (RP 03/18/18 #2) [ETS]
Dove Shampoo, Conditioner or Hair Styler, $4.49
–$1.50/2 Dove Hair Care products. Excludes DermaCare Scalp, trial and travel sizes and Dove Men+Care. Kroger Digital
–$0.75/1 Dove Men+Care Hair Care or Styling product, any variety or size. Kroger Digital
-$1.50/1 Dove Dry Shampoo, exp. 4/1/18 (RP 03/18/18 #2) [ETS]
Dove Soap 4 pk, $3.99
-$0.75/1 Dove Beauty Bar Product, exp. 4/1/18 (RP 03/18/18 #2) [4-ct.+]
EAS Protein Powder Shakes, $17.49
EAS Shakes $4.49+
Edge Shave Gel, 2/7 oz, $4.99
-$1/1 Edge or Skintimate Shave Gel or Cream, 03/18 SS (exp 4/8) [Excludes 2-oz. and 2.75-oz.]
Ensure Nutritional Shakes, $7.19
–$3/1 Ensure Product printable [Sign up]
-$3/1 Ensure, 01/28 SS (exp 3/25) [multipack]
Garnier Hair Care, $2.79 +
Gillette Fusion Shave Gel, $4.99
-$1/1 Gillette, Venus, or Satin Care Shave Gel, exp. 3/31/18 (P&G 03/04/18) [5.9-oz.+; Excludes foamy]
Gillette Razors & Refills, $5.49 +
-$2/1 Gillette Disposable, exp. 3/31/18 (P&G 03/04/18) [2-ct.+; Excludes sensor 2 2-ct.] -$2/1 Gillette or Venus Razor, exp. 3/31/18 (P&G 03/04/18) [Excludes gillette3, gillette5, and disposables] –$2/1 Gillette OR Venus Razor. Excludes Gillette3, Gillette5 and disposables. Kroger Digital
–$2/1 Gillette Disposable (2ct or larger). Excludes Sensor2 2ct. Kroger Digital
–$3/1 Venus/Daisy Disposable (2ct or larger). Excludes Daisy 2ct. Kroger Digital
Gillette Venus Shave Gel, $2.49
-$1/1 Gillette, Venus, or Satin Care Shave Gel, exp. 3/31/18 (P&G 03/04/18) [5.9-oz.+; Excludes foamy]
Glucerna Nutritional Shakes, $7.49
–$3/2 Glucerna Products (sign up)
-$3/1 Glucerna Multipack Shake, 02/25 SS (exp 4/21) [Limit of 2 Identical Coupons in Same Shopping Trip] -$3/1 Glucerna Multipack Shake, 01/28 SS (exp 3/24)
Hawaiian Tropic Suncare, $8.49
-$1/1 Hawaiian Tropic Sun Care Product, 03/18 SS (exp 4/29) [Excludes Lip Balm & Trial Size; Limit 2]
Head & Shoulders Shampoo or Conditioner, $3.49 +
–$2/1 Head & Shoulders Product (380 mL/12.8 oz or larger). Excludes Clinical Solutions and trial/travel size. Kroger Digital
Herbal Essences Shampoo or Conditioner, $2.49 +
-$3/3 Herbal Essences Shampoo, Conditioner OR Styling Products. Excludes bio:renew, Color, Body Wash and trial/travel size. Kroger Digital
-$2/2 Herbal Essences Shampoo, Conditioner or Styling Products, 03/11 RP (exp 3/24) [Excludes bio:renew and trial] -$3/3 Herbal Essences Shampoo, Conditioner or Styling Products, 03/11 RP (exp 3/24) [Excludes bio:renew and trial]
Herbal Essences Bio:Renew Shampoo or Conditioner, 13.5 oz, $5.49
–$1/1 Herbal Essences bio:renew Shampoo, Conditioner OR Styling Products. Excludes Color, Body Wash and trial/travel size and 100 mLs. Kroger Digital
–$6/2 Herbal Essences bio:renew Shampoo, Conditioner OR Styling Products. Excludes Color, Body Wash and trial/travel size. Kroger Digital
Ivory or Safeguard Soap 8 pk, $3.49
Kroger 24-Hour Allergy Nasal Spray,
Kroger Aspirin,
Kroger Pads,
Le Petit Marseillais, $4.49
–$1/1 Le Petit Marseillais Body Wash Printable
Lubriderm Men's Lotion, $5.49
-$2.50/1 Lubriderm Product, 03/04 SS (exp 4/30) [13-oz.+]
Neosporin, $4.29 +
–$1/1 Neosporin First Aid Product printable
Neutrogena Suncare, $9.49  +
-$2/1 Neutrogena Product, 03/04 SS (exp 3/31) [Excludes 7-ct. makeUp remover cleansing towelettes, facial masks and pods, bar soap, trial size and clearance products]
Old Spice Body Wash, $3.49
Old Spice Hair Care or Hair Styler, $3.49 +
–$1/1 Old Spice 2in1 OR Styling Product. Excludes trial/travel size. Kroger Digital
Old Spice or Secret Deodorant 2.6 – 3.75 oz, $3.49 +
Oral-B Toothbrush, 1 ct, Select Varieties, $3.49 +
Oral-B Floss or Picks, 54.6yd, $2.49
–$1/1 Oral-B Glide Floss OR Oral-B Glide Floss Picks. Excludes trial/travel size. Kroger Digital
Pantene Shampoo or Conditioner 12 – 12.6 oz, $3.49
-$3/3 Pantene Product, 03/18 RP (exp 3/31) [Excludes shampoo and conditioner 6.7-oz. and 7.9-oz. and trial]
Poise Pads, $4.49
Ponds Towelettes, $3.99
Schick Disposable Razors, Xtreme 4 Disposable Razors, 3 ct, $5.99
–$3/1 Schick Disposable Razor Pack (excludes 1 ct., Slim Twin® 2 ct. and 6 ct.)
–$5/2 Schick Disposable Razor Packs (excludes 1 ct., Slim Twin® 2 ct. and 6 ct.)
–$3/1 Schick Disposable Razor Pack Kroger Digital
–$5/2 Schick Disposable Razor Packs Kroger Digital
Schick Razors & Refills, $8.99
Simple Facial Products, $4.49 +
–$2 /1 Simple Micellar Cleansing Water printable [13.5-oz.] –$2/1 Simple Skincare Water Boost Micellar Facial Gel Wash Product printable
–$1/1 Simple Skincare Eye Make up Remover printable
Speed Stick & Lady Speed Stick Deodorant, $1.49 +
–$0.50/1 Speed Stick Antiperspirant/Deodorant printable [2.3-oz.+]
Skintimate Shave Cream, $3.99
-$1/1 Edge or Skintimate Shave Gel or Cream, 03/18 SS (exp 4/8) [Excludes 2-oz. and 2.75-oz.]
St Ives Body Wash, $2.99
-$1.50/1 St. Ives Face Care, Body Lotion, or Body Wash Product, exp. 4/1/18 (RP 03/18/18 #2) [ETS]
Suave Body Wash, $2.49
Suave Lotion, $2.49
–$0.25/1 Suave Hand and Body Lotion 18oz or larger (excludes trial and travel sizes)
Tampax Tampons, $6.49
–$2/2 Tampax Pearl Products printable
Tena Pads, $11.49 +
–$1/1 Tena Product printable
TRESemme Hair Care, $4.49
U by Kotex, $4.99
–$0.50/1 U by Kotex Fitness Products printable [Excludes 14-ct. to 22-ct. liners, U by Kotex, and trial/travel size]
–$0.50/1 U by Kotex Tampons printable [Excludes U by Kotex Fitness and trial/travel]
–$2/2 U by Kotex Products printable
–$0.50/1 U by Kotex Products printable
–$1/1 U by Kotex Feminine Care (Ibotta Deposit) [Any variety; Any size]
Vaseline Lotion, $4.99
-$2/1 Vaseline Men Lotion, exp. 4/15/18 (RP 03/18/18 #2) [10-oz.+; Excludes spray] -$2/1 Vaseline Lotion, 02/25 RP (exp 3/25) [20.3-oz.+]
Zone Perfect Multipack 5 ct, $3.69 +
–$2.50/2 Zone Perfect Multipack
---
HOUSEHOLD
Air Wick Oil Refills, $3.89 +
–$2/1 Air Wick® Essential Mist™ Refill 
-$2/1 Air Wick Essential Mist Refill, 03/04 SS (exp 4/1)
-$1/1 Air Wick Scented Oil Refill, 03/04 SS (exp 4/1) [twin or triple]
Ajax Dish Soap, $2.99
–$0.25/1 Ajax Ultra Dish Liquid
–$0.25/1 Ajax® Ultra Dish Liquid, any size. Kroger Digital
Bic Multi-Purpose Lighters $4.99
Bounce, Gain or Downy Dryer Sheets, $3.99
Cascade Dishwasher Detergent, $5.39
Clorox Disinfectant Wipes, $3.99
–$1/2 Clorox Clean-up products, Disinfecting Wipes 32ct.+, Liquid Bleach 55oz.+, OR Manual Toilet Bowl Cleaner
–$0.75/1 Clorox Scentiva Disinfecting Wipes (33ct+).
–$0.50/1 Clorox Disinfecting Wipes with Ultra Strength Blue Fibers or Micro-Scrubbers.
–$0.75/1 Clorox Scentiva Disinfecting Wipes Kroger Digital
–$0.50/1 Clorox Disinfecting Wipes with Ultra Strength Blue Fibers or Micro-Scrubbers Kroger Digital
Clorox Clean Up $3.09
–$0.50/1 Clorox Clean-UpCleaner + Bleach Product printable
-$1/2 Clorox, Liquid-Plumr, Pine-Sol Clorox Clean Up, Clorox Bleach, Clorox Disinfecting Wipes, Disinfecting Bathroom Cleaner Spray, Bleach Foamer Spray, Bleach Gel Cleaner Spray, Automatic Toilet Bowl Cleaner, Manual Toiler Bowl Cleaner, Pine-Sol, Toilet Wand, Scentiva or Liquid-Plumr Products, 03/04 SS (exp 4/1) [Excludes trial and pens]
Clorox Liquid Bleach, $2.19
–$1/2 Clorox Clean-up products, Disinfecting Wipes 32ct.+, Liquid Bleach 55oz.+, OR Manual Toilet Bowl Cleaner
Cottonelle Bathroom Tissue, 6 Mega Rolls, Select Varieties, $4.99 * Catalina Eligible
–$0.75/1 Cottonelle Toilet Paper printable [6-ct.+] –$0.55/1 Cottonelle Toilet Paper printable
-$0.75/1 Cottonelle Toilet Paper, 03/11 SS (exp 4/7) [6+ rolls]
Cottonelle Fresh Care Cloths $5.49 * Catalina Eligible
–$0.75/1 COTTONELLE® Flushable Wipes (42 ct or higher)
-$0.75/1 Cottonelle Flushable Cleansing Cloths, 03/11 SS (exp 4/7) [42ct+] –$0.55/1 Cottonelle Flushable Wipes printable [Offer value may vary]
Dawn Dish Soap, Select Varieties, 18 to 21.6 fl oz, $2.19
-$0.25/1 Dawn Ultra Product, exp. 3/31/18 (P&G 03/04/18) [Excludes simply clean]
Dixie Cups $2.49
Downy Fabric Softener, 62 to 77 fl oz, Select Varieties, $5.49 – $5.99
Downy, Gain or Bounce Beads, $3.99
Drano Max Gel $3.39
Febreze Air Effects $2.19
-B1G1 Febreze Product, exp. 3/31/18 (P&G 03/04/18) [Excludes unstopables; Up to $3.29]
Febreze Car Clip $2.99
-B1G1 Febreze Product, exp. 3/31/18 (P&G 03/04/18) [Excludes unstopables; Up to $3.29]
Febreze Small Spaces Air Freshener, $2.69
-B1G1 Febreze Product, exp. 3/31/18 (P&G 03/04/18) [Excludes unstopables; Up to $3.29]
Finish Automatic Dishwasher Detergent, $2.99  +
Gain Liquid Laundry Detergent or Gain Flings
–$3/2 Gain Powder or Liquid Detergent, Gain Flings, Gain Liquid Fabric Enhancer or Gain Dryer Sheets printable
Hefty Storage Bags, $2.99
–$1/2 Hefty Slider Bags Printable
Kleenex Facial Tissue, 4 pk, Select Varieties, $4.99
–$0.75 off Kleenex Facial Tissue printable [(3) boxes or (1) bundle pack; ETS] –$0.50 off Kleenex Facial Tissue printable [(3) boxes or (1) bundle pack] –$0.50/3 Kleenex Facial Tissue printable [3-boxes] -$0.75 off Kleenex, 03/11 SS (exp 4/7) [(3) 50ct+ boxes or 1 bundle pack ets]
Kingsford or Match Light Charcoal, Select Varieties, 11.6 to 15.4 lb, $9.49
–$3 off Budweiser and Kingsford Charcoal Combo (Ibotta Deposit) [Combo offer.]
Lysol Aerosol Spray $3.79
-$0.50/1 Lysol Disinfectant Spray or Disinfectant Max Cover Mist, 02/25 SS (exp 4/10)
Lysol Multi-Surface Cleaner $1.89
-$0.50/1 Lysol All Purpose Cleaner or Power Bathroom Cleaner, 02/25 SS (exp 4/10)
Lysol Toilet Cleaner 2 pk, $2.49
-$0.50/2 Lysol Toilet Bowl Clean Product, 02/25 SS (exp 4/10)
Palmolive Dish Detergent, $2.49 – $2.99
–$0.25/1 Palmolive Fusion Clean Dish Liquid printable [20-oz.+]
Pledge Furniture Polish, $3.49
–$2/2 Pledge Products
–$0.75/1 Pledge Furniture Care Product
-$1.50/2 Pledge Products, exp. 4/14/18 (SS 03/04/18 #2 R)
-$2/3 Scrubbing Bubbles, Windex or Pledge Furniture Products, exp. 4/14/18 (SS 03/04/18 #2 R)
Reynolds Wrap, $3.49
–$0.75/1 Reynolds Wrap Foil printable [35-sqft.+; Excludes wrappers]
Rubbermaid Disposable Food Storage Containers, $1.99
Scott Bathroom Tissue, $4.99
–$1/1 SCOTT Bath Tissue (Checkout 51 Deposit) [6 rolls or higher, any variety; Cannot use this offer with any other print or in-app coupon or rebate.] –$0.50/1 SCOTT 1000 Bath Tissue
–$0.55/1 SCOTT Extra Soft Toilet Paper
Scott Intimate Wipes $5.99
Scrubbing Bubbles Bubbly Bleach Gel $1.39
-$0.50/1 Scrubbing Bubbles Bubbly Bleach Toilet Gel Product, exp. 4/14/18 (SS 03/04/18 #2 R)
-$1.50/2 Scrubbing Bubbles Toilet Products, exp. 4/14/18 (SS 03/04/18 #2 R)
-$2/3 Scrubbing Bubbles, Windex or Pledge Furniture Products, exp. 4/14/18 (SS 03/04/18 #2 R)
–$0.35/1 Scrubbing Bubbles Toilet Bowl Cleaner Printable
Scrubbing Bubbles Cleaner, $2.99 – $3.19
–$0.35 on any ONE (1) Scrubbing Bubbles® Toilet Bowl Cleaner
-$1.50/2 Scrubbing Bubbles Bath or Windex Products, exp. 4/14/18 (SS 03/04/18 #2 R)
-$0.75/1 Scrubbing Bubbles Fresh Gel Product, exp. 4/14/18 (SS 03/04/18 #2 R)
–$1.50/2 Windex Products or Scrubbing Bubbles Bathroom Cleaning Products printable [ETS] -$0.50/1 Scrubbing Bubbles Bubbly Bleach Toilet Gel Product, exp. 4/14/18 (SS 03/04/18 #2 R)
–$0.50/1 Scrubbing Bubbles Fresh Gel Product printable
-$2/3 Scrubbing Bubbles, Windex or Pledge Furniture Products, exp. 4/14/18 (SS 03/04/18 #2 R)
-$1.50/2 Scrubbing Bubbles Bath or Windex Products, exp. 4/14/18 (SS 03/04/18 #2 R)
Shout, $2.69
Solo Cups 50 ct, $2.49
Solo Plates $2.49
Spray N Wash Prewash Spray, $2.49
Suavitel Fabric Softener, 50 oz $2.79
Swiffer Refills, $7.49
Tide Liquid Detergent, 46 to 50 fl oz, or Tide Pods, 15 to 20 ct, Select Varieties, $5.49 – $5.99
–$0.50/1 Bounce Sheets or Bursts, Downy or Unstopables, Dreft Blissfuls or Gain Fireworks printable
Vanity Fair Napkins, $1.99
Viva Paper Towels, 6 Big Rolls, Select Varieties, $4.99
–$0.75/1 Viva Paper Towel or Viva Vantage Paper Towel printable [6-ct.+] -$0.75/1 Viva Regular or Vantage Paper Towels, 03/11 SS (exp 4/7) [6ct+] –$1/6 Viva Vantage or Viva Paper Towels printable [6+ rolls; Offer value may vary]
VIPoo, $8.49
–$1/1 VIPoo Pre-Poo Toilet Spray
Windex, $2.99
-$1.50/2 Scrubbing Bubbles Bath or Windex Products, exp. 4/14/18 (SS 03/04/18 #2 R)
-$2/3 Scrubbing Bubbles, Windex or Pledge Furniture Products, exp. 4/14/18 (SS 03/04/18 #2 R)
---
MEAT/SEAFOOD
Al Fresco Bacon, $2.79
Al Fresco Sausage, $3.49
Applegate Sunday Bacon, $4.79
–$0.75/1 Applegate Product printable
Applegate Turkey Bacon, $3.99
–$0.75/1 Applegate Product printable
Bar-S Smoked Sausage 14 links, $4.49
–$1/2 Bar-S Products
Butterball Bacon, $1.99
–$0.55/1 Butterball Turkey Bacon printable (exp. 5/1/18)
–$0.55/1 Butterball Turkey Bacon printable (exp. 5/1/18)
Butterball Fully Cooked Bacon, $2.49
–$0.55/1 Butterball Turkey Bacon printable (exp. 5/1/18)
–$0.55/1 Butterball Turkey Bacon printable (exp. 5/1/18)
Curly's Pulled BBQ, Select Varieties, 12 to 16 oz, $4.49
–$0.75/1 Curly's Pulled Pork printable
Crab Classic, $3.99
Earl Campbell's Sausage, $1.99
Eckrich Smoked Sausage 8.3 – 14 oz, $2.49
Hillshire Farm Summer Sausage, $2.79
Hillshire Farm Snacking Plates, $1.50
–$0.75/1 Hillshire Snacking Small Plates printable
Hormel Fully Cooked Bacon, 2.52 oz, $2.99 – $3.29
–$0.75/1 Hormel Natural Choice Bacon printable
-$0.50/1 Hormel Natural Choice Bacon Product, 03/11 SS (exp 5/7)
Hormel Natural Choice Lunchmeat, $3.49
-$0.50/1 Hormel Natural Choice Deli Sandwich Meat, 03/11 SS (exp 5/7)
Hormel Natural Choice Snacks, 2.7oz, $1
–$0.50/1 HORMEL NATURAL CHOICE snack product
-$0.50/1 Hormel Natural Choice Snack Product, 03/11 SS (exp 5/7)
Hormel Pepperoni Pack, $2.79 +
Johnsonville Breakfast Sausage 9.6 – 12 oz, $2.49
-$1/2 Johnsonville Sausage Products, 01/28 SS (exp 3/31) [DND]
Johnsonville Flame Grilled Chicken,
Kroger Imitation Crab, $1.99
Land O Frost Deli Shaved Lunchmeat, $1.49
O, That's Good Sides & Soup $3.49
-$1/1 O, That's Good! Soup or Side Dish, 03/25 SS (exp 5/5) [No cash back]
Oscar Mayer Lunchmeat, $1.99
Oscar Mayer Deli Fresh Lunch Meat or Bacon, Select Varieties, 22 oz, $6.49
Simple Truth Mediterranean Sea Bass Fillets, $8.49
---
NATURAL
Annie's Organic Cinnamon Rolls,
–$0.75/1 Annie's Refrigerated Baking Products printable
Annie's Organic Cookies, $3.49
–$0.75/1 Annie's Refrigerated Baking Products printable
Annie's Organic Crescent Rolls,
–$0.75/1 Annie's Refrigerated Baking Products printable
Bai Bubbles, 11.5 fl oz, Select Varieties, $0.99
Cascadian Farm Vegetables,
Halo Top Ice Cream, 16 fl oz, $2.99
–$1/1 Halo Top Ice Cream Pint printable
Luvo Power Bowls, 10oz, $2.49
–$1.50/1 Luvo Bowls (BerryCart Deposit)
Quorn Meat Alternatives, 8.5oz, $3.29
–$1.25/1 Quorn FrozenProduct printable
–$1.50/1 Quorn Refrigerated Product printable
–$0.45/1 Quorn Meatless & Soy-Free (Ibotta Deposit) [Any variety; Any size] 2x's per receipt
–$3/1 Quorn Meatless Chicken & Apple Sausages (Ibotta Deposit) [Any variety; Any size] 3x's per receipt
–$3/1 Quorn Meatless Italian Sausages (Ibotta Deposit) [Any variety; Any size] 3x's per receipt
–$3/1 Quorn Meatless Chicken Strips (Ibotta Deposit) [Any variety; Any size] 3x's per receipt
RW Knudsen Juice 32 oz, $4.49 – $7.49
–$1/1 R.W. Knudsen Juice, any variety, 32oz Ibotta Deposit (5x per receipt)
Silk Almond Milk Creamer,
–$0.75/1 Silk Almond Creamer (Ibotta Deposit) [Any variety; Pint sized bottle] –$1/1 Silk Almond Creamer (Ibotta Deposit) [Any variety; Quart sized bottle]
Simple Truth Vapor Distilled Water, 24 pk, 16.9 fl oz Bottles, $3.99
So Delicious Dairy Free Dessert Pint pr Bars, $3.99
–$1/2 So Delicious Dairy Free Items printable
–$1/2 So Delicious Dairy Free Items printable
–$1/2 So Delicious Dairy Free items (Savings.com)
Yogi Tea, $2.49
---
PET
Arm & Hammer Clump & Seal Cat Litter, $9.99
–$2/1 Arm & Hammer Cat Litter printable
Friskies Dry Cat Food 16 lb, $11.49
Purina Dog Chow, $11.49
-$2/1 Purina Dog Chow Natural Dog Food Bag, exp. 4/15/18 (SS 03/04/18 #2) [16.5-lb.+]
---
PRODUCE
Calbee Snap Peas, Crisps or Lentil Snaps, 3 to 3.3 oz, $1.49
Dole Salad Kits 8.3 – 14.4 oz, $2.99
Panera Dressing, $2.99
–$1/1 Panera Dressing Printable
Pompeii Juice or Seasoning Mixes, $0.29