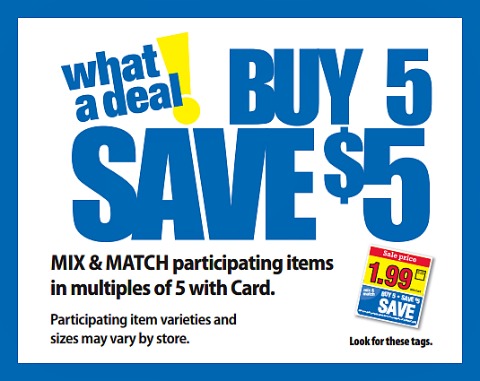 Here is the start of the HUGE inclusion list for the upcoming What a Deal Buy 5, Save $5 Mega sale that starts on Wednesday, 4/11 and runs through Tuesday 4/24. With this sale you will instantly save $5 at checkout when you buy any 5 participating items.
If you find any other matching coupons or if you find a coupon that doesn't match, let me know and I will get it added or fixed as  soon as possible. As usual the price listed is AFTER mega savings.
I will add in the remaining items/prices throughout the day on Wednesday. As I mention above, this is a HUGE sale so be sure to click "Read More" to see all the deals!
BABY
Comforts Training Pants, Diapers, Nite Pants or Wipes, $3.49 +
–$2/1 Comforts Value or Super Value Diaper Box, sizes 2-6 Kroger Digital Coupon
GoodNites Underwear, $17.99
–$2/1 Pull-Ups Training Pants or Goodnites Nighttime Pants or Bed Mats printable [Excludes 7-ct. and less] –$2/1 GoodNites Bedtime Pants printable
–$2/1 Goodnites Bedtime Pants printable
Huggies Jumbo Supreme Diapers, Select Varieties, Size NB to 6, 18 to 35 ct, $7.99
–$2/1 HUGGIES Diapers (Not valid on 9 ct. or less)
–$1.50/1 Huggies Diapers Printable
–$2/1 Huggies Little Movers Diapers printable
–$1.50/1 Huggies Diapers printable
–$2/1 Huggies Little Snugglers Diapers printable
–$2/1 Huggies Little Movers printable
–$1.50/1 Huggies Diapers printable
–$2/1 Huggies Little Snugglers Diapers printable
–$2/1 Huggies Little Movers printable
–$1.50/1 Huggies Diapers printable
-$2/1 Huggies Diapers, 03/25 SS (exp 4/21) [10-ct.+] –$2/1 HUGGIES® Diapers. Excludes 9 ct. or less Kroger Digital Coupon
Huggies Wipes, $4.99 +
–$0.50/1 Huggies Wipes printable[48-ct.+] –$1/2 HUGGIES Wipes
–$1/2 Huggies Wipes printable
-$0.55/1 Huggies Wipes, 03/25 SS (exp 4/21) [48-ct.+] –$0.50/1 Huggies Wipes Kroger Digital Coupon
Luvs Diapers, $5.49
-$1.50/1 Luvs Diapers, exp. 4/14/18 (P&G 04/01/18) [ETS] –$1.50/1 Luvs Diapers Kroger Digital Coupon
Pampers Diapers, $7.99 +
–$4/1 PAMPERS SWADDLERS, CRUISERS OR BABY DRY Diapers, any variety and size. Excludes trial and travel size. Kroger Digital Coupon
–$1.50/1 Pampers Baby Dry Diapers printable[ETS] –$1.50/1 Pampers Swaddlers Diapers printable[ETS] -$3 off Pampers Diapers or Easy Ups Training Underwear, 04/01/18 P&G (exp 4/14/18) [(2) bags or (1) box; ETS] –$2/2 Pampers Diapers printable
–$1/1 Pampers Swaddlers Diapers printable
–$1/1 Pampers Cruisers printable
–$1/1 Pampers Easy Ups printable
Plum Organics Puffs $1.99
Plum Organics Snack Bars or Teethers $2
Pull-Ups Training Pants or GoodNites Underwear, $17.99
–$2/1 Pull-Ups Training Pants or Goodnites Nighttime Pants or Bed Mats printable [Excludes 7-ct. and less] -$2/1 Pull-Ups Training Pants, 03/25 SS (exp 4/21) [7-ct.+] –$2/1 Pull-Ups Night Time Training Pants printable
–$2/1 Pull-Ups Training Pants printable
Similac Formula, $25.99+
---
DAIRY/REFRIGERATED
Buitoni Pasta or Sauce, $2.49
Chobani Greek Yogurt 32 oz, $3.99
–$0.50/1 Chobani Greek Yogurt, Flip, Drink, or Smooth printable
Daisy Sour Cream or Cottage Cheese, $2.29
Dannon Greek Yogurt, Select Varieties, 4 pk, 5.3 oz, $2.99
–$1/1 Activia® Item
-$1/1 Select Dannon Products, 03/18 SS (exp 4/28) [(1) Oikos Quart, 8-ct. Activia Dailies Probiotic Drinks, or 12-ct. Activia; (2) Oikos, Activia, 4-ct. Regular or Greek; (5) Oikos Single Serve Cups or Drinks or Activia Single Serve Drinks] –$1/1 4-Pack of Activia® Lactose Free Yogurt
Frigo Cheese Heads String Cheese, $2.99
-$1/2 Frigo Cheese Heads String Cheese, exp. 5/15/18 (SS 04/08/18 #2) [12-ct.+]
Gold Peak Tea 52 oz, $1.49
Kroger Cheese, Select Varieties, 32 oz, $4.99
Kraft Natural Cheese, Shredded, Chunk or String, 6.67 to 8 oz, $1.99 +
Kroger Orange Juice, Select Varieties, Gallon, $2.29 +
Laughing Cow Cheese Wedges, $1.99
Minute Maid Fruit Drinks or Ades, $0.99 –  $1.49
–$0.75/2 Minute Maid Fruit Drinks and Lemonades (59 oz). Kroger Digital
Philadelphia Cream Cheese, Select Varieties, 2 pk, 8 oz Bars, $2.99
–$1/1 Philadelphia Cream Cheese (2PK). Kroger Digital
Sargento Balanced Breaks, $2.49
Smart Balance Spread, $1.99
-$0.75/1 Smart Balance Product, 03/25 SS (exp 6/30)
STOK Ice Coffee, $3.99
The Laughing Cow Cheese Wedges, $2.49
Tillamook Cheese, Sliced, $2.99
Turkey Hill Tea gal, $0.99
---
DELI
Fresh Foods Market Roasted Chicken, Savory, 2 lb, In the Deli, $4.49
---
FROZEN
Armour Meatballs, $2.19
Bertolli Frozen Meals, Select Varieties, 22 to 24 oz, $5.79
Birds Eye Vegetables, Frozen, Select Varieties, 9.5 to 14.4 oz, $1.79 +
Blue Bunny Ice Cream, $2.99
-$1/1 Blue Bunny Bunny Snacks, Mini Swirls or Load'd Sundaes Cups, 04/08/18 SS (exp 5/31/18) [Limit 2 identical coupons per shopping trip; MQ with Publix logo] –$0.75/1 Blue Bunny Ice Cream Printable
–$2/2 Blue Bunny Mini Swirls (Ibotta Deposit) [Any Variety, Any Size] –$2/2 Blue Bunny Snacks (Ibotta Deposit) [Any Variety, Any Size]
Cooked Perfect Meatballs, $1.99
–$1.50/1 Cooked Perfect Meatballs
–$1/1 Cooked Perfect Bag printable
-$1/1 Cooked Perfect Meatballs, 01/28 SS (exp 4/23)
-$1/1 CookedPerfect Fresh Fully Cooked Meatballs, 02/11 SS (exp 6/30)
-$1.50/2 Cooked Perfect Meatballs, 01/28 SS (exp 4/23)
Cooked Perfect Fire Grilled Chicken $7.99
–$1.50/1 Cooked Perfect Fire Grilled Chicken printable
Dr Praeger's Snacks, $2.49
–$1/1 Dr. Praeger's Veggie Burgers, Cakes, Littles, Hash Browns, Puffs, Seafood or Bowls (Savings.com)
–$1/1 Dr. Praeger's Veggie Burgers, Cakes, Littles, Hash Browns, Puffs, Seafood or Bowls printable
–$1/1 Dr. Praeger's Purely Sensible Foods printable
Edy's Ice Cream, 48 fl oz, Select Varieties, $2.49
Eggo Waffles, Select Varieties, 24 ct, $3.99
–1% off Select Kellogg's Products (SavingStar Deposit) [Includes All-Bran, Apple Jacks, Austin, Carr's, Cheez-It, Chips Deluxe, Club, Corn Pops, Cracklin' Oat Bran, Crispix, Crunchmania, E.L. Fudge, Eggo, Famous Amos, Froot Loops, Frosted Mini-Wheats, Fudge Shoppe, Gripz, Honey Smacks, Keebler, Keebler Animals, Keebler Cones, Keebler Grahams, Keebler Vanilla Wafers, Kellogg's Corn Flakes, Kellogg's Corn Flakes Crumbs, Kellogg's Frosted Flakes, Kellogg's Fruity Snacks, Kellogg's Raisin Bran, Krave, Krispy, Moe's, MorningStar Farms, Mother's, Mueslix, Murray, Murray Sugar Free, Nutri-Grain, Pop-Tarts, Pringles, Ready Crust, Rice Krispies, Rice Krispies Treats, Sandies, Simply Made, Smart Start, Special K, Toasteds, Town House, Vienna Fingers, Zesta] –$1/1 Special K cereal, Eggo or Keebler cookies (Checkout 51 Deposit) [Join KFR and unlock this offer.] –$1/1 Kellogg's Eggo Frozen Product printable [Need 850 rewards points]
Frontera Skillet, $6.99
–$2/1 Frontera Frozen Gourmet Mexican Skillets printable
–$2/1 Frontera Frozen Gourmet Mexican Skillets printable
Freschetta Pizza, Select Varieties, 14 to 30.88 oz, $3.99 – $4.49
Gorton's Seafood, $3.99
–$1/2 Gorton's Products printable
Gorton's Simply Baked Seafood, $5.99
–$1/2 Gorton's Products printable
Graeter;s Ice Cream, $3.49
Green Giant Veggie Tots, $3.29
–$1/1 Green Giant Veggie Tots, Riced Veggies, Mashed Cauliflower, Roasted Veggies, or Veggie Spirals printable
-$1/2 Green Giant Veggie Tots, Riced Veggies, Mashed Cauliflower or Veggie Spirals, 03/18 SS (exp 5/13)
–$1/1 Green Giant Product printable
Haagen-Dazs Ice Cream, 14 fl oz, or Novelties, Select Varieties, $3.49
InnovAsian Entree, $4.99
-$2.50/2 InnovAsian Cuisine Items, 03/18 SS (exp 4/30)
-$1.50/1 InnovAsian Cuisine Item, 03/18 SS (exp 4/30)
Jimmy Dean Breakfast Sandwiches, Select Varieties, 4 to 10 ct, $4.49
-$0.55/1 Jimmy Dean Breakfast Product, 03/18 RP (exp 4/15)
Jose Ole Taquitos or Snacks, $3.99
Magnum, 14.9 fl oz, Select Varieties, $3.49
Michael Angelo's Meal, $5.49
Newman's Own Frozen Pizza, Select Varieties, 14 to 30.88 oz, $3.99+
–$1/1 Newman's Own Thin & Crispy Pizza printable
–$1/1 Newman's Own Thin & Crispy Pizza, any size. Kroger Digital
Outshine Fruit Bars, 4 to 12 ct, Select Varieties, $2.49
PF Chang's Frozen Meals, Select Varieties, 22 to 24 oz, $5.49
Private Selection Potstickers, $3.49
Private Selection Shrimp Toast, $3.49
Private Selection Tempura Shrimp, $6.49
Pictsweet Vegetables, $1.49
Screamin' Sicilian or Urban Pie Pizza, $4.99
–$1/1 Screamin' Sicilian Premium Frozen Product printable[Sign Up]
Special K or Eggo Handheld Sandwiches
–1% off Select Kellogg's Products (SavingStar Deposit) [Includes All-Bran, Apple Jacks, Austin, Carr's, Cheez-It, Chips Deluxe, Club, Corn Pops, Cracklin' Oat Bran, Crispix, Crunchmania, E.L. Fudge, Eggo, Famous Amos, Froot Loops, Frosted Mini-Wheats, Fudge Shoppe, Gripz, Honey Smacks, Keebler, Keebler Animals, Keebler Cones, Keebler Grahams, Keebler Vanilla Wafers, Kellogg's Corn Flakes, Kellogg's Corn Flakes Crumbs, Kellogg's Frosted Flakes, Kellogg's Fruity Snacks, Kellogg's Raisin Bran, Krave, Krispy, Moe's, MorningStar Farms, Mother's, Mueslix, Murray, Murray Sugar Free, Nutri-Grain, Pop-Tarts, Pringles, Ready Crust, Rice Krispies, Rice Krispies Treats, Sandies, Simply Made, Smart Start, Special K, Toasteds, Town House, Vienna Fingers, Zesta] –$1/1 Special K cereal, Eggo or Keebler cookies (Checkout 51 Deposit) [Join KFR and unlock this offer.] –$1/1 Kellogg's Eggo Frozen Product printable [Need 850 rewards points]
Stouffer's Family Size Entree, $5.99
Sweet Habit Ice Cream, $4.49
Talenti, 16 fl oz, Select Varieties, $3.49
Tennessee Pride Breakfast Sandwiches
Tennessee Pride Sausage Patties 30 ct, $6.99
Tillamook Ice Cream
Tombstone Pizza
Turkey Hill All Natural Ice Cream, $3.49
–$1.50/1 Turkey Hill Ice Cream printable
United Dairy Farmers Brand Ice Cream
Weight Watchers Novelties, $2.99
---
GROCERY
A&W, Sunkist, Squirt, Canada Dry 6 pk cans, $2
Arnold Wide Pan or Oroweat, Select Varieties, 24 oz, $2.49
Aunt Jemima Pancake Mix, 32oz, $1.89
Aunt Jemima Pancake Syrup, 24oz, $1.99
Bai, 6ct, $5.49 – $8.99
Bertolli Pasta Sauce, Select Varieties, 15 to 24 oz, $1.88 +
-$1/2 Bertolli Sauces, 03/25 SS (exp 4/21) [15-oz.+]
Betty Crocker Cookie Icing, 7oz, $1.99
Body Armor Sports Drink, 16oz, $0.75
–$0.50/1 Bodyarmor Product printable
California Olive Oil, 16.9oz, $7.25
Capri Sun 100% Juice or Organic, 10ct, $2.99
Cheez-It Crackers, Select Varieties, 9 to 12.4 oz, $1.99
–$1/1 Sunshine Cheezit printable [Need 850 rewards points] –1% off Select Kellogg's Products (SavingStar Deposit) [Includes All-Bran, Apple Jacks, Austin, Carr's, Cheez-It, Chips Deluxe, Club, Corn Pops, Cracklin' Oat Bran, Crispix, Crunchmania, E.L. Fudge, Eggo, Famous Amos, Froot Loops, Frosted Mini-Wheats, Fudge Shoppe, Gripz, Honey Smacks, Keebler, Keebler Animals, Keebler Cones, Keebler Grahams, Keebler Vanilla Wafers, Kellogg's Corn Flakes, Kellogg's Corn Flakes Crumbs, Kellogg's Frosted Flakes, Kellogg's Fruity Snacks, Kellogg's Raisin Bran, Krave, Krispy, Moe's, MorningStar Farms, Mother's, Mueslix, Murray, Murray Sugar Free, Nutri-Grain, Pop-Tarts, Pringles, Ready Crust, Rice Krispies, Rice Krispies Treats, Sandies, Simply Made, Smart Start, Special K, Toasteds, Town House, Vienna Fingers, Zesta] -$0.70/2 Cheez-It Brand Snack Crackers, 03/11 RP (exp 4/22) [7-oz.+; Limit 4
Chock full o'Nuts, 26oz, $6.79
-$1/1 Chock Full O' Nuts Package, 04/08 SS (exp 5/27)
Chips Ahoy Cookies, 6.98 to 13 oz, or Keebler Cookies, 6 to 15 oz, Select Varieties, $1.49
–$1/1 Keebler Cookies printable [Need 850 rewards points] –1% off Select Kellogg's Products (SavingStar Deposit) [Includes All-Bran, Apple Jacks, Austin, Carr's, Cheez-It, Chips Deluxe, Club, Corn Pops, Cracklin' Oat Bran, Crispix, Crunchmania, E.L. Fudge, Eggo, Famous Amos, Froot Loops, Frosted Mini-Wheats, Fudge Shoppe, Gripz, Honey Smacks, Keebler, Keebler Animals, Keebler Cones, Keebler Grahams, Keebler Vanilla Wafers, Kellogg's Corn Flakes, Kellogg's Corn Flakes Crumbs, Kellogg's Frosted Flakes, Kellogg's Fruity Snacks, Kellogg's Raisin Bran, Krave, Krispy, Moe's, MorningStar Farms, Mother's, Mueslix, Murray, Murray Sugar Free, Nutri-Grain, Pop-Tarts, Pringles, Ready Crust, Rice Krispies, Rice Krispies Treats, Sandies, Simply Made, Smart Start, Special K, Toasteds, Town House, Vienna Fingers, Zesta]
Classico Riserva Pasta Sauce, select varieties, 15- 24oz, $3.99
Coca-Cola or 7UP, Select Varieties, 6 pk, 16.9 fl oz Bottles, $1.99
Cracker Barrel Macaroni & Cheese Box, $2.49
Dasani Pure Water, 24 pk, 16.9 fl oz Bottles, or Snapple Tea, 6 pk, 6 pk, 16 to 18.5 fl oz Bottles, or Perrier, 6 pk, 16.9 fl oz Bottles, Select Varieties, $3.99
Dinty Moore Beef Stew, 20oz, $1.39 +
–$1/2 Dinty Moore Products printable
-$1/2 Hormel Compleats Product, 03/11 SS (exp 5/7) [Includes Dinty Moore Trays, Compleats XL and Sandwich Makers]
Donut Shop Coffee K-Cups, select varieties, 10-12ct, $6.49
-$1/1 The Original Donut Shop Coffee K-Cup Pods, 03/11 SS (exp 5/11) [10ct+ box]
Doritos, 9.25 to 11.25 oz, or Ruffles Potato Chips, 8.5 to 9 oz, Select Varieties, $1.77
Dunkin' Donuts Coffee Bag, $4.24 – $5.99
Dunkin' Donuts Coffee K-cups, $5.74 – $6.99
Entenmann's Donuts, select varieties, $2.49
–$0.50/1 Entenmann's Minis printable
Emeril's Pasta Sauce, 25oz, $1.59
Evian Water, 6ct, $8.99
Frito-Lay Party Size Potato Chips, Select Varieties, 13 to 18 oz, $2.99
Folgers Ground Coffee, $6.87+
–$1/1 Folgers ground coffee (22.6 oz or larger). Kroger Digital
Folgers Instant Coffee, 8oz, $5.47 +
Folgers K-Cups, 12ct, $5.37+
–$1/1 Folgers K-Cup Pods (Checkout 51 Deposit)
Frank's Red Hot Sauce, 23oz, $3.49 – $4.19
Gloria Jean's Coffee K-Cups, 12ct, $6.49
Golding Farms Honey, $5.49
Grain Berry Cereal, $2.49
Green Mountain Coffee, 10 to 12 oz Bag, or K-Cups, 10 to 12 ct, or Gevalia Coffee, 10 to 12 oz Bag, or K-Cups, 6 to 12 ct, Select Varieties, $4.99 +
–$1.50/1 Green Mountain Coffee Roasters Origins K-Cup Pods Kroger Digital
-$1.50/1 Green Mountain Coffee Roasters, 03/25 SS (exp 5/31) [10-oz. or 12-oz. bagged coffee or 10-ct.+ k-cup pods] –$1.20/1 Gevalia Coffee Pods Ibotta Deposit 
–$1.20/1 Gevalia Coffee Grounds Ibotta Deposit 
Hills Bros. Cappuccino, 16oz, $2.49 +
Hormel Chili, No Bean, $1.49
–$0.55/2 Hormel Chili Products printable
Jel-Sert Drink Sticks To Go
Kauai Coffee K-Cups, 12ct, $5.99
-$1/1 Kauai Coffee, exp. 4/30/18 (SS 03/04/18 #2 R)
Keebler Cookies, $1.49
–$1/1 Keebler Cookies printable [Need 850 rewards points] –$1/1 Special K cereal, Eggo or Keebler cookies (Checkout 51 Deposit) [Join KFR and unlock this offer.]
Kellogg's Special K Bars, $1.49
–$1/1 Kellogg's Nutri-Grain Bars, Special K Bars or Rice Krispies Treats Crispy Marshmallow Squares printable [5-ct.+, Any Flavor; Need 850 rewards points]
Ken's Salad Dressing, Select Varieties, 16 fl oz, $1.88 +
-$0.75/1 Ken's Dressing (SS 03/18/18 R) [9-oz.] -$0.75/1 Ken's Dressing, 03/18 SS (exp 4/15) [16-oz.+] -$1/1 Ken's Simply Vinaigrette, 03/18 SS (exp 4/15)
–$0.75/1 Ken's Simply Vinaigrette printable [16-oz.] -$0.75/1 Ken's Dressing, 03/18 SS (exp 4/15) [9-oz.+] -$1/2 Ken's Dressing, 03/18 SS (exp 4/15) [16-oz.+]
King Arthur Flour, 5lbs, $2.49
-$3/$15 King Arthur Products (SavingStar Deposit)
Kool-Aid, Country Time or Tang Drink Mix, Select Varieties, 6 to 8 qts, $0.99
-$1/2 Kool-Aid Liquid Or Powder Drink Mixes, Any (Excluding Envelopes; No Cash Back), 04/22 SS (exp 6/03)
Kraft Easy Mac, Velveeta or Deluxe Mac & Cheese 4 pk cups, $2.99
Kroger Applesauce 12 ct pouches, $4.29
Laughing Man Coffee K-Cups, 10ct, $7.49
Malt-O-Meal Cereal, 17 to 23.5 oz, Select Varieties, $1.79
–$0.75/2 Malt-O-Meal® products Kroger Digital
–$0.25/1 Malt O Meal Cereals (Ibotta Deposit) [Any variety; 18-oz.+ bag] {5x per receipt]
Mariani Cherries, 5oz, $2.89
Mariani Mango, 4oz, $3.49
McCafe Coffee, Bag or K-cups, $5.99
–$1/1 McCafe Ground Coffee and Premium Roast Coffee K-Cup Pod (SavingStar Deposit)
–$1/1 McCafe Ground Coffee or Premium Roast Coffee K-Cup Pods (Checkout 51 Deposit) [Any variety; Cannot use this offer with any other print or in-app coupon or rebate.]
Morton Iodized Salt, $1.09
Morton Sea Salt, 17.6 – 26oz, $1.09 – $1.49
Morton Kosher Salt, 48oz, $0.89 – $1.29
Nabisco Belvita Breakfast Cookies, $1.79
Nabisco Snack Crackers, Select Varieties, 3.5 to 9.1 oz, $1.39 +
–$1/2 Nabisco RITZ Crisp & Thins (Checkout 51 Deposit) [Any variety. Items must appear on the same receipt; Cannot use this offer with any other print or in-app coupon or rebate.] -$0.75/2 Ritz Crackers, exp. 5/19/18 (SS 04/08/18 #2) [7-oz.+]
Nature's Own Bread, $1.49
Nestle Toll House Semi-Sweet Morsels, 24oz, $3.99
Ocean Spray Juice or Cocktail or Cocktails, Select Varieties, 46 fl oz, $1.99
Orville Redenbacher's Popcorn, 6ct, $1.99
Orville Redenbacher's Single Serve Popcorn, 12ct, $2.49
Peet's Coffee, Bag or K-cups, $7.99
-$2/1 Peet's Coffee K-Cup Pack or Bag, exp. 4/28/18 (RMN 03/25/18 R) [cups: 10-ct., 16-ct., or 32-ct.; Bag: 10-oz, 12-oz or 20-oz.]
San Pellegrino Water, 6ct, $3.99
Pepperidge Farm Cookies, Select Varieties, 5 to 14.1 oz, $1.99
Pepperidge Farm Goldfish, Select Varieties, 6 to 8 oz, $0.99
Pepperidge Farm Bread, Select Varieties, 24 oz, $2.49
Perrier, 6 pk, 16.9 fl oz Bottles, Select Varieties, $3.99
Pompeian Olive Oil, Select Varieties, 16 fl oz, $3.99
–$0.55/1 Pompeian Extra Virgin Olive Oil printable
Post Cereal, 11 to 14.75 oz, Select Varieties, $1.79
–$1/2 Post Honey Bunches of Oats Cereal printable
–$0.50/1 Post Oreo O's Cereal or Honey Maid S'mores Cereal printable
–$1/2 Post Great Grains Cereal printable
–$1/2 Post Pebbles Cereal printable
–$0.55/1 Fruity Pebbles (Ibotta Deposit) [Any variety; Any size] –$0.15/1 Honey Bunches of Oats (Ibotta Deposit) [Any variety; Any size] –$0.25/1 Orep O's Cereal (Ibotta Deposit) [11oz box or larger][5x per receipt] –$0.25/1 Honey Maid S'mores Cereal (Ibotta Deposit) [12.25oz box or larger][5x per receipt]
Powerade, Select Varieties, 8 pk, 20 fl oz, $2.99
Private Selection Summer Sausage or Snack Bites, $3.99
Pringles Snack Stacks, $6.99
Quaker Instant Oatmeal, 8ct, $2.49
Rao's Pasta Sauce, 24oz, $5.99
Red Bull, 12ct, $17.99
Revv Coffee K-Cups, 10ct, $6.49
Ruffles Potato Chips, 8.5 to 9 oz, Select Varieties, $1.77
Ruffles Potato Chips, 13 – 13.5oz, Select Varieties, $2.99
San Pelegrino Water, Multipack, $3.99
Santa Cruz Juice, 32oz, $0.24 – $1.29
Simple Truth Organic Chocolate Bars
Skippy Peanut Butter, Select Varieties, 15 to 16.3 oz, $1.39 +
–$0.55/2 Skippy Products printable
Snapple Tea, 6 pk, 6 pk, 16 to 18.5 fl oz Bottles, Select Varieties, $3.99
Snyder's of Hanover Crackers, $1.99
Spice Islands Spices, select varieties, $2.99 +
-$1.25/1 Spice Islands Spice or Seasoning, 03/18 SS (exp 6/30)
Sunbelt Bakery Chewy Granola Bars, $1.49
Thomas' English Muffins, Select Varieties, 6 ct, $1.99
Tostitos Chips, $2.99
Tostitos Salsa or Salsa Con Queso, 24oz, $2.99
Treetop Apple Juice or Juice Blend, $1.49
True Citrus Drink Mix, 10ct, $1.49
Tully's Coffee K-Cups, 12ct, $6.49
-$1.50/1 Tully's Coffee or K-Cup Pods, 03/25 SS (exp 5/31) [12-oz. bagged coffee or 12-ct.+ k-cup pods]
V8 100% Vegetable Juice, 46oz, $1.99
Valley Fresh Canned Chicken Breast, 10oz, $1.79
-$1/2 Valley Fresh Products, 03/11 SS (exp 5/7)
Velveeta Mini Blocks, $4.99
Velveeta Skillets, $1.49
Voortman Cookies, Select Varieties, 5 to 14.1 oz, $1.99
Wish-Bone Salad Dressing, 15oz, $1.49
Zone Perfect Bars, 5ct, $3.19
–$2.50/2 Zone Perfect Multi-packs printable(sign-up)
–$1/1 Zone Perfect Multi-pack (Ibotta Deposit) [Any variety; 5ct or larger]
---
HEALTH & BEAUTY CARE
Advil Pain Reliever, Tablets or Liquid Gels, $12.99 +
–$1/1 Advil Liqui-Gels Product printable [ETS] -$3/1 Advil, exp. 4/15/18 (RMN 04/08/18) [160-ct.+] -$3/1 Advil PM, exp. 4/15/18 (RMN 04/08/18) [80-ct.+] –$1/1 Advil Product printable [ETS] –$3/1 Advil Film-Coated Product printable [80-ct.+] –$1/1 Advil or Advil Migraine Product printable [20-ct.+] –$2/1 Advil Liqui-Gels Minis Product printable [ETS] –$3/1 Advil Film-Coated Product printable [80-ct.+] -$1/1 Advil or PM, exp. 5/8/18 (RMN 04/08/18) [40-ct.+ regular or 20-ct.+ pm]
Always Underwear, Pads or Liners, $5.99 +
-$3/2 Always Radiant or Infinity Pads, exp. 4/14/18 (P&G 04/01/18) [11-ct.+; Excludes Always Discreet] -$0.50/1 Always Pads, exp. 4/14/18 (P&G 04/01/18) [11-ct.+; Excludes Always Discreet] -$0.50/1 Always Liners or Always Wipes, exp. 4/14/18 (P&G 04/01/18) [30-ct.+ liners; 20-ct.+ wipes; Excludes Always Discreet]
Aussie Shampoo, Conditioner or Styler, is $1.99
-$2/2 Aussie Shampoo, Conditioner or Styling Products, exp. 4/21/18 (RMN 04/08/18) [ETS] -$3/3 Aussie Shampoo, Conditioner or Styling Products, exp. 4/21/18 (RMN 04/08/18) [ETS] –$1/1 Aussie Miracle Curls Shampoo (Ibotta Deposit) [Shampoo variety; 12.1-oz. bottle only] –$1/1 Aussie Miracle Curls Conditioner (Ibotta Deposit) [Conditioner variety; 12.1-oz. bottle only] –$1/1 Aussie Miracle Curls Hair Treatment (Ibotta Deposit) [Select varieties; See offer details] –$3/3 Aussie Shampoo, Conditioner OR Styling Products. Excludes trial/travel size Kroger Digital coupon
Aveeno Body Wash, $4.99
–$2/1 Aveeno Product printable
–$1/1 Aveeno Product printable
Aveeno Hair Care, $4.99
–$2/1 Aveeno Product printable
–$1/1 Aveeno Product printable
Aveno Anti-Itch Cream, $3.79
–$1/1 Aveeno Product printable
Aveeno Shave Gel, $2.49
–$2/1 Aveeno Product printable
–$1/1 Aveeno Product printable
Axe Body Wash, $5.99
–$0.50/1 Axe Body Wash Product printable[Excludes twin packs, trial and travel size]
Band-Aid Bandages, $1.99 +
–$0.50/1 Band-Aid Brand Adhesive Bandages Product printable [ETS]
Band-Aid First Aid Antiseptic, $2.49
Bengay, $5.99
–$1/1 Bengay Product printable
–$1/1 Bengay Product printable
-$1/1 Bengay Product, exp. 5/5/18 (SS 04/08/18 #2) [Limit one coupon per person; Excludes trail/travel sizes]
BIC Razors, $4.49 +
–$2/1 BIC Soleil, BIC Flex or BIC Hybrid 3 Comfort razors disposable razor pack (excludes trial and travel sizes)
-$2/1 Bic Razor Pack, 03/25 SS (exp 4/8) [ETS] -$4/1 Bic Soleil Balance, Soleil Bella Click, or Flex 3 Hybrid Razor Pack, 03/25 SS (exp 4/8) [ETS]
Carefree Liners, $0.97 – $1.99
–$1/1 Carefree Product (excludes 18, 20 and 22 ct.)
–$0.50/1 Carefree Product printable
Claritin 24-Hour Allergy Medicine, $17.99
–$2/1 Non-Drowsy Claritin® RediTabs® for Juniors (10 count or larger)
–$6/1 Non-Drowsy Claritin® Allergy Product (45ct or larger)
–$4/1 Non-Drowsy Children's Claritin® Chewables (20 count or larger)
–$3/1 Non-Drowsy Children's Claritin® Syrup (4oz or larger)
-$6/1 Claritin, exp. 4/15/18 (SS 04/08/18 #2) [30-ct.+] -$4/1 Claritin-D, exp. 5/6/18 (SS 04/08/18 #2) [15-ct.+] -$6/1 Claritin-D, exp. 4/15/18 (SS 04/08/18 #2) [15-ct.+] -$4/1 Claritin, exp. 5/6/18 (SS 04/08/18 #2) [30-ct.+] -$2/1 Claritin Children's or Reditabs for Juniors, exp. 5/6/18 (SS 04/08/18 #2) [4-oz. or 10-ct.+ children's; 10-ct.+ juniors] -$2/1 Claritin Children's or Reditabs for Juniors, 03/18 SS (exp 4/15) [4-oz. or 20-ct.+ children's; 10-ct.+ junior] –$2/1 Non-Drowsy Claritin-D Allergy Product printable [10-ct.+] –$12/1 Claritin printable [70-ct.] –$10 Rebate  wyb 2 Claritin Tablets, or Claritin Liqui-Gels, or Claritin RediTabs printable (exp. 5/31/18) [70-ct.+ Tablets, 30-ct.+ Liqui-Gels, 30-ct. RediTabs] –$2/1 Claritin RediTab 24-Hour Tablets printable
-$4/1 Claritin Children's or Reditabs for Juniors, exp. 4/15/18 (SS 04/08/18 #2) [8-oz.+ or 20-ct.+ children's; 30-ct.+ juniors] -$10/1 Claritin, exp. 4/15/18 (SS 04/08/18 #2) [70-ct.+] –$10 Rebate wyb 2 Children's Claritin Syrup, or Chewables, or Claritin RediTabs for Juniors printable (exp. 5/31/18) [8-oz. Children's Syrup, 30-ct. Chewables, 30-ct. RediTabs For Juniors] -$4/1 Claritin Non-Drowsy or Liqui-Gels, 03/18 SS (exp 4/15) [30-ct.+] -$4/1 Claritin-D, 03/18 SS (exp 4/15) [15-ct.+] –$5/1 Claritin® product, 30ct or 8oz or larger, any variety
Clairol Color Crave, $8.99
–$1/1 Clairol Color Crave or Specialty Blonding Collection
–$1/1 Clairol Color Crave or Specialty Blonding Collection, any size. Kroger Digital
-$1/1 Clairol Color Crave or Specialty Blonding Collection, 04/15 SS (exp 4/28) [ETS]
Clear Care Plus or Opti-Free Contact Lens Solution, $8.99 (2 pk, $15.99)
–$2/1 Clear Care Solution printable [10-oz.+] –$1/1 Opti-Free Rewetting Drops printable [10-ml.+] –$2/1 Opti-Free Contact Lens Solution printable [Sign Up for Eye File] –$2/1 Opti-Free Solution printable [10-oz.+] –$2/1 Opti-Free Solution printable [10-ml.+]
Colgate Toothpaste or Mouthwash, $1.99 +
–$0.50/1 Colgate Kids Mouthwash printable
–$1/1 Colgate Total Advanced Health Mouthwash printable
–$0.75/1 Colgate Total Advanced Toothpaste printable [3.0-oz.+] –$0.50/1 Colgate Kids Toothpaste printable [3-oz.+] –$0.50/1 Colgate Kids Manual Toothbrush printable
–$0.75/1 Colgate Mouthwash or Mouth Rinse printable
–$1/1 Colgate Optic White Toothpaste (SavingStar Deposit)
-$0.50/1 Colgate Toothpaste, 04/08 SS (exp 4/21) [3-oz.+] –$0.50/1 Colgate®Toothpaste, any variety (3.0 oz or larger) Kroger Digital Coupon
–$1/1 Colgate Radiant White Toothpaste printable
–$0.75/1 Colgate Enamel Health Toothpaste printable [3-oz.+] –$0.75/1 Colgate Sensitive Toothpaste printable
Crest 3D White Toothpaste 3.5 oz, $1.99 +
-$1/1 Crest Mouthwash, exp. 4/14/18 (P&G 04/01/18) [16-oz.+; ETS] –$0.50/1 Crest Pro-Health Stages or Crest Kid's Toothpaste printable [4.2-oz.+] –$0.50/1 Crest Kids, Oral-B Kids, Oral-B Pro-Health Jr, or Oral-B Pro-Health Stages Manual Toothbrush printable
-$1/1 Crest Toothpaste, Liquid Gel or Kids Toothpaste, exp. 4/14/18 (P&G 04/01/18) [3-oz.+; Excludes Crest Cavity, Baking Soda, Tartar Control/Protection, Doc McStuffins, Cars, Princesses 4.6-oz. and trial/travel size] –$2/1 Crest toothpaste, Complete, Pro Health, or 3DWhite (3.5 oz or larger). Excludes trial size Kroger Digital Coupon
Crest Toothpaste or Mouthwash $1.49 +
-$1/1 Crest Mouthwash, exp. 4/14/18 (P&G 04/01/18) [16-oz.+; ETS] –$0.50/1 Crest Pro-Health Stages or Crest Kid's Toothpaste printable [4.2-oz.+] –$0.50/1 Crest Kids, Oral-B Kids, Oral-B Pro-Health Jr, or Oral-B Pro-Health Stages Manual Toothbrush printable
-$1/1 Crest Toothpaste, Liquid Gel or Kids Toothpaste, exp. 4/14/18 (P&G 04/01/18) [3-oz.+; Excludes Crest Cavity, Baking Soda, Tartar Control/Protection, Doc McStuffins, Cars, Princesses 4.6-oz. and trial/travel size] –$2/1 Crest toothpaste, Complete, Pro Health, or 3DWhite (3.5 oz or larger). Excludes trial size Kroger Digital Coupon
Dial Body Wash or Bar Soap, $2.99 +
-$1/2 Dial Complete 2 in 1 Bar Soap, Foaming Hand Wash, Had Soap Refills or Bar Soap, exp. 4/29/18 (RMN 04/08/18) [3-ct.+] -$1/1 Dial or Tone Body Wash or Bar Soap, exp. 4/29/18 (RMN 04/08/18) [6-ct.+; ETS]
Dove Body Wash, $4.99 +
-$1/1 Dove Men+Care Foaming Body Wash, exp. 4/21/18 (RMN 04/08/18 #2) [13.5-oz.+; ETS] -$1/1 Dove Shower Foam Product, exp. 4/22/18 (RMN 04/08/18 #2) [13.5-oz.+; ETS]
Gillette Razors, $5.99 +
-$2/1 Gillette Razor, exp. 4/28/18 (P&G 04/01/18) [Excludes Gillette3, Gillette5 and Disposables] -$3/1 Venus Razor, exp. 4/28/18 (P&G 04/01/18) [Excludes Disposables] –$3/1 Venus Razor. Excludes disposables Kroger Digital Coupon
–$3/1 Gillette or Venus/Daisy Disposable (2ct or larger). Excludes Sensor2 2ct, and Daisy 2ct. Kroger Digital Coupon
Gillette Shave Gel, $1.49 +
-$1/1 Gillette, Venus or Satin Care Shave Gel, exp. 4/28/18 (P&G 04/01/18) [5.9-oz.+ gel; Excludes Foamy] –$1/1 Gillette, Venus OR Satin Care Shave Gel (5.9 oz or larger). Excludes Foamy Kroger Digital Coupon
Gold Bond Rough & Bumpy Skin, $8.99
–$1/1 Gold Bond Product printable
Göt2B Hair Styler or Hair Spray, $3.99
-$2/1 Got2B Product, exp. 4/29/18 (RMN 04/08/18) [ETS]
Head & Shoulders Shampoo or Conditioner, $4.79
-$4/2 Head & Shoulders Products or Clinical Solutions, exp. 4/14/18 (P&G 04/01/18) [12.8-oz.+ Head & Shoulders; ETS] -FREE Prepaid $15 Gift Card by Mail wyb $50 of select P&G Beauty Products, exp. 4/30/18 (P&G Spring 2018 Beauty Rebate)
Herbal Essences or Aussie Shampoo or Conditioner, 10.1 to 13.5 fl oz, or Styler, 5.7 to 14.1 fl oz, Select Varieties, $1.99 – $4.99
-$2/2 Herbal Essences Shampoo, Conditioner or Styling Products, exp. 4/21/18 (RMN 04/08/18) [Excludes bio:renew] -$3/3 Herbal Essences Shampoo, Conditioner or Styling Products, exp. 4/21/18 (RMN 04/08/18) [Excludes bio:renew] -$2/2 Aussie Shampoo, Conditioner or Styling Products, exp. 4/21/18 (RMN 04/08/18) [ETS] -$3/3 Aussie Shampoo, Conditioner or Styling Products, exp. 4/21/18 (RMN 04/08/18) [ETS]
Irish Spring Bar Soap or Gear Body Wash, $2.99
–$1/1 Irish Spring Body Wash printable [ETS] -$1/1 Irish Spring Body Wash, 04/08 SS (exp 4/21) [Excludes 2.5-oz.] -$0.50/1 Irish Spring Multi-Bar Soap Packs, 04/08 SS (exp 4/21) [6-ct.+] –$1/1 Irish Spring® Body Wash. Excludes Trial or Travel size Kroger Digital Coupon
Kotex Pads, Tampons or Liner, $0.79  +
-$3/2 Kotex U Tampons or Security Tampons, 04/22 SS (exp 5/19) [ETS] -$3/2 Kotex U Fitness Products, 04/22 SS (exp 5/19) [Excludes 14-ct. to 22-ct. liners and trial size] -$3/2 Kotex U Pads or Liners, 04/22 SS (exp 5/19) [Excludes 14-ct. to 22-ct. liners and trial size] –$0.50/1 U by Kotex Products printable
Kroger 24 Allergy Spray $13.47 – $14.49
Kroger Acetaminophen, $2.79
Kroger Aloe Vera, $3.27
Kroger All Day Allergy, $6.29
Kroger Allergy Relief, $6.99
Kroger Aspirin, $5.49
Kroger Cough DM, $6.29
Kroger Day Time & Night Time Severe, $7.19 – $10.59
Kroger Day Time Severe Cold & Flu, $4.39 +
Kroger EZ Night Sleep, $4.99
Kroger Fast Mucus Relief, $5.99
Kroger Gentle Lax, $5.49
Kroger Hand Soap Refill, $2.99
Kroger Heartburn Relief, $4.29
Kroger Ibuprofen, $3.19 +
Kroger Ibuprofen PM, $7.59
Kroger Lansoprazole, $15.99
Kroger Mouth Rinse, $1.99 +
Kroger Naproxen Sodium, $4.49
Kroger Nasal Decongestant, $4.99
Kroger Nasal Spray, $1.99
Kroger Night Time Cold & Flue, $4.39
Kroger Nighttime Sleep Aid, $4.29 +
Kroger Makeup Tools, $1.49 +
Kroger Radiant White Toothpaste, $1.89
Kroger Disposable Razors, $2.69 +
Kroger Tussin CF, $2.49
Kroger Whitening Strips, $15.99 +
L'Oréal Elvive, $2.99 +
-$4/2 L'Oreal Elvive, Hair Expert or Advanced Hairstyle Products, exp. 5/5/18 (RMN 04/08/18 #2) [Excludes 1-oz. and 3-oz. shampoo and conditioner] –$2/1 L'Oreal Paris Elvive Hair Care Shampoo or Conditioner Products printable
L'Oréal Ever Shampoo or Conditioner, $5.99
–$1.60/1 L'Oreal Paris EVER Haircare Shampoo, Conditioner, or Treatment (Ibotta Deposit) [Any variety; Select sizes.]
L'Oréal Hair Spray, $2.99
Neutrogena Hair Care, $3.99 +
Neutrogena Body, $5.49 +
Neutrogena Shave, $3.49 +
Nivea Body Wash, $2.99
-$2/1 Nivea Body Lotion, In-Shower Body Lotion, or Cream Product, 04/08 SS (exp 4/21) [Excludes trial sizes and body wash] -$4/2 Nivea Body Lotion, In-Shower Body Lotion, or Cream Products, 04/08 SS (exp 4/21) [Excludes trial sizes and body wash]
Neosporin, $3.79 +
–$1/1 Neosporin First Aid Product printable
Old Spice Body Wash, $2.99
-$1/1 Old Spice 2-in-1 or Styling Product, exp. 4/14/18 (P&G 04/01/18) [ETS] -$1/1 Old Spice Body Wash or Bar Soap, exp. 4/14/18 (P&G 04/01/18) [ETS]
Old Spice or Secret Deodorant, Select Varieties, 2.6 to 3.25 oz, $1.49 +
-$1/1 Secret, Old Spice or Gillette Antiperspirant/Deodorant, exp. 4/14/18 (P&G 04/01/18) [2.6-oz.+; Excludes Clinical, Freshies and trial/travel size
Old Spice Shampoo, $2.99
-$1/1 Old Spice 2-in-1 or Styling Product, exp. 4/14/18 (P&G 04/01/18) [ETS]
Oral-B Toothbrush or Floss, $1.99 +
–$0.50/1 Crest Kids, Oral-B Kids, Oral-B Pro-Health Jr, or Oral-B Pro-Health Stages Manual Toothbrush printable
-$1/1 Oral-B Adult or Kids Manual Toothbrush, exp. 4/14/18 (P&G 04/01/18) [Excludes Healthy Clean, Cavity Defense and trial/travel size] -$2/1 Oral-B Adult Battery Toothbrush, exp. 4/14/18 (P&G 04/01/18) [ETS] –$2/1 Oral-B Adult Battery Toothbrush. Excludes trial/travel size Kroger Digital Coupon
Pantene Shampoo, Conditioner or Styler, $2.99 +
-$5/3 Pantene Products, exp. 4/14/18 (P&G 04/01/18) [Excludes 6.7-oz., 7.9-oz. Shampoo and Conditioner and trial/travels size] -FREE Prepaid $15 Gift Card by Mail wyb $50 of select P&G Beauty Products, exp. 4/30/18 (P&G Spring 2018 Beauty Rebate)
Pantene 3 Minute Miracle, $2.99
-$1.50/1 Pantene 3 Minute Miracle, Styler or Treatment Product, exp. 4/14/18 (P&G 04/01/18) [ETS]
Pantene Foam Conditioner $4.99
-$4/2 Pantene Micellar Pro-V Blends or Foam Conditioner Products, exp. 4/14/18 (P&G 04/01/18) [ETS] -B1G1 Pantene Foam Conditioner wyb Pantene Shampoo, exp. 4/14/18 (P&G 04/01/18) [20.1-oz.+ shampoo; Up to $5.99]
Playtex Sport Tampons or Gentle Glide, $2.99 +
–$1/1 Playtex Sport or Playtex Gentle Glide Tampons printable
Rogaine Hair Care, $27.99 – $43.99
–$10 MIR Rogaine printable [3-ct. or 4-ct.] –$5/1 Women's or Men's Rogaine Hair Regrowth Treatment Product printable [2-ct.+] –$5/1 Women's or Men's Rogaine Hair Regrowth Treatment Product printable [2-ct.+]
Schick Razors, $8.99 +
–$3/1 Schick Hydro or Schick Quattro Titanium Razor or Refill printable [Excludes Disposables and Women's Razor or Refill] -$3/1 Schick Hydro 5 or Silk Disposable Razor Pack, 03/18 SS (exp 4/9)
-$3/1 Schick Hydro Silk Razor or Refill, 03/18 SS (exp 4/8) [Excludes disposables] -FREE Schick Hydro Razor wyb Hydro Refill, 03/18 SS (exp 4/9) [Up to $12.99; Excludes disposables and women's] -$3/1 Schick Intuition or Quattro for Women, 03/18 SS (exp 4/8) [Excludes disposables] -$4/1 Schick Disposable Razor Pack, exp. 4/29/18 (SS 04/08/18 #2) [Excludes 1ct, slim twin 2-ct. and 6-ct.] -$5/2 Schick Disposable Razors printable [Excludes 1-ct., Slim Twin 2-ct. and 6-ct.] -$3/1 Schick Intuition F.A.B. Razor or Refill, 03/18 SS (exp 4/8)
-$2/1 Schick Cream, 03/18 SS (exp 4/9) [Excludes 2-oz.]
SlimFast Nutritional Shakes, 4-8 pk, $4.99 +
Softsoap Body Wash, $2.29
–$0.75/1 Softsoap Brand Body Wash printable [15-oz.+]
Softsoap Hand Soap, $1.49
$0.50/1 Softsoap Brand Liquid Hand Soap Pump or Refill printable[8-oz.+ bag or 8-ct.+ box]
Softsoap Hand Soap Refill, $3.49
$0.50/1 Softsoap Brand Liquid Hand Soap Pump or Refill printable[8-oz.+ bag or 8-ct.+ box]
Sonicare Toothbrush Replacement Heads
–$5/1 Philips Sonicare Brush Head Multi-pack printable
-$5/1 Philips Sonicare Brush Head Pack or Essence Rechargeable Toothbrush, 03/18 SS (exp 4/25)
Speed Stick Deodorant, $0.99
–$0.50/1 Speed Stick Antiperspirant/Deodorant printable [2.3-oz.+] -$0.50/1 Speed Stick Men's Antiperspirant/Deodorant, 04/08 SS (exp 4/28) [2.7-oz.+] -$0.50/1 Speed Stick Lady Antiperspirant/Deodorant, 04/08 SS (exp 4/28) [2.3-oz.+]
Stayfree Pads, $1.99
–$2/2 Stayfree Product (excludes 10 ct.)
Tampax Tampons, $2.99 +
–$2/1 Playtex Gentle Glide (excludes 4 & 8 ct.) or Sport (14 ct. or larger) Tampons
–$2/2 Tampax Pearl Products printable
-$3/2 Tampax Pearl or Radiant Tampons, exp. 4/14/18 (P&G 04/01/18) [16-ct.+]
Tena Pads, $10.99
–$1/1 Tena Product printable
–$1/1 Tena Product printable
–$2/1 TENA Intimates Pads (SavingStar Deposit)
–$2/1 TENA intimates pads (Checkout 51 Deposit) [Valid on TENA intimates pads products.]
TheraBreath Kids Rinse $4.49
Tone Body Wash, $2.49
-$1/1 Dial or Tone Body Wash or Bar Soap, exp. 4/29/18 (RMN 04/08/18) [6-ct.+; ETS]
TRESemme Shampoo, Conditioner or Hair Spray, $4.99
–$1.50/1 TRESemme Shampoo or Conditioner (Checkout 51 Deposit) [22 oz, any variety. Excludes trial and travel sizes; Any variety; Cannot use this offer with any other print or in-app coupon or rebate.] –$1.50/1 TRESemme MicroMist Hairspray (Checkout 51 Deposit) [Any variety; Cannot use this offer with any other print or in-app coupon or rebate.]
Zantac Acid Reducer, $6.59
–$4/1 Zantac Product printable [75-mg., 30-ct.+] -$4/1 Zantac, 03/04 SS (exp 4/15) [24-ct.+]
---
HOUSEHOLD
Air Wick Essential Mist Starter Kit ($10.29) or Refills ($3.79)
–$2/1 Air Wick® Essential Mist™ Refill 
-$1.50/1 Air Wick Essential Mist Refill, exp. 5/1/18 (SS 04/08/18 #2)
-$3/1 Air Wick Essential Mist Starter Kit, exp. 5/1/18 (SS 04/08/18 #2)
Air Wick Freshmatic Refills $3.39
-$1.50/1 Air Wick Freshmatic Ultra Refill, exp. 5/1/18 (SS 04/08/18 #2)
Air Wick Plug In Refills $3.79+
-$1/1 Air Wick Scented Oil Refill, exp. 5/1/18 (SS 04/08/18 #2) [twin or triple] -FREE Air Wick Scented Oil Warmer wyb Air Wick Scented Oil Twin Refill, exp. 5/1/18 (SS 04/08/18 #2) [Excludes free item packs; Up to $1.50]
Bounce Dryer Sheets, $7.99
–$0.50/1 Bounce Sheets or Bursts, Downy or Unstopables, Dreft Blissfuls or Gain Fireworks printable
-$4/2 Downy Liquid Fabric Enhancer, Downy or Bounce Sheets, or In Wash Scent Boosters, exp. 4/28/18 (P&G 04/01/18 R) [Purchase must include (1) Downy AND (1) Bounce; 40+ load liquid fabric enhancer; 60-ct. sheets; Includes Downy Unstopables, Fresh Protect, Infusions, Bounce Bursts, Dreft Blissfuls, and 4.9-oz.+ Gain Fireworks; Excludes Downy Libre Enjuague and trial]
Clorox Disinfecting Wipes, $3.99
–$1/2 Clorox Clean-up, Disinfecting Wipes 34ct.+, Liquid Bleach 55oz.+, OR any Manual Toilet Bowl Cleaner products
–$0.50/1 Clorox Disinfecting Wipes printable [32-ct.+] –$0.50/1 Clorox Scentiva Disinfecting Wipes printable [33-ct.+]
Dawn Dish Detergent, 28 to 34.2 oz, or Lysol Disinfectwant Wipes, 75 to 80 ct, Select Varieties, $2.99
-$0.50/2 Lysol Disinfecting Wipes, 02/25 SS (exp 4/10)
-$0.50/1 Lysol Kitchen Pro Antibacterial Cleaner or Lysol Kitchen Pro Antibacterial Wipes, 02/25 SS (exp 4/10)
Downy Fabric Softener, 83 to 103 fl oz, or Bounce Dryer Sheets, 200 ct, Select Varieties, $7.99
-$0.50/1 Tide Simply Detergent, Era Detergent, Downy Fabric Enhancer, Bounce Sheets, Unstopables, Downy Fresh Protect, Downy Infusions In Wash Scent Booster, Bounce Bursts, Dreft Blissfuls or Gain Fireworks In Wash Scent Boosters, 03/25 SS (exp 4/7) [Excludes Trial/Travel Size; Tide Detergent, Tide PODS, Downy Libre Enjuague, Downy Liquid 12 Load, Downy Sheets and Era Detergent 6 Loads; Limit of 2 Identical Coupons Per Household Per Day; No Cash Back; DND] -$4/2 Downy Liquid Fabric Enhancer, Downy or Bounce Sheets, or In Wash Scent Boosters, exp. 4/28/18 (P&G 04/01/18 R) [Purchase must include (1) Downy AND (1) Bounce; 40+ load liquid fabric enhancer; 60-ct. sheets; Includes Downy Unstopables, Fresh Protect, Infusions, Bounce Bursts, Dreft Blissfuls, and 4.9-oz.+ Gain Fireworks; Excludes Downy Libre Enjuague and trial]
Energizer Ultimate Lithium Batteries, Select Varieties, AA and AAA, 4 pk, $5.49
Febreze Air Effects, $1.99
Febreeze Car Clips $2.49
Febreeze Small Spaces $1.99
Finish Automatic Dishwasher Detergent, $2.69 +
Gain Flings, 32 to 42 ct, Select Varieties, $10.99
-$3/1 Tide Pods or Gain Flings Detergent, exp. 4/28/18 (P&G 04/01/18 R) [Excludes Tide Detergent; Tide Simply; Tide Simply Pods; Gain Detergent; 5-ct., 12-ct. or 14-ct. Gain Flings; 5-ct. Tide Pods and trial/travel size.]
Gain Liquid Laundry Detergent, $10.99
Hefty Trash Bags, 18 to 45 ct, or Lysol Disinfectant Spray, 15 to 19 oz, Select Varieties, $5.79 +
–$1/1 Tall Kitchen or Large Black Trash Bags printable (exp. 1/31/19)
-$1/1 Hefty Large Black Trash Bags, 03/18 RP (exp 4/30)
-$1/1 Hefty Tall Kitchen Trash Bags, 03/18 RP (exp 4/30)
Kingsford Charcoal, Large Bag, $7.99
–$1.50/1 Kingsford Flavored Charcoal (Checkout 51 Deposit) [Any variety; Cannot use this offer with any other print or in-app coupon or rebate.]
Lysol Disinfectant Spray, $5.49
-$0.50/1 Lysol Disinfectant Spray or Disinfectant Max Cover Mist, 02/25 SS (exp 4/10)
-$0.50/1 Lysol Kitchen Pro Antibacterial Cleaner or Lysol Kitchen Pro Antibacterial Wipes, 02/25 SS (exp 4/10)
Lysol Disinfecting Wipes, $2.99
-$0.50/2 Lysol Disinfecting Wipes, 02/25 SS (exp 4/10)
Lysol Multi-Surface Cleaner $1.69
Mr Clean Liquid, $1.79
-$0.25/1 Mr. Clean Liquid, exp. 4/14/18 (P&G 04/01/18) [ETS]
Oxi Clean Powder, Liquid, or Power Paks $5.99
–$1/1 OxiClean White Revive Laundry Whitener + Stain Remover
–$1/1 OxiClean White Revive Laundry Stain Remover printable
-$1.50/1 Oxiclean White Revive Laundry Whitener + Stain Remover, exp. 5/9/18 (SS 04/08/18 #2)
–$1/1 OxiClean VSR, OxiClean Odor Blasters, or OxiClean 2in1 Stain Fighter
–$1/1 OxiClean Odor Blasters or Versatile Stain Remover printable [3-lb.+]
-$1/1 Oxiclean In-Wash Stain Fighter, exp. 5/9/18 (SS 04/08/18 #2)
-$1.50/1 Oxiclean White Revive Laundry Whitener + Stain Remover, exp. 5/9/18 (SS 04/08/18 #2)
Palmolive Dish Detergent, $0.99
–$0.25/1 Palmolive Fusion Clean Dish Liquid printable [20-oz.+]
Purell Multi-Surface Disinfectant $1.99
–$1/1 PURELL Multi Surface Disinfectant (28 oz Bottle)
Rubbermaid Disposable Food Storage Containers, $1.79
Spray 'n Wash Spray, $1.99
Suavitel Fabric Softener $6.49
Swiffer 360 Duster $6.99
Tide Liquid Laundry Detergent, 92 to 100 fl oz, or Tide Pods, 32 to 42 ct, or Gain Flings, 32 to 42 ct, Select Varieties, $10.99
-$1/1 Tide Detergent, exp. 4/28/18 (P&G 04/01/18 R) [50-oz. or lower; Excludes Tide Rescu, Tide Simply, Tide PODS and trial]
VIPoo $6.99
---
MEAT/SEAFOOD
Ball Park Hot Dogs, $2.99
Butterball Turkey Bacon 12 oz, $1.49
–$0.55/1 Butterball Turkey Bacon printable [12-oz.] –$0.55/1 Butterball Turkey Bacon printable [12-oz.]
Carando Meatballs, $3.99
Hillshire Dinner Smoked Sausage Rope, $1.79+
Hillshire Dinner Smoked Sausage Links, $2.29
Hillshire Farm Lunch Meat, $4.99
Hormel Lloyd's Barbeque Tub, $3.99
Hormel Black Label Bacon or Natural Choice Bacon, Select Varieties, 12 to 16 oz, $3.99
–$0.75/1 Hormel Natural Choice Bacon printable
Hormel Natural Choice Lunch Meat, Select Varieties, 6 to 8 oz, $2.99
–$0.75/1 Hormel Natural Choice Lunchmeat printable
Jennie-O Turkey Bacon
Land O Frost Lunch Meat, $2.99
Nathan's Hot Dogs, $2.99 – $3.99
–$3 off Budweiser and Nathan's Famous Beef Franks Combo (Ibotta Deposit) [Combo offer.]
O That's Good Soup or Sides, Select Varieties, 16 to 30 oz, $2.99
-$1/1 O, That's Good! Soup or Side Dish, 03/25 SS (exp 5/5)
–$1/1 O, THAT'S GOOD! Soup or Side, any size Kroger Digital Coupon
Private Selection Smoked Atlantic Salmon, $6.49
Private Selection Sockeye Salmon, $6.99
Private Selection Wild Caught Crab, $6.99
Private Selection White Wine & Garlic Mussels, $1.50
---
NATURAL FOODS
Back to Nature Nuts, 9oz, $3.49
–$0.75/1 Back to Nature Item printable [Excludes macaroni & cheese] –$0.75/1 Back To Nature Item printable [excludes macaroni and cheese] –$1.50/1 Back To Nature Nuts (Checkout 51 Deposit)
Bear Naked Granola or Cereal, $2.19 +
Brad's Plant Based Chips, 2oz, $2.99
Cedarlane Vegetable Entrees, 10-11oz, $2.49
Dave's Killer Organic Bread or Raisin Bread, Select Varieties, 19 to 27 oz, $3.99
Galaxy Go Veggie Shreds or Slices Cheese Alternative, 7 oz, $1.99
–$1/1 Go Veggie Products, Any Variety, Any Size (Ibotta Deposit)[2x per receipt] –$1/1 Go Veggie Dairy Free Product printable
Hip Chick Farms Organic Chicken, 8-12oz, $4.99
Horizon Cheese Sticks, Sliced or Shredded, $2.99
–$1/1 Horizon Cheese Printable
Krave Jerky, $4.49
Love Grown Cereal or Granola, $2.49
Luvo Power Bowl, Frozen, $2.49
–$1.50/1 Luvo Bowls (BerryCart Deposit)
–$1.50/1 Luvo Frozen Entrees (BerryCart Deposit)
Odwalla or Suja Juice, Select Varieties, 12 to 15.2 fl oz, $1.99
–$1/1 Odwalla bottle, any variety (15.2oz) Kroger Digital
Outshine Ice Cream, Pint
Pure Protein Bar Multipack, 6ct, $5.99
Quorn Meat Alternatives, $2.49 – $3.49
–$1/1 Quorn Product Printable
–$0.45/1 Quorn Meatless & Soy Free (Ibotta Deposit) [Any variety; Any size]
Silk Plant Based Milk, Select Varieties, Half Gallon, $1.99
–$0.75/1 Silk Coconutmilk (Ibotta Deposit) [Any variety; Half gallon carton
So Delicious Organic Coconut Milk, $1.99
–$1/2 So Delicious Dairy Free Items printable
–$1/2 So Delicious Dairy Free Items printable
Sweet Earth Burritos, 6-7oz, $1.49
Vitaminwater, 6 pk, 16.9 fl oz Bottles, or Spindrift, 8 pk, 12 fl oz Cans, Select Varieties, $3.79
---
PET
Dentastix or Jumbone Dog Treats, $6.99 +
Fresh Step Cat Litter, $10.99
–$1.50/1 Fresh Step Clean Paws Ibotta Deposit
Fresh Step with Febreze Cat Litter, $11.99
Friskies Dry Cat Food, $10.99
Purina Dog Chow, $10.99
-$3/1 Purina Dog Chow Complete Adult With Beef, exp. 5/20/18 (RMN 04/08/18 #2) [14-lb.+]
Rachael Ray Nutrish Dry Dog Food, 6 lb $7.99
–$2/1 Rachael Ray Super Premium Dry Food For Dogs printable
---
PRODUCE
Calbee Harvest Snaps, $0.99