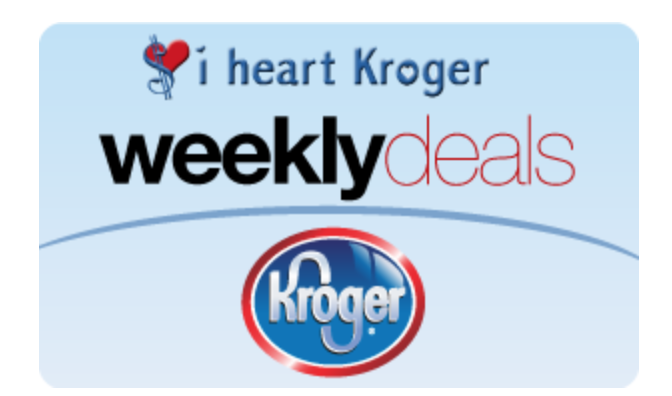 Here is a sneak peek at the Kroger Ad and coupon matchups which start Wednesday, 5/9 and runs through Tuesday 5/15 in the Southeast. It's the first week of the two week What A Deal Buy 4, Save $4 mega sale. As usual the mega prices are AFTER mega savings. The advertised deals are below and I will have the full inclusion list posted as soon as possible.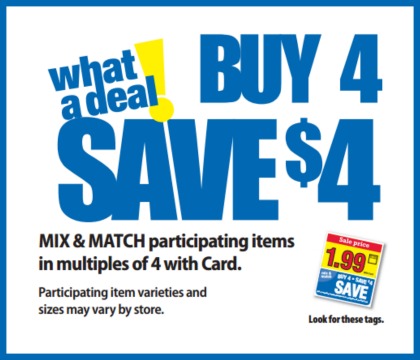 If you are headed to Kroger this week don't forget to load your digital coupons from SavingStar, Cellfire and the Kroger Digital Coupons too. You might want to check your cash back apps (Ibotta, Checkout 51, Mobisave and BerryCart) for any matching deals that you might like. Also, be sure to check out the Catalina deals before you shop.
As always, the check mark 
 indicates either a great stockpile price or a stockpile price with coupon(s). And keep in mind that we have a shopping list feature on the site. If you need help, just visit the HELP PAGE to see how to use it.
BUY 4, SAVE $4 (Mix & Match)
Kellogg's Cereal, 12.2 to 15 oz, or Special K Cereal, 10.8 to 13.1 oz, or Nutri-Grain Bars, 5 to 8 ct, Select Varieties, $1.79 (Ad shows Frosted Flakes)
–$1/1 Kellogg's Cereal printable [Need 850 rewards points] –$3/5 Kellogg's Cereals printable
–1% off Select Kellogg's Products (SavingStar Deposit) [Includes All-Bran, Apple Jacks, Austin, Carr's, Cheez-It, Chips Deluxe, Club, Corn Pops, Cracklin' Oat Bran, Crispix, Crunchmania, E.L. Fudge, Eggo, Famous Amos, Froot Loops, Frosted Mini-Wheats, Fudge Shoppe, Gripz, Honey Smacks, Keebler, Keebler Animals, Keebler Cones, Keebler Grahams, Keebler Vanilla Wafers, Kellogg's Corn Flakes, Kellogg's Corn Flakes Crumbs, Kellogg's Frosted Flakes, Kellogg's Fruity Snacks, Kellogg's Raisin Bran, Krave, Krispy, Moe's, MorningStar Farms, Mother's, Mueslix, Murray, Murray Sugar Free, Nutri-Grain, Pop-Tarts, Pringles, Ready Crust, Rice Krispies, Rice Krispies Treats, Sandies, Simply Made, Smart Start, Special K, Toasteds, Town House, Vienna Fingers, Zesta] -$2 off Fruit or Nuts wyb (2) Kellogg's Cereals 8.7 oz. or Larger – (Found on Product) (Limit 4 like coupons per shopping trip.) Peelie (exp 6/1/18)
Doritos, Select Varieties, 9.25 to 11.25 oz, $1.77
SunChips, Select Varieties, 7 oz, $1.77
Breyers or Turkey Hill Ice Cream, Select Varieties, 48 fl oz, $1.99
–$1.50/1 Turkey Hill Ice Cream, Stuff'd, Frozen Yogurt or Sherbet printable
–$0.75/1 Turkey Hill All Natural Ice Cream printable
-$0.75/1 Breyers Ice Cream Product (DND) – (Found on Product) (Limit 2 like coupons per shopping trip) Peelie (exp 5/12/18)
Pepperidge Farm Cookies, Select Varieties, 5 to 8.6 oz, $1.99
Pepperidge Farm Goldfish, Select Varieties, 6 to 8 oz, $0.99
all Liquid Laundry Detergent, 30 to 50 fl oz, or Mighty Pacs, 18 to 24 ct, or Snuggle Liquid Fabric Softener, 14 to 32 fl oz, or Dryer Sheets, 70 to 80 ct, Select Varieties, $1.99
-$1/1 All Product, 04/22/18 RMN (exp 5/19/18) [ETS] -$0.50/1 Snuggle Product, 04/22/18 RMN (exp 5/20/18) [ETS] -$2/1 All Single Dose Product, exp. 5/19/18 (RMN 04/22/18) [ETS]
P.F. Chang's Meal, Select Varieties, 22 oz, $5.99
Bertolli Meal for 2, Select Varieties, 24 oz, $5.99
Frontera Meal, Select Varieties, 20 oz, $5.99
–$2/1 Frontera® Frozen Gourmet Mexican Skillets
Birds Eye Vegetables, Select Varieties, 9.5 to 14.4 oz, $1.79
Kroger Big Wheels or Fruit Bars, Select Varieties, 6 to 12 ct, $1.99
Stouffer's Family Size Entrees, Select Varieties, 28 to 40 oz, $5.99
DiGiorno Stuffed Crust or Crispy Pan Pizza, Select Varieties, 21.6 to 29.59 oz, $5.99
Sliced Loaf Cake, Select Varieties, 16 oz, In the Kroger Bakery, $1.99
Keebler Cookies, Select Varieties, 6 to 16 oz, $1.49
–$1/1 Keebler Cookies printable [Need 850 rewards points] –1% off Select Kellogg's Products (SavingStar Deposit) [Includes All-Bran, Apple Jacks, Austin, Carr's, Cheez-It, Chips Deluxe, Club, Corn Pops, Cracklin' Oat Bran, Crispix, Crunchmania, E.L. Fudge, Eggo, Famous Amos, Froot Loops, Frosted Mini-Wheats, Fudge Shoppe, Gripz, Honey Smacks, Keebler, Keebler Animals, Keebler Cones, Keebler Grahams, Keebler Vanilla Wafers, Kellogg's Corn Flakes, Kellogg's Corn Flakes Crumbs, Kellogg's Frosted Flakes, Kellogg's Fruity Snacks, Kellogg's Raisin Bran, Krave, Krispy, Moe's, MorningStar Farms, Mother's, Mueslix, Murray, Murray Sugar Free, Nutri-Grain, Pop-Tarts, Pringles, Ready Crust, Rice Krispies, Rice Krispies Treats, Sandies, Simply Made, Smart Start, Special K, Toasteds, Town House, Vienna Fingers, Zesta]
Nabisco Snack Crackers, 3.5 to 9.1 oz, or Nabisco Chips Ahoy, 6.98 to 13 oz, Select Varieties, $1.69
Horizon Organic Cheese, Select Varieties, 6 to 8 oz, $2.99
–$1/1 Horizon Organic Cheese printable
Kraft Natural String Cheese, Select Varieties, 12 ct, $2.99
Chobani or Dannon Greek Yogurt, Select Varieties, 4 pk, 5.3 oz, $2.99
Kraft American Singles, Select Varieties, 12 oz, $2.49
The Laughing Cow Dippers, Select Varieties, 6.17 to 6.2 oz, $2.49
-$1/1 The Laughing Cow Cheese Wedges 6.0oz or The Laughing Cow Cheese Dippers 6.17oz, any one (1), Tearpad (exp 12/31/18)
Cheetos or Fritos, Select Varieties, 7 to 9.25 oz, $1.99
Calbee Snaps, Select Varieties, 3 to 3.3 oz, $0.99
Ocean Spray Juice Cocktail, 60 to 64 fl oz, or Mocktails, 33.8 fl oz, Select Varieties, $1.99
Jimmy Dean Breakfast Sandwiches, Select Varieties, 4 to 10 ct, $3.99
Jimmy Dean Breakfast Sausage, Select Varieties, 9.6 to 16 oz, $2.49
Freschetta Pizza, Select Varieties, 20.28 to 30.88 oz, $3.99
Green Mountain Coffee, 12 oz Bag, or K-Cups, 10 to 12 ct, Select Varieties, $5.99
-$1.50/1 Green Mountain Coffee Roasters, 03/25 SS (exp 5/31) [10-oz. or 12-oz. bagged coffee or 10-ct.+ k-cup pods]
Dave's Killer Organic Bread, 20.5 oz, or Bagels, 5 ct, Select Varieties, $3.49
Quilted Northern Bathroom Tissue, Select Varieties, 6 Mega Rolls, $4.99
–$0.50/1 Quilted Northern Bath Tissue printable [sign up] –$1/1 Quilted Northern Bath Tissue (SavingStar Deposit) [6 Double Roll or larger]
Brawny Paper Towels, Select Varieties, 6 Large Rolls, $4.99
–$0.55/1 Brawny Paper Towel printable [2, 3 or 6 roll]
Smithfield Bacon, Select Varieties, 12 to 16 oz, $3.99
Simply Potatoes, Select Varieties, 20 oz, $1.49
–$0.50/1 Simply Potatoes Mashed Potatoes (Ibotta Deposit) [Any mashed variety; Any size]
Tyson Chicken, Select Varieties, 18 to 28.05 oz, $4.99
-$1.25/1 Tyson Chicken Strips or Any'tizers Snack Product, 03/11 RP (exp 6/10) [Limit 1; DND]
Screamin' Sicilian Pizza, Select Varieties, 20.8 to 25 oz, $4.99
–$1/1 Screamin' Sicilian Premium Frozen Product printable [Sign Up]
Ben & Jerry's Ice Cream, 16 fl oz, or Pint Slices, 3 ct, or Popsicle Frozen Treats, 12 ct, Select Varieties, $3.49
–$1/2 Ben and Jerry's Pints or Pint Slices (Kroger Digital Coupon)
Kraft Dressing, Select Varieties, 14 to 16 fl oz, $1.49
Ocean Spray Craisins, Select Varieties, 5 to 6 oz, $1.49
Snapple Tea, Select Varieties, 6 pk, 16 fl oz, $3.99
Lipton Tea, Select Varieties, 12 pk, 16.9 fl oz, $3.99
–$0.75/1 Lipton Tea Product (Kroger Digital Coupon)
-$1/2 Lipton Iced Tea 16.9 oz. Bottle 12-Packs – (Found on Product) Peelie (exp 9/15/18)
Perrier Sparkling Water, Select Varieties, 10 pk, 8.45 fl oz, $3.99
Nature Valley Granola Bars, Select Varieties, 5 to 12 ct, $1.99
–$0.50/2 Nature Valley Granola Bars, Nature Valley Biscuits, Nature Valley Granola Cup, and more (Kroger Digital Coupon)
–$0.50/2 Nature Valley Granola Bars or Nature Valley Backpacker Chewy printable
-$0.50/2 Nature Valley Granola Bars, Biscuits, Granola Cups, Layered Granola Bars, or Soft-Baked Filled Squares, 04/08/18 SS (exp 6/2/18) [5-ct.+ granola bars] -$0.50/2 Nature Valley Granola Bars, Biscuits, Granola Cups, Layered Granola Bars or Soft-Baked Filled Squares, 04/29/18 SS (exp 6/23/18) [5-ct.+ granola bars] -$0.50/1 Nature Valley Granola Bars, Biscuits, Granola Cups, OR Fiber One Chewy Bars, 90 Calorie Products (Bars or Brownies) Protein Chewy Bars, Streusel Bars, Cheesecake Bars, Cookies, Layered Chewy Bars, Protein Nut Bars (DND) – Found On Product (DND) Peelie (exp 6/1/19)
-$0.50/1 Nature Valley 5 Ct. or Larger: Granola Bars, Protein, Nut Crisp Bars, Simple Nut Bars, Soft-Baked Oatmeal Squares/Biscuits Or Fiber One Chewy Bars, 90 Calorie Products, Protein Bars, Streusel Bars, Cheesecake Bars or Fiber One Cookies (DND) – Found On Product Peelie (exp 5/31/18)
Fiber One Bars, Select Varieties, 5 to 6 ct, $1.99
–$1/2 Fiber One Chewy Bars, Fiber One 90 Calorie Products printable [bars or brownies] -$0.50/1 Fiber One: Chewy Bars, 90 Calories Bars or Brownies, Protein Chewy Bars, Streusel Bars, Cheesecake Bars, Cookies or Layered Chewy Bars (DND) – Found on Product Peelie (exp 12/31/18)
-$0.50/1 Nature Valley Granola Bars, Biscuits, Granola Cups, OR Fiber One Chewy Bars, 90 Calorie Products (Bars or Brownies) Protein Chewy Bars, Streusel Bars, Cheesecake Bars, Cookies, Layered Chewy Bars, Protein Nut Bars (DND) – Found On Product (DND) Peelie (exp 6/1/19)
-$0.50/1 Nature Valley 5 Ct. or Larger: Granola Bars, Protein, Nut Crisp Bars, Simple Nut Bars, Soft-Baked Oatmeal Squares/Biscuits Or Fiber One Chewy Bars, 90 Calorie Products, Protein Bars, Streusel Bars, Cheesecake Bars or Fiber One Cookies (DND) – Found On Product Peelie (exp 5/31/18)
Mio Water Enhancers, Select Varieties, 1.62 fl oz, $0.99
-$1/2 Mio Liquid Water Enhancers, 04/22 SS (exp 6/3) [1.62-oz.; No Cash Back]
Arnold Wide Pan Bread, Select Varieties, 24 oz, $2.69
Pepperidge Farm Swirl Bread, Select Varieties, 16 oz, $2.69
Gatorade or G2, Select Varieties, 8 pk, 20 fl oz, $3.99
-$1/2 Gatorade 20 oz. or G2 Thirst Quencher 8-Packs Hangtag (exp 12/31/18)
Evian Water, Select Varieties, 6 pk, 16.9 fl oz, $3.99
Maxwell House Coffee, Select Varieties, 22 to 30.6 oz, $5.99
-$2/2 Gevalia, Maxwell House, Max by Maxwell House or McCafe Coffee Products Tearpad (exp 6/30/18)
Dunkin' Donuts Coffee, Select Varieties, 11 to 12 oz Bag, $5.99
Kind Breakfast Bars, Select Varieties, 4 to 5 ct, $1.99
-$1.25/1 KIND Multipack, Any – 03/04/18 SS (exp 05/31/18)
Cascadian Farm Cereal Bars, Select Varieties, 5 to 8 ct, $1.99
Dove Advanced Care Deodorant, 2.6 oz, or Dove Bar Soap, 4 ct, Select Varieties, $3.49
Colgate Total Toothpaste, 6 oz, or Colgate Optic White Toothbrush, 1 ct, Select Varieties, $1.99
–$0.75/1 Colgate Total Advanced Toothpaste printable [3.0-oz.+]
Huggies Diapers, Select Varieties, Size NB to 6, 18 to 35 ct, $7.99
–$1.50/1 Huggies Diapers printable
–$2/1 Huggies Little Snugglers Diapers printable
–$2/1 Huggies Little Movers printable
–$1.50/1 Huggies Diapers printable
–$2/1 Huggies Little Snugglers Diapers printable
–$2/1 Huggies Little Movers printable
–$1.50/1 Huggies Diapers printable
Playtex Sport or Gentle Glide Tampons, Select Varieties, 32 to 40 ct, $5.99
–$2/1 Playtex Gentle Glide or Sport Tampons (Kroger Digital Coupon) [Excludes 4-ct. and 8-ct. gentle glide and 41-ct.+ sport] –$1/1 Playtex Sport or Playtex Gentle Glide Tampons printable
-$1/1 Playtex Gentle Glide Tampon, 04/15 SS (exp 5/27) [Excludes 4-ct. and 8-ct.] -$2/1 Playtex Sport Tampon, 04/15 SS (exp 5/27) [14-ct.+]
Swiffer Refills, Select Varieties, 6 to 32 ct, $6.99
-$2/1 Swiffer Refill or Wetjet Solution, 04/29/18 P&G (exp 5/12/18)
Rubbermaid Disposable Food Storage Containers, Select Varieties, 1 to 4 ct, $1.79
---
BAKERY
Graduation Decorated Cake, Half Sheet, $39.99
Chocolate Dipped Strawberries, 6 ct, $8.99
---
BEER & WINE
Bud, Miller, Coors, Tecate or Yuengling, Select Varieties, 24 pk, 12 fl oz Bottles or Cans, $18.99
Michelob Ultra, 24 pk, 12 fl oz Cans, or Corona or Heineken, 18 pk, 12 fl oz Bottles, Select Varieties, $20.99
Stella Artois, Spiked Seltzer or Sam Adams, Select Varieties, 12 pk, 11.2 to 12 fl oz Bottles or Cans, $13.99
Truly, Mike's or White Claw, Select Varieties, 12 pk, 11.2 to 12 fl oz Bottles or Cans, $12.99
Barefoot Rose, 750 ml, 2/$11
Bold Vine Rose or Rose All Day Rose, 750 ml, $9.99
Chandelier Sparkling or Menage a Trois Rose, 750 ml, $9.99
Meiomi Rose, 750 ml, $19.49
Chateau Ste Michelle Chardonnay or Charles & Charles Rose, 750 ml, $10.99
---
DAIRY
Simple Truth Plant-Based Milk, 64 fl oz, or Simple Truth Cage Free Eggs, 12 ct, Select Varieties, 2/$5
Kroger Cheese, Select Varieties, 32 oz, $5.99
Coffee-mate Creamer, 32 fl oz, or Nestle Cookie Dough, 16 to 16.5 fl oz, Select Varieties, 2/$5
–$0.75/1 Nestle Coffee-Mate Liquid Coffee Creamer printable [16-oz. or 32-oz.]
---
DELI
Sabra Hummus, Select Varieties, 10 oz, $2.49
–$1/1 Sabra Hummus printable [10-oz.+]
Stacy's Pita Chips, Select Varieties, 7.33 oz, $2.49
–$1/1 Stacy's Pita Chips, Select Varieties, 7.33 oz Kroger Super Saver Digital Coupon (use up to 5 times in a single transaction, 5/12 only)
-$1/2 Stacy's Products 6 3/4 oz. or Larger (DND) (Limit one of this or like coupon per customer per visit) Tearpad (exp 5/19/18)
Kroger Party Platters, $19.99 and up (Kroger.com/graduation or 877.894-3707)
Fresh Foods Market Fried, Baked or BBG Baked Chicken, 25 pc, $24.99
Fresh Foods Market Fried, Baked or BBG Baked Chicken, 50 pc, $46.99
Fresh Foods Market Fried, Baked or BBG Baked Chicken, 100 pc, $89.99
---
FROZEN
Lean Cuisine Entree, 5.25 to 11.5 oz, or Stouffer's Entree, 6 to 12.87 oz, Select Varieties, 5/$10
Halo Top Ice Cream, Select Varieties, 16 fl oz, $3.99
–$1/1 Halo Top Ice Cream Pint printable
---
GROCERY
Entenmann's Little Bites or Donuts or Cake, Select Varieties, 8.25 to 21 oz, BOGO $6.99
–$0.50/1 Entenmann's Little Bites (Kroger Digital Coupon)
–$0.50/1 Entennmann's Little Bites Muffins printable
Pepsi or 7UP, Select Varieties, 12 pk, 12 fl oz Cans or 8 pk, 12 fl oz Bottles, 3/$10 (Final Cost wyb 3)
Old El Paso Taco Shells, 10 to 12 ct, or Refried Beans, 16 oz, or Kroger Tortilla Chips, 10 oz, Select Varieties, 10/$10
-$1/2 Old El Paso Products (DND) – Found on Products (Excludes Old El Paso seasoning, refrigerated and produce products.) Peelie (exp 6/13/18)
Private Selection Salsa, Select Varieties, 24 oz, 2/$5
Rockstar Energy Drink or Bodyarmor, 16 fl oz, or Pure Leaf Tea, 18.5 fl oz, Select Varieties, 10/$10
-$1 off (1) Pure Leaf Loose or Bagged Tea AND (1) Pure Leaf 18.5 oz. Bottle (DND) (Limit 2 Like Coupons Per Shopping Trip) Hangtag (exp 6/1/18)
Tostitos Tortilla Chips or Cantina Chips, 9 to 13 oz, or Tostitos Salsa, 15.5 oz, Select Varieties, $2.99
–$3 off Estrella Jalisco AND Tostitos Tortilla Chips OR Tostitos Dip (Ibotta Deposit) [Combo offer.]
Starbucks Coffee, 11 to 12 oz Bag, or K-Cups, 6 to 10 ct, Select Varieties, $6.99
Simple Truth Organic Bread, Select Varieties, 22.5 oz, $2.29
Simple Truth Organic Spices, Select Varieties, 0.16 to 2.6 oz, 33% Off
Vitaminwater or Vitaminwater Zero, Select Varieties, 20 fl oz, $0.88
Lindt Excellence Bar, Select Varieties, 3.5 oz, 2/$5
---
HEALTH & BEAUTY
Garnier Fructis Shampoo or Conditioner, 12 or 12.5 fl oz, or Styler, 5 to 8.5 fl oz, Select Varieties, 2/$6
---
HOUSEHOLD
Tuscany Candle, Select Varieties, 18 oz Jar, BOGO (no price listed)
Orchards Dining Chairs, Stackable Powder Coated Steel and UV Protected Sling Fabric, Available in 5 Colors, $18.99
Orchards 32″ Glass Top Dining Table, Powder Coated Steel Frame with Tempered Glass Table Top, $34.99
Orchards 5-pc Mix 'N Match Dining Set, 32″ Dining Table ($34.99), and Dining Chairs ($18.99 each), $110.95 total
---
MEAT
Pork Back Ribs, Previously Frozen, $3.49/lb
–$1.72 off 1 lb Pork Back Ribs, Previously Frozen Kroger Super Saver Digital Coupon (use up to 5 times in a single transaction, 5/12 only)
Whole Boneless Beef Tenderloin, $9.99/lb
Filet Mignon Steaks, $12.99/lb
Fresh Perdue Boneless Chicken Breasts or Boneless Thighs, No Antibiotics Ever, $1.99/lb
-$1/2 Perdue Fresh Chicken Products, 04/15/18 RMN (exp 5/27/18) [Includes Perdue, Perdue Harvestland and Perdue Harvestland Organic Brands]
Fresh Kroger Ground Beef, 80% Lean, 16 oz, $3.99
Oscar Mayer Lunchables, Select Varieties, 2.25 to 4.4 oz, 10/$10
Oscar Mayer Beef Franks, 15 to 16 oz, or Bob Evans Side Dishes, 12 to 24, Select Varieties, 2/$6
Asorted Pork Chops, Bone-In, Family Pack, $2.49/lb
London Broil, Beef, Sealed for Freshness, $5.99/lb
Fresh Perdue Boneless Chicken Tenders or Cutlets, No Antibiotics Ever, $3.49/lb
-$1/2 Perdue Fresh Chicken Products, 04/15/18 RMN (exp 5/27/18) [Includes Perdue, Perdue Harvestland and Perdue Harvestland Organic Brands]
Smithfield Quarter Sliced Ham, Boneless, $2.99/lb
Fresh Simple Truth Natural Boneless Chicken Breasts, No Antibiotics Ever, $4.99/lb
Fresh Simple Truth Natural Ground Turkey, 93% Lean, 16 oz, $3.99
---
PRODUCE
Strawberries, 2 lb, $2.98
Organic Strawberries, 1 lb, $2.99
Asparagus, $1.88/lb
Organic Tomatoes no the Vine, $1.49/lb
Tropicana or Trop50 Juice, 59 to 64 fl oz, or Tropicana Probiotics, 32 fl oz, or Tropicana Pure Premium, 6 pk, 8 fl oz, Select Varieties, 2/$6
Harmony Bouquet, 12 Stem, $10
Graduation Balloons, Select Varieties & Sizes, $2.99 and up
Blueberries, 18 oz, $4.99
Large Cantaloupe, 2/$4
Premium Calla Lily, 6.5″, $16.99
Bloom Haus Dozen Roses, 12 Stem, $10
Red, Yellow or Orange Bell Peppers or English Cucumbers, 4/$5
Dole Salad Kits, Select Varieties, 8.3 to 14.4 oz, 2/$6
Simple Truth Nuts, Select Varieties, 12 to 16 oz, $6.99
Organic Honeycrisp Apples, $2.99/lb
Organic Blueberries, 6 oz, $2.99
Bloom Haus Elegant Rose Bouquet, Select Varieties, 17 to 19 Stem, $20
Assorted Blooming Hanging Baskets, 10″, $11.99
Mother's Day Bouquet, Select Varieties, 12 Stem, $12.99 and up
Boston Fern, 10″ Hanging Basket, $12.99
Assorted Annuals, 1 Gallon, $10.99
Nested Pottery Collection, Assorted Sizes, $6.99 and up
Phalaenopsis Orchids, Select Varieties, 5″, $15 and up
Mother's Day Arrangement, Select Varieties & Steams, $19.99 and up
---
SEAFOOD
Extra Large Cooked Shrimp, Previously Frozen, 26 to 30 ct, $8.99/lb
Fresh Atlantic Salmon Whole Fillets, Farm Raised, Family Pack, $6.99/lb