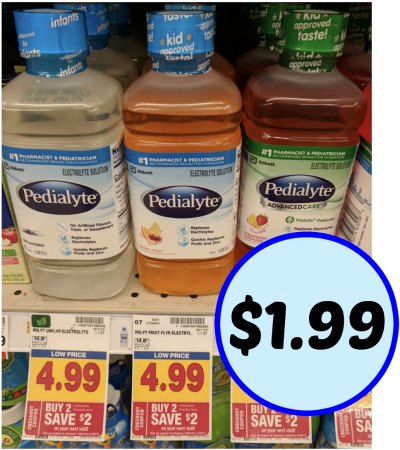 Grab your Pedialyte Electrolyte Solution coupons and pair them with the Catalina to score a HUGE discount. If you have little ones, be sure to grab the extra savings and have a couple of bottles handy in case you need them.
Pedialyte Catalina (participating products)
Effective through 5/29
Buy 2 and get a $2 on your next order Catalina
Pedialyte Oral Electrolyte Solution, 1.1 Qt, $4.99
–$1.50/1 Pedialyte Product printable
–$1/2 Pedialyte Electrolyte Solution (Ibotta Deposit) [Any Solution variety; 1-L. bottles only]
As low as $1.99 each after coupons, Ibotta, and Catalina.