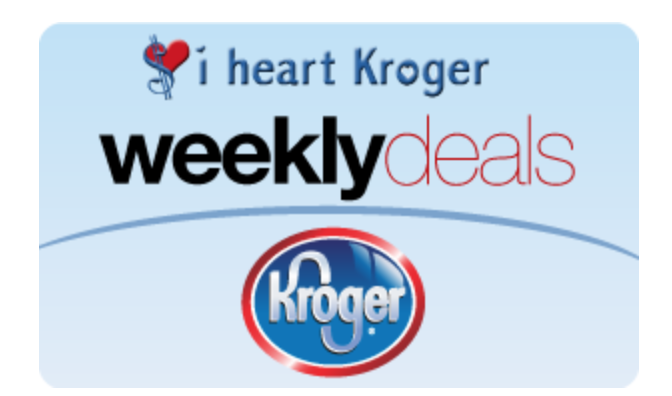 Here is a sneak peek at the Kroger Ad and coupon matchups which start Wednesday, 7/25 and runs through Tuesday 7/31 in the Southeast. This week we have a bunch of 5x digital coupon that you will be able to load starting Wednesday. There will also be a beauty event where you'll save $5 off a $15 purchase!

If you are headed to Kroger this week don't forget to load your digital coupons from SavingStar, Cellfire and the Kroger Digital Coupons too. You might want to check your cash back apps (Ibotta, Checkout 51, Mobisave and BerryCart) for any matching deals that you might like. Also, be sure to check out the Catalina deals before you shop.
As always, the check mark
indicates either a great stockpile price or a stockpile price with coupon(s). And keep in mind that we have a shopping list feature on the site. If you need help, just visit the HELP PAGE to see how to use it.
BAKERY
Fresh Baked Sandwich or Hot Dog Buns, 8 ct, $1.79
Fresh Baked Traditional Cookies, Select Varieties, 16 ct, $2/7
–$0.50/2 Fresh Baked Traditional Cookies, Select Varieties, 16 ct Kroger Super Saver Digital Coupon (use up to 5 times in a single transaction)
---
BEER & WINE
Bud, Miller, Coors, Tecate or Yuengling, Select Varieties, 24 pk, 12 fl oz Bottles or Cans, $18.99
Blue Moon or Leinenkugel's, Select Varieties, 12 pk, 12 fl oz Bottles or Cans, $14.49
Corona, Sol or Modelo, Select Varieties, 12 pk, 11.2 to 12 fl oz Bottles or Cans, $13.99
Sam Adams, Redd's or Truly, Select Varieties, 12 pk, 12 fl oz Bottles or Cans, $13.99
Michelob Ultra, Bud Light Orange or Heineken, Select Varieties, 12 pk, 12 fl oz Bottles or Cans, $12.99
Bud Light Rita Party Pack or Seagram's, 12 pk, 11.2 to 12 fl oz Bottles or Cans, or Bud, Miller or Coors, 12 pk, 12 to 16 fl oz Cans, Select Varieties, $9.99
Chateau Ste Michelle, Select Varieties, 750 ml, $9.99
Black Box, Select Varieties, 3 Liter, $16.99
Charles & Charles Rose, 750 ml, $12.49
19 Crimes, Select Varieties, 750 ml, $9.99
Dellatorri Pinot Grigio, 750 ml, $8.99
Chloe Pinot Grigio, 750 ml, $11.99
---
DAIRY
Land O'Lakes Butter, Select Varieties, 16 oz, 2/$5
Kroger Cheese, Select Varieties, 8 oz, $1.99
–$0.50/1 Kroger Cheese, Select Varieties, 8 oz Kroger Super Saver Digital Coupon (use up to 5 times in a single transaction)
Simple Truth Plant-Based Milk, Half Gallon, or Simple Truth Cage-Free Eggs, 12 ct, Select Varieties, 2/$5
Fage Greek Yogurt, Select Varieties, 5.3 to 7 oz, 10/$10
Country Crock, Select Varieties, 45 oz, $2.99
–$1/1 Country Crock with Sunflower Oil Spread (SavingStar Deposit)
Stonyfield Organic Yogurt, 3.5 oz, or Horizon Organic Milk, 8 fl oz, Select Varieties, 10/$10
Chobani Greek Yogurt, Select Varieties, 5.3 oz, 10/$10
–$2/10 Chobani Greek Yogurt, Select Varieties, 5.3 oz, 10/$10 Kroger Super Saver Digital Coupon (use up to 5 times in a single transaction)
Jimmy Dean Simple Scrambles, Select Varieties, 5.35 oz, 2/$5
–$1/2 Jimmy Dean Simple Scrambles, Select Varieties, 5.35 oz Kroger Super Saver Digital Coupon (use up to 5 times in a single transaction)
Kraft American Cheese Singles, 24 ct, or Kraft String Cheese, 12 ct, Select Varieties, $4.49
–$1/1 Kraft American Cheese Singles, 24 ct, or Kraft String Cheese, 12 ct, Select Varieties Kroger Super Saver Digital Coupon (use up to 5 times in a single transaction)
Kroger Cottage Cheese, Sour Cream or Dip, Select Varieties, 16 oz, $1.29
–$0.50/1 Kroger Cottage Cheese, Sour Cream or Dip, Select Varieties, 16 oz Kroger Super Saver Digital Coupon (use up to 5 times in a single transaction)
Yoplait Yogurt, Select Varieties, 4 to 6 oz, 10/$6
–$0.50/5 Yoplait Yogurt printable [Includes Original, Light, Light Thick & Creamy, Thick & Creamy] –$1/10 Yoplait Yogurt, Select Varieties, 4 to 6 oz Kroger Super Saver Digital Coupon (use up to 5 times in a single transaction)
-$0.50/5 Yoplait Yogurt, 06/17 SS (exp 8/11)
–$0.50/5 Yoplait Yogurt Original, Light, Light Thick & Creamy and more printable
–$0.50/5 Yoplait Yogurt (SavingStar Deposit) [Includes Original, Light, Light Thick Creamy, Thick Creamy, Whips!, or Lactose Free]
---
DELI
Kroger Potato Salad or Macaroni Salad or Coleslaw, Select Varieties, 16 oz, $1.99
Simple Truth Organic Salsa, Select Varieties, 14.74 oz, $3.99
Boar's Head OvenGold Turkey Breast, Available in Select Stores, $8.99/lb
Private Selection Sliced Meat, Select Varieties, 7 to 8 oz, $4.49
–$1/1 Private Selection Sliced Meat, Select Varieties, 7 to 8 oz Kroger Super Saver Digital Coupon (use up to 5 times in a single transaction)
Fresh Foods Market 8-pc Friend or Baked Chicken, Includes 2 Breasts, 2 Thighs, 2 Wings & 2 Drumsticks, $7.99
–$1/1 Fresh Foods Market 8-pc Friend or Baked Chicken, Includes 2 Breasts, 2 Thighs, 2 Wings & 2 Drumsticks Kroger Super Saver Digital Coupon (use up to 5 times in a single transaction)
---
FROZEN
Kroger Chicken Party Wings, Bone-In, 2.5 lb, $6.99
–$2/1 Kroger Chicken Party Wings, Bone-In, 2.5 lb Kroger Super Saver Digital Coupon (use up to 5 times in a single transaction- REDEEM 7/27 & 7/28 ONLY)
Lean Cuisine or Stouffer's Entree, Select Varieties, 6 to 12.875 oz, 4/$8
–$2/4 Lean Cuisine or Stouffer's Entree, Select Varieties, 6 to 12.875 oz Kroger Super Saver Digital Coupon (use up to 5 times in a single transaction)
Green Giant Vegetables, 7 to 10 oz, or Michelina's Entree, 4.5 to 9.5 oz, Select Varieties, 10/$10
–$1/5 Michelina's Lean Gourmet printable
Tyson Frozen Chicken, 19 to 28.05 oz, or Caulipower Pizza, 11.62 to 12 oz, Select Varieties, $5.99
Edy's Ice Cream, 48 fl oz, or Haagen-Dazs Ice Cream, 14 fl oz, Select Varieties, $3.49
–$2/3 Edy's Ice Cream, Haagen-Dazs, or Outshine printable [Haagen-Dazs 14-oz.+; 3-ct.+ bars; 14-oz. Outshine, 4-t.+ bars] –$1/1 Edy's Ice Cream, 48 fl oz, or Haagen-Dazs Ice Cream, 14 fl oz, Select Varieties Kroger Super Saver Digital Coupon (use up to 5 times in a single transaction)
Halo Top Ice Cream or Talenti Gelato, 16 fl oz, Select Varieties, $3.99
–$1/1 Halo Top Ice Cream or Talenti Gelato, 16 fl oz, Select Varieties Kroger Super Saver Digital Coupon (use up to 5 times in a single transaction)
–$0.75/3 Halo Top Ice Cream (Ibotta Deposit) [Any variety; 1 pint] –$1.25/1 Talenti Gelato or Sorbetto (Checkout 51 Deposit) [Any variety; Cannot use this offer with any other print or in-app coupon or rebate.] –$1/1 Talenti Gelato (SavingStar Deposit)
Red Baron Pizza, Select Varieties, 14.76 to 23.45 oz, 3/$10
–$2/3 Red Baron Pizza, Select Varieties, 14.76 to 23.45 oz Kroger Super Saver Digital Coupon (use up to 5 times in a single transaction)
---
GROCERY
Lipton Tea, 12 pk, 16.9 fl oz, or Lipton Pure Leaf Tea, 6 pk, 18.5 fl oz, or Nabisco Snack Multipacks, 12 ct, Select Varieties, $4.99
–$2/1 Lipton Tea, 12 pk, 16.9 fl oz, or Lipton Pure Leaf Tea, 6 pk, 18.5 fl oz, or Nabisco Snack Multipacks, 12 ct, Select Varieties Kroger Super Saver Digital Coupon (use up to 5 times in a single transaction – REDEEM 7/27 & 7/28 ONLY)
-$1/2 Lipton Iced Tea 16.9 oz. Bottle 12-Packs – (Found on Product) Peelie (exp 9/15/18)
Lay's Potato Chips, 5 to 8 oz, or Lay's Kettle Cooked Potato Chips, 7 to 8 oz, Select Varieties, $1.88 (Final Cost wyb 3)
–$1/2 Lay's Kettle Cooked Chips (Ibotta Deposit) [7-oz.+] –$0.75/2 Lay's Kettle Chips (Ibotta Deposit) [Any variety; 6.5-oz. bag or larger] –$0.50/2 Lay's Potato Chips (Ibotta Deposit) [Any variety; 7-oz. bag or larger] –$5 off Shock Top AND Lay's Kettle Cooked Chips Combo (Ibotta Deposit) [Combo offer]
Pepsi or 7UP, 12 pk, 12 fl oz Cans or 8 pk, 12 fl oz Bottles, or Bubly Sparkling Water, 8 pk, 12 fl oz Cans, Select Varieties, 3/$10 (Final Cost wyb 3)
Pepsi, 7UP or Coca-Cola, Select Varieties, 6 pk, 16 to 16.9 fl oz Bottles, 4/$12
–$4/4 Pepsi, 7UP or Coca-Cola, Select Varieties, 6 pk, 16 to 16.9 fl oz Bottles Kroger Super Saver Digital Coupon (use up to 5 times in a single transaction)
Private Selection Alcohol Infused Barbecue Sauce, Select Varieties, 15 to 1.5 oz, $2.99
Simple Truth Organic Peanut Butter, Select Varieties, 16 oz, $3.99
Simple Truth Popcorn, 4 to 7 oz, or Simple Truth Organic Tortilla Chips, 7.5 to 9 oz, Select Varieties, $1.99
Simple Truth Organic Cereal, 10 to 17 oz, or Simple Truth Organic Apple Juice, 64 fl oz, Select Varieties, $2.49
Simple Truth Organic Breakfast Bars or Fruit Snacks, Select Varieties, 6 ct, $1.99
Coca-Cola, Select Varieties, 12 pk, 12 fl oz Cans or 8 pk, 12 fl oz Bottles, 3/$11 (Final Cost wyb 3)
Private Selection Bread, 16 to 24 oz, or Buns, 8 ct, Select Varieties, $1.88
Starkist Tuna, 2.6 to 3 oz, or Annie's Natural Macaroni & Cheese, 5.25 to 8 oz, Select Varieties, 10/$10
LaCroix Sparkling Water, Select Varieties, 8 pk, 12 fl oz, 3/$11
Nabisco Ritz Crackers, Select Varieties, 8.8 to 13.7 oz, 2/$5
-$0.75/2 Nabisco Cookie or Cracker Products, 06/24 SS (exp 8/4) [3.5-oz.+] -$1/2 Ritz Crisp & Thins Chips or Ritz Toasted Chips 7 oz. or Larger, Any Variety (DND) Tearpad (exp 7/31/18)
-$1/1 Nabisco Product, Any 3.5 oz. or Larger – (Found on Products) Peelie (exp 12/31/18)
Nabisco Oreo Cookies, 10.1 to 15.35 oz, or Belvita Breakfast Cookies, 8.8 oz, Select Varieties, $2.99
–$0.50/1 Nabisco Oreo Cookies, 10.1 to 15.35 oz, or Belvita Breakfast Cookies, 8.8 oz, Select Varieties Kroger Super Saver Digital Coupon (use up to 5 times in a single transaction)
-$0.75/2 Nabisco Cookie or Cracker Products, 06/24 SS (exp 8/4) [3.5-oz.+] -$1/1 Nabisco Product, Any 3.5 oz. or Larger – (Found on Products) Peelie (exp 12/31/18)
Thomas' English Muffins, Select Varieties, 6 ct, $2.99
Simple Truth Organic Applesauce Pouches, Select Varieties, 12 ct, $5.99
Vitaminwater or Vitaminwater Zero, Select Varieties, 20 fl oz, $0.88
Angie's Boomchickapop Popcorn, 4.4 to 7 oz, or Beanitos Black Bean Chips, 5.5 to 6 oz, Select Varieties, 2/$5
–$1/1 Angie's BOOMCHICKAPOP Popcorn printable [4-oz. to 7-oz.] -$1/2 Angie's Boomchickapop Popcorn, Kettle Corn, or Mulitipack 3-7 oz. Tearpad (exp 9/30/18)
Kellogg's or Special K Cereal, Select Varieties, 16.9 to 24 oz, $3.49
–$1/1 Kellogg's or Special K Cereal, Select Varieties, 16.9 to 24 oz Kroger Super Saver Digital Coupon (use up to 5 times in a single transaction)
–$1/1 Kellogg's Cereal printable [Need 850 rewards points] –$1/3 Kellogg's Cereals printable
–$0.50/1 Kellogg's Special K Cereal printable
–$1/1 Special K cereal, Eggo or Keebler cookies (Checkout 51 Deposit) [Join KFR and unlock this offer.]
Kellogg's Pop-Tarts, 6 to 8 ct, or Kellogg's Krispies Treats, 6 to 8 ct, Select Varieties, $1.99
–$0.50/1 Kellogg's Pop-Tarts, 6 to 8 ct, or Kellogg's Krispies Treats, 6 to 8 ct, Select Varieties Kroger Super Saver Digital Coupon (use up to 5 times in a single transaction)
–$1/1 Kellogg's Pop-Tarts Toaster Pastries printable [Need 850 rewards points] –$1/3 Pop-tarts (Ibotta Deposit) [Any variety; 8-ct. box only]
Gatorade or G2, Select Varieties, 12 pk, 12 fl oz, $5.99
–$1/1 Gatorade or G2, Select Varieties, 12 pk, 12 fl oz Kroger Super Saver Digital Coupon (use up to 5 times in a single transaction)
Kashi Cereal, 10 to 15.3 oz, or Breakfast Bars, 5 to 12 ct, or Bear Naked Granola, 7.2 to 13 oz, Select Varieties, $2.99
–$0.50/1 Kashi Cereal, 10 to 15.3 oz, or Breakfast Bars, 5 to 12 ct, or Bear Naked Granola, 7.2 to 13 oz, Select Varieties Kroger Super Saver Digital Coupon (use up to 5 times in a single transaction)
Frito-Lay Multipack, Select Varieties, 20 ct, $6.49
–$0.50/1 Frito-Lay Multipack, Select Varieties, 20 ct Kroger Super Saver Digital Coupon (use up to 5 times in a single transaction)
–$0.50/1 Frito-Lay Classic Mix Variety Pack (Ibotta Deposit) [Classic variety only; 20-ct.+]
Frito-Lay Simply Snacks, 7 to 9 oz, or SkinnyPop PopCorn of Puffs, 4.2 to 4.4 oz, Select Varieties, $2.99
–$0.50/1 Frito-Lay Simply Snacks, 7 to 9 oz, or SkinnyPop PopCorn of Puffs, 4.2 to 4.4 oz, Select Varieties Kroger Super Saver Digital Coupon (use up to 5 times in a single transaction)
–$0.50/2 Frito-Lay Simply Chips (Ibotta Deposit) [Any variety; 7-oz.+ bag] –$1/1 Skinny Pop Puffs printable [4.2-oz.]
Quaker Chewy Granola Bars, Select Varieties, 5 to 8 ct, $1.99
–$1/1 Quaker Chewy Granola Bars, Select Varieties, 5 to 8 ct Kroger Super Saver Digital Coupon (use up to 5 times in a single transaction)
Quaker Cap'n Crunch or Life Cereal, 11.5 to 14 oz, or Mom's Best Natural Cereal, 11 to 16.5 oz, Select Varieties, $2.49
–$1/1 Quaker Cap'n Crunch or Life Cereal, 11.5 to 14 oz, or Mom's Best Natural Cereal, 11 to 16.5 oz, Select Varieties Kroger Super Saver Digital Coupon (use up to 5 times in a single transaction)
Doritos or SunChips, Select Varieties, 7 to 11.25 oz, $2.49
–$0.50/1 Doritos or SunChips, Select Varieties, 7 to 11.25 oz Kroger Super Saver Digital Coupon (use up to 5 times in a single transaction)
Pepperidge Farm Goldfish, Select Varieties, 30 to 34 oz, $8.49
–$1/1 Pepperidge Farm Goldfish, Select Varieties, 30 to 34 oz Kroger Super Saver Digital Coupon (use up to 5 times in a single transaction)
Fruit Gushers Fruit Snacks, 6 to 10 ct, or Mott's Apple Juice, 64 fl oz, Select Varieties, $2.49
–$0.50/2 Betty Crocker Fruit Shapes, Fruit by the Foot, Fruit Gushers and more printable
–$0.50/1 Fruit Gushers Fruit Snacks, 6 to 10 ct, or Mott's Apple Juice, 64 fl oz, Select Varieties Kroger Super Saver Digital Coupon (use up to 5 times in a single transaction)
–$0.50/2 Betty Crocker Fruit Shapes, Fruit by the Foot, Fruit Gushers or Fruit Roll-Ups Fruit Flavored Snacks, Mott's Fruit Flavored Snacks, or Sunkist Fruit Flavored Snacks (SavingStar Deposit)
–$0.50/2 Betty Crocker Fruit Shaped, Fruit by the Foot, or Fruit Gushers printable
–$0.50/2 Betty Crocker Fruit Shapes, Fruit by the Foot, Fruit Gushers and more printable
Sara Lee Artesano Bread, 20 oz, or Ball Park Buns, 8 ct, Select Varieties, $2.49
–$0.50/1 Sara Lee Artesano Bread, 20 oz, or Ball Park Buns, 8 ct, Select Varieties Kroger Super Saver Digital Coupon (use up to 5 times in a single transaction)
Skippy Peanut Butter, 15 to 16.3 oz, or Welch's Jelly or Jam, 20 to 30 oz, Select Varieties, $2.49
–$0.50/1 Skippy Peanut Butter, 15 to 16.3 oz, or Welch's Jelly or Jam, 20 to 30 oz, Select Varieties Kroger Super Saver Digital Coupon (use up to 5 times in a single transaction)
-$1 off (1) Skippy P.B. Bites and (1) Skippy Peanut Butter Spread – (Found on Product) (Not valid for online purchases) Peelie (exp 12/31/18)
Velveeta Shells & Cheese or Kraft Deluxe Macaroni & Cheese, 9.4 to 14 oz, Select Varieties, $2.99
–$1/1 Velveeta Shells & Cheese or Kraft Deluxe Macaroni & Cheese, 9.4 to 14 oz, Select Varieties Kroger Super Saver Digital Coupon (use up to 5 times in a single transaction)
Classico Pasta Sauce, 24 oz, or Kraft Salad Dressing, 16 fl oz, Select Varieties, $1.99
–$1/1 Classico Pasta Sauce, 24 oz, or Kraft Salad Dressing, 16 fl oz, Select Varieties Kroger Super Saver Digital Coupon (use up to 5 times in a single transaction)
–$0.50/1 Classico Pasta Sauce (Ibotta Deposit) [Any variety; Any size]
Kroger Seltzer Water, Select Varieties, 12 pk, 12 fl oz, 2/$5
–$1/2 Kroger Seltzer Water, Select Varieties, 12 pk, 12 fl oz Kroger Super Saver Digital Coupon (use up to 5 times in a single transaction)
Folgers Coffee, Select Varieties, 21.72 to 33.9 oz, $7.99
–$2/1 Folgers Coffee, Select Varieties, 21.72 to 33.9 oz Kroger Super Saver Digital Coupon (use up to 5 times in a single transaction)
Green Mountain K-Cups, 10 to 12 ct, or Green Mountain Coffee, 10 to 12 oz, Select Varieties, $6.99
–$1/1 Green Mountain K-Cups, 10 to 12 ct, or Green Mountain Coffee, 10 to 12 oz, Select Varieties Kroger Super Saver Digital Coupon (use up to 5 times in a single transaction)
-$1.50/1 Green Mountain Coffee Bagged or Green Mountain Coffee Roasters K-Cup Pods, 06/03 SS (exp 7/31) [10-oz. or 12-oz. Bagged; 10-ct.+ K-Cups]
Hershey's or Reese's Candy, Select Varieties, 6 pk, 4/$5
–$1/5 Hershey's or Reese's Candy, Select Varieties, 6 pk Kroger Super Saver Digital Coupon (use up to 5 times in a single transaction)
-$1/2 Hershey's Milk Chocolate, 06/24 SS (exp 8/19) [6-ct.] –$1/2 Hershey's Milk Chocolate Bars (Checkout 51 Deposit) [Valid on the 9.3 oz 6 ct pack. Items must appear on the same receipt; Cannot use this offer with any other print or in-app coupon or rebate.] -$1 off (1) Honey Maid Grahams 14.4 oz.+ AND (1) Kraft Marshmallows 8 oz.+ AND (1) Hershey's Chocolate 6-Pk Tearpad (exp 12/31/18)
Simple Truth Organic Beans, Select Varieties, 4 ct, $3.19
–$1/1 Simple Truth Organic Beans, Select Varieties, 4 ct Kroger Super Saver Digital Coupon (use up to 5 times in a single transaction)
---
HEALTH & BEAUTY
Kind, Clif or Pure Protein Bar, Select Varieties, 1.2 to 2.4 oz, 10/$10
Larabar, Select Varieties, 1.24 to 1.8 oz, 5/$5
–$1/5 Larabar, Select Varieties, 1.24 to 1.8 oz Kroger Super Saver Digital Coupon (use up to 5 times in a single transaction)
Olay Body Wash, 22.5 fl oz, or Bar Soap, 6 ct, Select Varieties, $4.99
–$1/1 Olay Body Wash, 22.5 fl oz, or Bar Soap, 6 ct, Select Varieties Kroger Super Saver Digital Coupon (use up to 5 times in a single transaction)
Dove or Degree Deodorant, 2.6 to 3 oz, or Axe Bodyspray, 4 oz, Select Varieties, $4.49
–$1/1 Dove or Degree Deodorant, 2.6 to 3 oz, or Axe Bodyspray, 4 oz, Select Varieties Kroger Super Saver Digital Coupon (use up to 5 times in a single transaction)
Bromley's for Men 7-Blade Razor, 1 ct, or 7 Blade Refills, 4 ct, $5.99
–$1/1 Bromley's for Men 7-Blade Razor, 1 ct, or 7 Blade Refills, 4 ct Kroger Super Saver Digital Coupon (use up to 5 times in a single transaction)
---
HOUSEHOLD
Tide Liquid Laundry Detergent, 46 to 50 fl oz, or Tide Pods, 15 to 20 ct, or Downy Liquid Fabric Softener, 62 to 77 fl oz, Select Varieties, $5.99
–$3/1 Tide Liquid Laundry Detergent, 46 to 50 fl oz, or Tide Pods, 15 to 20 ct, or Downy Liquid Fabric Softener, 62 to 77 fl oz, Select Varieties Kroger Super Saver Digital Coupon (use up to 5 times in a single transaction)
-$3/1 Tide Detergent, 07/01/18 P&G (exp 7/28/18) [Excludes pods, simply pods, rescue, simply, and detergent 10-oz.] -$3/1 Tide Pods, 07/01/18 P&G (exp 7/28/18) [Excludes simply and 5-ct.] –$3/1 Tide Detergent printable [Excludes Tide Rescue, Tide Simply, Tide PODS 9ct, Tide Detergent 10-oz. and trial/travel size] –$3/1 Downy Liquid Fabric Enhancer, Bounce or Downy Dryer Sheets, or In Wash Scent Boosters printable) [72 load or larger Downy Liquid Fabric Enhancer; 160-ct.+ Bounce or Downy Dryer Sheets; 10-oz.+ In Wash Scent Boosters; Includes Downy Unstopables, Fresh Protect, Infusions, Bounce Bursts, or Dreft Blissfuls; Excludes Downy Libre Enjuague,Gain Fireworks and trial/travel size] -$3/1 Downy Liquid Fabric Enhancer, Bounce or Downy Dryer Sheets, or In Wash Scent Boosters  exp. 7/28/18 (P&G 07/01/18)[72 load or larger Downy Liquid Fabric Enhancer; 160-ct.+ Bounce or Downy Dryer Sheets; 10-oz.+ In Wash Scent Boosters; Includes Downy Unstopables, Fresh Protect, Infusions, Bounce Bursts, or Dreft Blissfuls; Excludes Downy Libre Enjuague,Gain Fireworks and trial/travel size]
Quilted Northern Bath Tissue, 6 Mega Rolls, or Brawny Paper Towels, 6 Big Rolls, Select Varieties, 2/$10 (Final Cost wyb 2)
-$0.75/1 Brawny paper towel 2, 3, or 6 roll 7/22 RMN (exp 8/22)
–$0.55/1 Brawny Paper Towel printable [2, 3 or 6 roll]
Good Cook 44-pc Food Storage Set, $9.99
Gain Liquid Laundry Detergent, 50 fl oz, or Gain Fabric Softener, 51.61 to 74 fl oz, Select Varieties, $4.99
–$2/1 Gain Liquid Laundry Detergent, 50 fl oz, or Gain Fabric Softener, 51.61 to 74 fl oz, Select Varieties Kroger Super Saver Digital Coupon (use up to 5 times in a single transaction)
Rubbermaid Lunchbox Snack Kit, Available in Blue and Red, $4.99
–$1/1 Rubbermaid Lunchbox Snack Kit, Available in Blue and Red Kroger Super Saver Digital Coupon (use up to 5 times in a single transaction)
Igloo Tech Lunch Sack, Select Styles, $4.99
–$1/1 Igloo Tech Lunch Sack, Select Styles Kroger Super Saver Digital Coupon (use up to 5 times in a single transaction)
---
MEAT
Fresh Perdue Boneless Chicken Breasts or Thighs, No Antibiotics Ever, $1.99/lb
–$1/2 Perdue or Perdue Harvestland Fresh Chicken printable
Fresh Ground Beef, 80% Lean, Sold in a 5 lb Flavorseal for $9.95, $1.99/lb
Pork Back Ribs, Previously Frozen, $3.49/lb
Simple Truth Natural Ground Beef, 80% Lean, 16 oz, No Antibiotics Ever, $4.99
Hebrew National Beef Franks, Select Varieties, 9.43 to 12 oz, $2.99
Smithfield Bacon, Select Varieties, 12 to 16 oz, $2.99
Jimmy Dean Breakfast Sausage, Select Varieties, 9.6 to 16 oz, 2/$7
London Broil, Boneless Beef Round, $5.99/lb
Boneless Pork Tenderloin, $3.99/lb
Fresh Simple Truth Natural Boneless Chicken Breasts, No Antibiotics Ever, $4.99/lb
Johnsonville Brats or Italian Sausage, 19 oz, or Carando Meatballs, 16 oz, Select Varieties, $3.99
Simple Truth Breakfast Sausage, Select Varieties, 12 oz, $2.99
Simple Truth Bacon, 12 oz, $4.99
Kroger Deli Style Lunch Meat, Select Varieties, 16 oz, 2/$6
–$1/2 Kroger Deli Style Lunch Meat, Select Varieties, 16 oz Kroger Super Saver Digital Coupon (use up to 5 times in a single transaction)
---
PRODUCE
Strawberries, 2 lb, $2.49
Organic Strawberries, 16 oz, $2.99
Northwest Red Cherries, $1.99/lb
Sweet Corn, 4 ct Package, $2.99
Simple Truth Nuts, Select Varieties, 12 to 16 oz, $6.99
Tropicana or Trop 50, Select Varieties, 59 fl oz, $2.99
Personal Watermelons, 2/$3
Koru or Pink Lady Apples, $1.99/lb
Catching Rays Bouquet, 16 Stems, $9.99
Ice Cream Hydrangea, 4.5", $8.99
Private Selection Gourmet Potatoes, Select Varieties, 1.5 lb Bag, 2/$5
Kroger or Dole Salad Blends, Select Varieties, 8 to 12 oz, 2/$5
Naked Juice, Select Varieties, 15.2 fl oz, BOGO (no price listed)
Organic Red, White or Black Seedless Grapes, $2.49/lb
Organic Mangos, $0.99
---
SEAFOOD
Snow Crab Clusters, Wild-Caught, Previously Frozen, 6 to 8 oz, $9.99
Kroger Bagged Shrimp, Select Varieties, Cooked or Raw, 12 to 16 oz, $7.99