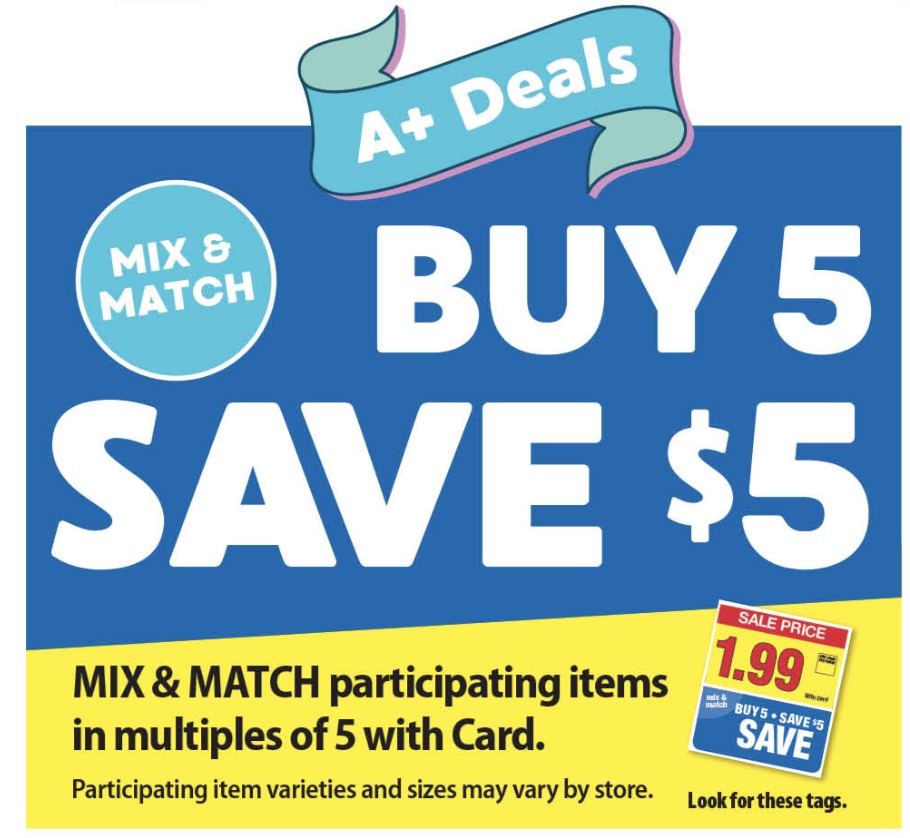 Here is the start of the HUGE inclusion list for the upcoming Mix & Match Buy 5, Save $5 Mega sale that starts on Wednesday, 8/8 and runs through Tuesday 8/21. With this sale you will instantly save $5 at checkout when you buy any 5 participating items.
If you find any other matching coupons or if you find a coupon that doesn't match, let me know and I will get it added or fixed as soon as possible. As usual the price listed is AFTER mega savings.
I will add in the remaining items/prices throughout the day on Wednesday. As I mention above, this is a big sale so be sure to click "Read More" to see all the deals!
BABY
Aveeno Baby Sunscreen 3 fl oz $7.99 – $8.99
Babyganics Sunscreen, 6-8oz, $8.99
–$1/1 Babyganics Product printable [product $3.99+]
Comforts Diapers or Training Pants
–$1.50/1 Comforts Value or Super Value Diaper Box (Sizes 2-6) Kroger Digital
Comforts Wipes $3.49+
Earth's Best Baby Food Pouches, 4 ct $4.29
–$1/3 Earth's Best Organic Jars or Pouches printable [Jars or Pouches]
Earth's Best Electrolyte Solution $3.99
Enfamil Formula $26.49+
–$5/2 Enfamil NeuroPro Powders, any variety (20oz or larger) Kroger Digital
Gerber Graduates Yogurt Melts $1.49
–$1/4 Gerber Snack Items
–$1/4 Gerber Snack Items, any size. Kroger Digital
Huggies Baby Wipes, 56ct, $0.99 +
–$0.50/1 package of HUGGIES Wipes (48 ct. or higher)
–$0.50/1 package of HUGGIES Wipes, any variety (48 ct. or higher) Kroger Digital
-$1/3 Huggies Wipes, 07/22 SS (exp 8/18) [48-ct.+]
Huggies Jumbo Supreme Diapers, Select Varieties, Sizes NB to 6, 18 to 35 ct, $7.99 +
–$2/1 Huggies Diapers printable [Not valid on 9-ct. or less] –$1.50/1 Huggies Diapers printable
–$1.50/1 Huggies Diapers printable
-$2/1 Huggies Diapers, 07/22 SS (exp 8/18) [10-ct.+]
Luvs Diapers $5.49
-$2 off Luvs, exp. 8/11/18 (P&G 07/29/18) [(2) bags or (1) box diapers]
Neutrogena Sunscreen & Pure & Free Baby Sunscreen, 3 fl oz $8.99
Neutogena Bath, $5.99
Pampers Baby Wipes $5.49+
–$0.50/1 Pampers Baby Wipes printable
-$1/2 Pampers or Luvs Wipes, exp. 8/11/18 (P&G 07/29/18) [56-ct.+]
Pampers Diapers $7.99
–$1/1 Pampers Easy Ups printable
–$1/1 Pampers Cruisers Diapers printable [ETS] –$1/1 Pampers Swaddlers Diapers printable [ETS] –$1/1 Pampers Splashers Swim Pant printable
-$4 off Pampers Easy Ups Training Underwear or Underjams Absorbent Night Wear, exp. 8/11/18 (P&G 07/29/18) [(1) box or (2) bags] -$3 off Pampers Diapers or Easy Ups Training Underwear, exp. 8/11/18 (P&G 07/29/18) [(2) bags or (1) box] –$5/1 Pampers Easy Ups Training Underwear (Ibotta Deposit) [Any box variety; Any size]
Pull-Ups Training Pants
–$2/1 PULL-UPS Training Pants or GOODNITES Nighttime Pants or Bed Mats (Not valid on 7 ct. or less)
–$2/1 Pull-Ups Training Pants printable
–$2/1 PULL-UPS Training Pants or GOODNITES® Nighttime Pants or Bed Mats. Not valid on 7 ct. or less. Kroger Digital
---
DAIRY/REFRIGERATED
Buitoni Pasta, 20oz, $5.49
Blue Diamond Almond Breeze, 1/2 gal, $1.99
Chobani Greek Yogurt, 32oz, $4.99
–$1.50/1 Chobani Greek Yogurt, any variety (32oz) Kroger Digital
Dannon Danimals Yogurt Smoothies, 12 pk, 3 fl oz, $3.99
Florida's Natural Orange Juice, Select Varieties, 59 fl oz, $2.29
Kraft Cracker Barrel Cheese, 7 to 8 oz, Select Varieties, $2.99 – $3.49
Kraft Cheese, 7 to 8 oz, or American Singles, 16 ct, Select Varieties, $1.99
Kroger Cheese, 12 to 16 oz, $2.49
Kroger Natural Cheese, Sliced 12 oz, $2.49
Minute Maid Fruit Juice, 52oz, $1.49
O That's Good Sides and Soups, $2.99
Philadelphia Cream Cheese, 2 pk, or Kraft Cracker Barrel Cheese, 7 to 8 oz, Select Varieties, $2.99
Silk Soy and Cashew Milk, 1/2gal, $1.99
Simply Fruit Drinks and Lemonade, $1.49
Simply Orange Juice, 4ct, $3.99
So Delicious Coconutmilk, 1/2gal, $2.79
–$1/1 So Delicious Dairy-Free Product printable
Stok Iced Coffee, 48 fl oz, Select Varieties, $3.99
–BOGO Stok Multi-Serve, any variety (48oz), Get ONE (1) Single Serve, any variety (13.7oz) Free Kroger Digital
Tropicana Orange Juice
Welch's Fruit Juice, 59oz, $1.29
---
BAKERY/DELI
Fresh Foods Market Hand Breaded Chicken Tenders, Select Varieties, In the Deli, $5.99/lb
Private Selection Cheese, Pre-Sliced, $3.49
Private Selection Deli Meats, Pre-sliced, $3.49+
Private Selection Prosciutto & Mozzarella Rolls
Stacy's Pita Chips, $3.99
–$1.50/2 Stacy's® products (4oz or larger) printable
---
FROZEN
Bacardi Mixers, $1.50
Ben & Jerry's Ice Cream or Slices, $2.99
–$1/1 Ben & Jerry's Moo-Phoria™ light ice cream
Bertolli Frozen Meals, Select Varieties, 20 to 24 oz, $5.99
Blue Bunny Mini Cones, 6ct, $2.49
–$0.75/1 Blue Bunny Ice Cream (46/48 oz) or Novelty Carton
Blue Bunny Sandwiches, 6ct, $2.49
–$0.75/1 Blue Bunny Ice Cream (46/48 oz) or Novelty Carton
Blue Bunny Snacks, 6ct, $2.99
–$1/2 Blue Bunny Bunny Snacks (Ibotta Deposit) [Any variety; Any size]
Blue Ribbon Fudge Bar, 20ct, $3.49
Breyers Ice Cream, 48 fl oz Select Varieties, $2.99
–$1.50/1 pint of Breyers® delights or Breyers® delights Minis
California Pizza Kitchen, $6.99
Cooked Perfect Chicken, Wings or Tenders, $5.99
–$1.50/1 Cooked Perfect Fire Grilled Chicken printable
Cooked Perfect Meatballs, 14-80oz, $2.49 – $14.99
–$1.50/1 Cooked Perfect Meatballs printable
–$1/1 Cooked Perfect Frozen Meatballs printable
-$1/1 Cooked Perfect Meatballs 8/5 SS
-$1.50/2 Cooked Perfect Meatballs 8/5 SS
De Wafelbakkers Pancakes, 1lb, $1.99
Diana's Banana Babies, 5ct, $2.99
DiGiorno Stuffed Crust Pizza or Crispy Pan Pizza, Select Varieties, 21.6 to 29.59 oz, $6.49
–$1/1 DiGiorno Pizza 10.6 OZ OR LARGER
Dole Frozen Mixed Berries, 40oz, $7.99
Dove Bar Minis, M&M's or Dove Ice Cream Novelties, $2.49
Edwards Creme Pie, 31.9oz, $5.99
Enlightened Ice Cream, 16oz, $3.99
–$1/2 Enlightened Ice Cream printable
–$1/1 Enlightened The Good-For-You Ice Cream (Ibotta Deposit) [Any variety; Bars or Pints]
Freschetta Pizza, 20.28 to 30 oz, or Newman's Oven Pizza, 13.2 to 16.5 oz, Select Varieties, $3.99
–$0.75 on Freschetta® Pizza[any variety; any size][5x per receipt]
Frontera Frozen Meals, Select Varieties, 20 to 24 oz, $5.99
Frontera Taco Bowl, 11.5 oz, $3.49
Gardein Meatless Entree, $3.49
–$1/1 Gardein printable
Garden Lites, $1.99
–$1/1 Garden Lites Product printable
–$1/1 Garden Lites Product printable
Gorton's Shrimp Bowl, $3.49
–$1/2 Gorton's Products printable
Gorton's Fish, $3.99 +
–$1/2 Gorton's Products printable
InnovAsian Entrees, $4.99
Jimmy Dean Breakfast Sandwiches, 4 to 10 ct, Select Varieties, $3.99
Johnsonville Grillers, $4.99
Jose Ole Taquitos, 10 to 20 ct, Select Varieties, $3.99 +
Louisa Frozen Pasta, 16-22oz, $2.99
Luvo Bowl, 9oz, $2.59
–$1.50/1 Luvo Bowls (BerryCart Deposit)
Magnum Ice Cream Pint, 14.8oz, $2.99
Morey's Frozen Fish, 10oz, $4.99
Nestle Drumstick Ice Cream Novelties
Newman's Own Pizza, $3.99
Popsicle Fruit Pops, $2.69
–$1.25/1 Popsicle Mango Fruit Pops (Checkout 51 Deposit) [12 pack; Cannot use this offer with any other print or in-app coupon or rebate.] –$1.25/1 Popsicle Orange Fruit Pops (Checkout 51 Deposit) [12 pack; Cannot use this offer with any other print or in-app coupon or rebate.] –$1.25/1 Popsicle Raspberry Fruit Pops (Checkout 51 Deposit) [12 pack; Cannot use this offer with any other print or in-app coupon or rebate.] –$1.25/1 Popsicle Strawberry Fruit Pops (Checkout 51 Deposit) [12 pack; Cannot use this offer with any other print or in-app coupon or rebate.]
P.F. Chang's, Select Varieties, 20 to 24 oz, $5.99
Private Selection Extra Large Shrimp, 1lb, $8.49 – $11.49
Private Selection Sliced Strawberries In Sugar, 16oz, $3.99
Private Selection Triple Berry Blend, 1lb, $3.99
Sandwich Bros Sandwiches, 4ct, $1.99
–$1/1 Sandwich Bros Product printable [4-ct. or 6-ct.]
Simple Truth Frozen Meals, $5.99
Solero Fruit Bars, 4 to 12 ct, Select Varieties, $2.49
Sweet Habit Ice Cream, 32oz, $4.49
Tennessee Pride Sausage Biscuits, 20ct, $6.99
–$0.75/1 Odom's Tennessee Pride Frozen Breakfast Sandwiches (10 ct or larger, any variety) Kroger Digital
Totino's Pizza Rolls, $5.99
–$0.50/2 BOXES any flavor 15 COUNT Totino's™ Pizza Rolls™ Snacks
-$1/1 Totino's Pizza Rolls, 08/05 SS (exp 9/29) [90-ct.+; Excludes mini snack bites] –$0.50/2 Totino's Pizza Rolls Snacks (SavingStar Deposit) [15-ct.]
Turkey Hill Ice Cream, 48 fl oz, Select Varieties, $2.49
–$0.75/1 Turkey Hill All Natural Ice Cream printable
–$0.75/1 Turkey Hill All Natural Ice Cream (SavingStar Deposit) [48-oz.]
Weight Watchers Bars, select varieties, $3.99
Yasso Frozen Greek Yogurt, 4ct, $3.99
Yummy Chicken, $4.84+
---
GROCERY
Annie's Cereal, $2.49
– $1/1 BOX of any Annie's™ Organic Cereal
–$1/1 Annie's Organic Cereal (SavingStar Deposit)
–$0.50/1 Annie's Cereal printable
Bai Blueberry Beverages, 6ct, $7.99
Betty Crocker Fruit Snacks, 6 to 10 ct, Select Varieties, $0.99
–$0.50/2 Betty Crocker Fruit Shapes, Fruit By the Foot, Fruit Gushers or and more printable
-$0.50/2 Betty Crocker Fruit Snacks, 07/08 SS (exp 9/1)
–$0.50/2 Betty Crocker Fruit Shaped, Fruit by the Foot, or Fruit Gushers printable
-$0.50/2 Betty Crocker Fruit Flavored Snacks, 08/05/18 SS (exp 9/29/18)
Bertolli Rustic Cut Pasta Sauce, $2.89
-$1.50/2 Bertolli Rustic Cut Pasta Sauces, 08/05 SS (exp 9/2) [23-oz.; Maximum of 2 Identical Coupons Allowed in Same Shopping Trip] -$1/2 Bertolli Sauces, 08/05 SS (exp 9/2) [15-oz.+; Maximum of 2 Identical Coupons Allowed in Same Shopping Trip]
California Sun Dry Dried Tomatoes, $1.49
California Sun Dry Dried Tomatoes Spread, $1.99
California Sun Dry Sun Dried Tomatoes, $2.99
Canada Dry , 6pk, $1.99
Capri Sun Organic, $2.99
Carnation Breakfast Essentials Drinks, 6ct, $5.99
–$2/2 Carnation Breakfast Essentials products, any variety or size. Excludes 8 oz. singles. Kroger Digital
Carnation Breakfast Essentials Powder, 10ct, $3.99
–$2/2 Carnation Breakfast Essentials products, any variety or size. Excludes 8 oz. singles. Kroger Digital
Cascadian Farm Organic Cereal, Select Varieties, 9.2 to 16 oz, $1.99
–$1/1 Cascadian Farm Cereal or Granola printable
Chock Full o Nuts, $6.79
Crystal Light Drink Mix On The Go, $1.50-$1.99
Deer Park Spring Water, 24 pk, 16.9 fl oz Bottles, $3.49
Doritos, 9.25 to 11.25 oz, or Fritos or Cheetos, 7 to 9.25 oz, Select Varieties, $1.77
Fiber One Bars, Select Varieties, 5 to 12 ct, $1.99
–$0.50/2 BOXES any flavor Fiber One™ Chewy Bars, Fiber One™ 90 Calorie Products (Bars or Brownies)
–$0.50/2 Fiber One Products Kroger Digital
-$0.50/1 Nature Valley Granola Bars, Biscuits, Granola Cups, OR Fiber One Chewy Bars, 90 Calorie Products (Bars or Brownies) Protein Chewy Bars, Streusel Bars, Cheesecake Bars, Cookies, Layered Chewy Bars, Protein Nut Bars (DND) – Found On Product (DND) Peelie (exp 6/1/19)
Food Network Kitchen Meal, $2.99
Food Should Taste Good Chips, 11oz, $2.99
–$1/2 any flavor/variety 5.5 OZ OR LARGER Food Should Taste Good Tortilla Chips OR Bean Chips
–$1/2 any flavor/variety 5.5 OZ OR LARGER Food Should Taste Good Tortilla Chips OR Bean Chips
–$1/2 Food Should Taste Good™ Tortilla Chips OR Bean Chips, any flavor/variety (5.5 OZ OR LARGER) Kroger Digital
Fresh Gourmet Cheese Crisps, $0.99
Fritos Dip, 9oz, $1.99
Gatorade 8 pk , $2.99
General Mills Cereal, Select Varieties, 10.5 to 21.7 oz, $1.99 – $2.79
–$0.50/1 Lucky Charms, Chocolate Lucky Charms OR Lucky Charms Frosted Flakes cereal
–$1/2 General Mills cereal listed: Cheerios • Cinnamon Toast Crunch • Lucky Charms • Reese's
–$0.50/1 Original Cheerios cereal (the one in the yellow box)
–$0.50/1 Honey Nut Cheerios OR Honey Nut Cheerios Medley Crunch cereal
–$0.75/1 Peanut Butter Chocolate Blasted Shreds cereal
–$0.50/1 Reese's Puffs cereal
–$0.50/1 Multi Grain Cheerios cereal
–$0.50/1 Chex cereal: Rice Chex • Corn Chex • Wheat Chex • Honey Nut Chex • Chocolate Chex • Cinnamon
–$0.75/1 Cheerios Oat Crunch cereal
–$0.75/1 Peanut Butter Chocolate Blasted Shreds Cereal printable
–$1/2 BOXES General Mills cereal listed: Cheerios™, Cinnamon Toast Crunch™, Lucky Charms™, Reese's Puffs, Chex™, Blasted Shreds™, Cocoa Puffs™, Trix™, Cookie Crisp™, Golden Grahams™, Kix™, Fiber One™, Wheaties™, Raisin Nut Bran, Total™, Basic 4™, Oatmeal Crisp™, Nature Valley™ boxed cereal , Nature Valley™ Granola, any flavor or size. Kroger Digital
-$0.75/2 General Mills Lucky Charms, Lucky Charms Frosted Flakes, Reese's Puffs, Cinnamon Toast Crunch, French Toast Crunch, Apple Cinnamon Toast Crunch, Cocoa Puffs, Trix, Cookie Crisp, Golden Grahams, Kix, or Peanut Butter Blasted Shreds, 07/29/18 SS (exp 9/8/18)
-$1/3 General Mills Cheerios, Cinnamon Toast Crunch, Lucky Charms, Reese's Puffs, Chex, Blasted Shreds, Cocoa Puffs, Trix, Cookie Crips, Golden Grahams, Kix, Fiber One, Wheaties, Raisin Nut Bran, Total, Basic 4, Oatmeal Crisp, Nature Valley Boxed Cereal, or Nature Valley Granola, 07/08 SS (exp 8/18)
-$1/1 General Mills Big G Cereals (DND) – (Found on Product) Peelie (exp 5/31/19)
–$1/2 Cheerios, Cinnamon Toast Crunch, Lucky Charms, Reese's Puffs, Chex, Blasted Shreds, Cocoa Puffs, Trix, Cookie Crisp, Golden Grahams, Kix, Fiber One, Wheaties, Raisin Nut Bran, Total, Basic 4, Oatmeal Crisp, Nature Valley boxed cereal, or Nature Valley Granola (SavingStar Deposit)
Gevalia Coffee Bags or K-Cups, $5.99
Ghirardelli Chocolate, select varieties, $2.49
Ghirardelli Chocolate Covered Cashews, $3.99
Grain Berry Cereal, 12-16oz $2.79
Heinz Real Mayo, 19-30oz, $2.99
–$4.50 on Simply Heinz Ketchup and Heinz Real Mayo Combo (Ibotta Deposit)
–$4.50 on Heinz Tomato Ketchup and Heinz Real Mayo Combo (Ibotta Deposit)
Herdez Salsa, 15.7oz, $1.49
Hershey's or Reese's Popped Snack Mix, 8oz, $2.99
–$1/1 Hershey's Popped Snack Mix (Checkout 51 Deposit) [8 oz or larger, any variety; Cannot use this offer with any other print or in-app coupon or rebate.] –$1/1 Reese's Popped Snack Mix (Checkout 51 Deposit) [8 oz or larger, any variety; Cannot use this offer with any other print or in-app coupon or rebate.]
Hills Bros Cappuccino, 16oz, $2.49
Hormel Real Crumbled Bacon, 20oz, $11.49
–$1/2 Hormel Bacon Toppings Products printable
Jack Links Beef Jerkey Mega Pack, 8oz, $10.99
Jif Peanut Butter, 15.5 to 16 oz, Select Varieties, $1.49
Keebler Town House or Club Crackers, Select Varieties, 9 to 13.8 oz, $1.49
–$1.25/3 Keebler Town House Crackers printable
–$1/1 Keebler Crackers printable [Need 850 rewards points] -$1/2 Keebler Club Crackers, Any 8 Oz. Or Larger (Limit of 4 Like Coupons in Same Shopping Trip; No Cash Back) – 07/29/18 RMN (exp 09/23/18)
–$0.75/1 Keebler Club Bites and Minis (Ibotta Deposit) [Includes 8.8 or 11 oz Only] May Redeem 5x
Kool-Aid or Country Time or Tang Canisters, Select Varieties, 6 to 8 Quart, $0.99
Kool-Aid Sparklers, 6ct, $2.49
–$0.70/1 KOOL-AID Sparklers, any size. Kroger Digital
Kraft Macaroni & Cheese Multipack, Select Varieties, 5 ct, $3.79
Kraft Macaroni & Cheese Cups, 4ct, $2.99
–$0.70/1 KRAFT Macaroni & Cheese, any variety (4-pack Cups) Kroger Digital
Kraft BBQ Sauce, 18oz, $0.59
Kraft Real Mayo, 22-30oz, $1.99
-$0.35/1 Kraft Mayo Or Miracle Whip Dressing, Any 22 Oz. Or Larger (No Cash Back) – 08/12 SS (exp 9/23)
-$1/1 Kraft Avocado Or Aioli, Any (No Cash Back) – 08/12 SS (exp 9/23)
$0.75/2 Dole Canned Fruit, 06/24 SS (exp 8/19) [15-oz. or 20-oz.; Limit of 4 Like Coupons in the Same Shopping Trip]
Kraft or Velveeta Macaroni & Cheese Cups 4 ct, $2.99
–$0.70/1 KRAFT Macaroni & Cheese, any variety (4-pack Cups) Kroger Digital
Krusteaz Protein Pancake Mix, 20oz, $2.99
Lay's Family Size Potato Chips, 9.5 to 10 oz, or Lay's Kettle Chips, 6.5 to 8 oz, or 7UP, 6 pk, 16.9 fl oz Bottles, Select Varieties, $1.99
Lipton Tea, 12 pk, 16.9 fl oz, or Pure Leaf Tea, 6 pk, 18.5 fl oz, Select Varieties, $3.99
Maxwell House, 22 to 30.6 oz Can, Select Varieties, $4.99
Mariani Dried Fruit, 4-5oz, $2.89 – $3.49
McCafe Coffee, bags or K-Cups, $5.99
–$1.25/1 McCafé Ground Coffee or Premium Roast Coffee K-Cup Pods Any variety (Checkout 51 Deposit)
McCormick Organic Spices, select varieties, $3.19 – $3.99
Mentos Gum, 50ct, $1.50
Minute Maid Juice Boxes, 10ct, $2.49
–$0.75/1 Minute Maid 100% Juice Box (Ibotta Deposit) [Any variety; 10-ct. box]
MiO Water Enhancers, 1.52oz, $1.99
Mrs Cubbison's Parm Crisps & Toppings $1.99
–$1/1 Mrs. Cubbison's Cheese Crisps printable
–$1/2 Mrs. Cubbison's Salad Toppings printable
Nature Nate's Raw Honey, 16oz, $5.99
Nature's Own Bread, 20 oz, or Buns, 8 ct, Select Varieties, $1.99
-$0.50/1 Nature's Own Buns, 06/17 SS (exp 9/5)
-$0.55/1 Nature's Own Loaf of Bread – (Found on Product) Peelie (exp 8/31/18)
-$2 off (1) Butterball Frozen Turkey Burgers 2 lb. AND (1) Nature's Own Hamburger Buns Tearpad (exp 8/31/18)
Nature Valley or Fiber One Bars, Select Varieties, 5 to 12 ct, $1.79
–$0.50/2 Nature Valley Granola Bars, Nature Valley Granola Cups, and more printable [5-ct.+ granola bars] -$0.50/2 Nature Valley Granola Bars, Biscuits, Granola Cups, Layered Granola Bars, Soft-Baked Filled Squares, or Peanut or Almond Butter Granola Bites Pouch, 08/05/18 SS (exp 9/29/18) [5-ct.+ granola bars] –$0.50/2 Nature Valley Granola Bars, Nature Valley Biscuits and more printable
-$0.50/2 Nature Valley Granola Bars, Biscuits, Granola Cups, Layered Granola Bars, Soft-Baked Filled Squares, or Peanut or Almond Butter Granola Bites Pouch, 07/08 SS (exp 9/1) [5-ct.+ granola bars] –$0.50/1 BOX any Nature Valley Breakfast Biscuits, Nature Valley Biscuits with Almond Butter, Nature Valley Biscuits with Peanut Butter, OR Nature Valley Biscuits with Coconut Butter. (Savingstar Deposit)
–$0.50/1 BOX Nature Valley™ Breakfast Biscuits, Nature Valley™ Biscuits with Almond Butter, Nature Valley™ Biscuits with Peanut Butter OR Nature Valley™ Biscuits with Coconut Butter, any size. Kroger Digital
–$0.50/2 BOXES Nature Valley™ Granola Bars, Nature Valley™ Granola Cups, Nature Valley™ Layered Granola Bars OR Nature Valley™ Soft-Baked Filled Squares, any flavor (5 COUNT OR LARGER) Excludes Nature Valley™ Biscuits, Granola Bites. Kroger Digital
Mott's Fruit Snacks, $0.99
–$0.50/1 Mott's Fruit Flavored Snacks or Mott's Fruity Rolls (SavingStar Deposit)
Ocean Spray Cranberry Juice, 64 fl oz, or Mocktails, 33.8 fl oz, or Mio Water Enhancer, 1.62 fl oz, $1.99
Old El Paso Taco Shells and Kit, select varieties, $1.99 – $2.39
–$1/2 Old El Paso products (SavingStar Deposit) [Excludes Old El Paso seasoning, refrigerated, and produce products] -$1/2 Old El Paso products, any size. Excludes Old El Paso seasoning, refrigerated, and produce products. Kroger Digital
Pepperidge Farm Farmhouse Bread, 14 to 24 oz, Select Varieties, $2.49 – $3.29
Pepperidge Farm Goldfish Crackers, $0.99
Pepperidge Farm Cookies and Crackers Multipack, $3.99
Perrier, 6ct, $3.99
Planters Nuts, select varieties, $2.99 – $4.99
–$1/1 Planters Crunchers (Ibotta Deposit) [Any variety; 7-oz. pack]
Pompeian Extra Virgin Olive Oil, 16oz, $4.99
–$0.55/1 Pompeian Extra Virgin Olive Oil printable
Pompeian Wine Vinegar, 18oz, $1.94
Powerade, 8 pk, 20 fl oz Bottles, or San Pellegrino Soda, 6 pk, 11.15 fl oz Cans, Select Varieties, $3.99
Propel Water Beverage, 16.9oz, $2.99
San Pellegrino or Perrier Sparking Water 6pk
Sara Lee Bread, 20oz, $1.49
Smucker's Jelly, 17.25 to 20 oz, Select Varieties, $1.49 – $1.89
Snapple Tea, 64oz, $1.99
Snyder's of Hanover Pretzels, select varieties, $1.99
-$1/2 Snyder's of Hanover Products, 07/29 SS (exp 9/30) [5-oz.+] –$1/2 Snyder's of Hanover Pretzels (Checkout 51 Deposit) [Valid on 5 oz or larger, any variety. Items must appear on the same receipt.] –$1/2 Snyder's of Hanover Pretzels (SavingStar Deposit) [5-oz.+]
Snyder's of Hanover Wholey Cheese Crackers, 5oz, $1.99
-$1/2 Snyder's of Hanover Products, 07/29 SS (exp 9/30) [5-oz.+]
SkinnyPop Multipack, Select Varieties, 6 ct, $2.99
–$1/1 SkinnyPop® Ready To Eat Popcorn
–$1/1 SkinnyPop Ready To Eat Popcorn, any variety or size. Kroger Digital
Stur Water Enhancer, $2.49
–$0.50/1 Stur Liquid Water Enhancer (Ibotta Deposit) [Any variety; Any size][5x per receipt]
Stacy's Pita Chips, 10.35oz, $3.99
–$1.50/2 Stacy's products (4oz or larger)
Starbucks Coffee, 10 to 12 oz Bag, or K-Cups, 6 to 10 ct, or Maxwell House, 22 to 30.6 oz Can, Select Varieties, $4.99
-$1.50/1 Starbucks K-Cup PODS, 06/10 SS (exp 9/10) [6-ct.+] -$2/2 Starbucks K-Cup PODS, 06/10 SS (exp 9/10) [6-ct.+; Limit one coupon per person]
Starbucks Cold Brew Coffee, 4.3oz, $6.99
Starbucks Frappuccino or Double Shot Drinks, $3.99
Sweet Baby Ray BBQ Sauce, 28oz, $1.49
Sweet Baby Rays Hot Sauce, 12oz, $0.99
Sweet Baby Rays Wing Sauce, 16oz, $0.99
Tazo Tea K-Cup $4.99
Voortman Cookies, $1.99
Welch's Fruit Snacks, Select Varieties, 6 to 10 ct, $0.99 – $1.29
–$1/2 Welch's® Fruit Snacks, Fruit 'n Yogurt™ Snacks or Fruit Rolls (8oz or larger bag or 6ct or larger box)
–$1/1 Welch's Fruit Rolls (Checkout 51 Deposit) [Valid on 6 ct box; Cannot use this offer with any other print or in-app coupon or rebate.] –$1/2 Welch's Fruit Snacks (Checkout 51 Deposit) [Valid on 8-oz. or larger bag or 8 ct or larger box. Items must appear on the same receipt; Cannot use this offer with any other print or in-app coupon or rebate.] –$1/2 Welch's Fruit Snacks, Fruit 'n Yogurt Snacks or Fruit Rolls printable [8-oz.+ bag or 6-ct box]
Yuban Coffee, Canned, 31oz, $4.99
---
HEALTH & BEAUTY
Act Mouthwash, $2.99
–$1/1 ACT Product printable
-$1/1 ACT Product, 07/29 SS (exp 8/26) [ETS]
Always Discreet, $3.99
-$2/1 Always Discreet Incontinence Liner or Pad, exp. 8/25/18 (P&G 07/29/18)
Always Pads or Tampax Tampons, $5.99 +
-$1/1 Always Radiant, Infinity, Pure and Clean, Ultra, or Maxi Pads, exp. 8/25/18 (P&G 07/29/18) [11-ct.+; Excludes liners and discreet] -$1/1 Tampax Pearl, Radiant, or Pure and Clean Tampons, exp. 8/25/18 (P&G 07/29/18) [16-ct.+; Limit of 2 Identical Coupons Per Household Per Day]
Aveeno Body Wash, $5.49
-FREE AXE Body Wash wyb Axe Body Spray, exp. 8/18/18 (RMN 08/05/18 #3) [up to $6.49 ets]
Aveeno Spray, $3.49
-FREE AXE Body Wash wyb Axe Body Spray, exp. 8/18/18 (RMN 08/05/18 #3) [up to $6.49 ets]
Axe Body Wash, $2.99
Axe Deodorant, $2.99
BOOST, $6.99 +
–$2/1 BOOST® Optimum™ Drink printable
–$2/1 BOOST® Nutritional Drinks or Drink Mix printable
Bromley's Balm, $3.99
Carefree, $1.99
-$2/2 Carefree Products, 07/22 SS (exp 9/2) [Excludes 18-ct., 20-ct. or 22-ct.; Limit of 2 Identical Coupons Per Household Per Day; No Cash Back] –$0.50/1 Carefree Product printable
Caress, 12oz, $1.99
–$0.50/1 Caress Body Wash (12 oz. or larger) or Beauty Bar (6 pk. or larger). Excludes trial and travel sizes. Kroger Digital
-$1/1 Caress Body Wash or Beauty Bar, exp. 8/18/18 (RMN 08/05/18 #3) [12-oz.+ body wash; 6-ct.+ bars; Limit of 2 Identical Coupons Per Household Per Day; No Cash Back]
Carol's Daughter Haircare, $8.99 +
Clairol Color Crave, $7.49
-$6/2 Clairol Color Crave or Specialty Blonding Collection, 08/12 SS (exp 8/25)
Clairol Hair Expert Hair Color, $7.99
–$2/1 Clairol Nice'n Easy Root Touch-Up Permanent (Ibotta Deposit) [Any variety; Any size]
Clairol Natural Instinct, $5.99
–$3/1 box of Clairol® Hair Color (excludes Color Crave, Temporary Root Touch-Up, Age Defy, Balsam and Textures & Tones)
–$3/1 box of Clairol Temporary Root Touch-Up
-$3/1 Clairol Hair Color, 08/12 SS (exp 8/25) [Excludes color crave, temporary root touch-up, age defy, balsam, and textures & tones] -$3/1 Clairol Temporary Root Touch-Up, 08/12 SS (exp 8/25)
–$2/1 Clairol Nice'n Easy Root Touch-Up Permanent (Ibotta Deposit) [Any variety; Any size] –$2/1 Clairol Nice'n Easy Hair Color (Ibotta Deposit) [Any variety; Any size]
Clear Care, $8.99
-$2/1 Opti-Free or Clear Care Solution, exp. 8/18/18 (RMN 07/22/18 R) [10-oz.+] –$2/1 Opti-Free Contact Lens Solution printable [Sign Up for Eye File
-$2/1 Opti-Free or Clear Care Solution, exp. 8/18/18 (RMN 07/22/18 R) [10-oz.+]
Clear Care Twin Pack, $15.99
Colgate Enamel Health Toothpaste, 6oz, $2.99
–$2/1 Colgate Total Advanced, Colgate Optic White, or Colgate Enamel Health Toothpaste (3.0 oz or larger) Kroger Digital
–$1/1 Colgate Total, Colgate Optic White, Colgate Enamel Health or Colgate® Sensitive Toothpaste (3.0 oz or larger)
–$1/1 Colgate Total, Colgate Optic White, Colgate Enamel Health or Colgate Sensitive Toothpaste (3.0 oz or larger) Kroger Digital
–$1.50/1 Colgate Enamel Health Toothpaste (Ibotta Deposit) [Any Enamel Health variety; 6-oz. tubes, single or twin packs]
Colgate Toothbrush, $1.99 +
Crest Mouthwash $2.99
-$1/1 Crest Mouthwash, exp. 8/11/18 (P&G 07/29/18) [16-oz.+; Limit of 2 Identical Coupons Per Household Per Day]
Crest Toothpaste, 3.5 to 6.2 oz, $1.99 +
-$2/1 Crest Toothpaste, exp. 8/18/18 (RMN 08/05/18 #2) [3-oz.+ Excludes cavity, regular, baking soda, tartar control/protection, f&w pep gleem, kids, and trial] -$0.50/1 Colgate, 08/05 SS (exp 8/18) [3-oz.+; Limit of 4 Identical Coupons for the same product in the same day] –$0.50/1 Colgate Kids Toothpaste printable [3-oz.+] –$0.75/1 Colgate Kids Toothpaste Ibotta Deposit
Dial Kids Body Wash 12 oz, $1.99
Dial Body Wash, $2.99
–$1/2 Dial Body Washes (20oz or larger), Dial Complete Foaming Hand Soaps or Dial Bar (6ct or larger)
–$2/2 Dial or Tone Body Wash or Bar Soap (6-BAR OR LARGER) (Savingstar Deposit)
–$2/2 Dial or Tone Body Wash or Bar Soap (6-BAR OR LARGER) Kroger Digital
-$1/2 Dial Regular or For Men Body Wash or Bar Soap, exp. 8/19/18 (RMN 08/05/18) [6-pk.+]
Dial Soap 8 pk or Refill, $3.49
–$1/2 Dial Body Washes (20oz or larger), Dial Complete Foaming Hand Soaps or Dial Bar (6ct or larger)
–$2/2 Dial or Tone Body Wash or Bar Soap (6-BAR OR LARGER) (Savingstar Deposit)
–$2/2 Dial or Tone Body Wash or Bar Soap (6-BAR OR LARGER) Kroger Digital
-$1/2 Dial Regular or For Men Body Wash or Bar Soap, exp. 8/19/18 (RMN 08/05/18) [6-pk.+]
Degree Deodorant, $3.29
Depend $10.99
-$2/1 Depend Product, exp. 8/25/18 (SS 07/29/18 #2) [8-ct.+] –$2/1 Depend Products printable
Dove Body Wash, $4.99
-$3 off Dove, Dove Men+Care, Degree, or Axe Male AND Female Dry Spray Antiperspirant Product, exp. 8/18/18 (RMN 08/05/18 #3) [Must buy 1 Male AND 1 Female item; ets] -$2/1 Dove Men+Care Foaming Body Wash Product, exp. 9/2/18 (RMN 08/19/18) [13.5-oz.+; ETS] -$2/1 Dove Shower Foam Product, exp. 9/2/18 (RMN 08/19/18) [13.5-oz.+; ETS]
Dove Bar Soap 4 pk, $3.99
–$0.75/1 Dove Men+Care Bar (4 pk. or larger) or Body Wash. Excludes trial and travel sizes. Kroger Digital
-$1/1 Dove Men+Care Bar or Body Wash, exp. 8/18/18 (RMN 08/05/18 #3) [4-ct.+ bars; ets]
Dove Men + Care Deodorant, $3,49
Dove Dry Spray, $4.99
Flonase 120 spray, $22.79
-$6/1 Flonase or Flonase Sensimist, exp. 8/26/18 (RMN 07/29/18 R) [120-ct.+] -$4/1 Flonase or Flonase Sensimist, exp. 8/26/18 (RMN 07/29/18 R) [60-ct.+] –$4/1 Flonase Allergy Relief printable [120 Spray, Sign Up] –$2/1 Flonase Allergy Relief printable [60 Spray, Sign Up]
Garnier Fructis or Whole Blends Shampoo or Conditioner, 12-21oz, $2.29-$4.49
–$2/1 Garnier Whole Blends® shampoo, conditioner or treatment (excluding 3.0 oz travel size & .68 oz Care Creams mask)
–$4/2 GARNIER FRUCTIS shampoo, conditioner, treatment or style (excluding 2 oz., 2.9 oz. and 3 oz. trial sizes)
-$4/2 Garnier Fructis Shampoo, Conditioner, Treatment, or Style, exp. 8/18/18 (RMN 08/05/18 #2) [ETS]
Gillette Deodorant, $3.99
-$1/1 Gillette Antiperspirant/Deodorant, exp. 8/11/18 (P&G 07/29/18) [1.6-oz.+]
Gillette Razors & Cartridges, $3.99 +
-$2/1 Gillette Razor, exp. 8/25/18 (P&G 07/29/18) [Excludes Gillette3, Gillette5, and Disposables] -$3/1 Venus Razor, exp. 8/25/18 (P&G 07/29/18) [Excludes disposables] -$3/1 Venus or Daisy Disposable, exp. 8/25/18 (P&G 07/29/18) [2-ct.+; Excludes daisy 2-ct., bikini precision, or face perfection; Limit of 2 Identical Coupons Per Household Per Day] -$1/1 Gillette Gillette3 or Gillette5 Razor, exp. 8/25/18 (P&G 07/29/18) [Limit of 2 Identical Coupons Per Household Per Day] -$1/1 Gillette Gillette3 or Gillette5 Razor, exp. 8/25/18 (P&G 07/29/18)
-$2/1 Gillette Razor, exp. 8/25/18 (P&G 07/29/18) [Excludes Gillette3, Gillette5, and Disposables; Limit of 2 Identical Coupons Per Household Per Day] -$3/1 Gillette Disposable, exp. 8/25/18 (P&G 07/29/18) [2-ct.+; Excludes sensor 2-ct.; Limit of 2 Identical Coupons Per Household Per Day] -$3/1 Venus or Daisy Disposable, exp. 8/25/18 (P&G 07/29/18) [2-ct.+; Excludes daisy 2-ct., bikini precision, or face perfection]
Gillette Satin Care, $0.99
Gillette Venus Shave Prep, $0.99 – $1.99
Gold Bond, $8.99
-$1/1 Gold Bond Product, 07/29 SS (exp 8/25) [Excludes 1-oz.] –$1/1 Gold Bond Product printable
Gum Detoxify, $5.99
Head & Shoulders Shampoo or Conditioner, $4.79
–$4/2 Head & Shoulders Products (380 mL/12.8 oz or larger) OR Clinical Solutions. Excludes trial/travel size. Kroger Digital
Herbal Essences or Aussie Shampoo or Conditioner, Select Varieties, 10.1 to 13.5 fl oz, $1.99
-$2/2 Herbal Essences Shampoo, Conditioner, or Styling Products, 08/05/18 RMN (exp 8/18/18) [ETS] -$2/2 Aussie Shampoo, Conditioner, or Styling Products, 08/05/18 RMN (exp 8/18/18) [ETS]
Icy Hot Patch 5 ct, $7.99
-$1/1 Icy Hot Product, 07/29 SS (exp 8/25) [Excludes 1-ct. patches and 1.25-1.75-oz. creams] –$1/1 Icy Hot, Aspercreme or Capzasin Product printable
Irish Spring 8 Bar Soap or Body Wash, $2.99
Ivory Bar Soap 8 pk, $2.99
Kroger 24 Hour Allergy Relief Spray, $15.99
Kroger 24 Hour Nasal Allergy Spray, $13.47
Kroger Anti-Diarrhea, $3.99
Kroger Acetomenophen 100 ct, $1.99
Kroger Acetomenophen 500 ct, $6.39
Kroger Antacid 100 ct, $4.99
Kroger Antacid 160 ct, $2.49
Kroger Aspirin, $5.49
Kroger Aspirin 81 mg 3 bottle value pk, $1.69
Kroger Allergy Relief 24, $1.99 +
Kroger Dairy Digestive Supplement, $6.99
Kroger EZ Nite Sleep, $4.99
Kroger Ibuprofen 500 ct, $5.99
Kroger Gentle LAX, $11.99
Kroger Heartburn Relief 150, $6.49
Kroger Kids Replacement Brush Heads, $13.99
Kroger Jock Itch Cream, $2.99
Kroger Beauty Tools, $1.99 +
Kroger Mouthwash, $2.99 +
Kroger Naproxen Sodium Caplets, $16.99
Kroger Nasal Decongestant, $4.99
Kroger Nicotine Gum
Kroger Razor & Cartridges, $1.29 +
Kroger Rolled Gauze, $5.99
Kroger Tampons, $3.99
Kroger Tender Tape, $1.99
Kroger Sensitive or Enamel Toothpaste, $2.49
Kroger Underwear & Shields, $6.99 +
L'Oreal Cosmetics, $4.99 +
-$2.50/1 L'Oreal Voluminous Lash Paradise Mascara or Primer, exp. 9/1/18 (RMN 08/05/18 #2)
-$3/1 L'Oreal Cosmetic Face Product, exp. 9/1/18 (RMN 08/05/18 #2) [Excludes magic perfecting base 0.17-oz. and infallible setting spray 1-oz.] -$3/1 L'Oreal Eye Shadow Palette, exp. 9/1/18 (RMN 08/05/18 #2)
-$1/1 L'Oreal Lip Liner, exp. 9/1/18 (RMN 08/05/18 #2)
–$1/1 L'Oreal Paris Lip Liner printable
L'Oreal Elvive, $2.99 +
-$4/2 L'Oreal Elvive or Hair Expert Hair Care Products or Advanced Hairstyle Products, exp. 8/18/18 (RMN 08/05/18 #2) [Excludes 1-oz. and 3-oz. shampoo and conditioner] -$1/1 L'Oreal Elvive or Hair Expert Hair Care Product or Advanced Hairstyle Product, exp. 8/18/18 (RMN 08/05/18 #2) [Excludes 1-oz. and 3-oz. shampoo and conditioner] –$1/1 L'Oreal Paris Elvive or Hair Expert or Advanced Hairstyle product (excludes 1 oz. & 3 oz. shampoo and
L'Oreal EverPure, $5.99
L'Oreal Studio Haircare, $2.99
L'Oreal Revitalift, $18.99
Nice n' Easy Hair Color, $5.99 _
-$6/2 Clairol Hair Color, 07/29 SS (exp 8/11) [Excludes color crave, temporary root touch-up, age defy, balsam, and textures & tones] -$2/1 Clairol Hair Color, 07/29 SS (exp 8/11) [Excludes color crave, temporary root touch-up, age defy, balsam, and textures & tones] –$2/1 Clairol Nice'n Easy Root Touch-Up Permanent (Ibotta Deposit) [Any variety; Any size]
Noxzema, $2.99
-$3/2 Simple, St. Ives, Pond's or Noxzema Face Care Products, exp. 8/19/18 (RMN 08/05/18 #3) [ETS]
Olay 6 Bar Soap or Body Wash, $3.99
Olay Moisturizers, $18.99
Old Spice Body Wash or Deodorant, 16 to 18 fl oz, or Deodorant, 2.6 to 3.7 oz, Select Varieties, $2.99 +
-$1/1 Old Spice Foam Body Wash, 07/29/18 P&G (exp 8/11/18) [Limit of 2 Identical Coupons Per Household Per Day] -$1/1 Old Spice Antiperspirant/Deodorant Body Wash or Bar Soap, 07/29/18 P&G (exp 8/11/18) [Excludes foam body wash and twin packs] -$2/1 Old Spice, Secret, or Gillette Invisible Spray Antiperspirant/Deodorant, 07/29/18 P&G (exp 8/11/18)
Old Spice Hair, $5.99
-$1/1 Old Spice 2-In-1 or Styling Product, exp. 8/11/18 (P&G 07/29/18)
Opti-Free, $8.99
-$2/1 Opti-Free or Clear Care Solution, exp. 8/18/18 (RMN 07/22/18 R) [10-oz.+] –$2/1 Opti-Free Contact Lens Solution printable [Sign Up for Eye File
-$2/1 Opti-Free or Clear Care Solution, exp. 8/18/18 (RMN 07/22/18 R) [10-oz.+]
Opti-Free Twin Pack, $13.99
-$2/1 Opti-Free or Clear Care Solution, exp. 8/18/18 (RMN 07/22/18 R) [10-oz.+] –$2/1 Opti-Free Contact Lens Solution printable [Sign Up for Eye File
-$5/1 Opti-Free Solution, exp. 8/18/18 (RMN 07/22/18 R) [Twin Pack] -$2/1 Opti-Free or Clear Care Solution, exp. 8/18/18 (RMN 07/22/18 R) [10-oz.+]
Oral-B Toothbrush, $1.99 +
-$1/1 Oral-B Adult Manual Toothbrush, exp. 8/11/18 (P&G 07/29/18) [Excludes kids, healthy clean, and cavity defense; Limit of 2 Identical Coupons Per Household Per Day]
Oral-B Value Pack Toothbrush, $3.19
-$1/1 Oral-B Adult Manual Toothbrush, exp. 8/11/18 (P&G 07/29/18) [Excludes kids, healthy clean, and cavity defense; Limit of 2 Identical Coupons Per Household Per Day]
Oral-B Pulsar, $3.99
-$2/1 Oral-B Adult Battery Toothbrush, exp. 8/11/18 (P&G 07/29/18) [Limit of 2 Identical Coupons Per Household Per Day]
OXY Acne Products, $2.99 +
-$1/1 OXY Acne Treatment, 07/29 SS (exp 9/1)
-$3/2 Oxy Acne Treatments, 07/29 SS (exp 9/1)
Pantene Shampoo or Conditioner, $2.99 +
–$5/3 Pantene Products. Excludes trial/travel size. Kroger Digital
–$1/1 Pantene Product. Excludes trial/travel size. Kroger Digital
-$5/3 Pantene Products, exp. 8/11/18 (P&G 07/29/18)
-$1/1 Pantene Product, exp. 8/11/18 (P&G 07/29/18)
Pepto Bismol Liquid, Chewables 30 ct & Tablets 24 ct, $3.99
-$1/1 Pepto-Bismol, exp. 8/25/18 (P&G 07/29/18) [liquid 8-oz.+ or chewables/caplets 40-ct.+; Limit of 2 Identical Coupons Per Household Per Day]
Playtex Tampons, $3.19 +
–$2/1 Playtex® Sport® Compact Tampons (excludes 3 ct.) Printable
-$3/2 Playtex Sport Tampons, 07/22 SS (exp 9/2) [14-ct.+; Limit of 2 Identical Coupons Per Household Per Day; No Cash Back] –$1/1 Playtex Simply Gentle Glide Tampons printable[Excludes 3-ct., 4-ct. and 8-ct.] –$1/1 Playtex Sport or Playtex Gentle Glide Tampons printable
–$1.25/1 Playtex Simply Gentle Glide Tampons (Checkout 51 Deposit) [Excludes 4 and 8 ct; Cannot use this offer with any other print or in-app coupon or rebate.] -$3/2 Playtex Simply Gentle Glide or Gentle Glide Tampons, 07/22 SS (exp 9/2) [Excludes 4-ct. and 8-ct.; Limit of 2 Identical Coupons Per Household Per Day; No Cash Back]
Poise Feminine Hygiene Products, $3.99 +
–$2/1 Poise Liners printable
–$2/1 Poise Liners printable
–$2/1 Poise Pads printable
–$2/1 Poise Pads printable
–$2/1 Poise Impressa Bladder Supports Size 1, 2 or 3 printable
–$2/1 Poise Impressa Bladder Supports printable [sizing kit only]
Ponds Wipes, $3.49
-$3/2 Simple, St. Ives, Pond's or Noxzema Face Care Products, exp. 8/19/18 (RMN 08/05/18 #3) [ETS]
Premier Protein Shakes, $7.99
Revlon Cosmetics, $4.99+
–$1.50/1 Revlon Face Cosmetic Product (Checkout 51 Deposit) [Any variety. Excludes makeup removers, lip products, and eye products; Cannot use this offer with any other print or in-app coupon or rebate.]
Qtips, $1.79
Remington Hair Curler, $30.99
Safeguard Soap 8 pk, $2.99
Sally Hansen Nail Products, $1.79
-$1/1 Sally Hansen Nail Care Item, 07/22 SS (exp 9/30)
Secret Deodorant, $3.99
-$2/1 Old Spice, Secret, or Gillette Invisible Spray Antiperspirant/Deodorant, exp. 8/11/18 (P&G 07/29/18) [Limit of 2 Identical Coupons Per Household Per Day] -$1/1 Secret Fresh or Active, exp. 8/11/18 (P&G 07/29/18) [2.6-oz.+; Limit of 2 Identical Coupons Per Household Per Day]
Simple Wipes, $3.99
-$3/2 Simple, St. Ives, Pond's or Noxzema Face Care Products, exp. 8/19/18 (RMN 08/05/18 #3) [ETS]
Scope Mouthwash, 500 ml, Select Varieties, $1.99 +
Softsoap Body Wash, $2.29
Softsoap Hand Soap, $1.49
Softsoap Hand Soap Refill, $3.49
Speed Stick or Lady Speed Stick, $0.99 +
-$0.50/1 Speed Stick Lady Antiperspirant/Deodorant, 07/22 SS (exp 8/11) [2.3-oz.+; No More Than 4 Identical Coupons for the Same Product in the Same Day; No Cash Back] -$0.50/1 Speed Stick Men's Antiperspirant/Deodorant, 07/22 SS (exp 8/11) [2.7-oz.+; No More Than 4 Identical Coupons for the Same Product in the Same Day; No Cash Back]
St Ives Acne Control, $2.69
-$3/2 Simple, St. Ives, Pond's or Noxzema Face Care Products, exp. 8/19/18 (RMN 08/05/18 #3) [ETS]
Stayfree Pads, $1.99
–$1.25/1 Stayfree Pads (Checkout 51 Deposit)[Excludes 10 ct; Cannot use this offer with any other print or in-app coupon or rebate.] -$2/2 Stayfree Products, 07/22 SS (exp 9/2) [Excludes 10-ct.; Limit of 2 Identical Coupons Per Household Per Day; No Cash Back]
Suave Men Shampoo, 12.4oz, $0.99
-$2/2 Suave Men Hair Care Products, exp. 8/25/18 (RMN 07/29/18) [ETS; Limit 2 like coupons per shopping trip]
Suave Professionals Shampoo or Conditioner, 12.6oz, $0.99 – $1.99
–$1.50/1 Suave Professionals Hair Care product, any variety.Excludes 2 oz. trial and travel sizes and twin packs. Kroger Digital
-$3/2 Suave Professionals Hair Care Products, exp. 8/26/18 (RMN 07/29/18) [Excludes trial and twin packs; Limit 2 like coupons per shopping trip] -$1/1 Suave Professionals Hair Care Product, exp. 8/26/18 (RMN 07/29/18) [Excludes trial and twin packs; Limit 2 like coupons per shopping trip]
Suave Kids, $1.99
-$2/2 Suave Kids Hair Care Products, exp. 8/25/18 (RMN 07/29/18) [ETS; Limit 2 like coupons per shopping trip]
Suave Lotion , $1.99
-$0.75/1 Suave Lotion, exp. 8/25/18 (RMN 07/29/18) [ETS; Limit 2 like coupons per shopping trip]
Tone Body Wash k $2.49
–$2/2 Dial or Tone Body Wash or Bar Soap (6-BAR OR LARGER) (Savingstar Deposit)
–$2/2 Dial or Tone Body Wash or Bar Soap (6-BAR OR LARGER) Kroger Digital
U by Kotex, $1.49 +
-$3/2 Kotex U Liners, exp. 9/15/18 (SS 08/12/18) [Excludes 14-ct. to 22-ct. and trial] -$3/2 Kotex U Liners, exp. 9/15/18 (SS 08/12/18) [Excludes 14-ct. to 22-ct. and trial] -$3/2 Kotex U Pads, exp. 8/11/18 (RMN 07/22/18) [ETS] -$3/2 Kotex U Pads, exp. 9/15/18 (SS 08/12/18) [ETS] -$3/2 Kotex U Tampons, exp. 9/15/18 (SS 08/12/18) [ETS] -$3/2 Kotex U Liners, exp. 8/11/18 (RMN 07/22/18) [Excludes 14-ct. to 22-ct. and trial] –$1/1 U by Kotex Products printable
–$0.50/1 U by Kotex Products printable
Zapzyt, $3.19
---
HOUSEHOLD
Bounce $7.99
–$2/1 Downy Liquid Fabric Conditioner, Downy or Bounce Sheets or In Wash Scent Boosters printable [48+ load liquid fabric conditioner; 70-ct.+ sheets; 6.5-oz.+ boosters] -$2/1 Downy Liquid Fabric Conditioner, Bounce/Downy Sheets, or In Wash Scent Boosters, exp. 8/25/18 (P&G 07/29/18) [48+ load Fabric Conditioner; 70-ct.+ Sheets; 6.5-oz.+ Boosters; Excludes Downy Libre Enjuage and Gain Fireworks]
Cascade Dishwasher Detergent ActionPacs, Gel, or Powder $2.99+
–$0.50/1 Cascade Dishwasher Detergent, Rinse Aid OR Dishwasher Cleaner. Excludes trial/travel size. Kroger Digital
Clorox Liquid Bleach, $2.99
–$0.50/1 Clorox Bleach Product; Includes 55 oz or Larger Only
Cottonelle Bathroom Tissue, 6 Mega Rolls, or Viva Paper Towels, 6 Big Rolls, Select Varieties, $3.99
–$0.55/1 Cottonelle Toilet Paper printable
-$0.50/1 Cottonelle Toilet Paper Rolls, 07/29/18 SS (exp 9/8/18) [6-ct.+] –$0.50/1 Cottonelle Toilet Paper (Ibotta Deposit) [Any variety; 6-ct. pack or larger] -$0.50/1 Viva Regular or Vantage Paper Towels, 07/29/18 SS (exp 9/8/18) [6-pk.+]
Dawn Dish Detergent, 24 to 28 fl oz, $2.79 +
Downy, 103 fl oz $7.99
–$2/1 Downy Liquid Fabric Conditioner, Downy or Bounce Sheets or In Wash Scent Boosters printable [48+ load liquid fabric conditioner; 70-ct.+ sheets; 6.5-oz.+ boosters] -$2/1 Downy Liquid Fabric Conditioner, Bounce/Downy Sheets, or In Wash Scent Boosters, exp. 8/25/18 (P&G 07/29/18) [48+ load Fabric Conditioner; 70-ct.+ Sheets; 6.5-oz.+ Boosters; Excludes Downy Libre Enjuage and Gain Fireworks]
Downy Unstoppables or Gain Fireworks $7.99
–$2/1 Downy Liquid Fabric Conditioner, Downy or Bounce Sheets or In Wash Scent Boosters printable [48+ load liquid fabric conditioner; 70-ct.+ sheets; 6.5-oz.+ boosters] -$2/1 Downy Liquid Fabric Conditioner, Bounce/Downy Sheets, or In Wash Scent Boosters, exp. 8/25/18 (P&G 07/29/18) [48+ load Fabric Conditioner; 70-ct.+ Sheets; 6.5-oz.+ Boosters; Excludes Downy Libre Enjuage and Gain Fireworks]
Dreft 32 loads $7.99
Duracell Batteries, $2.99
–$1/1 Duracell Coppertop AA/AAA 8 PK, C/D 4 PK, 9V 2 PK or Larger
-$1/1 Duracell Coppertop, 08/05 SS (exp 9/1) [aa/aaa 8-pk., c/d 4-pk., 9v 2-pk.+] –$1.50/1 Duracell Batteries (Ibotta Deposit) [AA or AAA Coppertop varieties; 8-ct. pack only]
Energizer Batteries $5.49
–$0.50/1 Energizer MAX Batteries (Ibotta Deposit) [Any MAX AA/AAA variety; Any size]
Fantastik $1.49+
Febreeze Air Effects $1.69
Febreeze Car Clips $2.99
Febreeze Small Spaces $1.69
Finish Dish Detergent, 12 to 20 ct, Select Varieties, $2.79 +
-$3/1 Finish Quantum – 7-29-18 SS (exp 08/29/18)
Gain Flings $10.99
-$3/3 Gain Detergents or Fabric Enhancers, exp. 8/25/18 (P&G 07/29/18) [Excludes flings 9-ct. and below and dryer sheets 40-ct. or lower; Limit of 2 Identical Coupons Per Household Per Day]
GE LED Light Bulbs, $5.49 – $13.99
Glade Candles, 2 pk $3.89 – $5.19
–$1/2 Glade products (excludes Glade® 8oz Room Spray, Solids, and PlugIns® Scented Oil Warmer only products)
–$0.50/1 Glade Candle or Wax Melts printable
Glade Frangrance Mist, $3.89
–$1.50/1 Glade Fine Fragrance Mist Product
–$1.50/1 Glade Atmosphere Collection Fine Fragrance Mist Product printable
–$1.50/1 Glade Fine Fragrance Mist Product, any variety or size Kroger Digital
-$1.50/1 Glade Atmosphere Collection Fine Fragrance Mist Product, 08/19 SS (exp 9/29)
Hefty Waste Bags, Select Varieties, 18 to 45 ct, $5.79
–$1/1 Hefty Kitchen or Large Black Trash Bags
-$1/1 Hefty Tall Kitchen Trash Bags – 6-17-18 RMN; Excludes Small 4 gal and Medium 8 gal Only (exp 08/31/18)
Kingsford Charcoal $6.99+
–$1.50/1 Kingsford Flavored Charcoal (Checkout 51 Deposit) [Any variety; Cannot use this offer with any other print or in-app coupon or rebate.]
Kleenex, 4 pk $3.99
–$0.50/1 Kleenex Facial Tissue printable [3-boxes or 1 bundle] –$0.50/1 Kleenex Facial Tissue printable [3-boxes or 1 bundle] –$0.50/1 Kleenex Facial Tissue printable [3-boxes or 1 bundle] -$0.50 off Kleenex, exp. 9/8/18 (SS 07/29/18 #2) [3 boxes 50-ct.+ or 1 bundle pack; ETS]
Kleenex Wet Wipes, $0.49
-$0.50/1 Kleenex Wet Wipes, exp. 9/8/18 (SS 07/29/18 #2) [20-ct.+]
Libman Toilet Brush, $7.99
Mr. Clean Magic Eraser $2.69
-$0.25/1 Mr. Clean Product, exp. 8/25/18 (P&G 07/29/18)
Mr. Clean Multipurpose Cleaner $1.79 +
-$0.25/1 Mr. Clean Product, exp. 8/25/18 (P&G 07/29/18)
Oxi Clean $5.99
–$1/1 OxiClean White Revive Laundry Stain Remover printable
–$1/1 OxiClean Laundry Detergent printable
–$1/1 OxiClean Odor Blasters or Versatile Stain Remover printable [3-lb.+]
Persil Proclean, 100oz, $10.49
–$2/1 Persil Laundry Detergent printable [75-oz.+]
Rubbermaid TakeAlongs Food Storage, Select Varieties, 1 to 6 ct, $1.79
-$1/2 Rubbermaid Takealongs On-The-Go, 07/29 SS (exp 9/9) [DND; Limit one coupon per purchase per visit] –$1/2 Rubbermaid TakeAlongs On-the-Go printable
Scott Toilet Paper $3.99 +
-$0.50/1 Scott Bath Tissue Rolls, exp. 9/8/18 (SS 07/29/18 #2) [6-ct.+] –$1/1 Scott Comfort Plus Bath Tissue Ibotta Offer
Scrubbing Bubbles Toilet Cleaner, $0.89
–$0.50/1 Scrubbing Bubbles Toilet Bowl Cleaner Product
–$0.50/1 Scrubbing Bubbles Toilet Bowl Cleaner Product, any variety or size Kroger Digital
-$1/2 Scrubbing Bubbles® Toilet Cleaning Products 7/15 RMN (exp 9/8)
–$0.50/2 Pledge Furniture, Windex or Scrubbing Bubbles products
–$0.50/2 Pledge Furniture, Windex® or Scrubbing Bubbles® products, any variety or size Kroger Digital
Seventh Generation Bath Tissue $3.99 – $6.99
Seventh Generation Dish Liquid $1.79
–$0.50/1 Seventh Generation Dish Liquid or Dishwasher Detergent, any variety or size. Kroger Digital
-$0.50/1 Seventh Generation Dish Liquid or Dishwasher Detergent, exp. 10/4/18 (RMN 08/05/18 #3)
Seventh Generation Liquid Laundry Detergent,Select Varieties, $10.99
–$1/1 Seventh Generation Laundry Product, any variety or size. Kroger Digital
-$1/1 Seventh Generation Laundry Product, 08/05/18 RMN (exp 10/4/18)
Seventh Generation Paper Towels $6.99
Spray 'n Wash $1.99
-$1/1 Spray n' Wash Laundry Stain Remover, 08/05 SS (exp 10/5) [Limit of 2 Like Coupons in Same Shopping Trip]
Swiffer 2X Refills, Select Varieties, 6 to 32 ct, $6.99 +
-$2/1 Swiffer Refill or WetJet Solution, 07/29/18 P&G (exp 8/25/18)
Tide Liquid Laundry Detergent, 92 to 100 oz, or Tide Pods, 32 to 42 ct,  Select Varieties, $10.99
-$3/1 Tide Liquid Detergent or Pods, 07/29/18 P&G (exp 8/25/18) [92-oz.+ detergent; 10-ct.+ pods; Excludes rescue, simply and simply pods] –$3/1 Tide Detergent printable [Excludes Tide Rescue, Tide Simply, Tide PODS 9ct, Tide Detergent 10-oz. and trial/travel size]
Tide Simply $2.99
Viva or Viva Vantage Paper Towels, $3.99
-$0.50/1 Viva Regular or Vantage Paper Towels, exp. 9/8/18 (SS 07/29/18 #2) [6-pk.+]
Windex Glass & Surface Wipes, 28ct, $1.69
-$1.50/2 Pledge and/or Windex Products 7/15 RMN (exp 9/8)
–$1/2 Pledge or Windex products
–$0.50/2 Pledge Furniture, Windex or Scrubbing Bubbles products
–$0.50/2 Pledge Furniture, Windex® or Scrubbing Bubbles® products, any variety or size Kroger Digital
Woolite Detergent $7.99
Ziploc storage bags $1.99 +
–$1/2 Ziploc brand bags
–$1/2 Ziploc Brand Products printable
–$1/2 Ziploc brand bags, any size. Kroger Digital
---
NATURAL FOODS
Bai Antioxidant Infused Drinks, multipack, $7.99
Blue Diamond Almond Breeze, Select Varieties, Half Gallon, $1.99
Clif Kid Organic Z Bar 12 pk, $6.79
Dave's Killer Organic Thin-Sliced Bread, 20.5 oz, or Bagels, 5 ct, Select Varieties, $3.29
Larabar Multipacks, Select Varieties, 5 to 6 ct, $3.49
Santa Cruz Organic Peanut Butter, 16 oz, Select Varieties, $3.29
Silk or So Delicious Non-Dairy Milk, $0.99
Simple Truth Chicken, $5.99
Simple Truth Meals For 2, $5.99
thinkThin Bars, Multipack, $5.99
ZonePerfect Bars, Multipack, $3.19
–$2.50/2 ZonePerfect Multi-Packs
---
MEAT & SEAFOOD
Aidells Chicken Sausage or Meatballs, $3.99
Eckrich Sausage, 10-14oz, $1.99
–$0.55/1 Eckrich Smoked Sausage
–$0.55/1 Eckrich Smoked Sausage
Hormel Black Label Bacon, 12-16oz, $3.99
Hormel Natural Choice Bacon, 12oz, $3.99
Hormel Natural Choice Deli Meat, 8oz, $2.99
–$0.50/1 Hormel Natural Choice Deli Meat printable
Johnsonville Flame Grilled Chicken Breast, 9-10.5oz, $3.99
Johnsonville Sausage Meat, 16oz, $2.99
Oscar Mayer Deli Fresh Lunchmeat, Select Varieties, 16 oz, $4.49
–$1/1 OSCAR MAYER Deli Fresh (16 oz – 22 oz) Kroger Digital
Oscar Mayer Deli Fresh Lunchmeat, Select Varieties, 22 oz, $5.99
–$1/1 OSCAR MAYER Deli Fresh (16 oz – 22 oz) Kroger Digital
Oscar Mayer Natural Lunch Meat, 8oz, $2.79
Oscar Mayer Hot Dogs or Bologna, Select Varieties, 12 to 16 oz, $0.99
---
PET
Blue Buffalo Dog Food, Bag $26.99+
Blue Buffalo Cat Food, 2 lb Bag $7.49
Blue Dog Bakery Treats, 16oz, $2.99
Luvsome Cat Litter $5.79
Luvsome Wet Cat Food, 24 ct $9.49
Milk-Bone Treats, 10lbs, $11.99
Pup-peroni Treats, 25 oz $9.99
Purina Beneful $25.99
–$3/1 Purina Beneful Grain Free printable
–$3/1 Purina Beneful Simple Goodness printable
–$3/1 Purina Beneful Select 10 printable
-$2/1 Purina Beneful Variety Pack Wet Dog Food, 08/12 SS (exp 9/23) [12-ct. or smaller] -$2/1 Purina Beneful Grain Free, Select 10, or Simple Goodness Dog Food, 08/12 SS (exp 9/23)
Purina Dog Chow $11.99
–$2/1 Purina Dog Chow printable [4-lb.+]
Purina Friskies $11.99
Purina One Dry Dog Food $21.99+
Tidy Cat Scoop Litter $11.99
–$1.75/1 package of Purina® Tidy Cats® LightWeight cat litter, any size, any variety
–$4/2 Purina Tidy Cats LightWeight Cat Litter printable
–$1.75/1 Purina Tidy Cats LightWeight Cat Litter printable
–$1.75/1 package of Purina® Tidy Cats® LightWeight cat litter, any variety or size. Kroger Digital
–$4/2 packages of Purina® Tidy Cats® LightWeight cat litter, any variety or size. Kroger Digital
---
PRODUCE
Harvest Snaps, 3-3.3oz, $0.99
Marie's Dressing, $2.49
–$1/1 Marie's Dressing printable
Organic Dole Salad Kits, Select Varieties, 7 to 8 oz, $2.99