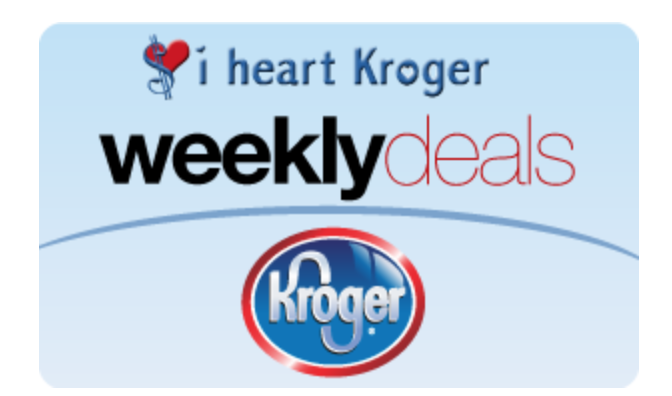 Here is the Kroger Ad and coupon matchups which start Wednesday, 9/19 and runs through Tuesday 9/25 in the Southeast. This is the first week of a two week Buy 5, Save $5 Mega Sale! As usual the mega prices are AFTER mega savings. The advertised deals are below and I will have the full inclusion list posted as soon as possible.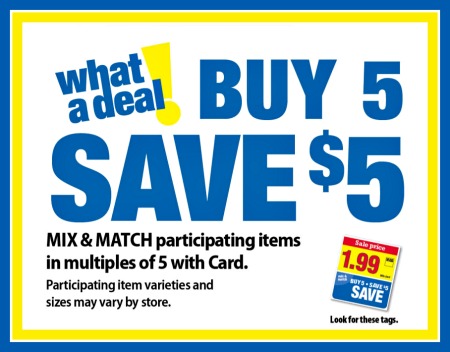 If you are headed to Kroger this week don't forget to load your digital coupons from SavingStar, Cellfire and the Kroger Digital Coupons too. You might want to check your cash back apps (Ibotta, Checkout 51, Mobisave and BerryCart) for any matching deals that you might like. Also, be sure to check out the Catalina deals before you shop.
As always, the check mark
indicates either a great stockpile price or a stockpile price with coupon(s). And keep in mind that we have a shopping list feature on the site. If you need help, just visit the HELP PAGE to see how to use it.
WHAT A DEAL SALE! (Buy 5, Save $5, Mix & Match)
General Mills Large Size Cereal, 14.9 to 18 oz, or Bear Naked Cereal or Granola, 7.2 to 13 oz, Select Varieties, $1.99 (Ad shows Honey Nut Cheerios)
–$0.50/1 Honey Nut Cheerios or Honey Nut Cheerios Medley Crunch Cereal printable
–$0.50/1 Big G Honey Nut Cheerios or Honey Nut Cheerios Medley Crunch Cereal printable
–$0.75/1 Bear Naked Granola (Ibotta Deposit) [Any variety; 11-12-oz. bag] -$1/1 General Mills Big G Cereals (DND) – (Found on Product) Peelie (exp 5/31/19)
Thomas' English Muffins, 10 oz, or Nature Valley Bars, 6 to 12 ct, or Private Selection Preserves, 10 oz, Select Varieties, $1.99
–$0.50/2 Nature Valley Granola Bars, or Nature Valley Biscuits printable [5-ct.+] -$0.50/2 Nature Valley Granola Bars, Biscuits, Granola Cups, Layered Granola Bars, Soft-Baked Filled Squares, or Peanut or Almond Butter Granola Bites Pouch, 08/05 SS (exp 9/29) [5-ct.+ granola bars] –$0.50/1 Nature Valley Granola Cups, Nature Valley Layered Granola Bars or Nature Valley Granola Bites Pouch (SavingStar Deposit) [5-ct.+] –$0.50/2 Nature Valley Granola Bars, Nature Valley Biscuits, or Nature Valley Soft-Baked Filled Squares (SavingStar Deposit) [5-ct.+] -$0.50/2 Nature Valley Granola Bars, Biscuits, Granola Cups, Layered Granola Bars, Soft-Baked Filled Squares, or Peanut or Almond Butter Granola Bites Pouch, 09/09 SS (exp 11/3) [5-ct.+ bars] -$0.50/1 Nature Valley Granola Bars, Biscuits, Granola Cups, OR Fiber One Chewy Bars, 90 Calorie Products (Bars or Brownies) Protein Chewy Bars, Streusel Bars, Cheesecake Bars, Cookies, Layered Chewy Bars, Protein Nut Bars (DND) – Found On Product (DND) Peelie (exp 6/1/19)
Edy's Ice Cream, 48 fl oz, or Haagen-Dazs Ice Cream, 14 fl oz, or Haagen-Dazs Ice Cream Bars, 3 ct, Select Varieties, $2.49
–$2/3 Edy's Ice Cream, Haagen-Dazs, or Outshine printable [14-oz.+ or 3-ct. bars; Edy's or Haagen-Dazs; 14-oz.+ or 4-ct. bars Outshine]
Cheetos, 7 to 8.5 oz, or Fritos, 9.25 oz, Select Varieties, $1.77
Land O' Lakes Butter, 16 oz, or Lactaid Milk, 64 fl oz, Select Varieties, $2.99
–$0.55/1 Lactaid Milk printable
Kraft Cheese, Select Varieties, 6.67 to 8 oz, $1.99
Quaker Instant Oatmeal, 8 to 12 ct, or Dannon Yogurt, 4 to 6 oz, Select Varieties, $1.49
Pepsi, 7UP or Coca-Cola, Select Varieties, 6 pk, 16 to 16.9 fl oz Bottles, $2.49
Doritos or SunChips, 7 to 11.25 oz, or Late July Organic Tortilla Chips, 5.5 to 6 oz, Select Varieties, $1.99
Simply Fruit Drink or Ade, Select Varieties, 52 fl oz, $1.49
Almond Breeze Almond Milk, 64 fl oz, or Kashi Breakfast Bars, 5 to 12 ct, Select Varieties, $1.99
Clif or Luna Bar Multipack, Select Varieties, 6 ct, $3.99
Quorn Meatless, 7.05 to 12 oz, or Luvo Entree, 8.25 to 10.25 oz, or Boomerang's Pot Pie, 6 to 8 oz, Frozen, Select Varieties, $2.49
–$1/1 Quorn Product printable
–$0.45/1 Quorn Meatless & Soy-Free (Ibotta Deposit) [Any variety; Any size] –$1.50/1 Quorn Meatless Chicken & Apple Sausages (Ibotta Deposit) [Any variety; Any size] –$1.50/1 Quorn Meatless Chicken Strips (Ibotta Deposit) [Any variety; Any size] –$1.50/1 Quorn Meatless Italian Sausage (Ibotta Deposit) [Any variety; Any size] –$1.50/1 Luvo Frozen Entrees (BerryCart Deposit)
–$1.50/1 Luvo Bowls (BerryCart Deposit)
Hormel Natural Choice Lunch Meat, 6 to 8 oz, or Lloyd's Shredded BBQ, 15 oz, Select Varieties, $2.99
-$0.50/1 Lloyd's BBQ Shredded Meat Tub (Not valid for online purchases) Peelie (exp 10/21/18)
Oscar Mayer Bologna, Select Varieties, 12 oz, $0.99
Gatorade or G2, 8 pk, 20 fl oz, or Gold Peak Tea, 6 pk, 16.9 fl oz, or Dasani Pure Water, 24 pk, 16.9 fl oz, Select Varieties, $4.49
-$1/2 Gatorade 20 oz. or G2 Thirst Quencher 8-Packs Hangtag (exp 12/31/18)
Florida's Natural Orange Juice, Select Varieties, 52 fl oz, $1.99
Kroger Home Sense Tall Kitchen Bags, 34 to 45 ct, or Trash Bags, 32 ct, Select Varieties, $3.99
Pantene Shampoo or Conditioner, 12 to 12.6 fl oz, or TRESemme Shampoo or Conditioner, 26 to 32 fl oz, Select Varieties, $2.99
-$4/2 Pantene Products, 09/09/18 RMN (exp 9/22/18) [ETS]
Purina Dog Chow, 16 to 20 lb, or Tidy Cat LightWeight Litter, 8.5 lb, Select Varieties, $11.49
–$2/1 Purina Dog Chow printable [4-lb.+] –$4/1 Purina Puppy Chow Brand Puppy Food printable [15.5-lb.+] -$3/1 Purina Tidy Cats LightWeight Cat Litter, Any – (Found On Product) (Limit 4 like coupons per day.) Peelie (exp 9/19/18)
all Laundry Detergent, 94.5 to 100 fl oz or 45 ct, or Persil Laundry Detergent, 50 fl oz, or Snuggle Fabric Softener, 95 to 96 fl oz or 56 to 200 ct, $4.99
-$2/1 Persil Proclean Laundry Detergent – 9-16-18 RMN; Excludes 6 ld or Less (exp 10/14/18)
-$2/1 Persil ProClean Laundry Detergent – (Found on Product) (Excludes 6 Loads or Less and Trial/Travel Sizes.)(Limit one coupon per shopping trip) Peelie (exp 12/31/18)
Crest Toothpaste, 3.5 to 6.2 oz, or Scope Mouthwash, 500 ml, Select Varieties, $1.99
-$1/1 Crest Toothpaste or Liquid Gel – 9-16-18 RMN; Includes 3 oz or Larger Only; Excludes Cavity, Baking Soda, Tartar Control/Protection, Kids, and Trial Size; Excludes 4.6 oz; Limit of 1 Like Coupon Per Household Per Day (exp 09/29/18)
Swiffer 2X Refills, Select Varieties, 6 to 32 ct, $6.99
Always or Tampax, Select Varieties, 1 to 36 ct, $5.99
-$1/1 Always Radiant, Infinity, Pure & Clean, Ultra, or Maxi Pads, 08/26/18 P&G (exp 9/22/18) [11-ct.+; Limit of 2 identical coupons per household per day] -$2/1 Always Discreet Incontinence Liner, 08/26/18 P&G (exp 9/22/18) [Limit of 2 identical coupons per household per day] -$3/1 Always Discreet Incontinence Pad, Underwear, or Boutique Underwear, 08/26/18 P&G (exp 9/22/18) [Limit of 2 identical coupons per household per day] -$1/1 Tampax Pearl, Radiant, or Pure & Clean Tampons, 08/26/18 P&G (exp 9/22/18) [16-ct.+; Limit of 2 identical coupons per household per day]
Tide Laundry Detergent, 92 to 100 fl oz, or Tide Pods, 32 to 42 ct, or Gain Flings, 37 to 42 ct, Select Varieties, $10.99
-$2/1 Tide Detergent, 08/26/18 P&G (exp 9/29/18) [Excludes pods, rescue, simply, simply pods, and detergent 10-oz.; Limit of 2 identical coupons per household per day] –$3/1 Tide Detergent printable [Excludes Tide Rescue, Tide Simply, Tide PODS 9ct, Tide Detergent 10-oz. and trial/travel size] -$2/1 Tide Pods, 08/26/18 P&G (exp 9/29/18) [Excludes simply and 9-ct. or less; Limit of 2 identical coupons per household per day] -$3/3 Gain Detergents or Fabric Enhancers, 08/26/18 P&G (exp 9/29/18) [Excludes flings 9-ct. or less and dryer sheets 40-ct. or less; Limit of 2 identical coupons per household per day]
Private Selection Bag Coffee, Select Varieties, 10 to 12 oz, $4.99
Private Selection Tortilla Chips, 8 to 9 oz, or Private Selection Kettle Chips, 8 oz, or Private Selection Salsa, 16 fl oz, Select Varieties, $1.49
Private Selection Ice Cream, 48 fl oz, or Private Selection Stone Fired Pizza, 15.3 to 19.3 oz, Select Varieties, $3.99
Private Selection Fruit, 16 oz, or Private Selection Dessert, 2 ct, Frozen, Select Varieties, $2.99
Private Selection Vegetables, Frozen, Select Varieties, 12 to 16 oz, $0.89
Private Selection Gourmet Potatoes, Select Varieties, 1.5 lb Bag, $1.99
Private Selection Caramels, Truffles or Jelly Beans, Select Varieties, 3.8 to 14.75 oz, $1.99
Private Selection Pasta Sauce, 24 fl oz, or Private Selection Salad Dressing, 12 fl oz, Select Varieties, $1.49
Private Selection K-Cups, 48 ct, or Private Selection Extra Virgin Olive Oil, 67.63 oz, Select Varieties, $16.99
Private Selection Turkey Breast, Select Varieties, In the Deli, $7.49/lb
Private Selection Honeycrisp Apple Wavy Lattice Pie or Apple Streusel Pie, 9", In the Bakery, $5.99
Private Selection Hummus or Dip, Select Varieties, 8 to 10 oz, In the Deli, $1.99
Private Selection Angus Ground Beef Patties, Frozen, Select Varieties, 24 to 32 oz, $6.99
Private Selection Beef Hot Dogs, Select Varieties, 12 oz, $2.99
Private Selection Bacon, 12 oz, $2.99
---
BAKERY
Fresh Baked French Bread, 16 oz, $1.79
Glazed Donuts, 12 ct Clamshell, $2.99
---
BEER & WINE
Stella Artois, Sam Adams or Sierra Nevada, Select Varieties, 12 pk, 11.2 to 12 fl oz Bottles or Cans, $13.99
Bud, Miller, Coors, Yuengling or Tecate, Select Varieties, 24 pk, 12 fl oz Bottles or Cans, $18.99
Michelob Ultra, 24 pk, 12 fl oz Cans, or Corona, 18 pk, 12 fl oz Bottles, Select Varieties, $20.99
SweetWater, Terrapin or New Belgium, Select Varieties, 12 pk, 12 fl oz Bottles or Cans, $14.99
Heineken, Modelo or Sol, Select Varieties, 12 pk, 11.2 to 12 fl oz Bottles or Cans, $13.99
Blue Moon or Angry Orchard Rose, Select Varieties, 6 pk, 12 fl oz Bottles, $8.49
Meiomi Pinot Noir, 750 ml, $17.99
Kim Crawford Sauvignon Blanc, 750 ml, $12.99
Prophecy, Select Varieties, 750 ml, $8.99
19 Crimes or Chateau Ste Michelle, Select Varieties, 750 ml, $8.99
---
DAIRY
Simple Truth Organic Milk, Select Varieties, 64 fl oz, $2.99
Coffee-mate Creamer, 32 fl oz, or Kroger Orange Juice, 52 fl oz, Select Varieties, $2.49
Kroger Cinnamon or Crescent Rolls, 8 to 12.4 oz, or Biscuits, 16 oz, Select Varieties, 10/$10
Chobani Greek Yogurt or Chobani Flip, Select Varieties, 5.3 oz, 10/$10
Sargento Shredded Cheese, Select Varieties, 7 to 8 oz, BOGO (no price listed)
-$0.50/2 Sargento Shredded Natural Cheese, Any 08/26/18S SS (exp. 10/21/18)
Stonyfield Organic Kids Yogurt or Snack Pack, Select Varieties, 2.25 to 3.5 oz, 10/$10
---
DELI
Private Selection Italian Cheese Cups, Select Varieties, 4.5 to 5 oz, $3.49
Kroger Potato Salad or Macaroni Salad or Coleslaw, Select Varieties, 16 oz, $1.99
---
FROZEN
Red Baron Pizza, Select Varieties, 14.76 to 23.45 oz, $2.99
–$1/2 Red Baron Single-Serve Frozen Pizza (Ibotta Deposit) [Any variety; Select size] –$1/2 Red Baron Multi-Serve Frozen Pizza (Ibotta Deposit) [Any variety; Select size]
Eggo Waffles, Select Varieties, 24 ct, $4.99
–$1/1 Kellogg's Eggo Frozen Product printable [Need 850 rewards points]
MorningStar Farms Entree, 5.25 to 12 oz, or Green Giant Veggie Tots or Veggie Spirals, 12 to 14 oz, Select Varieties, 2/$7
–$1/1 MorningStar Farms Veggie Foods Product printable [need 850 rewards point] –$1/1 Green Giant Veggie Tots, Riced Veggies, Mashed Cauliflower or Veggie Spirals
Lean Cuisine Entree, 6 to 10.875 oz, or Stouffer's Entree, 6 to 12.875 oz, Select Varieties, 5/$10
Stouffer's Family Size Entree, Select Varieties, 57 to 76 oz, $9.99
–$1/1 Stouffer's Family Size Lasagna printable
Freschetta Pizza, 20.28 to 30.88 oz, or Newman's Own Pizza, 13.2 to 16.5 oz, Select Varieties, $4.99
–$0.95/1 Freschetta Pizza (Ibotta Deposit) [Any variety; Any size]
Kroger Boneless Chicken Breasts or Cutlets or Tenders, 2.5 to 3 lb, $6.99
---
GROCERY
Nabisco Family Size Cookies or Crackers, Select Varieties, 11.5 to 20.6 oz, $3.49
–$1.50/1 Nabisco Family Size Cookies or Crackers, Select Varieties, 11.5 to 20.6 oz Kroger Super Saver Digital Coupon (use up to 5 times in a single transaction) (Valid only 9/21 thru 9/22)
-$0.75/2 Nabisco Cookie or Cracker Products, 08/12 SS (exp 9/22) [3.5-oz.+] -$1/1 Nabisco Product, Any 3.5 oz. or Larger – (Found on Products) Peelie (exp 12/31/18)
-$1/2 Nabisco Cookies or Crackers Family Size 6.5 oz. or Larger OR Nabisco Multipacks 12 Ct. or Larger Tearpad (exp 12/31/18)
Powerade or Powerade Zero, Select Varieties, 32 fl oz, $0.59 (Final Cost wyb 8)
-FREE Core Power 11.5 oz. to $3.29 wyb (3) Powerade 32 oz. (DND) Hangtag (exp 9/30/18)
Campbell's Condensed Soup, 10.5 to 11.25 oz, or Kroger Sandwich Bread, 20 oz, or Kroger Buns, 8 ct, Select Varieties, 10/$10
–$1/8 Campbell's Condensed Soups printable
Ragu Pasta Sauce, 10 to 24 oz, or Private Selection Pasta, 16 oz, Select Varieties, 2/$3
–$1/2 Ragu Sauce printable
-$1/2 Ragu Pasta Sauces, 08/26 SS (exp 9/23) [16-oz.+] -$0.75/1 Ragu Simply Pasta Sauce 24 oz. (Excludes twin packs and multipacks) (Limit 2 like coupons per shopping trip.) Hangtag (exp 2/28/19)
Seattle's Best Coffee, 12 oz, or K-Cups, 10 ct, Select Varieties, $4.99
–$2.25/2 Seattle's Best Coffee K-Cup Pods printable [any box] –$1/1 Seattle's Best Coffee Product printable [whole bean] -$1/1 Seattle's Best Coffee Ground or Whole Bean, 07/29 SS (exp 9/29) [12-oz. or 20-oz.] -$1/1 Seattle's Best Coffee K-Cup Pack, 07/29 SS (exp 9/29) [10-ct. or 18-ct.]
Kellogg's Pop-Tarts, 12 ct, or Malt-O-Meal Cereal, 17 to 23.5 oz, Select Varieties, $2.99
-$2/4 Pop-Tarts Toaster Pastries, 07/29/18 RMN (exp 9/23/18) [6-ct+; any flavor, mix or match, Limit of 4 like coupons in the same shopping trip] –$1/1 Kellogg's Pop-Tarts Toaster Pastries printable [Need 850 rewards points] –$1/3 Pop-Tarts Toaster Pastries printable
–FREE Kellogg's Pop-Tarts Splitz Toaster Pastries wyb (2) Pop-Tarts Toaster Pastries printable
–$1/2 Malt-O-Meal Cereal printable [18-oz.+] –$0.25/1 Malt O Meal Cereals (Ibotta Deposit) [Any variety; 18-oz. bag or larger]
Kodiak Pancake Mix, 18 to 20 oz, or Private Selection Syrup, 6.75 to 12 fl oz, Select Varieties, $4.99
Nature's Path Organic Cereal or Granola, Select Varieties, 10 to 14 oz, $2.99
Pepsi or Coca-Cola, Select Varieties, 12 pk, 12 fl oz Cans or 8 pk, 12 fl oz Bottles, 3/$11 (Final Cost wyb 3)
–$0.75/1 Pepsi-Cola Bottles (Ibotta Deposit) [Any variety; 12-oz. 8 pack plastic bottles]
Big K, Select Varieties, 2 Liter, $0.59 (Final Cost wyb 7)
Deer Park Spring Water, 24 pk, 16.9 fl oz, or Deer Park Sparkling Water, 8 pk, 12 fl oz, 3/$10
Lay's Potato Chips, 5 to 8 oz, or Lay's Kettle Cooked Potato Chips, 6.5 to 8 oz, Select Varieties, 2/$5
Velveeta, Select Varieties, 32 oz, $7.99
-FREE Kroger Tortilla Chips, 10 oz, AND (2) Ro-tel Diced tomatoes, 10 oz, wyb Velveeta, Select Varieties, 32 oz In-Ad Kroger Offer
Colavita Olive Oil, Select Varieties, 34 fl oz, $9.99
-$2.50/1 Colavita Extra Virgin Olive Oil 17 oz. or Larger Hangtag (exp 12/31/18)
Kettle Brand Chips, 13 oz, or Garden of Eatin' Chips, 13 to 16 oz, Select Varieties, 2/$6
Snickers or M&M's Candy, Select Varieties, 1.35 to 1.92 oz, 2/$1
–$0.50/2 Snickers Bar Flavors printable [1.41-oz. to 1.86-oz.]
M&M's, Hershey's or Reese's Halloween Candy, Select Varieties, 8 to 11.4 oz, 2/$6
-$1/2 Mars Chocolate Harvest, 08/26/18 RMN (exp 10/31/18) [8-oz.+ M&M's; 7.94-oz.+ Dove Promises; Snickers, Twix, 10.57-oz. or 11.5-oz. Milky Way Minis Mix Bags; dnd]
Simple Truth Organic Peanut Butter, 16 oz, or Simple Truth Organic Fruit Spread, 16.5 oz, Select Varieties, $3.49
Annie's Organic Macaroni & Cheese, 6 oz, or Annie's Soup, 14 to 14.3 oz, Select Varieties, 2/$4
---
HEALTH & BEAUTY
Dial or Tone Body Wash, Select Varieties, 16 to 18 fl oz, $2.99
-$1/2 Dial or Tone Body Wash or Bar Soap, 09/09/18 RMN (exp 9/23/18) [6-ct.+]
RxBar, 1.83 oz, or Bai Beverage, 18 fl oz, or Quest Bar, 2.12 oz, Select Varieties, 3/$5
–$0.65/1 RX Nut Butter (Ibotta Deposit) [Any variety; Any size] [5x per receipt] –$0.65/1 RXBAR Kids (Ibotta Deposit) [Any Kids variety; Single Bar][5x per receipt]
---
HOUSEHOLD
Quilted Northern Bathroom Tissue, 6 Mega Rolls, or Brawny Paper Towels, 6 Big Rolls, Select Varieties, $4.99 (Final Cost wyb 2)
–$0.50/1 Quilted Northern Bath Tissue printable
–$0.55/1 Brawny Paper Towel printable [2, 3 or 6 roll] –$1/1 Brawny Paper Towel printable [8-roll or larger] -$0.50/1 Quilted Northern Bath Tissue 6 Mega Roll Or Larger (DND) – (Found on Product) Peelie (exp 12/31/19)
Holiday Home Baking Accessories, Select Varieties, $2.39 to $3.99 (20% Off)
Holiday Home Foam Pumpkins, Assorted Sizes, $2.39 to $3.99 (50% Off)
---
MEAT
Wright Bacon, Select Varieties, 24 oz, $5.99
–$1/1 Wright Bacon, Select Varieties, 24 oz Kroger Super Saver Digital Coupon (use up to 5 times in a single transaction) (Valid only 9/21 thru 9/22)
Fresh Heritage Farms Split Chicken Breasts or Drumsticks, Thighs or Whole Fryers, Bone-In, $0.88/lb
Assorted Pork Chops, Bone-In, Family Pack, $1.79/lb
Whole Boneless Beef Tenderloin, $9.99/lb
Filet Mignon Steaks, $12.99/lb
Simple Truth Natural Ground Turkey, 93% Lean, 16 oz, No Antibiotics Ever, $3.99
Carando Meatballs, Select Varieties, 16 oz, $3.99
Jimmy Dean Breakfast Sausage, Select Varieties, 9.6 to 16 oz, 2/$7
Kroger Lunch Meat, 7 to 9 oz, or Kroger Pickles, 24 to 32 fl oz, Select Varieties, 2/$5
Oscar Mayer Uploaded Lunchables, 14.1 to 15.6 oz, or Claussen Pickles, 20 to 32 fl oz, Select Varieties, 2/$6
Kroger Brats or Italian Sausage Links, Ground, or Meatballs, Select Varieties, 16 to 18 oz, $3.49
Simple Truth Natural Lunch Meat, Select Varieties, 6 to 7 oz, $3.99
Fresh Simple Truth Natural Boneless Chicken Breasts, No Antibiotics Ever, $4.99/lb
Center-Cut Pork Chops, Bone-In, Family Pack, $3.49/lb
Fresh Ground Beef, 80% Lean, Family Pack, Sold in 3 lb Package for $10.47, $3.49/lb
Boneless Chuck Roast, $5.99/lb
Hand Trimmed Boneless Chicken Breasts, 99% Fat Free, $2.99/lb
---
PRODUCE
Premium Seedless Mandarins, 3 lb, $3.77
Black Seedless Grapes, $0.88/lb
Yellow or White Peaches or Plums, $1.49/lb
Honeycrisp or SweeTango Apples, $2.49/lb
Strawberries, 2 lb, $3.99
Organic Blueberries, 6 oz, 2/$7
Organic Gala Apples, $1.99/lb
Hass Avocados, Medium, $0.99
Private Selection Sweet Onions, 5 lb Bag, $2.99
Fall Jumbo Pompom Bouquet, Select Varieties, 22 Stem, $10.99
Pelee Mums or Fall mums, Select Varieties, 6", $8.99
---
SEAFOOD
Fresh Atlantic Salmon Fillets, Farm-Raised, $7.99/lb
Kroger Peeled & Deveined Shrimp, Frozen, 10 oz, BOGO (no price listed)