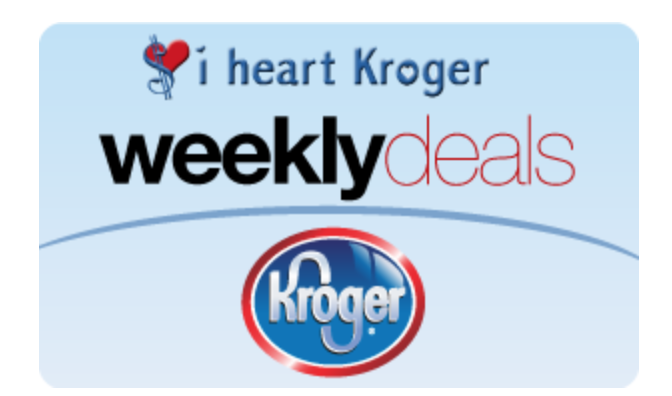 Here is the Kroger Ad and coupon matchups which start Wednesday, 10/24 and runs through Tuesday 10/30 in the Southeast. This looks to be a pretty normal ad…but there are lots of Halloween deals and lots of BOGO deals. Get your lists going!

If you are headed to Kroger this week don't forget to load your digital coupons from SavingStar, Cellfire and the Kroger Digital Coupons too. You might want to check your cash back apps (Ibotta, Checkout 51, Mobisave and BerryCart) for any matching deals that you might like. Also, be sure to check out the Catalina deals before you shop.
As always, the check mark
indicates either a great stockpile price or a stockpile price with coupon(s). And keep in mind that we have a shopping list feature on the site. If you need help, just visit the HELP PAGE to see how to use it.
BAKERY
Donut Holes, 8.5 oz, 10/$10
Pumpkin Spice Cake or Other Varieties, 14 to 16.7 oz, $5
Halloween Decorated Cupcakes, Select Varieties, 12 ct, $7.99
Frosted Sugar Cookies, Select Varieties, 10 ct, 2/$5
---
BEER & WINE
Corona, Heineken or Modelo, Select Varieties, 12 pk, 12 fl oz Bottles or Cans, $13.99
SweetWater or Terrapin, Select Varieties, 12 pk, 12 fl oz Bottles or Cans, $14.99
Sierra Nevada or Stella Artois, Select Varieties, 12 pk, 11.2 to 12 fl oz Bottles or Cans, $14.99
Busch Light, Pabst or Miller High Life, Select Varieties, 30 pk, 12 fl oz Cans, $18.99
Layer Cake, Select Varieties, 750 ml, $13.99
Apothic, 750 ml, or Sutter Home, 1.5 Liter, Select Varieties, $9.99
Gnarly Head or Chateau Ste. Michelle, Select Varieties, 750 ml, $8.99
19 Crimes, Select Varieties, 750 ml, $8.99
The Walking Dead, Select Varieties, 750 ml, $12.99
Barefoot, Select Varieties, 1.5 Liter, $9.99
Bud, Miller, Coors or Yuengling or Tecate, Select Varieties, 24 pk, 14 fl oz Bottles or Cans, $18.99
Michelob Ultra, Select Varieties, 18 pk, 12 fl oz Bottles or Cans, $16.99
7 Deadly Zinz Zinfandel, 750 ml, or Myles & Moore, 750 ml, Select Varieties, $12.99
---
DAIRY
Kroger Cheese, 16 oz, or Simple Truth Organic Cheese, 6 oz, Select Varieties, $2.99
Kroger Cheese, Select Varieties, 6 to 8 oz, $1.99
Kroger Chocolate Milk, Half Gallon, 3/$4
Kroger Sour Cream, Cottage Cheese or Dip, Select Varieties, 16 oz, 4/$5
Chobani Greek or Flip Yogurt, 5.3 oz, or Chobani Greek Yogurt Drinks, 7 fl oz, or Stonyfield Organic Yogurt Pouch, 35 oz, Select Varieties, 10/$10
-$1/4 Chobani Single Serve Yogurts, 09/16 SS (exp 10/31) [5.3 oz single cups of Chobani Greek Yogurt, Sooth, Hint of Flavor, Flip and 7 and 10 oz Chobani Drinks; One coupon per person] -$1/5 Chobani Single Serve Yogurts, 09/30/18 SS (exp 10/28/18) [Limit one coupon per purchase and per person]
Kraft Natural Cheese, Select Varieties, 7 to 8 oz, 2/$4
-$1/1 Kraft Natural Cheese 8 oz. (Chunk, Shredded, Slices) (DND) Blinkie (exp 10/31/18)
Simple Truth Organic Milk, Select Varieties, Half Gallon, $2.99
Pillsbury Grands! or Crescents, Select Varieties, 8 ct, BOGO (no price listed)
-$1/3 Pillsbury Refrigerated Baked Goods Products, 09/16 SS (exp 12/8)
–$1/3 Pillsbury Refrigerated Baked Goods Products (SavingStar Deposit) [] –$1/3 Pillsbury Refrigerated Baked Goods Products printable
-$0.50/1 Pillsbury Refrigerated Sweet Hawaiian Flaky Grands! Biscuits or Sweet Hawaiian Crescents, 09/09 SS (exp 12/1)
–$0.25/1 Pillsbury Products (Ibotta Deposit) [Select varieties; Select sizes.] –$1.25/1 Sweet Hawaiian Pillsbury Grands and Crescents (Ibotta Deposit) [Select varieties; Select sizes]
Fage Greek Yogurt, Select Varieties, 5.3 to 7 oz, BOGO (no price listed)
---
DELI
Fresh Foods Market Roasted Chicken, Savory, 2/$10 (Final Cost wyb 2)
Snack Factory Pretzel Crisps, Select Varieties, 5 to 8 oz, BOGO (no price listed)
-$1/2 Snack Factory Pretzel Crisps 5 oz. or Larger (Limit 4 like coupons per shopping trip) Tearpad (exp 2/25/19)
Private Selection Meat or Cheese, Select Varieties, 7 to 8 oz, BOGO (no price listed)
---
FROZEN
Red Baron Pizza, Select Varieties, 14.76 to 23.45 oz, $2.99
–$1/1 Red Baron Pizza, Select Varieties, 14.76 to 23.45 oz Kroger Super Saver Digital Coupon (use up to 5 times in a single transaction)-Redeem 10.26 & 10.27 ONLY
–$0.75/2 Red Baron Pizza (Ibotta Deposit) [Any variety; Multi Serve size. ]
Kroger Deluxe Ice Cream or Turkey Hill Ice Cream, 48 fl oz, Select Varieties, $1.99
Kroger Pizza Snack Rolls, Select Varieties, 120 ct, $6.99
Hot or Lean Pockets, 2 ct, or Smart Ones Entree, 4.4 to 10.5 oz, Select Varieties, $1.88
Jennie-O Oven Ready Boneless Turkey Breast, 2.75 lb, $7.99
Swaggerty's Sausage Patties, Select Varieties, 36 oz, $4.99
–$1/1 Swaggerty's Farm Product printable
–$1.50/2 Swaggerty's Farm Sausage printable
–$0.50/1 Swaggerty's Farm printable
Kroger Chicken Party Wings, 2.5 lb, $5.99
Simple Truth Organic Pizza, 14.25 to 16.25 oz, or Simple Truth Organic ice Cream, 16 fl oz, Select Varieties, $3.99
T.G.I. Friday's Appetizers, Select Varieties, 12 to 17.4 oz, BOGO (no price listed)
Ore-Ida Frozen Potatoes, Select Varieties, 14 to 32 oz, BOGO (no price listed)
Edy's Ice Cream, 48 fl oz, or Simple Truth Low Cow Ice Cream, 16 fl oz, Select Varieties, BOGO (no price listed)
Totino's Party Pizza, Select Varieties, 9.8 to 10.9 oz, 10/$10
Tyson Frozen Chicken, Select Varieties, 18 to 28.05 oz, $5.99
DiGiorno Pizza, 9.07 to 31.5 oz, or California Pizza Kitchen Pizza, 13.4 to 15.5 oz, Select Varieties, $5.49
---
GROCERY
Kellogg's Cereal, Select Varieties, 12.2 to 15 oz, BOGO (no price listed) (Ad shows Froot Loops and Frosted Flakes)
–$1/1 Kellogg's Cereal printable [Need 850 rewards points] –$2/4 Kellogg's Cereals printable [] -$1/3 Kellogg's Cereals, 10/07/18 RMN (exp 11/18/18) [8.7-oz.+; Limit of 4 Like Coupons in Same Shopping Trip; No Cash Back] –$2/4 Kellogg's Cereals (Checkout 51 Deposit) [8.4 oz or larger, any variety. Items must appear on the same receipt; Cannot use this offer with any other print or in-app coupon or rebate.] –$1/2 Kellogg's Froot Loops, Apple Jacks, Corn Pops, Frosted Mini Wheats Little Bites, Krave or Frosted Flakes Cereals printable [] –$0.25/1 Kellogg's Froot Loops Cereal printable [] -$1/2 Kellogg's Special K, Frosted Mini-Wheats, Raisin Bran or Frosted Flakes Cereals, 09/23/18 RMN (exp 11/4/18) [10.5-oz.+; Limit of 4 Like Coupons in Same Shopping Trip; No Cash Back]
Lay's Family Size Potato Chips, 9.5 to 10 oz, or Lay's Kettle Cooked Potato Chips, 8 oz, or Lay's Baked Potato Chips, 6.25 oz, or SkinnyPop Popcorn, 4.4 to 5.3 oz, Select Varieties, $1.77 (Final Cost wyb 3)
–$1/2 Lay's Potato Chips (Ibotta Deposit) [Any Variety; 9.5-oz.+] –$1/2 Lay's Potato Chips (Ibotta Deposit) [Buy 2; Any Variety; 9.5-oz.+] –$5 off Shock Top AND Lay's Kettle Cooked Chips Combo (Ibotta Deposit) [Combo offer] -$1/1 SkinnyPop Ready To Eat Popcorn Bag, 08/05/18 RMN (exp 10/31/18)
Pepsi, 7UP or Coca-Cola, 2 Liter, or Mtn Dew Kickstart, 12 to 16 fl oz Cans, Select Varieties, $0.88 (Final Cost wyb 5)
Pepsi or 7UP, Select Varieties, 6 pk, 16 to 16.9 fl oz Bottles, BOGO (no price listed)
Powerade or Powerade Zero, Select Varieties, 32 fl oz, $0.69
-$0.75/2 Powerade Product 20 – 32 oz. AND Cheez-It Baked Snack Crackers 3 oz. (Limit 4 like coupons per shopping trip.) Tearpad (exp 10/31/18)
Simple Truth Organic Beans, 15 oz, or Simple Truth Organic Tomatoes, 14.5 to 15 oz, or Bush's Chili Beans, 15.5 to 16 oz, Select Varieties, 10/$10
–$1/2 Bush's Chili Beans (Checkout 51 Deposit) [Any variety. Excludes Baked Beans, Grillin' Beans, Variety Beans, Organic Beans, Savory Beans and Chili Magic. Items must appear on the same receipt; Cannot use this offer with any other print or in-app coupon or rebate.]
Kroger Tortilla Chips, Select Varieties, 9.75 to 20 oz, $1.99
Kroger Vegetable, Select Varieties, 4 pk, $1.99
Simple Truth Organic Peanut Butter, 40 oz, $7.99
Kroger Trail Mix or Mixed Nuts, Select Varieties, 20 to 36 oz, $6.99
Kroger Premium Chicken Breast, 6 pk, $8.99
Pillsbury Cake or Brownie Mix, 15.25 to 18.4 oz, or Kroger Pumpkin, 15 oz, Select Varieties, $0.99
-$1/2 Pillsbury Baking Mixes or Frostings (DND) Tearpad (exp 6/30/19)
Vitaminwater or Vitaminwater Zero, 20 fl oz, or Sparkling Ice, 17 fl oz, or Simple Truth Vapor Distilled Water, 33.8 fl oz, Select Varieties, $0.88
–$0.50/2 Sparkling Ice (Checkout 51 Deposit) [Any variety. Items must appear on the same receipt; Cannot use this offer with any other print or in-app coupon or rebate.] -$0.50/2 Powerade or vitaminWater 20 oz. Bottles (Not redeemable in liquor or tobacco retail outlets.) Tearpad (exp 10/31/18)
Progresso Soup, Select Varieties, 18.5 to 19 oz, $0.99 (Final Cost wyb 8)
Doritos, Ruffles or Tostitos Tortilla Chips, Party Size, 13 to 18 oz, Select Varieties, $3.49
Kroger Peanut Butter, 16 oz, or Kroger Instant Oatmeal, 8 to 12 ct, Select Varieties, 2/$3
Folgers Can Coffee, 22.6 to 30.5 oz, or Dunkin' Donuts Bag Coffee, 11 to 12 oz, Select Varieties, $6.99
Kettle Brand Potato Chips, Select Varieties, 6.5 to 8.5 oz, $1.99
–$1/2 Kettle Brand Products printable [4-oz.+ bag] –$1/2 Kettle Brand Products printable [4-oz.+]
Kroger K-Cups, Select Varieties, 12 ct, BOGO (no price listed)
Arnold Wide Pan Bread, Select Varieties, 24 oz, BOGO (no price listed)
Mission Tortilla Chips, 9 to 13 oz, or Mission Organic Tortilla Chips, 9 oz, Select Varieties, BOGO (no price listed)
-$1/1 Mission Organics Tortillas or Mission Organics Tortilla Chips (DND) Tearpad (exp 12/31/18)
-$1 off Eggs wyb Mission Tortillas (DND) Tearpad (exp 12/31/18)
-$1 off Chicken or Beef wyb Mission Super Soft Tortillas (DND) Tearpad (exp 12/31/18)
Rockstar Energy Drink, Select Varieties, 16 fl oz, BOGO (no price listed)
Welch's 100% Juice, 64 fl oz, or Honest Kids Organic Juice Pouches, 8 pk, 6.75 fl oz or 10 pk, 6 fl oz, Select Varieties, BOGO (no price listed)
-$1/2 Welch's 100% Juice, 09/30/18 RMN (exp 12/9/18) [Non-Kosher 46-oz., 64-oz., 96-oz. or 10-oz. Multi-Pack]
Keebler Cookies, 5 to 16 oz, or Keebler Crackers, 9 to 13.8 oz, Select Varieties, BOGO (no price listed)
–$1/1 Keebler Cookies printable [Need 850 rewards points] –$1/1 Keebler Crackers printable [Need 850 rewards points] –$0.50/1 Keebler Town House Crackers printable [2.75-oz.+] –$0.50/1 Town House Original Crackers (Ibotta Deposit) [13.8 oz. package only]
Hershey's or Kit Kat Halloween Bag Candy, Select Varieties, 43.8 to 60.8 oz, $14.99
Tootsie Roll Mega Mix or Child's Play Assorted Candy, Select Varieties, 56 to 64 oz, $8.99
Mars 60-Pack Variety Mix or Hershey's All Time Greats, Select Varieties, 25.8 to 41.3 oz, $9.99
Brach's Caramels, Select Varieties, 10 oz, 2/44
Snickers Fun Size or Kit Kat Snack Size Candy, Select Varieties, 9.35 to 11.5 oz, 2/$6
Indian Summer Apple Cider, 1 Gallon, $3.99
Kroger Buns, 8 ct, or Kraft BBQ Sauce, 17.5 to 18 oz, or Kroger Ketchup, 24 oz, Select Varieties, 10/$10
---
HEALTH & BEAUTY
Comforts Baby Wipes, 1000 ct, $16.99
Comforts Pediatric Electrolyte, Select Varieties, 33.8 fl oz, BOGO (no price listed)
Kroger Ibuprofen or Acetaminophen, Select Varieties, 1000 ct, $10.99
Crest 3D White Toothpaste, 4.8 oz, or Scope Mouthwash, 1 Liter, Select Varieties, $2.99
Always Pads or Tampax Tampons, Select Varieties, 20 to 36 ct, $6.99
-$3/2 Always Radiant, Infinity, or Pure & Clean Pads, 09/30/18 P&G (exp 10/27/18) [11-ct.+; Limit of 2 identical coupons per household per day] -$0.50/1 Always Ultra or Maxi Pads, 09/30/18 P&G (exp 10/27/18) [11-ct.+; Limit of 2 identical coupons per household per day] -$3/2 Tampax Pearl, Radiant, or Pure & Clean Tampons, 09/30/18 P&G (exp 10/27/18) [16-ct.+; Limit of 2 identical coupons per household per day]
Larabar Multipack, 5 to 6 ct, or Vita Coco Coconut Water, 1 Liter, Select Varieties, 2/$7
Kroger Facial Wipes, Select Varieties, 25 ct, BOGO (no price listed)
---
HOUSEHOLD
Quilted Northern Bathroom Tissue, 6 Mega Rolls, or Brawny Paper Towels, 6 Big rolls, $4.99 (Final Cost wyb 2)
–$0.50/1 Quilted Northern Bath Tissue printable
-$0.50/1 Quilted Northern Bath Tissue, 10/07/18 RMN (exp 11/7/18) [6+ double roll] –$0.55/1 Brawny Paper Towel printable [2, 3 or 6 roll] –$0.25/1 Brawny Paper Towel printable [3-roll, 6-roll or 8-roll]
Instant Pot Multi Cooker, 6 Qt, $79.99
Kroger Home Sense Bathroom Tissue, 30 Double Rolls, or Kroger Paper Towels, 10 Giant Rolls, or Kroger Home Sense Facial Tissue, 12 pk, Select Varieties, $9.99
Kroger Home Sense Designer Plates, 275 ct, or Plastic Cups, 240 ct, Select Varieties, $9.99
Fireside Supreme Firelogs, 4 Hour, 6 ct, $17.99
Bar10der, 10-in-1 Bartender Gadget, $19.99
Halloween Makeup, Select Varieties, 40% Off
Halloween Treat Bucket, Select Varieties, 40% Off
Halloween Pumpkin Carvig Kits and Accessories, Select Varieties, 40% Off
Holiday Home Halloween Outdoor and Lighted Decor, Select Varieties, 40% Off
---
MEAT
Oscar Mayer Beef Hot Dogs, Select Varieties, 15 to 16 oz, $2.99
–$1/1 Oscar Mayer Beef Hot Dogs, Select Varieties, 15 to 16 oz Kroger Super Saver Digital Coupon (use up to 5 times in a single transaction)- redeem 10/26 & 10/27 Only
-$1/2 Oscar Mayer Hot Dogs – (Found on Product) Peelie (exp 1/15/19)
Oscar Mayer Lunchables, Select Varieties, 2.25 to 4.4 oz, 10/$10
Oscar Mayer Bacon, 12 to 16 oz, or Brats or Italian Sausage, 19 oz, Select Varieties, $3.99
Oscar Mayer Hot Dogs, Select Varieties, 14 to 16 oz, BOGO (no price listed)
-$1/2 Oscar Mayer Hot Dogs – (Found on Product) Peelie (exp 1/15/19)
Boneless Half Ribeye, $6.99/lb
Boneless Half Steaks, Family Pack, $8.99/lb
Fresh Heritage Farm Chicken Drumsticks, Thighs or Whole Fryer, Bone-In, $0.88/lb
Kroger Ground Turkey, 85% Lean, 16 oz, BOGO (no price listed)
Fresh Ground Beef, 80% Lean, Sold in 3 lb Package for $10.47, $3.49/lb
Land O'Frost Premium Lunch Meat, Select Varieties, 10 to 16 oz, $3.49
-$0.55/1 Land O Frost Product, Any Tearpad (exp 12/31/18)
Johnsonville Smoked Sausage, 12 to 14 oz, or Breakfast Sausage, 9.6 to 12 oz, Select Varieties, 2/$6
-$1/2 Johnsonville Rope Sausage Packages (DND) Tearpad (exp 12/31/18)
-$1/2 Johnsonville Breakfast Sausage (DND) Tearpad (exp 12/31/18)
Hormel Marinated Pork Tenderloin, 1.15 to 1.50 lb, BOGO (no price listed)
Boneless Chuck Roast, $5.99/lb
Simple Truth Natural Smoked Sausage, 12 oz, No Antibiotics, Ever, $3.49
Simple Truth Natural Ground Turkey, 93% Lean, 16 oz, No Antibiotics Ever, $3.99
Curly's Ribs, 24 oz, or Prime Fresh Lunch Meat, 8 oz, Select Varieties, BOGO (no price listed)
–$0.75/1 Curly's Pulled Pork, Bold & Spicy Pulled Pork, Pulled Chicken, Pulled Beef, Sauceless Pulled Pork, Sauceless Pulled Chicken, or Baby Back Pork Ribs printable (exp. 12/31/18)
---
PRODUCE
Blackberries or Raspberries, 12 oz, $2.49
Organic Blackberries, 6 oz, $2.79
Personal Seedless Watermelon, 2/$3
Honeycrisp, SweeTango or Snap Dragon Apples, $1.99/lb
Medium Avocados or Large Mangos, $0.99
–$1/3 Avocados from Mexico
–$0.75/3 Avocados From Mexico
Harmony Bouquet, 11 to 13 Stem, $10
Tri Color Kalanchoe, Select Varieties, 6", $9.99 and up
Moon Drops Black Seedless Grapes, $1.99/lb
Pumpkins, Large or Medium, 2/$8
Red, Orange or Yellow Bell Peppers or English Cucumbers, 4/$5
Simple Truth Organic Fuji or Gala Apples, 2 lb Pouch, $2.99
Simple Truth Organic Mini Peeled Carrots, 1 lb Bag, 2/$3
Odwalla Juice, Select Varieties, 15.2 fl oz, BOGO $3.99
–$0.75/1 Odwalla Beverage printable [15.2-oz.]
---
SEAFOOD
Snow Crab Clusters, Wild-Caught, 5 to 8 oz, $9.99/lb
Extra Large Cooked Shrimp, 26 to 30 ct, Sold in a 2 lb Package for $17.98, $8.99/lb
Kroger Shrimp Platter, 20 ct, $5.99