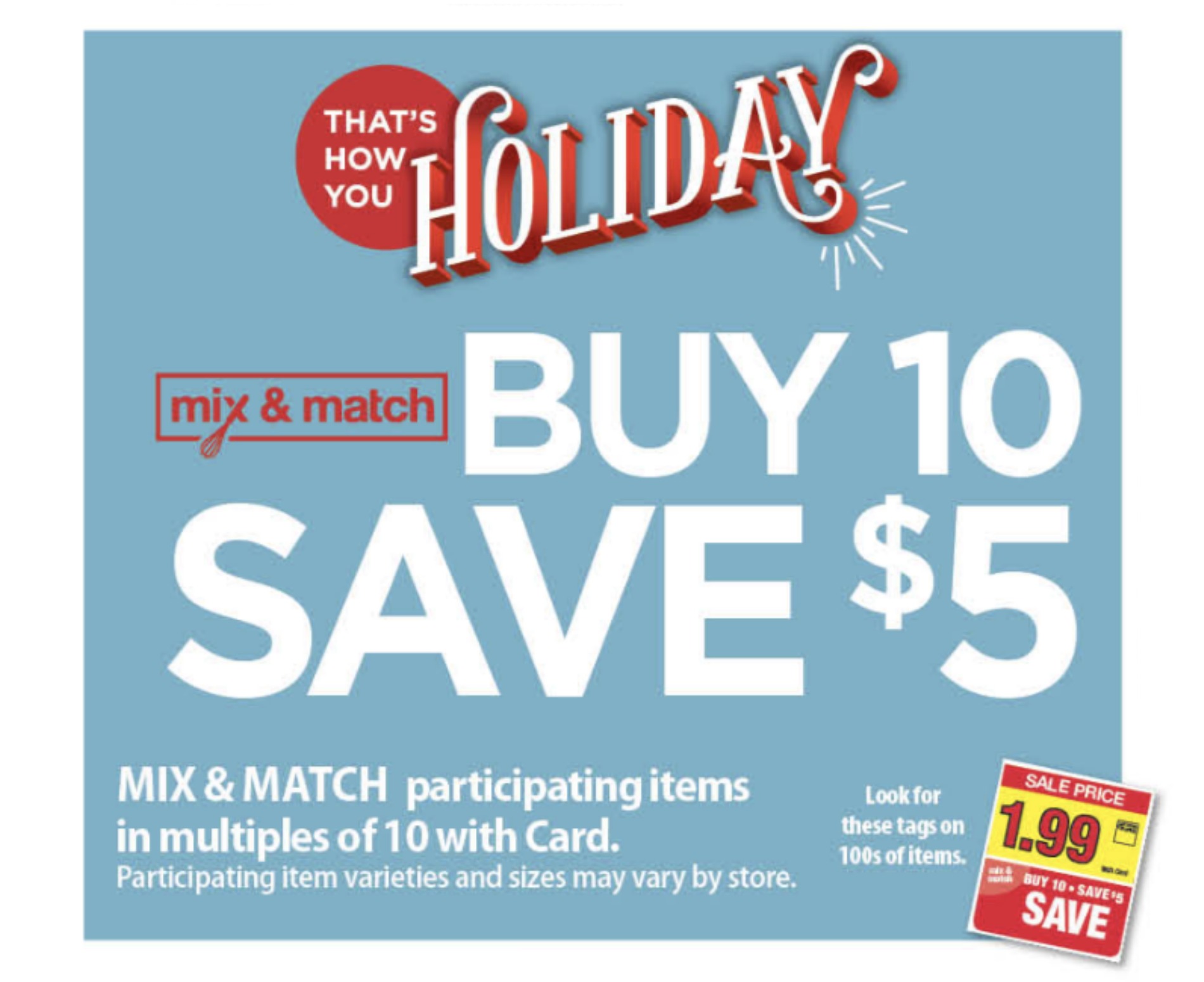 Here is the HUGE inclusion list for the upcoming Mix & Match Buy 10, Save $5 Mega sale that starts on Wednesday, 10/31 and runs through Tuesday 11/13. With this sale you will instantly save $5 at checkout when you buy any 10 participating items.
If you find any other matching coupons or if you find a coupon that doesn't match, let me know and I will get it added or fixed as soon as possible. I will be updating the list on Wednesday when the sale starts and the tags are up! As usual the price listed is AFTER mega savings.
As I mention above, this is a big sale so be sure to click "Read More" to see all the deals!
BAKERY & DELI
Fresh Foods Market Hand Breaded Chicken Tenders, Select Varieties, In the Deli, $6.99/lb – $7.49/lb
Mrs. Thinster's Cookies, $1.99
Private Selection Deli Meat Cracker Cuts, $5.49
Private Selection Beef Bites, $4.49
Private Selection Summer Sausage, $4.49
Yucatan Authentic or Mild Guacamole, 16 oz, or Yucatan Single Serve Guacamole, 6 to 12 oz, In the Deli, $4.49
---
DAIRY & REFRIGERATED
Azteca Tortillas, 10ct, $0.87+
Breakstone's Sour Cream, 16oz, $1.49
–$0.50/1 Breakstone's Sour Cream (Ibotta deposit) [Any variety; any size]
Brew Dr Kombucha, 14oz, $1.99
Coffee-mate Creamer, Select Varieties, 16 to 32 fl oz, $1.99
Country Crock Spread, Select Varieties, 45 oz, $2.49
-$1/1 Country Crock Spread, exp. 11/19/18 (RMN 11/04/18 #2) [30-oz. or 45-oz.]
Cracker Barrel Cheese, $3.49
Daisy Cottage Cheese, 16oz, $1.79
Daisy Sour Cream, 14oz, $1.49
Frigo Cheese Heads String Cheese
Florida's Natural Orange Juice, Select Varieties, 52 fl oz, $2.49
Horizon Organic Cheese, Select Varieties, 6 to 8 oz, $2.49
–$1/1 Horizon Organic Cheese printable
Horizon Organic String Cheese, $2.29
–$1/1 Horizon Organic Cheese printable
Horizon Organic Milk, 1/2 gal, $3.49
LALA Yogurt Smoothie, $2.49
–$1.50/2 LALA Yogurt Smoothie Printable
Land O'Lakes Butter, Select Varieties, 16 fl oz, $2.49
–$0.50/1 Land O' Lakes Tub Butter Product printable
Laughing Cow Cheese Wedges, $2.49
Kraft American Singles, 24ct, $3.49
Kraft Cheese, Select Varieties, 7 to 8 oz, $1.99
–$0.75/1 KRAFT Expertly Paired Cheese (Ibotta Deposit) [Any variety; 8-oz. pack] [5X Per Receipt] -$1/1 Kraft Natural Cheese 8 oz. (Chunk, Shredded, Slices) (DND) Blinkie (exp 10/31/18)
-$0.50/1 Kraft Natural Cheese 8 oz. (Chunk, Shredded, Slices) (DND) Blinkie (exp 10/31/18)
-$1/1 Kraft Natural Chunk Cheese Blinkie (exp 11/05/18
Kraft Natural String Cheese, $3.49
Kroger Orange Juice, $1.99
Kroger Sour Cream, Cottage Cheese or Dip, Select Varieties, 24 oz, $1.39 – $1.49
Nestle Cookie Dough, Refrigerated, 16 to 16.5 oz, $1.99
Philadelphia Cream Cheese
Rana Pasta & Pasta Sauce, $3.49
–$1/1 Giovanni Rana Refrigerated Sauce printable
–$1/1 Giovanni Rana Refrigerated Pasta printable
-$1/1 Giovanni Rana Refrigerated Sauce, 10/14 SS (exp 12/16)
-$1/1 Giovanni Rana Refrigerated Pasta, 10/14 SS (exp 12/16)
Ripple Plant Based Protein Milk, $3.49
Sargento Sliced Cheese, $2.79
-$1/2 Sargento Natural Cheese Slices, 09/23 SS (exp 11/18)
-$0.75/1 Sargento Blends Slices, 09/23 SS (exp 11/18)
Simply Fruit Drink or Ade, Select Varieties, 52 fl oz, $1.99
Simply Potatoes, $1.99
Stok Cold Brew Coffee, $4.49
---
FROZEN
Bagel Bites
Banquet Mega Bowls, $1.99
Ben & Jerry's Pints & Slices, $2.99
Bertolli Frozen Meal, Select Varieties, 22 to 24 oz, $6.49
Birds Eye Frozen Vegetables, $0.99
Birds Eye Protein Blends, $1.79
Birds Eye Steamfresh Blends, $1.79
Breyers Ice Cream 48 fl oz, Select Varieties, $2.99 – $3.49
Blake's Pot Pies, $2.49
CedarLane Frozen Foods, $3.49
Cinnamon Toast Crunch Bites, $2.49
Cooked Perfect Meatballs – BOGO $3.49 – $15.49
–$1.50/1 Cooked Perfect Meatballs printable
–$1/1 Cooked Perfect Fresh Meatballs printable
-$1.50/2 Cooked Perfect Meatballs, 08/19 SS (exp 12/1)
-$1/1 Cooked Perfect Meatballs, 08/05 SS (exp 12/1) [Any bag] -$1/1 Cooked Perfect Meatballs, 08/19 SS (exp 12/1)
Cooked Perfect Fire Grilled Chicken, $6.49
–$1.50/1 Cooked Perfect Fire Grilled Chicken
-$2/1 Cooked Perfect Fire Grilled Chicken – 10-7-18 SS (exp 12/07/18)
Cracker Barrel Frozen Mac & Cheese, $5.99
De Wafelbakkers Pancakes, $2.49
Devour Entree, $2.49
Dr Praeger's Veggie Burgers, $2.99
Enlightened Ice Cream, $4.49
–$1/2 Enlightened Ice Cream printable
–$1/1 Enlightened The Good-For-You Ice Cream (Ibotta Deposit) [Any variety; Bars or Pints]
Farmwise Veggie Fries, $3.49
–$1.25/1 Farmwise Veggie Fries, Veggie Tots, or Veggie Rings printable
–$1.25/1 Farmwise Veggie Fries, Veggie Tots, or Veggie Rings printable
–$1/1 Veggie Fries printableFrontera Bowls, $3.49
Garden Lites Muffins, $2.49
–$1/1 Garden Lites Product printable
–$1/1 Garden Lites Product printable
Gardein Frozen Foods, $3.99
–$1/1 Gardein printable
–$1/1 Gardein (Ibotta Deposit) [Any variety; Any size]
Graeter's Ice Cream, $4.49
Green Giant Vegetables, Frozen, 7 to 10 oz, $0.75-$0.99
Healthy Choice Power Bowls, $2.99
Healthy Choice Simply Steamers, $2.49
Homemade Ice Cream, $3.99
Hungry-Man Frozen Dinners, $2.19-$2.49
Kellogg's Eggo Waffles, Select Varieties, 10 to 16 ct, $1.99
–$1/1 Kellogg's Eggo Frozen Product printable [Need 850 rewards points]
Kraft Mac & Cheese Frozen Meals, $2.49
Kroger Frozen Fish, $3.99-$13.99
Kroger Frozen Sea Scallops, $14.99
Kid Cuisine, $1.49
Lean Cuisine Meals, $2.49
Ling Ling Chicken & Vegetable Dumplings
Luvo Bowls, $2.99
–$1.50/1 Luvo Bowls (BerryCart Deposit)
Magnum Ice Cream Bars, 3ct, $3.49
Marie Callender's or Healthy Choice Entree, Select Varieties, 10.5 to 15 oz, $1.79 – $1.88
Marie Callender's Fruit or Cream Pie, Select Varieties, 24.5 to 42 oz, $5.49+
Marie Callender's Pie Shells
Marie Callender's Pot Pies, $1.49-$1.88
Marie Callender's Single Serve Bowls, $1.79
Michael Angelo's Single Serve Entrees
O, That's Good Pepperoni Pizza, $5.49
-$1.50/1 O, That's Good! Frozen Pizza, 10/07 SS (exp 11/17) [No Cash Back]
Ore-Ida Potatoes, Frozen, Select Varieties, 14 to 32 oz, $2.19 +
PictSweet Roasting Veggies, $2.99
-$1/2 Pictsweet Farms Frozen Vegetables for Roasting, 10/14 SS (exp 12/31)
PictSweet Steamables, $1.19-$1.49
Pillsbury Toaster Strudel, $1.79
P.F. Chang's Frozen Meal, Select Varieties, 22 to 24 oz, $6.49
Private Selection Desserts, $3.19
Private Selection Frozen Vegetables, $1.39-$1.47
Quorn Meatless, $2.99
–$1/1 Quorn Product printable
Saffron Road Entrees, $3.49
–$1/1 Saffron Road Frozen Product printable
Simple Truth Organic Frozen Fruit, $6.99+
Smart Made Entrees, $2.49
Stouffer's Entrees, $2.49
Stouffer's Fit Kitchen Entrees, $2.99
Talenti Gelato, $2.99
Tennessee Pride Nashville Hot Chicken Biscuits, $4.49
Tennessee Pride Ready To Cook Sausage, $2.49
TGI Friday's Appetizers, $4.49
Totino's Pizza Rolls, Select Varieties, 50 ct, $2.79
Turkey Hill Ice Cream, 48 fl oz, Select Varieties, $2.99 – $3.49
–$1.50/1 Turkey Hill All Natural Ice Cream printable (log in_)
–$0.75/1 Turkey Hill All Natural Ice Cream printable
Yummy Dino Buddies, 38oz, $4.49 – $6.49
–$2/1 Yummy Chicken Item, any variety (56 oz. or larger) Kroger Digital
---
GROCERY
Annie's Fruit Snacks, $2.99
-$0.50/2 Annie's Fruit Snacks, Crackers, Graham Crackers, Cookies, Granola Bars, Crispy Snack Bars, Toaster Pastries, Snack Mix, Popcorn, Cheese Puffs, Pizza Poppers, Mini Pizza Bagels, Refrigerated Dough, Biscuits, Crescent Rolls, Cinnamon Rolls, Soup, Canned Meals, Refrigerated Cookies, Baking Mix, Cereal, or Homegrown Ketchup, exp. 11/10/18 (SS 09/30/18 #2)
Annie's Granola Bars, 5ct, $2.99
-$0.50/2 Annie's Fruit Snacks, Crackers, Graham Crackers, Cookies, Granola Bars, Crispy Snack Bars, Toaster Pastries, Snack Mix, Popcorn, Cheese Puffs, Pizza Poppers, Mini Pizza Bagels, Refrigerated Dough, Biscuits, Crescent Rolls, Cinnamon Rolls, Soup, Canned Meals, Refrigerated Cookies, Baking Mix, Cereal, or Homegrown Ketchup, exp. 11/10/18 (SS 09/30/18 #2)
Arnold Organic Bread, $3.49
Bai Bubbles, 11.5oz, $0.99
–$0.50/1 Bai Bubbles (Ibotta Deposit) [11.5oz size][2x limit]
Ball Park Buns, 8ct, $1.99
–$0.50/1 Ball Park Buns & Rolls (Ibotta Deposit) [Select varieties; Select sizes]
Barilla Pasta, $1.49
-$1/4 Barilla Blue Box Pasta, exp. 11/4/18 (RMN 09/09/18)
–$5/$15 Barilla Collezione Pasta (SavingStar Deposit)
Barilla Pasta Sauce, $1.49
-$1/1 Barilla Sauce, exp. 11/4/18 (RMN 09/09/18 R)
Bertolli Olive Oil, $6.49
Betty Crocker Cake or Brownie Mix, Select Varieties, 15.25 to 20.5 oz, $0.79
Butternut Bread, $1.49
Campbell's Cream Soup, Select Varieties, 10.5 oz, $0.49
–$0.80/6 Campbell's Condensed Soups
–$1/8 Campbell's Condensed Soups
-$0.40/4 Campbell's Condensed Soups, 11/04 SS (exp 1/4)
-$0.40/4 Campbell's Condensed Soups, 09/16 SS (exp 11/16)
Campbell's Gravy, Select Varieties, 13.8 oz, $0.49
Campbell's Well Yes! Sipping Soup, $1.49
-$0.75/1 Campbell's Well Yes! Sipping Soup, 10/07 SS (exp 12/7)
Campbell's Well Yes! Soup, $0.99
-$1.50/2 Campbell's Well Yes! Cans, 10/07 SS (exp 12/7)
Capri Sun, 10ct, $1.79
Celestial Seasonings Tea, $1.99
–$1/2 Celestial Seasonings Tea printable [any box] -$1/2 Celestial Seasonings Tea, Any Boxes (Not Valid on K-Cup Pod Boxes) – SS 11-04-18, exp. 02/03/19
-$0.50/1 Celestial Seasonings Bagged Tea, 10/07 SS (exp 1/6) [Any box] -$2/2 Celestial Seasonings Bagged Tea and Honey, 10/07 SS (exp 1/6) [12-oz.+ box]
Cheez-It Crackers, Select Varieties, 8.7 to 12.4 oz, $2.49
–$1/1 Sunshine Cheezit printable [Need 850 rewards points]
Clif Bars, 12ct, $10.99
Cousin Willie's Popcorn, $0.99
–$1/2 Cousin Willie's Microwave Popcorn, any size or variety (Kroger Digital Coupon)
Cracker Barrel Mac & Cheese Dinner, $3.49
Creamette Pasta, $0.69
Crisco Vegetable Oil, Select Varieties, 45 fl oz, $2.49
Crystal Light water enhancers, $1.49
Del Monte Canned Fruit, $1.09
–$0.75/4 Del Monte Canned Fruit printable [14.5-oz.+]
Del Monte Tomatoes, Select Varieties, 14.5 oz, $0.49
Dinty Moore Beef Stew, 15oz, $1.49
Doritos or Sun Chips, Select Varieties, 7 to 11.25 oz, $1.99
–$1/2 Doritos Tortilla Chips (Ibotta Deposit) [Any variety; 7.5-oz.+ bag]
Dunkin Donuts Iced Coffee, $1.79
-$2/2 Dunkin' Donuts Coffee Product, exp. 11/30/18 (RMN 09/23/18 R)
Dunkin Donuts Ground Coffee, $6.19
-$2/2 Dunkin' Donuts Coffee Product, exp. 11/30/18 (RMN 09/23/18 R)
–$1/1 Dunkin' Donuts Coffee (Checkout 51 Deposit) [Any variety. Excludes trial and travel sizes; Cannot use this offer with any other print or in-app coupon or rebate.] –$1/1 Dunkin' Donuts Coffee (SavingStar Deposit) [Excludes travel and trial sizes.]
Dunkin Donuts K-Cups, $7.49
-$2/2 Dunkin' Donuts Coffee Product, exp. 11/30/18 (RMN 09/23/18 R)
–$1/1 Dunkin' Donuts Coffee (Checkout 51 Deposit) [Any variety. Excludes trial and travel sizes; Cannot use this offer with any other print or in-app coupon or rebate.] –$1/1 Dunkin' Donuts Coffee (SavingStar Deposit) [Excludes travel and trial sizes.]
Early California Stuffed Olives, $3.49
Emerald Nuts, $2.99
–$0.50/1 Emerald Nuts (Ibotta Deposit) [Any variety; Any size]
Fiber One Bites & Bars, $2.29
-$0.50/2 Fiber One Non Cereal Products, 10/07 SS (exp 12/1)
Fisher Nuts, $7.49
Fleischmann's Yeast, $0.99
-$0.40/1 Fleischmann's Yeast Product, 09/30 SS (exp 11/11) [Limit One Coupon Per Household]
Folgers Coffee, Select Varieties, 22.6 to 30.5 oz, $5.49+
Food Network Dressing, $2.79
French's Crispy Fried Vegetables, Select Varieties, 5 to 6 oz, $3.29
–$3/3 FRENCH'S Crispy Fried Vegetables
–$1/1 French's Crispy Jalapenos (Ibotta Deposit) [5 oz package; Limit 5]
Gatorade or G2, Select Varieties, 8 pk, 20 fl oz Bottles, $4.99
-$1/2 Gatorade 20 oz. or G2 Thirst Quencher 8-Packs Hangtag (exp 12/31/18)
General Mills Cereal, Select Varieties, 10.5 to 14 oz, $1.99 +
–$1/2 Cheerios, Cinnamon Toast Crunch, or Lucky Charms printable
-$1/3 General Mills Cereal, 10/21 SS (exp 12/1)
-$0.75/2 Cheerios, 09/30/18 SS (exp 11/10/18)
–$1/2 General Mills cereal listed: Cheerios, Cinnamon Toast Crunch, Lucky Charms, Reese's Puffs, Chex, Blasted Shreds, Cocoa Puffs, Trix, Cookie Crisp, Golden Grahams, Kix, Fiber One, Wheaties, Raisin Nut Bran, Total, Basic 4, Oatmeal Crisp, Nature Valley boxed cereal, or Nature Valley Granola (SavingStar Deposit) []
Gevalia Ground Coffee or K-Cups, $6.49
Ghirardelli Mixes, $1.79 +
Ghirardelli Mug Cake, $2.49
Green Giant Canned Vegetables, Select Varieties, 14.5 to 15.25 oz, $0.49
–$1/10 Green Giant Canned Vegetables, any variety (11oz-15.5oz) Kroger Digital
Gobstopper & Nerds, $0.50
Gold Medal Flour, 5 lb, Select Varieties, $1.79
Hi-C Juice Box 10pk, $1.49
Hidden Valley Ranch, $2.29
Horizon Orgainic Milk 12ct, $9.49
Hormel Beef Hash, $2.07
-$0.75/2 Hormel Mary Kitchen Hash Products
Hormel Chili with Beans, Select Varieties, 15 oz, $0.99
-$0.55/2 Hormel Chili Products, Any 14 Oz. Or Larger – 09/09/18 SS (exp 11/05/18)
Hormel Chili No Beans, Select Varieties, 15 oz, $1.79
-$0.55/2 Hormel Chili Products, Any 14 Oz. Or Larger – 09/09/18 SS (exp 11/05/18)
Hostess Snack Cakes, Select Varieties, 6 to 20 ct, $2.49
Hungry Jack Complete Pankcake Mix, 32oz, $1.79
Hungry Jack Syrup, $2.49
Jif Peanut Butter, 16oz, $1.99
Jif Power Ups, 5ct, $2.49
–$0.75/1 Jif Power Ups Chewy Granola Bars or Creamy Clusters printable [5-ct.]
Keebler Ready Crust, $1.79
–$0.50/2 Keebler Ready Crust Pie Crusts printable
Kool Aid, Crush, Snapple, and Hawaiian Punch water enhancers, $0.99
Kroger K-Cups, $3.49
Kraft Mac & Cheese Cups, $0.50
Kraft Mayo, $1.99 +
Krusteaz Mix, $1.49 – $1.99
–$0.50/1 Krusteaz Cornbread Mix (SavingStar Deposit)
–$0.50/1 Krusteaz Cornbread Mix (Checkout 51 Deposit) [Any variety; Cannot use this offer with any other print or in-app coupon or rebate.] –$0.50/1 Krusteaz Muffin or Crumb Cake Mix (Checkout 51 Deposit) [Any variety; Cannot use this offer with any other print or in-app coupon or rebate.] –$0.50/1 Krusteaz Muffin or Crumb Cake Mix (SavingStar Deposit)
LaCroix Sparkling Water or LaCroix Curate, Select Varieties, 8 pk, 12 fl oz Cans, $2.99
Las Palmas, Enchilada Sauce, $1.27
–$1/2 Las Palmas Products printable
Lay's Chips, $1.77
Lay's Stax, $0.69
-$1/4 Lay's Stax Tearpad
Lipton, 12ct, $4.49
Little Debbie Mini Donuts, $1.49
–$0.50/1 Little Debbie Double Chocolate Mini Donuts (Ibotta Deposit) [8.62-oz. bag]
Little Debbie Mini Muffins & Snacks, $2.49
Martinelli's Sparkling Cider, Select Varieties, 25.4 fl oz, $2.49
-$0.25/1 Martinelli's 25.4 oz. Sparkling 100% Juice Hangtag (exp 12/31/21)
McCafe Frappe, $1.79
McCafe Ground Coffee or K-Cups, $6.49
McCormick Ground Black Pepper, $3.19
Minute Maid Juice, 10ct, $2.99+
Minute Rice, 14oz, $1.49
Minute Rice Cups, $1.49+
Monster Energy Drink, Select Varieties, 4 pk, 15.5 to 16 fl oz, $4.99
Mott's Apple Juice, 6ct, $2.49
Mott's Applesauce Cups, $1.79
Mrs Butterworth's Syrup, 24oz, $2.79
Mrs Cubbisons Salad Toppings, $0.89
–$1/2 Mrs. Cubbison's Salad Toppings printable
–$1/2 Mrs. Cubbison's Croutons or Tortilla Strips printable
Muscle Milk, 11oz, $2.49
Nabisco Ritz Crackers, Select Varieties, 7.5 to 13.7 oz, $1.99
-$1/1 Nabisco Product, Any 3.5 oz. or Larger – (Found on Products) Peelie (exp 12/31/18)
Nature Valley Bars, 5 to 12 ct, or Fiber One Bars, 5 to 6 ct, Select Varieties, $1.99+
–$1/2 BOXES Nature Valley Granola Bars, Nature Valley Biscuits, OR Nature Valley Soft-Baked Filled Squares,any flavor/variety (5 COUNT OR LARGER). Excludes Nature Valley Granola Cups, Layered Granola Bars, Granola Bites. Kroger Digital
–$1/2 Nature Valley Granola Bars, Nature Valley Biscuits, OR Nature Valley Soft-Baked Filled Squares (SavingStar Deposit) [5-ct.+ bars; Excludes Nature Valley Granola Cups, Layered Granola Bars, Granola Bites] -$0.50/2 Nature Valley Granola Bars, Biscuits, Granola Cups, Layered Granola Bars, Soft-Baked Filled Squares, or Peanut or Almond Butter Granola Bites Pouch, 09/30/18 SS (exp 11/24/18) [5-ct.+] -$0.50/2 Nature Valley Granola Bars, Biscuits, Granola Cups, Layered Granola Bars, Soft-Baked Filled Squares, or Peanut or Almond Butter Granola Bites Pouch, 09/09 SS (exp 11/3) [5-ct.+ bars] -$0.50/2 Nature Valley Granola Bars, Biscuits, Granola Cups, Layered Granola Bars, Soft-Baked Filled Squares, or Peanut or Almond Butter Granola Bites Pouch, 10/21 SS (exp 12/15) [5-ct.+ bars] -$0.50/2 Fiber One Non Cereal Products, 10/07 SS (exp 12/1)
-$0.50/1 Nature Valley Granola Bars, Biscuits, Granola Cups, OR Fiber One Chewy Bars, 90 Calorie Products (Bars or Brownies) Protein Chewy Bars, Streusel Bars, Cheesecake Bars, Cookies, Layered Chewy Bars, Protein Nut Bars (DND) – Found On Product (DND) Peelie (exp 6/1/19)
-$0.50/1 Fiber One: Chewy Bars, 90 Calories Bars or Brownies, Protein Chewy Bars, Streusel Bars, Cheesecake Bars, Cookies or Layered Chewy Bars (DND) – Found on Product Peelie (exp 12/31/18)
Nestle Morsels, 10 to 12 oz, $1.99
Ocean Spray Juice, Select Varieties, 64 fl oz, $1.99
–$0.88/1 Ocean Spray Pink Cranberry Juice Cocktail or Ocean Spray Pink Lite Cranberry Juice Beverage printable [64-oz. bottle]
Olive Garden Croutons, $1.49
Orville Redenbacher, $1.79
Pearls Specialties Olives, 6oz, $4.47
–$1/1 Pearls Specialties Olives printable
Pepperidge Farm Bread, $2.99
Pepperidge Farm Cookies, Select Varieties, 5 to 8.6 oz, $2.49
Pepperidge Farm Goldfish Carton, $7.49
Pepsi,7UP, or Mtn Dew, Select Varieties, 6 pk, 16.9 fl oz Bottles $1.99
Perrier Water, $3.99
Planters Nuts, $5.19-$5.49
Pringles, Select Varieties, 4.94 to 5.5 oz, $0.99
-$1/4 Pringles Full Size Cans (DND) – (Found on Product) Peelie (exp 12/31/18)
Private Selection Ground Coffee, $5.49
Private Selection K-Cups, $4.99
Progresso Soup, Select Varieties, 18 to 19 oz, $0.99
Ragu Pasta Sauce, 24oz, $1.29+
–$1/2 RAGÚ Pasta Sauces (16 oz. or larger) Printable
–$1/2 Ragu Sauce printable
Red Gold Canned Tomatos, 14.5-15oz, $0.49
-$0.60/3 Red Gold, Red Pack and/or Huy Fong Tomato Products – 9-9-18 SS; Includes 10 oz or larger (exp 10/31/18)
–$0.90/3 Red Gold Canned Tomatoes (Ibotta Deposit) [Any variety; 14.5oz only]
Red Lobster Biscuit Mix, $1.99
Ritz Crackers, $1.99
Ronzoni Pasta, Select Varieties, 12 to 16 oz, $0.49+
Rice A Roni Cups, $0.79
San Giorgio Pasta, $0.49
San Pellegrino, 6ct, $3.99
Sara Lee Bread, $1.99
Seattle's Best Coffee, 12 oz Bag, or K-Cups, 10 ct, Select Varieties, $4.49 +
–$1/1 bag of Seattle's Best Coffee packaged coffee
–$1/1 Seattle's Best Coffee Product printable [whole bean]
Skyline Chili, 15oz, $3.39
Skinner Pasta, $0.39
Slim Jim, 14ct, $2.79
Smucker's Preserves & Jam, $1.99
Snack Pack Pudding, $2.49
Snyder's Of Hanover Family Size Pretzels
Snyder's Of Hanover Wholey Cheese Crackers, $3.19
Spice Islands Spices, $2.99+
-$1.25/1 Spice Islands Spice or Seasoning – 11-11-18 SS (exp 01/31/19)
–$1.50/2 Spice Island Spices Printable
Splenda Bag, 9.7oz, $6.59
–$1/1 Splenda No Calorie Sweetener Product printable
Splenda Packets, 200ct, $6.09
–$1/1 Splenda No Calorie Sweetener Product printable
Squirt, 6ct, $1.99
Starbucks Coffee, 10 to 12 oz Bag, or K-Cups, 6 to 10 ct, Select Varieties, $5.49
Starbucks Cold Brew Coffee, $5.49
Starbucks Via Instant Coffee, $5.49
Stretch Island Fruit Leathers, 8ct, $1.99
Sun Chips, Select Varieties, 7 to 11.25 oz, $1.99
Sunbelt Bakery Bars, $1.99
–$1/2 Sunbelt Bakery Chewy Granola Bars (Ibotta Deposit) [Any variety; Any size]
Swanson Canned Broth, Select Varieties, 14.5 oz, $0.49
Sweet Baby Rays Sauce, $1.49
Tazo K-Cups, 10ct, $8.49-$8.99
Thomas English Muffins, $2.49
Thomas Swirl Bread, $2.99
Tootsie Rolls & Pops, $1.99
Twining's Tea Bags, 20ct, $2.49
Waterloo Sparkling Water, 8ct, $2.49
Welch's Family Size Juice, 96oz, $2.49
-$1/2 Welch's 100% Juice, exp. 12/9/18 (RMN 09/30/18 R) [Non-Kosher 46-oz., 64-oz., 96-oz. or 10-oz. Multi-Pack]
Welch's Sparkling Juice, $2.49
Velveeta Loaf, $7.49
Velveeta Mini Blocks, $5.49
Velveeta Skillets, $2.79 +
---
HEALTH & BEAUTY
Always Discreet Pads or Underwear, $4.49-$11.49
-$2/1 Always Discreet Incontinence Product, exp. 11/24/18 (P&G 10/28/18) [Limit of 2 identical coupons per household per day]
Always Feminine Wipes $2.94
Always Pads, $2.99-$4.99
-$1/1 Always Radiant, Infinity, Pure & Clean, Ultra, or Maxi Pads, exp. 11/24/18 (P&G 10/28/18) [11-ct.+; Excludes liners and discreet; Limit of 2 identical coupons per household per day]
Axe Shower Gel, $3.49
Barbasol Ultra 3 Razor, 4ct, $4.49
-$3/1 Barbasol Ultra Razor, exp. 11/3/18 (RMN 10/07/18) [2-ct.+; Excludes twin blade disposable razors]
Blowfish for Hangovers, $1.99
Bromley's Classic Razor, $7.49
Bromley's Razor Cartridges, $6.49
Caress Body Wash, $2.49
-$1/1 Caress Body Wash or Beauty Bar, exp. 11/17/18 (RMN 11/04/18 #2) [12-oz+ body wash; 6-ct.+ bars] –$0.50/1 Caress Body Wash (12 oz. or larger) or Beauty Bar (6 pk. or larger). Kroger Digital
Caress Shower Foam $4.49
Carefree Liners, $2.49-$5.49
–$0.50/1 Carefree Product printable
-$1/1 Carefree Product, 10/07 SS (exp 11/3) [Excludes 18-ct., 20-ct., and 22-ct. liners; Limit of 2 Identical Coupons Per Household Per Day; No Cash Back] –$1/1 Carefree Original Liners (Ibotta Deposit) [Any variety; Select sizes. Exclusions apply.]
Clairol Color Crave, $7.09
Clairol Hair Color, $6.49
-$5/2 Clairol Hair Color, 10/28 SS (exp 11/10) [Excludes Color Crave, temporary Root touch-up, age defy, Balsam, and textures & tones] -$2/1 Clairol Hair Color, 10/28 SS (exp 11/10) [Excludes Color Crave, temporary Root touch-up, age defy, Balsam, and textures & tones] -$3/1 Clairol Age Defy, Vidal Sassoon, or Natural Instincts Crema Keratina Hair Color, 10/28 SS (exp 11/10)
Colgate Optic White Mouthwash, 22oz, $4.49
–$0.75/1 Colgate Mouthwash or Mouth Rinse printable
Colgate Optic White Toothpaste, $3.49
–$1/1 Colgate Optic White Radiant Toothpaste printable
–$0.50/1 Colgate Toothpaste printable [3-oz.+] –$0.50/1 Colgate Toothpaste Kroger Digital Coupon [3-oz.+]
Colgate Toothpaste, 6 oz, or Colgate Toothbrush, 1 ct, Select Varieties, $2.49
–$0.50/1 Colgate® Toothpaste (3.0 oz or larger) Printable
-$0.50/1 Colgate Total, Optic White, Enamel Health, Max Fresh or Sensitive Toothpaste 3 oz. or Larger Blinkie (exp 11/03/18)
Colgate Sensitive Toothpaste, $3.49
–$0.75/1 Colgate Sensitive Toothpaste printable
–$0.50/1 Colgate Toothpaste printable [3-oz.+] –$0.50/1 Colgate Toothpaste Kroger Digital Coupon [3-oz.+]
Colgate Total Mouthwash, $4.49
–$0.75/1 Colgate Mouthwash or Mouth Rinse printable
Colgate 360 Toothbrushes, $2.49
–$0.75/1 Colgate 360 Adult Manual Toothbrush printable
Crest Mouthwash with Scope, $2.49
-$1/1 Crest Mouthwash, exp. 11/10/18 (P&G 10/28/18) [16-oz.+; Limit of 2 identical coupons per household per day]
Crest Toothpaste, $2.49
-$1/1 Crest Toothpaste or Liquid Gel, exp. 11/10/18 (P&G 10/28/18) [3-oz.+; Excludes 4.6-oz. Cavity, Baking Soda, and tartar Control/protection; Limit of 2 identical coupons per household per day]
Degree Antiperspirant $1.99 +
Depend Underwear, $11.49
–$2/1 Depend Products printable
–$2/1 Depend Night Defense Underwear for Women printable
–$2/1 Depend Silhouette and Real Fit Briefs printable
-$2/1 Depend Product, 10/28 SS (exp 12/8) [8-ct.+] -$2/1 Depend Real Fit or Silhouette Products, 10/28 SS (exp 12/8) [8-ct.+]
Dove Advanced Care Antiperspirant $4.29
–$1.25/1 Dove Advanced Care, any variety or size (Kroger Digital Coupon)
–$1.25/1 Dove Advanced Care Deodorant (SavingStar Deposit) [Excludes twin packs, multipacks, trial and travel sizes.]
Dove Bar Soap, $4.49
-$0.75/1 Dove Beauty Bar, exp. 11/4/18 (RMN 10/21/18) [4-ct.+; ETS; Limit 2 identical coupons in the same shopping trip]
Dove Body Wash, $5.49
-$1/1 Dove Body Wash or Shower Foam, exp. 11/4/18 (RMN 10/21/18) [22-oz.+ wash; 13.5-oz. foam; Limit 2 identical coupons in the same shopping trip]
Dove Dry Shampoo & Hairspray, $4.49
Dove Men's Body Wash, $3.49
-$1.50/1 Dove Men+Care Bar or Body Wash, exp. 11/3/18 (RMN 10/21/18) [4-ct.+; ETS; Limit 2 identical coupons in the same shopping trip] -$2/1 Dove Men+Care Foaming Body Wash Product, exp. 11/3/18 (RMN 10/21/18) [Limit 2 identical coupons in the same shopping trip]
Dove Shower Foam, $5.49
-$1/1 Dove Body Wash or Shower Foam, exp. 11/4/18 (RMN 10/21/18) [22-oz.+ wash; 13.5-oz. foam; Limit 2 identical coupons in the same shopping trip]
Edge Shave Gel, $2.49
-$1/1 Schick, Edge, Skintimate Schick Hydro, Edge, or Skintimate Shave Gel or Cream, 10/14 SS (exp 11/4) [Excludes 2-oz. and 2.75-oz.; Limit of 2 identical coupons per household per day]
Edge Shave Gel, Twin Pack, $5.09
-$1/1 Schick, Edge, Skintimate Schick Hydro, Edge, or Skintimate Shave Gel or Cream, 10/14 SS (exp 11/4) [Excludes 2-oz. and 2.75-oz.; Limit of 2 identical coupons per household per day]
Ensure Shakes
–$3/1 Ensure Multipack
-$3/1 Ensure Max Protein – 9-30-18 SS; Includes 4 pk Only (exp 11/25/18)
-$5/3 Ensure Multipacks – 9-30-18 SS (exp 11/25/18)
-$2/2 Ensure Multipacks – 10-28-18 SS (exp 12/23/18)
Excedrin $3.49
–$1.50/1 Excedrin Extra Strength Product printable [20-ct.+] –$1.50/1 Excedrin Tension Headache Product printable [24-ct.+] –$1.50/1 Excedrin PM Headache Product printable [24-ct.+] -$1.50/1 Excedrin, Any 80 Count Or Larger – RMN 10-07-18, exp. 12/09/18
Garnier Fructis Shampoo or Conditioner, Select Varieties, 3.4 to 12.5 fl oz, $2.49 – $4.49
–$1/1 Garnier Fructis shampoo, Conditioner or Treatment printable [Excluding 1-oz., 2-oz., 2.9-oz., 3-oz. sizes] –$1/1 Garnier Fructis Shampoo, Conditioner or Treatment printable [Excludes 1-oz.-9-oz.] –$3/2 Garnier Fructis Shampoo, Conditioner, Treatment or Styling Products printable [Excludes 1-oz., 2-oz., 2.9-oz., 3-oz. travel sizes] -$3/2 Garnier Fructis Shampoo, Conditioner, Treatment, or Styling Product, 10/21/18 RMN (exp 11/3/18) [Excludes 1-oz., 2-oz., 2.9-oz., and 3-oz. trial sizes; No more than one identical coupon per household per day; No cash back]
Garnier Fructis Style, $2.49
-$3/2 Garnier Fructis Shampoo, Conditioner, Treatment, or Styling Product, exp. 11/3/18 (RMN 10/21/18 #2) [Excludes 1-oz., 2-oz., 2.9-oz., and 3-oz. trial sizes; No more than one identical coupon per household per day; No cash back]
Garnier Whole Blends, $2.99-$4.99
-$2/1 Garnier Whole Blends Shampoo, Conditioner, or Treatment – 10-21-18 RMN; Excludes 3 oz Travel Size and 0.68 oz Care Cream Masks (exp 11/03/18)
Gillette Cartridges, $8.99-$13.99
Gillette Razors & Cartridges, $5.49-$8.99
-$2/1 Gillette Razor, exp. 11/24/18 (P&G 10/28/18) [Excludes gillette3, gillette5 and disposables; Limit of 2 identical coupons per household per day]
Gillette Venus or Fusion Razors, $8.49
-$2/1 Venus Razor, exp. 11/24/18 (P&G 10/28/18) [Excludes disposables; Limit of 2 identical coupons per household per day] -$2/1 Gillette Razor, exp. 11/24/18 (P&G 10/28/18) [Excludes gillette3, gillette5 and disposables; Limit of 2 identical coupons per household per day]
Glucerna Hunger Smart Shakes
–$3/2 Glucerna Products printable
-$5/3 Glucerna Products, exp. 11/25/18 (SS 09/30/18 #2 R) [Limit of 2 Identical Coupons in Same Shopping Trip]
Herbal Essences Mousse & Hairspray, $2.49
Herbal Essences Shampoo or Conditioner, Select Varieties, 10.1 to 10.7 oz, $2.49
–$2/2 Herbal Essences Products, any size or variety (excludes Bio Renew, and trial and travel sizes) Kroger Digital
Kroger Arthritis $2.49
Kroger Allergy Tablets $1.49
Kroger Children's Allergy Relief $4.99
Kroger Dandruff Shampoo, $3.19-$4.49
Kroger Effervescent Vitamin C Tablets $3.99
Kroger EZ Nite Sleep $2.49
Kroger Flu + Severe Cold & Cough, $2.49
Kroger Feminine Wash, $2.99
Kroger Feminine Wipes, $1.49
Kroger Gas Relief $3.19
Kroger Headache Relief Capsules $1.69
Kroger Heartburn Prevention $3.99
Kroger Mesh Pouf, $0.50-$0.99
Kroger Kids Mouthwash, $2.39
Kroger Panty liners, $2.99
Kroger Mouthwash, $1.09-$3.49
Kroger Men's or Women's Razors $1.49+
Kroger Nasal Decongestant PE $2.99
Kroger Nasal Spray $2.99+
Kroger Sinus Congestion $2.49
Kroger Soapy Safari 3 in 1 Wash. $1.49
Kroger Stay Awake Tablets $2.47
Kroger Stomach Relief $2.29
Kroger Tampons, $2.19 – $3.49
Kroger Toothbrushes, $1.49
Lever 2000 Bar Soap, $2.49
L'il Critters Vitamins, $8.99 +
–$1/1 L'il Critters Vitamins printable
Listerine Mouthwash, $5.99
–$0.75/1 Adult LISTERINE Mouthwash printable [1-L.+]
Listerine Ready Tabs, $2.99
Mucinex, 20ct, $12.49
-$2/1 Mucinex Product, 10/21 SS (exp 12/2)
-$2/1 Mucinex 12 Hour, 10/21 SS (exp 12/2)
Neutrogena Hydro Boost, $15.99
–$2.50/1 Neutrogena Hydro Boost Hydrating Tint (Ibotta Deposit) [Hydro Boost variety; 1 fl oz tube only]
Noxzema Classic Clean, $3.49
–$1/1 Noxzema Face Care Product (excluding 2 oz. jars)
–$0.50/1 Noxzema face product. Excludes 2 oz. jars and trial and travel sizes. Kroger Digital
-$1/1 Noxzema Face Product, exp. 11/18/18 (RMN 11/04/18 #2) [Excludes 2-oz. jars and trial; Maximum of 2 Identical Coupons Allowed in Same Shopping Trip; No Cash Back]
Olay Age Defying Cream, $8.49
Olay Cleansers or Moisturizers $6.09+
Olay Facial Wipes, $4.49 – $6.49
Oral-B Glide Floss Picks, $2.49
Oral-B Toothbrush, $2.49
-$1/1 Oral-B Adult Manual Toothbrush, exp. 11/10/18 (P&G 10/28/18) [Excludes healthy Clean, and Cavity defense; Limit of 2 identical coupons per household per day]
Pedialyte $4.99
–$3/2 Pedialyte or Pedialyte AdvancedCare Products; Must Sign Up To Access; Limit 2 Identical Coupons In The Same Shopping Trip
Playtex Sport, $3.49-$6.49
–$1/1 Playtex Sport or Playtex Gentle Glide Tampons printable
-$1/1 Playtex Sport or Simply Gentle Glide Tampons, 10/07 SS (exp 11/3) [Excludes 3-ct., 4-ct., and 8-ct.; Limit of 2 Identical Coupons Per Household Per Day; No Cash Back]
Playtex Simply & Gentle Glide, $6.49
–$1/1 Playtex Sport or Playtex Gentle Glide Tampons printable
–$1/1 Playtex Simply Gentle Glide Tampons printable [Excludes 3-ct., 4-ct. and 8-ct.] -$1/1 Playtex Sport or Simply Gentle Glide Tampons, 10/07 SS (exp 11/3) [Excludes 3-ct., 4-ct., and 8-ct.; Limit of 2 Identical Coupons Per Household Per Day; No Cash Back] -$4/2 Playtex Simply Gentle Glide Tampons, 10/07 SS (exp 11/3) [Excludes 3-ct., 4-ct., and 8-ct.; Limit of 2 Identical Coupons Per Household Per Day; No Cash Back]
Poise Impressa Bladder Supports,  $11.49
–$2/1 Poise, Impressa Bladder Support Kit printable
-$2/1 Poise Pads, Liners, or Impressa Bladder Supports, 10/28 SS (exp 12/8) [Excludes 14-ct. to 26-ct. liners]
Poise Liners, $4.49
–$2/1 Poise Liners printable
–$2/1 Poise Pad or Liner Package printable
-$2/1 Poise Pads, Liners, or Impressa Bladder Supports, 10/28 SS (exp 12/8) [Excludes 14-ct. to 26-ct. liners]
Poise Pads, $4.49-$11.49
–$2/1 Poise Pads printable
–$2/1 Poise Pad or Liner Package printable
-$2/1 Poise Pads, Liners, or Impressa Bladder Supports, 10/28 SS (exp 12/8) [Excludes 14-ct. to 26-ct. liners]
Pond's Wipes, $4.49
-$1.50/1 Pond's Product, exp. 11/18/18 (RMN 11/04/18 #2) [Excludes 1.75-oz. jars, 5ct towelettes, and trial] –$1/1 Pond's Cold Cream or Face Towelettes (SavingStar Deposit) [Excludes 5-ct. towelettes, 1.7-oz. cold cream, trial and travel sizes.] –$1/1 Pond's Cold Cream or Makeup Remover Wipes (Checkout 51 Deposit) [Any variety. Excludes 5 ct towelettes, 1.7 oz cold cream, trial and travel sizes; Cannot use this offer with any other print or in-app coupon or rebate.]
Prilosec OTC, $9.49
–$3/1 Prilosec OTC Product (28 ct or larger) Kroger Digital
–$1/1 Prilosec OTC Product (14 ct) Kroger Digital
-$1/1 Prilosec OTC Product, exp. 11/24/18 (P&G 10/28/18) [14-ct.; Limit of 2 identical coupons per household per day] -$3/1 Prilosec OTC, exp. 11/24/18 (P&G 10/28/18) [28-ct.+; Limit of 2 identical coupons per household per day]
Pure Silk Razors, $4.49 – $5.49
–$2/1 Pure Silk Contour 3 or Contour 6 Razors printable
-$3/1 Pure Silk Contour Razor, exp. 11/3/18 (RMN 10/07/18) [2-ct.+; Excludes twin blade disposable razors]
Pure Silk Shave Cream, $1.29
–$0.75/1 Pure Silk Shave Cream, any variety (7.25 oz or larger). Kroger Digital
-$0.75/2 Pure Silk or Barbasol Shave Cream, exp. 11/3/18 (RMN 10/07/18) [7.25-oz. to 10-oz.]
Schick Slim Twin Disposable Razors, 12ct, $5.99
-$3/1 Schick Disposables Razor Pack, 10/14 SS (exp 11/4) [Excludes 1-ct., slim twin 2-ct. and 6-ct.; Limit of 2 identical coupons per household per day]
Schick Razors, $5.99 – $8.99
-$2/1 Schick Intuition, Intuition F.A.B., Hydro Silk, Quattro For Women Razor or Refill, 10/14 SS (exp 11/4) [Excludes Disposables And Men's Razor or Refill; Limit of 2 identical coupons per household per day; Limit of 2 identical coupons per household per day] -$2/1 Schick Hydro or Quattro Titanium Razor or Refill, 10/14 SS (exp 11/4) [Excludes Disposables And Women's Razor or Refill; Limit of 2 identical coupons per household per day] -$3/1 Schick Disposables Razor Pack, 10/14 SS (exp 11/4) [Excludes 1-ct., slim twin 2-ct. and 6-ct.; Limit of 2 identical coupons per household per day]
Scope Mouthwash $2.49
Simple Face Wipes, $4.49
-$2/1 Simple Products, exp. 11/18/18 (RMN 11/04/18 #2) [Excludes sheet masks and trial] –$1/1 Simple product (excluding trial and travel sizes and sheet masks)
Skintimate Shave Gel or Cream, $2.49-$3.49
-$1/1 Schick, Edge, Skintimate Schick Hydro, Edge, or Skintimate Shave Gel or Cream, 10/14 SS (exp 11/4) [Excludes 2-oz. and 2.75-oz.; Limit of 2 identical coupons per household per day]
Stayfree Pads, $2.49 – $4.99
-$1/1 Stayfree Product, 10/07 SS (exp 11/3) [Excludes 10-ct.; Limit of 2 Identical Coupons Per Household Per Day; No Cash Back] –$1/1 Stayfree Maxi Pads (Ibotta Deposit) [Any variety; Select sizes. Exclusions apply.]
St. Ives Apricot Scrub, $3.49
-$1/1 St. Ives Face Care or Body Wash Product, exp. 11/18/18 (RMN 11/04/18 #2) [ETS]
Suave Essentials Body Wash, $1.49
-$0.75/1 Suave Body Wash Product, exp. 11/10/18 (RMN 10/21/18) [ETS; Limit 2 identical coupons in the same shopping trip]
Suave Kids Body Wash, $1.49
-$0.75/1 Suave Body Wash Product, exp. 11/10/18 (RMN 10/21/18) [ETS; Limit 2 identical coupons in the same shopping trip]
Suave Men Body Wash, 15oz, $1.49
-$0.75/1 Suave Body Wash Product, exp. 11/10/18 (RMN 10/21/18) [ETS; Limit 2 identical coupons in the same shopping trip] -$0.50/1 Suave Men Products, exp. 11/4/18 (RMN 10/21/18) [Excludes twin packs and trial; Limit 2 identical coupons in the same shopping trip]
Schwarzkopf Got2b Hair Styling, $4.49 – $5.49
Tampax Tampons, $4.99
-$1/1 Tampax Pearl, Radiant, or Pure 7 Clean Tampons, exp. 11/24/18 (P&G 10/28/18) [16-ct.+; Limit of 2 identical coupons per household per day]
U By Kotex Pads or Liners, $2.49 – $6.49
–$3/2 U by Kotex Products printable (not valid on Liners 14-22ct)
–$0.50/1 U by Kotex Products printable
-$1/1 Kotex U Pads or Liners, 10/14 SS (exp 11/10) [Excludes 14-ct. to 22-ct. liners and trial]
U By Kotex Fitness Pads, $3.49
–$3/2 U by Kotex Products printable (not valid on Liners 14-22ct)
–$0.50/1 U by Kotex Products printable
-$1/1 Kotex U Pads or Liners, 10/14 SS (exp 11/10) [Excludes 14-ct. to 22-ct. liners and trial] -$1/1 Kotex U Fitness Products, 10/14 SS (exp 11/10) [Excludes 14-ct. to 22-ct. liners and trial]
U By Kotex Tampons, $2.49
–$3/2 U by Kotex Products printable (not valid on Liners 14-22ct)
–$0.50/1 U by Kotex Products printable
-$1/1 Kotex U Tampons or Security Tampons, 10/14 SS (exp 11/10) [ETS]
Vaseline Intensive Care, 10oz, $2.79
Vaseline Men Extra Strength, 10oz, $1.14
Vitafusion Vitamins, $8.49 – $9.49
–$1/1 Vitafusion Gummy Vitamin Product printable
–$1/1 VitaFusion Product printable
---
HOUSEHOLD
Air Wick VIP $5.49
Air Wick Scented Oil or Essential Mist, $4.49
Ajax Dishwashing Liquid, select varieties, $1.29+
-$0.25/1 Ajax Ultra Dish Liquid, 10/28 SS (exp 11/11) [28-oz.+; No More Than 4 Identical Coupons for the Same Product in the Same Day; No Cash Back]
All Laundry Detergent, liquid or pacs, $2.99
-$1/1 All Laundry Product, Any (Excludes Trial Size; Limit of One Identical Coupon Per Shopping Trip; No Cash Back) – RMN 10-28-18, exp. 11/25/18
-$2/2 All Laundry or Snuggle Products, Any (Excludes Trial Size; Limit of One Identical Coupon Per Shopping Trip; No Cash Back) – RMN 10-28-18, exp. 11/25/18
–$1/1 All Laundry Detergent item or All Oxy Booster, any size or variety Kroger Digital
All Laundry Sheets or Fabric Softener, $2.49
-$1/1 All Laundry Product, Any (Excludes Trial Size; Limit of One Identical Coupon Per Shopping Trip; No Cash Back) – RMN 10-28-18, exp. 11/25/18
-$2/2 All Laundry or Snuggle Products, Any (Excludes Trial Size; Limit of One Identical Coupon Per Shopping Trip; No Cash Back) – RMN 10-28-18, exp. 11/25/18
All Oxi Laundry Booster, $2.99
-$1/1 All Laundry Product, Any (Excludes Trial Size; Limit of One Identical Coupon Per Shopping Trip; No Cash Back) – RMN 10-28-18, exp. 11/25/18
-$2/2 All Laundry or Snuggle Products, Any (Excludes Trial Size; Limit of One Identical Coupon Per Shopping Trip; No Cash Back) – RMN 10-28-18, exp. 11/25/18
–$1/1 All Laundry Detergent item or All Oxy Booster, any size or variety Kroger Digital
Bic Multi-Purpose Lighter, 1 pk, $2.69+
Bounce or Gain Dryer Sheets $3.99
–$2/1 Downy Liquid Fabric Conditioner, Downy or Bounce Sheets or In Wash Scent Boosters printable [48+ load liquid fabric conditioner; 70-ct.+ sheets; 6.5-oz.+ boosters] -$2/1 Downy Liquid Fabric Conditioner, or Bounce/Downy Sheets, or In Wash Scent Boosters, Bounce Bursts, or Dreft Blissfuls, exp. 11/24/18 (P&G 10/28/18) [72 load+ Including odor Protect liquid fabric conditioner; 120-ct.+ Bounce/Downy sheETS; 10-oz.+ scent boosters; Including downy Unstopables, fresh Protect, Infusions; Excludes downy libre enjuague and gain fireworks; Limit of 2 identical coupons per household per day] -$2/1 Gain Liquid Fabric Enhancer, Gain Dryer Sheets or Gain Fireworks, exp. 11/10/18 (RMN 10/14/18 R) [6.5-oz.+ Fireworks; 48 Load or Higher fabric enhancer; 105 Count or Higher dryer sheets; Includes Gain Botanicals; Excludes Trail/Travel Size; Limit of One Coupon Per Household Per Day; No Cash Back] –$0.50/1 Bounce Dryer Sheets (Checkout 51 Deposit) [60-ct.+; Cannot use this offer with any other print or in-app coupon or rebate.]
Clorox Disinfecting Wipes, 35 ct, $1.99
–$1/2 Clorox® Clean-up® products, Disinfecting Wipes 32ct.+, Liquid Bleach 55oz.+, OR Manual Toilet Bowl Cleaner
–$0.50/1 Clorox Disinfecting Wipes printable [32-ct.+]
Clorox Liquid Bleach, 64 fl oz, $1.99
–$1/2 Clorox® Clean-up® products, Disinfecting Wipes 32ct.+, Liquid Bleach 55oz.+, OR Manual Toilet Bowl Cleaner
–$0.50/1 Clorox Bleach printable [55-oz.+]
Cottonelle Bathroom Tissue, Select Varieties, 6 Mega Rolls, $4.99
–$0.55/1 Cottonelle Toilet Paper printable
Downy Fabric Softener, Select Varieties, 62 to 77 oz, $5.49
–$2/1 Downy Liquid Fabric Conditioner, Downy or Bounce Sheets or In Wash Scent Boosters printable [48+ load liquid fabric conditioner; 70-ct.+ sheets; 6.5-oz.+ boosters] -$2/1 Downy Liquid Fabric Conditioner, or Bounce/Downy Sheets, or In Wash Scent Boosters, Bounce Bursts, or Dreft Blissfuls, 10/28/18 P&G (exp 11/24/18) [72 load+ Including odor Protect liquid fabric conditioner; 120-ct.+ Bounce/Downy sheETS; 10-oz.+ scent boosters; Including downy Unstopables, fresh Protect, Infusions; Excludes downy libre enjuague and gain fireworks; Limit of 2 identical coupons per household per day] -$1/1 Downy Liquid Fabric Conditioner, or Bounce/Downy Sheets, or In Wash Scent Boosters, Dreft Blissfuls, or Gain Fireworks, 10/28/18 P&G (exp 11/24/18) [60-load or less fabric conditioner; Including odor Protect; 105-ct. or less sheETS; 6.5-oz. or less Including downy Unstopables, fresh Protect, Infusions; 4.9-oz. fireworks; Excludes downy libre enjuague and gain fireworks 6.5-oz.; Limit of 2 identical coupons per household per day]
Downy Infusions, $3.99
Downy Unstopables, $4.49
-$2/1 Downy Liquid Fabric Conditioner, or Bounce/Downy Sheets, or In Wash Scent Boosters, Bounce Bursts, or Dreft Blissfuls, exp. 11/24/18 (P&G 10/28/18) [72 load+ Including odor Protect liquid fabric conditioner; 120-ct.+ Bounce/Downy sheETS; 10-oz.+ scent boosters; Including downy Unstopables, fresh Protect, Infusions; Excludes downy libre enjuague and gain fireworks; Limit of 2 identical coupons per household per day] -$1/1 Downy Liquid Fabric Conditioner, or Bounce/Downy Sheets, or In Wash Scent Boosters, Dreft Blissfuls, or Gain Fireworks, exp. 11/24/18 (P&G 10/28/18) [60-load or less fabric conditioner; Including odor Protect; 105-ct. or less sheETS; 6.5-oz. or less Including downy Unstopables, fresh Protect, Infusions; 4.9-oz. fireworks; Excludes downy libre enjuague and gain fireworks 6.5-oz.; Limit of 2 identical coupons per household per day]
Dixie Plates, Bowls or Cups, Select Varieties, 14 to 48 ct, $1.99
–$0.75/1 Dixie Plates printable
–$0.50/1 Dixie Cups (Ibotta Deposit) [Any variety; 3-oz. or 5-oz. cups only]
Energizer Batteries, $2.50
–$1/1 pack of Energizer Batteries
–$1/1 pack of Energizer Batteries, any variety or size. Kroger Digital
-$1/1 Energizer Batteries or Flashlight, 10/07 SS (exp 11/17)
-$1.25/1 Energizer Batteries or Flashlights – 11-4-18 SS (exp 12/15/18)
Febreze Scent Products $4.49
-B1G1 Febreze Product, exp. 11/24/18 (P&G 10/28/18) [Up to $3; Limit of 2 identical coupons per household per day]
Finish Automatic Dishwasher Detergent $2.99+
Finish Jet Dry Rinse Aid $2.99 +
Gain Fabric Softener $5.49
-$2/1 Gain Liquid Fabric Enhancer, Gain Dryer Sheets or Gain Fireworks, exp. 11/10/18 (RMN 10/14/18 R) [6.5-oz.+ Fireworks; 48 Load or Higher fabric enhancer; 105 Count or Higher dryer sheets; Includes Gain Botanicals; Excludes Trail/Travel Size; Limit of One Coupon Per Household Per Day; No Cash Back] -$3/3 Gain Detegrents or Fabric Enhancers, exp. 11/24/18 (P&G 10/28/18) [Must buy 1 of each; Excludes flings 9-ct. or less and dryer SheETS 40-ct. or less]
Gain Flings, 20 ct $5.49
-$2/1 Gain Flings, exp. 11/10/18 (RMN 10/14/18 R) [12-ct.+; Excludes Gain Liquid and Powder Detergent, Gain Fireworks, Gain Flings 9 Count anb Below and Trial/Travel Size; Limit of One Coupon Per Household Per Day; No Cash Back] -$3/3 Gain Detegrents or Fabric Enhancers, exp. 11/24/18 (P&G 10/28/18) [Must buy 1 of each; Excludes flings 9-ct. or less and dryer SheETS 40-ct. or less]
Gain Fireworks, $4.49
-$2/1 Gain Liquid Fabric Enhancer, Gain Dryer Sheets or Gain Fireworks, exp. 11/10/18 (RMN 10/14/18 R) [6.5-oz.+ Fireworks; 48 Load or Higher fabric enhancer; 105 Count or Higher dryer sheets; Includes Gain Botanicals; Excludes Trail/Travel Size; Limit of One Coupon Per Household Per Day; No Cash Back] -$1/1 Downy Liquid Fabric Conditioner, or Bounce/Downy Sheets, or In Wash Scent Boosters, Dreft Blissfuls, or Gain Fireworks, exp. 11/24/18 (P&G 10/28/18) [60-load or less fabric conditioner; Including odor Protect; 105-ct. or less sheETS; 6.5-oz. or less Including downy Unstopables, fresh Protect, Infusions; 4.9-oz. fireworks; Excludes downy libre enjuague and gain fireworks 6.5-oz.; Limit of 2 identical coupons per household per day]
Hefty Waste Bags, Select Varieties, 18 to 45 ct, $5.99
–$1/1 Hefty Tall Kitchen or Large Black Trash Bags printable (exp. 1/31/19)
–$0.75/1 Hefty Small or Medium Trash Bags printable
Kingsford Charcoal 11.1 – 15.4 lbs $9.49
Kleenex Bundles $4.49
–$0.50/1 Kleenex Facial Tissue printable [3-boxes or 1 bundle] –$0.50/1 Kleenex Facial Tissue printable [3-boxes or 1 bundle] -$0.25/1 Kleenex Facial Tissue or Wet Wipes, 10/07 SS (exp 11/10) [30-ct.+ tissue; 20-ct.+ wipes]
Kroger Home Sense Aluminum Foil $2.79
Kroger Home Sense Disinfecting Wipes, Select Varieties, 35 ct, $1.49
Kroger Home Sense Sandwich Bags, select varieties, $1.49
Kroger Home Sense Trash Bags, select varieties, $4.49
Libman Mops or Brooms $7.49+
–$3/1 Libman Wonder Mop printable
Lysol Disinfecting Spray $4.49
-$0.50/1 Lysol Disinfectant Spray or Max Cover Disinfectant Spray, exp. 11/6/18 (SS 09/30/18 #2) [Limit of 2 identical coupons in the same shopping transaction.]
Lysol Toilet Bowl Cleaner, 2ct, $2.99
-$0.50/1 Lysol Toilet Bowl Cleaner, exp. 11/6/18 (SS 09/30/18 #2) [Limit of 2 identical coupons in the same shopping transaction.]
Palmolive Dish Liquid, Select Varieties, $1.29 +
–$0.50/1 Palmolive Ultra Dish Liquid (20.0 oz ONLY) Kroger Digital
-$0.50/1 Palmolive Ultra Dish Liquid 20 oz. or Larger (DND) (Limit 4 like coupons per day) Hangtag (exp 12/31/18)
Persil Laundry Detergent $5.49
-$2/1 Persil ProClean Laundry Detergent, exp. 11/18/18 (RMN 10/21/18 #2 R) [Excludes 6 Loads or Less and Trial/Travel Sizes; Limit one identical coupon per shopping trip]
Pine-Sol Multi-Surface Cleaner $1.19
–$0.75/1 Pine-Sol Multi-Purpose Cleaner printable
Scott 1000 Sheets Per Roll Bath Tissue $4.99
–$0.50/1 package of SCOTT Bath Tissue 6 rolls or larger
–$0.50/1 package of SCOTT Bath Tissue (6 rolls or larger) Kroger Digital
-$0.25/1 Scott Bath Tissue, 10/07 SS (exp 11/10) [4+ rolls]
Scott Comfort Plus Bath Tissue $4.99
–$0.50/1 package of SCOTT Bath Tissue 6 rolls or larger
–$0.50/1 package of SCOTT Bath Tissue (6 rolls or larger) Kroger Digital
-$0.25/1 Scott Bath Tissue, 10/07 SS (exp 11/10) [4+ rolls] –$1/1 Scott Comfort Plus Bath Tissue (Ibotta Deposit) [6ct. or larger]
Seventh Generation Spray Cleaner, select varieties, $2.87+
Snuggle Fabric Softener, select varieties, $2.49
-$2/2 All Laundry or Snuggle Products, Any (Excludes Trial Size; Limit of One Identical Coupon Per Shopping Trip; No Cash Back) – RMN 10-28-18, exp. 11/25/18
–$0.50/1 Snuggle Fabric Conditioning Item, any size or variety Kroger Digital
Snuggle Sheets, 80ct or SuperFresh Beads, $2.49
-$2/2 All Laundry or Snuggle Products, Any (Excludes Trial Size; Limit of One Identical Coupon Per Shopping Trip; No Cash Back) – RMN 10-28-18, exp. 11/25/18
–$0.50/1 Snuggle Fabric Conditioning Item, any size or variety Kroger Digital
Swiffer 2X Refills, 6 to 32 ct, $6.99
Tide Liquid Laundry Detergent, 46 to 50 fl oz, or Tide Pods, 15 to 20 ct, Select Varieties, $5.49
–$3/1 Tide Regular Pods 10-ct.+ Printable 
–$2/1 Tide Detergent 75 oz or less printable
-$3/1 Tide Regular Pods, 10/28/18 P&G (exp 11/24/18) [10-ct.+; Limit of 2 identical coupons per household per day]
Viva Vantage Paper Towels, Select Varieties, 6 Big Rolls, $4.99
–$1/1 Viva or Viva Vantage Printable
-$0.50/1 Viva Vantage or Regular Paper Towels, 10/07 SS (exp 11/10) [6-ct.+]
---
MEAT & SEAFOOD
Applegate Bacon, 8oz, $5.29
–$0.75/1 Applegate Product printable
Applegate Hot Dogs, 10oz, $4.09-$4.49
–$1.25/1 Applegate Hot Dogs Printable
–$0.75/1 Applegate Product printable
Applegate Lunchmeat, $3.79-$5.49
–$1.25/1 Applegate Prosciutto or Sliced Deli Meat Printable
–$1/1 Applegate sliced deli meat Printable
–$0.75/1 Applegate Product printable
Earl Cambell's Hot-N-Cheddar Links, 14oz, $2.49
Hillshire Farm Cheddarwurst, 13.5oz, $2.49
Hillshire Farm Smoked Sausage, Select Varieties, 12 to 14 oz, $2.49
Hormel Black Label Bacon or Natural Choice, Select Varieties, 12 to 16 oz, $3.99
Johnsonville Flame Grilled Bratwurst, 14oz, $3.99
–$1/1 Johnsonville Flame Grilled Sausage (Ibotta Deposit) [Any variety; 14-oz. package]
Johnsonville Sausage, $4.49
Kroger Tenderloin Filet, 8oz, $3.49
Oscar Mayer Bologna or Cotto Salami, Select Varieties, 16 oz, $1.49
Oscar Mayer Hard Salami, 8oz, $4.49
Oscar Mayer Lunchables $1.99-$2.49
Tennessee Pride Sausage, 16oz, $2.49
---
NATURAL FOODS
Angie's Microwave Popcorn
Back To Nature Cookies, $3.79
–$1/1 Back To Nature printable [Sign Up] –$0.75/1 Back to Nature Product printable [Excludes macaroni & cheese] –$0.75/1 Back to Nature Product printable [Excludes macaroni & cheese]
Barbara's Cereal, $1.99
–$1/1 Barbara's Cereal (Ibotta Deposit) [Any variety; Any size.] –$1/1 Barbara's Puffins Cereal (Ibotta Deposit) [Any variety; Any size]
Blue Diamond Almond Breeze, Select Varieties, Half Gallon, $2.49
Core Hydration Sport Cap pH Water
Horizon Milk, Select Varieties, Half Gallon, $3.49
Imagine Organic Broth, $2+
Kashi Breakfast Bars, Select Varieties, 5 to 12 ct, $2.49
Knudsen Sparking Cider
–$1/1 R.W. Knudsen Celebratory Juice, any variety or size Kroger Digital
Muir Glen Pasta Sauce, $2.49
–$0.50/1 any flavor/variety Muir Glen Organic product
–$0.50/1 Muir Glen Organic product, any flavor/variety or size. Kroger Digital
Nature's Path Organic Cereal or Granola, Select Varieties, 10 to 14 oz, $2.49
Qi'a Cereal. $2.49
Simple Truth Organic Bagged Coffee, $4.49
Simple Truth Organic Cream Soup, Select Varieties, 10.5 oz, $0.99
Simple Truth Organic Eggs, Grade A, 12 ct, $3.49
Simple Truth Pack Bars, $3.99
Zone Perfect Bars, Multipack, $3.69
–$2.50/2 ZonePerfect Multi-Packs
Simple Truth Organic Frozen Fruit
---
PET
Blue Dog Bakery Grain Free Treats, $3.99
-$1/1 Blue Bag Dog or Cat Treats, 10/14 SS (exp 11/14)
---
PRODUCE
Jumbo Russet Potatoes, 8 lb Bag, $4.49
Zespri SunGold Kiwi, 1 lb Clamshell, $2.99
–$1.75/1 selection of Zespri Sungold Kiwifruit Products (when you share )
–$1/1 selection of Zespri Sungold Kiwifruit Products