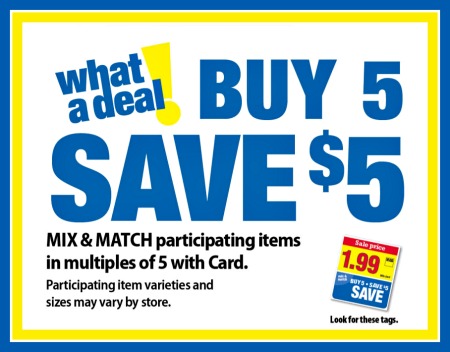 Here is the HUGE inclusion list for the upcoming Mix & Match Buy 5, Save $5 Mega sale that starts on Wednesday, 10/10 and runs through Tuesday 10/23. With this sale you will instantly save $5 at checkout when you buy any 5 participating items.
If you find any other matching coupons or if you find a coupon that doesn't match, let me know and I will get it added or fixed as soon as possible. I will be updating the list on Wednesday when the sale starts and the tags are up! As usual the price listed is AFTER mega savings.
As I mention above, this is a big sale so be sure to click "Read More" to see all the deals!
BABY
Aquaphor Baby 3 oz, $5.99
-$2/1 Aquaphor Body or Baby Product, exp. 10/27/18 (SS 09/30/18 #2) [ETS; Limit of 4 Like Coupons in Same Shopping Trip; No Cash Back
–$1.50/1 Aquaphor Baby Product printable [.35-oz. or 25.4-oz. & gift sets]
Beech-Nut Melties, 1oz, $1.49
–$1/1 Beech-Nut Toddler Snacks (Ibotta Deposit) [Any variety; Any size]
Boost Kid Essentials $3.49
Comforts Baby Wipes, $3.49
Comforts Diapers, $3.29 +
Comforts Nite Pants, $5.39
Comforts Training Pants, $4.99
Gerber Juice, 32oz, $1.19
Gerber Juice 4×4 fl oz $1.89
Gerber Organic Biscuits, 5.29oz, $2.79
–$1/4 Gerber Snack Items
–$1/2 Gerber Snacks, any variety or size. Kroger Digital
–$1/4 Gerber Snack Items, any size. Kroger Digital
Gerber Fruit & Veggie Melts, 10oz, $1.49
–$1/4 Gerber Snack Items
–$1/2 Gerber Snacks, any variety or size. Kroger Digital
–$1/4 Gerber Snack Items, any size. Kroger Digital
Gerber Good Start Formula, $17.99 +
Gerber Juice Variety Pack, 4ct, $1.89
Happy Tot Baby Food Pouches, 4.22oz, $0.25
Huggies Jumbo Diapers, $6.99 +
–$1.50/1 Huggies Diapers printable
–$1.50/1 Huggies Diapers printable
–$2/1 Huggies Little Movers Diapers printable
–$2/1 Huggies Little Movers Diapers printable
–$2/1 Huggies Little Snugglers Diapers printable
–$1.50/1 Huggies Little Snugglers Diapers printable
–$2/1 Huggies Overnites Diapers printable
–$2/1 Huggies Overnites Diapers printable
Huggies GoodNites or Pull-Ups $7.99 +
–$3/1 Pull-Ups® or GoodNites®, any varierty (24-54 ct.) Kroger Digital Coupon
–$2/1 Goodnites printable
–$2/1 Pull-Ups Training Pants printable
–$2/1 Pull-Ups Training Pants printable
Huggies Wipes 52 – 64 ct, $0.79 +
–$0.50/2 HUGGIES® Wipes (48 ct. or higher) Kroger Digital Coupon
Luvs Diapers $5.49
-$2 off Luvs Diapers, exp. 10/13/18 (P&G 09/30/18) [(2) bags or (1) box; Limit of 2 identical coupons per household per day] –$2/1 Luvs Diapers BAG, any size or variety (excludes trial and travel sizes) Kroger Digital Coupon
Luvs Wipes $4.99
-$0.50/1 Pampers or Luvs Wipes, exp. 10/13/18 (P&G 09/30/18) [56-ct.+; Limit of 2 identical coupons per household per day] –$0.50/1 Pampers or Luvs Wipes Kroger Digital Coupon
Pampers Diapers $7.99 +
–$1/1 Pampers Swaddlers Diapers printable [ETS] –$1/1 Pampers Cruisers Diapers printable [ETS] -$3 off Pampers Diapers or Easy Ups Training Underwear, exp. 10/13/18 (P&G 09/30/18) [(2) bags or (1) box; Limit of 2 identical coupons per household per day]
Pampers Easy Ups or Cruisers, 22ct, $7.99
–$1/1 Pampers Easy Ups printable
–$1/1 Pampers Cruisers Diapers printable [ETS] -$2/1 Pampers Diapers, Swaddlers, Cruisers, or Baby Dry BAG, any size or variety (excludes trial and travel sizes) Kroger Digital
-$5/1 Pampers Easy Ups Training Underwear or Underjams Absorbent Night Wear, exp. 10/13/18 (P&G 09/30/18) [Limit of 2 identical coupons per household per day] -$3 off Pampers Diapers or Easy Ups Training Underwear, exp. 10/13/18 (P&G 09/30/18) [(2) bags or (1) box; Limit of 2 identical coupons per household per day]
Pampers Aqua Pure Wipes, $1.99 +
-$1/1 Pampers Aqua Pure Wipes, exp. 10/13/18 (P&G 09/30/18) [56-ct.+; Limit of 2 identical coupons per household per day] -$0.50/1 Pampers or Luvs Wipes, exp. 10/13/18 (P&G 09/30/18) [56-ct.+; Limit of 2 identical coupons per household per day] –$0.50/1 Pampers or Luvs Wipes, any size or variety (excludes trial and travel sizes) Kroger Digital
Similac Formula $18.99 +
Simple Truth Diapers $7.99
---
BAKERY/DELI
Blueberry Muffins 4 ct, $2.99
Pudding Cake, $4.99
Simple Truth Colossal Roasted Chicken, $8.99
---
DAIRY/REFRIGERATED
Chobani Greek Yogurt, 32oz, $3.99
-$1/1 Chobani Greek Yogurt, 09/16 SS (exp 10/31) [4 pk (4-5.3 oz), 32 oz tub or Savor Topper; Valid for Greek Yogurt 32 oz Multi-Serve tub, 4-pks and Chobani Savor Topper; One Coupon Per Person] -$1/2 Chobani Greek Yogurt or Savor Toppers, exp. 10/28/18 (SS 09/30/18 #2 R) [32-oz. tubs, 4-ct. or Savor Toppers; Limit one coupon per purchase and per person]
Chobani Savor, 14oz, $1.50
–$1/1 Chobani Savor, any variety (14oz) Kroger Digital
-$1/1 Chobani Greek Yogurt, 09/16 SS (exp 10/31) [4 pk (4-5.3 oz), 32 oz tub or Savor Topper; Valid for Greek Yogurt 32 oz Multi-Serve tub, 4-pks and Chobani Savor Topper; One Coupon Per Person] -$1/2 Chobani Greek Yogurt or Savor Toppers, exp. 10/28/18 (SS 09/30/18 #2 R) [32-oz. tubs, 4-ct. or Savor Toppers; Limit one coupon per purchase and per person]
Cracker Barrel Cheese, $2.99
DanActive or Activia Probiotic Dailies, 8ct, $4.79
Danimals Smoothie, 6ct, $1.29
Dannon Activia Yogurt, $1.29
Dannon Yogurt 4 – 6 ct, $1.49
Frigo String Cheese, 24ct, $4.99
Gold Peak Tea, 52oz, $1.49
Kraft Singles, $1.99
Kraft String Cheese, $2.99
Kroger Cheese, 32oz, $4.99
Philadelphia Cream Cheese 2 pk, $2.99
Sargento Shredded Cheese, $1.99
-$0.50/2 Sargento Shredded Natural Cheese, Any – SS 08-26-18, exp. 10/21/18
Simply Beverages, 52oz, $1.49
YoCrunch Yogurt, 4ct, $1.29
---
FROZEN
Bertolli's Frozen Meal, $5.99
Birds Eye Frozen Vegetables, $0.99
Birds Eye Voila Family Meal 42 oz, $5.99
Blake's Pot Pie or Shepherds Pie 22 oz, $6.99
Cooked Perfect Meatballs, $1.99+
–$1.50/1 Cooked Perfect Meatballs printable
–$1/1 Cooked Perfect Frozen Meatballs printable
-$1/1 Cooked Perfect Meatballs, 08/05 SS (exp 12/1) [Any bag] -$1.50/2 Cooked Perfect Meatballs, 08/05 SS (exp 12/1) [Any bags]
DiGiorno Stuffed Crust or Crispy Pan Pizza 21.6 – 29.59 oz, $5.99
Edwards Pie, $5.49
Frontera Skillet Meal, $5.99
Gorton's Beer Battered Fish Sticks or Cod Bites, $3.99
Gorton's Bowl, $3.99
-$1/1 Gorton's Shrimp Bowl Item, 10/07 SS (exp 11/25) [DND]
Gorton's Fish Sticks, 30ct, $3.99
–$1/2 Gorton's Products printable
Gorton's Smart & Crunchy Fish Fillets, 8ct, $3.99
–$1/2 Gorton's Products printable
Grand's Frozen Biscuits 20 ct, $2.99
Haagen Dazs Ice Cream, $2.99
Halo Top Ice Cream, $2.99
–$0.75/2 Halo Top Ice Cream (Ibotta Deposit) [Any Variety, 1 Pint]
Hip Chick Chicken, $4.99
Jimmy Dean Breakfast Sandwiches, $3.99
-$0.75/1 Jimmy Dean Frozen Breakfast Product, Any (Excluding Single Serve Sandwiches; Limit One Coupon Per Transaction; DND/T) – RMN 10-07-18, exp. 11/04/18
Marie Callender's Pies, $5.49 +
Marie Callender's Pot Pies, $4.99+
Outshine Fruit Bars or Non-Dairy Dessert, $2.49
–$1/1 Outshine Frozen Snacks product
P.F. Chang's Meal, $5.99
So Delicious Frozen Dessert, $3.49 – $3.99
–$1.50/1 So Delicious Mousse Ibotta Offer Any Variety, Pint [5X Per Receipt]
–$1/1 So Delicious Dairy-Free Product printable
Talenti Gelato 16 oz, $2.99
TGIFriday's Snacks, $7.99
Yasso Yogurt Bars, $2.99
–$1/1 Yasso Frozen Greek Yogurt
---
GROCERY
BarkThins Snacking Chocolate, $2.49
Betty Crocker, Sunkist or Mott's Fruit Snacks Value Pack, $2.99
-$0.50/2 Betty Crocker Fruit Flavored Snacks, 10/07 SS (exp 12/1)
-$0.50/2 Betty Crocker Fruit Flavored Snacks, 09/09 SS (exp 11/3)
Bigelow Tea, $1.49 +
Bonne Maman Preservces, $3.79
Cheetos or Fritos, $1.99
Clamato, 64oz, $2.99
Community Coffee Bag, $3.99
-$2/1 Community Coffee, exp. 10/14/18 (RMN 08/19/18 R) [Bag or Single-Serve Box]
Community Coffee K-Cups, $4.49
-$2/1 Community Coffee, exp. 10/14/18 (RMN 08/19/18 R) [Bag or Single-Serve Box]
Dasani Water, 8ct 12oz, $1.99
Dasani Sparkling Water, 8ct, $1.99
Dave's Killer Bread or Organic Bagels 5 ct, $3.29
–$0.75/1 Dave's Killer Bread (Ibotta Deposit) [Any Bread variety; Any size]
Deer Park Water 24 pk, 16.9 fl oz $2.99
Deer Park Sparkling Water, 8ct, $2.99
Donut Shop or Krispy Kreme K-Cups, $5.99
Eight O Clock, Swiss Miss or Panera K-Cups, $4.99
-$2/2 Swiss Miss K-Cup Pods, 10/07 SS (exp 12/7) [12-ct.+ boxes]
Evian Water 1 L, $0.99
Filippo Berio Olive Oil, $5.99
Frank's Red Hot Sauce, $1.49+
-$0.75/1 Frank's RedHot, 9/23 SS (exp 11/04) [12 Oz+]
Fritos Canned Dip, $1.99
Frito-Lay Simply Snacks 7 – 8.5 oz, $2.49
Gatorade or G2 18 pk , 12 fl oz, $7.99
General Mills Cereal, $1.79
–$1/2 BOXES any flavor General Mills cereal listed: Cheerios™ • Cinnamon Toast Crunch™ • Lucky Charms™…
–$1/2 BOXES General Mills Cheerios™, Cinnamon Toast Crunch™, Lucky Charms™, Reese's Puffs, Chex™, Blasted Shreds™, Cocoa Puffs™, Trix™, Cookie Crisp™, Golden Grahams™, Kix™, Fiber One™, Wheaties™, Raisin Nut Bran, Total™, Basic 4™, Oatmeal Crisp™, Nature Valley™ boxed cereal , Nature Valley™ Granola, any flavor or size. Kroger Digital
–$1/2 General Mills cereal listed: Cheerios, Cinnamon Toast Crunch, Lucky Charms, Reese's Puffs, Chex, Blasted Shreds, Cocoa Puffs, Trix, Cookie Crisp, Golden Grahams, Kix, Fiber One, Wheaties, Raisin Nut Bran, Total, Basic 4, Oatmeal Crisp, Nature Valley boxed cereal, or Nature Valley Granola (SavingStar Deposit)
-$1/3 General Mills Cheerios, Cinnamon Toast Crunch, Lucky Charms, Reese's Puffs, Chex, Blasted Shreds, Cocoa Puffs, Trix, Cookie Crisp, Golden Grahams, Kix, Fiber One, Wheaties, Raisin Nut Bran, Total, Basic 4, Oatmeal Crisp, Nature Valley Boxed Cereal, or Nature Valley Granola, 09/16 SS (exp 10/27)
-$1/2 Cap'n Crunch Cereal, exp. 10/31/18 (RMN 08/05/18 R)
-$0.75/2 Cheerios, exp. 11/10/18 (SS 09/30/18 #2)
Gold Peak Tea 52 fl oz, $1.49
Green Mountain Coffee, $4.99
-$1.50/1 Green Mountain Coffee Roasters K-Cups or Bagged Coffee, exp. 10/29/18 (SS 09/09/18 #2 R) [10-ct.+ K-cup pods; 10-oz or 12-oz. bag]
Gevalia Coffee, $5.99
Hellmann's Mayo 20 – 30 fl oz, $2.79
Hershey's Kisses or Nuggets, $2.49
Hershey's or Reese's Crunchers, $1.99
Hershey's, Rolos or Reese's Miniatures, $2.79
-$1/2 Reese's, Kit Kat, Hershey's, Almond Joy, York, Mounds, PayDay, Take5, Milk Duds, Whoppers, Twizzlers or Jolly Rancher Snack Size or Assortment Bags, 09/23 SS (exp 10/13) [9-oz.+]
Hershey's or Reese's Snack Size, $2
-$1/2 Reese's, Kit Kat, Hershey's, Almond Joy, York, Mounds, PayDay, Take5, Milk Duds, Whoppers, Twizzlers or Jolly Rancher Snack Size or Assortment Bags, 09/23 SS (exp 10/13) [9-oz.+]
Juicy Juice, 64oz, $0.99
Keebler Cookies, $1.49
Kraft Deluxe Mac & Cheese, $1.99
Kraft Mac & Cheese, 5ct, $3.79
Kraft Salad Dressing, $0.99
Krusteaz Buttermilk Protein Flapjack & Waffle Mix, $3.49
-$1/1 Krusteaz Buttermilk Protein Flapjack & Waffle Mix Kroger Digital Coupon
Lipton Tea, 12pk, $3.99
-$0.40/1 Lipton Tea Product, exp. 10/21/18 (RMN 09/23/18) [Maximum of 2 Identical Coupons Allowed in Same Shopping Trip; No Cash Back; DND]
Mahatma Basmati Rice, 5lbs, $9.49
Mahatma Rice, 5lbs, $3.99
–$1/1 Mahatma Jasmine Brown or White Rice printable
Malt O Meal Cereal, $1.79
–$0.25/1 Malt O Meals Cereal Ibotta Deposit – redeem up to 5x
–$0.75/2  Malt-O-Meal® Cereals, any flavor (11 oz or larger) Kroger Digital Coupon
Maxwell House Coffee, $5.99
–$1/1 MAXWELL HOUSE COFFEE POD (12CT – 36CT) Kroger Digital
McCafe K-Cups, $4.99
McCafe Coffee Tin, $8.99
MiO Water Enhancer 1.62 oz, $1.99
Monster Energy Drink, 10 pack, $13.99
Nabisco Chips Ahoy Cookies, $1.49
-$0.55/1 Chips Ahoy Thins Cookies, 09/16 SS (exp 10/27) [7-oz.+]
Nabisco Ritz Crackers, $1.59 +
Oberto Jerky, $3.99
Ole Xtreme Wellness Wraps, 12ct, $1.99
Pace  Salsa, $2.49+
Pepsi or 7UP, 6 pack, $1.99
Pepperidge Farm Goldfish, 6-8oz, $0.99
Pepperidge Farm Buns, $1.99
Planters Cashews, 8oz, $4.69
Planters Mixed Nut, $4.89
Popchips, $1.99
Private Selection Pasta Sauce, 15-24oz, $1.49
Private Selection Preserves $2.19
–$0.70/1 Private Selection Preserves, Apple Butter, Marmalade or Jelly, any variety (9.5 – 10 oz) Kroger Digital Coupon
Quaker Chewy Granola Bars, 5-8ct, $0.99
-$0.75/2 Quaker Chewy Granola Bars or Bites, exp. 10/21/18 (RMN 09/09/18 #2 R)
Quaker Instant Oatmeal 8 – 12 ct, $1.49
Revv K-Cup, $5.99
Sensible Portions Veggie Chips, $0.99
Simple Truth Vapor Distilled Water 24 pk, $3.99
SkinnyPop Popcorn 4.4 – 5.3 oz or SkinnyPop Puffs 4.2oz, $1.99
-$1/1 SkinnyPop Ready To Eat Popcorn Bag, exp. 10/31/18 (RMN 08/05/18)
Skippy PB Bites, $2.54
Snyder's of Hanover Pretzels or Pieces 8 – 16 oz, $1.99
–$1/2 Snyder's of Hanover Pretzels (Checkout 51 Deposit) [5 oz or larger, any variety. Items must appear on the same receipt.]
Sparkling Ice 12 pk, $8.99 +
Spectrum Culinary Oil 12.7 oz, $6.49
Stubb's BBQ Sauce, $2.49
Stur Water Enhancer, $1.99
–$0.50/1 Stur Liquid Water Enhancer (Ibotta Deposit) [Any variety; Any size][5x per receipt]
V8 Juice 64 oz, $1.99
Velveeta Shells & Cheese, 9.4oz, $1.99
Velveeta Shells & Cheese, 4ct, $2.99
Voortman Cookies or Wafers, $1.99
Yuban Coffee, $5.99
Zico Coconut Water 1 L, $2.99
–$1.50/1 Zico Coconut Water 1L Ibotta deposit (redeem up to 5x)
---
HEALTH & BEAUTY
Always Discreet, $3.99 +
-$2/1 Always Discreet Incontinence Liner or Pad, exp. 10/27/18 (P&G 09/30/18) [Limit of 2 identical coupons per household per day]
Always Pads, $2.99 +
-$3/2 Always Radiant, Infinity, or Pure & Clean Pads, exp. 10/27/18 (P&G 09/30/18) [11-ct.+; Limit of 2 identical coupons per household per day] -$0.50/1 Always Ultra or Maxi Pads, exp. 10/27/18 (P&G 09/30/18) [11-ct.+; Limit of 2 identical coupons per household per day]
Aussie Hair Care 29.2 oz, $3.99
-$2/2 Aussie Shampoo, Conditioner, or Styling Products, exp. 10/20/18 (RMN 10/07/18) [ETS]
Axe Shampoo & Conditioner, $2.99
Bromley's Shave Products, $3.99 +
Bull Dog Shave Products, $6.49
Carefree Liners, $1.99
–$1/1 Carefree® Product (excludes 18, 20 and 22 ct.)
-$1/1 Carefree Product, 10/07 SS (exp 11/3) [Excludes 18-ct., 20-ct., and 22-ct. liners; Limit of 2 Identical Coupons Per Household Per Day; No Cash Back] –$0.50/1 Stayfree or Carefree Product Ibotta Deposit (redeem up to 5x)
–$1/1 Carefree Product Kroger Digital coupon
Caress Body Wash, $1.99
–$0.75/1 Caress Body Wash or Bar product, any variety. Excludes travel and trial sizes Kroger Digital coupon
Clairol Color Crave, $6.99
–$4/1 Color Crave Ibotta Deposit (redeem up to 2x)
Clairol Hair Color, $5.99 +
-$2/1 Clairol Hair Color, exp. 10/13/18 (SS 09/30/18 #2) [Excludes color crave, temporary root tough-up, age defy, balsam, and textures & tones] -$5/2 Clairol Hair Color Boxes, exp. 10/13/18 (SS 09/30/18 #2) [Excludes color crave, temporary root touch-up, age defy, balsam, and textures & tones] –$3/1 Clairol Natural Instincts Hair Color Ibotta Deposit )redeem up to 3x
Colgate Mouthwash, $3.99
-$1/1 Colgate Mouthwash or Mouth Rinse, exp. 10/13/18 (SS 09/30/18 #2) [200-ml.+; No More Than 4 Identical Coupons for the Same Product in the Same Day; No Cash Back] –$2/1 Colgate® Mouthwash or Mouth Rinse (400 mL or larger) Kroger Digital Coupon 
Colgate Total Toothpaste, $1.99
–$2/1 Colgate Total, Optic White Advanced Whitening or Platinum, Enamel Health or Sensitive TP (3.0 oz+) Kroger Digital
-$1/1 Colgate Total, Optic White, Enamel Health, or Sensitive Toothpaste, exp. 10/13/18 (SS 09/30/18 #2) [3-oz.+; No More Than 4 Identical Coupons for the Same Product in the Same Day; No Cash Back]
Colgate Toothbrush, $1.99 +
–$1/1 Colgate® 360°® or Colgate® Floss-Tip® Manual Toothbrush, any size Kroger Digital coupon 
–$0.75/1 Colgate 360 Adult Manual Toothbrush printable
Depend, $17.99
-$2/1 Depend Product, exp. 10/27/18 (SS 09/30/18 #2) [8-ct.+] –$2/1 Depend Guards and Shields for Men printable
Dove Hair Care, $2.99
Dove Men+Care Face, $4.69
Dove Men+Care Shave, $3.69 +
Dove Soap 8 pk or Body Wash, $7.79
Dove Men+ Care Body Wash, $9.99
Edge Shave Gel, $1.99 +
-$1/1 Schick Hydro, Edge, or Skintimate Shave Gel or Cream – 10-14-18 SS; Excludes 2 or 2.75 oz (exp 11/04/18)
Ensure Shakes, 6ct, $6.99
–$3/1 Ensure Multi-Pack printable
-$5/3 Ensure Multipacks, exp. 11/25/18 (SS 09/30/18 #2) [multipacks; Limit of 2 identical coupons in the same shopping transaction.] -$2/2 Ensure Multipacks, 08/26 SS (exp 10/21
Gillette Disposable Razors, $3.99 +
-$3/1 Gillette Disposable, exp. 10/27/18 (P&G 09/30/18) [2-ct.+; Excludes sensor 2-ct.; Limit of 2 identical coupons per household per day] -$1/1 Gillette, Gillette3, or Gillette5 Razor, exp. 10/27/18 (P&G 09/30/18) [Limit of 2 identical coupons per household per day]
Gillette Razors, $4.99 +
-$2/1 Gillette Razor, exp. 10/27/18 (P&G 09/30/18) [Excludes gillette3, gillette5, and disposables; Limit of 2 identical coupons per household per day]
Gillette Shave Gel, $0.99 +
Glucerna Shakes, 6ct, $6.99
–$3/2 Glucerna Products printable
-$5/3 Glucerna Products, exp. 11/25/18 (SS 09/30/18 #2 R) [Limit of 2 Identical Coupons in Same Shopping Trip]
Head & Shoulders, $4.79
-$3/2 Head & Shoulders or Clinical Solutions, exp. 10/13/18 (P&G 09/30/18) [12.8-oz.+ or clinical; Limit of 2 identical coupons per household per day]
Herbal Essences Hair, $1.99
-$2/2 Herbal Essences Shampoo, Conditioner, or Styling Products, exp. 10/20/18 (RMN 10/07/18) [Excludes bio:renew and trial]
Irish Spring Body Wash, $2.99
–$1/1 Irish Spring Bodywash, any variety Kroger Digital Coupon
Ivory Soap 10pk, $2.99
Jason Body Wash, $5.99
Kroger Allergy Relief, 70ct, $6.99
Kroger Arthritis Pain Relief, 225ct, $13.99
Kroger Day Time Cold & Flu, 12oz, $4.79
Kroger Disposable Razors, $2.69 +
Kroger EZ Nite Sleep, 12oz, $4.99
Kroger Kids Power Toothbrush, $6.99
Kroger Kids Power Toothbrush Refills, $13.99
Kroger Mouthwash, $1.50 +
Kroger Nasal Decongestant PE, 72ct, $4.99
Kroger Tampons, $1.69 +
Kroger Toothpaste, $1.89 +
Kroger Whitening Tray, $13.99
Live Clean Body Wash, $3.99
Live Clean Shampoo & Conditioner, $3.59
L'Oreal Makeup, $5.19 +
Maybelline Makeup, $4.49 +
Neutrogena HydroBoost Water Gel or Gel Cream, $15.49
Ocuvite, 50ct, $11.49
–$3/1 Ocuvite Eye Vitamin Product
–$5/1 Ocuvite Product printable
-$5/1 Bausch+Lomb Ocuvite Blue Light Product, exp. 10/13/18 (SS 09/09/18 #2)
-$3/1 Bausch+Lomb Ocuvite Product, exp. 10/13/18 (SS 09/09/18 #2)
Olay Body Wash 30 oz, $5.99
-$1/1 Olay Bar, Body Wash, In-Shower Body Lotion, or Hand and Body Lotion, exp. 10/13/18 (P&G 09/30/18) [4-ct.+ bars; ETS; Limit of 2 identical coupons per household per day]
Olay Cleaning Infusions, $5.99 *eligible for Catalina*
-$1/1 Olay Facial Cleanser, exp. 10/27/18 (P&G 09/30/18) [Limit of 2 identical coupons per household per day]
Olay Daily Facials, $5.99 *eligible for Catalina*
-$1/1 Olay Facial Cleanser, exp. 10/27/18 (P&G 09/30/18) [Limit of 2 identical coupons per household per day]
Olay Daily Renewal Cleanser, $3.99 *eligible for Catalina*
-$1/1 Olay Facial Cleanser, exp. 10/27/18 (P&G 09/30/18) [Limit of 2 identical coupons per household per day]
Olay Daily Renewal Cream, $5.99 *eligible for Catalina*
Olay Regenerist, $5.49 + *eligible for Catalina*
-$2/1 Olay Eyes or Whips, Regenerist, Luminous, or Total Effects Facial Moisturizer, exp. 10/27/18 (P&G 09/30/18) [Limit of 2 identical coupons per household per day]
Old Spice Body Wash 16 – 18 oz, $2.99
-$1/1 Old Spice Body Wash or Bar Soap, exp. 10/13/18 (P&G 09/30/18) [Limit of 2 identical coupons per household per day
Old Spice Body Wash 30 oz, $5.99
-$1/1 Old Spice Body Wash or Bar Soap, exp. 10/13/18 (P&G 09/30/18) [Limit of 2 identical coupons per household per day]]
Old Spice Deodorant 2.6 – 3.7 oz, $2.99
-$3/2 Old Spice Red Collection, Fresh Collection, or Hardest Working Collection Anti-Perspirant/Deodorant, exp. 10/13/18 (P&G 09/30/18) [Limit of 2 identical coupons per household per day] -$1/1 Old Spice, Secret, or Gillette Invisible Spray Anti-Perspirant/Deodorant, exp. 10/13/18 (P&G 09/30/18) [Limit of 2 identical coupons per household per day]
Pantene Foam Conditioner or ProV Blends, $4.99
-$5/3 Pantene Products, exp. 10/13/18 (P&G 09/30/18) [Limit of 2 identical coupons per household per day] -$1/1 Pantene Product, exp. 10/13/18 (P&G 09/30/18) [Limit of 2 identical coupons per household per day]
Pantene Shampoo or Conditioner, $2.99
-$5/3 Pantene Products, exp. 10/13/18 (P&G 09/30/18) [Limit of 2 identical coupons per household per day] -$1/1 Pantene Product, exp. 10/13/18 (P&G 09/30/18) [Limit of 2 identical coupons per household per day]
Pantene Styling, $3.99
-$5/3 Pantene Products, exp. 10/13/18 (P&G 09/30/18) [Limit of 2 identical coupons per household per day] -$1/1 Pantene Product, exp. 10/13/18 (P&G 09/30/18) [Limit of 2 identical coupons per household per day]
Pepto Bismol, $3.99
–$0.50/1 Pepto Bismol Product. Kroger Digital
-$0.50/1 Pepto-Bismol Product, exp. 10/27/18 (P&G 09/30/18) [Limit of 2 identical coupons per household per day]
Playtex Tampons, $2.99 +
–$1/1 Playtex Simply Gentle Glide or Sport Tampons (excludes 3, 4 and 8 ct.)
–$4/2 Playtex Simply Gentle Glide Tampons (excludes 3, 4 and 8 ct.)
–$4/2 Playtex® Simply Gentle Glide™ Tampons. Excludes 3, 4 and 8 ct. Kroger Digital
–$1/1 Playtex® Simply Gentle Glide™ or Sport® Tampons. Excludes 3, 4 and 8 ct. Kroger Digital
-$4/2 Playtex Simply Gentle Glide Tampons, 10/07 SS (exp 11/3) [Excludes 3-ct., 4-ct., and 8-ct.] -$1/1 Playtex Sport or Simply Gentle Glide Tampons, 10/07 SS (exp 11/3) [Excludes 3-ct., 4-ct., and 8-ct.] –$0.50/1 Playtex Gentle Glide or Sport Tampons Ibotta Deposit (Redeem up to 5x)
Poise Pads, $16.99
-$2/1 Poise Pads, Liners, or Impressa Bladder Supports, exp. 10/13/18 (SS 09/30/18 #2) [Excludes 14-ct. to 26-ct. liners] -$2/1 Poise Overnight Pads or Ultimate Absorbency Long Length Pad, exp. 10/13/18 (SS 09/30/18 #2)
Ponds Wipes, $3.99
–$1/1 Pond's Cold Cream or Makeup Remover Wipes (Checkout 51 Deposit) [Any variety. Excludes 5 ct towelettes, 1.7 oz cold cream, trial and travel sizes; Cannot use this offer with any other print or in-app coupon or rebate.] –$1/1 Pond's Cold Cream or Makeup Remover Wipes Kroger Digital Coupon
PreserVision, 120ct, $22.99
–$4/1 PreserVision® Eye Vitamin and Mineral Supplement 60 ct or larger
-$3/1 PreserVision Product, 09/30 SS (exp 12/31) [Limit of 2 identical coupons in the same shopping transaction.] -$3/1 PreserVision Areds 2 Formula + Chewables, 09/30 SS (exp 12/31) [Limit of 2 identical coupons in the same shopping transaction.]
Rohto Eye Drops, 0.34-0.4oz, $3.99+
–$2/1 Rohto Dry-Aid Lubricant Eye Drops printable
–$5/1 Rohto Dry Aid Eye Drops (Ibotta Deposit) [Rohto Dry Aid Eye Drops variety; 0.34-oz. only.]
Safeguard Soap 8 ct, $2.99
Schick Razors, $9.49
Schick Disposable Razors, $5.49 +
–$3/1 Schick® Disposable Razor Pack (excludes 1 ct., Slim Twin® 2 ct. and 6 ct.)
–$5/2 Schick® Disposable Razor Packs (excludes 1 ct., Slim Twin® 2 ct. and 6 ct.)
Secret Clinical Deodorant, $6.99
Secret Deodorant 2.6 – 3.7 oz, $2.99
-$1/1 Secret Fresh or Active, exp. 10/13/18 (P&G 09/30/18) [2.6-oz.+; Limit of 2 identical coupons per household per day] -$1/1 Old Spice, Secret, or Gillette Invisible Spray Anti-Perspirant/Deodorant, exp. 10/13/18 (P&G 09/30/18) [Limit of 2 identical coupons per household per day]
Simple Wipes, $3.99
Skintimate Shave Gel, $1.99
-$1/1 Schick Hydro, Edge, or Skintimate Shave Gel or Cream – 10-14-18 SS; Excludes 2 or 2.75 oz (exp 11/04/18)
Softsoap Body Wash, $2.29
Softsoap Refill 52 oz, $3.49
Speed Stick, $0.99 +
Stayfree Pads, $1.99 +
–$1/1 Stayfree® Product (excludes 10 ct.)
-$1/1 Stayfree Product, 10/07 SS (exp 11/3) [Excludes 10-ct.; Limit of 2 Identical Coupons Per Household Per Day; No Cash Back] –$0.50/1 Stayfree or Carefree Product Ibotta Deposit (redeem up to 5x)
–$1/1 Stayfree Product Kroger Digital Coupon
St Ives Scrub, $2.99
Suave Kids Body Wash, $0.99
-$0.75/1 Suave Body Wash Product, exp. 11/10/18 (RMN 10/21/18) [ETS]
Suave Professionals & Men's Shampoo & Conditioner, $1.99
–$3/2 Suave Professionals Wash and Care products. Excludes twin packs and trial and travel sizes. Kroger Digital
–$1/2 Suave Hair Products, any Shampoo, Conditioner, or Styling. Excludes 12oz., trial and travel sizes. Kroger Digital
Suave Lotion, $1.99
-$0.75/1 Suave Lotion, exp. 10/20/18 (RMN 09/23/18) [10-oz.+; Maximum of 2 Identical Coupons Allowed in Same Shopping Trip; No Cash Back; DND] –$0.50/1 Suave Lotion (Ibotta Deposit)[Any variety ; Select sizes]
Tampax Tampons, $2.99 +
-$3/2 Tampax Pearl, Radiant, or Pure & Clean Tampons, exp. 10/27/18 (P&G 09/30/18) [16-ct.+; Limit of 2 identical coupons per household per day]
Tena Pads, $10.99
-$3/1 Tena Product, 09/30 SS (exp 10/14) []
---
HOUSEHOLD
Air Wick Scented Oil Refills, $3.89
All Free & Clear Dryer Sheets, 80ct, $1.99
-$1/1 All Product, exp. 10/27/18 (RMN 09/23/18) [ETS; Limit of One Identical Coupon Per Shopping Trip; No Cash Back)]
All Free & Clear Liquid Fabric Softener, 32oz, $1.99
-$1/1 All Product, exp. 10/27/18 (RMN 09/23/18) [ETS; Limit of One Identical Coupon Per Shopping Trip; No Cash Back)]
Bounce 80 ct, $3.49
–$1/1 Downy Liquid Fabric Conditioner, Downy or Bounce Sheets or In Wash Scent Boosters printable[48+ load liquid fabric conditioner; 70-ct.+ sheets; 6.5-oz.+ boosters] -$1/1 Tide Simply Detergent, Downy Fabric Enhancer, Bounce or Downy Sheets or In-Wash Scent Booster, exp. 10/13/18 (RMN 09/09/18 R) [37-oz.+ tide detergent; 40 load Downy; 60-ct. sheets; 4.9-oz. booster; Includes Dreft Blissfuls, Bounce Bursts and Downy Unstopables; Excludes Tide Detergent, Tide PODS, Gain Fireworks, Downy Libre Enjuague and Trial/Travel Size; Limit of One Coupon Per Household Per Day; No Cash Back; DND]
Bounty Napkins, $1.99
Bounty Paper Towels, $4.99
-$1/1 Bounty Paper Towel Product, exp. 10/13/18 (P&G 09/30/18) [4-ct.+; Limit of 2 identical coupons per household per day]
Cascade Action Pacs, 36-60ct, $2.99 +
Charmin Bathroom Tissue, $4.99
-$1/1 Charmin Toilet Paper Product, exp. 10/13/18 (P&G 09/30/18) [4 mega rolls or larger; Limit of 2 identical coupons per household per day]
Clorox Disinfecting Wipes 70 – 75 ct, $3.99
–$0.50/1 Clorox Disinfecting Wipes printable [32-ct.+]
Cottonelle Cleansing Cloths 84 ct, $4.79
-$0.50/1 Cottonelle Flushable Wipes or Scott Flushable Cleansing Cloths, 10/07 SS (exp 11/10) [42-ct.+ wipes]
Cottonelle Cleansing Cloths 42 ct, $2.47
-$0.50/1 Cottonelle Flushable Wipes or Scott Flushable Cleansing Cloths, 10/07 SS (exp 11/10) [42-ct.+ wipes]
Dawn Dish Detergent, $2.79
Downy Fabric Softener, $4.99
–$1/1 Downy Fabric Conditioner or Bounce/Downy Sheets or In Wash Scent Boosters
–$0.50/1 Downy Fabric Conditioner or Bounce/Downy Sheets or In Wash Scent Boosters
-$1/1 Downy Fabric Conditioner or Bounce/Downy Sheets or In Wash Scent Boosters, exp. 10/27/18 (P&G 09/30/18) [72+ load conditioner; 120-ct.+ sheets; 10-oz.+ scent boosters; Excludes libre enjuage and fireworks 6.5-oz.; Limit of 2 identical coupons per household per day] -$1/1 Tide Simply Detergent, Downy Fabric Enhancer, Bounce or Downy Sheets or In-Wash Scent Booster, exp. 10/13/18 (RMN 09/09/18 R) [37-oz.+ tide detergent; 40 load Downy; 60-ct. sheets; 4.9-oz. booster; Includes Dreft Blissfuls, Bounce Bursts and Downy Unstopables; Excludes Tide Detergent, Tide PODS, Gain Fireworks, Downy Libre Enjuague and Trial/Travel Size; Limit of One Coupon Per Household Per Day; No Cash Back; DND] -$0.50/1 Downy Fabric Conditioner or Bounce/Downy Sheets or In Wash Scent Boosters, exp. 10/27/18 (P&G 09/30/18) [60-load or less conditioner; 105-ct. or less sheets; 10-oz.+ scent boosters; Excludes libre enjuage and fireworks 6.5-oz.; Limit of 2 identical coupons per household per day]
Downy Unstopables, $3.99
-$1/1 Tide Simply Detergent, Downy Fabric Enhancer, Bounce or Downy Sheets or In-Wash Scent Booster, exp. 10/13/18 (RMN 09/09/18 R) [37-oz.+ tide detergent; 40 load Downy; 60-ct. sheets; 4.9-oz. booster; Includes Dreft Blissfuls, Bounce Bursts and Downy Unstopables; Excludes Tide Detergent, Tide PODS, Gain Fireworks, Downy Libre Enjuague and Trial/Travel Size; Limit of One Coupon Per Household Per Day; No Cash Back; DND] –$1/1 Downy Liquid Fabric Conditioner, Downy or Bounce Sheets or In Wash Scent Boosters printable [48+ load liquid fabric conditioner; 70-ct.+ sheets; 6.5-oz.+ boosters]
Duracell Batteries, $2.99
Energizer Batteries, $5.49
–$0.75/1 pack of Energizer Batteries
–$0.75/1 pack of Energizer® Batteries, any variety or size. Kroger Digital
-$1/1 Energizer Batteries or Flashlight, 10/07 SS (exp 11/17)
Fabuloso Cleaner 56 oz, $1.99
Febreze Air, $1.99
Febreze Car Clip or Small Spaces, $2.99
Gain Fabric Softener 51 oz, $3.49
–$5/3 Gain Detergents or Fabric Enhancers Printable
-$5/3 Gain Detergents or Fabric Enhancers, exp. 10/27/18 (P&G 09/30/18) [Excludes dryer sheets 40-ct. or less and flings 9-ct. or less; Limit of 2 identical coupons per household per day] -$2/1 Gain Liquid Fabric Enhancer 48 ld or higher, Gain Dryer Sheet 105 ct or higher or Gain Fireworks 6.5 oz or higher 10/14 RMN (exp 11/10)
Gain Fabric Softener Sheets 120 ct, $4.99
–$5/3 Gain Detergents or Fabric Enhancers Printable
-$5/3 Gain Detergents or Fabric Enhancers, exp. 10/27/18 (P&G 09/30/18) [Excludes dryer sheets 40-ct. or less and flings 9-ct. or less; Limit of 2 identical coupons per household per day] $2/1 Gain Liquid Fabric Enhancer 48 ld or higher, Gain Dryer Sheet 105 ct or higher or Gain Fireworks 6.5 oz or higher 10/14 RMN (exp 11/10)
Gain Fireworks, $3.99
–$5/3 Gain Detergents or Fabric Enhancers Printable
-$5/3 Gain Detergents or Fabric Enhancers, exp. 10/27/18 (P&G 09/30/18) [Excludes dryer sheets 40-ct. or less and flings 9-ct. or less; Limit of 2 identical coupons per household per day] $2/1 Gain Liquid Fabric Enhancer 48 ld or higher, Gain Dryer Sheet 105 ct or higher or Gain Fireworks 6.5 oz or higher 10/14 RMN (exp 11/10)
Gain Flings, $4.99
–$5/3 Gain Detergents or Fabric Enhancers Printable
-$5/3 Gain Detergents or Fabric Enhancers, exp. 10/27/18 (P&G 09/30/18) [Excludes dryer sheets 40-ct. or less and flings 9-ct. or less; Limit of 2 identical coupons per household per day]
Kingsford Charcoal 11.1 lb, $6.99
–$1/1 bag of Kingsford® Briquets (7lbs or larger)
–$1/1 bag of Kingsford® Briquets (7lbs or larger) Kroger Digital Coupon
Lysol Pourable, $1.59
Mr Clean Magic Eraser, $1.99
-$0.50/1 Mr. Clean Product, exp. 10/27/18 (P&G 09/30/18) [Limit of 2 identical coupons per household per day] –$0.50/1 Mr. Clean Product Kroger Digital Coupon
Mr Clean Multipurpose Cleaner 48 oz, $1.99
-$0.50/1 Mr. Clean Product, exp. 10/27/18 (P&G 09/30/18) [Limit of 2 identical coupons per household per day] –$0.50/1 Mr. Clean Product Kroger Digital Coupon
Seventh Generation Dish Liquid $1.19
Snuggle Fabric Softener, Booster or Super Plus, $1.99
-$0.50/1 Snuggle Product, exp. 10/27/18 (RMN 09/23/18) [ETS; Limit of One Identical Coupon Per Shopping Trip; No Cash Back)] –$0.50/1 Snuggle brand Fabric Softener, Scent Boosters, or Dryer Sheets, any variety or size Kroger Digital Coupon
Solo Plates, Cups, or Bowls, $1.99
Spray 'n Wash, $1.99
Swiffer 3.3X Refills, $10.99
-$2/1 Swiffer Refill or WetJet Solution, exp. 10/27/18 (P&G 09/30/18) [Limit of 2 identical coupons per household per day]
Suavitel 33.8 – 50 oz, $1.99
–$1/1 Suavitel® Liquid Fabric Softener (44.0 oz or larger) Kroger Digital Coupon
Tide Liquid Laundry Detergent or Tide Pods, $4.99
–$2/1 Tide Detergent Printable
-$2/1 Tide Liquid Detergent, Dreft Active Baby, or Dreft Newborn, exp. 10/27/18 (P&G 09/30/18) [Excludes rescue and simply; Limit of 2 identical coupons per household per day] -$2/1 Tide Pods, exp. 10/27/18 (P&G 09/30/18) [Excludes simply and 9-ct. or less; Limit of 2 identical coupons per household per day]
Tide Purclean 37 oz, $6.49
–$2/1 Tide Detergent Printable
-$2/1 Tide Liquid Detergent, Dreft Active Baby, or Dreft Newborn, exp. 10/27/18 (P&G 09/30/18) [Excludes rescue and simply; Limit of 2 identical coupons per household per day]
Woolite, $7.99
---
MEAT
Bar-S Deli Style Turkey or Ham, $4.99
–$1/2 Bar-S Products printable
Hormel Natural Choice Lunch Meat, 14oz, $4.99
Jimmy Dean Breakfast Sausage 9 – 16 oz, $2.99
Johnsonville Beddar with Cheddar Sausage, $4.99
Johnsonville Flame Grilled Chicken Breast, $3.99
Lloyd's Shredded Meat, $2.99
Nathan's Beef Franks 12 – 14 oz, $3.99
Oscar Mayer Deli Fresh Lunch Meat 22 oz, $5.99
Oscar Mayer Natural Lunch Meat, $2.79
Wright Bacon, $7.99
---
NATURAL
Brad's Crunchy Kale, $2.99
Cascadian Farms Organic Cereal Bars  5 – 8 ct, $2.49
–$1/2 any flavor/variety Cascadian Farm™ products
–$1/2 Cascadian Farm™ products, any flavor/variety or size Kroger Digital Coupon
Honest Kids Organic Juice Pouches, $1.99 +
Kashi Cereal 10 – 16.3 oz, $1.99
Kind Breakfast or Kids Bars 4 – 6 ct. $1.99
Silk Plant Based Milk 64 fl oz, $1.99
---
PET
Blue Buffalo Cat or Dog Dry Food, $12.99+
Blue Buffalo Wet Cat Food, 12ct, $8.99
Fresh Step Litter, $11.99
Rachael Ray Nutrish Dog Food, $13.99+
–$2/1 3 lb. bag or larger of Rachael Ray™ Nutrish® Dry Dog Food
–$2/1 Nutrish Super Premium Dry Food For Dogs printable
–$2/1 Rachael Ray Nutrish Dry Dog Food (3 lb. bag or larger) Kroger Digital
-$2/1 Rachael Ray Nutrish Dry Dog Food, 09/30 SS (exp 11/25) [3-lb.+ bag]