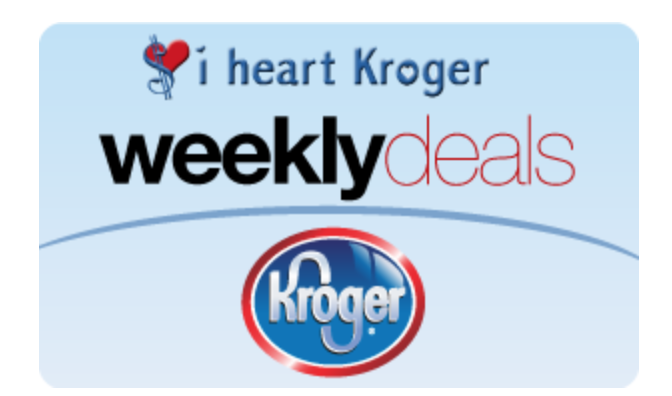 Here is the Kroger Ad and coupon matchups which start Wednesday, 12/12 and runs through Tuesday 12/18 1n the Southeast. There is a new mega sale this week. There will be a bunch of new digital coupons to load starting Wednesday and also a small Bring On Breakfast mega sale starting up. Below are the advertised deals…as usual, price is after mega savings.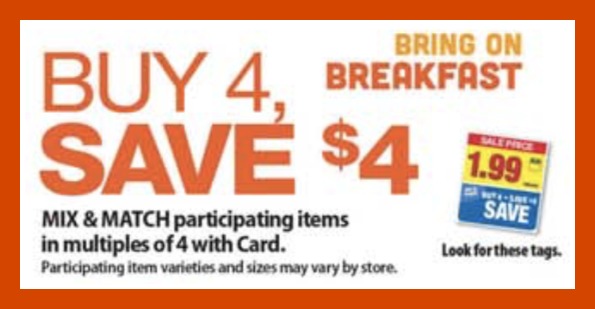 If you are headed to Kroger this week don't forget to load your digital coupons from SavingStar, Cellfire and the Kroger Digital Coupons too. You might want to check your cash back apps (Ibotta, Checkout 51, Mobisave and BerryCart) for any matching deals that you might like. Also, be sure to check out the Catalina deals before you shop.
As always, the check mark
indicates either a great stockpile price or a stockpile price with coupon(s). And keep in mind that we have a shopping list feature on the site. If you need help, just visit the HELP PAGE to see how to use it.
BUY 4, SAVE $4 SALE (Mix & Match)
Ore-Ida Potatoes, Frozen, Select Varieties, 14 to 32 oz, $1.99
Minute Maid Orange Juice, Select Varieties, 59 fl oz, $1.99
Simple Truth Cage-Free Brown Eggs, 18 ct, $2.99
Private Selection Fruit, Frozen, Select Varieties, 12 to 16 oz, $2.99
Entenmann's Donuts, Select Varieties, 8 to 12 ct, $2.49
Thomas' Swirl Bread, Select Varieties, 15 to 16 oz, $2.49
V8 Vegetable Juice, Select Varieties, 64 fl oz, $2.49
Maxwell House Coffee, Select Varieties, 22 to 30.6 oz, $5.99
–$0.50/1 Maxwell House Coffee (Ibotta Deposit) [Any variety; 24.5-oz. canister or larger]
Gevalia Coffee, 10 to 12 oz, or K-Cups, 6 to 12 ct, Select Varieties, $5.99
Nature's Path Organic Cereal or Granola, Select Varieties, 10 to 14 oz, $1.99
Jimmy Dean Breakfast Sausage, Select Varieties, 8 to 12 oz, $2.49
-$0.75/1 Jimmy Dean Refrigerated Item, exp. 1/6/19 (RMN 12/09/18)
-$1/2 Jimmy Dean Items, 12/09/18 RMN (exp 1/6/19)
Johnsonville Breakfast Sausage, Select Varieties, 9.6 to 12 oz, $2.49
–$0.50/1 Johnsonville Fully Cooked Breakfast Sausage (Ibotta Deposit) [Links and Patties variety; Any size] -$1/2 Johnsonville Breakfast Sausage (DND) Tearpad (exp 12/31/18)
Wright Bacon, Select Varieties, 24 oz, $6.99
-$1/1 Wright Brand Bacon, 11/11/18 RMN (exp 1/7/19) [Limit One Coupon Per Person/Transaction] –$1/1 Wright Brand Bacon (Ibotta Deposit) [Any Variety; Any Size]
Apple Fritters, 4 ct, In the Bakery, $$3.49
---
BAKERY
Private Selection Cheesecake, Select Varieties, 40 oz, $11.99
Bakery Muffins, Select Varieties, 4 pk, $7.99
–$6/1 Bakery Muffins, Select Varieties, 4 pk Kroger Super Saver Digital Coupon (use up to 5 times in a single transaction- redeem 12/13 – 12/15 only)
---
BEER & WINE (10% off Any 6 Bottles of Wine, 12/12 to 12/16)
Bud, Miller, Coors, Yuengling or Tecate, Select Varieties, 24 pk, 12 fl oz Bottles or Cans, $18.99
LaMarca, Rue de Perle or Myles & Moore, Select Varieties, 750 ml, $12.99
Busch, Pabst or Miller High Life, Select Varieties, 30 pk, 12 fl oz Cans, $18.99
Corona, Stella Artois or Heineken, Select Varieties, 12 pk, 11.2 to 12 fl oz Bottles or Cans, $13.99
Blue Moon or Leinenkugel's, Select Varieties, 12 pk, 12 fl oz Bottles or Cans, $13.99
White Claw, Michelob Ultra, Twisted Tea or Mike's, Select Varieties, 12 pk, 11.2 to 12 fl oz Bottles or Cans, $12.99
Sam Adams or Sierra Nevada, 12 pk, 12 fl oz Bottles or Cans, Select Varieties, $14.99
Angry Orchard Rose or Budweiser Copper Lager, Select Varieties, 6 pk, 12 fl oz Bottles, $8.49
Menage a Trois or Cupcake Sparkling, Select Varieties, 750 ml, $9.99
Apothic, 750 ml, or Barefoot, 1.5 Liter, Select Varieties, $9.99
Kim Crawford Sauvignon Blanc, 750 ml, or J. Lohr Chardonnay, 750 ml, Select Varieties, $12.99
Roscato or Stella Rosa, Select Varieties, 750 ml, $10.99
Korbel or Ogio, Select Varieties, 750 ml, $10.79
Butter or J. Lohr, Select Varieties, 750 ml, $11.69
Martini & Rossi or Hedgeline, Select Varieties, 750 ml, $9.89
Barefoot Bubbly or Dark Horse, Select Varieties, 750 ml, $7.19
---
DAIRY
Simple Truth Organic Milk, Select Varieties, 64 fl oz, $2.99
Kroger Sour Cream, Cottage Cheese or Dip,Select Varieties, 16 oz, 4/$5
Kroger Egg Nog, Select Varieties, Half Gallon, $2.99
Kroger Cheese, Select Varieties, 8 oz, $1.99
–$1/1 Kroger Cheese, Select Varieties, 8 oz Kroger Super Saver Digital Coupon (use up to 5 times in a single transactionredeem 12/13 – 12/15 only)
Yoplait Yogurt, Select Varieties, 4 to 6 oz, 10/$6
–$0.50/5 Yoplait Yogurt printable [Includes Original, Light, Whips!, or Lactose Free] –$0.50/5 Yoplait Yogurt (Kroger Digital Coupon)
–$1/10 Yoplait Yogurt, Select Varieties, 4 to 6 oz Kroger Super Saver Digital Coupon (use up to 5 times in a single transaction)
–$0.50/5 Yoplait Yogurt printable [Includes original, light, whips!, or lactose free] –$0.50/5 Yoplait Yogurt (SavingStar Deposit) [Includes Original, Light, Whips!, or Lactose Free] –$1/5 Yoplait Yogurt Cups (Ibotta Deposit) [Any Original, Light, Lactose Free or Whips! variety only; 4-6-oz. cups.]
Kraft Cheese, Select Varieties, 7 to 8 oz, $2.49
–$0.50/1 Kraft Cheese, Select Varieties, 7 to 8 oz Kroger Super Saver Digital Coupon (use up to 5 times in a single transaction)
-$0.50/1 Kraft Shredded or Chunk Natural Cheese 8 oz. Product – (Found on Product) Peelie (exp 12/31/18)
Ore-Ida Just Crack An Egg, Select Varieties, 3 oz, $2.49
–$0.50/1 Ore-Ida Just Crack An Egg, Select Varieties, 3 oz Kroger Super Saver Digital Coupon (use up to 5 times in a single transaction)
–$1 off Ore-Ida Just Crack an Egg & One Dozen Eggs; Any Brand Combo (Ibotta Deposit) [Combo offer.]
---
DELI
Party Platters, $19.99 and up (YourOrderOnline.com or 877-894-3707)
President Gourmet Pairing Spreads, Select Varieties, 7 oz, $4.99
Kroger Deli Pizza, Cheese or Pepperoni, 35 to 38 oz, $5.99
–$0.50/1 Kroger Deli Pizza, Cheese or Pepperoni, 35 to 38 oz Kroger Super Saver Digital Coupon (use up to 5 times in a single transaction)
---
FROZEN
Mayfield Ice Cream, Select Varieties, 48 to 56 fl oz, 2/$6
Kellogg's Eggo Waffles, 8 to 16 ct, or Reddi-Wip, 6.5 oz, 2/$4
–$1/1 Kellogg's Eggo Frozen Product printable [Need 850 rewards points] –$0.50/2 Eggo Waffles (Ibotta Deposit) [Any variety; 10-ct. pack only.]
Marie Callender's or Edwards Pie, Select Varieties, 23.5 to 42 oz, $4.99
-FREE Kroger Deluxe Ice Cream, 48 fl oz, wyb (1) Marie Callender's or Edwards Pie, Select Varieties, 23.5 to 42 oz In-Ad Kroger Offer
-$1/2 Edwards Pies, 11/11/18 SS (exp 1/18/19) [22.4-oz.+; DND] –$1/2 Edwards Whole Creme Pie (Ibotta Deposit) [Any variety; Select size,]
Kroger Beef Patties, 73%, 2 lb, $5.99
Butterball Whole Turkey, Grade A, $0.99/lb
–$3 off Lay's Potato Chips & Butterball Whole Turkey (Ibotta Deposit) [Combo offer.]
Turkey Breast, Select Varieties, Bone-In, $1.49/lb
Amy's Bowls, 8.5 to 10 oz, or Amy's Entree, 9 to 10 oz, Select Varieties, 2/$7
Ben & Jerry's Ice Cream or Talenti Gelato, 16 fl oz, Select Varieties, $3.99
–$1/1 Ben & Jerry's Ice Cream or Talenti Gelato, 16 fl oz, Select Varieties Kroger Super Saver Digital Coupon (use up to 5 times in a single transaction)
Totino's Party Pizza, Select Varieties, 9.8 to 10.9 oz, 4/$5
–$1/4 Totino's Party Pizza, Select Varieties, 9.8 to 10.9 oz Kroger Super Saver Digital Coupon (use up to 5 times in a single transaction)
Healthy Choice Cafe Steamer, 9 to 10 oz, or Marie Callender's Delights, 10 to 11.7 oz, Select Varieties, 2/$6
–$1/2 Healthy Choice Cafe Steamer, 9 to 10 oz, or Marie Callender's Delights, 10 to 11.7 oz, Select Varieties Kroger Super Saver Digital Coupon (use up to 5 times in a single transaction)
---
GROCERY
Pepsi, Coca-Cola or 7UP, 12 pk, 12 fl oz Cans or 8 pk, 12 fl oz Bottles, or Doritos or Ruffles Party Size, 13 to 15 oz, Select Varieties, 4/$12 (Final Cost wyb 4)
Simple Truth Organic Wide Pan Bread, Select Varieties, 26 oz, $2.99
Lay's Family Size Potato Chips, 9.5 to 10 oz, or Lay's Kettle Cooked Potato Chips, 6.5 to 8 oz, or Angie's BoomChickaPop, 4 to 4.7 oz, or Garden of Eatin' Tortilla Chips, 13 to 16 oz, Select Varieties, $1.77 (Final Cost wyb 2)
–$3 off Lay's Potato Chips & Butterball Whole Turkey (Ibotta Deposit) [Combo offer.] –$1/2 Lay's Potato Chips (Ibotta Deposit) [Buy 2; Any Variety; 9.5-oz.+] –$1/2 Lay's Potato Chips (Ibotta Deposit) [Any Variety; 9.5-oz.+] –$5 off Shock Top AND Lay's Kettle Cooked Chips Combo (Ibotta Deposit) [Combo offer] –$1/1 Angie's BOOMCHICKAPOP Popcorn printable [4-oz. to 7-oz.]
Del Monte Vegetables, 11 to 15.25 oz, or Swanson Broth, 14.5 fl oz, Select Varieties, BOGO (no price listed)
–$0.50/4 Del Monte Canned Vegetables
-$0.40/4 Del Monte Canned Vegetables, 11/04/18 SS (exp 1/4/19) [10-oz. to 18-oz. single cans]
Campbell's Cream of Mushroom or Cream of Chicken Soup, 10.5 oz, or Kroger Vegetables, Frozen, 10 to 12 oz, Select Varieties, 10/$10
-$0.40/4 Campbell's Condensed Soups, 11/04/18 SS (exp 1/4/19)
Hershey's or Reese's Holiday Candy, Select Varieties, 9 to 11 oz, 2/$7
Kroger Spices, Select Varieties, 0.11 to 14 oz, BOGO (no price listed)
Starbucks Coffee, 10 to 12 oz, or K-Cups, 6 to 10 ct, Select Varieties, $6.99
-$1 off (1) Starbucks Packaged Coffee AND (1) Starbucks Cookie Straws (Must purchase both products in a single transaction.) Tearpad (exp 12/31/18)
Nabisco Ritz Crackers, Select Varieties, 7.5 to 13.7 oz, 2/$4
-$1/1 Nabisco Product, Any 3.5 oz. or Larger – (Found on Products) Peelie (exp 12/31/18)
Jet-Puffed Miniature Marshmallows, 10 oz, or Jell-O Pudding or Gelatin, 0.6 to 6 oz, or Cool Whip, 8 oz, Select Varieties, 10/$10
-$0.25/1 Jell-O Or Jet-Puffed Marshmallows Product, Any (One Coupon Allowed Per Transaction; No Cash Back) – 11/18/18 SS (exp 12/31/18)
Fritos or Cheetos, Select Varieties, 7 to 9.25 oz, 2/$5
Comstock Cherry Pie Filling, Select Varieties, 20 to 21 oz, $2.99
Ghirardelli Baking Chips, 10 to 12 oz, or Nestle Toll House, 9.98 to 12 oz, or Pepperidge Farm Cookies, 5 to 8.6 oz, Select Varieties, 2/$5
-$0.75/2 Nestle Toll House Morsels 10 – 12 oz. – (Found on Product) (Excluding Simply Delicious Morsels) Peelie (exp 3/1/19)
-$1.50 Off Milk any gallon or Larger wyb (2) Pepperidge Farm Farmhouse Cookies – (Found on Product) Peelie (exp 6/30/19)
Snickers or M&M's Candy, Select Varieties, 1.08 to 1.92 oz, 2/$1
-$0.50/2 M&M's, Snickers, Twix, Milky Way, or 3 Musketeers 1.14-1.92 oz. (DND) Tearpad (exp 5/31/19)
Simple Truth Organic Vegetables, 4 to 15.25 oz, or Simple Truth Organic Cream Soup, 10.5 oz, Select Varieties, 4/$5
Frito-Lay Simply Snacks, Select Varieties, 7 to 8.5 oz, $2.99
–$1.50/3 Frito-Lay Simply Chips (Ibotta Deposit) [Any variety; Select sizes]
Martinelli's or Knudsen Sparkling Cider, Select Varieties, 25.4 fl oz, 2/$5
Lindt Truffles, Select Varieties, 8.9 oz, $5.99
-$1/1 Lindt Lindor 8.5 oz. or Larger Bag Tearpad (exp 2/28/19)
Russell Stover Assorted Chocolate Box, Select Varieties, 8.25 to 12 oz, B1G1 (no price listed)
-$0.50/1 Russell Stover Chocolates 5.4 oz. or Larger Bag – (Found on Product) Peelie (exp 12/31/18)
Green Mountain Coffee, 10 to 12 oz, or K-Cups, 10 to 12 ct, or Red Bull Energy Drink, 4 pk, 8.4 fl oz, Select Varieties, $5.99
–$2/1 Green Mountain Coffee, 10 to 12 oz, or K-Cups, 10 to 12 ct, or Red Bull Energy Drink, 4 pk, 8.4 fl oz, Select Varieties Kroger Super Saver Digital Coupon (use up to 5 times in a single transaction redeem 12/13 – 12/15 only)
-$3 off (1) Igloo Hardside Cooler of $19.99 or more and Larger than 20 Qt. wyb (1) Red Bull 8.4 oz. 4-Pack Tearpad (exp 12/31/18)
Sara Lee Artesano or Wheat Bread, 20 oz, or Ball Park Buns, 8 ct, Select Varieties, $2.49
–$0.50/1 Sara Lee Artesano or Wheat Bread, 20 oz, or Ball Park Buns, 8 ct, Select Varieties Kroger Super Saver Digital Coupon (use up to 5 times in a single transaction)
Pepsi, Coca-Cola or 7UP, 6 pk, 16.9 fl oz Bottles or 6 pk, 7.5 fl oz Cans, Select Varieties, 4/$12
–$4/4 Pepsi, Coca-Cola or 7UP, 6 pk, 16.9 fl oz Bottles or 6 pk, 7.5 fl oz Cans, Select Varieties Kroger Super Saver Digital Coupon (use up to 5 times in a single transaction)
General Mills Cereal, 10.5 to 11.7 oz, or Chex Cereal, 12 to 14 oz, $2.49 (Ad shows Honey Nut Cheerios)
–$1/2 Chex Cereals printable
–$1/1 General Mills Cereal, 10.5 to 11.7 oz, or Chex Cereal, 12 to 14 oz Kroger Super Saver Digital Coupon (use up to 5 times in a single transaction)
–$1/2 General Mills Cereal listed: Cheerios, Cinnamon Toast Crunch, Lucky Charms, Reese's Puffs, Chex, Blasted Shreds, Cocoa Puffs, Trix, Cookie Crisp, Golden Grahams, Kix, Fiber One, Wheaties, Raisin Nut Bran, Total, Basic 4, Oatmeal Crisp, Nature Valley Boxed Cereal, or Nature Valley Granola (Kroger Digital Coupon)
–$0.15/1 Honey Nut Cheerios Cereal (Ibotta Deposit) [Any variety; 10.8-oz. box or larger] -$1/1 Chex Cereal, 12/02/18 SS (exp 1/12/19)
-$1/2 Chex Cereal, 12/02/18 SS (exp 1/12/19)
–$1/2 General Mills Rice Chex, Corn Chex, Wheat Chex and more printable
–$1/2 General Mills Rice Chex, Corn Chex, Wheat Chex and more printable
-$1/3 General Mills Cheerios, Cinnamon Toast Crunch, Lucky Charms, Reese's Puffs, Chex, Blasted Shreds, Cocoa Puffs, Trix, Cookie Crisp, Golden Grahams, Kix, Fiber One, Wheaties, Raisin Nut Bran, Total, Basic 4, Oatmeal Crips, Nature Valley Boxed Cereal, or Granola, 11/18/18 SS (exp 12/29/18)
Progresso Soup, 18 to 19 oz, or Hormel Chili with Beans, 15 oz, Select Varieties, 2/$3
–$1/2 Progresso Soup, 18 to 19 oz, or Hormel Chili with Beans, 15 oz, Select Varieties Kroger Super Saver Digital Coupon (use up to 5 times in a single transaction)
Ronzoni Pasta, 12 to 16 oz, or Kraft Macaroni & Cheese, 7.25 oz, Select Varieties, 4/$4
–$1/4 Ronzoni Pasta, 12 to 16 oz, or Kraft Macaroni & Cheese, 7.25 oz, Select Varieties Kroger Super Saver Digital Coupon (use up to 5 times in a single transaction)
Kraft Macaroni & Cheese or Velveeta Shells & Cheese, 1.9 to 2.39 oz, Select Varieties, 2/$2
–$1/2 Kraft Macaroni & Cheese or Velveeta Shells & Cheese, 1.9 to 2.39 oz, Select Varieties Kroger Super Saver Digital Coupon (use up to 5 times in a single transaction)
Bush's Chili Beans, Select Varieties, 15.5 to 16 oz, $1.39
–$0.20/1 Bush's Chili Beans, Select Varieties, 15.5 to 16 oz Kroger Super Saver Digital Coupon (use up to 5 times in a single transaction)
-$1 off (1) Hunt's Dice Tomatoes 14.5 oz. AND (2) Bush's Chili Beans Cans 15-16 oz. Tearpad (exp 3/31/19)
Betty Crocker Casserole Potatoes, Select Varieties, 4.7 to 5 oz, $1.49
–$1/1 Betty Crocker Casserole Potatoes, Select Varieties, 4.7 to 5 oz Kroger Super Saver Digital Coupon (use up to 5 times in a single transaction)
Betty Crocker Cake or Favorites Brownie Mix, Select Varieties, 15.25 to 20.5 oz, $1.29
–$0.50/1 Betty Crocker Cake or Favorites Brownie Mix, Select Varieties, 15.25 to 20.5 oz Kroger Super Saver Digital Coupon (use up to 5 times in a single transaction)
M&M's Party Size Bag, Select Varieties, 38 to 42 oz, $9.99
–$2/1 M&M's Party Size Bag, Select Varieties, 38 to 42 oz Kroger Super Saver Digital Coupon (use up to 5 times in a single transaction)
Nature Valley Granola Bars, Select Varieties, 5 to 12 ct, $2.79
–$1/1 Nature Valley Granola Bars, Select Varieties, 5 to 12 ct Kroger Super Saver Digital Coupon (use up to 5 times in a single transaction)
–$0.50/2 Nature Valley Granola Bars, Nature Valley Biscuits, or Nature Valley Soft-Baked Filled Squares (Kroger Digital Coupon) [5-ct.+; Excludes Nature Valley Granola Cups, Layered Granola Bars, Granola Bites.] -$0.50/2 Nature Valley Granola Bars, Biscuits, Granola Cups, Layered Granola Bars, Soft-Baked Filled Squares, or Peanut or Almond Butter Granola Bites Pouch, 11/18/18 SS (exp 1/12/19) [5-ct.+] –$0.50/2 Nature Valley Granola Bars or Nature Valley Backpacker Chewy printable
-$0.50/1 Nature Valley Granola Bars, Biscuits, Granola Cups, OR Fiber One Chewy Bars, 90 Calorie Products (Bars or Brownies) Protein Chewy Bars, Streusel Bars, Cheesecake Bars, Cookies, Layered Chewy Bars, Protein Nut Bars (DND) – Found On Product (DND) Peelie (exp 6/1/19)
---
HEALTH & BEAUTY
OGX Shampoo or Conditioner, 3.3 to 13 fl oz, or Maybelline Cosmetics, 1 ct, Select Varieties, 2/$11
Pampers 3X Wipes, Select Varieties, 168 to 216 ct, $5.99
–$1/1 Pampers 3X Wipes, Select Varieties, 168 to 216 ct Kroger Super Saver Digital Coupon (use up to 5 times in a single transaction)
–$0.50/1 Pampers Baby Wipes printable
Suave Body Wash, Select Varieties, 15 fl oz, $1.99
–$1/1 Suave Body Wash, Select Varieties, 15 fl oz Kroger Super Saver Digital Coupon (use up to 5 times in a single transaction)
---
HOUSEHOLD
Cottonelle Bathroom Tissue, 6 Mega Rolls, or Viva Paper Towels, 6 Big Rolls, Select Varieties, 2/$12 (Final Cost 2)
–$0.55/1 Cottonelle Toilet Paper printable
–$0.55/1 Cottonelle Toilet Paper printable
-$0.50/1 Cottonelle Toilet Paper, 11/11/18 SS (exp 12/22/18) [6+ rolls] -$0.50/1 Viva Regular or Vantage P aper Towels, 11/11/18 SS (exp 12/22/18) [6+ rolls]
Kroger Home Sense Recloseable Bags, 28 to 48 ct, or Dixie Plates or Bowls, 20 to 48 ct, Select Varieties, $2.49
Open Stock Metal or Ceramic Bakeware, Select Varieties, Sale Price $5.99 to $26.24, 25% Off
Holiday Home Gift Wrap Paper, Assorted Styles, 30", Sale Price $1.79, 40% Off
Holiday Home Gift Bows & Tags, Assorted Styles, Sale Price $0.59 to $2.99, 40% Off
Holiday Home Christmas Decor, Select Varieties, Sale Price $14.99, 40% Off
Kid's Bath Gift Sets, 1 ct, Select Varieties, $5.99
Scotch Gift Tape, 3 pk, 2/$5
Holiday Gift Sets, 1 ct, $9.99
Fingerling BFF Collection, Assorted Styles, $14.99 (Reg Retail $19.99)
30" Single Gift Wrap, Select Varieties (Excluding Multipack Wrap), $1.79
–$0.40/1 30" Single Gift Wrap, Select Varieties (Excluding Multipack Wrap) Kroger Super Saver Digital Coupon (use up to 5 times in a single transaction redeem 12/13 – 12/15 only)
GE Halogen Light Bulbs, Select Varieties, 4 pk, $4.99
–$0.50/1 GE Halogen Light Bulbs, Select Varieties, 4 pk Kroger Super Saver Digital Coupon (use up to 5 times in a single transaction)
–$2/1 GE LED Light Bulbs (Ibotta Deposit) [Any variety; Any size]
---
MEAT
Boneless Half Pork Loin, $1.29/lb
Kroger Spiral Sliced Ham, Honey or Brown Sugar, Bone-In, $1.59/lb
Smithfield Shank Portion Ham, Bone-In, $0.99/lb (Limit 2)
Rib Roast, Bone-In, $6.99/lb
Kroger Cocktail Smokies, 12 to 14 oz, or Smoked Sausage, 13 to 14 oz, Select Varieties, 2/$4
Oscar Mayer Bacon, 12 to 16 oz, or Oscar Mayer Fully Cooked Bacon, 2.52 oz, Select Varieties, $3.99
-$1.50/2 Oscar Mayer Fully Cooked Bacon Products – (Found on Product) Peelie (exp 12/31/18)
Whole Boneless Beef Tenderloin, $10.99/lb
Filet Mignon Steaks, $13.99/lb
Boneless Center-Cut Pork Chops, $2.99/lb
Perdue Boneless Chicken Breasts, No Antibiotics Ever, $2.99/lb
–$1/2 Perdue or Perdue Harvestland Fresh Chicken printable
Ground Beef, 80% Lean, Sold in 3 lb Package for $10.47, $3.49/lb
Smithfield Natural Bacon, Select Varieties, 16 oz, $2.99
Simple Truth Natural Boneless Chicken Breasts, No Antibiotics Ever, $4.99/lb
---
PRODUCE
Blueberries, Pint, or Raspberries, 6 oz, 2/$5
Organic Blueberries, 6 oz, $3.29
Pineapple, $1.88
Red, White or Black Seedless Grapes, $1.99/lb
Private Selection Gourmet Potatoes, Select Varieties, 1.5 lb, 2/$5
Premium Seedless Clementines, 3 lb, $4.99
Odwalla Juice, Select Varieties, 15.2 fl oz, 2/$4
–$1/1 Odwalla (Ibotta Deposit) [Any variety; 15.2-oz. bottle]
Private Selection Snacking Tomatoes, Select Varieties, 10 oz, $2.99
Organic Brussels Sprouts, 1 lb, $3.99
Organic Fuji, Gala or Granny Smith Apples, $1.79/lb
Home for the Holidays Bouquet, 12 Stem, $10.99
Premium Christmas Cactus, 6", $7.99 and up
Poinsettias, Select Varieties, 6.5", $6.99 and up
Kroger Red or Gold Potatoes, 5 lb, $3.99
–$0.50/1 Kroger Red or Gold Potatoes, 5 lb Kroger Super Saver Digital Coupon (use up to 5 times in a single transaction)
---
SEAFOOD
Wild-Caught Lobster Tail, Frozen, 4 to 6 oz, $7.99
Kroger Shrimp Platter, Frozen, 60 ct, $12.99
Wild-Caught Snow Crab Clusters, 5 to 8 oz, $8.99/lb
Wild-Caught Sockeye Salmon Fillets, $9.99/lb
Extra Large Cooked Shrimp, 26 to 30 ct, Sold in 2 lb Bag for $11.98, $8.99/lb
–$3/1 Extra Large Cooked Shrimp, 26 to 30 ct, Sold in 2 lb Bag for $11.98 Kroger Super Saver Digital Coupon (use up to 5 times in a single transaction redeem 12/13 – 12/15 only)