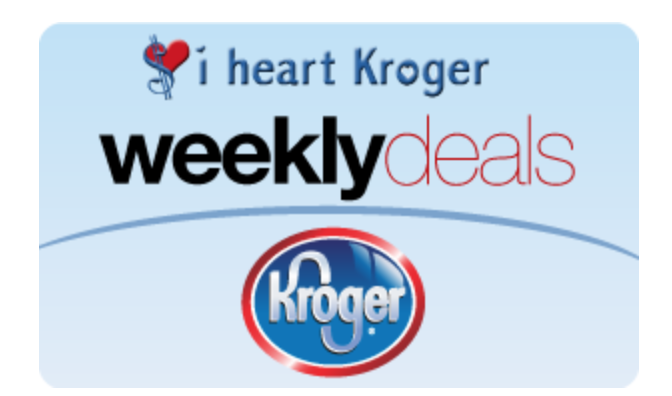 Here is the Kroger Ad and coupon matchups which start Wednesday, 12/19 and runs through Tuesday 12/24 in the Southeast. There is a new mega sale this week. Our digital coupons continue and the small Bring On Breakfast mega sale continues as well. Remember the mega price is after mega savings.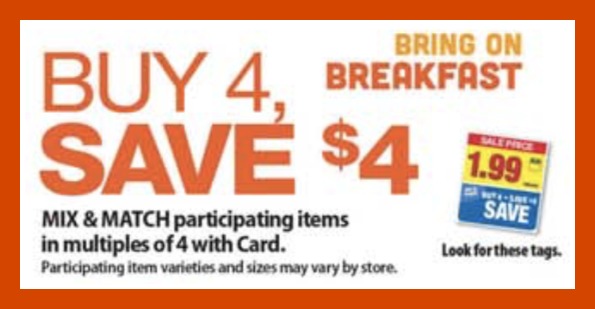 If you are headed to Kroger this week don't forget to load your digital coupons from SavingStar, Cellfire and the Kroger Digital Coupons too. You might want to check your cash back apps (Ibotta, Checkout 51, Mobisave and BerryCart) for any matching deals that you might like. Also, be sure to check out the Catalina deals before you shop.
As always, the check mark
indicates either a great stockpile price or a stockpile price with coupon(s). And keep in mind that we have a shopping list feature on the site. If you need help, just visit the HELP PAGE to see how to use it.
BUY 4, SAVE $4 (Mix & Match)
Wright Bacon, Select Varieties, 24 oz, $6.99
-$1/1 Wright Brand Bacon, 11/11/18 RMN (exp 1/7/19) [Limit One Coupon Per Person/Transaction] –$1/1 Wright Brand Bacon (Ibotta Deposit) [Any Variety; Any Size]
Blueberry Parfait Bagels or Other Varieties, 6 ct, In the Bakery, $1.99
Simple Truth Cage-Free Eggs, Grade A, 18 ct, $2.99
Private Selection Frozen Fruit, Select Varieties, 12 to 16 oz, $2.99
Maxwell House Coffee, Select Varieties, 22 to 30.6 oz, $5.99
Gevalia Coffee, Select Varieties, 10 to 12 oz Bag, or K-Cups, 6 to 12 ct, $5.99
McCafe Coffee, Select Varieties, 10 to 12 oz Bag, or K-Cups, 6 to 12 ct, $5.99
-$1/1 McCafe or Maxwell House Keurig Product, 10/28/18 SS (exp 12/29/18) [6-ct.+; No Cash Back]
Ore-Ida Frozen Potatoes, Select Varieties, 14 to 32 oz, $1.99
Minute Maid Orange Juice, Select Varieties, 59 fl oz, $1.99
Philadelphia Cream Cheese Spread, Select Varieties, 7.5 to 8 oz, $1.99
–$1/2 Philadelphia Original Cream Cheese (Ibotta Deposit) [Any Variety; 8-oz. pack] -$1/1 Philadelphia Cream Cheese Spread Tub 8 oz. or Larger – (Found on Product) Peelie (exp 12/31/18)
-$1 off (1) Philadelphia Cream Cheese 8 oz. wyb (1) Baker's Dessert Kit Tearpad (exp 12/31/18)
---
BAKERY
Pumpkin Pie, 8", $3.99
Fresh Baked Private Selection Butter Croissants, 4 ct Large or 8 ct Mini, $2.99
Red Velvet Double Layer Cake, 51 oz, $10.99
---
BEER & WINE
Kendall Jackson or Josh Cellars, Select Varieties, 750 ml, $10.97
Bud, Miller, Coors, Yuengling or Tecate, Select Varieties, 24 pk, 12 fl oz Bottles or Cans, $18.99
Busch Light, Pabst or Miller High Life, Select Varieties, 30 pk, 12 fl oz Cans, $18.99
Michelob Ultra, 18 pk, 12 fl oz Bottles or Cans, or Founders All Day IPA, 15 pk, 12 fl oz Cans, Select Varieties, $16.99
SweetWater, Terrapin or New Belgium, Select Varieties, 12 pk, 12 fl oz Bottles or Cans, $14.99
Corona, Stella Artois or Heineken, Select Varieties, 12 pk, 11.2 to 12 fl oz Bottles or Cans, $13.99
Dos Equis, Twisted Tea or White Claw, Select Varieties, 12 pk, 12 fl oz Bottles or Cans, $12.99
Butter Chardonnay or J. Lohr Cabernet Sauvignon, Select Varieties, 750 ml, $12.99
Justin Cabernet, Select Varieties, 750 ml, $22.99
Barefoot Bubbly or Dark Horse, 750 ml, $7.99
Bread & Butter or Butterbomb Chardonnay, Select Varieties, 750 ml, $12.99
Roscato or Stella Rosa, Select Varieties, 750 ml, $10.99
Santa Margherita or Cell Block, Select Varieties, 750 ml, $19.99
Cupcake or Menage a Trois Sparkling, Select Varieties, 750 ml, $9.99
Barefoot, 750 ml, or Woodbridge, 1.5 Liter, Select Varieties, $9.99
---
DAIRY
Philadelphia Cream Cheese, 8 oz Bar, or Pillsbury Crescents, Sweet Rolls or Grands! Biscuits, 8 ct, Select Varieties, 3/$5
–$1/3 Pillsbury Refrigerated Baked Goods Products printable
–$1/2 Philadelphia Original Cream Cheese (Ibotta Deposit) [Any Variety; 8-oz. pack] –$1/3 Pillsbury Refrigerated Baked Goods printable
–$1/3 Pillsbury Refrigerated Baked Goods Products (SavingStar Deposit)
-$1/3 Pillsbury Refrigerated Baked Goods Products, 11/11/18 SS (exp 2/2/19)
-$1/3 Pillsbury Refrigerated Baked Goods Products, 10/21/18 SS (exp 10/21/18)
Kroger Butter, 16 oz, or Simply Juice, 52 fl oz, Select Varieties, 2/$5
Kroger Cheese, 8 oz, or Kroger Natural Slices, 6 oz, Select Varieties, $1.77
Coffee-mate Creamer, 32 fl oz, or Coffee-mate Natural Bliss Creamer, 16 fl oz, or Pillsbury Pie Crusts, 2 ct, Select Varieties, 2/$5
–$1/3 Pillsbury Refrigerated Baked Goods Products printable
–$1/3 Pillsbury Refrigerated Baked Goods printable
–$1/3 Pillsbury Refrigerated Baked Goods Products (SavingStar Deposit)
-$1/3 Pillsbury Refrigerated Baked Goods Products, 11/11/18 SS (exp 2/2/19)
-$1/3 Pillsbury Refrigerated Baked Goods Products, 10/21/18 SS (exp 10/21/18)
Nestle Toll House Morsels, Select Varieties, 9.98 to 12 oz, 2/$4
-$0.75/2 Nestle Toll House Morsels 10 – 12 oz. – (Found on Product) (Excluding Simply Delicious Morsels) Peelie (exp 3/1/19)
Kraft Cheese, Select Varieties, 7 to 8 oz, $2.49
–$0.50/1 Kraft Cheese, Select Varieties, 7 to 8 oz Kroger Super Saver Digital Coupon (use up to 5 times in a single transaction)
-$0.50/1 Kraft Shredded or Chunk Natural Cheese 8 oz. Product – (Found on Product) Peelie (exp 12/31/18)
Ore-Ida Just Crack An Egg, Select Varieties, 3 oz, $2.49
–$0.50/1 Ore-Ida Just Crack An Egg, Select Varieties, 3 oz Kroger Super Saver Digital Coupon (use up to 5 times in a single transaction)
Yoplait Yogurt, Select Varieties, 4 to 6 oz, 10/$6
–$0.50/5 Yoplait Yogurt printable [Includes Original, Light, Whips!, or Lactose Free] –$1/10 Yoplait Yogurt, Select Varieties, 4 to 6 oz Kroger Super Saver Digital Coupon (use up to 5 times in a single transaction)
---
DELI
Kroger Mashed Potoates or Macaroni & Cheese, 24 oz, 2/$6
–$1/2 Kroger Mashed Potoates or Macaroni & Cheese, 24 oz Kroger Super Saver Digital Coupon (use up to 5 times in a single transaction)
Boar's Head Sweet Slice Ham, Available at Select Stores, $6.99/lb
Fresh Foods market Turkey Breast, Slow Roasted, Bone-In, 28 oz, $8.99
---
FROZEN
Marie Callender's Fruit or Cream Pie, 24.5 to 42 oz, or Edwards Pie, 23.5 to 36 oz, Select Varieties, $4.99
-FREE Kroger Deluxe Ice Cream, 48 fl oz, wyb (1) Marie Callender's Fruit or Cream Pie, 24.5 to 42 oz, or Edwards Pie, 23.5 to 36 oz, Select Varieties In-Ad Kroger Offer
-$1/2 Edwards Pies, 11/11/18 SS (exp 1/18/19) [22.4-oz.+; DND] –$1/2 Edwards Whole Creme Pie (Ibotta Deposit) [Any variety; Select size,] –FREE Edward's Pie Server Details
Ben & Jerry's Ice Cream, Select Varieties, 16 fl oz, $3.99
–$1/1 Ben & Jerry's Ice Cream, Select Varieties, 16 fl oz Kroger Super Saver Digital Coupon (use up to 5 times in a single transaction)
Private Selection Ice Cream, Select Varieties, 48 fl oz, $3.99
–$1/1 Private Selection Ice Cream, Select Varieties, 48 fl oz Kroger Super Saver Digital Coupon (use up to 5 times in a single transaction)
Talenti Gelato, Select Varieties, 16 fl oz, $3.99
–$1/1 Talenti Gelato, Select Varieties, 16 fl oz Kroger Super Saver Digital Coupon (use up to 5 times in a single transaction)
Tyson Chicken, Select Varieties, 19 to 28.06, $6.49
–$1/1 Tyson Chicken, Select Varieties, 19 to 28.06 oz Kroger Super Saver Digital Coupon (use up to 5 times in a single transaction)
Totino's Party Pizza, Select Varieties, 9.8 to 10.9 fl oz, 4/$5
–$1/4 Totino's Party Pizza, Select Varieties, 9.8 to 10.9 fl oz Kroger Super Saver Digital Coupon (use up to 5 times in a single transaction)
Turkey Breast, Select Varieties, Bone-In, $1.49/lg
Simple Truth Natural Cornish Hen, 22 oz, $3.99
Butterball Turkey, Grade A, $0.99/lb
J
ennie-O Oven Ready Boneless Turkey Breast, 2.75 lb, $7.99
–$3/1 Jennie-O Oven Ready Turkey printable
Sister Schubert's Rolls, 10 ct, or Pillsbury Grands! Biscuits, 12 ct, 2/$6
–$0.75/1 Sister Schubert's Frozen Roll or Bread Product printable
---
GROCERY
Del Monte Vegetables, 11 to 15.25 oz Can, or Swanson Broth, 14.5 fl oz Can, Select Varieties, BOGO (no price listed)
–$0.50/4 Del Monte Canned Vegetables
-$0.40/4 Del Monte Canned Vegetables, 11/04/18 SS (exp 1/4/19) [10-oz. to 18-oz. single cans]
Coca-Cola, Pepsi or 7UP, 12 pk, 12 fl oz Cans or 8 pk, 12 fl oz Bottles, or Party Size Doritos or Ruffles, 13 to 15 oz, Select Varieties, 4/$12 (Final Cost wyb 4)
Starbucks Coffee, 10 to 12 oz Bag, or K-Cups, 6 to 10 ct, Select Varieties, $5.99
-$1 off (1) Starbucks Packaged Coffee AND (1) Starbucks Cookie Straws (Must purchase both products in a single transaction.) Tearpad (exp 12/31/18)
Nabisco Ritz Crackers, Select Varieties, 7.5 to 13.7 oz, $1.77
Lay's Family Size Potato Chips, 9.5 to 10 oz, Lay's Kettle Cooked Potato Chips, 6.5 to 8 oz, or Angie's BoomChickaPop, 4.4 to 7 oz, or Garden of Eatin' Tortilla Chips, 13 to 16 oz, Select Varieties, $1.77 (Final Cost wyb 2)
–$3 off Lay's Potato Chips & Butterball Whole Turkey (Ibotta Deposit) [Combo offer.]
Ocean Spray Cranberry Juice Cocktail, 64 fl oz, or Pepperidge Farm Cookies, 5 to 8.6 oz, Select Varieties, 2/$5
Tostitos Tortilla Chips, 10 to 13 oz, or Tostitos Salsa, 15.5 oz, Select Varieties, $2.99
Barilla Pasta Sauce, 14.5 to 24 oz, or Barilla Oven Cut Pasta, 8 to 16 oz, Select Varieties, $1.99
-$1/1 Barilla Sauce, 12/09/18 RMN (exp 2/3/19) [jar] -$1/4 Barilla Blue Box Pasta, 12/09/18 RMN (exp 2/3/19)
-$1/1 Barilla Collezione Pasta, exp. 12/30/18 (RMN 11/04/18 R) [Including Barilla Tortellini]
Keebler Cookies, Select Varieties, 10.1 to 15 oz, BOGO (no price listed)
-$1.25/2 Keebler Cookies, 11/11/18 RMN (exp 12/23/18) [6-oz.+; Limit of 4 Like Coupons in Same Shopping Trip; No Cash Back] –$1/1 Keebler Cookies printable [Need 850 rewards points]
Keebler Town House or Club Crackers, Select Varieties, 9 to 13.8 oz, 2/$4
–$1/2 Keebler Town House Crackers printable
-$1.25/2 Keebler Crackers, 11/11/18 RMN (exp 12/23/18) [8-oz.+; Limit of 4 Like Coupons in Same Shopping Trip; No Cash Back] –$1/2 Keebler Town House Crackers printable
–$1/1 Keebler Crackers printable [Need 850 rewards points] –$0.50/1 Keebler Club Crackers (Ibotta Deposit) [Any variety; 11.7-18.8-oz. box.] –$0.75/1 Keebler Club Bites Crackers (Ibotta Deposit) [Any variety; 8.8-11-oz. box.]
Betty Crocker Cake or Brownie Favorites Mix, Select Varieties, 15.25 to 20.5 oz, $1.29
–$0.50/1 Betty Crocker Cake or Brownie Favorites Mix, Select Varieties, 15.25 to 20.5 oz Kroger Super Saver Digital Coupon (use up to 5 times in a single transaction)
Betty Crocker Casserole Potatoes, Select Varieties, 4.7 to 5 oz, $1.49
–$1/1 Betty Crocker Casserole Potatoes, Select Varieties, 4.7 to 5 oz Kroger Super Saver Digital Coupon (use up to 5 times in a single transaction)
Kraft Easy Mac or Velveeta Shells & Cheese, Select Varieties, 1.9 to 2.39 oz, 2/$2
–$1/2 Kraft Easy Mac or Velveeta Shells & Cheese, Select Varieties, 1.9 to 2.39 oz Kroger Super Saver Digital Coupon (use up to 5 times in a single transaction)
Coca-Cola, Pepsi or 7UP, 6 pk, 16 to 16.9 fl oz Bottles or 6 pk, 7.5 fl oz Cans, Select Varieties, 4/$12
–$4/4 Coca-Cola, Pepsi or 7UP, 6 pk, 16 to 16.9 fl oz Bottles or 6 pk, 7.5 fl oz Cans, Select Varieties Kroger Super Saver Digital Coupon (use up to 5 times in a single transaction)
General Mills Cereal, 10 to 11.7 oz, or Chex Cereal, 12 to 14 oz, Select Varieties, $2.49 (Ad shows Honey Nut Cheerios and Rice Chex)
–$1/2 Chex Cereals printable
–$1/1 General Mills Cereal, 10 to 11.7 oz, or Chex Cereal, 12 to 14 oz, Select Varieties Kroger Super Saver Digital Coupon (use up to 5 times in a single transaction)
–$0.25/1 Honey Nut Cheerios Cereal (Ibotta Deposit) [Any variety; 10.8-oz.+ box] -$1/2 Chex Cereal, 12/02/18 SS (exp 1/12/19)
–$1/2 General Mills Rice Chex, Corn Chex, Wheat Chex and more printable
Ronzoni Pasta, 12 to 16 oz, or Kraft Macaroni & Cheese, 7.25 oz, Select Varieties, 4/$4
–$1/4 Ronzoni Pasta, 12 to 16 oz, or Kraft Macaroni & Cheese, 7.25 oz, Select Varieties Kroger Super Saver Digital Coupon (use up to 5 times in a single transaction)
Hellmann's Mayonnaise, Select Varieties, 20 to 30 oz, $3.79
–$1/1 Hellmann's Mayonnaise, Select Varieties, 20 to 30 oz Kroger Super Saver Digital Coupon (use up to 5 times in a single transaction)
-$1/1 Hellmann's Real Mayonnaise Jar, Squeeze or Organic, 11/11/18 RMN (exp 12/30/20) [24-oz.+ Mayonnaise Jar; 20-oz. Squeeze; 15-oz. Organic; Limit 2 like coupons per shopping trip]
Sara Lee Artesano or Whole Wheat Bread, Select Varieties, 20 oz, $2.49
–$0.50/1 Sara Lee Artesano or Whole Wheat Bread, Select Varieties, 20 oz Kroger Super Saver Digital Coupon (use up to 5 times in a single transaction)
Ball Park Buns, Select Varieties, 8 ct, $2.49
–$0.50/1 Ball Park Buns, Select Varieties, 8 ct Kroger Super Saver Digital Coupon (use up to 5 times in a single transaction)
Kroger Instant Oatmeal, Select Varieties, 8 to 12 oz, $1.49
–$0.50/1 Kroger Instant Oatmeal, Select Varieties, 8 to 12 oz Kroger Super Saver Digital Coupon (use up to 5 times in a single transaction)
Hungry Jack Pancake Mix, Select Varieties, 32 oz, $2.29
–$0.75/1 Hungry Jack Pancake Mix, Select Varieties, 32 oz Kroger Super Saver Digital Coupon (use up to 5 times in a single transaction)
-$0.50/1 Hungry Jack Pancake Mix or Syrup, 12/09/18 SS (exp 1/9/19) [20-oz.+]
Progresso Soup, 18 to 19 oz, or Hormel Chili With Beans, 15 oz, Select Varieties, 2/$3
–$1/2 Progresso Soup, 18 to 19 oz, or Hormel Chili With Beans, 15 oz, Select Varieties Kroger Super Saver Digital Coupon (use up to 5 times in a single transaction)
Campbell's Cream of Mushroom or Cream of Chicken Soup, 10.5 oz, or Kroger Frozen Vegetables, 10 to 12 oz, Select Varieties, 10/$10
-$0.40/4 Campbell's Condensed Soups, 11/04/18 SS (exp 1/4/19)
Kroger Vegetables, Select Varieties, 4 ct, 58 to 61 oz, $1.99
Simple Truth Organic Broth or Stock, Select Varieties, 32 fl oz, $1.99
Entenmann's Little Bites, Select Varieties, 8.25 to 8.5 oz, $2.99
–$1/1 Entenmann's Little Bites, Select Varieties, 8.25 to 8.5 oz Kroger Super Saver Digital Coupon (use up to 5 times in a single transaction) (12/21 to 12/24 only)
Hershey's Kisses, Select Varieties, 9 to 11 oz, 2/$7
M&M's Holiday Candy, Select Varieties, 8 to 11.4 oz, 2/$5
-$1/2 Mars Chocolate Holiday Bags, exp. 12/25/18 (RMN 12/09/18) [3-oz.+ DND]
Russell Stover Assorted Chocolate Box, Select Varieties, 8.25 to 12 oz, BOGO (no price listed)
-$0.50/1 Russell Stover Chocolates 5.4 oz. or Larger Bag – (Found on Product) Peelie (exp 12/31/18)
Spice Islands Spices, Select Varieties, 0.1 to 3.5 oz, BOGO (no price listed)
-$1.25/1 Spice Islands Spice or Seasoning, 11/11/18 SS (exp 1/31/19)
-$1.25/1 Spice Islands Spice or Seasoning, 12/09/18 SS (exp 2/28/19)
---
HEALTH & BEAUTY
Suave Body Wash, Select Varieties, 15 fl oz, $1.99
–$1/1 Suave Body Wash, Select Varieties, 15 fl oz Kroger Super Saver Digital Coupon (use up to 5 times in a single transaction)
Pampers 3X Wipes, Select Varieties, 168 to 216 ct, $5.99
–$1/1 Pampers 3X Wipes, Select Varieties, 168 to 216 ct Kroger Super Saver Digital Coupon (use up to 5 times in a single transaction)
–$0.50/1 Pampers Baby Wipes printable
---
HOUSEHOLD
Chinet Plates or Platters, 24 to 72 ct, or Kroger Home Sense Cutlery, 150 to 180 ct, Select Varieties, $4.99
–$1/1 Chinet Product printable
-$0.55/1 Chinet Classic White Plates Standard Count (Limit one coupon per shopping trip.) Peelie (exp 12/31/18)
Handi-foil Pans, Select Varieties, 1 to 6 ct, B2G1
Good Cook Bakeware, Select Varieties, Sale Price $3.74 to $14.99, 25% Off
Kleenex Facial Tissues, Select Varieties, 4 pk, $5.99
–$1/1 Kleenex Facial Tissues, Select Varieties, 4 pk Kroger Super Saver Digital Coupon (use up to 5 times in a single transaction)
–$0.50/1 Kleenex Facial Tissue printable [3-boxes or 1 bundle] –$0.50/3 Kleenex Facial Tissue printable [3-boxes] -$0.50 off Kleenex Facial Tissue Boxes/Packs or Wet Wipes, 11/11/18 SS (exp 12/22/18) [(3) 30-ct.+ boxes/packs facial tissue or (1) 20-ct.+ wipes] -$1.50 off (1) Kleenex Brand Facial Tissue Bundle Pack AND (1) Kleenex Brand Wet Wipes 24 Ct. or Higher (DND) – (Found on Product) Peelie (exp 6/30/19)
Tide Laundry Detergent, 92 to 100 fl oz, or Tide Pods or Gain Flings, 32 to 42 ct, Select Varieties, $11.99
–$1/1 Tide Laundry Detergent, 92 to 100 fl oz, or Tide Pods or Gain Flings, 32 to 42 ct, Select Varieties Kroger Super Saver Digital Coupon (use up to 5 times in a single transaction)
-$1/1 Tide Detergent, 11/25/18 P&G (exp 12/29/18) [Excludes pods, simply, rescue, and 10oz; Limit of 2 identical coupons per household per day; no cash back] -$1/1 Tide Pods, 11/25/18 P&G (exp 12/29/18) [10-ct.+; Excludes simply; Limit of 2 identical coupons per household per day; no cash back]
Downy Fabric Softener, Select Varieties, 83 to 100 fl oz, $8.99
–$2/1 Downy Fabric Softener, Select Varieties, 83 to 100 fl oz Kroger Super Saver Digital Coupon (use up to 5 times in a single transaction)
-$1/1 Downy Liquid Fabric Conditioner, Bounce or Downy Sheets, or In Wash Scent Boosters, 11/25/18 P&G (exp 12/29/18) [48+ load conditioner; 70-ct.+ sheets; 6.5-oz.+ boosters; Excludes libre enjuage and fireworks; Limit of 2 identical coupons per household per day; no cash back] -$0.50/1 Downy Liquid Fabric Conditioner, Bounce or Downy Sheets, or In Wash Scent Boosters, 11/25/18 P&G (exp 12/29/18) [40 load or less conditioner; 60-ct. or less sheets; 4.9-oz. or less boosters; Excludes libre enjuage and fireworks; Limit of 2 identical coupons per household per day; no cash back]
Downy Unstpoables or Gain Fireworks, Select Varieties, 14.8 oz, $8.99
–$2/1 Downy Unstpoables or Gain Fireworks, Select Varieties, 14.8 oz Kroger Super Saver Digital Coupon (use up to 5 times in a single transaction)
Bounce Dryer Sheets, Select Varieties, 200 ct, $8.99
–$2/1 Bounce Dryer Sheets, Select Varieties, 200 ct Kroger Super Saver Digital Coupon (use up to 5 times in a single transaction)
-$1/1 Downy Liquid Fabric Conditioner, Bounce or Downy Sheets, or In Wash Scent Boosters, 11/25/18 P&G (exp 12/29/18) [48+ load conditioner; 70-ct.+ sheets; 6.5-oz.+ boosters; Excludes libre enjuage and fireworks; Limit of 2 identical coupons per household per day; no cash back] -$0.50/1 Downy Liquid Fabric Conditioner, Bounce or Downy Sheets, or In Wash Scent Boosters, 11/25/18 P&G (exp 12/29/18) [40 load or less conditioner; 60-ct. or less sheets; 4.9-oz. or less boosters; Excludes libre enjuage and fireworks; Limit of 2 identical coupons per household per day; no cash back]
Fireside Supreme 4-Hour Firelogs, 6 ct Case, $17.99
–$1/1 Fireside Supreme 4-Hour Firelogs, 6 ct Case Kroger Super Saver Digital Coupon (use up to 5 times in a single transaction)
Holiday Home Gift Wrap, Assorted Styles, Sale Price $1.79 to $4.79, 40% Off
Holiday Gift Sets, Select Varieties, 1 ct, $9.99 (Selections Vary By Store, While Supplies Last)
Holiday Home LED Mini Lights, Assorted Styles, 60 ct, Sale Price $4.79, 40% Off
Holiday Home Christmas Stockings, Select Varieties, Sale Price $7.99, 40% Off
Scotch Gift Wrap Tape, 1 ct, $1.99
Tuscany Jar Candle, Select Varieties, 18 oz, $9.99
–$5/1 Tuscany Jar Candle, Select Varieties, 18 oz Kroger Super Saver Digital Coupon (use up to 5 times in a single transaction) (12/21 to 12/24 only)
Assorted Barbies with Accessories or Hot Wheels Energy Tracks, $9.99
–$4.99/1 Assorted Barbies with Accessories or Hot Wheels Energy Tracks Kroger Super Saver Digital Coupon (use up to 5 times in a single transaction) (12/21 to 12/24 only)
Holiday Home Rolled Throw, Select Varieties, $7.99
–$5/1 Holiday Home Rolled Throw, Select Varieties Kroger Super Saver Digital Coupon (use up to 5 times in a single transaction) (exp 12/21 to 12/24)
Mars or Wrigley Filled Candy Canes, Select Varieties, 2.43 to 3.5 oz, $2.99
–$2/1 Mars or Wrigley Filled Candy Canes, Select Varieties, 2.43 to 3.5 oz Kroger Super Saver Digital Coupon (use up to 5 times in a single transaction) (12/21 to 12/24 only)
---
MEAT
Smithfield Shank Portion Ham, Bone-In, $0.99/lb (Limit 2)
Kroger Spiral Sliced Ham, Honey or Brown Sugar, Bone-In, $1.59/lb
Rib Roast, Bone-In, $6.99/lb
Whole Boneless Beef Tenderloin, $9.99/lb
Filet Mignon Steaks, $12.99/lb
Super Trimmed Beef Tenderloin, $19.99/lb
Bob Evans Side Dishes, 12 to 24 oz, or Tennessee Pride Breakfast Sausage, 16 oz, Select Varieties, 2/$6
-$1/2 Bob Evans Refrigerated Side Dishes, Any – 11/11/18 SS (exp 01/12/19)
Hillshire Farm Lit'l Smokies or Smoked Sausage, Select Varieties, 12 to 14 oz, 2/$5
-$0.75/1 Hillshire Farm Lit'l Smokies, Any – 12/09/18 RMN (exp 01/05/19)
Butterball Turkey, Grade A, 14 lbs and Up, $1.69/lb
–$3 off Lay's Potato Chips & Butterball Whole Turkey (Ibotta Deposit) [Combo offer.]
Fresh Perdue Boneless Chicken Breasts, No Antibiotics Ever, $2.99/lb
–$1/2 Perdue or Perdue Harvestland Fresh Chicken printable
Boneless Sirloin Tip Roast, $4.99/lb
Oscar Mayer Bacon, 12 to 16 oz, or Oscar Mayer Fully Cooked Bacon, 2.52 oz, Select Varieties, $3.99
-$1.50/2 Oscar Mayer Fully Cooked Bacon Products – (Found on Product) Peelie (exp 12/31/18)
Kroger Brats or Italian Sausage, 18 oz, or Ground Pork or Meatballs, 16 oz, Select Varieties, $2.99
---
PRODUCE
Halos California Clementines, 5 lb box, $4.99
-$0.50/1 Wonderful Halos, 11/18 SS (exp 12/18) [2-lb.+]
Halos California Clementines, 3 lb bag, $3.99
-$0.50/1 Wonderful Halos, 11/18 SS (exp 12/18) [2-lb.+]
Strawberries, 1 lb, or Blackberries, 12 oz, 2/$5
Pineapple, $1.99
Blueberries, Pint, or Raspberries, 6 oz, $3.99
Kroger Gala, Fuji or Red Delicious Apples, 3 lb bag, $2.99
Jumbo Russet Potatoes, 8 lb bag, or Yellow Onions, 5 lb bag, $2.99
Fresh Selections Vegetable Trays, Select Varieties, 38 to 40 oz, $8.99
Bloom Haus Duet bouquet, Select Varieties, 14 to 16 Stem, $15
Bloom Haus Roses, Dozen, $10
Sweet Potatoes, $0.59/lb
Simple Truth Organic Nuts, Select Varieties, 12 oz, $6.99
Red Cherries, $4.99/lb
Organic Green Beans, 12 oz Bag, $2.99
Kroger Bagged Vegetables, Select Varieties, 24 to 32 oz, $3.99
Poinsettias, 6", $6.99 and up
---
SEAFOOD
Wild-Caught Snow Crab Clusters, 4 to 8 oz, $8.99/lb
Lobster Tails, Frozen, 4 to 6 oz, $6.99
SeaPak Snacketizers, Select Varieties, Frozen, 10 oz, $4.99
–$0.75/1 SeaPak Product printable [8-oz.+]
Kroger Shrimp Platter, 60 ct, Frozen, $12.99
Colossal Shrimp, Raw, 13 to 15 ct, Sold in a 2 lb Bag for $13.96, $9.99/lb
–$3/1 Colossal Shrimp, Raw, 13 to 15 ct, Sold in a 2 lb Bag for $13.96 Kroger Super Saver Digital Coupon (use up to 5 times in a single transaction) (12/21 to 12/24 only)