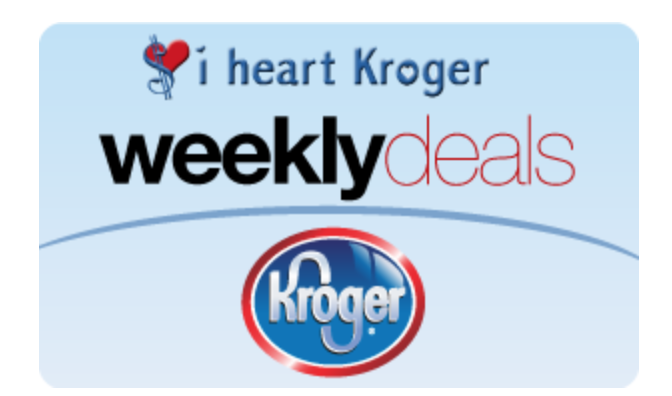 Here is the Kroger Ad and coupon matchups which start Wednesday, 12/5 and runs through Tuesday 12/11n the Southeast. The mega sale continues this week. You can see the Kroger Buy 5, Save $5 Mega Sale Inclusion List Valid 11/28 – 12/11 HERE.

If you are headed to Kroger this week don't forget to load your digital coupons from SavingStar, Cellfire and the Kroger Digital Coupons too. You might want to check your cash back apps (Ibotta, Checkout 51, Mobisave and BerryCart) for any matching deals that you might like. Also, be sure to check out the Catalina deals before you shop.
As always, the check mark
indicates either a great stockpile price or a stockpile price with coupon(s). And keep in mind that we have a shopping list feature on the site. If you need help, just visit the HELP PAGE to see how to use it.
3-DAY SALE (Wednesday, 12/5 to Friday, 12/7)
Smidge and Spoon Sugar, Select Varieties, 4 lb, $0.99
Kroger Specialty Sugar, Select Varieties, 32 oz, $0.99
Hershey's Baking Chips, Select Varieties, 8 to 12 oz, $0.99
-B2G1F Hershey's, Reese's or Heath Baking Chips 7 oz. or Larger Value to $3.30 Tearpad (exp 12/31/18)
Kroger Peanut Butter, Select Varieties, 16 oz, $0.99
Simple Truth Cage-Free Brown Eggs, Grade A, 12 ct, $1.99
Gold Medal Flour, Select Varieties, 5 lb, $1.49
Wesson Canola or Vegetable Oil, Select Varieties, 48 fl oz, $1.49
---
BEER & WINE
Corona, Stella Artois or Heineken, Select Varieties, 12 pk, 11.2 to 12 fl oz Bottles or Cans, $13.99
Bud, Miller, Coors, Yuengling and Tecate, Select Varieties, 24 pk, 12 fl oz Bottles or Cans, $18.99
Busch, Pabst or Miller High Life, Select Varieties, 30 pk, 12 fl oz Cans, $18.99
Michelob Ultra, 18 pk, 12 fl oz Bottles or Cans, or Founders All Day IPA, 15 pk, 12 fl oz Cans, Select Varieties, $16.99
White Claw, Truly, Twisted Tea or Mike's, Select Varieties, 12 pk, 11.2 to 12 fl oz Bottles or Cans, $12.99
SweetWater, Terrapin or New Belgium, Select Varieties, 12 pk, 12 fl oz Bottles or Cans, $14.99
Butter Chardonnay, 750 ml, or Kim Crawford Sauvignon Blanc, 750 ml, Select Varieties, $12.99
Meiomi Pinot Noir, 750 ml, $18.99
Stella Rosa or Korbel Sparkling, Select Varieties, 750 ml, $10.99
Martini & Rossi Asti, 750 ml, $12.99
Magistrate Paso Robles Cabernet, 750 ml, $9.99
Estancia Paso Robles Cabernet, 750 ml, $11.99
---
DAIRY
Chobani Greek Yogurt or Flip or Hint Yogurt, Select Varieties, 5.3 oz, 10/$10
–$1/4 Chobani A Hint of Flavor Yogurt (Kroger Digital Coupon) [Single serve]
Noosa Yoghurt or Noosa Mates, Select Varieties, 5.5 to 8 oz, BOGO (no price listed)
---
DELI
Party Platters, $19.99 and up (YourOrderOnline.com or 877-894-3707)
---
FROZEN
Lean Cuisine or Stouffer's Entree, Select Varieties, 6 to 12.8 oz, 5/$10
–$1/1 Stouffer's Urban Bistro Entrées (Ibotta Deposit) [Any variety; Any size]
Private Selection Ice Cream, Select Varieties, 16 fl oz, 3/$5
Private Selection Appetizers, Select Varieties, 9 to 16.1 oz, $4.99
Private Selection Stone Fired Pizza, Select Varieties, 15.3 to 19.3 oz, $4.99
Kroger Boneless Chicken Breasts or Cutlets or Tenders, 2.5 to 3 lb, $6.99
Alexia Potatoes, Select Varieties, 13.5 to 28 oz, $2.99
Boca Natural Meatless, Select Varieties, 8.9 to 12 oz, $2.99
---
GROCERY
Campbell's Chunky Soup, Select Varieties, 18.6 to 19 oz, $0.99 (Final Cost wyb 8)
Pepsi, 7UP or Coca-Cola, Select Varieties, 6 pk, 16 to 16.9 fl oz Bottles, BOGO (no price listed)
Pepsi or 7UP, Select Varieties, 2 Liter, $1 (Final Cost wyb 4)
Pepsi or Coca-Cola, Select Varieties, 20 to 24 pk, 12 fl oz Cans, $5.99 (Final Cost wyb 2)
Gatorade or G Zero, Select Varieties, 12 pk, 12 fl oz Bottles, $5.99
-FREE Propel, 6 pk, 16.9 fl oz Bottles, wyb (2) Gatorade, 12 pk, 12 fl oz Bottles In-Ad Kroger Offer
Hershey's or Reese's Holiday Candy, Select Varieties, 9 to 11 oz, 2/$7
MaraNatha No Stir Almond Butter, Select Varieties, 12 to 13 oz, $4.99
Dave's Killer Organic Thin-Sliced Bread or Bagels, Select Varieties, 16.75 to 20.5 oz, $3.99
–$1.50/1 Dave's Killer Bread Pumpkin Spice Madness Bagels (Ibotta Deposit) [16.75-oz. bag only]
---
HEALTH & BEAUTY
Dial Liquid Hand Soap, 7.5 fl oz, or Bar Soap, 2 ct, Select Varieties, 10/$10
Kind Bar Multipack, Select Varieties, 4 to 5 ct, $4.99
---
HOUSEHOLD
GE LED A21 Light Bulbs, Select Varieties, 2 pk, $8.99
Duracell Batteries, AA/AAA, 4 ct, 2/$6
–$2/2 Duracell Batteries (Ibotta Deposit) [AA or AAA Coppertop varieties; 4-ct. pack only]
Holiday Gift Set, Selections Vary By Store, While Supplies Last, $9.99
Wilton Gingerbread House, Select Varieties, 20% Off, Sale Price $10.39
Lindt Gift Boxes, Select Varieties, 7.3 oz, $9.99
Mason Clamp Top Pantry Set, 5 pc, $9.99
Magic Tracks Xtreme, As Seen On TV, 20% Off
---
MEAT
Half Boneless New York Strip Loin, $6.99/lb
Boneless Strip Steaks, Family Pack, $8.99/lb
Perdue Chicken Drumsticks, Thighs or Whole Fryers, Bone-In, No Antibiotics Ever, $0.88/lb
Kroger Bacon, 2 lb, $9.99
Fresh Ground Beef, 85% or 93% Lean, 16 oz, $4.99
Boneless Center-Cut Pork Chops, Family Pack, $3.99/lb
Boneless Chuck Roast, $5.99/lb
Simple Truth Natural Boneless Chicken Breasts, Tenders or Cutlets, No Antibiotics Ever, $5.49/lb
Fresh Laura's Lean Ground Beef, 92% Lean, 16 oz, $5.99
–$1/1 Laura's Lean Beef Product printable
Kroger Shaved Steak, 14 oz, $4.99
Kroger or Hormel Pork Tenderloin, 1.15 to 1.7 lb, or Jennie-O Turkey Tenderloin, 1.15 lb, Select Varieties, BOGO (no price listed)
Ball Park Hot Dogs, Select Varieties, 15 oz, BOGO (no price listed)
Carando Meatballs, Select Varieties, 16 oz, BOGO (no price listed)
Kroger Brats or Italian Sausage or Breakfast Sausage, Select Varieties, 12 to 18 oz, BOGO (no price listed)
---
PRODUCE
Medium Hass Avocados or Large Mangos, $0.77
–$0.75/3 Avocados From Mexico
Organic Avocados or Mangos, 4/$5
Honeycrisp Apples, $1.99/lb
Organic Honeycrisp Apples, $2.99/lb
Simple Truth Organic Fuji, Gala or Granny Smith Apples, 2 lb Pouch, $2.99
Premium Seedless Mandarins, 3 lb, $4.99
Organic Carrots, Bunch, $1.49
Blueberries, Pint, or Blackberries, 12 oz, $3.99
Bartlett, Bosc or Red Pears, $1.49/lb
Winter Big Bunch Bouquet, 13 Stem, $9.99
Poinsettia, 6.5", $6.99 and up
Private Selection Campari Tomatoes, 16 oz, 2/$5
Red or Gold Potatoes, 3 lb Bag, 2/$5
---
SEAFOOD
Extra Large Cooked Cocktail Shrimp, 26 to 30 ct, Sold in a 2 lb Package for $17.98, $8.99/lb
Fresh Catfish or Tilapia Fillets, Farm-Raised, $4.99/lb
Private Selection Seafood Appetizers, Frozen, Select Varieties, 5.64 to 10.58 oz, or Kroger Shrimp Platter, 20 ct, Frozen, BOGO (no price listed)