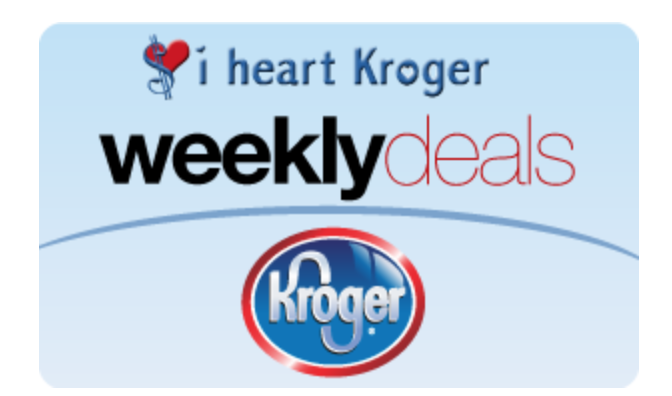 Here is the Kroger Ad and coupon matchups which start Wednesday, 1/23 and runs through Tuesday 1/29 in the Southeast. Look for lots of digital coupons again this week AND a new two week What A Deal mega sale. The advertised deals are below. I will have the full inclusion list posted as soon as possible. As usual, the price below is AFTER mega savings.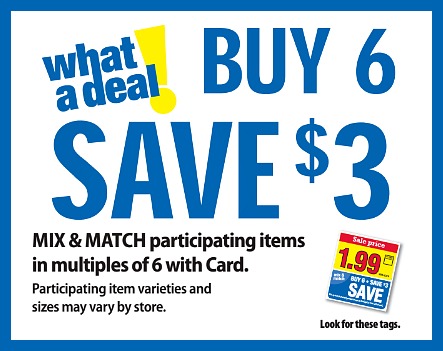 If you are headed to Kroger this week don't forget to load your digital coupons from SavingStar, Cellfire and the Kroger Digital Coupons too. You might want to check your cash back apps (Ibotta, Checkout 51, Mobisave and BerryCart) for any matching deals that you might like. Also, be sure to check out the Catalina deals before you shop.
As always, the check mark
indicates either a great stockpile price or a stockpile price with coupon(s). And keep in mind that we have a shopping list feature on the site. If you need help, just visit the HELP PAGE to see how to use it.
4 DAY ONLY SALE (1/24 to 1/27)
Johnsonville Brats or Italian Sausage, Select Varieties, 19 oz, $2.77
Colossal Shrimp, Raw, 13 to 15 ct, Sold in a 2 lb Bag for $13.98, $6.99/lb
Frito-Lay Party Size Potato Chips or Ruffles, 6 to 13.5 oz, $2.88
Arm & Hammer Laundry Detergent, 61.25 to 75 fl oz or 24 to 32 ct, Select Varieties, BOGO (no price listed)
-$3/3 Arm & Hammer Laundry Products – 1-6-19 SS (exp 02/02/19)
-$1/1 Arm & Hammer Power Paks Laundry Detergent – 1-6-19 SS (exp 02/02/19)
–$1/1 Arm & Hammer Liquid Laundry Detergent printable [] –$1/1 Arm & Hammer Power Paks Liquid Detergent printable []
Powerade or Powerade Zero, Select Varieties, 32 fl oz, $0.59 (Final Cost wyb 8)
---
BUY 6, SAVE $3 SALE (Mix & Match)
General Mills Cereal, Select Varieties, 10.5 to 18.7 oz, $1.79 (Ad shows Honey Nut Cheerios)
–$0.50/1 Honey Nut Cheerios or Honey Nut Cheerios Medley Crunch Cereal printable [any box] –$0.50/1 Big G Honey Nut Cheerios or Honey Nut Cheerios Medley Crunch Cereal printable
Kellogg's Cereal, Select Varieties, 10.5 to 18.7 oz, $1.79 (Ad shows Frosted Flakes)
–$3/5 Kellogg's Cereals
–$1/2 Kellogg's Krave, Apple Jacks, and/or Corm Pops Cereals
–$1/2 Kellogg's® Frosted Mini-Wheats® Cereals
–$0.50/1 Kellogg's Apple Jacks Cereal , exp. 1/23/19 (Checkout 51 Deposit) [Valid on 8.7 oz or larger, any variety; Cannot use this offer with any other print or in-app coupon or rebate.] –$1/1 Kellogg's Cereal printable [Need 850 rewards points] -$1/2 Kellogg's Special Kellogg's Cereals, Bars or Bites, exp. 2/17/19 (RMN 01/06/19 R) [10.5-oz. cereal; 5.28-oz. bites; Limit of 4 Like Coupons in Same Shopping Trip; No Cash Back]
Capri Sun, Select Varieties, 10 pk, 6 fl oz, $1.79
Coca-Cola, Pepsi or 7UP, Select Varieties, 2 Liter, $0.99
Kraft Mac & Cheese, Select Varieties, 1.9 to 2.39 oz, $0.49
Kraft Natural Cheese, 7 to 8 oz, or Kraft American Singles, 16 ct, Select Varieties, $2.49
Kraft Mayo, Select Varieties, 22 to 30 fl oz, $2.49
Frank's RedHot Sauce, Select Varieties, 12 oz, $2.49
Red Gold Tomatoes, Select Varieties, 14.5 to 15 oz, $0.49
Ronzoni Pasta, Select Varieties, 12 to 16 oz, $0.49
Cheetos, 7 to 8.5 oz, Fritos, 9.25 oz, or SunChips, 7 oz, Select Varieties, $1.88
Marie Callender's Dinner, Select Varieties, 10.5 to 14 oz, $1.79
Healthy Choice Cafe Steamer or Complete Meal, Select Varieties, 9.5 to 12 oz, $1.79
Philadelphia Cream Cheese Spread, Select Varieties, 7.5 to 8 oz, $2.49
Halo Top Ice Cream, Select Varieties, 16 fl oz, $3.49
Haagen-Dazs Ice Cream, Select Varieties, 14 fl oz, $3.49
Kroger Cheese, 12 to 16 oz, or Cheese Slices, 12 oz, or Frigo Cheese Snacks, 6.32 oz, Select Varieties, $2.99
Silk Plant-Based Milk, Select Varieties, 64 fl oz, $2.49
Nature's Path Organic Cereal, Select Varieties, 10 to 16.3 oz, $2.49
Kashi Cereal, Select Varieties, 10 to 16.3 oz, $2.49
Simply Juice, Select Varieties, 52 fl oz, $2.99
Fairlife Milk, Select Varieties, 52 fl oz, $2.99
Ore-Ida Frozen Potatoes, Select Varieties, 14 to 32 oz, $2.29
Nabisco Family Size Cookies or Crackers, Select Varieties, 10 to 20.6 oz, $2.99
-$0.75/2 Nabisco Cookie or Cracker Products, 01/3/19 SS (exp 2/23/19) [3.5-oz.+]
Nabisco Snack Crackers, Select Varieties, 3.5 to 9.1 oz, $1.99
-$0.75/2 Nabisco Cookie or Cracker Products, 01/3/19 SS (exp 2/23/19) [3.5-oz.+]
Nabisco Ritz Crackers, Select Varieties, 7.5 to 13.7 oz, $1.99
-$0.75/2 Nabisco Cookie or Cracker Products, 01/3/19 SS (exp 2/23/19) [3.5-oz.+]
Annie's Natural Macaroni & Cheese, Select Varieties, 5.25 to 6 oz, $0.79
-$0.50/2 Annie's Homegrown Products, 01/06 SS (exp 3/2) [Excludes dressings, marinades, and condiments]
Mission Tortilla Chips, 9 to 13 oz, or Mission Street Taco Tortillas, 12 to 24 ct, Select Varieties, $1.49
Maxwell House Coffee, Select Varieties, 22 to 30.6 oz Can, $5.99
–$1/1 Maxwell House or Yuban Coffee Cans (Kroger Digital Coupon) [24.5-oz. to 31-oz. Cans or Pods 12-ct.]
Gevalia Coffee, 10 to 12 oz Bag, or K-Cups, 6 to 12 ct, Select Varieties, $5.99
–$3/2 Gevalia Coffee Bags or Pods (Kroger Digital Coupon) [12-oz. bags or 6-ct. to 12-ct. pods]
McCafe Coffee, 10 to 12 oz Bag, or K-Cups, 6 to 12 ct, Select Varieties, $5.99
-$1/1 McCafe Coffee Product – 1-20-19 SS; Not Redeemable in Stores (exp 04/10/19)
Ocean Spray Juice, Select Varieties, 64 fl oz, $1.99
Quaker Instant Oatmeal, Select Varieties, 8 to 12 ct, $1.99
Johnsonville Breakfast Sausage, Select Varieties, 9.6 to 12 oz, $2.99
Peatos, 3 oz, $1.99
Kroger Deluxe Ice Cream, Select Varieties, 48 fl oz, $2.29
Ball Park Buns, Select Varieties, 8 ct, $1.99
Sara Lee Artesano Bread, Select Varieties, 20 oz, $1.99
Cabo Fresh Guacamole, Select Varieties, 12 oz, $2.99
Smithfield Bacon, Select Varieties, 16 oz, $4.49
Tostitos, Select Varieties, 10 to 13 oz, $2.49
–$5 off Budweiser Family AND Pepsi AND Tostitos Chips or Tostitos Dip Combo (Ibotta Deposit) [Combo offer.]
Hostess Snack Cakes, Select Varieties, 6 to 10 ct, $2.49
Nestle Pure Life Water, Select Varieties, 24 pk, 16.9 fl oz, $2.99
Arizona Tea, Select Varieties, 12 pk, 11.5 fl oz, $2.99
Gatorade, Select Varieties, 8 pk, 20 fl oz, $4.49
Lipton Tea, Select Varieties, 12 pk, 16.9 fl oz, $4.49
Private Selection Sliced Pepperoni or Salami Cracker Cuts, Select Varieties, 14 oz, In the Deli, $5.49
Kroger Sour Cream or Cottage Cheese or Dip, Select Varieties, 16 oz, $0.89
Edy's Ice Cream, Select Varieties, 48 fl oz, $2.99
Pringles, Select Varieties, 4.6 to 5.57 oz, $0.99
Pepperidge Farm Goldfish Crackers, Select Varieties, 6.6 to 8 oz, $0.99
Campbell's Chunky Soup, Select Varieties, 18.6 to 19 oz, $0.99
Thomas' English Muffins, Select Varieties, 6 ct, $1.99
Jif Peanut Butter, Select Varieties, 15.5 to 16 oz, $1.99
Smucker's Fruit Spread, Select Varieties, 17.25 to 18 oz, $1.99
International Delight Creamer, Select Varieties, 32 fl oz, $2.49
Special K or NutriGrain Bars, Select Varieties, 5 to 8 ct, $2.49
–$0.75/1 Kellogg's Nutri-Grain , exp. 1/23/19 (Checkout 51 Deposit) [Valid on 7 oz or larger, any variety; Cannot use this offer with any other print or in-app coupon or rebate.] –$1/1 Kellogg's Nutri-Grain Bars, Special K Bars or Rice Krispies Treats Crispy Marshmallow Squares printable [5-ct.+, Any Flavor; Need 850 rewards points]
Kellogg's Pop-Tarts, Select Varieties, 8 ct, $1.49
–$1/1 Kellogg's Cereals or Pop-Tarts Toaster Pastries printable
–$1/3 Pop-Tarts Toaster Pastries printable
–$1/1 Kellogg's Pop-Tarts Toaster Pastries printable [Need 850 rewards points] –$1/2 Pop-Tarts , exp. 1/23/19 (Checkout 51 Deposit) [Valid on 5.9 oz or higher, any variety. Items must appear on the same receipt.; Cannot use this offer with any other print or in-app coupon or rebate.]
Betty Crocker Fruit Snacks, Select Varieties, 6 to 10 ct, $1.49
–$0.50/2 Betty Crocker Fruit Shapes or Fruit by the Foot printable [any box] –$0.50/2 Betty Crocker Fruit Shapes, Fruit by the Foot, Fruit Gushers or Fruit Roll-Ups Fruit Flavored Snacks, Mott's Fruit Flavored Snacks or Sunkist Fruit Flavored Snacks (Kroger Digital Coupon)
–$0.50/2 Betty Crocker Fruit Shapes, Fruit By The Foot and more printable
-$0.50/2 Betty Crocker Fruit Snacks, 01/06/19 SS (exp 3/2/19)
–$0.50/1 Betty Crocker Fruit Shapes, Fruit by the Foot, Fruit Gushers or Fruit Roll-Ups Fruit Flavored Snacks, Mott's Fruit Flavored Snacks or Sunkist Fruit Flavored Snacks (SavingStar Deposit)
–$0.50/2 Betty Crocker Fruit Shaped, Fruit by the Foot, or Fruit Gushers printable
Welch's Fruit Snacks, Select Varieties, 6 to 10 ct, $1.49
–$1/2 Welch's Fruit Snacks, Fruit 'n Yogurt Snacks or Fruit Rolls (Kroger Digital Coupon) [8-oz.+ bag or 6-ct.+ box] –$1/1 Welch's Fruit Snacks, Fruit 'n Yogurt Snacks or Fruit Rolls printable [8-oz.+ bag or 6-ct box] –$0.50/1 Welch's Fruit 'n Yogurt Snacks , exp. 1/23/19 (Checkout 51 Deposit) [Valid on 8-oz. bag, 8ct or larger box; Cannot use this offer with any other print or in-app coupon or rebate.] -$0.50/1 Welch's Fruit Rolls or Fruit 'N Yogurt Snacks, 01/06/19 SS (exp 2/16/19) [6-ct.+] -$1/2 Welch's Fruit Snacks, 01/06/19 SS (exp 2/16/19) [8-oz.+ bag or 8-ct.+ box] –$1/2 Welch's Fruit Snacks printable
–$1/2 Welch's Fruit Snacks , exp. 1/23/19 (Checkout 51 Deposit) [Valid on 8 oz or larger bag or 8 ct or larger box. Items must appear on the same receipt; Cannot use this offer with any other print or in-app coupon or rebate.]
Dave's Killer Organic Bread, Select Varieties, 18 to 27 oz, $3.99
–$1/1 Dave's Killer Bread; Raisin' the Roof! Breakfast Bread (Ibotta Deposit) [18-oz. bag only]
King's Hawaiian Sliced or Round Bread, Select Varieties, 16 oz, In the Bakery, $2.99
Seattle's Best Coffee, 12 oz Bag, or K-Cups, 10 ct, Select Varieties, $3.99
–$1/1 Seattle's Best Coffee Product printable [Ground or Whole Bean 12-20oz or K-Cups 10-18ct]
Always or Tampax, Select Varieties, 20 to 120 ct, $4.99
-$2/1 Always Discreet Incontinence Liner or Pad, 12/30/18 P&G (exp 1/26/19) [Limit of 2 identical coupons per household per day; No cash back] -$0.50/1 Always Ultra or Maxi Pads, 12/30/18 P&G (exp 1/26/19) [11-ct.+; Excludes radiant, infinity, pure & clean, and discreet; Limit of 2 identical coupons per household per day; No cash back] -$0.50/1 Always Liners or Wipes, 12/30/18 P&G (exp 1/26/19) [30-ct.+ liners; 20-ct.+ wipes; Excludes discreet; Limit of 2 identical coupons per household per day; No cash back] -$2/1 Always Discreet Incontinence Underwear or Boutique Underwear, 12/30/18 P&G (exp 1/26/19) [Limit of 2 identical coupons per household per day; No cash back] -$3/2 Always Radiant, Infinity, or Pure & Clean Pads, 12/30/18 P&G (exp 1/26/19) [11-ct.+; Limit of 2 identical coupons per household per day; No cash back] -$3/2 Tampax Pearl, Radiant, or Pure & Clean Tampons, 12/30/18 P&G (exp 1/26/19) [16-ct.+; Limit of 2 identical coupons per household per day; No cash back]
Herbal Essences Shampoo or Conditioner, Select Varieties, 8 to 13.5 fl oz, $2.49
–$2/2 Herbal Essences Products, any variety or size [Excludes Bio Renew and trial/travel size] (Kroger Digital Coupon)
Aussie Shampoo or Conditioner, Select Varieties, 8 to 13.5 fl oz, $2.49
–$2/2 Aussie Products, any size or variety (excludes trial and travel sizes) (Kroger Digital Coupon)
Dove Body Wash, Select Varieties, 22 fl oz, $5.49
Swiffer 2x Refills, Select Varieties, 6 to 32 ct, $6.99
-$1/1 Swiffer Refill or WetJet Solution, 12/30/18 P&G (exp 1/26/19) [Limit of 2 identical coupons per household per day; No cash back]
Hefty Waste Bags, Select Varieties, 18 to 45 ct, $6.49
Libman Wonder Mop or Angle Broom with Dustpan, 1 ct, $7.49
–$3/1 Libman Wonder Mop printable
Huggies Wipes, Select Varieties, 58 to 64 ct, $1.49
–$0.50/1 Huggies Wipes printable [48-ct.+] –$1/2 Huggies Wipes printable [56-ct.+]
Kleenex Wet Wipes, Select Varieties, 20 to 24 ct, $1.49
-$0.50 off Kleenex Facial Tissue Boxes/Packs or Wet Wipes, 01/06/19 SS (exp 2/3/19) [(3) 30-ct.+ boxes/packs facial tissue or (1) 20-ct.+ wipes] –$0.50/1 Kleenex Wipes (Ibotta Deposit) [Any variety; Any size]
Palmolive Dish Soap, Select Varieties, 20 fl oz, $1.49
–$0.50/1  Palmolive® Ultra Dish Liquid (18.0 oz or larger)
–$0.25/1 Palmolive Fusion Clean Dish Liquid printable [20-oz.+] -$0.50/1 Palmolive Ultra Dish Liquid, 01/20/19 SS (exp 2/2/19) [18-oz.+]
Tide Laundry Detergent, Select Varieties, 46 to 50 fl oz, $4.99
–$2/1 Tide Detergent printable
-$2/1 Tide Detergent, 12/30/18 P&G (exp 1/26/19) [Excludes pods, rescue, simply, simply pods and 10-oz.; Limit of 2 identical coupons per household per day; No cash back]
Tide Pods, Select Varieties, 15 to 20 ct, $4.99
–$3/1 Tide Pods printable
-$2/1 Tide Pods, 12/30/18 P&G (exp 1/26/19) [Excludes simply and 9-ct. or less; Limit of 2 identical coupons per household per day; No cash back] -$3/1 Tide Pods – 1-20-19 SS; Excludes Liquid, Powder, Simply, PODS, 9 ct or Less and Trial/Travel Size (exp 01/26/19)
Downy Fabric Softener, Select Varieties, 62 to 77 fl oz, $4.99
–$2/1 Downy printable
-$1/1 Downy Liquid Fabric Conditioner, Bounce or Downy Sheets, or In Wash Scent Boosters, 12/30/18 P&G (exp 1/26/19) [6.5-oz. or less boosters; 105-ct. or less sheets; 60 loads or less fabric conditioner; Excludes libre enjuague and fireworks; Limit of 2 identical coupons per household per day; No cash back]
---
BAKERY
Kroger Bread, Select Varieties, 20 to 24 oz, or Kroger Buns, 8 ct, Select Varieties, 10/$10
Angel Food Cake, Plain or Sour Cream, 13 oz, $2.99
---
BEER & WINE (10% off Any 6 Bottles of Wine, 1/23 to 1/26)
Yellow Tail, 1.5 Liter, or Chalkboard, 750 ml, Select Varieties, $9.99
Bud, Miller, Coors or Yuengling, Select Varieties, 24 pk, 12 fl oz Bottles or Cans, $18.99
Lagunitas Daytime IPA or Sierra Nevada, Select Varieties, 6 pk, 12 fl oz Bottles or Cans, $8.99
Stella Artois or Heineken, Select Varieties, 12 pk, 11.2 to 12 fl oz Bottles or Cans, $13.99
Miller or Coors, 15 pk, 16 fl oz Aluminum Bottles, or Corona Premier, 12 pk, 12 fl oz Bottles, Select Varieties, $13.99
Blue Moon or Leinenkugel's, Select Varieties, 12 pk, 12 fl oz Bottles or Cans, $13.99
Ava Grace, Select Varieties, 750 ml, 2/$12
Rodney Strong Cabernet or Myles & Moore, Select Varieties, 750 ml, $12.99
Bay Bridge, Select Varieties, 750 ml, $2.97
Coppola Diamond Collection, 750 ml, or Augment Cabernet Sauvignon, 750 ml, Select Varieties, $13.99
Storyteller Cabernet Sauvignon, 750 ml, $14.99
Louis Martini Cabernet Sauvignon, 750 ml, $16.99
Michelob Ultra Pure Gold, Sam Adams or Modelo, Select Varieties, 12 pk, 12 fl oz Bottles or Cans, $13.99
Bud or Bud Light, Select Varieties, 12 pk, 16 fl oz Aluminum Bottles, $10.49
---
DAIRY
Land O' Lakes Butter, Select Varieties, 16 oz, $2.99
Kroger Milk, Select Varieties, Half Gallon, $0.99 (Limit 6)
Simple Truth Plant-Based Milk, Half gallon, or Simple Truth Organic Kombucha, 15.2 fl oz, Select Varieties, $2.79
–$0.50/1 Simple Truth Plant-Based Milk, Half gallon, or Simple Truth Organic Kombucha, 15.2 fl oz, Select Varieties Kroger Super Saver Digital Coupon (use up to 5 times in a single transaction)
Clif, Luna or Mojo Bar, 1.59 to 2.4 oz, or Chobani Greek Yogurt, 5.3 oz, or Simple Truth Organic Coconut Water, 16.9 oz, Select Varieties, $0.88 (Final Cost wyb 8)
-$1/5 Chobani Single Serve Dairy And Non Dairy Products, 01/06/19 SS (exp 2/2/19) [Limit one coupon per customer]
---
DELI
Simple Truth Colossal Roasted Chicken, 44 oz, $9.99
–$1/1 Simple Truth Colossal Roasted Chicken, 44 oz Kroger Super Saver Digital Coupon (use up to 5 times in a single transaction)
Simple Truth Organic Soup, Select Varieties, 24 oz, $5.99
–$1/1 Simple Truth Organic Soup, Select Varieties, 24 oz Kroger Super Saver Digital Coupon (use up to 5 times in a single transaction)
---
FROZEN
Tyson Frozen Chicken or Any'tizers, Select Varieties, 18 to 28.05 oz, $4.99
–$1/1 Tyson Frozen Chicken or Any'tizers, Select Varieties, 18 to 28.05 oz Kroger Super Saver Digital Coupon (use up to 5 times in a single transaction- redeem 1/25 & 1/26 only)
Kroger Vegetables, 32 oz, or Kroger Potatoes, 16 to 30 oz, Select Varieties, $1.99
Championship Foods Chicken Wings, Bone-In, 2.5 lb, $4.99
Freschetta Pizza, Select Varieties, 20.28 to 28.83 oz, $3.99
---
GROCERY
Coca-Cola or Pepsi, Select Varieties, 20 to 24 pk, 12 fl oz Cans, $4.99 (Final Cost wyb 2)
Coca-Cola, Select Varieties, 10 pk, 7.5 fl oz Cans, 2/$8
Hershey's or Reese's Miniatures Candy, Select Varieties, 33 to 60 oz, $8.99
–$4/1 Hershey's or Reese's Miniatures Candy, Select Varieties, 33 to 60 oz Kroger Super Saver Digital Coupon (use up to 5 times in a single transaction- redeem 1/25 & 1/26 only)
Simple Truth Organic Juice Pouches, Select Varieties, 8 pk, 6 fl oz, $2.99
–$0.50/1 Simple Truth Organic Juice Pouches, Select Varieties, 8 pk, 6 fl oz Kroger Super Saver Digital Coupon (use up to 5 times in a single transaction)
Simple Truth Organic Beans or Simple Truth Organic Tomatoes or Tomato Sauce, 4 pk, Select Varieties, $3.49
–$0.50/1 Simple Truth Organic Beans or Simple Truth Organic Tomatoes or Tomato Sauce, 4 pk, Select Varieties Kroger Super Saver Digital Coupon (use up to 5 times in a single transaction)
Simple Truth Organic Tortilla Chips, 7.5 to 9 oz, or Simple Truth Organic Popcorn, 4 to 7 oz, or Simple Truth Organic Puffs, 4 to 6 oz, Select Varieties, $1.99
–$0.50/1 Simple Truth Organic Tortilla Chips, 7.5 to 9 oz, or Simple Truth Organic Popcorn, 4 to 7 oz, or Simple Truth Organic Puffs, 4 to 6 oz, Select Varieties Kroger Super Saver Digital Coupon (use up to 5 times in a single transaction)
Simple Truth Organic 90-Second Rice, 8.8 oz, or Simple Truth Organic Broth, 32 fl oz, Select Varieties, $1.99
–$0.50/1 Simple Truth Organic 90-Second Rice, 8.8 oz, or Simple Truth Organic Broth, 32 fl oz, Select Varieties Kroger Super Saver Digital Coupon (use up to 5 times in a single transaction)
Simple Truth Organic Juice, Select Varieties, 64 fl oz, $2.99
–$0.50/1 Simple Truth Organic Juice, Select Varieties, 64 fl oz Kroger Super Saver Digital Coupon (use up to 5 times in a single transaction)
Lay's Family Size Potato Chips, 9.5 to 10 oz, or Lay's Kettle Cooked Potato Chips, 8 oz, Select Varieties, $1.99 (Final Cost wyb 2)
Kroger Coffee, 24 to 30.5 oz Can, or Private Selection Coffee, 11 to 12 oz Bag, Select Varieties, $4.99
Big K, Select Varieties, 12 pk, 12 fl oz Cans, or Kroger Real Sugar Soda, 8 pk, 12 fl oz Cans, $1.99 (Final Cost wyb 3)
Pepsi or 7UP, 6 pk, 16 to 16.9 fl oz Bottles or 6 pk, 7.5 fl oz Cans, Select Varieties, 4/$10 (Final Cost wyb 4)
Reese's or M&M's Candy, Select Varieties, 1.08 to 2 oz, B2G1
Amy's Organic Soup, Select Varieties, 14 to 14.7 oz, $2.49
Annie's Cookies or Crackers, Select Varieties, 6.75 to 7.5 oz, $2.49
-$0.50/2 Annie's Homegrown Products, 01/06 SS (exp 3/2) [Excludes dressings, marinades, and condiments]
Wonder Buns, Select Varieties, 8 ct, $1.99
Nabisco Toasted Chips, Select Varieties, 7.1 to 8.1 oz, BOGO (no price listed)
-$0.75/2 Nabisco Cookie or Cracker Products, 01/13/19 SS (exp 2/23/19) [3.5-oz.+]
Milky Way or Snickers Miniatures, 8.9 to 9.7 oz, or Starburst or Skittles Candy, 12 to 14 oz, Select Varieties, 2/$5
---
HEALTH & BEAUTY
Simple Truth Diapers, Select Varieties, Sizes 3 to 5, 50 to 68 ct, $14.99
–$2/1 Simple Truth Diapers, Select Varieties, Sizes 3 to 5, 50 to 68 ct Kroger Super Saver Digital Coupon (use up to 5 times in a single transaction)
Colgate Toothpaste, 4 to 4.6 oz, or Colgate Toothbrush, 1 ct, Select Varieties, $0.88
-$0.50/1 Colgate Toothpaste, 01/20/19 SS (exp 2/2/19) [3-oz.+] -$0.50/1 Colgate Adult or Kids Manual Toothbrush, 01/20/19 SS (exp 2/2/19)
---
HOUSEHOLD
Quilted Northern Bathroom Tissue, 6 Mega Rolls, or Brawny Paper Towels, 6 Big Rolls, Select Varieties, 2/$11 (Final Cost wyb 2)
–$0.50/1 Quilted Northern Bath Tissue (Kroger Digital Coupon) [12 Double Roll or larger.] –$0.50/1 Quilted Northern Bath Tissue printable
-$0.50/1 Quilted Northern Bath Tissue, 01/06/19 RMN (exp 2/6/19) [6 double roll or larger] –$0.55/1 Brawny Paper Towel printable [2, 3 or 6 roll] –$0.25/1 Brawny Paper Towel printable [3-roll, 6-roll or 8-roll]
Everyday Living and Good Cook Pro Kitchen Gadgets, Select Varieties, 1 to 100 ct, 20% Off
---
MEAT
Fresh Kroger Ground Beef, 73% Lean, Sold in a 5 lb Package for $9.40, $1.88/lb
Boneless Eye or Bottom Round Roast, $3.49/lb
Simple Truth Bacon, 12 oz, $4.99
–$1/1 Simple Truth Bacon, 12 oz Kroger Super Saver Digital Coupon (use up to 5 times in a single transaction)
Simple Truth Lunch Meat, Select Varieties, 7 oz, $3.49
–$1/1 Simple Truth Lunch Meat, Select Varieties, 7 oz Kroger Super Saver Digital Coupon (use up to 5 times in a single transaction)
Kroger or Private Selection Bacon, Select Varieties, 20 to 24 oz, $6.99
Gwaltney Hot Dogs, 12 oz, or Bologna, 12 oz, Select Varieties, 10/$10
Hormel Marinated Pork Tenderloin or Filets, 1.15 to 1.5 lb, Select Varieties, BOGO (no price listed)
Boneless New York Strip Steaks, Family Pack, $9.99/lb
Center-Cut Pork Chops, Bone-In, Family Pack, $2.99/lb
Oscar Mayer Deli Fresh Lunch Meat or Carving Board, 7 to 9 oz, Select Varieties, 2/$5
Fresh Heritage Farm Chicken Drumsticks, Thighs or Whole Fryers, Bone-In, $0.99/lb
Fresh Simple Truth Natural Ground Turkey, No Antibiotics Ever, $3.99
Fresh Simple Truth Natural Boneless Chicken Thighs, No Antibiotics Ever, $2.99/lb
Pork Back Ribs, Previously Frozen, $2.99/lb
---
PET
Abound Pet Food or Treats, Any Variety, 20% Off
–$1/5 Abound Wet Cat Food or Dog Food (Kroger Digital Coupon) [Cans or Pouches; 3-oz. to 13.2-oz.] –$1/3 Abound Cat Treats (Kroger Digital Coupon) [2.1-oz. to 3-oz.] –$1/2 Abound Grain Free Dog Biscuits (Kroger Digital Coupon) [12-oz.] –$1/1 Abound Dry Cat Food (Kroger Digital Coupon) [13-lb.] –$1/3 Abound Cat Treats (Kroger Digital Coupon) [2.1-oz. to 3-oz.] –$1/1 Abound Dry Dog Food (Kroger Digital Coupon) [22-lb.+] –$0.50/1 Abound Natural Cat Litter (Kroger Digital Coupon) [8.5-lb.] –$1/5 Abound Wet Cat Food or Dog Food (Kroger Digital Coupon) [3-oz. to 13.2-oz.] –$1/1 Abound Dry Dog Food (Kroger Digital Coupon) [22-lb.+] –$1/1 Abound Dry Cat Food (Kroger Digital Coupon) [13-lb.] –$0.50/1 Abound Natural Cat Litter (Kroger Digital Coupon) [8.5-lb.]
---
PRODUCE
Blueberries, Pint, $1.88
Large Pineapple, $1.88
Dole Salad Kits, 7 to 14 oz, BOGO (no price listed)
Simple Truth Organic Mini Peeled Carrots, 1 lb Bag, 2/$3
–$1.15/2 Simple Truth Organic Mini Peeled Carrots, 1 lb Bag Kroger Super Saver Digital Coupon (use up to 5 times in a single transaction)
Strawberries, 16 oz, $2.99
Russet Potatoes, 5 lb Bag, or Yellow Onions, 3 lb Bag, 2/$4
Minneolas, Blood or Cara Cara Navel Oranges, $0.99
Avocados, 4 ct Bag, $2.99
Bolthouse Farms Juice, Select Varieties, 15.2 fl oz, BOGO (no price listed)
Organic Fuji, Gala or Granny Smith Apples, $1.99/lb
Organic Kale, Bunch, $0.99
GT's Organic Kombucha, Select Varieties, 16 fl oz, 2/$5
–$0.80/1 GT's Enlightened Kombucha – Ibotta rebate; Includes 16 oz Only
Vibrant Colors Bouquet, Select Varieties, 11 Stem, $9.99
Colorful Primrose, Select Varieties, 4", $1.50
---
SEAFOOD
Wild Snow Crab Clusters, 5 to 8 oz, $8.99/lb
Fresh Tilapia or Catfish Fillets, Farm-Raised, $4.99/lb