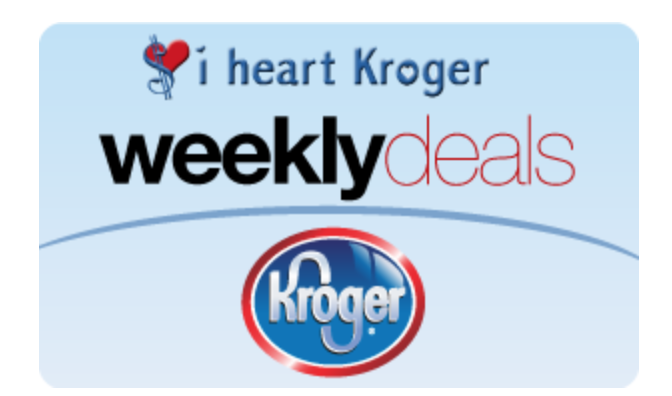 Here is the Kroger Ad and coupon matchups which start Wednesday, 2/13 and runs through Tuesday 2/19 in the Southeast. This is the second week of the big digital coupon event. Look for the coupons over on the Kroger site and load again on Wednesday. With these coupons you simply load them once and then redeem them up to FIVE times in one transaction.

If you are headed to Kroger this week don't forget to load your digital coupons from SavingStar, Cellfire and the Kroger Digital Coupons too. You might want to check your cash back apps (Ibotta, Checkout 51, Mobisave and BerryCart) for any matching deals that you might like. Also, be sure to check out the Catalina deals before you shop.
As always, the check mark
indicates either a great stockpile price or a stockpile price with coupon(s). And keep in mind that we have a shopping list feature on the site. If you need help, just visit the HELP PAGE to see how to use it.
BAKERY
Fresh Baked Private Selection Artisan Bread, Select Varieties, 16 to 20.75 oz, $2.99
Private Selection Cookies, Select Varieties, 6 ct, $3.99
Private Selection Brownies, Select Varieties, 4 ct, $4.99
Valentine's Decorated Cupcakes, Select Varieties, 6 ct, $4.99
Chocolate Dipped Strawberries, 6 ct, $8.99
---
BEER & WINE
Dos Equis, White Claw or Smirnoff Spiked, Select Varieties, 12 pk, 12 fl oz Bottles or Cans, $12.99
Michelob Ultra, Select Varieties, 24 pk, 12 fl oz Cans, $21.99
Busch Light, Pabst or Miller High Life, Select Varieties, 30 pk, 12 fl oz Cans, $18.99
Bud, Miller, Coors or Yuengling, Select Varieties, 24 pk, 12 fl oz Bottles or Cans, $18.99
Michelob Ultra Pure Gold, Blue Moon or Leinenkugel's, Select Varieties, 24 pk, 12 fl oz Bottles or Cans, $13.99
J Lohr, Select Varieties, 750 ml, $16.49
Rodney Strong, Select Varieties, 750 ml, $15.49
Chloe or Hedgeline, Select Varieties, 750 ml, $10.99
Magistrate or Apothic, Select Varieties, 750 ml, $9.99
Parkers Estate Cabernet Sauvignon, 750 ml, $9.99
Josh Cabernet Sauvignon, 750 ml, $13.99
Corona, Stella Artois or Heineken, Select Varieties, 12 pk, 11.2 to 12 fl oz Bottles or Cans, $13.99
Kendall Jackson or Rue de Perle, Select Varieties, 750 ml, $10.99
---
DAIRY
Kroger Eggs, Grade A, Large, 12 ct, $0.99
Coffee-mate Creamer, 32 fl oz, or Minute Maid Orange Juice, 59 fl oz, or Kellogg's Eggo Waffles, 10 to 16 ct, Select Varieties, $2.49
–$0.50/1 Coffee-mate Creamer, 32 fl oz, or Minute Maid Orange Juice, 59 fl oz, or Kellogg's Eggo Waffles, 10 to 16 ct, Select Varieties Kroger Super Saver Digital Coupon (use up to 5 times in a single transaction)
–$1/1 Kellogg's Eggo Frozen Product printable [Need 850 rewards points]
Sargento Cheese, 7 to 8 oz, or Cheese Slices, 6.67 to 8 oz, or Laughing Cow Cheese Wedges, 8 ct, Select Varieties, $2.99
–$1/1 Sargento Cheese, 7 to 8 oz, or Cheese Slices, 6.67 to 8 oz, or Laughing Cow Cheese Wedges, 8 ct, Select Varieties Kroger Super Saver Digital Coupon (use up to 5 times in a single transaction)
-$0.50/2 Sargento Natural Cheese Slices, 01/27/19 SS (exp 3/24/19)
Simple Truth Plant-Based Milk, 64 fl oz, or Simple Truth Cage-Free Eggs, 12 ct, Select Varieties, 2/$5
Kroger Cheese, Select Varieties, 6 to 8 oz, $1.99
Yoplait Yogurt, Select Varieties, 4 to 6 oz, 10/$5
-$0.50/5 Yoplait Yogurt, 01/06/19 SS (exp 3/2/19)
–$0.50/5 Yoplait Original, Light, Whips!®, OR Lactose Free Yogurt (Kroger Digital Coupon)
–$0.50/5 Yoplait Yogurt (SavingStar Deposit) [cups; Includes original, light, whips!, or lactose free.]
Dannon Activia Yogurt, 4 pk, 4 oz, or Dannon Danimals Yogurt Smoothies, 6 pk, 3.1 fl oz, Select Varieties, $2.49
–$1/1 Dannon Activia Yogurt, 4 pk, 4 oz, or Dannon Danimals Yogurt Smoothies, 6 pk, 3.1 fl oz, Select Varieties Kroger Super Saver Digital Coupon (use up to 5 times in a single transaction)
Philadelphia Cream Cheese, Select Varieties, 8 oz Bar, $1.99
–$0.50/1 Philadelphia Cream Cheese, Select Varieties, 8 oz Bar Kroger Super Saver Digital Coupon (use up to 5 times in a single transaction)
Silk or So Delicious Dairy Free Yogurt or Siggi's Icelandic Yogurt, Select Varieties, 5.3 oz, 4/$5
–$1/1 So Delicious Product printable
–$1/1 So Delicious Dairy-Free Product printable
–$1/2 Siggi's Yogurt printable
Fage Greek Yogurt, 5.3 to 7 oz, or Simple Truth Organic Yogurt, 5.3 oz, Clif Nut Butter Bar or Pure Protein Bar, 1.76 oz, Select Varieties, 10/$10
Kroger Sour Cream, Cottage Cheese or Dip, Select Varieties, 24 oz, $1.99
–$0.50/1 Kroger Sour Cream, Cottage Cheese or Dip, Select Varieties, 24 oz Kroger Super Saver Digital Coupon (use up to 5 times in a single transaction)
Horizon Organic Milk, Select Varieties, 64 fl oz, $4.49
–$1/1 Horizon Organic Milk, Select Varieties, 64 fl oz Kroger Super Saver Digital Coupon (use up to 5 times in a single transaction)
---
DELI
Private Seletion Hummus or Bean Dip, Select Varieties, 8 to 10 oz, $2.99
–$0.50/1 Private Seletion Hummus or Bean Dip, Select Varieties, 8 to 10 oz Kroger Super Saver Digital Coupon (use up to 5 times in a single transaction)
Stacy's Family Size Pita Chips, 18 oz, or Organic Pita Chips, 10.13 to 10.25 oz, Select Varieties, $5.49
–$1.50/1 Stacy's Family Size Pita Chips, 18 oz, or Organic Pita Chips, 10.13 to 10.25 oz, Select Varieties Kroger Super Saver Digital Coupon (use up to 5 times in a single transaction)
---
FROZEN
Marie Callender's Dinner or Bowl, 10.5 to 14 oz, or Healthy Choice Cafe Steamers or Complete Meal, 9.5 to 12 oz, Select Varieties, $2.29
–$0.50/1 Marie Callender's Dinner or Bowl, 10.5 to 14 oz, or Healthy Choice Cafe Steamers or Complete Meal, 9.5 to 12 oz, Select Varieties Kroger Super Saver Digital Coupon (use up to 5 times in a single transaction)
Michelina's Entree, 4.5 to 8.5 oz, or Kroger Frozen Vegetables, 10 to 12 oz, Select Varieties, 10/$10
–$1/5 Michelina's Lean Gourmet printable
Totino's Party Pizza, Select Varieties, 9.8 to 10.9 oz, 4/$5
–$1/4 Totino's Party Pizza, Select Varieties, 9.8 to 10.9 oz Kroger Super Saver Digital Coupon (use up to 5 times in a single transaction)
Ore-Ida Potatoes, Select Varieties, 14 to 32 oz, $2.79
–$1/1 Ore-Ida Potatoes, Select Varieties, 14 to 32 oz Kroger Super Saver Digital Coupon (use up to 5 times in a single transaction)
Breyers Ice Cream, 48 fl oz, or Ben & Jerry's, 16 fl oz, or Slices, 3 ct, Select Varieties, $3.99
–$1/1 Breyers Ice Cream, 48 fl oz, or Ben & Jerry's, 16 fl oz, or Slices, 3 ct, Select Varieties Kroger Super Saver Digital Coupon (use up to 5 times in a single transaction)
Birds Eye Vegetables, 9.5 to 14.4 oz, or Riced or Protein Blends, 10 to 12.7 oz, Select Varieties, $2.29
–$0.50/1 Birds Eye Vegetables, 9.5 to 14.4 oz, or Riced or Protein Blends, 10 to 12.7 oz, Select Varieties Kroger Super Saver Digital Coupon (use up to 5 times in a single transaction)
Tyson Chicken, 25 to 32 oz, or Kroger Frozen Meatballs, 26 oz, Select Varieties, $4.99
–$1/1 Tyson Chicken, 25 to 32 oz, or Kroger Frozen Meatballs, 26 oz, Select Varieties Kroger Super Saver Digital Coupon (use up to 5 times in a single transaction)
-$1.25/1 Tyson Chicken Strips or Tyson Any'tizers Snack Products, 01/20/19 RMN (exp 3/9/19) [Limit one coupon per transaction]
---
GROCERY
Nabisco Oreos, 10.1 to 15.35 oz, or Oreo Thin Bites, 6 to 6.4 oz, Select Varieties, $2.99
–$1.50/1 Nabisco Oreos, 10.1 to 15.35 oz, or Oreo Thin Bites, 6 to 6.4 oz, Select Varieties Kroger Super Saver Digital Coupon (use up to 5 times in a single transaction)
-$0.75/2 Nabisco Cookie or Cracker Products, 01/13/19 SS (exp 2/23/19) [3.5-oz.+]
Nabisco Chips Ahoy Cookies, Select Varieties, 6.98 to 13 oz, $2.79
–$0.50/1 Nabisco Chips Ahoy Cookies, Select Varieties, 6.98 to 13 oz Kroger Super Saver Digital Coupon (use up to 5 times in a single transaction)
-$0.75/2 Nabisco Cookie or Cracker Products, 01/13/19 SS (exp 2/23/19) [3.5-oz.+]
Powerade or Powerade Zero, Select Varieties, 32 oz, $0.69
Fritos or Cheetos, Select Varieties, 7 to 9.25 oz, $1.99
Pepsi or 7UP, 12 pk, 12 fl oz Cans or 8 pk, 12 fl oz Bottles, or Bubly Sparkling Water, 8 pk, 12 fl oz Cans, Select Varieties, 3/$11 (Final Cost wyb 3)
Pepsi or 7UP, Select Varieties, 6 pk, 16 to 16.9 fl oz Bottles, 4/$10 (Final Cost wyb 4)
General Mills Cereal, 10.6 to 15.2 oz, or Nature Valley or Fiber One Bars, 5 to 12 ct, Select Varieties, $2.79 (Ad shows Honey Nut Cheerios)
–$1/2 Nature Valley Granola Bars printable [5-ct.+; boxes] –$1/1 General Mills Cereal, 10.6 to 15.2 oz, or Nature Valley or Fiber One Bars, 5 to 12 ct, Select Varieties Kroger Super Saver Digital Coupon (use up to 5 times in a single transaction)
–$1/2 Nature Valley Granola Bars, Nature Valley Biscuits, Nature Valley Granola Cups, Nature Valley Layered Granola Bars, Nature Valley Soft-Baked Filled Squares, Nature Valley Protein Bars or Nature Valley Peanut or Almond Butter Granola Bites Pouch (Kroger Digital Coupon) [5-ct.+] –$1/2 Nature Valley Granola Bars printable [5-ct.+] –$1/2 Nature Valley Granola Bars, Nature Valley Biscuits, Nature Valley Granola Cups, Nature Valley Layered Granola Bars, Nature Valley Soft-Baked Filled Squares or Nature Valley Peanut or Almond Butter Granola Bites Pouch (SavingStar Deposit) [5-ct.+; boxes] -$0.50/2 Nature Valley Granola Bars, Biscuits, Granola Cups, Layered Granola Bars, Soft-Baked Filled Squares, or Peanut or Almond Butter Granola Bites Pouch, 01/06/19 SS (exp 3/2/19) [5-ct.+ granola bars] –$0.50/2 Fiber One Chewy Bars, Fiber One 90 Calorie Products and more printable
-$0.50/2 Fiber One Bars, 01/06/19 SS (exp 3/2/19)
Starkist Chunk Light Tuna, Select Varieties, 2.6 to 3 oz, 10/$10
Maruchan Ramen Noodle Soup, 6 pk, 3 oz, or Knorr Rice or Pasta Sides, 4 to 5.7 oz, Select Varieties, 10/$10
-$1/3 Maruchan Bowls, 01/20/19 SS (exp 3/31/19)
Kroger Bread, 20 oz, or Buns, 8 ct, or Hunt's Manwich Sloppy Joe Sauce, 15 to 16 oz Can, Select Varieties, 10/$10
Kroger Taco shells, 12 ct, or La Banderita Soft Taco Flour Tortillas, 10 ct, or Rosarita Refried Beans, 16 oz, or Pace Picante Sauce, 8 oz, Select Varieties, 10/$10
Kroger Toaster Treats, 8 ct, or Sunny D Citrus Punch, 64 fl oz, Select Varieties, 10/$10
Betty Crocker Muffin, Brownie or Cookie Mix, 6.5 to 10.25 oz, or Kroger Marshmallows, 10 oz, Select Varieties, 10/$10
Kroger or Theater Box Candy, Select Varieties, 3.5 to 11 oz, 10/$10
Lay's Potato Chips, Select Varieties, 5 to 8 oz, 2/$5
Quaker Cereal, 11.5 to 14 oz, or Pillsbury Crescents, Sweet Rolls, or Grands! Biscuits, 8 ct, Select Varieties, 2/$4
-$1/2 Quaker Old Fashioned, Quick or Instant Oats or Quaker Oatmeal Squares Cereal, 01/13/19 SS (exp 2/24/19)
Kroger Apple Juice, 64 fl oz, or Kroger Instant Oatmeal, 8 to 12 ct, Select Varieties, $1.49
–$0.50/1 Kroger Apple Juice, 64 fl oz, or Kroger Instant Oatmeal, 8 to 12 ct, Select Varieties Kroger Super Saver Digital Coupon (use up to 5 times in a single transaction)
Jif Peanut Butter, 28 oz, or Smucker's Strawberry Fruit Spread or Jam, 25 to 32 oz, Select Varieties, $3.99
–$1/1 Jif Peanut Butter, 28 oz, or Smucker's Strawberry Fruit Spread or Jam, 25 to 32 oz, Select Varieties Kroger Super Saver Digital Coupon (use up to 5 times in a single transaction)
Capri Sun, Select Varieties, 10 pk, 6 fl oz, $2.29
–$0.50/1 Capri Sun, Select Varieties, 10 pk, 6 fl oz Kroger Super Saver Digital Coupon (use up to 5 times in a single transaction)
Betty Crocker Fruit Snacks, Select Varieties, 6 to 10 ct, 2/$4
–$1/2 Betty Crocker Fruit Snacks, Select Varieties, 6 to 10 ct Kroger Super Saver Digital Coupon (use up to 5 times in a single transaction)
Sara Lee Bread, Select Varieties, 20 oz, $2.99
–$0.50/1 Sara Lee Bread, Select Varieties, 20 oz Kroger Super Saver Digital Coupon (use up to 5 times in a single transaction)
M&M's Party Size Candy, Select Varieties, 38 to 42 oz, $9.49
–$1.50/1 M&M's Party Size Candy, Select Varieties, 38 to 42 oz Kroger Super Saver Digital Coupon (use up to 5 times in a single transaction)
M&M's Valentine Candy, Select Varieties, 9.5 to 11.4 oz, 2/$6
-$1/2 Mars Wrigley Confectionery Chocolate Valentine's Day Items – 1-20-19 SS; Includes 3.7 – 24.89 oz Only (exp 02/16/19)
–$1/2 Valentine's M&M's, DOVE, SNICKERS, TWIX, CELEBRATIONS, FUN SIZE Exchange Bags (3.7oz or larger)
Kettle Brand Potato Chips, 13 oz, or Late July Tortilla Chips, 11 oz, Select Varieties, 2/$6
Vitaminwater or Vitaminwater Zero, 20 fl oz, or Smartwater Sportcap, 23.7 ofl oz, Select Varieties, 10/$10
Hershey's Lava Cake Kisses, Select Varieties, 9 to 11 oz, 2/$7
Russell Stover Chocolate Heart Box, Select Varieties, 3.25 to 14 oz, $9.99
Russell Stover Chocolates, Select Varieties, 8.25 to 12 oz, BOGO (no price listed)
Lindt Truffles, Select Varieties, 8.9 oz, $5.99
Sunshine Cheez-It Crackers, Select Varieties, 7.5 to 12.4 oz, $2.99
–$0.50/1 Sunshine Cheez-It Crackers, Select Varieties, 7.5 to 12.4 oz Kroger Super Saver Digital Coupon (use up to 5 times in a single transaction)
–$1/1 Sunshine Cheezit printable [Need 850 rewards points]
Coca-Cola, Select Varieties, 6 pk, 16.9 fl oz Bottles, 4/$12
–$4/4 Coca-Cola, Select Varieties, 6 pk, 16.9 fl oz Bottles Kroger Super Saver Digital Coupon (use up to 5 times in a single transaction)
Ruffles Potato Chips, 8.5 to 9 oz, or Tostitos Tortilla Chips, 10 to 13 oz, Select Varieties, $2.49
–$0.50/1 Ruffles Potato Chips, 8.5 to 9 oz, or Tostitos Tortilla Chips, 10 to 13 oz, Select Varieties Kroger Super Saver Digital Coupon (use up to 5 times in a single transaction)
Hellmann's Mayonnaise, Select Varieties, 20 to 30 fl oz, $3.79
–$0.50/1 Hellmann's Mayonnaise, Select Varieties, 20 to 30 fl oz Kroger Super Saver Digital Coupon (use up to 5 times in a single transaction)
-$1/1 Hellmann's Real Mayonnaise, 01/27/19 RMN (exp 2/24/19) [24-oz.+ jar; 11.5-oz.+ squeeze; 15-oz. organic; Maximum of 2 Identical Coupons Allowed in Same Shopping Trip; No Cash Back]
Maxwell House Coffee, 22 to 30.6 oz Can, or Gevalia or McCafe Coffee, 10 to 12 oz Bag, or K-Cups, 6 to 12 ct, Select Varieties, $6.99
–$1.50/1 Maxwell House Coffee, 22 to 30.6 oz Can, or Gevalia or McCafe Coffee, 10 to 12 oz Bag, or K-Cups, 6 to 12 ct, Select Varieties Kroger Super Saver Digital Coupon (use up to 5 times in a single transaction)
Ronzoni Pasta, Select Varieties, 10 to 16 oz, 4/$4
–$2/4 Ronzoni Pasta, Select Varieties, 10 to 16 oz Kroger Super Saver Digital Coupon (use up to 5 times in a single transaction)
Campbell's Condensed Soup, Select Varieties, 10.5 to 11.25 oz, 3/$4
–$1/3 Campbell's Condensed Soup, Select Varieties, 10.5 to 11.25 oz Kroger Super Saver Digital Coupon (use up to 5 times in a single transaction)
Kraft Macaroni & Cheese or Macaroni & Cheese, 5.5 to 7.25 oz, or Kool Aid Bursts, 6 pk, 6.75 fl oz, Select Varieties, 4/$4
–$1/4 Kraft Macaroni & Cheese or Macaroni & Cheese, 5.5 to 7.25 oz, or Kool Aid Bursts, 6 pk, 6.75 fl oz, Select Varieties Kroger Super Saver Digital Coupon (use up to 5 times in a single transaction)
Monster Energy Drink, Select Varieties, 4 pk, 15.5 to 16 fl oz, $7.99
–$2/1 Monster Energy Drink, Select Varieties, 4 pk, 15.5 to 16 fl oz Kroger Super Saver Digital Coupon (use up to 5 times in a single transaction)
---
HEALTH & BEAUTY
Neutrogena Acne Care, Select Varieties, 0.5 to 8.5 fl oz or 25 to 60 ct, B2G1
Pantene, Herbal Essences or Head & Shoulders Shampoo or Conditioner, Select Varieties, 12.8 to 33.8 fl oz, $5.99
-$2/2 Herbal Essences Shampoo, Conditioner, or Styling Products, 02/03/19 RMN (exp 2/16/19) [Excludes bio:renew]
Huggies Wipes, Select Varieties, 56 to 64 ct, $1.99
–$0.50/1 Huggies Wipes printable [48-ct.+] –$0.50/1 Huggies Wipes, Select Varieties, 56 to 64 ct Kroger Super Saver Digital Coupon (use up to 5 times in a single transaction)
–$1/2 Huggies Wipes printable
–$1/2 Huggies Wipes printable [56-ct.+]
Crest Complete Toothpaste, Select Varieties, 3.5 to 6.2 oz, $2.99
–$1/1 Crest Complete Toothpaste, Select Varieties, 3.5 to 6.2 oz Kroger Super Saver Digital Coupon (use up to 5 times in a single transaction)
Aussie Shampoo or Conditioner, Select Varieties, 12.1 to 13.5 fl oz, $2.99
–$1/1 Aussie Shampoo or Conditioner, Select Varieties, 12.1 to 13.5 fl oz Kroger Super Saver Digital Coupon (use up to 5 times in a single transaction)
-$2/2 Aussie Shampoo, Conditioner, or Styling Products, 02/03/19 RMN (exp 2/16/19) [ETS]
---
HOUSEHOLD
Tide Laundry Detergent, 92 to 100 fl oz, or Tide Pods, 32 to 42 ct, or Cascade Action Pacs, 36 to 60 ct, Select Varieties, $11.99
–$2/1 Tide Laundry Detergent, 92 to 100 fl oz, or Tide Pods, 32 to 42 ct, or Cascade Action Pacs, 36 to 60 ct, Select Varieties Kroger Super Saver Digital Coupon (use up to 5 times in a single transaction)
–$3/1 Tide Detergent printable [Excludes Tide PODS, Simply, Simply PODS, 10-oz. detergent and trial] –$3/1 Tide PODS printable [Excludes Tide Liquid/Powder detergent, Simply, Simply PODS, Tide PODS 9-ct. and below, and trial]
all Liquid Laundry Detergent, 32 to 50 fl oz, or Mighty Pacs, 22 to 24 ct, or Snuggle Fabric Softener, 31.7 to 32 oz, or Dryer Sheets, 70 to 80 ct, Select Varieties, $2.99
-FREE Snuggle Liquid Fabric Softener, 31.7 to 32 fl oz, or Sheets, 70 to 80 ct, wyb (2) all Liquid Laundry Detergent, 32 to 50 fl oz, or Mighty Pacs, 22 to 24 ct In-Ad Kroger Offer
-$1/1 all Product, 02/03/19 RMN (exp 3/9/19) [Excludes trial size] -$2/1 all Liquid Detergent, 02/03/19 RMN (exp 3/9/19) [94.5-oz.+; Excludes single dose and fabric softener] -$0.50/1 Snuggle Products, 02/03/19 RMN (exp 2/24/19) [Excludes trial size] -$1/2 Snuggle Products, 02/03/19 RMN (exp 2/24/19) [Excludes trial size]
Wilton Bakeware, Assorted Styles, 25% Off, Sale Price $2.99 to $26.24
Cottonelle Bathroom Tissue, 6 Mega Rolls, or Viva Paper Towels, 6 Big Rolls, Select Varieties, 2/$12 (Final Cost wyb 2)
–$0.50/1 Cottonelle Toilet Paper printable [6-Pack or Larger] –$0.55/1 Cottonelle Toilet Paper printable
–$0.55/1 Cottonelle Toilet Paper printable
–$0.55/1 Cottonelle Toilet Paper printable
–$0.75/1 Cottonelle Toilet Paper (Ibotta Deposit) [Any variety; Any size]
Downy Fabric Softener, 83 to 103 fl oz, or Downy Unstopables or Gain Fireworks, 14.8 oz, or Bounce Dryer Sheets, 200 ct, Select Varieties, $8.99
–$2/1 Downy Fabric Softener, 83 to 103 fl oz, or Downy Unstopables or Gain Fireworks, 14.8 oz, or Bounce Dryer Sheets, 200 ct, Select Varieties Kroger Super Saver Digital Coupon (use up to 5 times in a single transaction)
-$1/1 Downy Liquid Fabric Conditioner, Bounce/Downy Sheets, or In Wash Scent Boosters, 01/27/19 P&G (exp 2/23/19) [48+ load Downy Liquid Fabric Conditioner; 70-ct.+ Bounce/Downy Sheets; 6.5-oz.+ In Wash Scent Boosters; Excludes Downy Libre Enjuague and Gain Fireworks; Limit of 2 identical coupons per household per day; No cash back]
Energizer Batteries, Select Varieties, AA/AAA, 8 pk, $6.49
–$1/1 Energizer Batteries, Select Varieties, AA/AAA, 8 pk Kroger Super Saver Digital Coupon (use up to 5 times in a single transaction)
–$5 Rewards wyb $15 of Energizer Battery or Lights Purchase, exp. 3/31/19 (Energizer Holiday Rewards) [Text Holiday5 to 811811 for submission instructions; FOUR Rewards (any combo) per person/household/e-mail address.]
Candy Arrangements, Select Varieties, $19.99 and up
Rose Arrangements, Select Varieties & Sizes, $49.99 and up
HD Valentine's Throws, Assorted Styles, 20% Off, Sale Price is $11.99
Tuscany Valentine's Jar Candles or Wax Melts, Select Varieties, 20% Off, Sale Price $1.59 to $7.99
Holiday Home Plush, Assorted Styles, 20% Off
---
MEAT
Jimmy Dean Breakfast Sausage, Select Varieties, 9.6 to 16 oz, $2.99
–$1/1 Jimmy Dean Breakfast Sausage, Select Varieties, 9.6 to 16 oz Kroger Super Saver Digital Coupon (use up to 5 times in a single transaction)
–$0.65/1 Jimmy Dean Fully Cooked All Natural Links and Patties (Ibotta Deposit) [Turkey and Pork varieties; Select sizes]
Fresh Heritage Farm Chicken Drumsticks, Thighs or Whole Fryer, Bone-In, $0.88/lb
Half Boneless New York Strip Loin, $6.99/lb
Boneless Strip Steak, Family Pack, $8.99/lb
Oscar Mayer Lunchables, Select Varieties, 2.25 to 4.4 oz, 10/$10
Oscar Mayer Lunch Meat, Select Varieties, 14 to 16 oz, $2.99
–$1/1 Oscar Mayer Lunch Meat, Select Varieties, 14 to 16 oz Kroger Super Saver Digital Coupon (use up to 5 times in a single transaction)
Gwaltney Hot Dogs, Select Varieties, 12 oz, 10/$10
Bar-S Meat Bologna, Select Varieties, 16 oz, 10/$10
Wright Bacon, Select Varieties, 24 oz, $7.99
-$1/1 Wright Brand Bacon Package, 01/27/19 RMN (exp 3/10/19) [DND]
Assorted Pork Chops, Bone-In, Family Pack, $1.99/lb
Fersh Ground Beef, 80% Lean, Sold in 3 lb Package for $10.47, $3.49/lb
Boneless Flat Iron Steaks, $6.99/lb
Fresh Heritage Farm Boneless Chicken Tenders or Thin Sliced Chicken, $2.99/lb
Kroger Bacon Wrapped Beef Tenderloin, 6 oz, $3.99
Fresh Laura's Lean Ground Beef, 92% Lean, 16 oz, No Antibiotics Ever, $5.99
–$1/1 Laura's Lean Beef Product printable
Boneless Whole Beef Tenderloin, $9.99/lb
Filet Mignon Steaks, $12.99/lb
Hillshire Farm Smoked Sausage, Select Varieties, 12 to 14 oz, $2.49
–$0.50/1 Hillshire Farm Smoked Sausage, Select Varieties, 12 to 14 oz Kroger Super Saver Digital Coupon (use up to 5 times in a single transaction)
---
PRODUCE
Medium Hass Avocados, $0.77
Halo Seedless Clementines, 5 lb, $4.88
Halo Seedless Clementines, 3 lb, $3.99
Simple Truth Organic Fuji, Gala, Granny Smith or Pink Lady Apples, 2 lb Pouch, $3.99
Simple Truth Pistachios Kernels, 6 oz, $4.69
–$0.70/1 Simple Truth Pistachios Kernels, 6 oz Kroger Super Saver Digital Coupon (use up to 5 times in a single transaction)
Organic Blueberries, 6 oz, $2.99
Yellow Peaches, Nectarines, Red or Black Plums, $1.99/lb
Autumn Glory, Jazz or Kiku Apples, $1.99/lb
Magnificent Melons or Whole Pineapples, 2/$5
Cara Cara or Heirloom Navel Oranges, 3 lb Bag, or Blood Oranges, 2 lb Bag, $3.99
Private Selection Gourmet Potatoes, 1.5 lb Bag, or Sweet Yellow Onions, 5 lb Bag, $2.99
Bloom Haus Duet Bouquet, 15 Stem, $15
Phalaenopsis Orchid, 5", $15 and up
Bloom Haus Dozen Roses, 12 Stem, $20
Fresh Arrangements, Select Varieties & Sizes, $29.99 and up
Valentine's Shimmer Bouquet, 13 Stem, $13.99
---
SEAFOOD
Extra Large EZ Peel Shrimp, Raw, 21 to 25 ct, Sold in a 2 lb Bag for $13.98, $6.99/lb
Fresh Atlantic Salmon Fillets, Farm-Raised, $7.99/lb
Fresh Catfish or Tilapia Fillets, Farm-Raised, $4.99/lb
Wild Lobster Tails, Frozen, 4 to 6 oz, 2/$12