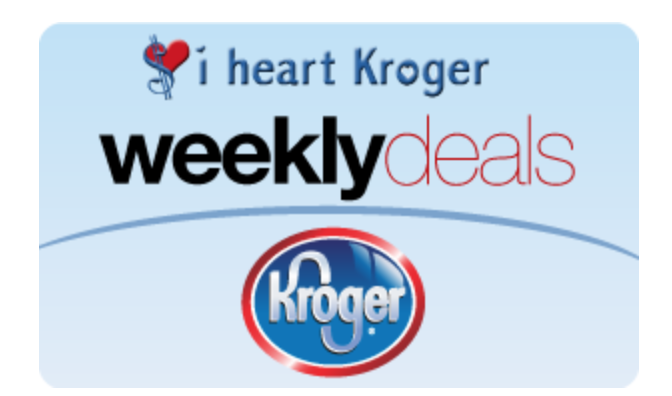 Here is the Kroger Ad and coupon matchups which start Wednesday, 2/6 and runs through Tuesday 2/12 in the Southeast. This week we have a big digital coupon event. Look for the coupon over on the Kroger site starting Wednesday. With these coupons you simply load them once and then redeem them up to FIVE times in one transaction.

If you are headed to Kroger this week don't forget to load your digital coupons from SavingStar, Cellfire and the Kroger Digital Coupons too. You might want to check your cash back apps (Ibotta, Checkout 51, Mobisave and BerryCart) for any matching deals that you might like. Also, be sure to check out the Catalina deals before you shop.
As always, the check mark
indicates either a great stockpile price or a stockpile price with coupon(s). And keep in mind that we have a shopping list feature on the site. If you need help, just visit the HELP PAGE to see how to use it.
BAKERY
Private Selection Cheesecake, Plain or Strawberry, 16 oz, $5.99
Frosted Sugar Cookies, Select Varieties, 10 ct, $3.99
Valentine's Decorated Colossal Cake, Select Varieties, 24 oz, $9.99
Valentine's Decorated Cupcakes, Select Varieties, 6 ct, $4.99
Chocolate Dipped Strawberries, 6 ct, $8.99
---
BEER & WINE (10% Off Any 6 Bottles of Wine, 2/7 to 2/10)
La Marca, Select Varieties, 750 ml, $12.99
Korbel, Select Varieties, 750 ml, $12.99
Bud, Miller, Coors or Yuengling, Select Varieties, 24 pk, 12 fl oz Bottles or Cans, $18.99
Michelob Ultra, White Claw or Mike's, Select Varieties, 12 pk, 11.2 to 12 fl oz Bottles or Cans, $12.99
Corona, Stella Artois or Heineken, Select Varieties, 12 pk, 11.2 to 12 fl oz Bottles or Cans, $13.99
Busch Light, Natural Light, Pabst or Miller High Life, Select Varieties, 30 pk, 12 fl oz Cans, $18.99
Terrapin or Sweetwater or New Belgium, 12 pk, 12 fl oz Bottles or Cans, Select Varieties, $14.99
Lagunitas or Sierra Nevada, Select Varieties, 6 pk, 12 fl oz Bottles or Cans, $8.99
Stella Srptizer or Anrgy Orchard Rosé, Select Varieties, 6 pk, 12 fl oz Bottles or Cans, $8.49
Chloe or Hedgeline, Select Varieties, 750 ml, $10.99
Magistrate or Apothic, Select Varieties, 750 ml, $8.99
Bay Bridge, Select Varieties, 750 ml, $2.97
Cupcake, Select Varieties, 750 ml, $7.99
Fetzer or Sutter Home, Select Varieties, 750 ml, 2/$10
Chandon Sparkling Wine or Meiomi, Select Varieties, 750 ml, $14.99
Hawkstone Napa Merlot, 750 ml, $18.99
---
DAIRY
Kroger Butter, Select Varieties, 16 oz, $3.19
–$1.20/1 Kroger Butter, Select Varieties, 16 oz Kroger Super Saver Digital Coupon (use up to 5 times in a single transaction)
Kroger Milk, Select Varieties, Half Gallon (Excluding Chocolate & Buttermilk), $0.99 (Limit 6)
Kroger Cheese, 8 oz, or Kroger Natural Cheese Slices, 6 oz, Select Varieties, $1.88
Philadelphia Cream Cheese, 8 oz Bar, or Kroger Cottage Cheese or Sour Cream, 24 oz, Select Varieties, $1.99
–$0.50/1 Philadelphia Cream Cheese, 8 oz Bar, or Kroger Cottage Cheese or Sour Cream, 24 oz, Select Varieties Kroger Super Saver Digital Coupon (use up to 5 times in a single transaction)
Pillsbury Crescents, Sweet Rolls or Grands! Biscuits, Select Varieties, 8 ct, 2/$4
–$1/3 Pillsbury Refrigerated Baked Goods Products
-$1/3 Pillsbury Refrigerated Baked Goods Products, exp. 2/23/19 (SS 12/02/18)
–$1/3 Pillsbury Refrigerated Baked Goods Products, any variety or size. Kroger Digital
Almond Breeze Almondmilk, Select Varieties, 64 fl oz, $2.79
Simple Truth Organic Brown Eggs, Grade A, Large, 12 ct, Select Varieties, $3.99
Sargento Balanced Breaks, Select Varieties, 3 ct, $3.79
–$1/1 Sargento Balanced Breaks, Select Varieties, 3 ct Kroger Super Saver Digital Coupon (use up to 5 times in a single transaction)
-$0.50/1 Sargento Balanced Breaks, 01/06/19 SS (exp 3/31/19)
-$0.50/1 Sargento Sweet Balanced Breaks, 01/06/19 SS (exp 3/31/19)
I Can't Believe It's Not Butter, Select Varieties, 8 to 16 oz, $2.99
–$1/1 I Can't Believe It's Not Butter, Select Varieties, 8 to 16 oz Kroger Super Saver Digital Coupon (use up to 5 times in a single transaction)
–$0.50/1 I Cant Believe Its Not Butter! Product (Kroger Digital Coupon)
Dannon Activia or Danimals Yogurt, Select Varieties, 4 to 6 ct, $2.49
–$1/1 Dannon Activia or Danimals Yogurt, Select Varieties, 4 to 6 ct Kroger Super Saver Digital Coupon (use up to 5 times in a single transaction)
Sargento Cheese, 6.67 to 8 oz, or Laughing Cow Wedges or Dippers, 6 to 6.2 oz, Select Varieties, $2.99
–$1/1 Sargento Cheese, 6.67 to 8 oz, or Laughing Cow Wedges or Dippers, 6 to 6.2 oz, Select Varieties Kroger Super Saver Digital Coupon (use up to 5 times in a single transaction)
Horizon Organic Milk, Select Varieties, 64 fl oz, $4.49
–$1/1 Horizon Organic Milk, Select Varieties, 64 fl oz Kroger Super Saver Digital Coupon (use up to 5 times in a single transaction)
Coffee-mate Creamer, 32 fl oz, or Minute Maid Orange Juice, 59 fl oz, Select Varieties, $2.99
–$0.50/1 Coffee-mate Creamer, 32 fl oz, or Minute Maid Orange Juice, 59 fl oz, Select Varieties Kroger Super Saver Digital Coupon (use up to 5 times in a single transaction)
---
DELI
Fresh Foods Market Hand Breaded Chicken Tenders, Select Varieties, $6.99/lb
Private Selection Hummus or Bean Dip, Select Varieties, 8 to 10 oz, $2.99
–$0.50/1 Private Selection Hummus or Bean Dip, Select Varieties, 8 to 10 oz Kroger Super Saver Digital Coupon (use up to 5 times in a single transaction)
Stacy's Pita Family Size Chips, 18 oz, or Organic Pita Chips, 10.13 to 10.25 oz, Select Varieties, $5.49
–$1.50/1 Stacy's Pita Family Size Chips, 18 oz, or Organic Pita Chips, 10.13 to 10.25 oz, Select Varieties Kroger Super Saver Digital Coupon (use up to 5 times in a single transaction)
–$1.99/1 Stacy's Pita Chips (Kroger Digital Coupon) [Use up to 5 times in a single transaction. Offer valid only when you purchase using Pickup. Exclusive coupons valid for curbside pickup only. Not valid on delivery orders.]
---
FROZEN
Breyers Ice Cream, 48 fl oz, or Ben & Jerry's Ice Cream, 16 fl oz or 3 ct, Select Varieties, $3.49
–$1/1 Breyers Ice Cream, 48 fl oz, or Ben & Jerry's Ice Cream, 16 fl oz or 3 ct, Select Varieties Kroger Super Saver Digital Coupon (use up to 5 times in a single transaction)
Private Selection Ice Cream, Select Varieties, 48 fl oz, $4.99
Simple Truth Organic Fruit, Select Varieties, 10 oz, $2.79
Halo Top Ice Cream, Select Varieties, 16 fl oz, $3.99
Amy's Bowls, 8.5 to 10 oz, or Simple Truth Oatmeal Bites, 4.64 oz, Select Varieties, 2/$7
Marie Callender's Large Pot Pie, Select Varieties, 15 oz, $2.49
–$0.50/1 Marie Callender's Large Pot Pie, Select Varieties, 15 oz Kroger Super Saver Digital Coupon (use up to 5 times in a single transaction)
Foster Farms Corn Dogs, 16 to 40 ct, or Private Selection Stone Fried Pizza, 15.3 to 19.3 oz, Select Varieties, $5.49
–$1/1 Foster Farms Corn Dogs, 16 to 40 ct, or Private Selection Stone Fried Pizza, 15.3 to 19.3 oz, Select Varieties Kroger Super Saver Digital Coupon (use up to 5 times in a single transaction)
Chung's Egg Rolls, Select Varieties, 4 to 5 ct, 3/$10
Marie Callender's Bowl, 10.5 to 14 oz, or Healthy Choice Café Steamers or Complete Meal, 9.5 to 12 oz, $2.49
–$0.50/1 Marie Callender's Bowl, 10.5 to 14 oz, or Healthy Choice Café Steamers or Complete Meal, 9.5 to 12 oz Kroger Super Saver Digital Coupon (use up to 5 times in a single transaction)
Ore-Ida Frozen Potatoes, Select Varieties, 14 to 32 oz, $2.79
–$1/1 Ore-Ida Frozen Potatoes, Select Varieties, 14 to 32 oz Kroger Super Saver Digital Coupon (use up to 5 times in a single transaction)
Birds Eye Vegetables or Protein Blends, Select Varieties, 10 to 14.4 oz, $2.29
–$0.50/1 Birds Eye Vegetables or Protein Blends, Select Varieties, 10 to 14.4 oz Kroger Super Saver Digital Coupon (use up to 5 times in a single transaction)
Totino's Party Pizza, Select Varieties, 9.8 to 10.9 oz, 4/$5
–$1/4 Totino's Party Pizza, Select Varieties, 9.8 to 10.9 oz Kroger Super Saver Digital Coupon (use up to 5 times in a single transaction)
Tyson Frozen Chicken, 25 to 32 oz, or Kroger Chicken Meatballs, 26 oz, Select Varieties, $4.99
–$1/1 Tyson Frozen Chicken, 25 to 32 oz, or Kroger Chicken Meatballs, 26 oz, Select Varieties Kroger Super Saver Digital Coupon (use up to 5 times in a single transaction)
-$1.25/1 Tyson Chicken Strips or Tyson Any'tizers Snack Products, 01/20/19 RMN (exp 3/9/19) [Limit one coupon per transaction]
---
GROCERY
Private Selection Bread, Select Varieties, 24 oz, $1.88
Coca-Cola, Select Varieties, 6 pk, 16.9 oz Bottles, 4/$12
–$4/4 Coca-Cola, Select Varieties, 6 pk, 16.9 oz Bottles Kroger Super Saver Digital Coupon (use up to 5 times in a single transaction)
Sunshine Cheez-It, 7.5 to 12.4 oz, or Nabisco Chips Ahoy Cookies, 6.96 to 13 oz, Select Varieties, $2.49
–$0.50/1 Sunshine Cheez-It, 7.5 to 12.4 oz, or Nabisco Chips Ahoy Cookies, 6.96 to 13 oz, Select Varieties Kroger Super Saver Digital Coupon (use up to 5 times in a single transaction)
Tostitos Tortilla Chips, 10 to 13 oz, or Ruffles Potato Chips, 8.5 to 9 oz, Select Varieties, $2.38
–$0.50/1 Tostitos Tortilla Chips, 10 to 13 oz, or Ruffles Potato Chips, 8.5 to 9 oz, Select Varieties Kroger Super Saver Digital Coupon (use up to 5 times in a single transaction)
Kroger Lite Soy Sauce, Select Varieties, 10 fl oz, $0.99
Golden Star Jasmine Rice, 32 oz, $2.29
Deer Park Spring Water, 24 pk, 16.9 fl oz, or Deer Park Sparkling Water, 8 pk, 12 fl oz Cans or 8 pk, 16.9 fl oz Bottles, Select Varieties, 3/$10
Pepsi or 7UP, Select Varieties, 2 Liter, $0.99 (Final Cost wyb 4)
Starbucks Coffee, 11 to 12 oz Bag, or K-Cups, 6 to 10 ct, Select Varieties, $6.99
Starkist Chunk Light Tuna, 2.6 to 3 oz Pouch, or Annie's Macaroni & Cheese, 5.25 to 6 oz, Select Varieties, 10/$10
Vitaminwater or Vitaminwater Zero, 20 fl oz, or Smartwater Sportcap, 23.7 fl oz, or Body Armor Sports Drink, 16 to 23.7 oz, Select Varieties, 10/$10
Hostess Multipack Snack Cakes, 8.68 to 15.23 oz, or Hostess Mini Muffins, 8.25 oz, Select Varieties, 2/$5
Dave's Killer Organic Thin Sliced Bread, 20.5 oz, or Bagels, 5 ct, Select Varieties, $4.79
Dasani Water, Select Varieties, 24 pk, 16.9 fl oz, $4.99
–$1/1 Dasani Water, Select Varieties, 24 pk, 16.9 fl oz Kroger Super Saver Digital Coupon (use up to 5 times in a single transaction)
Capri Sun, Select Varieties, 10 pk, 6 fl oz, $2.29
–$0.50/1 Capri Sun, Select Varieties, 10 pk, 6 fl oz Kroger Super Saver Digital Coupon (use up to 5 times in a single transaction)
Betty Crocker Fruit Snacks, Select Varieties, 6 to 10 ct, 2/$4
–$1/2 Betty Crocker Fruit Snacks, Select Varieties, 6 to 10 ct Kroger Super Saver Digital Coupon (use up to 5 times in a single transaction)
-$1/3 Betty Crocker Fruit Snacks – 1-6-19 SS (exp 03/02/19)
-$0.50/2 Betty Crocker Fruit Snacks – 1-6-19 SS (exp 03/02/19)
Minute Maid Fruit Drink or Ade, Select Varieties, 59 fl oz, $1.49
–$0.50/1 Minute Maid Fruit Drink or Ade, Select Varieties, 59 fl oz Kroger Super Saver Digital Coupon (use up to 5 times in a single transaction)
Gatorade or G2, Select Varieties, 18 pk, 12 fl oz, $8.99
–$1/1 Gatorade or G2, Select Varieties, 18 pk, 12 fl oz Kroger Super Saver Digital Coupon (use up to 5 times in a single transaction)
Monster Energy Drink, Select Varieties, 4 pk, 15.5 to 16 fl oz, $7.99
–$2/1 Monster Energy Drink, Select Varieties, 4 pk, 15.5 to 16 fl oz Kroger Super Saver Digital Coupon (use up to 5 times in a single transaction)
Kraft Macaroni & Cheese, 7.25 oz, or Kraft Macaroni & Cheese Shapes, 5.5 oz, or Kool-Aid Bursts, 6 pk, 6.75 fl oz, 4/$4
–$1/4 Kraft Macaroni & Cheese, 7.25 oz, or Kraft Macaroni & Cheese Shapes, 5.5 oz, or Kool-Aid Bursts, 6 pk, 6.75 fl oz Kroger Super Saver Digital Coupon (use up to 5 times in a single transaction)
Kroger Apple Juice, 64 fl oz, or Kroger Instant Oatmeal, 8 to 12 ct, Select Varieties, $1.49
–$0.50/1 Kroger Apple Juice, 64 fl oz, or Kroger Instant Oatmeal, 8 to 12 ct, Select Varieties Kroger Super Saver Digital Coupon (use up to 5 times in a single transaction)
Ronzoni Pasta, Select Varieties, 10 to 16 oz, 4/$4
–$2/4 Ronzoni Pasta, Select Varieties, 10 to 16 oz Kroger Super Saver Digital Coupon (use up to 5 times in a single transaction)
Chicken of the Sea Chunk Light Tuna, Select Varieties, 5 oz Can, 4/$4
–$1/4 Chicken of the Sea Chunk Light Tuna, Select Varieties, 5 oz Can Kroger Super Saver Digital Coupon (use up to 5 times in a single transaction)
Jif Peanut Butter, 28 oz, or Smucker's Strawberry Fruit Spread or Jam, 25 to 32 oz, Select Varieties, $3.99
–$1/1 Jif Peanut Butter, 28 oz, or Smucker's Strawberry Fruit Spread or Jam, 25 to 32 oz, Select Varieties Kroger Super Saver Digital Coupon (use up to 5 times in a single transaction)
Wei-Chuan Lo Mein Noodles, 16 oz, 2/$3
Wei-Chuan Gyoza Wrappers, 42 ct, 10/$10
Huy Fong Sriracha Sauce, 28 oz, $2.99
Sun Luck Sesame Oil, 5 fl oz, 2/$5
Kikkoman Soy or Teriyaki Sauce, Select Varieties, 10 fl oz, $1.88
–$0.55/1 Kikkoman Product; Includes 10 oz or Larger Only
-$0.55/1 Kikkoman Product – 1-20-19 SS; Includes 10 oz or Larger only; DND (exp 03/31/19)
-$1/2 Kikkoman Product – 1-20-19 SS; Includes 10 oz or Larger Only; DND (exp 03/31/19)
–$1/2 Kikkoman Sauces – Checkout 51 Rebate; Includes 10 oz or Larger Only; Excludes Teriyaki Takumi, Stir-Fry Sauces and Orange Sauces; Cannot use this offer with any other print or in-app coupon or rebate; Offers May Vary by Account; Limit 1
–$1/2 Kikkoman Sauces – SavingStar eCoupon; Includes 10 oz or Larger Only; Excludes Kikkoman Teriyaki Takumi, Stir-Fry Sauces, and Orange Sauces (exp 02/27/19)
-$0.55/1 Kikkoman Product – Kroger Digital Coupon (exp 03/02/19)
Thai Kitchen Coconut Milk, Select Varieties, 13.66 fl oz, $1.99
Maruchan Ramen Baby Packs, Select Varieties, 12 pk, 3 oz, $1.99
Ferrero Rocher Diamond Gift Box, Select Varieties, 9.1 to 10.8 oz, $10.49
Hershey's Valentine or Lava Cake Kisses, Select Varieties, 9 to 11 oz, 2/$7
Russell Stover Chocolates, Select Varieties, 8.25 to 12 oz, BOGO (no price listed)
Lindt Truffles, Select Varieties, 8.9 oz, $5.99
–$1/1 Lindt LINDOR Bag or Cornet 0.8 oz, or greater
Duncan Hines or Signature Cake or Classic Cake Mix, Select Varieties, 15.25 oz, BOGO (no price listed)
Russell Stover Chocolate Heart Boxes, Select Varieties, 3.25 to 14 oz, $9.99
M&M's Valentine Candy, Select Varieties, 9.5 to 11.4 oz, 2/$6
-$1/2 Mars Wrigley Confectionery Chocolate Valentine's Day Items – 1-20-19 SS; Includes 3.7 – 24.89 oz Only (exp 02/16/19)
Sara Lee Bread, Select Varieties, 20 oz, $2.99
–$0.50/1 Sara Lee Bread, Select Varieties, 20 oz Kroger Super Saver Digital Coupon (use up to 5 times in a single transaction)
Simple Truth Pistachio Kernels, 6 oz, $4.69
–$0.70/1 Simple Truth Pistachio Kernels, 6 oz Kroger Super Saver Digital Coupon (use up to 5 times in a single transaction)
General Mills Cereal, 10.6 to 15.2 oz, or Nature Valley Bars, 5 to 12 ct, or Fiber One Bars, 5 to 6 ct, Select Varieties, $2.99
–$1/1 General Mills Cereal, 10.6 to 15.2 oz, or Nature Valley Bars, 5 to 12 ct, or Fiber One Bars, 5 to 6 ct, Select Varieties Kroger Super Saver Digital Coupon (use up to 5 times in a single transaction)
-$1/2 General Mills Fiber One, Chex, MultiGrain Cheerios, Wheaties, Basic 4, Raisin Nut Bran, Oatmeal Crisp, Nature Valley, Total, or Nature Valley Granola Pouches Cereals – 1-27-19 SS (exp 03/09/19)
-$1/2 General Mills Boxed Cereals – 1-27-19 SS; Includes Lucky Charms, Lucky Charms Frosted Flakes, Reese's Puffs, Cinnamon Toast Crunch, French Toast Crunch, Apple Cinnamon Toast Crunch, Chocolate Toast Crunch, Churros, Cocoa Puffs, Trix, Cookie Crisp, Golden Grahams, Kix, or Blasted Shreds (exp 03/09/19)
-$2/4 General Mills Boxed Cereal – 1-6-19 SS; Includes cheerios, cinnamon toast crunch, lucky charms, reese's puffs, chex, blasted shreds, cocoa puffs, trix, cookie crisp, golden grahams, kix, fiber one, Wheaties, raisin nut bran, total, basic 4, oatmeal crisp, nature valley cereal, or nature valley granola pouches (exp 02/16/19)
-$1/2 Nature Valley Granola Bars – 1-6-19 SS; Includes 5 ct or Larger Only (exp 03/02/19)
-$0.50/2 Nature Valley Granola Bars – 1-6-19 SS; Includes 5 ct or Larger Only (exp 03/02/19)
-$1/2 Fiber One Bars – 1-6-19 SS (exp 03/02/19)
-$0.50/2 Fiber One Bars – 1-6-19 SS (exp 03/02/19)
–$0.50/1 Honey Nut Cheerios OR Honey Nut Cheerios Medley Crunch cereal
–$0.50/1 Original Cheerios cereal (the one in the yellow box)
–$0.50/1 Lucky Charms, Chocolate Lucky Charms OR Lucky Charms Frosted Flakes cereal
–$0.50/1 Multi Grain Cheerios cereal
–$0.50/1 Nature Valley Crunchy Granola Snack Mix
–$0.50/1 Protein One 90 Calorie Bars
–$0.50/1 Food Should Taste Good Tortilla Chips OR Bean Chips
–$0.50/2 Fiber One Chewy Bars, Fiber One 90 Calorie Products (Bars or Brownies)
–$1/2 Nature Valley Granola Bars, Nature Valley Biscuits 5ct or larger
Hellmann's Mayonnaise, Select Varieties, 20 to 30 fl oz, $3.79
–$0.50/1 Hellmann's Mayonnaise, Select Varieties, 20 to 30 fl oz Kroger Super Saver Digital Coupon (use up to 5 times in a single transaction)
Campbell's Condensed Soup, Select Varieties, 10.5 to 11.25 oz, 3/$4
–$1/3 Campbell's Condensed Soup, Select Varieties, 10.5 to 11.25 oz Kroger Super Saver Digital Coupon (use up to 5 times in a single transaction)
Maxwell House Coffee, 22 to 30.6 oz Can, or Gevalia or McCafe Coffee, 10 to 12 oz Bag or K-Cups, 6 to 12 ct, Select Varieties, $6.99
–$1.50/1 Maxwell House Coffee, 22 to 30.6 oz Can, or Gevalia or McCafe Coffee, 10 to 12 oz Bag or K-Cups, 6 to 12 ct, Select Varieties Kroger Super Saver Digital Coupon (use up to 5 times in a single transaction)
Chef Boyardee Pasta, 14.5 to 15 oz Can, or Hunt's Snack Pack Pudding, 4 ct, Select Varieties, 5/$5
–$1/5 Chef Boyardee Pasta, 14.5 to 15 oz Can, or Hunt's Snack Pack Pudding, 4 ct, Select Varieties Kroger Super Saver Digital Coupon (use up to 5 times in a single transaction)
M&M's Party Size Candy, Select Varieties, 38 to 42 oz, $9.49
–$1.50/1 M&M's Party Size Candy, Select Varieties, 38 to 42 oz Kroger Super Saver Digital Coupon (use up to 5 times in a single transaction)
---
HEALTH & BEAUTY
Dr. Teal's Epsom Salts, Select Varieties, 3 lb, $4.99
Nivea Body Lotion, Select Varieties, 16.9 fl oz, $4.99
-$2/1 Nivea Body Lotion, In Shower Lotion or Creme – 2-3-19 RMN; Excludes Trial and Travel Size (exp 03/02/19)
Nature's Bounty Vitamins, 25 ot 350 ct or 2 to 16 fl oz, or Osteo Bi-Flex Supplements, 28 to 150 ct, Select Varieties, BOGO (no price listed)
-$2/1 Nature's Bounty Optimal Solutions Vitamin or Supplement – 2-3-19 RMN; Limit (1) Like Coupon (exp 03/31/19)
-$1/1 Nature's Bounty Vitamin or Supplement – 2-3-19 RMN; Limit (1) Like Coupon (exp 03/31/19)
–$1.00/1 Nature's Bounty Vitamin – Kroger Digital Coupon (exp 02/05/19)
Crest Toothpaste, Select Varieties, 3.5 to 6.2 oz, $2.99
–$1/1 Crest Toothpaste, Select Varieties, 3.5 to 6.2 oz Kroger Super Saver Digital Coupon (use up to 5 times in a single transaction)
-$1/1 Crest Toothpaste or Liquid Gel – 1-27-19 PG; Includes 3 oz or Larger only; Excludes Trial and Travel Size, excludes 4.6 oz Crest Cavity, Baking Soda or Tartar Control/Protection, Kids, Limit 2 (exp 02/09/19)
Huggies Big Pack Diapers, Select Varieties, Size NB to 6, 42 to 112 ct, $18.99
–$3/1 Huggies Big Pack Diapers, Select Varieties, Size NB to 6, 42 to 112 ct Kroger Super Saver Digital Coupon (use up to 5 times in a single transaction)
–$1.00/1 Huggies Diapers
Huggies Wipes, Select Varieties, 56 to 64 ct, $1.99
–$0.50/1 Huggies Wipes, Select Varieties, 56 to 64 ct Kroger Super Saver Digital Coupon (use up to 5 times in a single transaction)
–$1/2 Huggies Baby Wipes; Includes 300 ct or Larger Only; DND
U by Kotex Pads, Tampons or Liners, Select Varieties, 28 to 96 ct, $5.49
–$1/1 U by Kotex Pads, Tampons or Liners, Select Varieties, 28 to 96 ct Kroger Super Saver Digital Coupon (use up to 5 times in a single transaction)
-$3/2 U by Kotex Pads – 1-6-19 SS; Excludes Trial and Travel Size (exp 02/09/19)
-$3/2 U by Kotex Liners – 1-6-19 SS; Excludes 14 – 22 c t (exp 02/09/19)
-$3/2 U by Kotex Tampons – 1-6-19 SS; Excludes Trial and Travel Size (exp 02/09/19)
Softsoap Liquid Hand Soap, Select Varieties, 7.5 fl oz, $1.19
–$0.50/1 Softsoap Liquid Hand Soap, Select Varieties, 7.5 fl oz Kroger Super Saver Digital Coupon (use up to 5 times in a single transaction)
Aussie Shampoo or Conditioner, Select Varieties, 12.1 to 13.5 fl oz, $2.99
–$1/1 Aussie Shampoo or Conditioner, Select Varieties, 12.1 to 13.5 fl oz Kroger Super Saver Digital Coupon (use up to 5 times in a single transaction)
-$2/2 Aussie Shampoo, Conditioner, or Styling Products – 2-3-19 RMN; Excludes Trial and Travel Size (exp 02/16/19)
---
HOUSEHOLD
Cottonelle Bathroom Tissue, 6 Mega Rolls, or Viva Paper Towels, 6 Big Rolls, Select Varieties, 2/$12 (Final Cost wyb 2)
–$0.50/1 Cottonelle Toilet Paper; Includes 6 pk or Larger Only
–$0.55/1 Cottonelle Bath Tissue; Includes 12 ct or Larger; Must Log-in or Sign up; DND
-$0.50/1 Cottonelle Toilet Paper – 1-6-19 SS; Includes 6 pk or Larger Only (exp 02/03/19)
–$0.50/1 Viva Paper Towel; Includes 6 pk or Larger Only
$1/1 Viva Paper Towels; Includes 6 pk or Larger
-$0.50/1 Viva Paper Towels – 1-6-19 SS; Includes 6 pk or Larger Only (exp 02/03/19)
all Liquid Laundry Detergent, 32 to 50 fl oz, or Mighty Pacs, 22 to 24 ct, or Snuggle Fabric Softener, 31.7 to 32 fl oz, or Dryer Sheets, 70 to 80 ct, Select Varieties, $2.99
-FREE Snuggle Liquid Fabric Softener, 31.7 to 32 fl oz or 70 to 80 sheets, wyb (2) all Liquid Laundry Detergent, 32 to 50 fl oz, or Mighty Pacs, 22 to 24 ct In-Ad Kroger Offer
-$0.50/1 Snuggle Product – 2-3-19 RMN; Excludes Trial Size; Limit (1) Like Coupon (exp 02/24/19)
-$1/2 Snuggle Product – 2-3-19 RMN; Excludes Trial Size; Limit (1) Like Coupon (exp 02/24/19)
-$1/1 All Product – 2-3-19 RMN; Excludes Trial Size; Limit (1) Like Coupon (exp 03/09/19)
Handi-foil Pans, Select Varieties, 2/$6
Tide Liquid Laundry Detergent, 92 to 100 fl oz, or Tide Pods, 32 to 42 ct, or Cascade Action Pacs, 36 to 60 ct, Select Varieties, $11.99
–$3/1 Tide Detergent; Excludes Pods, Rescue, Simply, Simply Pods, Detergent 10 oz, Trial and Travel Size; Limit of 1 Like Coupon Per Household Per Day; Upon Printing You Must Redeem within One Day
–$1/1 Tide Detergent or Pods; Excludes Rescue, Simply, Simply Pods, Pods 9 ct or Smaller, Detergent 10 oz, Trial and Travel Size; Limit of 1 Like Coupon Per Household Per Day; Upon Printing You Must Redeem within One Day
–$2/1 Tide Liquid Laundry Detergent, 92 to 100 fl oz, or Tide Pods, 32 to 42 ct, or Cascade Action Pacs, 36 to 60 ct, Select Varieties Kroger Super Saver Digital Coupon (use up to 5 times in a single transaction)
-$1/1 Tide Detergent or PODS – 1-27-19 PG; Excludes Trial and Travel Size, Excludes Tide Rescue, tide Simply, Tide Simply PodS, Tide PODS 9 ct or less, Tide Detergent 10 oz or less, limit 1 (exp 02/23/19)
-$3/1 Tide PODS – 2-3-19 RMN; Excludes Liquid, Powder, Simply, 9 ct or Less or Trial and Travel Size (exp 02/09/19)
Downy Fabric Softener, 83 to 103 fl oz, or Downy Unstopables or Gain Fireworks, 14.8 oz, or Bounce Dryer sheets, 200 ct, Select Varieties, $8.99
–$2/1 Downy Fabric Softener, 83 to 103 fl oz, or Downy Unstopables or Gain Fireworks, 14.8 oz, or Bounce Dryer sheets, 200 ct, Select Varieties Kroger Super Saver Digital Coupon (use up to 5 times in a single transaction)
–$0.50/1 Downy Liquid Fabric Conditioner, Bounce or Downy Sheets, or Downy Unstopables, Fresh Protect, Infusions, Gain Fireworks or Dreft Blissfuls In Wash Scent Boosters; Includes Liquid 40 ld or Smaller, Sheets 60 ct or Smaller, Scent Boosters 4.9 oz or Smaller Only; Excludes Downy Libre Enjuague, Trial and Travel Size; Limit of 1 Like Coupon Per Household Per Day; Upon Printing You Must Redeem within One Day
Dawn Dish Detergent, 16.2 to 19.4 oz, or Mr. Clean Magic Eraser, 2 ct, Select Varieties, $2.79
–$1/1 Dawn Dish Detergent, 16.2 to 19.4 oz, or Mr. Clean Magic Eraser, 2 ct, Select Varieties Kroger Super Saver Digital Coupon (use up to 5 times in a single transaction)
Reynolds Wrap Aluminum Foil, Select Varieties, 35 to 75 sq ft, $4.49
–$0.50/1 Reynolds Wrap Aluminum Foil, Select Varieties, 35 to 75 sq ft Kroger Super Saver Digital Coupon (use up to 5 times in a single transaction)
–$0.50/1 Reynolds Wrap Printable
Kleenex Facial Tissue, Select Varieties, 50 to 160 ct, $1.79
–$0.50/1 Kleenex Facial Tissue, Select Varieties, 50 to 160 ct Kroger Super Saver Digital Coupon (use up to 5 times in a single transaction)
–$0.50/2 Kleenex Facial Tissue or Wet Wipes; Excludes Trial and Travel Size
Energizer MAX Batteries, Select Varieties, AA/AAA, 8 ct, $6.49
–$1/1 Energizer MAX Batteries, Select Varieties, AA/AAA, 8 ct Kroger Super Saver Digital Coupon (use up to 5 times in a single transaction)
Clorox Splashless or Scented Bleach, Select Varieties, 56.4 to 64 fl oz, $2.49
–$0.50/1 Clorox Splashless or Scented Bleach, Select Varieties, 56.4 to 64 fl oz Kroger Super Saver Digital Coupon (use up to 5 times in a single transaction)
–$0.50/1 Clorox Bleach Product; Includes 55 oz or Larger Only
-$1/2 Clorox Clean-Up Cleaner + Bleach, Bleach, Disinfecting Wipes, Bathroom Cleaner Spray, Bleach Foamer Spray, Gel Cleaner Spray, Automatic Toilet Bowl Cleaner, Manual Toilet Bowl Cleaner, Toilet Wand, Scentiva, Liquid-Plumr or Pine-Sol – 1-6-19 SS; Includes Bleach, 55 oz or Larger Only; Wipes, 24 ct or Larger Only (exp 02/06/19)
Instant Pot Multi-Cooker, 6-Quart, $79.99
Everyday Living Kitchen Gadgets, Select Varieties, 20% Off
Rubbermaid Easy Find Lids Food Storage, Assorted Colors, 18 Piece Box Set, $5.99
–$1/1 Rubbermaid Easy Find Lids Food Storage, Assorted Colors, 18 Piece Box Set (valid 2/8 to 2/9) Kroger Super Saver Digital Coupon (use up to 5 times in a single transaction)
Candy Arrangements, Select Varieties, $19.99 and up
Valentine's Exchange Cards, Select Varieties, 20% Off
Hershey's Kisses Sleep Pants, Men's and Women's Sizes, $12
Holiday Home Valentine's Do It Yourself Kits, Select Varieties, 20% Off
---
MEAT
Eckrich Smoked Sausage, Select Varieties, 8.3 to 14 oz, $2.49
–$0.61/1 Eckrich Smoked Sausage, Select Varieties, 8.3 to 14 oz Kroger Super Saver Digital Coupon (use up to 5 times in a single transaction)
Fresh Ground Beef, 80% Lean, Sold in 5 lb Roll for $9.95, $1.99/lb
Boneless Half Pork Loin, $1.69/lb
Fresh Simple Truth Natural Boneless Chicken Breast, No Antibiotics Ever, $5.49/lb
Kroger Breakfast Sausage, 12 oz, or Jimmy Dean Simple Scrambles, 3 to 5.25 oz, Select Varieties, 2/$5
Land O'Frost Premium Lunch Meat, Select Varieties, 10 to 16 oz, 2/$7
Fresh Perdue Boneless Chicken Breasts or Diced, Strips, and Tenders, No Antibiotics Ever, $2.99/lb
Boneless Sirloin Tip Roast, $4.99/lb
Fresh Kroger Ground Turkey, 85% Lean, 16 oz, $2.99
Boneless Filet Mignon Staks, $12.99/lb
Boneless Center-Cut Pork Chops, Family Pack, $3.49/lb
Fresh Simple Truth Organic Ground Beef, 90% Lean, 16 oz, No Antibiotics Ever, $5.99
Nathan's Beef Franks, Select Varieties, 10 to 14 oz, $4.99
–$1/1 Nathan's Beef Franks, Select Varieties, 10 to 14 oz Kroger Super Saver Digital Coupon (use up to 5 times in a single transaction)
Whole Boneless Beef Tenderloin, $9.99/lb
Oscar Mayer Bologna or Cotto Salami, 16 oz, or Wallet Pack, 8 oz, Select Varieties, $1.99
–$0.50/1 Oscar Mayer Bologna or Cotto Salami, 16 oz, or Wallet Pack, 8 oz, Select Varieties Kroger Super Saver Digital Coupon (use up to 5 times in a single transaction)
Hormel Black Label Bacon or Natural Choice, Select Varieties, 12 to 16 oz, $4.99
–$0.50/1 HORMEL NATURAL CHOICE Bacon product
–$1/1 Hormel Black Label Bacon or Natural Choice, Select Varieties, 12 to 16 oz Kroger Super Saver Digital Coupon (use up to 5 times in a single transaction)
---
PRODUCE
Russet Potatoes, 5 lb Bag, or Yellow Onions, 3 lb Bag, 2/$3
Pineapple, $1.88
Del Monte Magnificent Melons, $1.88
Blueberries, 18 oz, $3.99
Organic Blueberries, 6 oz, $2.99
Kroger Stir Fry Kits, Family Size, Select Varieties, 23 to 25 oz, $3.99
Strawberries, 16 oz, $2.99
Sumo Mandarins, 4/$5
Blooming Dots Bouquet, 20 Stem, $9.99
Long Life Tulips, 6" x 10" Vase, $14.99 and up
Asparagus, $2.99/lb
Taylor Farms or Eat Smart Salad Kits, Select Varieties, 9 to 14 oz, 2/$6
–$1/1 Taylor Farms Salad Kit, available in the Produce Department. Limit 1 per transaction. (Kroger Digital Coupon)
–$0.75/1 Taylor Farms Chopped Salad Kits (Ibotta Deposit) [Any variety; Any size]
Private Selection Snacking Tomatoes, Select Varieties, 10 oz, 2/$5
Simple Truth Organic Fuji, Gala, Granny Smith or Pink Lady Apples, 2 lb Pouch, $3.99
Organic Mandarins, 2 lb Bag, $3.99
Fresh Cut Tulip Pairing Bunch, 15 Stems, $8.99
Bloom Haus Dozen Roses, Select Varieties, 12 Stem, $20
Valentine's Shimmer Bouquet, 13 Stem, $12.99
Custom Made Fresh Floral Arrangements, Select Varieties & Sizes, $29.99 and up
---
SEAFOOD
Wild Sockeye Salmon Fillets, Previously Frozen, $9.99/lb'
Kroger Shrimp Platter, Frozen, 20 ct, $6
Simple Truth Shrimp, Raw or Cooked, 16 oz, Select Varieties, $12.99
Wild Lobster Tails, Frozen, 4 to 6 oz, 2/$12