This post is sponsored by Carnation Breakfast Essentials®. All comments and opinions are my own.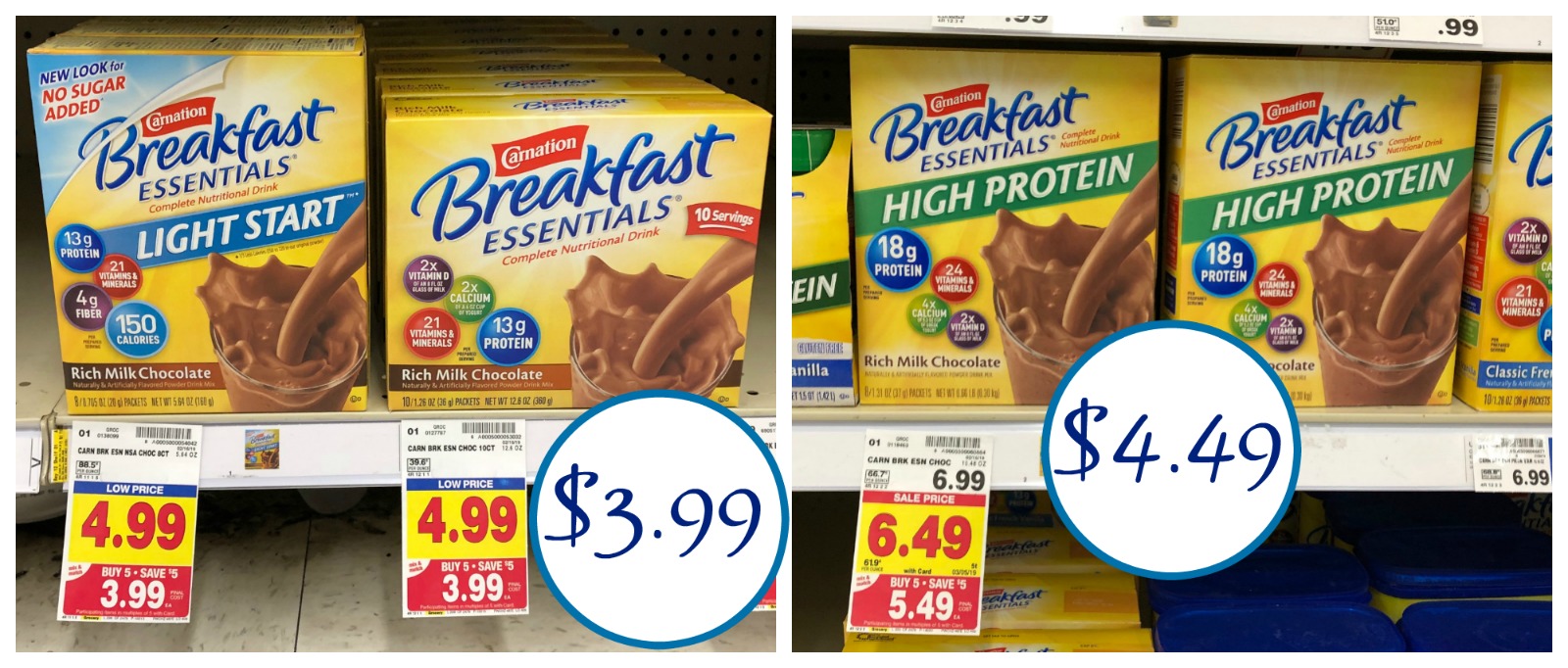 It's time to grab a super deal on your favorite Carnation Breakfast Essentials® products as part of the current Kroger mega sale. Pair the coupon and sale price and you have the makings of a nutritious and convenient breakfast at an amazing price.
A good breakfast is important for everyone…it's how we jumpstart our day. It's especially important for kids and teens but up to 90% of those ages 4-18 years fall short of meeting dietary needs for one or more key nutrients*. And about 1 in 4 teens skip breakfast, which is associated with a variety of nutritional and health consequences.
A single packet of Carnation Breakfast Essentials® mixed with 1 cup of skim milk provides 13 grams of protein to help build and maintain muscle and 25% or more of the daily value for 21 essential vitamins and minerals, including calcium and vitamin D to help build strong bones.
It only takes about 15 seconds to stir up a nutritious breakfast that can be enjoyed at home OR taken on-the-go. That's why I try to keep a couple of boxes on hand at all times. My boys will often request their favorite flavors to go with their waffles, pancakes, eggs and such…basically a quick and easy add on to their usual breakfast. BUT there are the occasional days when things don't go as planned and I NEED Carnation Breakfast Essentials® in order to get the boys out the door to make it to their schools in time. I learned a long time ago that to maintain my balancing act, I have to have a backup plan in case of unexpected chaos. Being prepared is the key to my sanity!
On days when we are in a rush, I simply mix with milk for a delicious drink that we can enjoy even as we are running out the door. When things aren't so crazy, I'll often use whip up Carnation Breakfast Essentials® to whip up smoothies, muffins or add to yogurt and top with fruit, granola and more! It's super versatile and with so many different flavors, my guys can pick and choose based on their mood.
I am excited to be able to get a deal on a product that has become a staple at my house. Don't miss your chance to pick up a deal so you can be sure your family is equipped to take on the day. Take advantage of the savings as part of the mega sale and stock up through 3/5 at your local Kroger!
Carnation Breakfast Essentials®, $3.99 +(mega price)
–$1/1 Carnation Breakfast Essentials® Nutritional Product printable (find coupon at top of site)
As low as $2.99 after coupon as part of your mega purchase…as low as 30¢ per serving!
Don't forget to grab some of the Carnation Breakfast Essentials® High Protein powder drink mix. It offers you and your family the great taste and convenience that you love with a whopping 18 grams of protein per prepared serving. Available in Rich Milk Chocolate and Classic French Vanilla, each serving of High Protein powder drink mix provides 24 vitamins & minerals to help you start the day right!
*Average percentage of individuals (ages 4 -18) with usual dietary intake below the EAR (Estimated Average Requirement) or AI (Adequate Intake): Vitamin D 90%, Potassium 90%, Choline 90%, Vitamin E 85%, Vitamin K 70%, Calcium 50%. Scientific Report of the 2015 Dietary Guidelines Advisory Committee Appendix E-2.1.
Carnation Breakfast Essentials® High Protein products are intended for use by older children & teens (ages 9 and up)