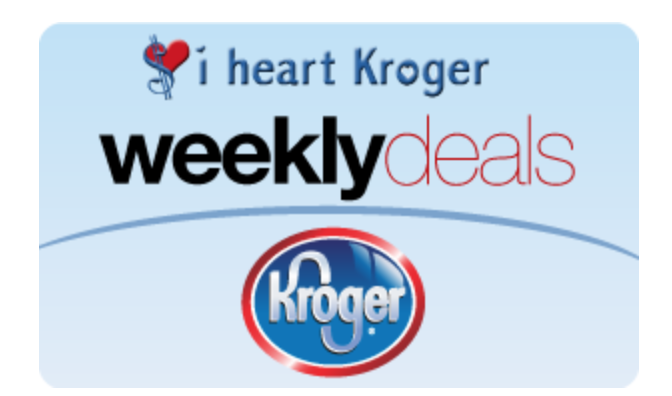 Here is the Kroger Ad and coupon matchups which start Wednesday, 3/20 and runs through Tuesday 3/26 in the Southeast. This week there is the start to a new two week What A Deal! Buy 5, Save $5 Mega Sale. As usual the prices below are AFTER mega savings.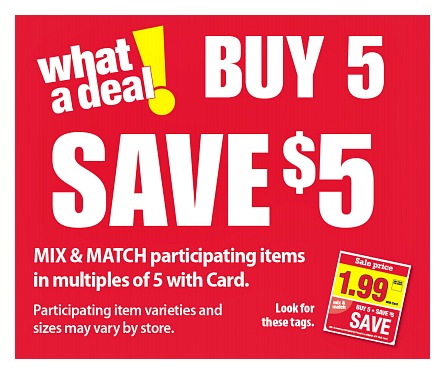 If you are headed to Kroger this week don't forget to load your digital coupons from SavingStar, Cellfire and the Kroger Digital Coupons too. You might want to check your cash back apps (Ibotta, Checkout 51, Mobisave and BerryCart) for any matching deals that you might like. Also, be sure to check out the Catalina deals before you shop.
As always, the check mark
indicates either a great stockpile price or a stockpile price with coupon(s). And keep in mind that we have a shopping list feature on the site. If you need help, just visit the HELP PAGE to see how to use it.
4 DAYS ONLY! (Redeem Coupons 3/21 to 3/24)
Coca-Cola, Select Varieties, 20 to 24 pk, 12 fl oz Cans, $6.99
–$2.22/1 Coca-Cola, Select Varieties, 20 to 24 pk, 12 fl oz Cans Kroger Super Saver Digital Coupon (use up to 5 times in a single transaction)
Freschetta Pizza, 20.28 to 28.83 oz, or Kroger Frozen Chicken, 22 to 29 oz, Select Varieties, $4.99
–$2/1 Freschetta Pizza, 20.28 to 28.83 oz, or Kroger Frozen Chicken, 22 to 29 oz, Select Varieties Kroger Super Saver Digital Coupon (use up to 5 times in a single transaction)
Sabra Hummus, 10 oz, or Stacy's Pita Chips, 7.33 oz, Select Varieties, In the Deli, $2.49
–$1/1 Sabra Hummus, 10 oz, or Stacy's Pita Chips, 7.33 oz, Select Varieties, In the Deli Kroger Super Saver Digital Coupon (use up to 5 times in a single transaction)
–$4 Off Sabra Hummus, Tzatziki or Guacamole Products printable
–$1/1 Sabra Hummus printable [10-oz.+]
Johnsonville Smoked Sausage or Fully Cooked Breakfast Sausage, Select Varieties, 9.6 to 14 oz, $2.49
–$0.50/1 Johnsonville Smoked Sausage or Fully Cooked Breakfast Sausage, Select Varieties, 9.6 to 14 oz Kroger Super Saver Digital Coupon (use up to 5 times in a single transaction)
Simple Truth Pistachios, 8 oz, $3.79
–$0.80/1 Simple Truth Pistachios, 8 oz Kroger Super Saver Digital Coupon (use up to 5 times in a single transaction)
---
BUY 5, SAVE $5 SALE (Mix & Match)
Breyers Ice Cream, 48 fl oz, or Ben & Jerry's, 16 fl oz, Slices, 3 ct, or Haagen-Dazs Ice Cream, 14 fl oz, Select Varieties, $2.49
Tide Liquid Laundry Detergent, 46 to 50 fl oz, or Tide Pods, 15 to 20 ct, or Downy Fabric Softener, 62 to 77 fl oz, Select Varieties, $4.99
–$2/1 Tide printable
–$1/1 Tide Simply Detergent printable
–$2/1 Tide PODS printable [Excludes Tide Liquid/Powder detergent, Simply, Simply PODS, Tide PODS 9-ct. and below, and trial] –$1/1 Downy printable 40 load or smaller
–$2/1 Downy printable 48 load or larger
Coca-Cola, Pepsi or 7UP, Select Varieties, 6 pk, 16 to 16.9 fl oz Bottles, $1.99
Nabisco Snack Crackers, 3.5 to 9.1 oz, or Ritz Crackers, 7.5 to 13.7 oz, or Sargento Shredded Cheese, 5 to 8 oz, Select Varieties, $1.89
–$1/2 Sargento Shredded Natural Cheese (Kroger Digital Coupon)
-$0.50/2 Sargento Shredded Natural Cheese, 01/27/19 SS (exp 3/24/19)
-$0.60/2 Sargento Shredded Natural Cheese, 03/03/19 SS (exp 4/28/19)
-$1/2 Nabisco Good Thins Snacks – 3-17-19 SS; Includes 5.5 oz or Larger Only
General Mills Cereal, 10.5 to 12.4 oz, or Quaker Cereal, 11.5 to 15 oz, or Chips Ahoy! Cookies, 6.98 to 13 oz, Select Varieties, $1.79 (Ad shows Honey Nut Cheerios and Crunch Berries)
-$1/1 General Mills Cereal or Nature Valley Fruit & Nut Granola, 03/17/19 SS (exp 4/27/19) [Nature Valley Pouch or General Mills box of Maple Cheerios, Cinnamon Toast Crunch Churros, Chocolate Toast Crunch, Fiber One Strawberries & Vanilla Clusters, Fruity Lucky Charms] -$1/2 Cheerios Cereals, 03/03/19 SS (exp 4/13/19) [Includes Original Cheerios, Honey Nut Cheerios, Multi Grain Cheerios, Chocolate Peanut Butter Cheerios, Very Berry Cheerios, Apple Cinnamon Cheerios, Frosted Cheerios, Chocolate Cheerios, Fruity Cheerios, Honey Nut Cheerios Medley Crunch, Cheerios Protein, Cheerios + Ancient Grains, Cheerios Oat Crunch or Maple Cheerios Cereal]
Cottonelle Bathroom Tissue, 6 Mega Rolls, or Viva Paper Towels, 6 Rolls, Select Varieties, $5.99
-$0.50/1 Cottonelle Toilet Paper, 03/10/19 SS (exp 4/7/19) [6 or more rolls] –$0.55/1 Cottonelle Toilet Paper printable
–$0.55/1 Cottonelle Toilet Paper printable
–$0.75/1 Cottonelle Toilet Paper (Ibotta Deposit) [Any variety; Any size]
Palmolive Dish Detergent, Select Varieties, 20 fl oz, $0.99
–$0.25/1 Palmolive Fusion Clean Dish Liquid printable [20-oz.+]
Clorox Liquid Bleach, 116 to 121 fl oz, or Dawn Dish Detergent, 24 to 26 fl oz, Select Varieties, $2.99
–$0.50/1 Clorox Bleach printable [55-oz.+] -$1/2 Clorox, Pine-Sol, or Liquid-Plumr Products – 3-3-19 SS; Excludes Trial Size and Pens; Limit of 4 Identical Coupons Per household Per day (exp 04/07/19)
-$1/2 Clorox Liquid Bleach, Clean Up, Manual Toilet Bowl Cleaner, Automatic Bleach Toilet Bowl Cleaner, Bleach Gel, or Bleach Foamer items – 2-3-19 SS; Includes Liquid 55 oz or Larger Only
Clorox Disinfecting Wipes, 70 to 75 ct, or Downy Unstopables, 6.5 oz, Select Varieties, $3.99
–$0.50/1 Clorox Disinfecting Wipes printable [32-ct.+] -$1/2 Clorox, Pine-Sol, or Liquid-Plumr Products – 3-3-19 SS; Excludes Trial Size and Pens; Limit of 4 Identical Coupons Per household Per day (exp 04/07/19)
Cascade Action Pacs, Select Varieties, 36 to 60 ct, $10.99
Libman Freedom Spray Mop, 1 qt, $14.99
Libman Microfiber Dust Mop, 1 ct, $11.99
Swiffer 2X Refills, Select Varieties, 6 to 32 ct, $6.99
-$2/1 Swiffer Starter Kit – 2-24-19 PG; Excludes Heavy Duty Duster, 1 ct and 2 ct; Excludes Trial and Travel Size; Limit of 2 Like Coupons Per Household Per Day (exp 03/23/19)
Glad Trash Bags, Select Varieties, 22 to 80 ct, $6.99
Kroger Purified Drinking Water, 32 pk, 16.9 fl oz, or Kroger Spring Water, 24 pk, 16.9 fl oz, Select Varieties, $2.33
Ocean Spray Cranberry Juice, 64 fl oz, or Red Bull Energy Drink, 12 fl oz, or Ocean Spray Craisins, 5 to 6 oz, Select Varieties, $1.99
–$1/1 Ocean Spray Pink Cranberry Juice Cocktail printable
–$1/1 Ocean Spray Pink Cranberry Juice Cocktail (Kroger Digital Coupon) [64-oz.]
Doritos, 9.25 to 11.25 oz, or Ruffles Potato Chips, 8.5 to 9 oz, or Pepperidge Farm Cookies, 5 to 8.6 oz, Select Varieties, $1.99
Stouffer's Family Size Meal, 28 to 40 oz, or Birds Eye Voila Family Size Meal, 42 oz, Select Varieties, $5.89
Kraft Salad Dressing, Select Varieties, 14 to 16 oz, $0.99
Kraft Barbecue Sauce, Select Varieties, 17.5 to 18 oz, $0.49
Powerade or Powerade Zero, 8 pk, 20 fl oz, or Snapple Tea, 6 pk, 16 to 18.5 fl oz, or Deer Park Sparkling Water, 8 pk, 12 fl oz Cans or 8 pk, 16.9 fl oz Bottles, Select Varieties, $2.99
Chocolate Fudge Iced Cake or Other Varieties, Double Layer, 37 to 62 oz, In the Bakery, $11.99
Snack Factory Organic Pretzel Crisps, 9.35 oz, or La Terra Fina Dip, 10 oz, Select Varieties, In the Deli, $2.99
Private Selection Sliced Pepperoni or Salami Cracker Cuts, Select Varieties, 14 oz, In the Deli, $5.49
Screamin' Sicilian Pizza, 20.8 to 25 oz, or Urban Pie Pizza, 16.9 to 20.45 oz, Select Varieties, $6.99
–$1/1 Screamin' Sicilian Premium Frozen Product printable [Sign Up]
Simply Juice, 52 fl oz, or Philadelphia Cream Cheese, 2 pk, Select Varieties, $2.99
Arnold Wide Pan Bread, 24 oz, or Pepperidge Farm Resealable Goldfish Crackers, 8 to 11.5 oz, or Planters Peanuts, 16 oz, Select Varieties, $2.49
Hormel Black Label or Natural Choice Bacon, Select Varieties, 12 to 16 oz, $4.49
Hershey's Bag Candy, Select Varieties, 33.9 to 40 oz, $7.99
Curly's Pulled BBQ or Carando Meatballs, Select Varieties, 12 to 16 oz, $3.99
Nature Valley or Fiber One Bars, 5 to 12 ct, or Malt O Meal Bag Cereal, 17 to 23.5 oz, Select Varieties, $1.99
–$1/2 Nature Valley Granola Bars, Biscuits, Granola Cups, Layered Granola Bars, Soft-Baked Filled Squares, Protein Bars, Granola Snack Mix or Peanut or Almond Butter Granola Bites Pouch (Kroger Digital Coupon) [5-ct.+] –$1/2 Nature Valley Granola Bars, and Biscuits printable
-$0.50/2 Nature Valley Granola Bars, Biscuits, Granola Cups, Layered Granola Bars, Soft-Baked Filled Squares, Protein Bars, Granola Snack Mix or Peanut or Almond Butter Granola Bites, 03/17/19 SS (exp 5/11/19) [5-ct.+] –$1/2 Nature Valley Granola Bars, Biscuits, Granola Cups, Layered Granola Bars, Soft-Baked Filled Squares, Protein Bars, Granola Snack Mix, or Peanut or Almond Butter Granola Bites Pouch (SavingStar Deposit) [5-ct.+; boxes] -$0.50/2 Fiber One Chewy Bars, 90 Calorie Products (Bars Or Brownies), Protein Chewy Bars, Streussel Bars, Cheesecake Bars, Cookies, Layered Chewy Bars, Protein Nut Bars, Brownie Bites, Cookie Bites, Mini Bars or Supreme Brownies, 02/10/19 SS (exp 4/6/19) [any boxes]
Jimmy Dean Breakfast Sandwiches, Select Varieties, 4 or 10 ct, $4.49
-$0.55/1 Jimmy Dean Item – 3-10-19 RMN (exp 04/07/19)
-$1/2 Jimmy Dean Items – 3-17-19 RMN (exp 04/14/19)
Kool-Aid, Country Time or Tang, Select Varieties, 6 to 8 Qt, $1.69
Kellogg's Pop-Tarts, 6 to 8 ct, or Quaker Instant Oatmeal, 8 to 12 ct, Select Varieties, $1.49
–$1/1 Kellogg's Pop-Tarts Toaster Pastries printable [Need 850 rewards points]
Green Mountain Coffee, 10 to 12 oz, or K-Cups, 10 to 12 ct, Select Varieties, $4.99
–$1/1 Green Mountain Hazelnut Iced Coffee K-Cups; Includes 12 ct
Kroger or Private Selection K-Cups, Select Varieties, 12 ct, $2.99
Starbucks VIA, Select Varieties, 6 to 8 ct, $6.19
–$1.30 Starbucks VIA Instant Coffee Ibotta Deposit
Dannon Greek Yogurt, Select Varieties, 4 ct, $2.79
Dave's Killer Organic Bread, 18 to 27 oz, or Spindrift Sparkling Water, 8 pk, 12 fl oz Cans, Select Varieties, $3.99
–$1.50/1 Dave's Killer Bread (Ibotta Deposit) [Raisin' the Roof! variety; 18-oz. bag only]
Land O' Frost Premium Lunch Meat, Select Varieties, 10 oz, $2.99
–$1/1 Land O Frost Bistro Favorites, 100% Natural Printable
–$0.75/1 Land O'Frost Premium, Canadian Bacon, or Breakfast Cuts printable
Velveeta Shells & Cheese, 9.4 to 12 oz, or Kraft Deluxe Macaroni & Cheese, 14 oz, or Kraft Mayo, 22 to 30 fl oz, Select Varieties, $1.99
Birds Eye Vegetables, 9.5 to 14.4 oz, or Protein Blends or Ricers, 10 to 12.7 oz, Frozen, Select Varieties, $1.29
Talenti Gelato, 16 fl oz, or Outshine Fruit Bars, 12 ct, or Low Cow Ice Cream, 16 fl oz, Select Varieties, $2.99
Mrs. Paul's Seafood, Select Varieties, Frozen, 18 to 24.6 oz, $3.99
Simple Truth Organic Peanut Butter, 40 oz, or Dole Frozen Fruit, 32 to 48 oz, Select Varieties, $6.99
Pampers Diapers or Easy Ups, Sizes NB to 6 or 2T to 5T, Select Varieties, 16 to 37 ct, $7.99
–$1/1 Pampers Cruisers Diapers printable [ETS] –$1/1 Pampers Swaddlers Diapers printable [Excludes trial/travel size] –$2/2 Pampers Swaddlers Diapers printable [ETS] –$2/2 Pampers Diapers printable [Excludes trial/travel size] –$2/2 Pampers Diapers printable [ETS] –$1/1 Pampers Easy Ups printable
Pedigree Dog Food, Select Varieties, 15 to 20 lb, $11.99
Pantene Shampoo or Conditioner, Select Varieties, 12 to 12.6 fl oz, $2.99
Febreze Car Clips, Select Varieties, 1 ct, $2.49
Crest Toothpaste, 3.5 to 6.2 oz, or Oral-B Toothbrush, 1 ct, or Scope Mouthwash, 500 ml, Select Varieties, $1.99
–$2/1 Crest Toothpaste 3 oz or more (excludes Whitening Therapy, Gum Detoxify, Cavity, Regular, Baking Soda, Tartar Control/Protection, F&W Pep Gleem, Kids and trial/travel size) [4.2-oz.+]
---
BAKERY
Bakery Muffins, Select Varieties, 4 ct, 2/$7
Fresh Baked Chocolate Chip Cookies or Other Varieties, 16 ct, 2/$7
---
BEER & WINE (10% Off Any 6 Bottles of Wine, Mix & Match, 3/21 to 3/24)
Kendall Jackson Chardonnay, Select Varieties, 750 ml, $10.99
Bud, Miller or Coors, 24 pk, 12 fl oz Bottles or Cans, $18.99
Terrapin, SweetWater or Sam Adams, Select Varieties, 12 to 15 pk, 12 fl oz Bottles or Cans, $14.99
Miller High Life, 12 pk, 12 fl oz Bottles or Cans, or Budweiser Copper Lager, 6 pk, 12 fl oz Bottles, Select Varieties, $7.99
Creature Comforts Classic City Lager or New Realm, Select Varieties, 6 pk, 12 fl oz Cans, $8.99
Corona, Modelo or Michelob Ultra Pure Gold, Select Varieties, 12 pk, 12 fl oz Bottles or Cans, $13.99
Josh Cellars Cabernet, 750 ml, $13.99
Apothic or Chalkboard, Select Varieties, 750 ml, $9.99
La Marca or Dellatorri, Select Varieties, 750 ml, $13.99
Chloe or Hedgeline, Select Varieties, 750 ml, $10.99
Cupcake, Select Varieties, 750 ml, $7.99
---
DAIRY
Kroger Milk, Select Varieties, Half Gallon (Excluding Chocolate & Buttermilk), $1.19 (Limit 6)
Kroger Butter, 16 oz, or Coffee-mate Coffee Creamer, 32 fl oz, Select Varieties, 2/$5
Kroger Sour Cream, Cottage Cheese or Dip, Select Varieties, 16 oz, $1.39
Kroger Cheese, 8 oz, or Kroger Natural Cheese Slices, 6 oz, Select Varieties, $1.99
Fage Greek Yogurt, 5.3 to 7 oz, or Clif Builder's or Clif Nut Butter Filled Bar, 1.4 to 2.4 oz, Select Varieties, 10/$10
Simple Truth Cage-Free Brown Eggs, Grade A, Large, 12 ct, or Simple Truth Plant Based Milk, 64 fl oz, Select Varieties, 2/$5
---
DELI
Fresh Foods Market Bone-In Chicken Wings, Fully Cooked, Select Varieties, $5.99/lb
---
FROZEN
Stouffer's Entree, Select Varieties, 6.375 to 12.875 oz, 2/$4
Red Baron Pizza, Select Varieties, 14.87 to 23.45 oz, 3/$10
Amy's Asian or Indian Entree, Select Varieties, 9.5 to 10 oz, $4.49
Caulipower Pizza, Select Varieties, 11.62 to 12 oz, $6.99
---
GROCERY
Lay's Potato Chips, 5 to 8 oz, or SunChips, 7 oz, Select Varieties, $1.99
Colavita Extra Virgin Olive Oil, 17 fl oz, $7.99
Private Selection Pasta, Select Varieties, 16 oz, 2/$3
Campbell's Condensed Soup, Select Varieties, 10.5 to 11.25 oz, 3/$4
Kroger Bread, 20 oz, or Buns, 8 ct, Select Varieties, $1.19
Sunshine Cheez-It Crackers, Select Varieties, 7.5 to 12.4 oz, 2/$5
–$1/1 Sunshine Cheezit printable [Need 850 rewards points]
BodyArmor, 16 fl oz, or Vitaminwater or Vitaminwater Zero, 20 fl oz, or Smartwater Sportcap, 23.7 fl oz, Select Varieties, 10/$10
–$1/2 BodyArmor Sports Drink (Kroger Digital Coupon) [16-oz.] (exp 3/19)
–$1/2 BodyArmor SportWater printable
Pepperidge Farm Goldfish Crackers, Select Varieties, 6.6 to 8 oz, 4/$5 (Final Cost wyb 4)
Coca-Cola, Pepsi or 7UP, Select Varieties, 2 Liter, $0.99 (Final Cost wyb 4)
Cheetos, 7 to 8.5 oz, or Fritos, 9.25 oz, Select Varieties, 2/$5
Hershey's King Size or Theater Box Candy, Select Varieties, 2.6 to 6 oz, 10/$10
---
HEALTH & BEAUTY
Banana Boat, Hawaiian Tropic, Neutrogena or Aveeno Sun Care, Select Varieties, 0.47 to 12 fl oz, BOGO 50% Off
–$1/1 Banana Boat Sun Care Product printable
Speed Stick Deodorant, 1.4 to 1.8 oz, or Softsoap Liquid Hand Soap, 7.5 fl oz, Select Varieties, 10/$10
–$0.50/1 Speed Stick Antiperspirant/Deodorant printable
---
HOUSEHOLD
Bubble Stick, 1 ct, $0.50
Good Cook Pro Kitchen Gadgets, Select Varieties, 50% Off
---
MEAT
Fresh Heritage Farm Drumsticks or Thighs or Whole Fryers, $0.88/lb
Assorted Pork Chops, Bone-In, Family Pack, $1.79/lb
Fresh Kroger Ground Beef, 73% Lean, Sold in a 5 lb Flavorseal for $9.95, $1.99/lb
Hillshire Farm Lunch Meat or Naturals, Select Varieties, 7 to 9 oz, 2/$6
Tennessee Pride Breakfast Sausage, Select Varieties, 16 oz, 2/$6
Fresh Perdue Chicken Wings, Bone-In, No Antibiotics Ever, $1.99/lb
–$1/2 Perdue Fresh Chicken printable
Ball Park Beef Hot Dogs, 10.6 to 15 oz, or Grilled Beef Patties, 10.8 oz, Select Varieties, 2/$6
Pork Boston Butt, Bone-In, $1.79/lb
Boneless New York Strip Steaks, Family Pack, $9.99/lb
Fresh Jennie-O Ground Turkey, 93% Lean, 16 oz, or Jennie-O Turkey Links, 1.22 in, Select Varieties, 2/$7
Fresh Simple Truth Natural Boneless Chicken Breasts, No Antibiotics Ever, $4.99/lb
Fresh Simple Truth Organic Grass Fed Beef, 85% Lean, 16 oz, No Antibiotics Ever, $4.99
Boneless London Broil, $5.99/lb
Private Selection Service Case Bacon, Select Stores, $3.99/lb
---
PRODUCE
Red or Black Seedless Grapes, $1.49/lb
Large Cantaloupe, $1.88
Kroger Broccoli Florets, 32 oz, $3.99
Kroger Vegetable Trays, 38 to 40 oz, $8.99
Simple Truth Organic Mini Peeled Carrots, 1 lb Bag, 2/$3
Blackberries, 6 oz, 2/$4
Organic Blueberries, 6 oz, 2/$6
Honeycrisp Apples, $2.49/lb
Red, Orange or Yellow Bell Peppers or English Cucumbers, 4/$5
Kroger or Dole Salad Blends, Select Varieties, 6 to 12 oz, 2/$5
Russet Potatoes, 5 lb Bag, or Yellow Onions, 3 lb, $1.99
Blooming Inspiration Bouquet, Select Varieties, 14 Stem, $11.99
Novelty Tulips or Daffodils, Select Varieties, 6", $9.99 and up
---
SEAFOOD
Fresh Atlantic Salmon Fillets, Farm-Raised, $7.99/lb
Wild-Caught Snow Crab Clusters, 5 to 8 oz, Sold in a 4 lb Box for $35.96, $8.99/lb
Aqua Star Salmon Sides, Frozen, 1.25 oz, $6.99
Fresh Catfish Fillets, Farm-Raised, $5.99/lb