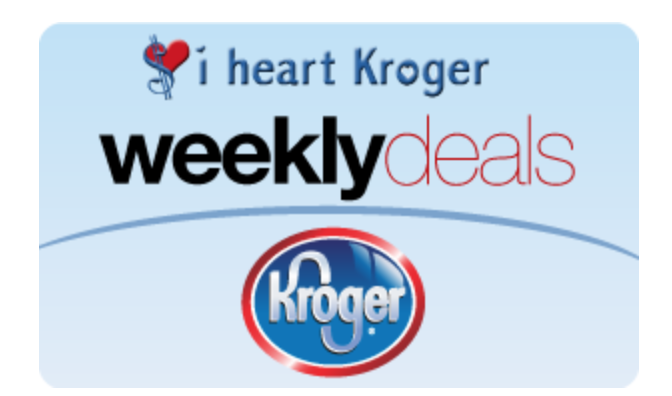 Here is the Kroger Ad and coupon matchups which start Wednesday, 3/27 and runs through Tuesday 4/2 in the Southeast. This is the second week of a two week Buy 5 Save $5 Mega Sale…you can see the full inclusion list HERE.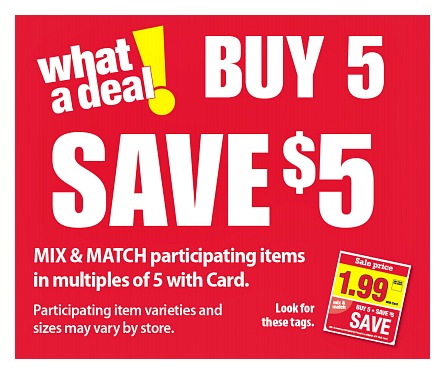 If you are headed to Kroger this week don't forget to load your digital coupons from SavingStar, Cellfire and the Kroger Digital Coupons too. You might want to check your cash back apps (Ibotta, Checkout 51, Mobisave and BerryCart) for any matching deals that you might like. Also, be sure to check out the Catalina deals before you shop.
As always, the check mark
indicates either a great stockpile price or a stockpile price with coupon(s). And keep in mind that we have a shopping list feature on the site. If you need help, just visit the HELP PAGE to see how to use it.
4-DAY SALE (3/28 to 3/31)
Smidge and Spoon Granulated Sugar, 4 lb, $0.99 (Limit 5)
Mayfield Ice Cream, Select Varieties, 48 to 56 fl oz, $1.99
Kettle Brand Potato Chips, Select Varieties, 13 oz, $1.99
Boneless Pork Loin, $1.69/lb
Kroger Brats or Italian Sausage or Ground Pork or Meatballs, Select Varieties, 16 to 18 oz, 2/$5
Asparagus or Red Tomatoes on the Vine, $1.29/lb
---
BAKERY
Goldminer Sourdough Bread or Other Varieties, 24 oz, $2.99
Decorated Cupcakes, Select Varieties, 6 ct, $4.99
---
BEER & WINE
Bud, Miller, Coors or Yuengling, Select Varieties, 24 pk, 12 fl oz Bottles or Cans, $18.99
Miller or Coors, 15 pk, 16 fl oz Aluminum Bottles, or Blue Moon, 12 pk, 12 fl oz Bottles, Select Varieties, $13.99
Corona, Michelob Ultra Pure Gold or Heineken, Select Varieties, 12 pk, 12 fl oz Bottles or Cans, $13.99
Dos Equis, Truly or White Claw, Select Varieties, 12 pk, 12 fl oz Bottles or Cans, $12.99
Scofflow or Orpheus, Select Varieties, 6 pk, 12 fl oz CAns, $10.99
Chateau Ste Jean, Select Varieties, 750 ml, $8.99
McBride Sisters, Select Varieties, 750 ml, $11.99
Summerville Park, Select Varieties, 1.5 Liter, $8.99
Boen Pinot Noir, 750 ml, $19.99
Storyteller, Select Varieties, 750 ml, $14.99
Parkers Estate Cabernet Sauvignon, 750 ml, $9.99
Josh Cabernet Sauvignon, 750 ml, $13.99
Michelob Ultra, 18 pk, 12 fl oz Bottles or Cans, or Founders All Day IPA, 15 pk, 12 fl oz Cans, Select Varieties, $16.99
Busch Light, Natural Light, Pabst or Miller High Life, Select Varieties, 30 pk, 12 fl oz Cans, $18.99
Sam Adams, New Belgium or Sierra Nevada, Select Varieties, 12 pk, 12 fl oz Bottles or Cans, $14.99
---
DAIRY
Kroger Cheese, 8 oz, or Natural Slices, 6 oz, Select Varieties, $1.88
Simple Truth Organic Pasta, Select Varieties, 8 oz, $4.99
–$0.50/1 Simple Truth Organic Refrigerated Pasta (Kroger Digital Coupon)
Kroger Fruit on the Bottom Greek Yogurt, Select Varieties, 4 ct, $2.99
Coffee-mate Creamer, Select Varieties, 32 fl oz, 2/$6
Noosa or Noosa Mates Yoghurt, Select Varieties, 5.5 to 8 oz, 3/$5
Sargento Cheese Slices, 6.67 to 8 oz, or Sargento Balanced Breaks, 3 ct, or Kraft Natural String Cheese, 12 ct, Select Varieties, 3/$9
-$0.50/1 Sargento Balanced Breaks, 01/06/19 SS (exp 3/31/19)
-$0.50/1 Sargento Sweet Balanced Breaks, exp. 3/31/19 (SS 01/06/19 R)
---
DELI
Boar's Head Maple Honey Ham, Available in Select Stores, $8.49/lb
Kroger Meat and Cheese Party Tray, Select Varieties, 22 to 23.5 oz, $10.99
Bone-In Chicken Wings, Select Varieties, $5.99/lb
---
FROZEN
DiGiorno Pizza, Select Varieties, 17.2 to 31.5 oz, $4.99
–$5/4 Stouffer's Family Size Meals (26-96 oz.) or DIGIORNO Pizzas (18.0-32.7 oz.) (Kroger Digital Coupon) [Exclusive coupons valid for curbside pickup only. excludes delivery orders.]
California Pizza Kitchen Pizza, Select Varieties, 13.4 to 15.5 oz, $4.99
Private Selection Stone Fired Pizza, Select Varieties, 15.3 to 19.3 oz, $4.99
Kroger Deluxe Ice Cream, 48 fl oz, or Hostess Multipack Snack Cakes, 8.68 to 15.23 oz, or Hostess Mini Muffins, 8.25 oz, Select Varieties, 2/$5
Red Baron Pizza, Select Varieties, 14.87 to 23.4 oz, 3/$10
Boston Market Meals, Select Varieties, 13 to 15 oz, $2.29
Farm Rich Appetizers, Select Varieties, 13.6 to 24 oz, $3.99
–$0.75/1 Farm Rich Item printable
-$0.75 Farm Rich Snacks 13.6 oz. or Larger Blinkie (exp 06/29/19)
---
GROCERY
Coca-Cola, Pepsi or 7UP, 12 pk, 12 fl oz Cans or 8 pk, 12 fl oz Bottles, Select Varieties, 3/$11 (Final Cost wyb 3)
Simple Truth Pistachio Kernels, 6 oz, $4.99
Simple Truth Peanut Butter & Jelly Bites, 6 oz, $2.69
Simple Truth Skipjack Tuna, 5 oz Cans, or Simple Truth Organic 90 Seconds Rice Rice, 8.8 oz, Select Varieties, $1.99
Simple Truth Organic Fruit Snacks, 20 ct, $5.99
Angie's Boomchickapop, Select Varieties, 4.4 to 7 oz, 2/$5
Pepperidge Farm Goldfish, Select Varieties, 6.6 to 8 oz, 4/$5 (Final Cost wyb 4)
Campbell's Condensed Soup, Select Varieties, 10.5 to 11.25 Can, 3/$4
Hershey's Kisses, Select Varieties, 9 to 12 oz, 2/$7
-$2/3 Hershey's Easter Kisses, Reese's, Hershey's Miniatures, Hershey's Eggs, Cadbury, Jolly Rancher or Whoppers, 03/24/19 SS (exp 4/6/19) [7-oz.+ bags]
Twix, M&M's, or Snickers Singles, Select Varieties, 1.08 to 1.92 oz, BOGO (no price listed)
Lay's Potato Chips, 5 to 8 oz, or Cheetos, 7 to 8.5 oz, or Fritos, 9.25 oz, Select Varieties, $1.99 (Final Cost wyb 2)
Kroger Trail Mix or Mixed Nuts, Select Varieties, 20 to 36 oz, $6.99
Big K, 12 pk, 12 fl oz Cans, or Kroger Real Sugar Soda, 8 pk, 12 fl oz Cans, Select Varieties, $1.99 (Buy 3 Save $3 Final Cost)
---
HEALTH & BEAUTY
Larabar, 1.6 to 1.8 oz, or ThinkThin Bar, 1.41 to 2.1 oz, or Clif Nut Butter Filled or Builder's Bar, 1.76 to 2.4 oz, Select Varieties, 10/$10
-$1/2 thinkThin Protein Bars, 03/10/19 SS (exp 4/30/19)
–$0.50/2 Clif MOJO Single Bars (Kroger Digital Coupon)
Banana Boat, Hawaiian Tropic, Neutrogena or Aveeno Sun Care, Select Varieties, 0.47 to 12 fl oz, B1G1 50% Off
-$2/1 Banana Boat Sun Care Product, 03/24/19 SS (exp 5/1/19) [Excludes 1-oz.,1.8-oz.,2-oz. and lip balm ets] –$1/1 Banana Boat Sun Care Product printable
-$1/1 Hawaiian Tropic Sun Care Product, 03/24/19 SS (exp 5/1/19) [ETS]
Speed Stick Deodorant, 1.4 to 1.8 oz, or Soft Soap Liquid Hand Soap, 7.5 fl oz, Select Varieties, 10/$10
–$0.50/1 Speed Stick Antiperspirant/Deodorant printable
---
HOUSEHOLD
Kleenex Facial Tissue, 50 to 160 ct, or Kleenex Wet Wipes, 20 to 24 ct, Select Varieties, 3/$4
-$0.50 off Kleenex Facial Tissue or Wet Wipes, 03/10/19 SS (exp 4/7/19) [(3) 30-ct.+ boxes/packs tissue or (1) wipes] –$0.50 off Kleenex Tissue printable [(3) boxes or (1) bundle] –$0.50/3 Kleenex Bundle Pack Facial Tissue printable
–$0.75/1 Kleenex Brand Tissue (Ibotta Deposit) [Any variety; Bundle packs only] –$0.50/1 Kleenex Wet Wipes printable [20-ct.+] –$0.50/1 Kleenex Wet Wipes printable [20-ct.+]
Everyday Living Kitchen Gadgets, Select Varieties, 20% Off
---
MEAT
Wright Bacon, Select Varieties, 24 oz, $6.99
–$2/1 Wright Bacon, Select Varieties, 24 oz Kroger Super Saver Digital Coupon (use up to 5 times in a single transaction)
Half Boneless Ribeye, $6.99/lb
Boneless Ribeye Steaks, Family Pack, $9.99/lb
Fresh Perdue Boneless Chicken Breast or Thighs, $1.99/lb
–$1/2 Perdue Fresh Chicken Products printable
Simple Truth Organic Boneless Chicken Breasts, No Antibiotics Ever, $5.99/lb
Bob Evans Side Dishes, Select Varieties, 12 to 24 oz, 2/$6
Oscar Mayer Deli Fresh Lunch Meat or Carving Board, Select Varieties, 7 to 9 oz, 2/$6
Johnsonville Breakfast Sausage, Select Varieties, 9.6 to 12 oz, 2/$6
Pork Back Ribs, Previously Frozen, $2.99/lb
Ball Park Franks, Select Varieties, 14 to 16 oz, BOGO (no price listed)
Boneless Chuck Roast, $5.99/lb
Flat Iron Steaks, Boneless, $6.99/lb
Boneless Center-Cut Pork Chops, Family Pack, $3.49/lb
Private Selection Hot Dogs, 12 oz, or Private Selection Smoked Sausage, 14 oz, Select Varieties, 2/$7
Fresh Ground Beef, 80% Lean, Sold in 3 lb Package for $10.47, $3.49/lb
Smithfield Boneless Quarter Sliced Ham or Simple Truth Natural Diced Ham, 8 oz, BOGO (no price listed)
Kroger Lunch Meat, Select Varieties, 7 to 9 oz, 2/$5
---
PRODUCE
Minute Maid Orange Juice, 59 fl oz, or Kellogg's Nutri-Grain or Special K Bars, 5 to 8 ct, Select Varieties, $2.49
–$1/1 Minute Maid Orange Juice, 59 fl oz, or Kellogg's Nutri-Grain or Special K Bars, 5 to 8 ct, Select Varieties Kroger Super Saver Digital Coupon (use up to 5 times in a single transaction)
–$1/1 Kellogg's Special K Protein Shakes or Protein Meal Bars (Kroger Digital Coupon) [4-ct.+] –$1/1 Kellogg's Nutri-Grain Bars, Special K Bars or Rice Krispies Treats Crispy Marshmallow Squares printable [5-ct.+, Any Flavor; Need 850 rewards points]
Cuties Seedless Clementines, 5 lb, $4.88
Clementines, 3 lb, $3.99
Russet Potatoes, 10 lb Bag, $2.49
Angel Sweet Tomatoes, 12 oz, $4.99
Blackberries or Raspberries, 6 oz, 2/$5
Kroger Family Size Vegetables, Select Varieties, 24 to 32 oz, $3.99
Kroger or Dole Salad Blends, Select Varieties, 6 to 12 oz, 2/$5
Cara Cara or Heirloom Navel Oranges, 3 lb Bag, or Blood Oranges, 2 lb Bag, $3.99
Simple Truth Organic Fuji, Gala, Granny Smith or Pink Lady Apples, 2 lb Pouch, $3.99
Zucchini or Yellow Squash, $0.99/lb
Personal Watermelon, 2/$5
Westina Bouquet, 10 Stem, $11.99
Novelty Tulips or Daffodils, Select Varieties, 6", $9.99 and up
---
SEAFOOD
Raw, Peeled and Deveined Shrimp, 31 to 40 ct, Sold in a 2 lb Bag for $13.98, $6.99/lb
Kroger Fish Fillets, Frozen, Select Varieties, 2 lb, 25% Off
SeaPak Appetizers, Select Varieties, Frozen, 8.2 to 18 oz, $5
–$2/1 SeaPak Shrimp Taquitos (Kroger Digital Coupon)
-$0.50/1 SeaPak Product, 03/03/19 SS (exp 4/30/19) [8-oz.+] -$0.75/1 SeaPak Product, 03/03/19 SS (exp 4/30/19) [8-oz.+] -$0.75/1 Seapak Beer Battered Product, 01/27/19 SS (exp 3/31/19) [8-oz.+] –$0.75/1 SeaPak Product printable [8-oz.+]