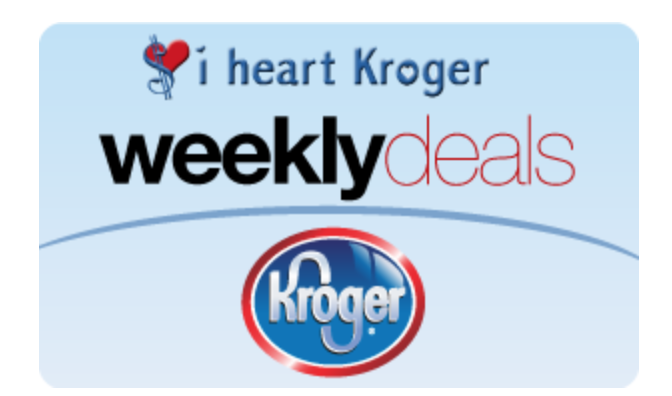 Here is the Kroger Ad and coupon matchups which start Wednesday, 4/3 and runs through Tuesday 4/9 in the Southeast. There is a new mini Buy 3 Save $6 Mega sale and 10/$10 sale starting this week so be sure to stock up. In addition there is a promo where you save $5 instantly when you purchase $20 of participating frozen products.

If you are headed to Kroger this week don't forget to load your digital coupons from SavingStar, Cellfire and the Kroger Digital Coupons too. You might want to check your cash back apps (Ibotta, Checkout 51, Mobisave and BerryCart) for any matching deals that you might like. Also, be sure to check out the Catalina deals before you shop.
As always, the check mark
indicates either a great stockpile price or a stockpile price with coupon(s). And keep in mind that we have a shopping list feature on the site. If you need help, just visit the HELP PAGE to see how to use it.
4-DAY SALE (valid 4/4 to 4/7)
Stouffer's Party Size or Large Family Size Entree, Frozen, Select Varieties, 57 to 96 oz, $8.99
–$5/4 Stouffer's Family Size Meals (26-96 oz.) or DIGIORNO® Pizzas (18.0-32.7 oz.) in your Pickup order (Kroger Digital Coupon) [ Exclusive coupons valid for curbside pickup only. excludes delivery orders.]
Pork Back Ribs, BOGO (no price listed)
Powerade or Powerade Zero, Select Varieties, 32 fl oz, $0.49 (Final Cost wyb 10)
Lay's Party Size! Potato Chips or Doritos Party Size, Select Varieties, 14.75 to 15.25 oz, $2.88
Kroger Breakfast Sausage, Select Varieties, 12 oz, $1.99
---
10 FOR $10 SALE (Each Participating Item $1)
Michelina's Entree, Select Varieties, 4.5 to 9 oz, $1
–$1/5 Michelina's Lean Gourmet printable
Duncan Hines Classic or Signature Cake Mix, Select Varieties, 15.25 oz, $1
Frank's RedHot Sauce, Select Varieties, 5 fl oz, $1
Kroger Chicken, Select Varieties, 5 oz Can, $1
Simple Truth Organic Beans, Select Varieties, 15 oz, $1
Hunt's Tomatoes, Select Varieties, 14.5 oz, $1
Bush's Best Baked Beans, Select Varieties, 16 oz, $1
Kroger Home Sense Facial Tissue, Select Varieties, 65 to 160 ct, $1
Kroger Home Sense Paper Towels, Select Varieties, 1 Roll, $1
Kraft Macaroni & Cheese, Select Varieties, 7.25 oz, $1
–FREE Pickup wyb (5) Participating Kondike, Hellmann's, Best Foods, Nature Valley, Kraft, and Other Items (Kroger Digital Coupon) [Exclusive pickup coupons valid for curbside pickup only. excludes delivery orders.]
Bumble Bee Tuna, Select Varieties, 2.5 oz Pouch, $1
-$1/3 Bumble Bee Seasoned Tuna or Tuna Salad Pouches, 03/17/19 SS (exp 4/19/19) [2.5-oz.]
Kroger Broth, Select Varieties, 32 fl oz, $1
Smidge & Spoon Spices, Select Varieties, 0.5 to 5.25 oz, $1
Green Giant Vegetables, Frozen, Select Varieties, 7 to 10 oz, $1
El Monterey Breakfast Burritos, Select Varieties, 4 to 4.5 oz, $1
Kroger Microwaveable Pizza, Select Varieties, 7.2 oz, $1
Ro-tel Diced Tomatoes, Select Varieties, 10 oz, $1
Rosarita Refried Beans, Select Varieties, 16 oz, $1
Kroger Peanuts, 10 oz, $1
Bar-S Franks or Bar-S Bologna, Select Varieties, 16 oz, $1
–$1/2 Bar-S Franks printable [sign-up]
Colgate Toothpaste, Select Varieties, 4 oz, $1
Oscar Mayer Lunchables, Select Varieties, 2.25 to 4.4 oz, $1
Oscar Mayer Bologna, Select Varieties, 12 oz, $1
Softsoap Liquid Hand Soap, Select Varieties, 7.5 fl oz, $1
Speed Stick Deodorant, Select Varieties, 1.4 to 1.8 oz, $1
–$0.50/1 Speed Stick Antiperspirant/Deodorant printable
---
SPEND $20, SAVE $5 Promo
Edy's Ice Cream, 48 fl oz, or Outshine Fruit Bars, 4 to 6 ct, Select Varieties, $3.99
Marie Callender's Dinner or Large Pot Pie, 10.5 to 15 oz, or Healthy Choice or Cafe Steamers, 9.5 to 12 oz, Select Varieties, 4/$10
–$1/2 Marie Callender's Bowls, Dinners, or Delights (Kroger Digital Coupon) [] –$1/2 Healthy Choice Cafe Steamers or Complete Meals (Kroger Digital Coupon) [9-oz.-12-oz.]
Marie Callender's Fruit or Cream Pie, Select Varieties, 24.5 to 42 oz, $5.99
–$1/2 Marie Callender's Bowls, Dinners, or Delights (Kroger Digital Coupon) []
DiGiorno Stuffed Crust or Crispy Pan Pizza, Select Varieties, 21.6 to 29.5 oz, $7.99
–$5/4 Stouffer's Family Size Meals (26-96 oz.) or DIGIORNO® Pizzas (18.0-32.7 oz.) in your Pickup order (Kroger Digital Coupon) [ Exclusive coupons valid for curbside pickup only. excludes delivery orders.]
Blake's Pot Pie, 8 oz, or Alexia Vegetable Side, 10 to 12 oz, or Frontera Bowl, 10.75 to 11.5 oz, Select Varieties, 2/$7
–$1/1 Alexia Foods Frozen Products (SavingStar Deposit)
–$1/1 Alexia Foods Frozen Products (Checkout 51 Deposit) [Any variety; Cannot use this offer with any other print or in-app coupon or rebate.] –$1/2 Frontera Single Serve Meals (Kroger Digital Coupon) [10.75-oz.-11.5-oz.]
P.F. Chang's Meal, 22 oz, or Bertolli Meal, 24 oz, or Frontera Skillet Meal, 20 oz, Select Varieties, $6.99
Birds Eye Veggie Made or Super Foods, Frozen, Select Varieties, 10 to 12 oz, $3.99
---
MEGA SALE (Buy 3, Save $6, Mix & Match)
Tide Liquid Laundry Detergent, 92 to 100 fl oz, Tide Pods or Gain Flings, 32 to 42 ct, or Cascade Action Pacs, 36 to 60 ct, Select Varieties, $9.99
–$1/1 Tide Detergent printable [Excludes Tide PODS, Simply, Simply PODS, 10-oz. detergent and trial] –$3/1 Tide PODS printable [Excludes Tide Liquid/Powder detergent, Simply, Simply PODS, Tide PODS 9-ct. and below, and trial] –$0.75/1 Tide Pods or Liquid Detergent (Ibotta Deposit) [Select varieties; Select sizes.] –$1/1 Cascade ActionPacs Dishwasher Detergent printable [30-ct.+]
Cottonelle Bathroom Tissue, Select Varieties, 18 Mega Rolls or 36 Double Rolls, $14.99
-$0.50/1 Cottonelle Toilet Paper, 03/10/19 SS (exp 4/7/19) [6 or more rolls] –$0.55/1 Cottonelle Toilet Paper printable
–$0.55/1 Cottonelle Toilet Paper printable
–$0.75/1 Cottonelle Toilet Paper (Ibotta Deposit) [Any variety; Any size]
Downy Fabric Softener, 83 to 103 fl oz, or Downy Unstopables or Gain Fireworks, 14.8 oz, or Bounce Dryer Sheets, 200 ct, Select Varieties, $6.99
Charmin Bathroom Tissue, 6 Super Mega Rolls, or Bounty Paper Towels, 6 Double Rolls, Select Varieties, $9.99
Clorox Disinfecting Wipes, 4 pk, 300 ct, or Oxi Clean Powder Stain Remover, 7.22 lb, Select Varieties, $11.99
–$1/2 Clorox Disinfecting Wipes Products printable [35-ct.+] -$1/2 Clorox, Pine-Sol or Liquid-Plumr Products, 03/0319 SS (exp 4/7/19) [Excludes trial size and pens; Limit of 4 identical coupons per household per day; no cash back] –$0.50/1 Clorox Disinfecting Wipes printable [32-ct.+]
Viva Paper Towels, 8 Giant Rolls, or Chinet Dinner Plates, 100 ct, Select Varieties, $10.99
-$0.50/1 Viva Paper Towels, 03/10/19 SS (exp 4/7/19) [6-pack.+] –$0.50/1 Viva Vantage or Viva Paper Towels printable [6-pk.+] –$0.50/1 Viva Vantage or Viva Paper Towels printable
Comforts Baby Food, Select Varieties, 12 pk, 4 oz Pouches, $5.99
---
BAKERY
Fresh Baked Chocolate Chip Cookies or Other Varieties, 16 ct, 2/$7
Angel Food Cake, Plain or Sour Cream, 13 oz, $2.99
---
BEER & WINE
Bud or Bud Light, 12 pk, 16 fl oz Aluminum Bottles, or Miller or Coors, 12 pk, 16 fl oz Cans, Select Varieties, $10.49
White Claw, Truly or Smirnoff Spiked Seltzer, Select Varieties, 12 pk, 12 fl oz Cans, $12.99
Terrapin, SweetWater or New Belgium, Select Varieties, 12 to 15 pk, 12 fl oz Bottles or Cans, $14.99
Miller or Coors, 15 pk, 16 fl oz Aluminum Bottles, or Blue Moon, 12 pk, 12 fl oz Bottles, Select Varieties, $13.99
Butter or Storyteller, Select Varieties, 750 ml, $14.99
Corona, Heineken or Stella Artois, Select Varieties, 12 pk, 11.2 to 12 fl oz Bottles or Cans, $13.99
Bay Bridge, Select Varieties, 750 ml, $2.97
Stella Rosa Rosso or Magistrate, Select Varieties, 750 ml, $9.99
Barefoot, Select Varieties, 750 ml, $9.99
La Marca or Odd Lot, Select Varieties, 750 ml, $13.99
Martin's Rake Sauvignon Blanc, 750 ml, $12.99
Kim Crawford Sauvignon Blanc, 750 ml, $14.99
Bud, Miller or Coors, Select Varieties, 24 pk, 12 fl oz Bottles or Cans, $18.99
---
DAIRY
Kroger Cheese, 12 to 16 oz, or Simple Truth Organic Cheese, 6 oz, or Kroger String Cheese, 10 to 12 ct, Select Varieties, $2.99
Sargento Shredded Cheese, Select Varieties, 5 to 8 oz, BOGO (no price listed)
–$1/3 Sargento Natural Shredded Cheese, 5-8oz (Kroger 5X Digital Coupon) [Offer valid only when you purchase using Pickup. Exclusive coupons valid for curbside pickup only. Not valid on delivery orders.] -$0.60/2 Sargento Shredded Natural Cheese, 03/03/19 SS (exp 4/28/19)
Dannon or Chobani Greek Yogurt or Chobani Flip or Less Sugar Greek Yogurt, Select Varieties, 4 to 5.3 oz, 10/$10
Philadelphia Cream Cheese, Select Varieties, 8 oz Bar, 3/$5
Simple Truth Plant Based Milk, 64 fl oz, or Simple Truth Cage-Free Brown Eggs, 12 ct, Select Varieties, 2/$5
Fage Greek Yogurt, 5.3 to 7 oz, Stonyfield Organic Yogurt, 3.5 oz, or Kind Bar, 1.2 to 1.4 oz, Select Varieties, 10/$10
-$1 off Stonyfield Organic Products, exp. 5/12/19 (RMN 03/31/19 #2) [(3) single serve; (1) large cup 24-oz. to 32-oz.; (1) 4-ct.+ multipack; Includes YoBaby, Kids and Whole Milk]
---
DELI
Fresh Foods Market Roasted Chicken, 2 lb, $4.99
Bone-In Chicken Wings, Fully Cooked, Select Varieties, $5.99/lb
---
FROZEN
Edwards Pie, 23.5 to 35 oz, or Mrs. Smith's Pie, 35 to 37 oz, Select Varieties, $4.99
–$1/1 Edwards Pie, 23.5 to 35 oz, or Mrs. Smith's Pie, 35 to 37 oz, Select Varieties Kroger Super Saver Digital Coupon (use up to 5 times in a single transaction)
Turkey Breast, Bone-In, $1.49/lb
–$0.52/1 Turkey Breast, Bone-In Kroger Super Saver Digital Coupon (use up to 5 times in a single transaction)
Tyson Chicken or Any'tizers, Select Varieties, 19 to 28.05 oz, $5.99
Kroger Deluxe Ice Cream, Select Varieties, 48 fl oz, 2/$5
Kroger Boneless Chicken Breasts or Tenderloins or Cutlets, 2.5 to 3 lb, $6.99
Halo Top Ice Cream, Select Varieties, 16 fl oz, $3.99
---
GROCERY
Nabisco Family Size Cookies or Crackers, Select Varieties, 10 to 20.6 oz, $3.49
–$1.50/1 Nabisco Family Size Cookies or Crackers, Select Varieties, 10 to 20.6 oz Kroger Super Saver Digital Coupon (use up to 5 times in a single transaction)
–$0.75/1 Chips Ahoy! (Checkout 51 Deposit) [6 oz or larger, excludes single serve sizes; Cannot use this offer with any other print or in-app coupon or rebate.] –$0.75/1 Chips Ahoy! (SavingStar Deposit) [6-oz.+; Excludes single serve sizes.]
Deer Park Spring Water, 24 pk, 16.9 fl oz Bottles, or LaCroix Sparkling Water or Simple Truth Organic Seltzer Water, 8 pk, 12 fl oz Cans, Select Varieties, 3/$9
Coca-Cola, Pepsi or 7UP, 12 pk, 12 fl oz Cans or 8 pk, 12 fl oz Bottles, Select Varieties, 3/$11 (Final Cost wyb 3)
Coca-Cola, Pepsi or 7UP, Select Varieties, 6 pk, 16 to 16.9 fl oz Bottles, 4/$10 (Final Cost wyb 4)
Kellogg's or Special K Cereal, 10 to 15.5 oz, or Nature Valley or Fiber One Bars, 5 to 12 ct, Select Varieties, 4/$8 (Ad shows Frosted Flakes and Special K Red Berries)
–$1/2 Nature Valley Granola Bars, Biscuits, Granola Cups, Layered Granola Bars, Soft-Baked Filled Squares, Protein Bars, Granola Snack Mix or Peanut or Almond Butter Granola Bites Pouch (Kroger Digital Coupon) [5-ct.+] -FREE Gallon of Milk or Half Gallon of Organic Milk wyb (4) Kellogg's or Special K Cereal, 10 to 15.5 oz, or Nature Valley or Fiber One Bars, 5 to 12 ct, Select Varieties, Mix & Match In-Ad Kroger Offer
–$1/1 Kellogg's Cereal printable [Need 850 rewards points] –$3/5 Kellogg's Cereals printable
-$1/2 Select General Mills Cereals, exp. 4/13/19 (SS 03/03/19) [Includes Lucky Charms, Lucky Charms Frosted Flakes, Fruity Lucky Charms, Reese's Puffs, Cinnamon Toast Crunch, French Toast Crunch, Apple Cinnamon Toast Crunch, Chocolate Toast Crunch, Cinnamon Toast Crunch Churros, Cocoa Puffs, Trix, Cookie Crisp, Golden Grahams, Kix or Blasted Shreds] –$0.50/1 Kellogg's Special K Cereal printable
–$1/2 Nature Valley Granola Bars, and Biscuits printable
-$0.50/2 Nature Valley Granola Bars, Biscuits, Granola Cups, Layered Granola Bars, Soft-Baked Filled Squares, Protein Bars, Granola Snack Mix or Peanut or Almond Butter Granola Bites, 03/17/19 SS (exp 5/11/19) [5-ct.+] –$1/2 Nature Valley Granola Bars, Biscuits, Granola Cups, Layered Granola Bars, Soft-Baked Filled Squares, Protein Bars, Granola Snack Mix, or Peanut or Almond Butter Granola Bites Pouch (SavingStar Deposit) [5-ct.+; boxes] -$0.50/2 Fiber One Chewy Bars, 90 Calorie Products (Bars Or Brownies), Protein Chewy Bars, Streussel Bars, Cheesecake Bars, Cookies, Layered Chewy Bars, Protein Nut Bars, Brownie Bites, Cookie Bites, Mini Bars or Supreme Brownies, 02/10/19 SS (exp 4/7/19) [any boxes]
Gatorade, G2 or G Zero, 32 fl oz, or Propel, 24 fl oz, Select Varieties, $0.77 (Final Cost wyb 10)
Hostess Multipack Snack Cakes, 6 to 10 ct, or Pepperidge Farm Cookies, 5 to 8.6 oz, Select Varieties, 2/$5
Barilla Pasta, 12 to 16 oz, or Kroger Frozen Vegetables, 10 to 12 oz, Select Varieties, 10/$10
-$1/4 Barilla Pasta, 02/10/19 SS (exp 4/7/19) [Any Boxes ]
Green Mountain K-Cups, Select Varieties, 32 ct, $14.99
M&M's Easter Candy, Select Varieties, 8 to 11.4 oz, 2/$6
–$1/2 Mars Wrigley Confectionary Easter products (3 OZ. – 46.2 OZ) printable 
-$1/2 M&M's Chocolate Candies, exp. 4/21/19 (RMN 03/10/19 R) [8-oz.+] -$1/2 Mars Wrigley Confections Chocolate Items, exp. 4/21/19 (RMN 03/17/19) [4.5-oz. to 46.2-oz.; DND]
Frito-Lay Simply Snacks, 7.5 to 8.5 oz, or Kettle Brand Potato Chips, 13 oz, Select Varieties, 2/$6
–$0.75 off Value Brands AND Frito Lay Snacks (Ibotta Deposit) [Combo offer]
---
HEALTH & BEAUTY
OGX Shampoo or Conditioner, Select Varieties, 13 to 19.5 fl oz, 2/$11
---
HOUSEHOLD
Purex Liquid Laundry Detergent, 128 to 150 fl oz, or all Liquid Laundry Detergent, 94.5 to 100 fl oz, Select Varieties, $5.99
–$0.50/1 Purex Liquid or Powder Laundry Detergent printable
-$2/2 All or Snuggle Products, 03/10/19 RMN (exp 4/27/19) [Excludes Special Packs, Travel/Trial Size; Limit of One Identical Coupon Per Shopping Trip; No cash back] -$1/1 All Product, 03/10/19 RMN (exp 4/27/19) [Excludes Special Packs, Travel/Trial Size; Limit of One Identical Coupon Per Shopping Trip; No cash back]
Handi-foil Pans, Select Varieties, 1 to 10 ct, B2G1
---
MEAT
Fresh Ground Beef, 80% Lean, Sold in 5 lb Flavorseal for $9.95, $1.99/lb
Boneless Half Strip Loin, $6.99/lb
Strip Steaks, Family Pack, $8.99/lb
Hillshire Farm Smoked Sausage, Select Varieties, 12 to 13.5 oz, 2/$5
Oscar Mayer Deli Fresh Lunch Meat or Carving Board, 7 to 9 oz, or Bob Evans Sides, 12 to 24 oz, Select Varieties, 2/$6
Smithfield Bacon, Select Varieties, 10 to 16 oz, $3.99
Johnsonville Brats or Italian Sausage, Select Varieties, 19 oz, $4.49
Kroger Deli Style Lunch Meat, Select Varieties, 16 oz, 2/$6
Fresh Kroger Ground Turkey, 85% Lean, 16 oz, 2/$5
Center-Cut Pork Chops, Bone-In, Family Pack, $3.49/lb
Fresh Private Selection Angus Ground chuck, 80% Lean, 16 oz, $3.99
Boneless Bottom or Eye of Round Roast, $5.99/lb
Simple Truth Natural Quarter Sliced Ham, Boneless, $4.49/lb
---
PET
Greenies Pet Treats, Select Varieties, 3 oz, $4.98
---
PRODUCE
Medium Hass Avocados, $0.77
Organic Mangos, 2/$3
Simple Truth Nuts, Select Varieties, 12 to 16 oz, $6.99
Simple Truth Organic Lettuce Romaine Hearts, 3 ct, $2.99
Del Monte Magnificent Melons, $1.99
Simple Truth Organic Mini Carrots, 16 oz, 2/$3
Cutie Seedless Clementines, 3 lb Bag, $3.99
Gold Nugget Mandarins, 3 lb, $3.99
Private Selection Snacking Tomatoes, 10 oz, or Kroger Mini Sweet Peppers, 1 lb, 2/$5
Russet Potatoes, 5 lb, $1.99
Yellow Onions, 3 lb, $1.99
Kroger, Dole or Taylor Farms Salad Kits, Select Varieties, 8 to 14 oz, 2/$6
Spring Sensation Bouquet, 15 Stem, $9.99
Assorted Spring Bulbs, 6", $5.99 and up
---
SEAFOOD
Extra Large Shrimp, Raw, 21 to 25 ct, $6.99/lb
Kroger Shrimp Platter, Frozen, 40 ct, $9.99
Simple Truth Natural Cooked or Raw Shrimp, 16 oz, $12.99
Sockeye Salmon Fillets, Wild-Caught, Previously Frozen, $9.99/lb
Wild-Caught Lobster Tail, Frozen, 4 to 6 oz, $6.99