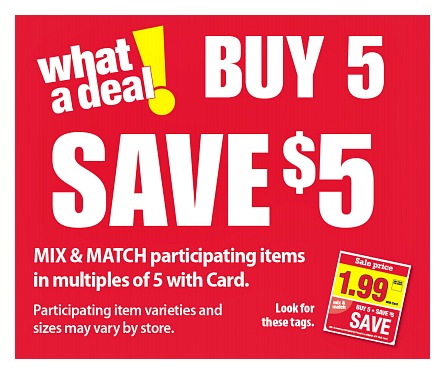 Here is the inclusion list for the new What A Deal! Buy 5, Save $5 Mega sale that starts on Wednesday, 3/20 and runs through Tuesday 4/2. With this sale you will instantly save $5 at checkout when you buy any 5 participating items.
If you find any other matching coupons or if you find a coupon that doesn't match, let me know and I will get it added or fixed as soon as possible. I will be updating the list throughout the day today as the tags are put up! As usual the price listed is AFTER mega savings.
As I mention above, this is a big sale so be sure to click "Read More" to see all the deals!
BABY
Beech-Nut Baby Cereals, $0.99
–$2/2 Beech-Nut Cereal Canisters, (Ibotta Deposit)
–$1/2 Beech-Nut Cereal Canisters, any variety (Kroger Digital Coupon)
Beech-Nut Melties, $1.99
Beech-Nut Pouches, 4 pk $4.99
Gerber Juice Bottle, $1.19
Gerber Snacks, 4 pk $6.79
–$1/4 Gerber Snack Items
–$1/4 Gerber Snack Items, any size. (Kroger Digital Coupon)
GoodNites, $7.99
–$1.50/1 GoodNites Underwear
–$1.50/1 Huggies GoodNites Bed Mats; Includes Jumbo pk or Larger Only; DND
Huggies Diapers, $6.99+
–$1/1 Huggies Diapers
-$1.50/1 Huggies Diapers, exp. 4/7/19 (SS 03/10/19) [Excludes 9-ct. or less] –$1.50/1 package of HUGGIES LITTLE SWIMMERS Disposable Swimpants
–$1.50/1 package of HUGGIES® LITTLE SWIMMERS® Disposable Swimpants (10 ct. or larger) (Krgoer Digital Coupon)
Huggies Pull-Ups, $7.99
–$1.50/1 Huggies Pull-Ups Training Pants; Excludes 6 ct or Smaller; Must Sign Up to Print Coupon
-$1.50/1 Huggies Pull-Ups Training Pants Package – 3-10-19 SS; Excludes 6 ct or Less (exp 04/07/19)
–$1.50/1 Huggies Pull-Ups (Ibotta Deposit) [Any variety; Sizes 2T; 5T]
Huggies Wipes, $13.99
–$1/2 Huggies Baby Wipes; Includes 300 ct or Larger Only; DND
-$1/2 Huggies Wipes Packages – 3-10-19 SS; Includes 48 ct or Higher Only (exp 04/07/19)
Luvs Diapers, $14.99
–$0.50/1 Luvs Diapers; Excludes Trial and Travel Size; Limit of 1 Like Coupon Per Household Per Day
Pampers Aqua Pure Wipes $2.49
–$0.50/1 Pampers Wipes, any variety (56-504ct) (Kroger Digital Coupon)
Pampers Diapers or Easy Ups, Sizes NB to 6 or 2T to 5T, Select Varieties, 16 to 37 ct, $7.99
–$1/1 Pampers Cruisers Diapers printable [ETS] –$1/1 Pampers Swaddlers Diapers printable [Excludes trial/travel size] –$2/2 Pampers Swaddlers Diapers printable [ETS] –$2/2 Pampers Diapers printable [Excludes trial/travel size] –$2/2 Pampers Diapers printable [ETS] –$1/1 Pampers Easy Ups printable
Pampers Wipes $1.19
–$0.50/1 Pampers Wipes, any variety (56-504ct) (Kroger Digital Coupon)
Similac Formula, $28.99+
–$5/1 Similac Alimentum Infant Formula (Ibotta Deposit) [19.8-oz. canister only] -$3/1 Similac Pro-Series Powder, or Ready to Feed, or Similac Aluminum – 3-24-19 SS; Includes Powder, 22.5 oz and Larger; Ready To Feed, 6 ct 2 oz Only; or Aluminum, 19.8 oz Only (exp 05/07/19)
-$3/1 Similac Pure Bliss Infant Formula or Toddler Drink – 3-24-19 SS (exp 05/07/19)
Similac Go & Grow, $18.99
-$3/1 Similac Go & Grow with 2-FL HMO Toddler Drink – 3-24-19 SS (exp 05/07/19)
Sprout Pouches, $0.69
–B1G1 Sprout Organic Baby or Toddler Puree Pouch printable
–B1G1 SPROUT Organic Baby Food Pouch (Kroger Digital Coupon)
---
BAKERY/DELI
Chocolate Fudge Iced Cake or Other Varieties, Double Layer, 37 to 62 oz, In the Bakery, $11.99
La Terra Fina Dip, 10 oz, Select Varieties, In the Deli, $2.99
Private Selection Beef Snack Bites, $4.49
Private Selection Sliced Pepperoni or Salami Cracker Cuts, Select Varieties, 14 oz, In the Deli, $4.99+
Snack Factory Organic Pretzel Crisps, 9.35 oz, In the Deli, $2.99
---
DAIRY/REFRIGERATED
Buitoni Pasta or Sauce, $2.49
Califia Almond Milk, $2.99
Califia Cold Brew Coffee, $2.99
Chobani Yogurt, 4ct, $2.79
Dannon Greek Yogurt, Select Varieties, 4 ct, $2.79
Florida's Natural Orange Juice, $2.29
–$1/2 Florida's Natural NFC Orange Juice printable [52-oz.+] -$1/2 Florida's Natural Orange Juice, exp. 4/6/19 (SS 02/10/19 R) [any 52 fl oz or larger; Limit of 4 like coupons in the same shopping trip; DND]
Kraft Shredded Cheese, $1.79
Minute Maid Juice, $1.49
O That's Good Sides, $2.99
O That's Good Soup, $2.99
Philadelphia Cream Cheese, 2 pk, Select Varieties, $2.99
Quorn Refrigerated Cutlets, $2.49
–$1/1 Quorn Product printable
–$2/1 Quorn Meatless Refrigerated Products (Ibotta Deposit) [Refrigerated variety; Any size.]
Quorn Deli Slices, $2.99
–$1/1 Quorn Product printable
–$2/1 Quorn Meatless Refrigerated Products (Ibotta Deposit) [Refrigerated variety; Any size.]
Sargento Shredded Cheese, 5 to 8 oz, Select Varieties, $1.79
–$1/2 Sargento Shredded Natural Cheese (Kroger Digital Coupon) [] -$0.60/2 Sargento Shredded Natural Cheese, exp. 4/28/19 (SS 03/03/19 #2)
Simply Juice, 52 fl oz, $2.99
Stonyfield Organic Drinkable Yogurt, 6ct, $2.99
Stonyfield Organic Yogurt Cups, 4ct, $2.97
-$1/3 Stonyfield Organic Products, exp. 3/30/19 (SS 02/24/19) [(3) single serve; (1) large cup, 24-32-oz.; (1) 4-pk.+ Kids or Baby; DND]
Stonyfield Organic Yogurt Tubes, $2.97
-$1/3 Stonyfield Organic Products, exp. 3/30/19 (SS 02/24/19) [(3) single serve; (1) large cup, 24-32-oz.; (1) 4-pk.+ Kids or Baby; DND]
Suja Organic Juices, 12 oz, $1.99
–$1.50/1 Suja Juice (Ibotta Deposit) [Any variety; Any size]
Tennessee Pride Sausage, $6.99
Tropicana Orange Juice, $4.49
Turkey Hill Lemonade or Tea, $1.79
---
FROZEN
Bagel Bites or Bagel Dogs, $3.99
Barber Foods Chicken, $2.99
Birds Eye Vegetables, 9.5 to 14.4 oz, or Protein Blends or Ricers, 10 to 12.7 oz, Frozen, Select Varieties, $1.29
Birds Eye Voila Family Size Meal, 42 oz, Select Varieties, $5.89
Ben & Jerry's, 16 fl oz, Slices, 3 ct, $2.49
Blue Bunny Novelties , $2.99+
–$0.75/1 Blue Bunny Ice Cream printable [46-oz.+]
Breyers Delights, $2.99
Breyers Ice Cream, 48 fl oz, $2.49
Cedarlane Frozen Meals, $2.49+
Cooked Perfect Meatballs, $1.99  +
-$1/1 Cooked Perfect Frozen Meatballs, exp. 3/24/19 (SS 01/27/19) [Bag]
De Wafflbakkers Pancakes, $1.99
Devour Frozen Meals, $2.99
–$0.50/1 Devour Frozen Meals (Ibotta Deposit) [Any variety; Any size]
Diana's Banana Babies, $2.99
Dole Frozen Fruit, 32 to 48 oz, Select Varieties, $6.99
Dr Praeger's Frozen Meals, $2.49+
–$1/1 Dr. Praeger's Bowls (Ibotta Deposit) [Any variety, Any size]
Enlightened Ice Cream, $3.99
–$1/2 Enlightened Ice Cream printable
Farmwise Veggie Nuggets, $3.57
–$1/1 Farmwise Product Printable
Gardein Entrees, $3.49+
Garden Lite Dinners, $1.99
Garden Lites Muffins, $1.99
Green Giant Mashed Cauliflower, $4.49
-$2/3 Green Giant Veggie Tots, Riced Veggies, Mashed Cauliflower, Veggie Sprials, Cauliflower Pizza Crust, Harvest Protein Bowls or Little Green Sprout's Organics by Green Giant Frozen Product, exp. 3/31/19 (SS 01/06/19 #2 R)
–$1/1 Green Giant Product printable
–$1/1 Green Giant Veggie Tots, Riced Veggies, Mashed Cauliflower, Roasted Veggies, Harvest Protein Bowls, or Cauliflower Pizza Crust printable
Green Giant Riced Veggies, $1.99
-$2/3 Green Giant Veggie Tots, Riced Veggies, Mashed Cauliflower, Veggie Sprials, Cauliflower Pizza Crust, Harvest Protein Bowls or Little Green Sprout's Organics by Green Giant Frozen Product, exp. 3/31/19 (SS 01/06/19 #2 R)
–$1/1 Green Giant Product printable
–$1/1 Green Giant Veggie Tots, Riced Veggies, Mashed Cauliflower, Roasted Veggies, Harvest Protein Bowls, or Cauliflower Pizza Crust printable
Green Giant Veggie Tots, $2.99
-$2/3 Green Giant Veggie Tots, Riced Veggies, Mashed Cauliflower, Veggie Sprials, Cauliflower Pizza Crust, Harvest Protein Bowls or Little Green Sprout's Organics by Green Giant Frozen Product, exp. 3/31/19 (SS 01/06/19 #2 R)
–$1/1 Green Giant Product printable
–$1/1 Green Giant Veggie Tots, Riced Veggies, Mashed Cauliflower, Roasted Veggies, Harvest Protein Bowls, or Cauliflower Pizza Crust printable
Haagen-Dazs Ice Cream, 14 fl oz, Select Varieties, $2.49
Homemade Ice Cream, $3.99
Jimmy Dean Breakfast Sandwiches, Select Varieties, 4 or 10 ct, $4.49
-$0.55/1 Jimmy Dean Item, exp. 4/7/19 (RMN 03/10/19 R) [Limit One Coupon Per Transaction]
Jimmy Dean Pancakes & Sausage, $6.49
-$0.55/1 Jimmy Dean Item, exp. 4/7/19 (RMN 03/10/19 R) [Limit One Coupon Per Transaction]
Johnsonville Grillers, $4.99
Jose Ole Taquitos, $3.49
$1/1 Jose Ole Taquitos Rolled Tacos or Snacks, exp. 3/31/19 (SS 01/27/19 R) [16-oz.+]
Kraft Frozen Dinners, $1.99
Kroger Frozen Shrimp, $6.49+
Kroger Party Size Lasagna, $8.99
Louisa Tortellini, $2.99
Low Cow Ice Cream, 16 fl oz, Select Varieties, $2.99
Luvo Bowl, $2.49
–$1.50/1 Luvo Bowls (BerryCart Deposit)
Mama Julia Burrito Bowl, $5.99
Magnum Ice Cream, $2.99
Morning Star Farms Frozen Foods, $2.99
Mrs. Paul's Seafood, Select Varieties, Frozen, 18 to 24.6 oz, $3.99
O That's Good Pizza, $4.99
Outshine Fruit Bars, 12 ct, $2.99
Private Selection Frozen Seafood Meals, $4.49+
Private Selection Frozen Shrimp, $9.49+
Private Selection Garlic Mussels, $2.49
Quorn Frozen Meatless Products, $2.79
–$1/1 Quorn Product printable
–$0.65/1 Quorn Meatless Frozen Products (Ibotta Deposit) [Any size; Select varieties]
Red's Frozen Meals, $2.49
Screamin' Sicilian Pizza, 20.8 to 25 oz, $6.99
–$1/1 Screamin' Sicilian Premium Frozen Product printable [Sign Up]
Simple Truth Low Cow Ice Cream, $2.99
Simple Truth Shrimp Tacos, 10.6oz, $6.49
Stouffer's Family Size Meal, 28 to 40 oz, $5.89
T.G.I Fridays Appetizers, $3.99
Talenti Gelato, 16 fl oz, $2.99
Totinos Pizza Rolls, 90ct, $5.99
Urban Pie Pizza, 16.9 to 20.45 oz, Select Varieties, $6.99
Veggie Fries, $2.99
–$1/1 Veggie Fries printable
Yummy Dino Buddies, 38oz, $6.99
---
GROCERY
1850 Coffee or K-Cups, $5.99
–$1.50/1 1850 Brand Coffee (Excludes Iced Coffee)
Arnold Bread, $1.99+
Arnold Organic Bread, $3.49
Arnold Sandwich Thins, $1.99
–$0.75/1 Arnold, Brownberry or Oroweat Sandwich Thins (Checkout 51 Deposit) [Any variety; Cannot use this offer with any other print or in-app coupon or rebate.]
Bai Juice, 6ct, $8.99
Bertolli Olive Oil, $6.99 +
Bertolli Pasta Sauce, $1.29
-$0.75/1 Bertolli Red or White Sauce – 3-24-19 SS (exp 04/20/19)
Boboli Pizza Crust, $3.39+
Brookside Candies, $9.99
Cafe Bustelo K-Cups, 12ct, $4.99
–$1/1 Café Bustelo coffee product
–$1/1 Café Bustelo coffee product (Kroger Digital Coupon)
Canada Dry, 6ct, $3.99
Cape Cod Chips, $1.99
CapriSun Organic, $2.99
Carnation Breakfast Essentials, $3.99 +
Chips Ahoy! Cookies, 6.98 to 13 oz, Select Varieties, $1.79
-$0.75/1 Chips Ahoy! Thins Cookies, 03/03 SS (exp 4/13) [7-oz.+] –$0.75/1 Chips Ahoy! (Checkout 51 Deposit) [6 oz or larger, excludes single serve sizes; Cannot use this offer with any other print or in-app coupon or rebate.]
Chock Full O Nuts, $6.49
Coca-Cola, Pepsi or 7UP, Select Varieties, 6 pk, 16 to 16.9 fl oz Bottles, $1.99
Community Coffee Bag, $3.89
Core Organic Drink, $0.99
Country Time Sparkling Lemonade, 6ct, $1.99
Country Time, Tang, and Kool-Aid Powder, $1.69
Cracker Barrel Mac & Cheese Dinner, $2.49
Crystal Light Drink Mix, $1.49
Dave's Killer Organic Bread, 18 to 27 oz, $4.49
–$1.50/1 Dave's Killer Bread (Ibotta Deposit) [Raisin' the Roof! variety; 18-oz. bag only]
Deer Park Sparkling Water, 8 pk, 12 fl oz Cans or 8 pk, 16.9 fl oz Bottles, Select Varieties, $2.99
Dinty Moore Beef Stew, 20oz, $1.39
–$1/2 Dinty Moore Brand Products printable
-$0.75/2 Dinty Moore Products, exp. 4/29/19 (SS 03/03/19)
Donut Shop K-Cups, $4.99
Doritos, 9.25 to 11.25 oz, $1.99
Dunkin' Donuts Coffee, $5.99+
–$1.25/1 Dunkin' Donuts Coffee Product printable
–$1.25/1 Dunkin' Donuts coffee product (Kroger Digital Coupon)
Enjoy Life Morsels, $2.99
–$1.00/1 Enjoy Life Product; Includes Purchase of $3 or More Only
–$0.50/1 Enjoy Life Products (Ibotta Deposit) [Select varieties; Select sizes]
Essentia Water, 8ct, $8.99
Fiber One Bars, 5 to 12 ct, $1.79
-$0.50/2 Fiber One Chewy Bars, 90 Calorie Products (Bars Or Brownies), Protein Chewy Bars, Streussel Bars, Cheesecake Bars, Cookies, Layered Chewy Bars, Protein Nut Bars, Brownie Bites, Cookie Bites, Mini Bars or Supreme Brownies, 02/10/19 SS (exp 4/6/19) [any boxes]
Filippo Olive Oil, $6.99
–$1/1 Filippo Berio Olive Oils printable
Folgers Coffee, $4.99+
–$1/1 Folgers Coffee Product printable
–$2.50/1 Folgers Classic Roast Coffee (38.4oz) (Kroger Digital Coupon)
–$0.50/1 Folgers Ground Coffee (Ibotta Deposit) [Any variety; Any size]
Food Network Kitchen Dressing, $2.29
Frank's RedHot Sauce, $3.49
General Mills Cereal, 10.5 to 12.4 oz, $1.79
-$1/1 General Mills Cereal or Nature Valley Fruit & Nut Granola, 03/17/19 SS (exp 4/27/19) [Nature Valley Pouch or General Mills box of Maple Cheerios, Cinnamon Toast Crunch Churros, Chocolate Toast Crunch, Fiber One Strawberries & Vanilla Clusters, Fruity Lucky Charms] -$1/2 Cheerios Cereals, 03/03/19 SS (exp 4/13/19) [Includes Original Cheerios, Honey Nut Cheerios, Multi Grain Cheerios, Chocolate Peanut Butter Cheerios, Very Berry Cheerios, Apple Cinnamon Cheerios, Frosted Cheerios, Chocolate Cheerios, Fruity Cheerios, Honey Nut Cheerios Medley Crunch, Cheerios Protein, Cheerios + Ancient Grains, Cheerios Oat Crunch or Maple Cheerios Cereal]
Grain Berry Bran Flakes, $1.99
Green Mountain Coffee, 10 to 12 oz, or K-Cups, 10 to 12 ct, Select Varieties, $4.99
Heinz Real Mayo, $2.99
Hershey's Bag Candy, $1.99+
Hershey's Bag Candy, Select Varieties, 33.9 to 40 oz, $7.99+
-$2/3  Hershey's Easter Kisses, Reese's, Hershey's Miniatures, Hershey's Eggs, Cadbury, Jolly Rancher or Whoppers bags (7oz or larger) 3/24 SS (exp 4/6)
Hershey's or Reese's Snack Mix, $1.99
Hills Bros. Cappuccino, $2.57 +
Jack Link's Jerkey, $3.99
-$1/1 Jack Link's Jerky, exp. 4/30/19 (SS 01/20/19) [2.6-oz.+; Limit one coupon per customer]
Justin's Nut Butter, $8.99
Kauai Coffee, $5.99
Kellogg's Pop-Tarts, 6 to 8 ct, $1.49
–$1/3 Pop-Tarts® Toaster Pastries printable
–$1/1 Kellogg's Pop-Tarts Toaster Pastries printable [Need 850 rewards points]
Ken's Dressing, 16oz, $1.49
-$1.50/2 Ken's Dressings – 3-17-19 SS; Includes 16 oz or Larger Only (exp 04/30/19)
King Arthur Flour, $3.99
Kodiak Cakes Waffle Mix, $3.99
Kool-Aid, Country Time or Tang, Select Varieties, 6 to 8 Qt, $1.69
Kool-Aid Sparklers, $1.99
Kraft Barbecue Sauce, Select Varieties, 17.5 to 18 oz, $0.49
Kraft Deluxe Macaroni & Cheese, 14 oz, $1.99
Kraft Mayo, 22 to 30 fl oz, Select Varieties, $1.99
Kraft Salad Dressing, Select Varieties, 14 to 16 oz, $0.99
Krispy Kreme K-Cups, $4.99
Kroger Ground Coffee, $4.29
Kroger or Private Selection K-Cups, Select Varieties, 12 ct, $2.99
Kroger Purified Drinking Water, 32 pk, 16.9 fl oz,  $2.33
Kroger Spring Water, 24 pk, 16.9 fl oz, Select Varieties, $1.99
La Banderita Flour Tortillas, 10 ct $0.99
Late July Chips, $1.49
Lipton Tea, $1.49+
–$0.40/1 Lipton Tea Bags, K-Cup, Liquid or Powdered Iced Tea Mix product. (Kroger Digital Coupon)
-$1/1 Lipton Tea Bags, K-Cup, Liquid or Powdered Iced Tea Mix Product, exp. 4/14/19 (RMN 03/17/19)
Lorissa's Kitchen Jerkey, $3.99
Malt O Meal Bag Cereal, 17 to 23.5 oz, Select Varieties, $1.99
-$1/2 Malt-O-Meal Cereals – 3-10-19 SS; Includes 18 oz or Larger Only (exp 04/30/19)
–$0.50/1 Malt O Meal Cereals (Ibotta Deposit) [Any variety; 18-oz. bag or larger]
Mariani Dried Fruit, $2.49 +
McCafe Coffee or K-Cups, $5.99
-$1/1 McCafe Coffee Product, exp. 4/10/19 (SS 01/20/19 R)
Mio Packets, 10ct, $0.99
Mrs. Butterworth's Syrup, $2.79
Mrs. Cubbison's Croutons, 5oz, $0.79
–$1/2 Mrs. Cubbison's Croutons, Tortilla Strips, Fruit & Nut or Cheese Crisps Products
–$0.25/1 Mrs. Cubbison's Croutons (Ibotta Deposit) [Any Variety; Any Size] [Limit 5]
Nabisco Chips Ahoy Cookies, $1.79
-$0.75/1 Chips Ahoy! Thins Cookies, exp. 4/13/19 (SS 03/03/19) [7-oz.+] –$0.75/1 Chips Ahoy! (SavingStar Deposit) [6-oz.+; Excludes single serve sizes.] –$0.75/1 Chips Ahoy! (Checkout 51 Deposit) [6 oz or larger, excludes single serve sizes; Cannot use this offer with any other print or in-app coupon or rebate.]
Nabisco Snack Crackers, 3.5 to 9.1 oz, $1.79
Nabisco Snak Saks, $1.99
Nature Valley, 5 to 12 ct, $1.79
–$1/2 Nature Valley Granola Bars, Biscuits, Granola Cups…
–$1/2 Nature Valley Granola Bars, Biscuits, Granola Cups, Layered Granola Bars, Soft-Baked Filled Squares, Protein Bars, Granola Snack Mix or Peanut or Almond Butter Granola Bites Pouch (Kroger Digital Coupon) [5-ct.+] –$1/2 Nature Valley Granola Bars, and Biscuits printable
-$0.50/2 Nature Valley Granola Bars, Biscuits, Granola Cups, Layered Granola Bars, Soft-Baked Filled Squares, Protein Bars, Granola Snack Mix or Peanut or Almond Butter Granola Bites, 03/17/19 SS (exp 5/11/19) [5-ct.+] –$1/2 Nature Valley Granola Bars, Biscuits, Granola Cups, Layered Granola Bars, Soft-Baked Filled Squares, Protein Bars, Granola Snack Mix, or Peanut or Almond Butter Granola Bites Pouch (SavingStar Deposit) [5-ct.+; boxes] -$0.50/2 Fiber One Chewy Bars, 90 Calorie Products (Bars Or Brownies), Protein Chewy Bars, Streussel Bars, Cheesecake Bars, Cookies, Layered Chewy Bars, Protein Nut Bars, Brownie Bites, Cookie Bites, Mini Bars or Supreme Brownies, 02/10/19 SS (exp 4/6/19) [any boxes]
Neuro Beverage, $0.99
Ocean Spray Craisins, 5 to 6 oz, Select Varieties, $1.99
Ocean Spray Cranberry Juice, 64 fl oz, $1.99
Ole Taco Shells, $0.99
Ole Xtreme Wellness Shells, $1.99
Olive Garden Croutons, $0.79
–$0.25/2 Olive Garden Signature Recipe Seasoned Croutons (Ibotta Deposit) [Garlic & Romano; 5-oz. bag only]
Orville Redenbacher's Popcorn, $0.99+
Orville Redenbacher's SmartPop Popcorn, $2.49
Panera Bread K-Cups, $4.99
Peet's Coffee or K-Cups, $6.99
Pepperidge Farm Buns, $1.99
Pepperidge Farm Cookies, 5 to 8.6 oz, Select Varieties, $1.99
Pepperidge Farm Resealable Goldfish Crackers, $2.49
Planters Peanuts, Select Varieties, $2.49+
Pompeian Olive Oil, $3.99 +
–$0.55/1 Pompeian Extra Virgin Olive Oil printable
Pop Secret, $2.99
Popchips, $1.99
–$2/1 Bai & Popchips Combo (Ibotta Deposit) [See offer details.]
Post Cereal, Select Varieties, $1.99
–$0.75/1 Post Pop-Tarts Cereal (Ibotta Deposit) [Any variety; 11.2 oz. box or 17oz box olny] –$0.75/1 Post Hostess Donettes Cereal (Ibotta Deposit) [Any variety; 11.5 oz. box or larger] –$0.75/1 Post Hostess Honey Bun Cereal (Ibotta Deposit) [Any variety; 11.5 oz. box or larger]
Powerade or Powerade Zero, 8 pk, 20 fl oz, $2.99
Private Selection Candy, $2.99
Private Selection K-Cups, $2.99
Quaker Cereal, 11.5 to 15 oz, $1.79
-$1/2  Quaker Life Cereal, Quaker Oatmeal Squares or Quaker Simply Granola 3/24 SS (exp 5/5)
Quaker Instant Oatmeal, 8 to 12 ct, Select Varieties, $1.49
R.W. Knudsen Juice, $2.99+
Red Bull Energy Drink, 12 fl oz, $1.99
Ritz Crackers, 7.5 to 13.7 oz, $1.89
Ruffles Potato Chips, 8.5 to 9 oz, $1.99
Silver Plate Pasta Sauce, $2.99
Simple Truth Organic Juice, 8ct, $1.99
Simple Truth Organic Peanut Butter, 40 oz, $6.99
Skippy Peanut Butter, $1.79
–$0.75/1 Skippy Peanut Butter (Checkout 51 Deposit) [Any size.] –$0.55/2 Skippy Products printable
Smartwater, 6ct, $5.99
Snapple Tea, 6 pk, 16 to 18.5 fl oz, $2.99
Spindrift Sparkling Water, 8 pk, 12 fl oz Cans, Select Varieties, $3.99
Stagg Chili, $1.09
Starbucks VIA, Select Varieties, 6 to 8 ct, $6.19
Straight Up Tea, 6ct, $2.99
Sunbelt Bakery Bars, $1.49
-$0.75/1 Sunbelt Bakery Product – 1-20-19 RMN (exp 03/31/19)
Tazo Tea, $2.99
Thomas' Cinnamon Swirl Bread, $2.49
Toffifay, $1.19
-$0.50/1 Toffifay, exp. 4/30/19 (SS 02/24/19) [Limit one coupon per person]
Traditional Medicinals Tea, $2.99 +
Triscuit Crackers, $1.79
Twinings K-Cups, $5.99
Velveeta Shells & Cheese, 9.4 to 12 oz, $1.99
Voortman Cookies and Wafers, $1.99
Wild Planet Tuna, $1.49
–$1/1 Wild Planet Products printable
Zone Perfect Multipacks, $3.19
–$1.50/2 ZonePerfect (Ibotta Deposit) [Any variety; 4 count box or larger]
---
HEALTH & BEAUTY
Always $2.99+
-$1/1 Always Radiant, Infinity or Pure & Clean, Ultra or Maxi Pads, exp. 3/23/19 (P&G 02/24/19) [11-ct.+; Excludes always liners or always discreet; Limit of 2 identical coupons per household per day; No cash back]
Always Discreet $10.99
-$2/1 Always Discreet Incontinence Liner or Pad or Underwear, exp. 3/30/19 (RMN 03/03/19 R) [Not Valid on Other Always Products; Excludes Trial/Travel Size; Limit of 2 identical coupons per household per day; no cash back] -$3/1 Always Discreet Boutique Incontinence Underwear, exp. 3/30/19 (RMN 03/03/19 R) [Not Valid on Other Always Products; Excludes Trial/Travel Size; Limit of 2 identical coupons per household per day; no cash back] -$15/1 Pantene, Herbal Essences, Head & Shoulders, Ivory, Aussie, Safeguard, Olay, Secret, Always Discreet, Old Spice, Venus, Gillette, Oral-B, Crest, Pampers, Tampax and Always Purchase of $60 or More – 2-24-19 PG – Mail In Rebate; Must Use Original Form in Insert
Atkins Bars or Shakes, $4.99
-$1/1 Atkins Bar, Shake, or Treat, exp. 3/31/19 (SS 01/06/19 #2) [Multipack; Limit one coupon per customer]
Aussie Hair Care $1.99
-$15/1 Pantene, Herbal Essences, Head & Shoulders, Ivory, Aussie, Safeguard, Olay, Secret, Always Discreet, Old Spice, Venus, Gillette, Oral-B, Crest, Pampers, Tampax and Always Purchase of $60 or More – 2-24-19 PG – Mail In Rebate; Must Use Original Form in Insert
-$2/2 Aussie Shampoo, Conditioner or Styling Products, exp. 3/23/19 (RMN 03/10/19) [ETS; Limit of 2 identical coupons per household per day; No cash back]
Aveeno Body Wash $4.49+
-$2/1 Aveeno Body Lotion, Body Wash or Anti-Itch Product, exp. 4/6/19 (SS 03/17/19) [Excludes 2.5-oz., 1-oz. and masks] -$5/2 Aveeno Body Lotion, Body Wash or Anti-Itch Products, exp. 4/6/19 (SS 03/17/19) [Excludes 2.5-oz., 1-oz. and masks]
Aveeno Shave Prep $3.37
Aveeno Skin Care $5.29+
-$2/1 Aveeno Body Lotion, Body Wash or Anti-Itch Product, exp. 4/6/19 (SS 03/17/19) [Excludes 2.5-oz., 1-oz. and masks] -$5/2 Aveeno Body Lotion, Body Wash or Anti-Itch Products, exp. 4/6/19 (SS 03/17/19) [Excludes 2.5-oz., 1-oz. and masks]
Axe Antiperspirant/Deodorant $2.99+
–$3/2 AXE Deodorant, Spray or Body Wash Products (excludes trial & travel sizes and twins)
–$3/2 AXE Deodorant, Spray or Body Wash Products. Excludes trial & travel sizes and twins. (Kroger Digital Coupon)
-$3/2 Axe Antiperspirant Deodorant, Body Spray or Hair Care Products, exp. 3/31/19 (RMN 03/17/19) [ETS]
Axe Shower Gel $2.99
–$3/2 AXE Deodorant, Spray or Body Wash Products (excludes trial & travel sizes and twins)
–$3/2 AXE Deodorant, Spray or Body Wash Products. Excludes trial & travel sizes and twins. (Kroger Digital Coupon)
Banana Boat Sunscreen $7.99+
–$1/1 Banana Boat Sun Care Product printable
-$2/1 Banana Boat Sun Care Product – 3-24-19 SS; Excludes 1 oz, 1.8 oz, 2 oz, Lip Balm, and Trial Sizes (exp 05/01/19)
Bic Razors $9.99
Boost Shakes, $6.99
-$1.50/1 Boost Drinks, exp. 4/28/19 (RMN 03/03/19) [4-pk. or 6-pk.; Limit 4 like coupons per household per day; No cash back]
Boost Powder, $7.49
Breathe Right Strips, $8.99
–$1/1 Breathe Right printable [10-ct.+] -$2/1 Breathe Right Product, exp. 4/3/19 (RMN 03/03/19) [No more than 4 identical coupons can be used for the same product in same transaction]
Carefree, $1.99
–$0.50/1 Carefree Product printable
Caress Bar Soap, $3.99
Clairol Hair Coloring, $5.99+
–BOGO Clairol Nice 'n Easy, Permanent Root Touch-Up, or Natural Instincts (UP TO $7.99)
-BOGO Clairol Nice N' Easy or Permanent Root Touch- Up , Get One Clairol Nice N' easy or Permanent Root Touch-Up Hair Color Free ( up to $7.99) 3/24 SS (exp 4/13)
-BOGO Clairol Natural Instincts Hair Color, Get One Clairol Natural Instincts Hair Color Free (up to $7.99) (excludes Natural Instincts Crema Keratina ) 3/24 SS (exp 4/13)
-$3/1 Clairol box of Age Defy  or Vidal Sassoon  or Natural Instincts Crema Keratina Hair Color (excludes VS Shampoo, Conditioner and Styler) 3/24 SS (exp 4/13)
-$2/1 Clairol Nice 'n Easy, Permanent Root Touch-Up or Natural Instincts Hair Color, exp. 4/13/19 (SS 03/31/19)
-$5/2 Clairol Nice 'n Easy, Permanent Root Touch-Up or Natural Instincts Hair Color, exp. 4/13/19 (SS 03/31/19)
Claritin RediTabs or LiquiGels, $8.99+
–$2/1 Claritin-D Non-Drowsy Allergy Product [15-ct.+] -$4/1 Claritin Non-Drowsy Children's or Claritin Reditabs for Juniors, exp. 4/14/19 (SS 03/17/19) [8-oz.; 20-ct.+ children's; 30-ct. juniors] -$4/1 Claritin-D Non-Drowsy, exp. 4/14/19 (SS 03/17/19) [15-ct.+] -$4/1 Claritin Non-Drowsy, exp. 4/14/19 (SS 03/17/19) [30-ct.+] –$4/1 Claritin product, any variety (20ct or larger) (Kroger Digital Coupon)
Clear Care Solution, $9.49+
–$2/1 Clear Care Solution printable [10-oz.+]
Colgate Mouthwash, $3.99
–$0.75/1 Colgate Mouthwash or Mouth Rinse printable
-$1/1 Colgate Mouthwash or Mouth Rinse, exp. 3/23/19 (SS 03/10/19) [200-ml.+]
Colgate Toothbrushes $1.99+
–$0.75/1 Colgate 360 Toothbrush
–$0.50/1 Colgate Kids Manual Toothbrush
-$2/1 Colgate 360 Manual Toothbrushes, exp. 3/23/19 (SS 03/17/19) [twin pack or multi-pack only; Excludes all free product packs]
Colgate Toothpaste, $1.99+
–$0.75/1 Colgate Total Advanced Toothpaste; Includes 3 oz or Larger Only
–$0.75/1 Colgate Enamel Health Toothpaste; Includes 3 oz or Larger Only
-$1/1 Colgate Total, Optic White, Enamel Health, Essentials or Sensitive Toothpaste, exp. 3/23/19 (SS 03/10/19) [3-oz.+] -$2/1 Colgate Total Advanced, Optic White Advanced Whitening or Platinum Enamel Health Essentials or Sensitive Toothpaste, exp. 3/30/19 (SS 03/17/19) [3-oz.+]
Cremo Shave Prep or Beard Care $6.99+
–$1.50/1 Cremo Men's Shave Cream or Balm Products (Checkout 51 Deposit) [Any variety; Cannot use this offer with any other print or in-app coupon or rebate.] –$2/1 Cremo Women's Shave Cream Products (Checkout 51 Deposit) [Any variety; Cannot use this offer with any other print or in-app coupon or rebate.] –$2/1 Cremo Beard Care Products (Checkout 51 Deposit) [Any variety; Cannot use this offer with any other print or in-app coupon or rebate.]
Cremo Thickening Shampoo $7.99+
Crest Mouthwash, $1.99
Crest Toothpaste, 3.5 to 6.2 oz, $1.99
– $2/1 Crest Toothpaste 3 oz or more (excludes Whitening Therapy, Gum Detoxify, Cavity, Regular, Baking Soda, Tartar Control/Protection, F&W Pep Gleem, Kids and trial/travel size) [4.2-oz.+]
Degree Antiperspirant/Deodorant $3.49+
-$0.50/1 Degree Men Original Protection Antiperspirant Deodorant Stick, exp. 4/28/19 (RMN 03/31/19 #2 R) [Excludes twin packs; ETS] -$1.25/1 Degree Men Deodorant Wipes, Dry Spray Antiperspirant, Advanced Protection Stick or Clinical Protection, exp. 4/28/19 (RMN 03/31/19 #2 R) [Excludes twin packs; ETS] -$1.25/1 Degree Woman Deodorant Wipes, Dry Spray Antiperspirant or Clinical Protection, exp. 4/18/19 (RMN 03/31/19 #2 R) [Excludes twin packs; ETS] -$1.25/1 Degree Woman Motionsense Antiperspirant Deodorant Stick, exp. 4/18/19 (RMN 03/31/19 #2 R) [Excludes twin packs; ETS]
Dove Antiperspirant/Deodorant $3.49+
-$1.25/1 Dove Advanced Care Antiperspirant Deodorant, exp. 3/31/19 (RMN 03/17/19)
-$1.50/1 Dove Clinical Protection Antiperspirant, exp. 3/31/19 (RMN 03/17/19)
Dove Bar Soap $3.49
Dove Body Wash/Shower Foam, $4.99
–$1/1 Dove Body Wash. Excludes Men+Care, trial and travel sizes. (Kroger Digital Coupon)
–$1/1 Dove Men+Care Foaming Body Wash product. Excludes trial and travel sizes.(Kroger Digital Coupon)
-$1/1 Dove Body Wash, exp. 3/31/19 (RMN 03/17/19) [ETS]
Dove Men+Care Bar Soap $5.49
-$1/1 Dove Men+Care Bar or Body Wash, exp. 3/31/19 (RMN 03/17/19) [ETS]
Dove Men+Care Body Wash or Deodorant, $3.49
–$0.75/1 Dove Men+Care Bar or Body Wash. Excludes trial and travel sizes.(Kroger Digital Coupon)
–$0.50/1 Dove Men+Care Deodorant. Excludes Twin Packs and Dry Sprays.(Kroger Digital Coupon)
-$1/1 Dove Men+Care Deodorant, exp. 3/31/19 (RMN 03/17/19) [Excludes twin packs and dry sprays] -$2/1 Dove Men+Care Foaming Body Wash, exp. 3/31/19 (RMN 03/17/19) [ETS] -$1/1 Dove Men+Care Bar or Body Wash, exp. 3/31/19 (RMN 03/17/19) [ETS]
Dove Men+Care Antiperspirant/Deodorant $3.49+
–$0.50/1 Dove Men+Care Deodorant. Excludes Twin Packs and Dry Sprays. (Kroger Digital Coupon)
Ensure Shakes, $6.99
–$3/1 Ensure Multipack
-$4/2 Ensure, exp. 4/28/19 (SS 03/03/19) [Limit of 2 identical coupons per household per day; No cash back] -$3/1 Ensure Multipack – 1-27-19 SS (exp 03/24/19)
Excedrin, $9.59
–$1/1 Excedrin PM Product printable [24-ct.+] –$1/1 Excedrin Tension Headache Product printable [24-ct.+] –$1/1 Excedrin Migraine Headache Product printable [20-ct.+] -$1.50/1 Excedrin, exp. 4/7/19 (RMN 03/03/19) [20-ct.+; No more than 4 identical coupons can be used for the same product in same transaction]
Flonase, 120ct, $22.79
-$10/1 Flonase Product, exp. 3/24/19 (RMN 03/17/19) [120-ct.] -$3/1 Flonase Product, exp. 4/14/19 (RMN 03/17/19) [60-ct.+]
Fortify Shakes, $8.99
Gillette Antiperspirant/Deodorant $3.99
-$1/1 Gillette Anti-Perspirant Deodorant, exp. 4/13/19 (P&G 03/31/19) [1.6-oz.+; ETS; Limit of 2 identical coupons per household per day; No cash back]
Gillette Razors $4.99+
-$3/1 Gillette Disposable, exp. 4/27/19 (P&G 03/31/19) [2-ct.+; Excludes sensor 2-ct. and venus products; ETS; Limit of 2 identical coupons per household per day; No cash back] -$3/1 Venus Razor, exp. 4/27/19 (P&G 03/31/19) [Excludes disposables; ETS; Limit of 2 identical coupons per household per day; No cash back] -$3/1 Venus or Daisy Disposable, exp. 4/27/19 (P&G 03/31/19) [2-ct.+; Excludes daisy 2-ct.; ETS; Limit of 2 identical coupons per household per day; No cash back] -$1/1 Gillette Razor, exp. 4/27/19 (P&G 03/31/19) [Excludes disposables and venus products; ETS; Limit of 2 identical coupons per household per day; No cash back]
Gillette Shave Prep $0.99+
–$1/1 Gillette Fusion Proglide Shave Gel, any variety (6oz)(Kroger Digital Coupon)
–$0.75/1 Gillette Satin Care Shave Gel, any variety (7oz) (Kroger Digital Coupon)
Glucerna Mini Treats, $2.99
-$3/1 Glucerna Product – 1-27-19 SS; Limit of (2) Like Coupons (exp 03/24/19)
-$4/2 Glucerna Products, exp. 4/28/19 (SS 03/03/19) [Limit of 2 identical coupons per household per day; No cash back] –$3/2 Glucerna Products printable
Glucerna Shakes, $7.99
Gold Bond Cream/Lotion, $8.99
-$1.50/1 Gold Bond Lotion 13oz or larger 3/24 SS (exp 4/27)
-$1/1 Gold Bond Lotion 2.0oz-8.1oz or cracked skin (excludes hand creams) 3/24 SS (exp 4/27)
-$1.50/1 Gold Bond Diabetics Product, exp. 3/23/19 (SS 02/24/19) [Excludes hand cream] -$1.50/1 Gold Bond Lotion, exp. 3/23/19 (SS 02/24/19) [13-oz.+; Excludes hand cream and 1-oz.] -$1.50/1 Gold Bond Overnight Lotion, exp. 3/23/19 (SS 02/24/19)
-$1.50/1 Gold Bond Eczema, Rough & Bumpy or Psoriasis Product, exp. 3/23/19 (SS 02/24/19)
-$1/1 Gold Bond Cream or Lotion or Cracked Skin, exp. 3/23/19 (SS 02/24/19) [2.4-oz.-8.1-oz.; Excludes 1-oz. and mens lotion] -$1.50/1 Gold Bond Radiance Renewal Product, exp. 3/23/19 (SS 02/24/19)
-$1.50/1 Gold Bond Neck & Chest, Dark Spot or Strength & Resilience Product, exp. 3/23/19 (SS 02/24/19)
Got2b Hair Care $3.99
–$3/1 Schwarzkopf Keratin Color, Color Ultime, or got2b Color Hair Product printable
-$3/1 Schwarzkopf Keratin Color, Color Ultime or got2b Color Hair Item – 3-10-19 RMN; Limit (1) Like Coupon (exp 03/24/19)
–$5/1 all, Snuggle, Persil ProClean, Soft Scrub, Renuzit, Combat, Dial, Tone, Right Guard, got2b, Schwarzkopf Keratin Color, Schwarzkopf Color Ultime Purchase of $25 or More (SavingStar Deposit)
Hair Food Shampoo/Conditioner, $6.99
Hawaiian Tropic Sun Care, $8.69+
Head & Shoulders, $4.99
-$3/2 Head & Shoulders Products or Clinical Solutions, exp. 4/13/19 (P&G 03/31/19) [315-ml./10.6-oz.+; ETS; Limit of 2 identical coupons per household per day; No cash back] -$1/1 Head & Shoulders Product or Clinical Solutions, exp. 4/13/19 (P&G 03/31/19) [315-ml./10.6-oz.+; ETS; Limit of 2 identical coupons per household per day; No cash back] -$15/1 Pantene, Herbal Essences, Head & Shoulders, Ivory, Aussie, Safeguard, Olay, Secret, Always Discreet, Old Spice, Venus, Gillette, Oral-B, Crest, Pampers, Tampax and Always Purchase of $60 or More – 2-24-19 PG – Mail In Rebate; Must Use Original Form in Insert
Herbal Essences Hair Care, $1.99+
-$2/2 Herbal Essences Shampoo, Conditioner or Styling Products, exp. 3/23/19 (RMN 03/10/19) [ETS; Limit of 2 identical coupons per household per day; No cash back] -$15/1 Pantene, Herbal Essences, Head & Shoulders, Ivory, Aussie, Safeguard, Olay, Secret, Always Discreet, Old Spice, Venus, Gillette, Oral-B, Crest, Pampers, Tampax and Always Purchase of $60 or More – 2-24-19 PG – Mail In Rebate; Must Use Original Form in Insert
Ivory Bar Soap, 10 ct $2.99
-$15/1 Pantene, Herbal Essences, Head & Shoulders, Ivory, Aussie, Safeguard, Olay, Secret, Always Discreet, Old Spice, Venus, Gillette, Oral-B, Crest, Pampers, Tampax and Always Purchase of $60 or More – 2-24-19 PG – Mail In Rebate; Must Use Original Form in Insert
Ivory Body Wash $2.99
-$15/1 Pantene, Herbal Essences, Head & Shoulders, Ivory, Aussie, Safeguard, Olay, Secret, Always Discreet, Old Spice, Venus, Gillette, Oral-B, Crest, Pampers, Tampax and Always Purchase of $60 or More – 2-24-19 PG – Mail In Rebate; Must Use Original Form in Insert
Jason Deodorant $2.99
–$1/1 JASON 2.5oz Deodorant Stick
Jason Toothpaste, 6 oz $2.49
Kroger Aspirin, $1.99
L'Oreal Skin Care $4.99+
–$2/1 L'Oreal Paris Skincare or Sublime Bronze product
–$2/1 L'Oreal Paris Skincare or Sublime Bronze product. Excluding trial and travel sizes.(Kroger Digital Coupon)
-$2/1 L'Oreal Paris Skincare Product, exp. 3/30/19 (RMN 03/03/19 #2) [Excludes trial and travel size; No more than one identical coupon per household per day; No cash back]
Lubriderm, $4.99
–$1/1 Lubriderm Product printable [13-oz.+] -$2/1 Lubriderm Product, exp. 5/5/19 (SS 03/03/19 #2) [13-oz.+; Limit one coupon per purchase and per customer] –$3.99 Lubriderm Lotion, select varieties (16 fl oz.)(Kroger Digital Coupon)
Nivea Body Lotion, $4.49
-$4/2 Nivea Body Lotion, In-Shower Body Lotion or Cream Products, exp. 3/23/19 (SS 03/10/19) [ETS] -$1.50/1 Nivea Body Lotion, In-Shower Body Lotion or Cream Products, exp. 3/23/19 (SS 03/10/19) [ETS]
NIVEA In-Shower Lotion, $4.49
–$2/1 NIVEA In-Shower Lotion Product
–$2/1 NIVEA In-Shower Lotion Product (Kroger Digital Coupon)
-$4/2 Nivea Body Lotion, In-Shower Body Lotion or Cream Products, exp. 3/23/19 (SS 03/10/19) [ETS] -$1.50/1 Nivea Body Lotion, In-Shower Body Lotion or Cream Products, exp. 3/23/19 (SS 03/10/19) [ETS]
Neutrogena Skin Care $2.99+
–$2/1 NEUTROGENA Facial Cleansing Product
–$1/1 NEUTROGENA Makeup Remover Cleansing Towelettes
Olay Beauty Bar $3.99+
-$1/1 Olay Facial Skin Care Product, exp. 3/23/19 (P&G 02/24/19) [ETS; Limit of 2 identical coupons per household per day; No cash back]
Olay Body Wash $4.49+
-$1/1 Olay Bar Soap, Body wash, In-Shower Body Lotion, or Hand & Body Lotion – 3-31-19 PG; Includes Bar, 4 ct or Larger Only; Excludes Trial and Travel Size; Limit of 2 Like Coupons Per Household Per Day (exp 04/27/19)
-$1/1 Olay Facial Cleanser, exp. 4/27/19 (P&G 03/31/19) [ETS; Limit of 2 identical coupons per household per day; No cash back] -$1/1 Olay Bar Body Wash, In-Shower Body Lotion or Hand and Body Lotion, exp. 4/27/19 (P&G 03/31/19) [4-ct.+; ETS; Limit of 2 identical coupons per household per day; No cash back]
Old Spice Antiperspirant/Deodorant, $3.99
-$3/2 Old Spice Anti-Perspirant/Deodorant, Body Wash or Bar Soap, exp. 4/27/19 (P&G 03/31/19) [Excludes high endurance, twin packs; ETS; Limit of 2 identical coupons per household per day; No cash back] -$15/1 Pantene, Herbal Essences, Head & Shoulders, Ivory, Aussie, Safeguard, Olay, Secret, Always Discreet, Old Spice, Venus, Gillette, Oral-B, Crest, Pampers, Tampax and Always Purchase of $60 or More – 2-24-19 PG – Mail In Rebate; Must Use Original Form in Insert
Old Spice Body Wash & Hair Care, $2.99+
-$3/2 Old Spice Anti-Perspirant/Deodorant, Body Wash or Bar Soap, exp. 4/27/19 (P&G 03/31/19) [Excludes high endurance, twin packs; ETS; Limit of 2 identical coupons per household per day; No cash back] -$15/1 Pantene, Herbal Essences, Head & Shoulders, Ivory, Aussie, Safeguard, Olay, Secret, Always Discreet, Old Spice, Venus, Gillette, Oral-B, Crest, Pampers, Tampax and Always Purchase of $60 or More – 2-24-19 PG – Mail In Rebate; Must Use Original Form in Insert
Olly Vitamin Gummies, $9.99
-$3/1 Olly Vitamin, exp. 4/30/19 (SS 01/06/19 #2) [Limit of 2 like coupons in same shopping trip]
Opcon-A Eye Drops, $3.79
-$1/1 Bausch + Lomb Opcon-A Allergy Eye Drops, exp. 5/10/19 (SS 03/10/19) [15-ml.]
Opti-Free Solution, $9.49+
–$2/1 Opti-Free Solution printable [10-ml.+]
Oral-B Floss/Flossers, $1.99
–$1/1 Oral-B Glide Manual Floss, Floss Picks, OR Interdentals. Excludes trial/travel size.(Kroger Digital Coupon)
Oral-B Toothbrush, 1 ct, $1.99
Pantene Shampoo or Conditioner, Select Varieties, 12 to 12.6 fl oz, $2.99
-$15/1 Pantene, Herbal Essences, Head & Shoulders, Ivory, Aussie, Safeguard, Olay, Secret, Always Discreet, Old Spice, Venus, Gillette, Oral-B, Crest, Pampers, Tampax and Always Purchase of $60 or More – 2-24-19 PG – Mail In Rebate; Must Use Original Form in Insert
Pert Shampoo & Conditioner 13.5 oz, $1.99
-$2/1 Pert Product, exp. 3/31/19 (SS 03/03/19 #2) [13.5-oz.+; Excludes 1.7-oz.]
Playtex Tampons $2.99+
–$1/1 Playtex Simply Gentle Glide Tampons printable [Excludes 3-ct., 4-ct. and 8-ct.] –$1/1 Playtex Sport or Playtex Gentle Glide Tampons printable
Poise Pads $3.99
–$2/1 Poise Pads; Excludes 10 ct; DND
–$2/1 Poise IMPRESSA Bladder Supports Sizing Kit Only; DND
–$2/1 Poise Liners; Excludes 16 – 24 ct; DND
–$2/1 Poise IMPRESSA Bladder Supports Size 1, 2, or 3; Includes 10 ct or Larger Only; DND
-$3/1 Poise Pads or Liner or Poise Impressa Bladder Supports, exp. 3/30/19 (SS 03/03/19 #2) [Excludes liners 14-ct. to 26-ct. or pads 10-ct.]
PreserVision Areds 2, $17.99+
-$3/1 PreserVision 3/24 SS (5/11)
Purpose Skin Care, $3.99
Rogaine, $48.99
Safeguard Bar Soap $1.69
Satin Care Shave Gel, 7oz, $0.99
–$0.75/1 Gillette Satin Care Shave Gel, any variety (7oz) (Kroger Digital Coupon)
Schick Razors $5.49+
-$1/1 Schick Hydro, Edge or Skintimate Shave Gel or Cream, exp. 3/30/19 (SS 03/10/19) [Excludes 2-oz. and 2.75-oz.] -$3/1 Schick Disposable Razor Pack or Skintimate Disposable Razor Pack, exp. 3/30/19 (SS 03/10/19) [Excludes 1-ct., slim twin 2-ct. and 6-ct.] -B1G1 Schick Intuition, Schick Intuition F.A.B., Schick Hydro Silk or Schick Quattro for Women Refill, exp. 4/6/19 (SS 03/17/19) [Excludes schick disposables and men's razor or refill; Up to $12.29] -B1G1 Schick Hydro or Schick Quattro Titanium Refill, exp. 4/6/19 (SS 03/17/19) [Excludes schick disposables and women's razor or refill; Up to $12.49] –$3/1 Schick Xtreme3 Sensitive Disposable Razor (Ibotta Deposit) [8-ct. only]
Schwarzkopf Hair Coloring $8.99
–$3/1 Schwarzkopf Keratin Color, Color Ultime, or got2b Color Hair Product printable
-$3/1 Schwarzkopf Keratin Color, Color Ultime or got2b Color Hair Item – 3-10-19 RMN; Limit (1) Like Coupon (exp 03/24/19)
–$5/1 all, Snuggle, Persil ProClean, Soft Scrub, Renuzit, Combat, Dial, Tone, Right Guard, got2b, Schwarzkopf Keratin Color, Schwarzkopf Color Ultime Purchase of $25 or More (SavingStar Deposit)
Scope Mouthwash, 500 ml, Select Varieties, $1.99
Secret Antiperspirant/Deodorant $3.99
-$1/1 Secret Fresh Outlast or Active, exp. 4/13/19 (P&G 03/31/19) [2.6-oz.; ETS; Limit of 2 identical coupons per household per day; No cash back] -$1/1 Secret or Gillette Clinical, exp. 4/13/19 (P&G 03/31/19) [1.6-oz.+; ETS; Limit of 2 identical coupons per household per day; No cash back]
Simple Skin Care $3.99+
-FREE Simple Wipes wyb Simple Cleanser or Moisturizer Product, exp. 3/31/19 (RMN 03/17/19) [25-ct.; ETS; Up to $8]
Skintimate Razors $5.49
-$3/1 Schick Disposable Razor Pack or Skintimate Disposable Razor Pack, exp. 3/30/19 (SS 03/10/19) [Excludes 1-ct., slim twin 2-ct. and 6-ct.]
Skintimate or Edge Shave Prep $1.99
–$1/1  Edge, Skintimate or Schick Hydro gel or cream (excludes 2 oz. and 2.75 oz.) printable
-$1/1 Schick Hydro, Edge or Skintimate Shave Gel or Cream, exp. 3/30/19 (SS 03/10/19) [Excludes 2-oz. and 2.75-oz.]
Speed Stick Deodorant, $0.99
–$0.50/1 Speed Stick Antiperspirant/Deodorant printable
St. Ives Body Lotion $3.79
-$1.50/1 St. Ives Face Care, Body Lotion or Body Wash Product, exp. 3/31/19 (RMN 03/17/19) [ETS] –$0.75/1 St.Ives Face Care, Body Lotion or Body Wash product. Excludes trial and travel sizes. (Kroger Digital Coupon)
St. Ives Body Wash, 24oz, $2.49
-$1.50/1 St. Ives Face Care, Body Lotion or Body Wash Product, exp. 3/31/19 (RMN 03/17/19) [ETS] –$0.75/1 St.Ives Face Care, Body Lotion or Body Wash product. Excludes trial and travel sizes. (Kroger Digital Coupon)
Stayfree, $1.99
Suave Body Lotion $1.99
-$0.75/1 Suave Lotion Product, exp. 4/14/19 (RMN 03/31/19 #2 R) [ETS] -$1/2 Suave Lotion Product, exp. 4/14/19 (RMN 03/31/19 #2) [Excludes twin packs and trial or travel size]
Suave Body Wash $0.99
-$0.75/1 Suave Body Wash Product, exp. 4/21/19 (RMN 03/31/19 #2 R) [ETS]
Sure Antiperspirant/Deodorant $0.99+
-$1.50/1 Sure Product, exp. 3/31/19 (SS 03/03/19 #2) [2.6-oz.; 2.7-oz. or 6-oz.]
Systane Eye Drops, $9.99+
–$3/1 Systane Eye Drops printable [5-ml.+] -$4/1 Systane Lubricant Eye Drops, exp. 3/30/19 (RMN 03/03/19 #2) [6-ml.+]
T/Gel Therapeutic Shampoo, $5.49+
Tampax, $2.99+
-$3/2 Tampax Pearl, Radiant or Pure and Clean Tampons, exp. 4/27/19 (P&G 03/31/19) [16-ct.+; ETS; Limit of 2 identical coupons per household per day; No cash back]
Tena Pads, $10.99+
U by Kotex, $4.49+
–$1/1 package of U by KOTEX Pads
–$1/1 package of U by KOTEX Liners (not valid on Liners 14-22 ct. or trial size/travel packs)
–$1/1 package of U by KOTEX Tampons
–$1/1 package of U by KOTEX Liners (Kroger Digital Coupon)
–$1/1 package of U by KOTEX Pads (Kroger Digital Coupon)
–$1/1 package of U by KOTEX Tampons (Kroger Digital Coupon)
–$1/1 U by Kotex Products printable
–$0.50/1 U by Kotex Products printable
-$1/1 U by Kotex Liners, exp. 4/13/19 (SS 03/17/19) [ETS] -$1/1 U by Kotex Pads, exp. 4/13/19 (SS 03/17/19) [ETS] -$1/1 U by Kotex Product, exp. 4/13/19 (SS 03/17/19) [ETS]
Vaseline Intensive Care $2.29+
-$2/1 Vaseline Men Lotion, exp. 3/30/19 (RMN 03/17/19) [10-oz.+; ETS]
---
HOUSEHOLD
Air Wick Refills 2 ct or Freshmatic Refills or Essential Mist, $3.99
–$1.50/1 Air Wick Freshmatic Refill printable
–$1.50/1 Air Wick Essential Mist Refills (Ibotta Deposit) [Any single refill] -$1.25/1 Air Wick Scented Oil Refill, 02/24 SS (exp 3/24) [Twin or Triple; Limit 2] -$1.50/1 Air Wick Essential Mist Refill, 02/24 SS (exp 3/24) [Limit 2]
Bounce Dryer Sheets, $3.99
–$2/1 Downy Liquid Fabric Conditioner, Bounce or Downy Sheets, or Downy Unstopables, Fresh Protect, Infusions or Dreft Blissfuls In Wash Scent Boosters; Includes Liquid 48 ld or Larger, Sheets 75 ct or Larger, Scent Boosters 6.5 oz or Larger Only; Excludes Downy Libre Enjuague, Gain Fireworks, Trial and Travel Size; Limit of 1 Like Coupon Per Household Per Day; Upon Printing You Must Redeem within One Day
-$2/1 Downy Fabric Conditioner, Bounce/Downy Sheets, or In Wash Scent Boosters – 2-24-19 PG; Includes Fabric Conditioner, 48 ld or Larger Only; Sheets, 70 ct or Larger ONly; or In Wash Boosters, 5.78 o or Larger Only; Excludes Trial and Travel Size; Limit of 1 Like Coupon Per Household Per Day (exp 03/30/19)
Cascade Action Pacs, Select Varieties, 36 to 60 ct, $10.99
-$1/1 Cascade ActionPacs, exp. 4/13/19 (P&G 03/31/19) [30-ct.+; ETS; Limit of 2 identical coupons per household per day; No cash back] -$1/1 Cascade Pure Essentials ActionPacs, exp. 4/13/19 (P&G 03/31/19) [ETS; Limit of 2 identical coupons per household per day; No cash back]
Clorox Bathroom Bleach Foamer $2.99
–$1/2 Clorox Clean-Up, Disinfecting Wipes 32ct+, Liquid Bleach 55oz+ or Manual Toilet Bowl Cleaner products
–$0.50/1 Clorox Bleach Foamer
-$1/2 Clorox, Pine-Sol or Liquid-Plumr Products, exp. 4/7/19 (SS 03/03/19 #2) [Excludes trial size and pens; Limit of 4 identical coupons per household per day; no cash back]
Clorox Cleanup $2.69
–$1/2 Clorox Clean-Up, Disinfecting Wipes 32ct+, Liquid Bleach 55oz+ or Manual Toilet Bowl Cleaner products
-$1/2 Clorox, Pine-Sol or Liquid-Plumr Products, exp. 4/7/19 (SS 03/03/19 #2) [Excludes trial size and pens; Limit of 4 identical coupons per household per day; no cash back]
Clorox Disinfecting Wipes, 70 to 75 ct, $3.99
–$1/2 Clorox Clean-Up, Disinfecting Wipes 32ct+, Liquid Bleach 55oz+ or Manual Toilet Bowl Cleaner products
–$1/2 Clorox Disinfecting Wipes products, 35 ct. or higher
–$1/2 Clorox Disinfecting Wipes products (35 ct. or higher) (Kroger Digital Coupon)
–$0.50/1 Clorox Disinfecting Wipes printable [32-ct.+] -$1/2 Clorox, Pine-Sol or Liquid-Plumr Products, exp. 4/7/19 (SS 03/03/19 #2) [Excludes trial size and pens; Limit of 4 identical coupons per household per day; no cash back]
Clorox Liquid Bleach, 116 to 121 fl oz, $2.99
–$1/2 Clorox Clean-Up, Disinfecting Wipes 32ct+, Liquid Bleach 55oz+ or Manual Toilet Bowl Cleaner products
–$0.50/1 Clorox Bleach printable [55-oz.+] -$1/2 Clorox, Pine-Sol or Liquid-Plumr Products, exp. 4/7/19 (SS 03/03/19 #2) [Excludes trial size and pens; Limit of 4 identical coupons per household per day; no cash back]
Cottonelle Bathroom Tissue, 6 Mega Rolls, $5.99
-$0.50/1 Cottonelle Toilet Paper, 03/10/19 SS (exp 4/7/19) [6 or more rolls] –$0.55/1 Cottonelle Toilet Paper printable
–$0.55/1 Cottonelle Toilet Paper printable
–$0.75/1 Cottonelle Toilet Paper (Ibotta Deposit) [Any variety; Any size]
Dawn Dish Detergent, 24 to 26 fl oz, Select Varieties, $2.99
–$0.75/1 Dawn Ultra 20.6 oz or larger (excludes Dawn Simply Clean and trial/travel size)
Dixie Bowls, $1.99
Downy Fabric Softener, 62 to 77 fl oz, Select Varieties, $4.99
–$2/1 Downy Liquid Fabric Conditioner, Bounce or Downy Sheets, or Downy Unstopables, Fresh Protect, Infusions or Dreft Blissfuls In Wash Scent Boosters; Includes Liquid 48 ld or Larger, Sheets 75 ct or Larger, Scent Boosters 6.5 oz or Larger Only; Excludes Downy Libre Enjuague, Gain Fireworks, Trial and Travel Size; Limit of 1 Like Coupon Per Household Per Day; Upon Printing You Must Redeem within One Day
-$2/1 Downy Fabric Conditioner, Bounce/Downy Sheets, or In Wash Scent Boosters – 2-24-19 PG; Includes Fabric Conditioner, 48 ld or Larger Only; Sheets, 70 ct or Larger ONly; or In Wash Boosters, 5.78 o or Larger Only; Excludes Trial and Travel Size; Limit of 1 Like Coupon Per Household Per Day (exp 03/30/19)
Downy Unstopables, 6.5 oz, Select Varieties, $3.99
–$2/1 Downy Liquid Fabric Conditioner, Bounce or Downy Sheets, or Downy Unstopables, Fresh Protect, Infusions or Dreft Blissfuls In Wash Scent Boosters; Includes Liquid 48 ld or Larger, Sheets 75 ct or Larger, Scent Boosters 6.5 oz or Larger Only; Excludes Downy Libre Enjuague, Gain Fireworks, Trial and Travel Size; Limit of 1 Like Coupon Per Household Per Day; Upon Printing You Must Redeem within One Day
-$2/1 Downy Fabric Conditioner, Bounce/Downy Sheets, or In Wash Scent Boosters – 2-24-19 PG; Includes Fabric Conditioner, 48 ld or Larger Only; Sheets, 70 ct or Larger ONly; or In Wash Boosters, 5.78 o or Larger Only; Excludes Trial and Travel Size; Limit of 1 Like Coupon Per Household Per Day (exp 03/30/19)
Duracell, 4pk AA, $3.99
Febreeze Air Spray $1.99
-B1G1 Febreze Product, exp. 4/13/19 (P&G 03/31/19) [Excludes febreeze one car vent clip; ETS; Limit of 2 identical coupons per household per day; No cash back]
Febreze Car Clips or Small Spaces, Select Varieties, 1 ct, $2.49
Finish Gel Detergent $3.49
Finish Gel Pack, Powerball, or Quantum $4.29+
-$2/1 Finish Max in 1, exp. 3/25/19 (SS 02/24/19) [23-ct.+; Limit 2] -$2/1 Finish Quantum Automatic Dishwasher Detergent, exp. 3/25/19 (SS 02/24/19) [20-ct.+; Limit 2] –$1/1 Finish Quantum Automatic Dish Detergent, any variety (12ct, 20ct, 36ct, 58ct, or 68ct) (Kroger Digital Coupon)
Finish Rinse Aid, 16 fl oz $4.99
-$1/1 Finish Jet-Dry Rinse Aid, exp. 3/25/19 (SS 02/24/19) [Limit 2]
Gain Detergent, $4.99
–$1/1 Gain Powder, Liquid Detergent, Botanicals or Flings; Excludes Fireworks, Flings 9 ct and Smaller, Trial and Travel Size; Limit of 1 Like Coupon Per Household Per Day
-$1/1 Gain Powder, Liquid Detergent or Flings, exp. 3/23/19 (RMN 03/10/19) [Includes gain botanicals excludes fireworks, gain flings 9-ct. and below ETS; Limit one coupon per household per day; No cash back; DND]
Gain Fabric Softener, $3.99
-$1/1 Gain Liquid Fabric Enhancer, Gain Dryer Sheets or Gain Fireworks, exp. 3/23/19 (RMN 03/10/19) [48+ load fabric enhancer; 105-ct.+ sheets; 5.7-oz.+ Fireworks; Includes gain botanicals ETS; Limit one coupon per household per day; No cash back; DND]
Gain Fabric Softener Sheets, $3.99
-$1/1 Gain Liquid Fabric Enhancer, Gain Dryer Sheets or Gain Fireworks, exp. 3/23/19 (RMN 03/10/19) [48+ load fabric enhancer; 105-ct.+ sheets; 5.7-oz.+ Fireworks; Includes gain botanicals ETS; Limit one coupon per household per day; No cash back; DND]
Gain Fireworks, $3.99
-$1/1 Gain Liquid Fabric Enhancer, Gain Dryer Sheets or Gain Fireworks, exp. 3/23/19 (RMN 03/10/19) [48+ load fabric enhancer; 105-ct.+ sheets; 5.7-oz.+ Fireworks; Includes gain botanicals ETS; Limit one coupon per household per day; No cash back; DND]
Gain Flings, $4.99
–$1/1 Gain Powder, Liquid Detergent, Botanicals or Flings; Excludes Fireworks, Flings 9 ct and Smaller, Trial and Travel Size; Limit of 1 Like Coupon Per Household Per Day
-$1/1 Gain Powder, Liquid Detergent or Flings, exp. 3/23/19 (RMN 03/10/19) [Includes gain botanicals excludes fireworks, gain flings 9-ct. and below ETS; Limit one coupon per household per day; No cash back; DND]
Glad Trash Bags, Select Varieties, 22 to 80 ct, $6.99
Glade Plug-Ins Refills, 3ct, $5.99
-FREE Glade Plugins Warmer wyb Glade Plugins Scented Oil Refill, exp. 3/30/19 (SS 03/03/19) [2-ct.+; Up to $2; Limit of 2 identical coupons in same shopping transaction]
Kleenex Tissues, $4.99
–$0.50 off Kleenex Tissue printable [(3) boxes or (1) bundle] -$0.50 off Kleenex Facial Tissue or Wet Wipes, exp. 4/7/19 (SS 03/10/19) [(3) 30-ct.+ boxes/packs tissue or (1) wipes] –$0.25/1 box/pack of KLEENEX Facial Tissue or KLEENEX Wet Wipes. Not valid on travel/trial sizes. (Kroger Digital Coupon)
–$0.75/1 Kleenex Brand Tissue (Ibotta Deposit) [Any variety; Bundle packs only]
Libman Freedom Spray Mop, 1 qt, $14.99
Libman Microfiber Dust Mop, 1 ct, $11.99
Lysol Disinfectant Spray $3.99
–$0.50/1 Lysol Disinfectant Spray
–$0.75/1 Lysol Disinfectant Spray or Lysol Max Cover Disinfectant Mist (12.5 oz. or larger size)
-$0.50/1 Lysol Disinfecting Spray or Max Cover Mist, exp. 5/21/19 (SS 03/10/19)
Lysol Disinfecting Wipes $3.99
–$0.50/1 Lysol Disinfecting Wipes
–$0.75/2 Lysol Disinfectant Wipes (35 ct. or larger size)
-$0.50/1 Lysol Disinfecting Wipes, exp. 5/21/19 (SS 03/10/19)
Lysol Laundry Sanitizer, $4.99
-$1/1 Lysol Laundry Sanitizer, exp. 5/21/19 (SS 03/10/19)
Mr. Clean Magic Eraser, 2 ct $1.99
Mr. Clean Multi-Surface Cleaner, 45 fl oz $1.99
Palmolive Dish Detergent, Select Varieties, 20 fl oz, $0.99
-$0.50/1 Palmolive Ultra  (18oz+) 3/24 SS (exp 4/6)
–$0.25/1 Palmolive Dish Liquid printable [20-oz.+]
Pine-Sol, 40-48 fl oz $2.49
–$0.75/1 Pine-Sol product, 40oz+
–$0.75/1 Pine Sol Multi-Purpose Product; Includes 40 oz or Larger Only
-$1/2 Clorox, Pine-Sol or Liquid-Plumr Products, exp. 4/7/19 (SS 03/03/19 #2) [Excludes trial size and pens; Limit of 4 identical coupons per household per day; no cash back]
Scott 1000 8 pk, $5.99
–$0.50/1 SCOTT Towels (6 count or larger)
-$0.50/1 Scott Bath Tissue, 03/10 SS (exp 4/7) [4 or more rolls]
Shout Stain Remover, $2.19
-$1.50/2 Shout Products, exp. 4/13/19 (SS 03/03/19) [Excludes travel and trial size]
Solo Bowls, Cups, Plates, $1.99
Spray 'n Wash, $1.99
Suavitel, $1.99
–$1/1 Suavitel Liquid Fabric Softener (50 oz ONLY) (Kroger Digital Coupon)
Swiffer 2X Refills, Select Varieties, 6 to 32 ct, $6.99
Tide Liquid Laundry Detergent, 46 to 50 fl oz, or Tide Pods, 15 to 20 ct, $4.99
–$2/1 Tide Detergent or Tide Antibacterial Spray; Excludes Tide Pods, Rescue, Simply, Simply Pods, Detergent 10 oz, Stain Pen, Trial and Travel Size; Limit of 1 Like Coupon Per Household Per Day; Upon Printing You Must Redeem within One Day
–$1/1 Tide Simply Detergent printable
–$2/1 Tide PODS printable [Excludes Tide Liquid/Powder detergent, Simply, Simply PODS, Tide PODS 9-ct. and below, and trial] -$2/1 Tide PODS – 2-24-19 PG; Excludes Tide Liquid/Powder, Simply Varieties, Pods, 9 ct or Below; Excludes Trial and Travel Size; Limit of 1 Like Coupon Per Household Per Day (exp 03/30/19)
-$2/1 Tide Detergent or Antibacterial Spray – 2-24-19 PG; Excludes PODS, Rescue, Simply, Detergent, 10 oz or Stain Pen; Excludes Trial and Travel Size; Limit of 1 Like Coupon Per Household Per Day (exp 03/30/19)
Viva Paper Towels, 6 Rolls, Select Varieties, $5.99
–$0.50/1 Viva Paper Towel 6-pack or larger
–$1/1 Viva Paper Towels; Includes 6 pk or Larger
–$0.50/1 Viva Paper Towels; Includes 6 pk or Larger
-$0.50/1 Viva Paper Towels – 3-10-19 SS; Includes 6 pk or Larger Only (exp 04/07/19)
---
MEAT & SEAFOOD
Al Fresco Chicken Bacon, $2.99
Al Fresco Chicken Sausage, $2.99
Butterball Fully Cooked Turkey Bacon, $1.99
Butterball Turkey Bacon, 12 oz, $1.49
–$0.85/1 Butterball  Everyday Turkey Bacon (Ibotta Deposit) – redeem up to 5x
-$3/3 Butterball Bacon or All Natural Products, exp. 3/31/19 (SS 1/6/19)
-$0.75/1 Butterball All Natural Product, exp. 3/31/19 (SS 1/6/19)
Carando Meatballs, 1lb, $3.99
Cooked Perfect Fresh Meatballs, $2.99
-$1/1 Cooked Perfect Fresh Meatballs, exp. 3/24/19 (SS 01/27/19)
Curly's Pulled BBQ or Carando Meatballs, Select Varieties, 12 to 16 oz, $3.99
–$1/1 Curly's Product
Eckrich Smoked Sausage, $1.99
HemisFares Smoked Salmon, 3.5oz, $7.49
Hormel Black Label or Natural Choice Bacon, Select Varieties, 12 to 16 oz, $4.49
Land O' Frost Bistro Favorites Lunch Meat, Select Varieties, 8 oz, $2.99
–$1/1 Bistro Favorites, 100% Natural Printable
–$1/1 Land O'Frost Bistro Favorites 100% Natural printable
Land O' Frost Premium Lunch Meat, Select Varieties, 10 oz, $2.99
–$0.75/1 Land O'Frost Premium, Canadian Bacon, or Breakfast Cuts printable
Oscar Mayer Deli Fresh Lunch Meat, $5.99
Private Selection Packaged Salmon, $4.49+
Smithfield Prime Fresh Ham, 8oz, $2.49
–$1/1 Prime Fresh Ham, Roast Beef, Turkey or Chicken Deli Meat printable
---
NATURAL FOODS
Back To Nature Granola, $1.99
Barbaras Cereal, $1.99
Kind Bars, $3.49
Mom's Best Cereals, $1.79
Purely Elizabeth Granola, $4.49
Simple Truth Organic Chocolate, $1.79
Soy or Rice Dream Organic, $1.49
Westsoy, $1.49
---
PET
Blue Buffalo Dry Cat Food, $13.99
Blue Buffalo Dry Dog Food, $14.99+
Blue Buffalo (Dog) Health Bars, $3.19
Blue Buffalo Wet Dog Food, $1
Fancy Feast Dry Cat Food, $7.99
–$2/1 Purina Fancy Feast Gourmet Naturals With Added Vitamins, Minerals & Nutrients Dry Cat Food printable [bag 3-lbs.+]
Meow Mix, 13.5 lb, $10.99
-$1/1 Meow Mix Dry Cat Food, exp. 4/7/19 (RMN 02/10/19 #2) [3.15-lb.+ Bag] –$2.50/1 Meow Mix Dry Food (Ibotta Deposit) [Any variety; 12-lb. bag or larger]
Pedigree Dentastix, $10.99
Pedigree Dog Food, Select Varieties, 15 to 20 lb, $11.99
Purina Beneful Dry Dog Food, $4.99+
–$3/1 Purina Beneful Select 10 printable
–$3/1 Purina Beneful Grain Free printable
-$2/1 Purina Beneful Dry Dog Food, exp. 4/3/19 (RMN 03/03/19 R) [3.5-lb.+ bag; Limit of 4 like coupons per household per day; no cash back] -$4/1 Purina Beneful Grain Free, Select 10, Simple Goodness or Superfood Blend Dry Dog Food, exp. 4/3/19 (RMN 03/03/19 R) [4.25-lb.+ bag; Limit of 4 like coupons per household per day; no cash back]
Purina One Dry Cat Food, $6.99
–FREE Purina One Cat Food printable [take 28-day challenge]