Here is the Kroger Ad and coupon matchups which start Wednesday, 5/1 and runs through Tuesday 5/7 in the Southeast. There are still a lot of digital coupons and the mini Buy 4 Save $4 Mega sale is still going…so be sure to stock up.
If you are headed to Kroger this week don't forget to load your digital coupons from SavingStar, Cellfire and the Kroger Digital Coupons too. You might want to check your cash back apps (Ibotta, Checkout 51 and BerryCart) for any matching deals that you might like. Also, be sure to check out the Catalina deals before you shop.
As always, the check mark
indicates either a great stockpile price or a stockpile price with coupon(s). And keep in mind that we have a shopping list feature on the site. If you need help, just visit the HELP PAGE to see how to use it.
Sorry–the shopping list is broken…I am working on getting it fixed!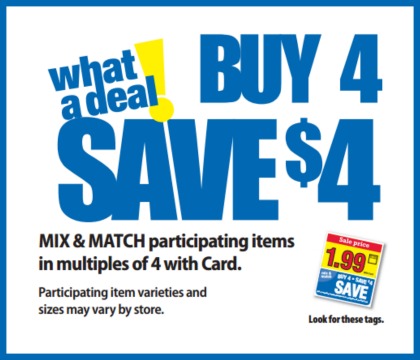 BUY 4, SAVE $4 SALE (Mix & Match)
Kroger Purified Drinking Water, Select Varieties, 32 pk, 16.9 fl oz, $1.99
Kroger Natural Spring Water, Select Varieties, 24 pk, 16.9 fl oz, $1.99
Gatorade, G2 or G Zero, Select Varieties, 12 pk, 12 fl oz, $4.99
Frito-Lay Multipack Snacks, Select Varieties, 16 to 18 ct, $4.99
Frito-Lay Family Size! Potato Chips, Select Varieties, 9.5 to 10 oz, $1.77
Cheetos, Select Varieties, 7 to 8.5 oz, $1.77
Keebler Town House or Club Crackers, Select Varieties, 9 to 13.8 oz, $1.88
–$1/1 Keebler Crackers printable [Need 850 rewards points]
Bubly Sparkling Water, Select Varieties, 8 pk, 12 fl oz, $1.88
---
BAKERY
Carrot Cupcakes or Other Everyday Premium Varieties, 12 oz, 6 ct, $3.99
---
BEER & WINE
Corona, Modelo, Stella Artois or Heineken, Select Varieties, 12 pk, 11.2 to 12 fl oz Bottles or Cans, $13.99
Dos Equis, White Claw, Truly or Smirnoff Spiked, Select Varieties, 12 pk, 12 fl oz Bottles or Cans, $12.99
Terrapin, SweetWater or New Belgium, Select Varieties, 12 to 15 pk, 12 fl oz Bottles or Cans, $14.99
Michelob Ultra, Select Varieties, 24 pk, 12 fl oz Cans, $21.99
Bud, Miller, Coors or Yuengling, Select Varieties, 24 pk, 12 fl oz Cans, $18.99
Miller or Coors, 12 pk, 16 fl oz Cans, or Bud or Bud Light, 12 pk, 16 fl oz Aluminum Pints, Select Varieties, $10.99
Cupcake or Arrow Creek, Select Varieties, 750 ml, $7.99
Butter or Storyteller, Select Varieties, 750 ml, $14.99
Apothic or Chalkboard, Select Varieties, 750 ml, $9.99
Simi Chardonnay or Thor's Well, Select Varieties, 750 ml, $15.99
Bay Bridge or Head To Head, Select Varieties, 750 ml, $11.99
---
DAIRY
Kroger Milk, Select Varieties, Half Gallon (Excluding Chocolate & Buttermilk), $1.19 (Limit 6)
Kroger Sour Cream or Cottage Cheese or Dip, Select Varieties, 24 oz, $1.99
–$0.70/1 Kroger Sour Cream or Cottage Cheese or Dip, Select Varieties, 24 oz Kroger Super Saver Digital Coupon (use up to 5 times in a single transaction) (valid 5/3 to 5/5)
Sargento Cheese Slices, 6.67 to 8 oz, or Sargento Shredded Cheese, 5 to 8 oz, Select Varieties, 2/$5
-$1.25/2 Sargento Sliced Natural Cheese, 04/07/19 SS (exp 6/2/19)
Simple Truth Organic Cheese, Select Varieties, 6 oz, $3.49
–$0.50/1 Simple Truth Organic Cheese, Select Varieties, 6 oz Kroger Super Saver Digital Coupon (use up to 5 times in a single transaction)
Yoplait Yogurt, Select Varieties, 4 to 6 oz, 10/$6
–$1/10 Yoplait Yogurt, Select Varieties, 4 to 6 oz Kroger Super Saver Digital Coupon (use up to 5 times in a single transaction)
–$0.50/5 Yoplait Yogurt (SavingStar Deposit) [cups; Includes original, light, whips!, or lactose free.]
---
DELI
Private Selection Meat & Cheese Sandwich Combos, Select Varieties, 24 oz, $7.99
---
FROZEN
DiGiorno Pizza, 22.1 to 31.5 oz, or California Pizza Kitchen Pizza, 13.4 to 15.5 oz, Select Varieties, $5.49
Outshine Fruit Bars, 4 to 6 ct, or Nestle Novelties, 4 to 9 ct, Select Varieties, 3/$10
Private Selection Ice Cream, Select Varieties, 16 fl oz, 2/$4
Marie Callender's Dinner or Bowl, Select Varieties, 10.5 to 14 oz, $2.29
–$0.50/1 Marie Callender's Dinner or Bowl, Select Varieties, 10.5 to 14 oz Kroger Super Saver Digital Coupon (use up to 5 times in a single transaction)
–$0.50/1 Marie Callender's Pot Pies, any variety (15 oz only) (Kroger 5X Digital Coupon)
Alexia Potatoes, Select Varieties, 13.5 to 28 oz, $2.99
–$1/1 Alexia Foods Frozen Products (SavingStar Deposit)
---
GROCERY
Coca-Cola, Pepsi or 7UP, 12 pk, 12 fl oz Cans or 8 pk, 12 fl oz Bottles, Select Varieties, 3/$11 (Final Cost wyb 3)
Coca-Cola, Pepsi or 7UP, Select Varieties, 2 Liter, 4/$5
Mission Street Tacos Tortillas, 12 to 24 ct, or Mission Brown Bag Tortilla Chips, 9 to 13 oz, Select Varieties, $1.99
–$1/1 Mission Street Tacos Tortillas, 12 to 24 ct, or Mission Brown Bag Tortilla Chips, 9 to 13 oz, Select Varieties Kroger Super Saver Digital Coupon (use up to 5 times in a single transaction) (valid 5/3 to 5/5)
Herdez Roasted Salsa or Guacamole Salsa, 15.7 oz, or Cacique Ranchero Queso Fresco, 10 oz, Select Varieties, 2/$5
Kroger Taco Shells, 12 ct, or Rosarita Refried Beans, 16 oz, Select Varieties, 10/$10
Rockstar Energy Drink, Select Varieties,16 fl oz, BOGO (no price listed)
Sparkling Ice, Select Varieties,17 fl oz, $0.88
Campbell's Condensed Soup, 10.5 to 11.25 oz, or Kroger Vegetables, Frozen, 10 to 12 oz, Select Varieties, 10/$10
Green Mountain K-Cups, Select Varieties, 32 ct, $17.99
LaCroix Sparkling Water, Select Varieties, 8 pk, 12 fl oz, 3/$10
-$1.50/1 LaCroix, 04/14/19 SS (exp 5/31/19) [8-ct. or 12-ct.]
Heinz Tomato Ketchup, 38 oz, $2.99
Private Selection Nuts, Select Varieties, 8 to 9.5 oz, $6.99
Private Selection Buns, Select Varieties, 8 ct, $1.99
Keebler Multipack Cookies or Crackers, Select Varieties, 12 ct, $3.99
–$1/1 Keebler Cookies printable[Need 850 rewards points]
–$1/1 Keebler Crackers printable[Need 850 rewards points]
General Mills Cereal, 10.5 to 15.2 oz, or Nature Valley or Fiber One Bars, 5 to 12 ct, Select Varieties, $2.99 (Ad shows Honey Nut Cheerios)
–$1/1 General Mills Cereal, 10.5 to 15.2 oz, or Nature Valley or Fiber One Bars, 5 to 12 ct, Select Varieties Kroger Super Saver Digital Coupon (use up to 5 times in a single transaction)
–$1/2 Nature Valley Granola Bars, Biscuits, Granola Cups, Layered Granola Bars, Soft-Baked Filled Squares, Protein Bars, Granola Snack Mix or Peanut or Almond Butter Granola Bites (Kroger Digital Coupon) [5-ct.+]
-$1/2 Cheerios Cereals, 03/31/19 SS (exp 5/11/19) [Includes Original Cheerios, Honey Nut Cheerios, Multi Grain,Chocolate Peanut Butter, Very Berry, Apply Cinnamon, Frosted, Chocolate, Fruity, Honey Nut, Medley Crunch, Cheerios Protein +Ancient Grains, Cheerios Oat Crunch or Maple Cheerios Cereal]
–$1/2 Nature Valley Granola Bars, Biscuits, Granola Cups, Layered Granola Bars, Soft-Baked Filled Squares, Protein Bars, Granola Snack Mix, or Peanut or Almond Butter Granola Bites (SavingStar Deposit) [5-ct.+; boxes]
-$0.50/2 Nature Valley Granola Bars, Biscuits, Granola Cups, Layered Granola Bars, Soft-Baked Filled Squares, Protein Bars, Granola Snack Mix or Peanut or Almond Butter Granola Bites, 03/17/19 SS (exp 5/11/19) [5-ct.+]
Powerade or Powerade Zero, 8 pk, 20 fl oz, or Vitaminwater or Vitaminwater Zero, 6 pk, 16.9 fl oz, Select Varieties, $4.49
–$1/1 Powerade or Powerade Zero, 8 pk, 20 fl oz, or Vitaminwater or Vitaminwater Zero, 6 pk, 16.9 fl oz, Select Varieties Kroger Super Saver Digital Coupon (use up to 5 times in a single transaction)
Sunshine Cheez-It Crackers, Select Varieties, 7.5 to 12.4 oz, $2.99
–$0.50/1 Sunshine Cheez-It Crackers, Select Varieties, 7.5 to 12.4 oz Kroger Super Saver Digital Coupon (use up to 5 times in a single transaction)
–$1/1 Sunshine Cheezit printable [Need 850 rewards points]
Kool-Aid, Country Time or Tang Drink Mix, 6 to 8 Quart, or Kellogg's Fruit Snacks, 10 ct, Select Varieties, $1.99
–$1/1 Kool-Aid, Country Time or Tang Drink Mix, 6 to 8 Quart, or Kellogg's Fruit Snacks, 10 ct, Select Varieties Kroger Super Saver Digital Coupon (use up to 5 times in a single transaction)
Kroger Peanut Butter, 16 oz, or Kroger Instant Oatmeal, 8 to 12 ct, Select Varieties, $1.49
–$0.50/1 Kroger Peanut Butter, 16 oz, or Kroger Instant Oatmeal, 8 to 12 ct, Select Varieties Kroger Super Saver Digital Coupon (use up to 5 times in a single transaction)
Hubert's Lemonade, Select Varieties, 16 fl oz, 3/$5
Kettle Brand Potato Chips, 13 oz, or Late July Tortilla Chips, 5.5 to 6 oz, Select Varieties, 2/$5
---
HEALTH & BEAUTY
Pantene Shampoo or Conditioner, Select Varieties, 12 to 12.6 fl oz, $3.99
Jergens Natural Glow Lotion or Neutrogena Suncare, Select Varieties, 3 to 7.5 fl oz, $8.49
-$2/1 Jergens Natural Glow Product, 04/07/19 SS (exp 5/5/19) [ETS]
Dove Bar Soap, 4 ct, or Caress Bar Soap, 6 ct, Select Varieties, $4.99
–$1/1 Dove Bar Soap, 4 ct, or Caress Bar Soap, 6 ct, Select Varieties Kroger Super Saver Digital Coupon (use up to 5 times in a single transaction)
Crest Toothpaste, 3.5 to 6.2 oz, or Scope Mouthwash, 500 ml, Select Varieties, $2.99
–$1/1 Crest Toothpaste, 3.5 to 6.2 oz, or Scope Mouthwash, 500 ml, Select Varieties Kroger Super Saver Digital Coupon (use up to 5 times in a single transaction)
Kind Bar, 1.2 to 1.4 oz, or Larabar, 1.6 to 1.8 oz, Select Varieties, 10/$10
---
HOUSEHOLD
Cottonelle Bathroom Tissue, 6 Mega Rolls, or Viva Paper Towels, 6 Big Rolls, Select Varieties, 2/$11 (Final Cost wyb 2)
–$2/2 COTTONELLE Bath Tissue (6pk or larger), Viva Paper Towels (6pk or larger) and/or Kleenex Bundle Packs, any size. (Kroger Digital Coupon)
–$0.55/1 Cottonelle Toilet Paper printable
–$0.55/1 Cottonelle Toilet Paper printable
-$0.50/1 Cottonelle Toilet Paper, exp. 5/12/19 (SS 04/14/19) [6+ rolls]
–$0.75/1 Cottonelle Toilet Paper (Ibotta Deposit) [any variety; any size][Limit 5]
Kroger Charcoal Lighter Fluid, 32 fl oz, $3.29
Tide Liquid Laundry Detergent, 92 to 100 fl oz, or Tide Pods, 32 to 42 ct, Select Varieties, $11.99
–$2/1 Tide Liquid Laundry Detergent, 92 to 100 fl oz, or Tide Pods, 32 to 42 ct, Select Varieties Kroger Super Saver Digital Coupon (use up to 5 times in a single transaction)
–$2/1 Tide Detergent; Includes Tide Purclean; Excludes Tide Pods, Tide Rescue, Tide Simply, Tide Simply Pods, Tide Detergent 10 oz, Trial and Travel Size; ; Limit of 1 Like Coupon Per Household Per Day; Upon Printing You Must Redeem within One Day
–$2/1 Tide Pods; Excludes Tide Liquid/Powder Laundry Detergent, Simply, Simply Pods, Pods 9 ct or Smaller, Trial and Travel Size; Limit of 1 Like Coupon Per Household Per Day; Upon Printing You Must Redeem within One Day
---
MEAT
Angus Boneless Top Sirloin Steak, Family Pack, $4.99/lb
Fresh Heritage Farm Split Chicken Breast or Drumsticks or Thighs, Bone-In, $0.88/lb
Kroger Seasoned Pork Carnitas, 16 oz, $5.99
Nathan's Beef Franks, 10 to 14 oz, or Hormel Taco Meat, 12 oz, Select Varieties, $3.99
Oscar Mayer Sub Kit, Select Varieties, 28 oz, $5.99
Oscar Mayer Deli Fresh Lunch Meat or Carving Board, Select Varieties, 7 to 9 oz, $3.49
–$1/1 Oscar Mayer Deli Fresh Lunch Meat or Carving Board, Select Varieties, 7 to 9 oz Kroger Super Saver Digital Coupon (use up to 5 times in a single transaction)
Oscar Mayer P3 Snacks, Select Varieties, 2 to 2.3 oz, $1.49
–$0.50/1 Oscar Mayer P3 Snacks, Select Varieties, 2 to 2.3 oz Kroger Super Saver Digital Coupon (use up to 5 times in a single transaction)
Fresh Simple Truth Natural Boneless Chicken Breasts, No Antibiotics Ever, $5.49/lb
Fresh Simple Truth Natural Ground Beef, 80% Lean, 16 oz, No Antibiotics Ever, $4.99
Fresh Angus Ground Chuck, 80% Lean, 16 oz, $3.99
Boneless Pork Chops, Family Pack, $3.99/lb
Wright Bacon, Select Varieties, 24 oz, $7.99
-$1/1 Wright Brand Bacon, 04/07/19 RMN (exp 5/31/19)
Boneless London Broil, $4.99/lb
Fresh Heritage Farm Chicken Wings, Bone-In, $2.49/lb
---
PRODUCE
Sweet Vidalia Onions or Roma Tomatoes, 0.48/lb
Honeycrisp or Envy Apples, $1.99/lb
Medium Hass Avocados or Large Mangos, 10/$10
Organic Mangos, 2/$3
Kroger Shredded Lettuce, 8 oz, 4/$5
Tropicana or Trop50 Orange Juice, Select Varieties, 52 fl oz, 2/$6
Tray Corn, 4 ct, $3.99
Whole Seedless Watermelon, $5.99
Strawberries, 16 oz, or Blackberries, 6 oz, 2/$5
Red or Gold Potatoes, 3 lb Bag, 2/$5
Limes or Lemons, 2 lb Bag, $2.99
Wholly Guacamole, 8 oz, 2/$4
Simple Truth Organic Fuji, Gala, Granny Smith or Pink Lady Apples, 2 lb Pouch, $3.99
Simple Truth Organic White Mushrooms, Whole or Sliced, 8 oz, 2/$5
Fresh Cut Tulips, 10 Stem, $7
Long Life Tulips in Vase, 6", $14.99
---
SEAFOOD
Extra Large Shrimp, 21 to 25 ct, Raw, Sold in a 2 lb Bag for $15.98
–$6/1 Extra Extra Large Shrimp, 21 to 25 ct, Raw, Sold in a 2 lb Bag for $15.98 Kroger Super Saver Digital Coupon (use up to 5 times in a single transaction) (valid 5/3 to 5/5)
Fresh Tilapia Fillets, Farm-Raised, $4.99/lb
Wild-Caught Snow Crab Clusters, 5 to 8 oz, $9.99/lb