Here is the Kroger Ad and coupon matchups which start Wednesday, 7/10 and runs through Tuesday 7/16 in the Southeast. This week begins a new two week Buy 5 Save $5 Mega sale. As usual the prices below are AFTER mega savings.
If you are headed to Kroger this week don't forget to load your digital coupons from SavingStar, Cellfire and the Kroger Digital Coupons too. You might want to check your cash back apps (Ibotta, Checkout 51, Mobisave and BerryCart) for any matching deals that you might like. Also, be sure to check out the Catalina deals before you shop.
As always, the check mark
indicates either a great stockpile price or a stockpile price with coupon(s). And keep in mind that we have a shopping list feature on the site. Sorry guys…it's still broken, hoping it will be fixed soon!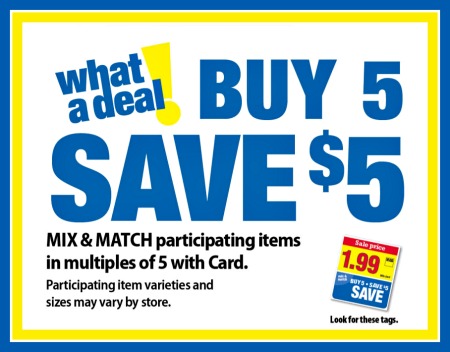 BUY 5, SAVE $5 SALE (Mix & Match)
Starbucks Coffee, 9 to 12 oz Bag, or K-Cups, 6 to 10 ct, Select Varieties, $5.99
Folgers Coffee, Select Varieties, 22.6 to 30.5 oz Can, $5.99
Nature Valley Granola Bars, Select Varieties, 5 to 12 ct, $1.99
–$1/2 any flavor/variety 5 COUNT OR LARGER Nature Valley Granola Bars, Biscuits, Granola Cups,…
-$0.50/2 Nature Valley Granola Bars, Biscuits, Granola Cups, Layered Granola Bars, Soft-Baked Filled Squares, Protein Bars, Granola Snack Mix or Peanut or Almond Butter Granola Bites, 06/09/19 SS (exp 8/3/19) [5-ct.+]
-$1/2 Nature Valley Granola Bars, Biscuits, Granola Cups, Layered Granola Bars, Soft-Baked Filled Squares, Protein Bars, Granola Snack Mix or Peanut or Almond Butter Granola Bites, 06/09/19 SS (exp 8/3/19) [5-ct.+]
–$1/2 any flavor/variety 5 COUNT OR LARGER Nature Valley Granola Bars, Biscuits, Granola Cups, Layered Granola Bars, Soft-Baked Filled Squares, Protein Bars, Granola Snack Mix OR Peanut or Almond Butter Granola Bites (SavingStar Deposit)
Fiber One Bars, Select Varieties, 5 to 6 ct, $1.99
Kellogg's Nutrigrain Bars, Select Varieties, 5 to 8 ct, $1.99
–$1/1 Kellogg's Nutri-Grain Bars, Special K Bars or Rice Krispies Treats Crispy Marshmallow Squares printable [5-ct.+, Any Flavor; Need 850 rewards points]
Kraft Natural Cheese, Select Varieties, 7 to 8 oz, $1.99
Kraft Mayo, Select Varieties, 22 to 30 oz, $1.99
Kraft Deluxe Macaroni & Cheese, Select Varieties, 9.4 to 14 oz, $1.99
Taco Bell Shredded Cheese, Select Varieties, 7 oz, $1.99
–Buy any 1 TACO BELL Shredded Cheese, Get any 1 TACO BELL Seasoning Mix FREE (Kroger Digital Coupon)
Doritos or Ruffles, Select Varieties, 7.75 to 9.25 oz, $1.88
Popchips, 5 oz, Select Varieties, $1.88
DiGiorno Stuffed Crust or Crispy Pan Pizza, Select Varieties, 21.6 to 29.5 oz, $5.99
Simple Truth Meals for 2, Select Varieties, 22 to 24 oz, $5.99
Stouffer's Family Size Meal, Select Varieties, 28 to 40 oz, $5.99
Cheetos, Fritos or SunChips, Select Varieties, 6.9 to 25 oz, $1.99
Honest Kids Organic Juice Pouches, Select Varieties, 8 pk, 6.75 fl oz, $2.49
Annie's Organic Fruit Snacks, 5 ct, or Annie's Organic Cereal Bars, 5 to 6 ct, Select Varieties, $2.49
–$1/2 Annie's Products (excludes dressings, marinades, and condiments)
Frigo String Cheese, 24 oz, or Kroger Cheese, 32 oz, Select Varieties, $4.99
–$1/1 Frigo Cheese Product printable
Snack Factory Pretzel Crisps, Select Varieties, 5 to 7.2 oz, In the Deli, $2.49
Jimmy Dean Breakfast Sausage, Select Varieties, 9.6 to 16 oz, $2.99
Jimmy Dean Breakfast Sandwiches, Select Varieties, 4 or 10 ct, $3.99
Edy's Ice Cream, Select Varieties, 48 fl oz, $2.49
–$1.50/3 8oz or larger Häagen-Dazs, Outshine, Drumstick, or Edy's products
Haagen-Dazs Ice Cream, Select Varieties, 14 fl oz, $2.49
–$1.50/3 8oz or larger Häagen-Dazs, Outshine, Drumstick, or Edy's products
Mars Ice Cream Bars, Select Varieties, 6 ct, $2.49
Gilberts Chicken Sausage, Select Varieties, 10 oz, $3.99
–$1/1 Gilbert's Craft Sausages (Ibotta Deposit)
Carando Meatballs, Select Varieties, 16 oz, $3.99
Gatorade, G2 or G Zero, Select Varieties, 8 pk, 20 fl oz, $3.99
Lipton Tea, Select Varieties, 12 pk, 16.9 fl oz, $3.99
Pure Leaf Tea, Select Varieties, 6 pk, 16.9 to 18.5 fl oz, $3.99
Pepsi, Select Varieties, 6 pk, 16 to 16.9 fl oz Bottles or 6 pk, 7.5 fl oz Cans, $1.99
Kellogg's Pop-Tarts, Select Varieties, 8 ct, $1.49
–$1/1 Kellogg's Pop-Tarts Toaster Pastries printable [Need 850 rewards points]
–$1/3 Pop-Tarts Toaster Pastries printable
-$1/3 Kellogg's Pop Tarts, 06/16/19 RMN (exp 7/28/19) [6-ct.+; Limit 4]
Kellogg's Cereal, Select Varieties, 10 to 18 oz, $1.49 (Ad shows Frosted Flakes)
–$1/1 Kellogg's Cereal printable [Need 850 rewards points]
–$2/4 Kellogg's Cereals printable
-$1/3 Kellogg's Cereal, 06/16/19 RMN (exp 7/28/19) [8.4-oz.+; Limit 4]
–$0.50/1 Kellogg's Honey Nut Frosted Flakes or Kellogg's Frosted Flakes Banana Creme Cereal printable
Post Cereal, Select Varieties, 11 to 14.75 oz, $1.49 (Ad shows Fruity Pebbles)
General Mills Giant Size Cereal, Select Varieties, 20 to 29 oz, $3.99
–$1/2 General Mills Big G boxed cereal (Kroger Digital Coupon)
Sara Lee Bread, Select Varieties, 20 oz, $1.49
Mom's Best Natural Cereal, Select Varieties, 11 to 16.5 oz, $1.49
–$1/1 Mom's Best Cereal printable
Velveeta Shells & Cheese, Select Varieties, 9.4 to 14 oz, $1.99
Thomas' English Muffins, Select Varieties, 6 ct, $1.99
Arnold Wide Pan Bread, Select Varieties, 24 oz, $1.99
-$0.55/1 Arnold Whole Grain Bread, 05/12/19 SS (exp 7/31/19) [24-oz.; DND]
Sunshine Family Size Cheez-It Crackers, Select Varieties, 19 to 21 oz, $2.99
–$1/1 Sunshine Cheezit printable [Need 850 rewards points]
Powerade or Powerade Zero, Select Varieties, 8 pk, 20 fl oz, $2.99
Almond Breeze Almondmilk, Select Varieties, 64 fl oz, $1.79
-$0.75/1 Refrigerated Almond Breeze Almondmilk 64 oz Blinkie (exp 07/31/19)
Freschetta Pizza, Select Varieties, 20.28 to 28.83 oz, $3.99
Jack Links Jerky, Select Varieties, 2.25 to 2.85 oz, $3.99
Chobani Greek Yogurt, Select Varieties, 4 ct, $2.49
Clif Organic Z Bars, Select Varieties, 5 ct, $2.49
-$1/1 Clif Bar or Clif Filled, 05/19/19 SS (exp 9/1/19) [Multipack]
Entenmann's Donuts, Select Varieties, 11 to 21 oz, $2.49
Pudding Cake, Select Varieties, 43 oz, In the Bakery, $5.99
Crystal Light On-the-Go, Select Varieties, 7 or 10 ct, $0.99
Larabar Protein Bar or Epic Protein Bar, Select Varieties, 1.3 to 1.9 oz, $0.99
TGI Friday's Appetizers, Select Varieties, 12 to 17.4 oz, $3.49
Kroger Party Pail Ice Cream, Select Varieties, 128 fl oz, $3.49
Hormel Natural Choice Lunch Meat, Select Varieties, 14 oz, $4.99
Pepperidge Farm Goldfish Crackers, Select Varieties, 30 to 34 oz, $6.99
Glad Trash Bags, Select Varieties, 30 to 80 ct, $7.99
Cottonelle Bathroom Tissue, Select Varieties, 12 Mega Rolls, $10.99
–$0.55/1 Cottonelle Toilet Paper printable
–$0.50/1 COTTONELLE Toilet Paper (6-pack or larger)
–$0.75/1 Cottonelle Toilet Paper (Ibotta Deposit) [Any variety; Any size] [Limit 5]
Viva Paper Towels, Select Varieties, 8 Giant Rolls, $10.99
–$0.50/1 Viva Paper Towel 6-pack or larger
–$0.50/1 Viva Vantage or Viva Paper Towels printable [6-pk.+]
Colgate Total Toothpaste, Select Varieties, 4.8 oz, $1.99
–$0.75/1 Colgate Total Advanced Toothpaste printable []
Old Spice or Secret Deodorant, Select Varieties, 2.6 to 3.8 oz, $3.99
-$1/2 Old Spice Anti-Perspirant/Deodorant, Body Wash or Bar Soap, 07/07/19 P&G (exp 7/20/19) [Excludes twin packs, high endurance and trial /travel size click for the best coupon site ever]
Old Spice Shampoo or Conditioner, Select Varieties, 12 to 12.6 fl oz, $2.99
-$1/1 Old Spice Hair Product, 07/07/19 P&G (exp 7/20/19) [Excludes trial/travel size]
Pantene Shampoo or Conditioner, Select Varieties, 12 to 12.6 fl oz, $2.99
-$1/1 Pantene Products, 07/07/19 P&G (exp 11/27/19) [Includes gold series collection excludes trial/travel size]
Tresemme Shampoo or Conditioner, Select Varieties, 28 fl oz, $2.99
Pampers or Jumbo Diapers, Select Varieties, Sizes NB to 6, 16 to 32 ct, $7.99
-$3/2 Pampers Diapers or Easy Ups Training Underwear, 07/07/19 P&G (exp 7/20/19) [bags or boxes; Excludes trial/travel size]
–$2/2 Pampers Diapers printable [Excludes trial/travel size]
–$2/2 Pampers Swaddlers Diapers printable [Excludes trial/travel size]
–$1/1 Pampers Cruisers Diapers printable [Excludes trial/travel size]
–$2/2 Pampers Swaddlers Diapers printable [Excludes trial/travel size]
–$1/1 Pampers Swaddlers Diapers printable [Excludes trial/travel size]
–$2/1 Pampers Pure Diapers printable [Excludes trial/travel size]
Rubbermaid Take Alongs Disposable Food Storage, Select Varieties, $1.99
Tide Liquid Laundry Detergent, Select Varieties, 46 to 50 fl oz, $4.99
–$2/1 Tide Detergent printable [Includes Tide PureClean; Excludes Tide PODS, Simply, Simply PODS, 10-oz. detergent and trial]
-$3/1 Tide Laundry Detergent or Tide Purclean or Tide Antibacterial Spray, 07/07/19 P&G (exp 7/20/19) [Excludes studio by tide, tide pods, tide rescue, tide simply, tide simply pods, tide detergent 10-oz. and trial/travel size]
–$2/1 Tide Detergent or Studio by Tide printable
Tide Pods, Select Varieties, 15 to 20 ct, $4.99
–$2/1 Tide Detergent printable [Includes Tide PureClean; Excludes Tide PODS, Simply, Simply PODS, 10-oz. detergent and trial]
-$3/1 Tide Pods, 07/07/19 P&G (exp 7/20/19) [Excludes tide liquid/powder laundry detergent, tide simply, tide simply pods and tide pods 9-ct. and below and trial/travel size]
–$2/1 Tide PODS printable [Excludes Tide Liquid/Powder detergent, Simply, Simply PODS, Tide PODS 9-ct. and below, and trial]
–$2/1 Tide PODS printable
Downy Fabric Softener, Select Varieties, 62 to 77 fl oz, $4.99
---
BAKERY
Fresh Baked Chocolate Chip Cookies or Other Varieties, 16 ct, 2/$7
Private Selection Honeycrisp Apple Wavy Lattice Pie or Other Varieties, 9", $6.99
Private Selection Bread, 24 oz, or Buns, 8 ct, Select Varieties, $1.99
Angel Food Cake, Plain or Sour Cream, 13 oz, $2.99
–$1/1 Angel Food Cake, Plain or Sour Cream, 13 oz Kroger Super Saver Digital Coupon (use up to 5 times in a single transaction)
---
BEER & WINE (10% Off Any 6 Bottles of Wine, 7/11 to 7/14)
Josh Cellars or Magistrate Napa Valley Chardonnay, Select Varieties, 750 ml, $11.99
Bud, Miller or Coors, Select Varieties, 24 pk, 12 fl oz Cans, $17.99
Sweetwater, Sierra Nevada or New Belgium, Select Varieties, 12 pk, 12 fl oz Bottles or Cans, $15.99
White Claw, Truly, or Bud Light Lime or Orange, Select Varieties, 12 pk, 12 fl oz Bottles or Cans, $12.99
Michelob Ultra, 24 pk, 12 fl oz Cans, or Heineken or Corona, 18 pk, 12 fl oz Bottles, Select Varieties, $21.99
Miller High Life, 12 pk, 12 to 16 fl oz Bottles or Cans, or Creature Comforts or Terrapin, 6 pk, 12 fl oz Bottles or Cans, Select Varieties, $8.49
Barefoot, Select Varieties, 750 ml, $5.49
Oyster Bay, Select Varieties, 750 ml, $10.99
Joel Gott, Select Varieties, 750 ml, $12.49
Bay Bridge, 3 Liter, or Head to Head, 750 ml, Select Varieties, $11.99
Chalkboard or Hive & Honey, Select Varieties, 750 ml, $7.99
---
DAIRY
Kroger Eggs, Grade A, Large, 12 ct, $0.88
Yoplait Yogurt, Select Varieties, 4 to 6 oz, 10/$6
–$0.50/5 Yoplait Yogurt (Includes Original, Light, Smooth, Whips!, Lactose Free, OR FruitSide)
-$0.50/5 Yoplait Yogurt, 06/02/19 SS (exp 7/27/19) [Includes original, light, whips, lactose free and fruit side]
-$1/10 Yoplait Yogurt, 06/02/19 SS (exp 7/27/19) [Includes Original, Light, Whips, Lactose Free and Fruit Side]
–$0.50/5 Yoplait Yogurt. (Includes Original, Light, Smooth, Whips!, Lactose Free, OR Fruitside) (SavingStar Deposit)
Starbucks Ready-to-Drink Frappuccino or Doubleshot, Select Varieties, 11 to 16 fl oz, 2/$4
-$1 off (2) Starbucks single serve bottled or canned beverages and (1) Bakery item Tearpad (exp 07/31/19)
Tillamook Cheese or Cheese Slices, 8 oz, Select Varieties, 2/$5
Kroger Cottage Cheese, Sour Cream or Dip, Select Varieties, 24 oz, $1.99
Kroger Chocolate Milk or Kroger Orange Juice, Half Gallon, Select Varieties, 2/$3
Simple Truth Organic Milk, Select Varieties, 64 fl oz, $2.99
Vital Farms Pasture-Raised Eggs, 12 ct, or Fage Greek Yogurt, 35.3 oz, Select Varieties, $4.99
---
DELI
Fresh Foods Market Roasted Chicken or 8-pc Fried or Bacon Chicken, 2/$12
Kroger Deli Pizza, Select Varieties, 35 to 41 oz, $5.99 and up
Private Selection Ham, Select Varieties, $7.49/lb
---
FROZEN
Stouffer's Entree, 8.375 to 12.875 oz, or Lean Cuisine Entree, 5.25 to 11.5 oz, Select Varieties, 5/$10
Private Selection Ice Cream, 48 fl oz, or Private Selection Stone Fired Pizza, 15 to 19.3 oz, Select Varieties, $4.99
Private Selection Frozen Fruit, Select Varieties, 12 to 16 oz, 2/$7
Amy's Bowls, 8.5 to 10 oz, or Simple Truth Organic Sprouted Bread, 20.5 to 27 oz, Select Varieties, 2/$7
---
GROCERY
Powerade or Powerade Zero, Select Varieties, 32 fl oz, $0.59 (Final Cost wyb 8)
Coca-Cola or Pepsi, 2 Liter, or Mountain Dew Kickstart, 12 to 16 fl oz Cans, Select Varieties, $0.88 (Final Cost wyb 4)
Deer Park Spring Water, 24 pk, 16.9 fl oz, or La Croix Sparkling Water, 8 pk, 12 fl oz Cans, Select Varieties, $2.99
Party Size! Tostitos or Ruffles Potato Chips, Select Varieties, 13 to 18 oz, $3.99
Nabisco Family Size! Cookies or Crackers, Select Varieties, 10 to 20.6 oz, $3.49
-$0.75/2 Nabisco Cookie or Cracker Products, 06/23/19 SS (exp 8/3/19) [3.5-oz.+,]
Nabisco Oreos, 8.5 to 15.35 oz, or Kroger Deluxe Ice Cream, 48 fl oz, Select Varieties, 2/$5
-$0.75/2 Nabisco Cookie or Cracker Products, 06/23/19 SS (exp 8/3/19) [3.5-oz.+,]
Pillsbury Moist Supreme Cake Mix, 15.25 oz, or Del Monte Fruit, 14.5 to 15.25 oz Can, Select Varieties, 4/$5
Swedish Fish or Sour Patch Kids Candy, Select Varieties, 3.1 to 3.5 oz, 10/$10
LifeSavers Gummies, Select Varieties, 2.75 to 7 oz, 2/$3
Butterfinger Bites, 8 oz, or Nestle Fun Size Candy Bars, 10 to 11.5 oz Bag, Select Varieties, 2/$6
Hershey's Miniatures or Kisses, Select Varieties, 9.6 to 15 oz, 2/$7
Private Selection or Simple Truth Organic Spices, Select Varieties, 0.14 to 6.5 oz, 33% Off
Simple Truth Organic Tortilla Chips, 7.5 to 9 oz, or Simple Truth Organic Popcorn, 4 to 4.5 oz, or Simple Truth Organic Baked Puffs, 4 to 6 oz, Select Varieties, $1.99
Private Selection Nuts, 8 to 9.5 oz, or Private Selection Salt or Pepper Grinders, 5.8 to 12.6 oz, Select Varieties, $6.99
Private Selection Nuts, Select Varieties, 16 oz, 2/$3
Simple Truth Vapor Distilled Water, 24 pk, 16.9 fl oz, or Simple Truth Organic Potato Chips Multipack, 6 ct, Select Varieties, $4.99
Private Selection Coffee, 11 to 12 oz Bag, or Simple Truth Organic Coffee, 11 oz Bag, Select Varieties, $5.99
Private Selection Kettle Chips, 8 oz, or Private Selection Tortilla Chips, 8 to 15 oz, Select Varieties, $1.99
SkinnyPop Popcorn, 4.4 to 5.3 oz, or Brew Dr Organic Kombucha, 14 fl oz, Select Varieties, $2.99
SkinnyPop Skinny Pack, 6 ct, or Pirate's Booty Lunch Packs, 12 ct, Select Varieties, $4.99
–$2/1 SkinnyPop Skinny Pack, 6 ct, or Pirate's Booty Lunch Packs, 12 ct, Select Varieties Kroger Super Saver Digital Coupon (use up to 5 times in a single transaction)
---
HEALTH & BEAUTY
Dial Liquid Hand Soap, Select Varieties, 7.5 fl oz, $0.89
Nature Made Vitamins, Select Varieties, 12 to 300 ct, BOGO (no price listed)
Dial or Tone Body Wash, Select Varieties, 16 to 18 fl oz, $2.99
Simple Truth Facial Cleansing Wipes, 30 ct, $4.99
Kind Bar, 1.2 to 1.4 oz, or Clif, Mojo or Luna Bar, 1.59 to 2.4 oz, Select Varieties, 10/$10
One A Day Multivitamins, Select Varieties, 50 to 150 ct, $7.99
–$4/1 One A Day Multivitamins, Select Varieties, 50 to 150 ct Kroger Super Saver Digital Coupon (use up to 5 times in a single transaction)
–$1/1 One A Day Adult Multivitamin Product printable
–$2/1 One A Day Prenatal Multivitamin Product printable
---
HOUSEHOLD
Lemi Shine Singles, Select Varieties, 1.76 to 2 oz, $1.99
–$1/1 Lemi Shine Singles, Select Varieties, 1.76 to 2 oz Kroger Super Saver Digital Coupon (use up to 5 times in a single transaction)
Igloo Lunch Sack, Assorted Colors, $5.99
–$1/1 Igloo Lunch Sack, Assorted Colors Kroger Super Saver Digital Coupon (use up to 5 times in a single transaction)
100 fl oz Bubbles, 70% Off, Sale Price $1.19
Handi-Foil Pans, Select Varieties, B2G1
Kroger Home Sense Storage Bags, 28 to 48 ct, or Aluminum Foil, 75 sq ft, or Plastic Cups, 50 ct, Select Varieties, 2/$5
HD Designs Lakeport 3-Piece Rocker Set, Up to 50% Off
HD Designs Outdoors Connector String Lights, 15 ft, Up to 50% Off
HD Designs Stackable Wicker Chairs, Up to 50% Off
Orchards Dining Table, Up to 50% Off
Orchards Dining Chairs, Up to 50% Off
HD Designs Outdoors Monterey 3-Seat Swing, Up to 50% Off
HD Designs Outdoors Plastic Beverage Dispenser with Cups, Up to 50% Off
HD Designs Outdoors Poly Pro Dinnerware & Serveware, Up to 50% Off
HD Designs Outdoors Metal Serveware, Up to 50% Off
HD Designs Outdoors Vinyl Tablecloths, Up to 50% Off
HD Designs Outdoors 16-Piece Acrylic Drinkware Set, Up to 50% Off
Pools & Pool Inflatables, Up to 50% Off
---
MEAT
Jennie-O Ground Turkey, Turkey Links or Turkey Tenderloins, 16 to 24 oz, BOGO (no price listed)
Fresh Heritage Farm Boneless Chicken Breasts, $1.69/lb
Angus Boneless Top Sirloin Steak, Family Pack, $4.99/lb
Fresh Angus Ground Chuck, 80% Lean, 16 oz, $2.99
Boneless Pork Chops, Family Pack, or Boneless Pork Tenderloin, BOGO (no price listed)
Kroger Brats or Italian Sausage or Ground Pork or Meatballs, 16 to 18 oz, Select Varieties, $2.99
–$1/1 Kroger Brats or Italian Sausage or Ground Pork or Meatballs, 16 to 18 oz, Select Varieties Kroger Super Saver Digital Coupon (use up to 5 times in a single transaction) (redeem 7/12 to 7/13)
Hillshire Farm Lunch Meat, Select Varieties, 7 to 9 oz, 2/$6
Kroger Bacon, 3 lb, $8.99
Aidell's Dinner Sausage or Aidell's Meatballs or Burgers, 12 oz, Select Varieties, $4.99
Bob Evans Side Dishes, Select Varieties, 12 to 24 oz, 2/$6
-$1/3 Bob Evans Refrigerated Side Dishes, 06/23/19 SS (exp 8/31/19)
Simple Truth Lunch Kits, Select Varieties, 2.9 to 4.16 oz, 2/$4
Fresh Simple Truth Natural Ground Beef, 80% Lean, 16 oz, No Antibiotics Ever, $4.99
Fresh Simple Truth Natural Boneless Chicken Breasts, No Antibiotics Ever, $4.99/lb
Boneless New York Strip Steaks, Family Pack, $9.99/lb
Fresh Perdue Chicken Fryer, Drumsticks or Thighs, Bone-In, No Antibiotics Ever, $0.99/lb
–$1/2 Perdue or Perdue Harvestland Fresh Chicken printable
-$1/1 Perdue Fresh Chicken Product or Perdue Fresh Cuts Pre-Cut Chicken Breast Product, 07/31/19 RMN (exp 7/31/19) [Includes Perdue, Perdue Harvestland or Perdue Harvestland Organic brands]
Boneless London Broil, $5.99/lb
Beyond Meat Beyond Burgers, 2 ct, $4.99
–$1/1 Beyond Meat Product printable
---
PRODUCE
Mandarins, 3 lb bag, $3.88
White Seedless Grapes, $0.99/lb
Green Beans, Zucchini or Yellow Squash, $0.99/lb
Simply Fruit Drink or Ade, 52 fl oz, or Ball Park Buns, 8 ct, Select Varieties, $1.99
–$1/1 Simply Fruit Drink or Ade, 52 fl oz, or Ball Park Buns, 8 ct, Select Varieties Kroger Super Saver Digital Coupon (use up to 5 times in a single transaction) (redeem 7/12 to 7/13)
Private Selection Gourmet Potatoes, Select Varieties, 1.5 lb, $2.99
Raspberries or Blackberries, 6 oz, 2/$5
Athena Cantaloupe, 2/$5
Kroger Red or Gold Potatoes, 5 lb Bag, $3.99
Simple Truth Organic Fuji, Gala, Granny Smith or Pink Lady Apples, 2 lb Pouch, $3.99
Organic Red or Black Plums, $2.49/lb
Kroger Salad Bowls, Select Varieties, 6 oz, 3/$10
Zespri SunGold Kiwi, 1 lb Clamshell, $2.99
Berry Cobbler Bouquet, 15 Stem, $9.99
Assorted Blooming in Berry Cobbler Tin, 5", $9.99 and up
---
SEAFOOD
Wild Alaskan Cod Fillets, Previously Frozen, $5.99/lb
Cedar Bay Plank Salmon, 24 oz, $14.99
Kroger Fish Fillets, Select Varieties, Frozen, 12 oz, 25% Off