Here is the Kroger Ad and coupon matchups which start Wednesday, 7/17 and runs through Tuesday 7/23 in the Southeast. This is the second week of the two week Buy 5 Save $5 Mega sale. You can see the Kroger What A Deal! Buy 5, Save $5 Mega Sale Full Inclusion List (Valid 7/10 – 7/23) HERE 
If you are headed to Kroger this week don't forget to load your digital coupons from SavingStar, Cellfire and the Kroger Digital Coupons too. You might want to check your cash back apps (Ibotta, Checkout 51, Mobisave and BerryCart) for any matching deals that you might like. Also, be sure to check out the Catalina deals before you shop.
As always, the check mark
indicates either a great stockpile price or a stockpile price with coupon(s). And keep in mind that we have a shopping list feature on the site. Sorry guys…it's still broken, hoping it will be fixed soon!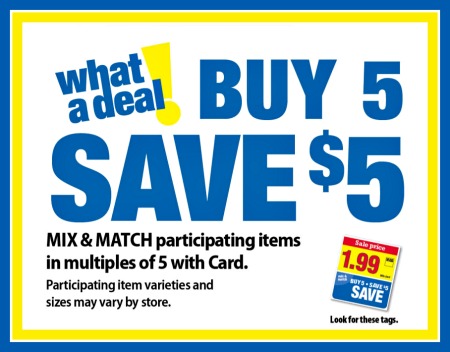 BEER & WINE
Bud, Miller or Coors, Select Varieties, 24 pk, 12 fl oz Cans, $17.99
Corona, Stella Artois, Modelo or Heineken, Select Varieties, 12 pk, 11.2 to 12 fl oz Bottles or Cans, $13.99
Busch Light, Natural Light, Pabst or Miller High Life, Select Varieties, 30 pk, 12 fl oz Cans, $18.99
Miller or Coors, Select Varieties, 12 pk, 16 fl oz Cans, 2/$20
White Claw, Michelob Ultra or Cape Line, Select Varieties, 12 pk, 12 fl oz Bottles or Cans, $12.99
Bogle or Cupcake, Select Varieties, 750 ml, $8.99
Black Box, 3 Liter, or Magistrate Alexander Valley Cabernet, 750 ml, Select Varieties, $16.99
Dark Horse, Select Varieties, 750 ml, $7.99
Bota Box, 3 Liter, or Larkspur Pinot Noir, 750 ml, Select Varieties, $16.99
Josh Cellars Chardonnay, 750 ml, $12.99
Budweiser Discovery Reserve or Bud Light Lime or Orange, Select Varieties, 12 pk, 12 fl oz Bottles or Cans, $12.99
Blue Moon or Terrapin, Select Varieties, 15 pk, 12 fl oz Cans, $13.99
7 Moons, Select Varieties, 750 ml, $9.99
---
DAIRY
Kroger Milk, Select Varieties, Gallon, $1.99 (Excluding Chocolate & Buttermilk), $1.99 (Limit 4)
Dannon, Chobani or Fage Greek Yogurt, Select Varieties, 4 to 7 oz, 10/$10
–$1/2 Dannon Light & Fit, Oikos or Activia Greek Yogurt (Kroger Digital Coupon)
Simple Truth Organic Cheese, Select Varieties, 5 to 6 oz, $3.29
Simple Truth Organic Milk, Select Varieties, Half Gallon, $2.99
Siggi's Icelandic Yogurt, 5.3 oz, or Stonyfield Organic Yogurt Pouches, 2.25 to 3.5 oz, Select Varieties, 4/$5
–$1/2 Siggi's Yogurt printable
-$1/2 Siggi's Single Serve Cups (Excluding Simple Sides) DND inside foil lid (exp 12/31/19)
–$0.50/1 Stonyfield® Organic Kids Yogurt (Ibotta Deposit)
---
DELI
Simple Truth Colossal Roasted Chicken, 44 oz, $9.99
---
FROZEN
Kroger Deluxe Ice Cream, Select Varieties, 48 fl oz, $2.79
–$1.80/1 Kroger Deluxe Ice Cream, Select Varieties, 48 fl oz Kroger Super Saver Digital Coupon (use up to 5 times in a single transaction) – redeem 7/19 & 7/20 only
Lean Cuisine Entree, 5.25 to 11.5 oz, or Stouffer's Entree, 8.375 to 12.875 oz, Select Varieties, 5/$10
Private Selection Angus Beef Patties, Select Varieties, 2 lb, $7.99
Amy's Bowls, 8.5 to 10 oz, or Simple Truth Organic Sprouted Bread, 20.5 to 27 oz, Select Varieties, Frozen, 2/$7
---
GROCERY
Coca-Cola or Pepsi, Select Varieties, 20 to 24 pk, 12 fl oz CAns, $5.99 (Final Cost wyb 2)
Kool-Aid Jammers, Select Varieties, 10 pk, 6 fl oz Pouches, $0.99
M&M's Party Size Candy, Select Varieties, 38 to 42 oz, $8.99
–$4/1 M&M's Party Size Candy, Select Varieties, 38 to 42 oz Kroger Super Saver Digital Coupon (use up to 5 times in a single transaction) – redeem 7/19 & 7/20 only
-$1/2 M&M's Brand Chocolate Candies, 06/16/19 RMN (exp 8/11/19) [8-oz.+]
M&M's Candy, Select Varieties, 8 to 10.7 oz, $2.99
-$1/2 M&M's Brand Chocolate Candies, 06/16/19 RMN (exp 8/11/19) [8-oz.+]
Nabisco Oreo Cookies, Select Varieties, 6 to 15.35 oz, 2/$5
–$1/1 Select NABISCO Cookies and Crackers. Valid on 7 oz or larger, any variety. Excludes Excludes Honey Maid Grahams and Ritz Crackers SavingsStar Deposit.
–$1 off Oreo Chocolate Candy wyb OREO Cookies printable
-$0.75/2 Nabisco Cookie or Cracker Products, 06/23/19 SS (exp 8/3/19) [3.5-oz.+,]
Simple Truth Organic Bread, Select Varieties, 26 oz, $3.29
Tostitos Tortilla Chips, 10 to 13 oz, or Lay's Kettle Cooked Potato Chips, 8 oz, or Tostitos Salsa, 15.5 oz, Select Varieties, 2/$6
Hershey's or Reese's Candy, Select Varieties, 10 to 15 oz, 2/$7
Hershey's or Nestle Candy, Select Varieties, 5 to 6 pk, 10/$10
-$1/2 Hershey's Milk Chocolate, 06/23/19 SS (exp 8/18/19) [6-pack.]
–$1/2 Hershey's Milk Chocolate (Checkout 51 Deposit) [Valid on 6-pack bars. Items must appear on the same receipt.]
Twizzlers, Select Varieties, 11 to 16 oz, $1.99
Trident Gum, Select Varieties, 14 ct, 10/$10
---
HEALTH & BEAUTY
Dial Liquid Hand Soap, Select Varieties, 7.5 fl oz, $0.89
---
HOUSEHOLD
Crayola Crayons, 24 ct, $0.49 (Limit 4)
Crayola Super Tips Washable Markers, 20 ct, $2.99
Crayola Washable Watercolors, 8 ct, $1.49
Ticonderoga #2 Pencils, 24 pk, Unsharpened, $3.49
Top Flight Composition Book, 100 Sheets, College Rule or Wide Rule, $0.59
Top Flight Filler Paper, College and Wide Rule, 150 ct, $0.99
Top Flight Wireless Notebook, College or Wide Rule, 80 Sheets, 10/$10
Top Flight Quad Rule Composition Book, 100 Sheets, 10/$10
Elmer's Washable Clear School Glue, 5.8 oz, 10/$10
Elmer's School Glue, 4 oz, $0.59
Pentel Medium Black Pens, 4+2 Bonus Pack, $5.49
Paper Mate Write Bros. Mechanical Pencils, Assorted Colors, 10 ct, 10/$10
Paper Mate Pink Pearl Erasers, 3 ct, 10/$10
Bic Brite Liner Highlighter, Assorted Colors, 5-Pack, $1.49
OfficeWorks Glue Stick, 3+1 Bonus Pack, 10/$10
Scotch Heavy Duty Packaging Tape, 1 ct, 48mm x 20.3m, $2.99
–$0.50/1 Scotch Heavy Duty Shipping Packaging Tape or Long Lasting Moving & Storage Package Tape printable
Mead Five Star Portfolio, 4-Pocket, 10/$10
Avery Durable Binder, 1", $3.49
Mirro Get-A-Grip Cookware Set, 10-Piece, $39.99
Pyrex Glass Bakeware, Select Varieties, 20% Off
Lysol Wipes, 75-80ct, $4.49
–$2/1 Lysol Wipes, 75-80ct (Kroger 5X Digital Coupon) – redeem 7/19 & 7/20 only
Pilot G2 Pens and Papermate Clearpoint Mechanical Pencils, $3.99
–$1/1 Pilot G2 Pens and Papermate Clearpoint Mechanical Pencils (Kroger 5X Digital Coupon) – redeem 7/19 & 7/20 only
---
MEAT
Fresh Perdue Boneless Chicken Breasts, No Antibiotics Ever, $1.88/lb
–$1/2 Perdue or Perdue Harvestland Fresh Chicken printable
-$1/1 Perdue Fresh Chicken Product or Perdue Fresh Cuts Pre-Cut Chicken Breast Product, 06/16/19 RMN (exp 7/31/19) [Includes Perdue, Perdue Harvestland or Perdue Harvestland Organic brands]
Boneless Half Ribeye, $6.99/lb
Boneless Ribeye Steak, Family Pack, $9.99/lb
Fresh Kroger 80% Lean Ground Beef, Sold in a 5 lb Roll for $9.40, $1.88/lb
Pork Back Ribs, $2.99/lb
–$2.32/1 Pork Back Ribs Kroger Super Saver Digital Coupon (use up to 5 times in a single transaction)– redeem 7/19 & 7/20 only
Fresh Simple Truth Boneless Chicken Breasts, No Antibiotics Ever, $6.99/lb
Simple Truth Kielbasa or Chicken Sausage, Select Varieties, 12 oz, 2/$7
Pork Boston Butt, Bone-In, Pork Shoulder, $1.29/lb
Fresh Laura's Lean Ground Beef 92% Lean, 16 oz, No Antibiotics Ever, $5.99
–$1/1 Laura's Lean Beef Product printable
Boneless Chuck Roast, $4.99/lb
Assorted Pork Chops, Bone-In, Family Pack, $2.29/lb
Fresh Kroger Ground Turkey, 85% Lean, Sold in a 3 lb Package for $7.99, $2.66/lb
Oscar Mayer Lunchables, Select Varieties, 2.25 to 4.4 oz, 10/$10
---
PRODUCE
Blueberries, 2 lb, $3.99
Whole Seedless Watermelon, $2.99
Red Cherries, $1.99/lb
Zucchini or Yellow Squash, $0.99/lb
Mandarins, 3 lb Bag, $3.99
Strawberres, 2 lb Clamshell, $2.99
Raspberries, 6 oz, 2/$5
Blackberries, 12 oz, $3.99
Organic Strawberries, 1 lb Clamshell, 2/$6
Simple Truth Organic Blueberries, 6 oz, 2/$6
Dole Family Size Romaine Lettuce, 15 oz, $3.19
Private Selection Gourmet Potatoes, $2.99
Picnic Bouquet, 13 Stem, $9.99
Assorted Blooming in Picnic Gift Box, 5", $7.99 and up
---
SEAFOOD
Wild-Caught Sockeye Salmon Fillets, Previously Frozen, $9.99/lb
Simple Truth Natural Cooked or Raw Shrimp, 16 oz, $13.99
Margaritaville Shrimp, Frozen, Select Varieties, 8 to 10 oz, 2/$10
–$1/1 Margaritaville Product printable