This post is sponsored by Mizkan. All comments and opinions are my own.
This is a hectic time of year. The holidays can be a bit chaotic so I look to serve up easy meals to make the week run as smoothly as possible. Of course with three hungry guys to feed, there is no way I can skimp on taste.
Luckily I have a secret ingredient to help me get big taste without a lot of effort. I look to the tasty Holland House Cooking Wines to help me create delicious meals that are packed with great flavor.
Instead of boring baked chicken, I'll whip up a batch of my Easy Weeknight Chicken Piccata instead. The recipe is super simple and comes together in about 15 minutes. The secret is to use thin chicken cutlets AND the great taste of Holland House White Wine. You end up with a quick and easy dinner that tastes incredible. It's much faster and has way more flavor than a basic baked chicken meal.
You don't need a ton of ingredients or a lot of time to create a meal that will have your family running to the dinner table! Look for a coupon around the bottle neck to save 75¢ on your next purchase!
Holland House Cooking Wines are perfect for all your favorite recipes. Using hand-selected fine grapes and perfectly blended seasonings aged to perfection, these wines offer bold flavor intensity that can stand the heat from any kitchen. You can't go wrong no matter which cooking wine you choose.
New to using cooking wine or just want to try something new? No worries…visit the Holland House website to learn all about each variety. The site does a great job explaining the profile of each variety and what it's best paired with.
For example, here are the details on the White Cooking Wine that I used for my Chicken Piccata.
White Cooking Wine offers a slightly dry but distinct flavor that's perfect for cooking lighter dishes. It is best paired with fish and light meats like chicken and turkey plus rice dishes.
Looks like I made the right choice for my recipe!
Head into Kroger and pick up a bottle of Holland House Cooking Wine. Grab a few additional ingredients and you can have my Weeknight Chicken Piccata on the table in a flash!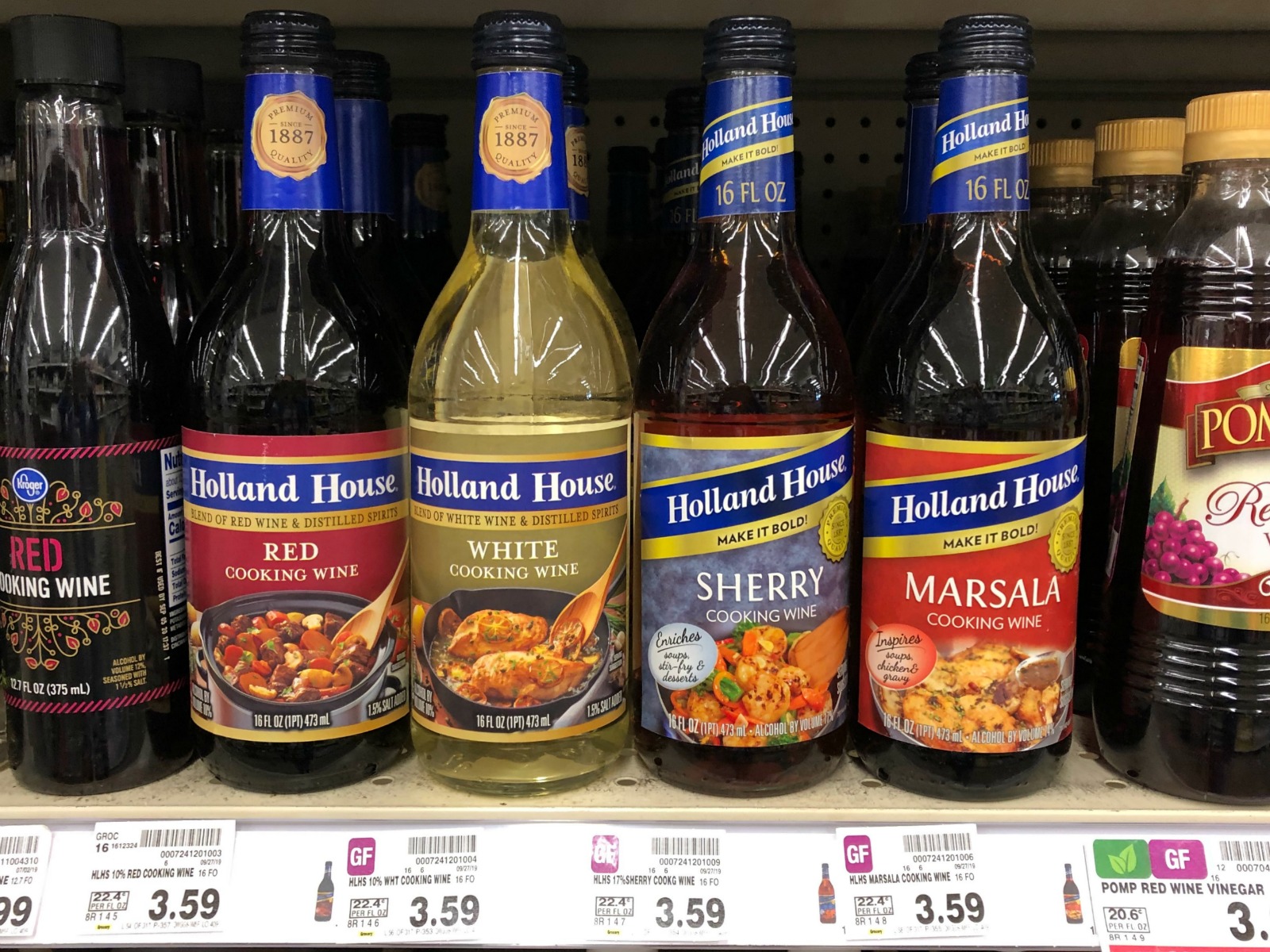 Weeknight Chicken Piccata
Ingredients
2½ tablespoons olive oil
1 pound chicken cutlets (or chicken breast pounded thin)
¼ - ½ cup flour
1 teaspoon salt
1 teaspoon pepper
1 cup Holland House White Wine
½ cup chicken stock
2 tablespoons butter
1 fresh lemon, juiced
3 tablespoons capers, drained
parsley for garnish
Instructions
Salt and pepper each chicken cutlet and dredge in flour, shaking off any excess.
Heat oil in a large skillet and fry the chicken over medium high heat for 3 minutes per side.
Remove the chicken to a plate.
Add the Holland House cooking wine to the pan and stir to scrape up any chicken bits in the pan.
Bring the cooking wine to a boil and allow to reduce by half.
Add the chicken stock, lemon juice and capers to the pan.
Return the chicken to the pan and let simmer for an additional 5 minutes.
Sprinkle with parsley and serve warm.