Here is the Kroger Ad and coupon matchups which start Wednesday, 7/15 and runs through Tuesday 7/21 in the Southeast. The mega sale where you buy 5 or more and save $1 on each item is still going on. You can check out the Kroger What A Deal! Mega Sale Full Inclusion List (Valid 7/8 to 7/21). Hopefully you will see savings on the items you need.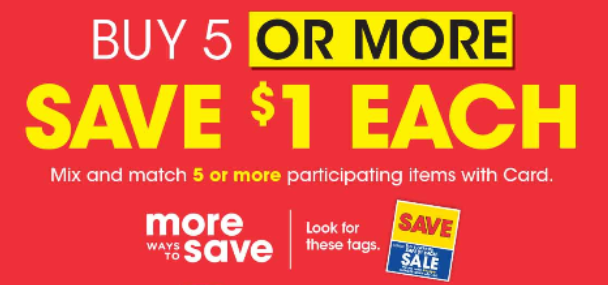 If you are headed to Kroger this week don't forget to load your digital coupons from SavingStar and the Kroger Digital Coupon page. You might want to check your cash back apps (Ibotta, Kroger Cash Back and Checkout 51) for any matching deals that you might like. Also, be sure to check out the Catalina deals before you shop.
As always, the check mark

indicates either a great stockpile price or a stockpile price with coupon(s).
BABY EVENT (Mix & Match, Spend $40, Save $10)

Ad shows products from Enfamil, Johnson's, Gerber Graduates, Happytot, Huggies, Pampers, and more
---
BAKERY

Fresh Baked Chocolate Chip Cookies, 16 ct, BOGO (no price listed)
Angel Food Cake, Plain or Sour Cream, 13 oz, $1.99
Mini Cinnamon Rolls, 16 ct, $3.99
Fresh Baked Simple Truth Artisan Baguette, Whole or Sliced, 10 oz, $1.75
---
BEER & WINE
Bud, Miller or Coors, Select Varieties, 30 pk, 12 fl oz Cans, $21.99
Bud, Miller or Coors, 15 pk, 16 fl oz Cans or Aluminum Pints, or Blue Moon, 12 to 15 pk, 12 fl oz Bottles or Cans, Select Varieties, $13.99
Sierra Nevada or New Belgium, Select Varieties, 12 pk, 12 fl oz Bottles or Cans, $15.99
Corona, Stella Artois, Modelo or Heineken, Select Varieties, 12 pk, 12 fl oz Bottles or Cans, $13.99
White Claw, Corona Seltzer or Truly, Select Varieties, 12 pk, 12 fl oz Cans, $13.99
Vizzy or Social Club, Select Varieties, 12 pk, 12 fl oz Cans, $14.99
Skinny Freezer Wine Cocktail, Select Varieties, 12 pk, 100 ml, $19.99
Provisions, 3 Liter, or Storyteller, 750 ml, Select Varieties, $14.99
Apothic or Castello del Poggio, Select Varieties, 750 ml, $8.97
Beatbox, Select Varieties, 500 ml, 3/$10
Josh Cabernet Sauvignon or Kim Crawford Sauvignon Blanc, 750 ml, $12.97
Bay Bridge, Select Varieties, 750 ml, $2.97
---
DAIRY

Land O' Lakes Butter, Select Varieties, 16 oz, 2/$5

Coffee-mate Creamer, 32 to 32.02 fl oz, or Natural Bliss Creamer, 15.99 to 16 fl oz, or Simple Truth Plant-Based Milk, 64 fl oz, Select Varieties, 2/$5
Kroger Cheese, Select Varieties, 12 to 16 oz, $3.49
Fage Greek Yogurt, 5.3 to 7 oz, or Clif Bar or Larabar, 1.59 to 2.4 oz, Select Varieties, 10/$10
---
DELI
President Crumbled Feta, Select Varieties, 6 oz, $2.99
Fresh Foods Market Savory Roasted or 8-pc Chicken, Fully Cooked, 2/$10 (Final Cost wyb 2)
---
FROZEN

Lean Cuisine or Stouffer's Entree, Select Varieties, 5.25 to 12.875 oz, 5/$10
–$1/1 Lean Cuisine Features & Favorites (Ibotta Deposit)
–$0.75/1 Lean Cuisine Bowls (Ibotta Deposit)
Tyson Frozen Chicken, Select Varieties, 20 to 32 oz, $4.99
Kroger Deluxe Ice Cream, 48 fl oz, or Kroger Big Wheels or Fruit Bars, 6 ct, Select Varieties, $1.88
Kroger Frozen Vegetables, Select Varieties, 10 to 12 oz, 10/$10
Private Selection Ice Cream, Select Varieties, 48 fl oz, $4.49
Amy's Bowls, 8.25 to 10 oz, or Sweet Earth Entree, 9 to 9.5 oz, Select Varieties, 2/$7
---
GROCERY
Pepsi or 7UP, 12 pk, 12 fl oz Cans or 8 pk, 12 fl oz Bottles, or Bubly, 8 pk, 12 fl oz Cans, Select Varieties, 3/$11 (Final Cost wyb 3)
Coca-Cola, Pepsi or 7UP, 6 pk, 16 to 16.9 fl oz, or Kroger Seltzer Water, 12 pk, 12 fl oz Cans, Select Varieties, 4/$10 (Final Cost wyb 4)
Gatorade, Select Varieties, 8 pk, 20 fl oz, $3.99 (Final Cost wyb 2)
Fritos, 9.25 to 10 oz, or Cheetos, 6.5 to 8.5 oz, Select Varieties, $1.99 (Final Cost wyb 3)
Barilla Pasta, Select Varieties, 8.5 to 16 oz, 4/$5

Kellogg's Pop-Tarts, Select Varieties, 6 to 8 ct, $1.88
-$1/3 Kellogg's Pop-Tarts Toaster Pastries, 06/14/20 RMN (exp 7/26/20) [6-ct.+] -$1/1 Pop-Tarts Toaster Pastries (6 ct. or Larger, Any Flavor) 850 points each Kelloggs Family Rewards Limit 4 Like Coupons per shopping trip
–$1/3 Pop-Tarts toaster pastries
–$0.50/1 Pop-Tarts Red White & Blueberry Toaster Pastries or Pop-Tarts Chocolate Churro Toaster Pastries
–$0.50/1 Pop-Tarts Crisps and/or Pop-Tarts Bites
Mom's Best Natural Cereal, Select Varieties, 11.5 to 16.5 oz, $1.88
Deer Park Spring Water, 24 pk, 16.9 fl oz, 3/$8
Green Mountain or Donut Shop K-Cups, Select Varieties, 32 ct, $14.99
Capri Sun, 10 pk, 6 fl oz Pouches, or Hawaiian Punch, Gallon, Select Varieties, 2/$4
Powerade or Powerade Zeor,Select Varieties, 28 fl oz, $0.59 (Final Cost wyb 8)
Hershey's Milk Chocolate or KitKat Extra Large Candy Bar, Select Varieties, 4 to 4.5 oz, 2/$3

Sensible Portions Snacks, 6 to 7 oz, or Simple Truth Sweet Potato Chips, 6 oz, Select Varieties, 2/$5
–$1/1 Sensible Portions Canister (Kroger Digital Coupon)
-$1/1 Sensible Portions Screamin' Hot Garden Veggie Straws, 06/28/20 SS (exp 10/31/20) [4.25-oz. or 6-oz. bag] -$1/2 Sensible Portions Garden Veggie Straws Product, 06/28/20 SS (exp 10/31/20) [4-oz.+]
Simple Truth Organic Seltzer Water, 8 pk, 12 fl oz, or Simple Truth Artesian Water, 6 pk, 16.9 fl oz, or Vita Coco Pure Coconut Water, 33.8 fl oz, Select Varieties, 3/$10
–$0.75/1 Simple Truth Organic Seltzer Water (Kroger Digital Coupon)
Skinny Pop Skinny Pack, 6 ct, or Pirate's Booty Multipack, 12 ct, Select Varieties, $3.99
Skittles or Starburst Theater Box Candy, Select Varieties, 3.2 to 3.5 oz, 10/$10
Air Heads Gum, Select Varieties, 14 ct, 10/$10
Trident Gum Singles, Select Varieties, 14 ct, 10/$10
Kinder Bueno Bar, 3 oz, 2/$3
Kinder Joy Minion Egg, 7 oz, 2/$3
Reese's Cups, KitKat Bars or Hershey's Milk Chocolate Bars, Select Varieties, 5 pk, 10/$10
---
HEALTH & BEAUTY
Nature Made Vitamins, Select Varieties, 12 to 300 ct, BOGO (no price listed)
Kind Bar, 1.2 to 1.6 oz, or Clif Nut Butter Filled Bar, 1.59 to 1.76 oz, Select Varieties, 10/$10
---
HOUSEHOLD
Everyday Living Kitchen Gadgets,Select Varieties, 1 to 100 ct, BOGO 50% Off
Orly Fabric Face Coverings, Select Varieties, $3.99
Five Star Notebook, 5 Subject, $8.99
Top Flight Wireless 1-Subject Notebook, Wide- or College-Ruled, 10/$10
Top Flight Spiral Notebooks, 70 ct, 4/$1
Top Flight Composition Notebook, Wide- or College-Ruled, $0.59
Girls' or Boys' Zipper Detal Backpacks, Assorted Styles, $11.99
Crayola Broad or Fine Line Classic Markers, 10 ct, 10/$10
Crayola Crayons, 24 ct, 2/$1
Crayola Colored Pencils, 12 ct, $0.79 (Limit 3)
Sharpie Fine or Ultra Fine Permanent Markers, 2 ct, $1.59
Pentel Energel Pens, 2 ct, $2.99
OfficeWorks Kids' Scissors, 1 ct, $0.79
OfficeWorks No. 2 Pencils, 10 ct, 2/$1
---
MEAT

Boneless Half Ribeye, $6.99/lb
Fresh 80% Lean Ground Beef, Sold in a 5 lb Roll for $14.95, $2.99/lb
Kroger Fully Cooked Entrees or Private Selection Sub Kits, 16 oz, Select Varieties, $5.99

Oscar Mayer Lunchables, Select Varieties, 2.25 to 4.4 oz, BOGO
Fresh Perdue Boneless Chicken Breasts, Family Pack, No Antibiotics Ever, $2.99/lb

Fresh Perdue Boneless Chicken Breasts, Small Pack, No Antibiotics Ever, $3.99/lb
Kroger Beef Shaved Steak, 14 oz, $4.99
Fresh Laura's Lean Ground Beef, 92% Lean, 16 oz, No Antibiotics Ever, $5.99
–$1/1 Laura's Lean Beef including ground beef, sirloin, steak, ribeye, tenderloin, top round, flank, pot roast, meatloaf and meatballs
Simple Truth Lunch Meat, Select Varieties, 7 oz, No Antibiotics Ever, 2/$6
---
PRODUCE
Blueberries, 2 lb, $3.88

Sweet Red Cherries, $1.99/lb
Russet Potatoes, 10 lb, $2.99
Whole Seedless Watermelon, $4.99
Whole Seeded Watermelon, $5.99
Red, White or Black Seedless Grapes, $1.69/lb
Simple Truth Organic Grape Tomatoes, 10 oz, 2/$5

Pineapple, 2/$4
Eat Smart or Taylor Farms Salad Kits, Select Varieties, 9 to 13.5 oz, 3/$10
–$1/1 Taylor Farms Grab and Go Salad printable
–$1/1 Taylor Farms Chef Crafted Salad Kits printable
Kroger Peaches, Nectarines or Plums, 2 lb Bag, 2/$5
Summer Meadow Bouquet, 12 Stem, $7.99
Berry Basket Blooming, 4.5", $9.99
Strawberries, 16 oz, 2/$4
Organic Strawberries, 16 oz, 2/$5
Raspberries or Blackberries, 6 oz, $2.19
Organic Blueberries, 6 oz, 2/$5
Bai Beverage, 18 fl oz, or Simple Truth Organic Coconut Water, 16.9 fl oz, Select Varieties, 2/$3
---
SEAFOOD
Extra Large EZ Peel Shrimp, Raw, 21 to 25 ct, Sold in a 2 lb Bag for $13.98, $6.99/lb
Fresh Catfish Fillets, Farm-Raised, $4.99/lb
Aqua Star Shrimp, 16 oz, or Newport Marinated Shrimp, 12 oz, Select Varieties, Frozen, $4.99