Here is the Kroger Ad and coupon matchups which start Wednesday, 3/3 and runs through Tuesday 3/9 in the Southeast. The current Buy 5 (ore more) Save $1 Mega Sale sale is still going on. You can check out the full inclusion list here. Hopefully you will see savings on the items you need.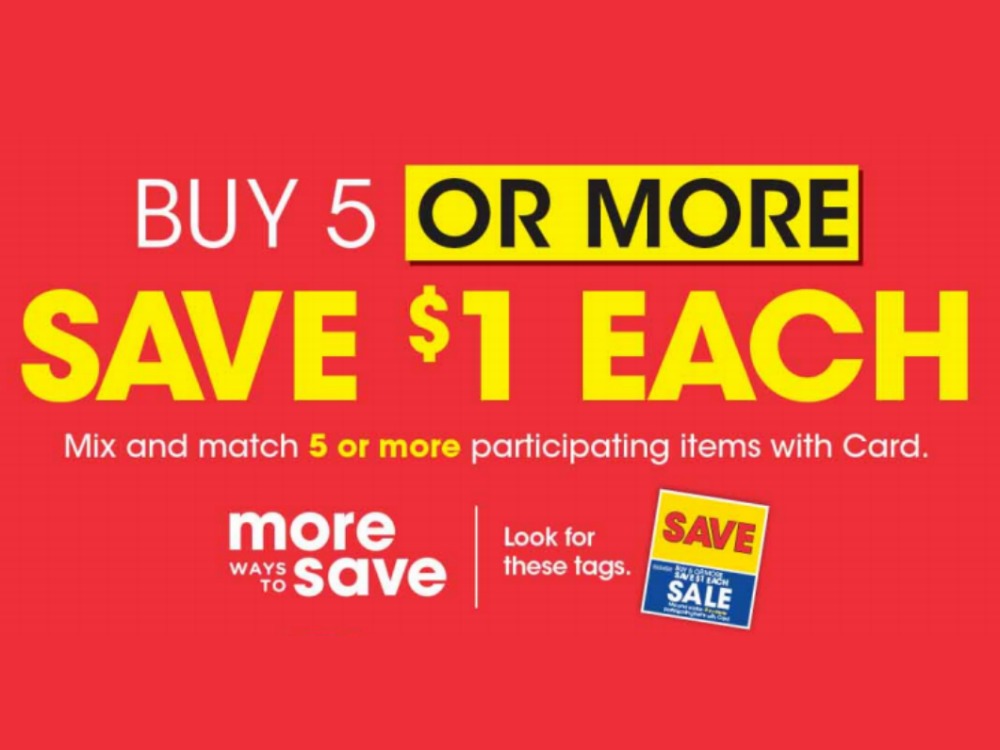 If you are headed to Kroger this week don't forget to load your digital coupons from SavingStar and the Kroger Digital Coupon page. You might want to check your cash back apps (Ibotta, Kroger Cash Back and Checkout 51) for any matching deals that you might like. Also, be sure to check out the Catalina deals before you shop.
As always, the check mark

indicates either a great stockpile price or a stockpile price with coupon(s).
BAKERY

Blueberry Muffins or Other Varieties, 4 ct, $3.49
–$1/1 Blueberry Muffins or Other Varieties, 4 ct Kroger Super Saver Digital Coupon (use up to 5 times in a single transaction)
Irish Soda Bread, 20 oz, 2/$6
Pudding Cake, Select Varieties, 43 oz, $5.99
---
BEER & WINE
Bud, Miller or Coors, Select Varieties, 30 pk, 12 fl oz Cans, $22.99
Busch, Natural, Pabst or Miller High Life, Select Varieties, 30 pk, 12 fl oz Cans, $19.99
Creature Comforts or Lagunitas, Select Varieties, 12 pk, 12 fl oz Cans, $17.99
Corona, Stella Artois, Modelo or Heineken, Select Varieties, 12 pk, 11.2 to 12 fl oz Bottles or Cans, $14.99
Truly, Corona Seltzer or White Claw, Select Varieties, 12 pk, 12 fl oz Cans, $14.99
Terrapin, SweetWateror Michelob Ultra Organic Seltzer, Select Varieties, 12 pk, 12 fl oz Bottles or Cans, $14.99
Chateau Ste Michelloe or Chalkboard, Select Varieties, 750 ml, $9.99
Whitehaven or Storyteller, Select Varieties, 750 ml, $14.99
19 Crimes or Espuela Del Gaucho, Select Varieties, 750 ml, $8.99
Barefoot or Sutter Home, Select Varieties, 1.5 Liter, $9.99
Kim Crawford Illuminate or Buttery Bomb, Select Varieties, 750 ml, $12.97
---
DAIRY
Simple Truth Organic Cheese, Select Varieties, 6 oz, $3.49
Simple Truth Non-Dairy Cheese, Select Varieties, 8 oz, $3.49
Simple Truth Organic String or Stick Cheese, Select Varieties, 5 to 6 oz, $3.49
Fage Greek Yogurt, Select Varieties, 32 to 35.3 oz, $4.99
Pete & Gerry's Organic Large Grade A Eggs, Select Varieties, 12 ct, $4.99
–$1/1 Pete and Gerry's Organic Eggs item
Horizon Organic Milk, Select Varieties, Half Gallon, $4.99
Pillsbury Crescents or Cinnamon Rolls, Select Varieties, 8 ct, $1.99
–$1/3 Pillsbury Refrigerated Baked Goods Products (Kroger Digital Coupon)

Kroger Cottage Cheese, Sour Cream or Dip, 16 oz, or Siggi's Skyr Yogurt, 4 to 5.3 oz, or Chobani Non-Dairy Yogurt, 5.3 oz, Select Varieties, 4/$5
–$1/4 Chobani Non-Dairy Single-Serve (Kroger Digital Coupon)
–$1/2 Siggi's Yogurt, 5.3 oz
-$1/5 Chobani Single Serve Non-Dairy or Single Serve Greek Yogurt, 01/03/21 SS
–$0.75/1 Siggi's Yogurt (Ibotta Deposit)
–$0.75/1 Siggi's Yogurt (Kroger Cash Back)

Chobani Yogurt or Chobani Flip or Chobani Probiotic, 4 pk, 5.3 oz, or Chobani Creamer, 24 fl oz, Select Varieties, B2G1
–$1/2 Chobani Multipack or Multi-serve (Kroger Digital Coupon)
-$1/1 Chobani Coffee Creamer, Chobani Non-Dairy Oat Creamer, Chobani Oat Beverage Shelf Stable or Chobani Oat Beverage, 01/31/21 SS (exp 3/2/21)
Simple Truth Oatmilk Frozen Dessert or Simple Truth Organic Ice Cream, Select Varieties, 16 fl oz, $2.99
Califia Farms Almondmilk or Oatmilk, 48 fl oz, or Simply Almondmilk, 46 fl oz, Select Varieties, 2/$6

Oui by Yoplait Yogurt, Select Varieties, 5 to 5.3 oz, 3/$4
-$1/4 Oui by Yoplait French-Style Yogurt Jars, 01/10/21 SS (exp 3/6/21) [Excluding oui by yoplait oatmeal & yogurt] -$1/4 Oui by Yoplait French-Style Yogurt Jars, 02/28/21 SS (exp 4/24/21)
Simple Truth Cage Free Eggs, Large, Grade A, 12 ct, or Yoplait Low Fat Yogurt, 32 oz, Select Varieties, 2/$5
---
DELI
Kenny's Key Lime Pie, 24 oz, $6.99
Simple Truth Roasted Chicken, 32 oz Fully Cooked, 2/$12 (Final Costwyb 2)
Boar's Head Maple Glazed Honey Ham, Sliced to Order, Available in Select Stores, $8.99/lb
Boar's Head White or Yellow American Cheese, $6.49/lb
HemisFares Authentic Italian Pasta or Sauce, Select Varieties, 5.8 to 8 oz, $4.49
–$0.50/1 Hemisfares Refrigerated Pasta (Kroger Digital Coupon)
–$0.50/1 HemisFares Basil Pesto Pasta Sauce (Kroger Digital Coupon)
Kroger Chicken Salad or Other Varieties, 12 to 13 oz, $3.99
---
FROZEN

Edy's Ice Cream, Select Varieties, 48 fl oz, $2.99
–$1/1 Edy's Ice Cream, Select Varieties, 48 fl oz Kroger Super Saver Digital Coupon (use up to 5 times in a single transaction)
Freschetta Pizza, 17.71 to 30.88 oz, or Private Selection Stone Fired Pizza, 15.3 to 19.2 oz, Select Varieties, $4.99
Stouffer's Large Size Entree, 15.5 to 20 oz, or Lean Cuisine Bowls, 10 to 12.49 oz, or Stouffer's Bowl-Fulls, 13.47 to 14 oz, Select Varieties, 4/$10
Gorton's Seafood, Select Varieties, 15.2 to 24.5 oz, $3.99
Mrs. Paul's Seafood, Select Varieties, 18 to 24.6 oz, $3.99
Private Selection Italian Cheese Cup, Select Varieties, 4.5 to 5 oz, B2G1
So Delicious Coconutmilk or Cashewmilk Frozen Dessert, Select Varieties, 16 fl oz, $4.49
–$1/1 So Delicious Product (link sent by email)
Simple Truth Meatless Entree, Select Varieties, 14.1 to 16 oz, $3.99
DiGiorno Pizza, Select Varieties, 18.7 to 31.5 oz, 2/$10 (Final Cost wyb 2)
Kroger Frozen Potatoes, Select Varieties, 22.5 to 32 oz, 3/$5
---
GROCERY
Kellogg's Large Size Cereal, Select Varieties, 14.7 to 19.2 oz, $2.99 (Ad shows Froot Loops and Frosted Flakes)
–$1.50/1 Kellogg's Large Size Cereal, Select Varieties, 14.7 to 19.2 oz Kroger Super Saver Digital Coupon (use up to 5 times in a single transaction)
–$1/2 Kellogg's Cereals (Kroger Digital Coupon)
-$1/1 Kellogg's Cereal (8.4 oz or Larger, Any Flavor) 850 points each Kelloggs Family Rewards Limit 4 Like Coupons per shopping trip
-$1/2 Kellogg's Cereals, 02/14/21 RMN (exp 3/28/21) [8 oz+] –$2/4 Kellogg's Cereals
Coca-Cola, Pepsi or Canada Dry, 6 pk, 16 to 16.9 fl oz Bottles or 6 pk, 7.5 fl oz Cans, Select Varieties, 4/$10 (Final Cost wyb 4)
–$0.50/1 Coca-Cola Brands (Ibotta Deposit)
Thomas' English Muffins, Swirl Bread, or Bagels, Select Varieties, 11 to 20 oz, BOGO (no price listed)
Gatorade, 32 oz, or Rockstar or Rockstar Xdurance, 15 to 16 fl oz, or LIFEWTR, 23.7 oz, Select Varieties, $0.88 (Final Cost wyb 8)
Chick-fil-A Sauce, Select Varieties, 16 fl oz, 2/$7
Williamson Brothers Barbecue Sauce, Select Varieties, 16 fl oz, $3.49
Blue Ridge Wildflower Honey, 12 oz, $4.99
GT's Enlightened Kombucha, 16 oz, or Sensible Portions, 6 to 7 oz, Select Varieties, 2/$5
Kettle Brand Potato Chips, Select Varieties, 8 to 8.5 oz, BOGO (no price listed)
Healthy Grains Granola, Select Varieties, 7 to 11 oz, $4.49
Simple Truth Organic Tortilla Chips, Select Varieties, 7.5 to 9 oz, $1.99
Simple Truth Organic Potato Chips, Select Varieties, 5 oz, $1.99
Hostess Multipack Snacks, 6 to 10 ct, or Minute Maid Juice, 59 fl oz, Select Varieties, 2/$5
Bang Energy Drink, 16 fl oz, or Little Debbie Snacks or Mini Muffins, 8.25 to 13 oz, Select Varieties, 2/$4
Uncle Ben's Ready Rice, 8.5 to 8.8 oz, or Eggland's Best Eggs, Large or Extra Large, Grade A, 12 ct, Select Varieties, 3/$6
–$1/4 Uncle Ben's Rice Products printable
Kroger Beans, Select Varieties, 15.25 to 15.5 oz, $0.69
Chicken of the Sea Chunk Light Tuna,Select Varieties, 5 oz Can, $0.69
LaCroix Sparkling Water, Select Varieties, 8 pk, 12 fl oz Cans, 3/$10 (Final Cost wyb 3)
Peatos Snacks, Select Varieties, 2.5 to 4 oz, BOGO (no price listed)
Ocan's Halo Broth, Select Varieties, 32 fl oz, $2.99
General Mills Giant Size Cereal, Select Varieties, 20 to 29 oz, $3.99 (Ad shows Cinnamon Toast Crunch and Honey Nut Cheerios)
-$1/2 General Mills Cinnamon Toast Crunch, Lucky Charms, Reese's Puffs, Cocoa Puffs, Trix, Cookie Crisp, Golden Grahams or Kix, 01/31/21 SS (exp 3/13/21)
-$1/2 Cheerios Cereal, 01/31/21 SS (exp 3/13/21) [Including Original Cheerios, Honey Nut Cheerios, Multi Grain Cheerios, Chocolate Peanut Butter Cheerios, Very Berry Cheerios, Apple Cinnamon Cheerios, Frosted Cheerios, Chocolate Cheerios, Fruity Cheerios, Maple Cheerios, Blueberry Cheerios, Cinnamon Cheerios, Honey Nut Cheerios Medley Crunch, Cheerios Protein, Cheerios + Ancient Grains or Cheerios Oat Crunch] -$1/2 General Mills Cereal Boxes: Cinnamon Toast Crunch, Lucky Charms, Reese's Puffs, Cocoa Puffs, Trix, Cookie Crisp, Golden Grahams or Kix, 02/28/21 SS (exp 4/10/21)
–$1/2 General Mills Cereal listed: Cheerios, Cinnamon Toast Crunch, Lucky Charms, Reese's Puffs, Chex, Cocoa Puffs, Trix, Cookie Crisp, Golden Grahams, Kix, Fiber One, Wheaties, Raisin Nut Bran (SavingStar Offer)

Dave's Killer Bread Organic Bagels, 5 ct, or English Muffins, 6 ct, Select Varieties, $4.49
–$0.75/1 Dave's Killer Bread Bagels (Ibotta Deposit) [Limit 5].
–$1/1 Dave's Killer Bread Bagels (Kroger Cash Back) [Limit 5].
–$1/1 Dave's Killer Bread English Muffins (Ibotta Deposit) [Limit 5].
–$1/1 Dave's Killer Bread English Muffins (Kroger Cash Back) [Limit 5].
–$1/1 Dave's Killer Bread English Muffins printable
Tostitos Tortilla Chips, Select Varieties, 10 to 13 oz, $2.99
Tostitos Salsa Dip, Select Varieties, 15.5 oz, $2.99
Kroger Beef Jerky, Select Varieties, 2.85 oz, $2.99
Green Mountain, Donut Shop or McCafe Value Pack K-Cups, Select Varieties, 32 ct, $15.99
Starburst Jellybeans, Select Varieties, 10 to 14 oz, $2.49
Peeps Marshmallow Chicks or Bunnies, Select Varieties, 1.5 to 3 oz, 2/$3
Dove Chocolate Easter Eggs, Select Varieties, 7.4 to 8.87 oz, 2/$7
Hershey's or Reese's Chocolate Bar, Select Varieties, 1.1 to 2.4 oz, B2G1
---
HEALTH & BEAUTY
SlimFast Advanced Nutrition Ready To Drink Shakes, Select Varieties, 4 pk, 11 fl oz Bottles, $5.99
–$2/1 SlimFast Advanced Nutrition Ready To Drink Shakes, Select Varieties, 4 pk, 11 fl oz Bottles Kroger Super Saver Digital Coupon (use up to 5 times in a single transaction)
–$1/2 SlimFast Products printable

Crest Toothpaste, Select Varieties, 7 to 7.2 oz, $3.99
–$2/1 Crest Toothpaste, Select Varieties, 7 to 7.2 oz Kroger Super Saver Digital Coupon (use up to 5 times in a single transaction)
–$1/1 Crest Toothpaste (Kroger Digital Coupon)
-$2/1 Crest or Burt's Bees Toothpaste, 02/28/21 P&G (exp 3/13/21) [3 oz+; Excludes cavity, regular, baking soda, tartar control/protection, f&w pep gleem, kids and trial/travel size]
Larabar, 1.6 to 1.7 oz, or Clif Bar, 2.4 oz, or Pure Protein Bar, 1.76 oz, or Clif Nut Butter Filled Bar, 1.76 oz, Select Varieties, 10/$10
Larabar Fruit & Nut Bars, Select Varieties, 8 ct, $7.99
L Liner or Pads, 36 to 100 ct, or Tampons, 30 ct, Select Varieties, $6.99
Kroger Omeprazole, Select Varieties, 42 ct, $14.99
Vitafusion or L'il Critters Vitamins, Select Varieties, 90 to 190 ct, $9.99
–$1/1 L'il Critters Vitamins printable
–$1/1 L'il Critters Gummy Vitamin printable [50 ct+]

Zicam Cold Remedy, Select Varieties, 20 to 25 ct or 0.5 fl oz, $9.99
–$2/1 Zicam Product (Excluding Rapidmelts, 5 or 12 ct)
–$2.50/1 Zicam Product printable
Duracell Coppertop Batteries, AA or AAA, 8 ct, $7.49

Airborne Vitamin Immune Support Supplement, Select Varieties, 10 to 32 ct, $6.99
–$5/2 Airborne items (Kroger Digital Coupon)
-$1/1 Airborne Product, 01/31/21 SS (exp 3/6/21)
-$1/1 Airborne Product, 02/28/21 SS (exp 4/3/21)
---
HOUSEHOLD

Tide Liquid Laundry Detergent, 46 to 50 fl oz, or Tide Pods, 15 to 20 ct, or Tide Purclean Liquid Laundry Detergent, 34 fl oz, Select Varieties, $5.99
–$2/1 Tide Liquid Laundry Detergent, 46 to 50 fl oz, or Tide Pods, 15 to 20 ct, or Tide Purclean Liquid Laundry Detergent, 34 fl oz, Select Varieties Kroger Super Saver Digital Coupon (use up to 5 times in a single transaction)
–$2/1 Tide Liquid Laundry Detergent, 75 oz or smaller, OR Studio by Tide Laundry Detergent, 40 oz, OR Tide purclean Laundry + more
MotoTech Windshield Washer, Gallon, $1.79
Holiday Home Easter Baking Accessories, $4.19 to $9.09
Holiday Home Fill Eggs & Grass, Select Varieties, $1.39
Paas Easter Dye Kits, Select Varieties, $2.79
Crayola Giant Coloring Pages, Select Varieties, 12 1/8" x 18 7/8", 30% Off
Holiday Home Easter Basket Starter Kit, $5.99
Holiday Home Easter Plush, Select Varieties, $3.49
---
MEAT
Heritage Farm Boneless Chicken Breast, $1.88/lb
Boneless Half Pork Loin, $1.69/lb

Pork Back Ribs, $3.99/lb
–$1.52/lb Pork Back Ribs Kroger Super Saver Digital Coupon (use up to 5 times in a single transaction)
Rajin Cajun Smoked Sausage, Select Varieties, 14 oz, $3.79
Laura's Lean Ground Beef, 92% Lean, 16 oz Package, $6.99/lb
–$1/1 Laura's Lean Beef Product printable
Simple Truth Fully Cookd Turkey Bacon, 2.14 oz, $3.99
Kroger Brats ot Italian Sausage, 18 oz, or Ground Pork or Meatballs, 16oz, or Bob Evans Side Dishes, 20 to 24 oz, Select Varieties, 2/$7
Smithfield Bacon, 22 oz, $5.99
Kroger Lunch Meat, 7 to 9 oz, or Kroger Pickles, 24 oz, Select Varieties, 2/$5
Simple Truth Organic Chicken Sale, Includes Boneless Breasts or Thighs and Bone-In Drumsticks or Whole Fryer, 25% Off
Boneless Pork Chops, Family Pack, $3.99/lb
Boneless Eye or Bottom Round Roast, $5.99/lb
Kroger Boneless Corned Beef, $3.99/lb
Beyond Burger Plant-Based Patties, 2 ct, 8 oz, $4.99
–$1/1 Beyond Meat Product printable
Impossible Burger, Made from Plants, 12 oz, $5.99
–$1/1 Impossible Burger, 12oz, or Patties, 2 pk, 8oz (Kroger Digital Coupon)
Simple Truth Deli Slices, Select Varieties, 5.5 oz, $2.99
Kroger Bacon Wrapped Beef Tenderloin, Select Varieties, 6 oz, $4.49
---
PRODUCE
Strawberries, 16 oz, 3/$5
Organic Strawberries, 2/$7
Dole, Taylor or Eat Smart Salad Kits, Select Varieties, 4 to 13.5 oz, 3/$10
–$1/1 Taylor Farms Chef Crafted Salad Kits printable
Cuties Mandarins, $2.99
Green or Red Romaine Lettuce, $1.28
Simple Truth Organic Blueberries, 6 oz, $2.99
Organic Cucumbers, 3/$5
Cosmic Crisp or Envy Apples, $1.77/lb
Fresh Cut Fruit Bowls, 24 oz, $5
Red or Green Anjou or Bosc Pears, $1.49/lb
Idaho Potatoes, 5 lb Bag, $1.99
Yellow Onions, 3 lb Bag, $1.99
Red, Orange or Yellow Bell Peppers or English Cucumbers, 4/$5
Believe Bouquet, 12 Stem, $10.99
Assorted Blooming, 6" Pot, $8.99 and up
Peaches, Plums or Nectarines, $0.99/lb
Red, White or Black Seedless Grapes, 3 lb Clamshell, $5.99
Green Asparagus, $1.79/lb
Large Cantaloupe, 2/$5
Kroger Whole Mushrooms, 16 oz, $3.29
Kroger Tri-Color Peppers, 3 ct, $3.99
---
SEAFOOD
Fresh Atlantic Salmon Whole Sides, Farm-Raised, $6.99
Extra Large EZ Peel Shrimp, 21 to 25 ct, Raw, Sold in a 2 lb Bag for $13.98, $6.99/lb
Kroger Family Size Tilapia Fillets, Frozen, 2 lb Bag, $6.99
–$1/1 Kroger Family Size Tilapia Fillets, Frozen, 2 lb Bag Kroger Super Saver Digital Coupon (use up to 5 times in a single transaction)
Lobster Tail, Wild-Caught, Frozen, 4 to 5 oz, $6.99
Kroger Bag Fish Fillets, Sockeye Salmon, Halibu or Orange Roughy, Frozen, 12 oz, $9.99
Ready-to-Serve Large Cooked Shrimp Bowl, 30 to 32 ct, Includes Cocktail Sauce, $10
Ready-to-Serve Small Cooked Shrimp Bowl, 14 to 16 ct, Includes Cocktail Sauce, $5