Here is the Kroger Ad and coupon matchups which start Wednesday, 6/9 and runs through Tuesday 6/12 in the Southeast. The mega sale continues. You can see the Kroger What A Deal! Mega Sale Full Inclusion List HERE.
As a reminder, with the current sale you will instantly save 50¢ per item at checkout when you buy any 6 or more participating items. Just grab at least 6 items to get the mega discount AND then any other participating item beyond those 10 also qualify for the discount.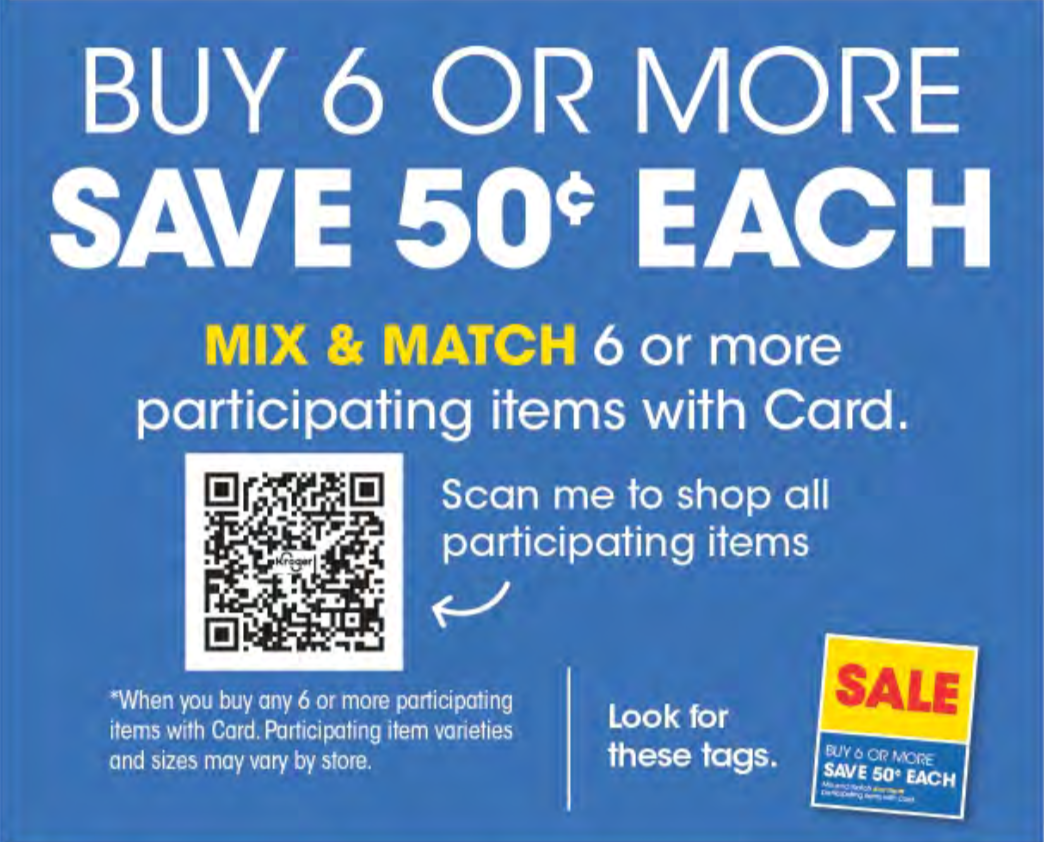 If you are headed to Kroger this week don't forget to load your digital coupons from SavingStar and the Kroger Digital Coupon page. You might want to check your cash back apps (Ibotta, Kroger Cash Back and Checkout 51) for any matching deals that you might like. Also, be sure to check out the Catalina deals before you shop.
As always, the check mark

indicates either a great stockpile price or a stockpile price with coupon(s).
---
BAKERY

Angel Food Cake, Plain or Sour Cream, 13 oz, $2.99
–$1/1 Angel Food Cake, Plain or Sour Cream, 13 oz Kroger Super Saver Digital Coupon (use up to 5 times in a single transaction)
Bakery Glazed Donuts, 12 ct, or Apple Fritters, 4 ct, Select Varieties, $3.99
Strawberry Topped Crunch Cake, Select Varieties, 22 oz, $6.99
Chocolate Brownies, Select Varieties, 16.6 oz, $3.99
---
BEER & WINE
Miller or Coors, 12 pk, 16 fl oz Cans or Seagram's Variety Pack, 12p k, 11.2 fl oz Bottles, Select Varieties, 2/$20
Truly or White Claw, Select Varieties, 12 pk, 12 fl oz Cans, $13.99
Vizzy or Bud Light Lime or Platinum, Select Varieties, 12 pk, 12 fl oz Bottles or Cans, $13.99
Busch, Natural, Pabst or Miller High Life, Select Varieties, 30 pk, 12 fl oz Cans, $19.99
Terrapin or SweetWater, Select Varieties, 12 pk, 12 fl oz Bottles or Cans, $15.99
Korbel or Kendall Jackson, Select Varieties, 750 ml, $12.97
19 Crimes or Espuela Del Gaucho, Select Varieties, 750 ml, $8.99
Kim Crawford Illuminate or La Marca Rosa, Select Varieties, 750 ml, $12.97
Cupcake or Cook's Select Varieties, 750 ml, $7.99
Chateau Ste Michelle or Acronym, Select Varieties, 750 ml, $9.99
Robert Mondavi 100%, Select Varieties, 750 ml, $12.99
Topo Chico, SweetWater, Oasis or Mike's Hard Seltzer, 12 pk, 12 fl oz Cans, $14.99
Bota Box or Black Box, Select Varieties, 3 Liter, $15.99
Simple Truth Wines, Select Varieties, 750 ml, $13.99
---
DAIRY

Simple Truth Cage-Free Eggs, Grade A, Large, 12 ct, or Simple Truth Almondmilk Non-Fairy Frozen Dessert, 16 fl oz, Select Varieties, $2.99
–$1/1 Simple Truth Cage-Free Eggs, Grade A, Large, 12 ct, or Simple Truth Almondmilk Non-Fairy Frozen Dessert, 16 fl oz, Select Varieties Kroger Super Saver Digital Coupon (use up to 5 times in a single transaction)
Kroger Cheese, Select Varieties, 12 to 16 oz, 2/$5 (Final Cost wyb 2)
Philadelphia Cream Cheese, Select Varieties, 2 pk, 8 oz Bars, $3.99
Pillsbury Grands, Biscuits, Cinnamon or Crescent Rolls, 8 ct, or Kroger American Cheese Singles, 12 oz, Select Varieties, $1.79
Coffee-Mate Creamer, Select Varieties, 64 fl oz, $4.99
Coffee-Mate Natural Bliss Creamer, Select Varieties, 28 to 32 fl oz, $4.49
Happy Egg Free-Range Brown Eggs, Large, Grade A, 12 ct, $3.99
Simple Truth Organic Ricotta Cheese, 15 oz, or Cottage Cheese or French Onion Dip, 12 to 16 oz, Select Varieties, 2/$6
Simple Truth Cage-Free Eggs, 18 ct, Large, Grade A, $3.49
Dunkin' Donuts Creamer, Select Varieties, 32 fl oz, $2.99
---
DELI
Kroger Potato Salad or Macaroni Salad or Coleslaw, Select Varieties, 3 lb, $3.99
Panera Bread at Home Soup, Select Varieties, 32 oz, $8.99
-FREE Panera Bread at Home Soup, 16 oz, wyb (1) Panera Bread at Home Soup, 32 oz In-Ad Kroger Offer
Boar's Head Deluxe Roast Beef, Sliced to Order, Available in Select Stores, $11.49/lb
Boar's Head American Cheese, $6.99/lb
King's Hawaiian Hamburger or Hot Dog Buns or Sliders, Select Varieties, 10 to 12.8 fl oz, 2/$6
Home Chef Baby Back Rib Party Pan, 5 lb, or Fried or Baked Chicken, 24 pc, Fully Cooked, $20 (24 Hour Notice Required)
Dodoni Halloumi Cheese, The Mediterranean Grilling Cheese, 7.84 oz, Available in Select Stores, 2/$10
Private Selection Cheese, Select Varieties, 10 oz, $3.99
---
FROZEN

Red Baron Pizza, Select Varieties, 14.76 to 23.45 oz, $3.49
–$1/1 Red Baron Pizza, Select Varieties, 14.76 to 23.45 oz Kroger Super Saver Digital Coupon (use up to 5 times in a single transaction)
Kroger Frozen Potatoes, Select Varieties, 22.5 to 32 oz, 3/$5
Tyson Chicken, Select Varieties, 19 to 28.05 oz, $5.99
Birds Eye Voila Family Size Meal, Select Varieties, 42 oz, $5.99
DiGiorno Croissant Crust Pizza, Select Varieties, 18 to 26.46 oz, $5.99
Stouffer's or Lean Cuisine Entree, Select Varieties, 6 to 20 oz, 4/$10

My/Mo Mochi Ice Cream, Select Varieties, 6 ct, BOGO (no price listed)
Smithfield Big Box Hot Dogs, 5 lb Box, $10
Turkey Hill Ice Cream, 48 fl oz, or Kroger Ice Cream Bars, 12 ct, Select Varieties, 2/$5
Simple Truth Keto Ice Cream, 16 fl oz, or Simple Truth Greek Yogurt Bars, 3 to 4 ct, or Simple Truth Organic Baking Mix, 15 to 16 oz, Select Varieties, 2/$7
Freschetta Pizza, 17.71 to 30.88 oz, 2/$10 (Final Cost wyb 2)
---
GROCERY

Fritos, 9.25 to 10 oz, or Fritos Canned Dip, 8.5 to 9 oz, Select Varieties, $2.99
–$1.22/1 Fritos, 9.25 to 10 oz, or Fritos Canned Dip, 8.5 to 9 oz, Select Varieties Kroger Super Saver Digital Coupon (use up to 5 times in a single transaction)
Frito-Lay Multipack, Select Varieties, 18 ct, $6.99

Pepperidge Farm Goldish Crackers, Select Varieties, 30 oz, $6.99
–$4.99/1 Pepperidge Farm Goldfish Bulk Carton (Kroger Digital Coupon)
Coca-Cola, Pepsi or Canada Dry, Select Varieties, 12 pk, 12 fl oz Cans or 8 pk, 12 fl oz Bottles, 3/$12 (Final Cost wyb 3)
Barilla Pasta, 12 to 16 oz, or Rice A Roni or Pasta Roni, 4.2 to 7.2 fl oz, or Kroger Frozen Vegetables, 10 to 12 oz, Select Varieties, 10/$10
Lay's Potato Chips or Lay's Kettle Cooked Potato Chips, Select Varieties, 5 to 8 oz, $1.99 (Final Cost wyb 4)
BodyArmor, 16 fl oz, or Chobani Yogurt, 5.3 oz, 10/$10

BodyArmor Sport Water, 6 pk, 20 fl oz Bottles, $4.99
–$2/1 BodyArmor Sport Water, 6 pk, 20 fl oz Bottles Kroger Super Saver Digital Coupon (use up to 5 times in a single transaction)
Kellogg's Multipack Snacks, Select Varieties, 12 ct, $3.99
Tostitos Party Size Tortilla Chips, Select Varieties, 14.5 to 17 oz, $3.99
Simple Truth Vapor Distilled Water, Select Varieties, 24 pk, 16.9 fl oz, $3.99
Entenmann's Little Bites, Donuts, Mini Cakes or Pies, Select Varieties, 6.88 to 21 oz, BOGO (no price listed)
Nabisco Family Size Cookies or Crackers, Select Varieties, 10 to 20.6 oz, $2.99
Green Mountain Coffee, 10 to 12 oz Bag, or K-Cups, 12 ct, or Simple Truth Organic Coffee, 11 oz, Select Varieties, $5.99
Dave's Organic Killer Bread, 24 to 27 oz, or Buns, 8 ct, Select Varieties, $4.99
Dave's Killer Bread Organic Bagels, 5 ct, or Dave's Killer Bread Organic Muffins, 6 ct, Select Varieties, $4.49
–$1/1 Dave's Killer Bread English Muffins printable
Ocean Spray Cranberry Juice Cocktail, 64 fl oz, or Arizona Tea, Gallon, or Mission Tortilla Chips, 9 to 13 oz, Select Varieties, 2/$5
Polar Seltzer Water, Select Varieties, 12 pk, 12 fl oz Cans, $3/11 (Final Cost wyb 3)
Santa Cruz Organic Lemonade or Agua Fresca, 32 fl oz, $1.99
Simple Truth Veggie Snacks, 4 to 7 oz, $1.99
Coca-Cola, Pepsi ror Canada Dry, Select Varieties, 2 Liter, 4/$5 (Final Cost wyb 4)
Bush's Best Baked or Grillin' Beans, 22 to 28 oz, or Private Selection Buns, 8 to 12 ct, or Daisy Squeeze Sour Cream, 14 oz, Select Varieties, 2/$4
Frito-Lay SImply Snacks, 7.5 to 8.5 oz, or Tillamook Cheese, 7 to 8 oz, or Snyder's of Hanover Family Size Pretzels, 12 to 16 oz, Select Varieties, 2/$6
Pompeian Olive Oil, Select Varieties, 32 fl oz, $8.99
–$0.55/1 Pompeian Extra Virgin Olive Oil
Bubly Sparkling Water, Select Varieties, 8 pk, 12 fl oz, 3/$10 (Final Cost wyb 3)
M&M's Party Size Bag, 34 to 38 oz, or Snickers Mixed Minis, 30.35 to 40 oz, Select Varieties, $8.99
Simple Truth Puff Bunz, Select Varieties, 4.8 oz, $4.99
Simple Truth Organic Peanut Butter, Select Varieties, 16 oz, $3.49
Simple Truth Organic Whole Fruit Spread, Select Varieties, 16.5 oz, $3.49
Simple Truth Organic Seltzer Water, Select Varieties, 8 pk, 12 fl oz, 3/$10
Kroger Hamburger or Hot Dog Buns, Select Varieties, 8 ct, 4/$5
Vlasic Kosher Dill Pickle Spears, 24 fl oz, $2.29
McCormick Grill Mates Seasoning or Marinade, 2.5 to 5 oz, or Simple Truth Organic Mustard, 12 oz, or Ketchup, 20 oz, Select Varieties, 3/$5
Malt-O-Meal Cereal, 17 to 23.5 oz, $2.99
Quaker Rice or Corn Cakes, Select Varieties, 4.5 to 6.56 oz, $2.99
Red Bull Energy Drink, Select Varieties, 4 pk, 8.4 fl oz, $5.99
Nabisco Honey Maid Graham Crackers, 14.4 oz, Kroger Beef Jerky, 2.85 oz, or Simply Orange Juice, 52 fl oz, Select Varieties, 2/$7
Dot's Pretzels, 16 oz, or Florida's Natural Orange Juice, 89 fl oz, Select Varieties, $4.99
Hershey's Barkthins, Select Varieties, 4.7 oz, $3.49
LaCroix Sparkling Water, Select Varieties, 8 pk, 12 fl oz Cans, 3/$10 (Final Cost wyb 3)
Hershey's XL Candy Bar, 4 to 4.5 oz, or Black Forest Organic Gummy Bears, 4 oz, Select Varieties, 2/$3
Tootsie Rolls or Pops, 12.66 to 18.75 oz, or Blow Pops or Double Bubble Gum, 10.4 to 16 oz, Select Varieties, 2/$5
Hawaiian Punch, Gallon, or Kroger Ice Pops, 9 ct, Select Varieties, 2/$4
Extra Mega Pack Gum, Select Varieties, 35 ct, $2.29
Snickers, M&M's or Twix Candy Bar, Select Varieties, 1.08 to 2.17 oz, $0.89
Snickers Fun Size Candy, 6 pk, or Kinder Joy Bueno, 1.4 to 1.5 oz, or Bubble Yum, 2.8 oz, Select Varieties, 10/$10
Haribo Gold Bears, 25.6 to 28.8 oz, or Hi-Chew Fruit Candy, 12.7 oz, Select Varieties, $4.99
Kellogg's Family Size Cereal, Select Varieties, 19.1 to 24 oz, 2/$7 (Ad shows Froot Loops, Frosted Flakes, Apple Jacks), 2/$7
-$1/1 Kellogg's Cereal, 8.4 oz. or Larger, Any Flavor 850 points each Kelloggs Family Rewards Limit 4 Like Coupons per shopping trip
–$1/3 Kellogg's Cereals
-$1.50/3 Kellogg's Cereals, 06/06/21 (exp 7/18/21) [Including Kellogg's jumbo snax 5.04 oz+]
Green Mountain Coffee K-Cups, Select Varieties, 32 ct, $15.99
Deer Park Spring Water, 24 pk, 16.9 fl oz, 3/$10
---
HEALTH & BEAUTY

Coppertone Sunscreen, Select Varieties, 5 to 8 fl oz, $8.99
–$2/1 Coppertone (Kroger Digital Coupon)
–$5/1 Coppertone Sunscreen, Select Varieties, 5 to 8 fl oz Kroger Super Saver Digital Coupon (use up to 5 times in a single transaction)
-$2/1 Coppertone Product, 05/23/21 SS (exp 6/12/21) [4-oz.+; Excluding trial/travel size] -$5/2 Coppertone Products, 05/23/21 SS (exp 6/12/21) [4 oz+; Excluding trial/travel size]
Simple Truth Organic Seltzer Water, Select Varieties, 8 pk, 12 fl oz, 3/$10
Simple Truth Organic Baby Food, Select Varieties, 4 oz Jar, 10/$10
Clif Bars Multipack, Select Varieties, 12 to 20 ct, $10.99
Nature's Way Vitamin Gummies, Select Varieties, 120 ct, BOGO (no price listed)
–$3/1 Nature's Way product
Simple Truth Organic Baby Food, Select Varieties, 6 pk, 4 oz Pouches, $3.99
---
HOUSEHOLD
Candle-Lite Essential Elements Candle, Select Varieties, 14 to 14.75 oz, $8.99
–$1/1 Candle-Lite Essential Elements Candle, Select Varieties, 14 to 14.75 oz Kroger Super Saver Digital Coupon (use up to 5 times in a single transaction)

Tide Liquid Laundry Detergent, 92 fl oz, or Tide Pods, 32 to 42 ct, or Downy Unstopables or Gain Fireworks, 20.1 oz, or Tide Power Pods, 21 ct, or Downy Liquid Fabric Softener, 150 fl oz, Select Varieties, 2/$20
–$2.99/1 Tide or Gain (Kroger Digital Coupon)
–$5/1 Downy (Kroger Digital Coupon)
Goodcook Touch or Pro Kitchen Gadgets, Select Varieties, BOGO 50% Off
Open Stock Pyrex Glass Bakeware, Select Varieties, BOGO 50% Off
Reynolds Wrap Aluminum Foil, 130 to 200 sq ft, $8.99
Char-Griller Deluxe Charcoal Grill, Model 2828, 850 sq in Total Cooking Area, $129.99
Traeger Wood Pellets, Select Varieties, 20 lb Bag, $18.99
HD Designs Outdoors Orchards Dining 32" Square Glass Table, $35.99
HD Designs Outdoors Orchards Dining Stack Chair, $17.99
HD Designs Outdoors Orchards Dining 9' Market Umbrella, $50.99
Coleman Cooler, 48 qt, $17.99
Simple Truth Dinner Plates, 75 ct, $9.99
Gain Liquid Laundry Detergent, Select Varieties, 165 fl oz, $14.99
–$2.99/1 Tide or Gain (Kroger Digital Coupon)
–$3/1 Gain Liquid Laundry Detergent, 165 oz or larger, OR Gain Flings, 42 ct or larger, OR Gain Ultra Flings, 21 ct or larger + more (see site for details)
-$3/1 Gain Liquid Laundry Detergent, 165 oz or larger, or Gain Flings Laundry Detergent, 42 ct or larger, or Gain Ultra Flings Laundry Detergent, 21 ct or larger, or Gain Fireworks In-Wash Scent Boosters, 20.1 oz or larger, 05/09/21 (exp 6/12/21) [Excluding Gain Liquid Fabric Softeners, Gain Sheets and trial/travel size]
Gain Fireworks Booster Beads, Select Varieties, 26.5 oz, $14.99
Gain Flings, Select Varieties, 60 ct, $14.99
–$2.99/1 Tide or Gain (Kroger Digital Coupon)
–$3/1 Gain Liquid Laundry Detergent, 165 oz or larger, OR Gain Flings, 42 ct or larger, OR Gain Ultra Flings, 21 ct or larger + more (see site for details)
-$3/1 Gain Liquid Laundry Detergent, 165 oz or larger, or Gain Flings Laundry Detergent, 42 ct or larger, or Gain Ultra Flings Laundry Detergent, 21 ct or larger, or Gain Fireworks In-Wash Scent Boosters, 20.1 oz or larger, 05/09/21 (exp 6/12/21) [Excluding Gain Liquid Fabric Softeners, Gain Sheets and trial/travel size]
Downy Unstopables, Select Varieties, 26.5 oz, $14.99
–$5/1 Downy (Kroger Digital Coupon)
Bunch O Balloons Water Balloons, 3 pk, $8.99
HD Designs Outdoor Poly Pro Dinnerware or Serveware, Select Varieties, $1.19 to $4.19
Resin Adirondack Chair, Select Varieties, $17.99
Kroger or Simple Truth Charcoal, Select Varieties, 8 to 15.4 lb Bag, $7.99
Americana Walk-A-Bout Portable Charcoal Grill, 332 sq in Total Cooking Area, $54.99
Assorted Bonsai Trees, Select Varieties and Sizes, $12.99 and up
Keurig K-Duo Coffee Maker, Single Serve & Carafe, $149.99
Summer Toys, 40% off, $5.99 to $8.99
---
MEAT

Fresh Heritage Farm Boneless Chicken Breasts, $1.77/lb

Pork Boston Butt, Bone-In, $0.99/lb
Fresh 80% Lean Ground Beef, Sold in a 5 lb Roll for $12.45, $2.49/lb

Oscar Mayer Deli Fresh Lunch Meat, Select Varieties, 7 to 9 oz, $3.49
–$1/1 Oscar Mayer Deli Fresh Lunch Meat, Select Varieties, 7 to 9 oz Kroger Super Saver Digital Coupon (use up to 5 times in a single transaction)
Kroger Lunch Meat, Select Varieties, 13 to 16 oz, $3.59
Kroger Breakfast Sausage Links or Patties, Select Varieties, 12 oz, 2/$5
Smithfield Bacon, Select Varieties, 12 to 16 oz, $4.49
Boneless Pork Chops, Family Pack, $3.99/lb
Home Chef Ready-to-Cook Entree or Side Dishes, 20% Off
Choice Flat Iron Beef Steak or Private Selection Angus Trip-Tip Steak, $7.99/lb
Boneless Whole Beef Brisket, $2.99/lb
Fresh Homestyle Ground Beef Patties, 80% Lean, 10 ct, 10/$10
Smithfield Seasoned Fully-Cooked Rib Tips, Frozen, 4 lb Box, With Sauce, $15
Fresh Laura's Lean Ground Beef, 92% Lean, 1 lb, $5.99
–$1/1 Laura's Lean Beef Product printable
Eckrich Smoked Sausage, Big Pack, Select Varieties, 42 oz, $7.99
Simple Truth Bacon, Select Varieties, 12 oz, $4.99
Kroger Fully Cooked Bacon, Select Varieties, 2.1 oz, 2/$5
Private Selection Prime Beef Chuck Patties, 14 oz, $3.99
Prime Fresh Lunch Meat, Select Varieties, 8 oz, 2/$5
---
PET
Pet Pride Chunk Style Dog Food, 50 lb Bag, or Cat Chow Dry Cat Food, 20 lb Bag, Select Varieties, $18.99
---
PRODUCE

Red, White or Black Seedless Grapes, $0.99/lb

Whole Seedless Watermelon, $2.99
Whole Seeded Watermelon, $3.99

Georgia Peaches, $0.99/lb
California Organic Peaches or Nectarines, $1.99/lb
English Cucumbers, 4/$5
Fresh Strawberries, 2 lb, $3.99/lb
Honeycrisp Apples, $2.49/lb
Kroger Romaine or Celery Hearts, 3 ct, 2/$5
Kroger Salad Bowl, Select Varieties, 4.5 to 6.5 oz, 3/$10
Seas the Day Bouquet, 12 Stem, $9.99
Fresh Rainier Cherries, $4.99/lb
Asorted Blooming, 6" Pot, $8.99 and up
Organic Fuji, Gala or Cripps Pink Apples, $1.99/lb
Organic Girl Salad Blends, Select Varieties, 4.75 to 6.5 oz, 2/$7
Organic Red Tomatoes on the Vine, $1.99/lb
Fresh Asparagus, $2.49
Kroger Sweet Corn on the Cob or Boiler Potatoes, 4 ct, $2.99
Simple Truth Organic Sliced Mushrooms, 8 oz, $2.29
Simple Truth Plant-Based Dressing, Select Varieties, 12 oz, 2/$7
–$0.70/1 Simple Truth Plant Based Salad Dressings (Kroger Digital Coupon)
Kroger Portobello Sliced or Whole Mushrooms, 8 oz, 2/$5
English Cucumber, 4/$5
Simple Truth Organic Salad Blends, Select Varieties, 5 oz, 2/$6
Fresh Raspberries, 6 oz, 2/$5
---
SEAFOOD
AquaStar Wild-Caught Salmon Side, Frozen, 1.25 lb, $6.99
Large Ready-To-Serve Cooked Shrimp Bowl, Includes Cocktail Sauce, 30 to 32 ct, $10
Small Ready-To-Serve Cooked Shrimp Bowl, includes Cocktail Sauce, 14 to 16 ct, $5