This post is sponsored by La Brea Bakery®. All comments and opinions are my own.
What's your dream summer vacation? For me, it's Hawaii. The sun and the surf, luaus and leis, shaved ice and umbrella drinks, panoramic sunsets and the gentle strumming of a ukulele…
Sounds like the perfect way to spend a day. But for now I have to settle for a taste of the tropics here at home. You can shake up burger night and bring those island vibes right to your own back yard with these incredible Aloha Chicken Sliders. 
When it comes to summer grilling involving sandwiches and burgers, my go-to product is La Brea Bakery's line of Take & Bake bread products. The folks at La Brea combine the highest quality standards with age old artisan techniques, and the result is some of the yummiest, most "mmm"-worthy breads you'll ever taste.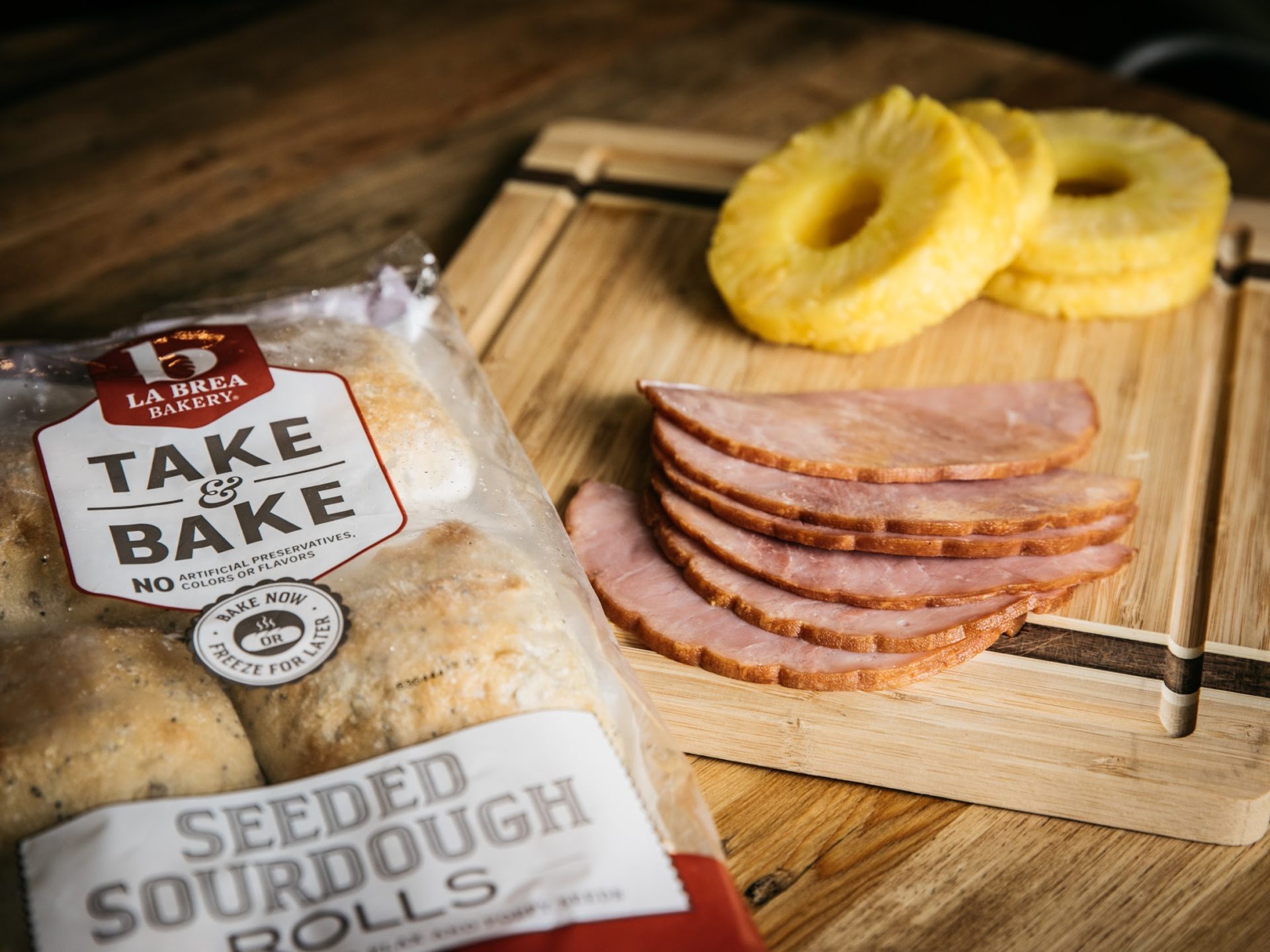 For these Aloha Chicken Sliders, I went with La Brea's Seeded Sourdough Rolls. These square-shaped rolls are soft and chewy on the inside with a fine, crispy crust. And that rustic sourdough taste pairs perfectly with the sweetness of the pineapple slices, the saltiness of the ham slices, and the juiciness of the chicken. And the best part, you can cook these sliders entirely on the grill! Top with some diced scallions and you'll feel like you've been transported to the Big Island the moment you sink your teeth in for that first bite.

Aloha Chicken Sliders
Ingredients
1 package La Brea Bakery Seeded Sourdough Dinner Rolls
1½ pounds ground chicken
Salt & pepper to taste
1 pineapple, cored and sliced thick
½ cup teriyaki glaze, warmed
6 slices of ham
Instructions
Season the ground chicken with salt and pepper to taste and form 6¼ pound patties.
Place the chicken patties on a hot grill and cook for 2 - 3 minutes per side, or until cooked through.
Grill the pineapple slices 3 - 5 minutes per side, until lightly charred.
Grill the ham slices for 1 -2 minutes per side, just until heated through.
Place the sliced La Brea Bakery Seeded Sourdough Dinner Rolls onto the grill (cut side down) and cook until heated through and lightly charred.
Assemble the sandwiches by adding a chicken burger on the bottom bun, followed by a slice of ham and then a pineapple slice.
Drizzle with warm teriyaki glaze.
Add the top bun, serve and enjoy!
Whatever your grilling needs this summer, La Brea has you covered with their selection of artisan-quality loaves, rolls, rounds, sandwich bread, and more. You'll find them all at your local Kroger, so be sure to add some of their delicious Take and Bake options to your shopping list.
Look for these varieties when you shop:
Twin Pack French Baguette
French Dinner Rolls
Twin Pack Ancient Grain Baguette – NEW!
French Sandwich Rolls – NEW!
Everything Rolls – NEW!
Seeded Sourdough Dinner Rolls – NEW!